What better way is there to spend a few minutes of your afternoon than bathing in the very womb of awkwardness watching the highlights of a Fabio fitness video?
No doubt you'll remember the face of the 90s, The Bold and the Beautiful actor, fitness guru, model for Gianni Versace, Marlboro Man and long-haired dude that appeared on more than 400 romance novels.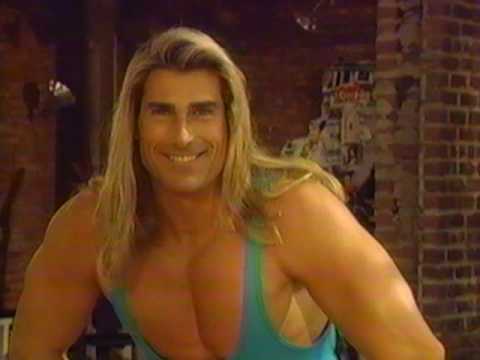 0:07 mark, awkward close-up of Fabio's nipple.
At the 1:00 mark, we have a montage of hair flicks by Fabio. I counted 30 awkward hair flicks.
At 1:23, pelvis thrusts begin at which point Fabio indicates in the most creepiest of ways, that this, boys and girls, is his favorite part. Brenda enthusiastically agrees that she loves this part too.
At 2:04, Brenda attempts a joke about Fabio's 'V' shape and that it is indeed, a great V shape to have.
At 2:48, Fabio proceeds to thank Brenda, three times. Both lean in for an embrace with Fabio bizarrely going in for some sloppy lip action (tongue action unclear).  Realizing the awkward on-screen mishap, Brenda tries to keep her dignity by pretending it was supposed to happen. Fabio looks pleased with himself.
:::
YOU MIGHT ALSO LIKE: 
.