Produced on the a small farm in Serbia, donkey cheese has made appearances in a $4,800 hamburger at a restaurant in Las Vegas and a $1,10o caviar-coated omelette at a plush New York hotel. Reigning tennis champion Novak Djokovic has just bought up the world's annual supply and it is said that Cleopatra maintained her beauty by bathing in asses' milk.
Solidifying its position as one of the world's most expensive foods, I thought it was time we get familiar with the newest delicacy on the scene.
Most importantly, what does it taste like? Known formally as pule, the crumbly white cheese is said to taste similar to Spanish manchego cheese, which is similar to a mild cheddar, but with a deeper, richer taste.
It's made only from donkeys and it takes 25 litres of fresh donkey milk to make a single kilogram which will set you back a whopping 1,000 euros, making it the world's most expensive cheese. The Serbian farm, 50 miles west of Belgrade on an animal reserve is the only known manufacturer of the cheese in the world, with a herd of 130 donkeys that are all milked by hand.
But as of now, it's so rare, you won't even be able to get your hands on any because someone's just bought the entire world's supply. The Wimbledon tennis champion turned donkey cheese ambassador, Novak Djokovic, is opening a new chain of restaurants in his Serbian homeland and to make sure he had enough of the delicacy to supply his customers, he just went and bought it all.
Okay so it's rare, expensive and tastes something like cheddar but what about its magical powers?
Donkey milk apparently has 60 times more vitamin C than cows milk and contains only one percent fat. It also boasts anti-allergen properties. The farm also bottles donkey milk and produced soap from the liquid.
Does it transform your skin into a babies bottom? Results still pending….
I'll leave you with this informative little video on the production of donkey cheese, sorry, pule.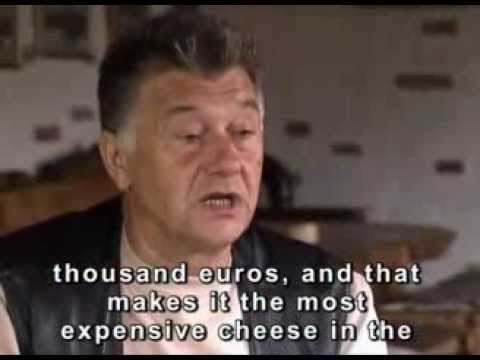 :::
YOU MIGHT ALSO LIKE:
.
;