You don't have to be a fashion die-hard to appreciate the magic of these photographs captured in 1951 at Paris fashion week by my favorite go-to archive, LIFE magazine. The late 1940s and 1950s was a time of intense interest in Paris fashion and haute couture. But even though some of the names of the fashion houses might be familiar, I think you'll find the scenes appear very different to the world of fashion as we know it today…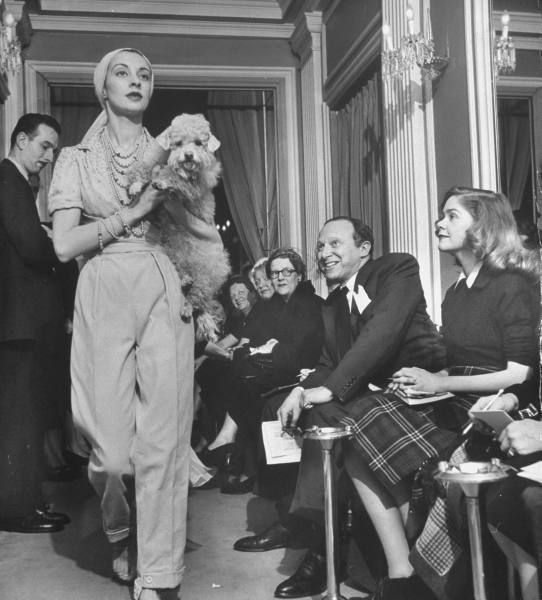 The fashion shows during Paris fashion week in 1951 were considerably more intimate than the costly and overwhelming extravaganzas we see today.  Models weaved through aisles of chairs where editors and buyers were seated. We can't see it in this black & white photograph above but the poodle the model is holding as she walks down the Balmain catwalk is actually dyed purple to match her lilac jumpsuit. Evidently, pooch-dying is a trend that just won't go away.
Fabulous ball gowns designed by Jacques Fath.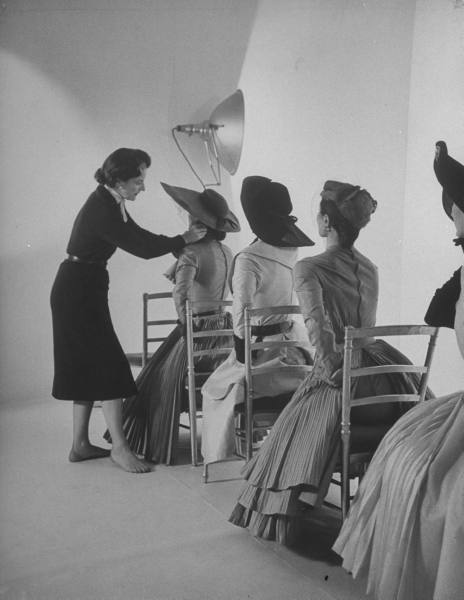 Before there was Anna Wintour, there was VOGUE fashion editor Bettina Ballard. Here she is styling models on a midnight photo shoot during fashion week. In today's industry, designers can lend their clothes to various magazines around the world for photo shoots but in 1951, the magazines had no choice but to stage photo shoots at night because it was the only time the clothes could be borrowed from the fashion houses who also needed them during the day to show to their buyers.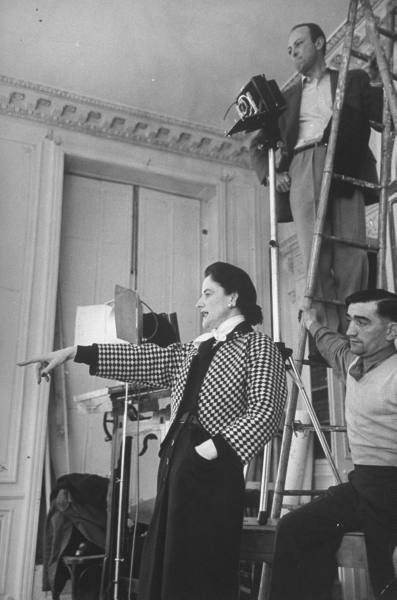 At midnight, Bettina and photographer John Rawlings direct models at a shoot.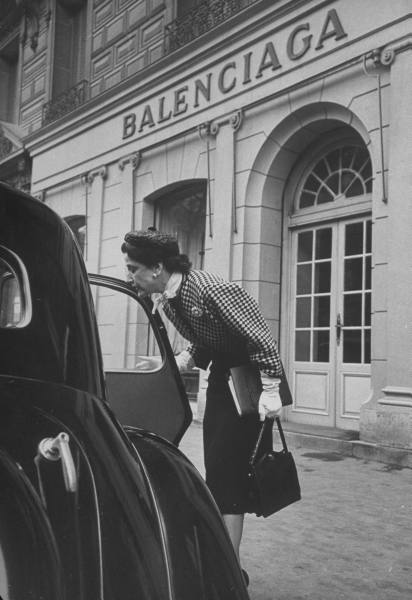 Bettina Ballard arrives by car to select an outfit from Balenciaga for the fashion buyer's exhibit.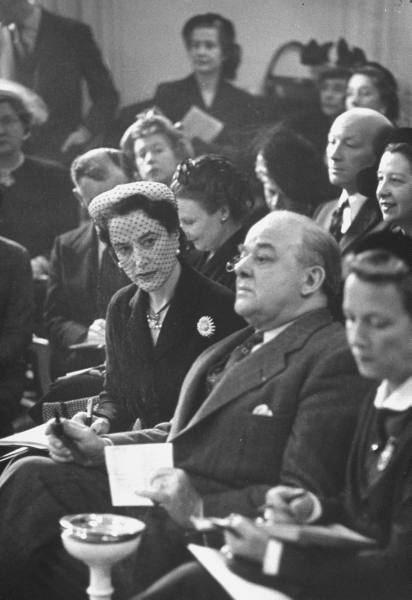 Notice the ashtray next to the runway in front of Bettina Ballard at the Dior show.  She is sat next to Michel de Brunhoff,  then editor of French Vogue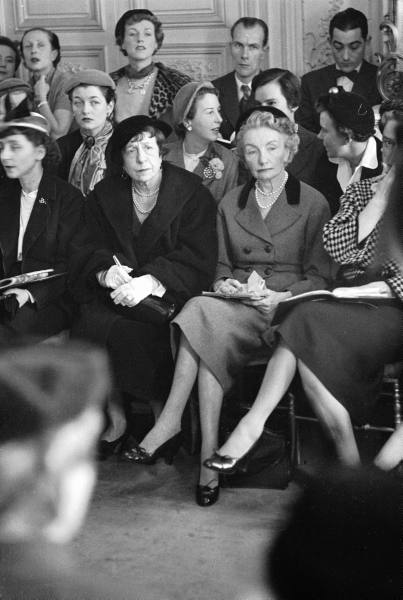 Third from left is Ballard's rival, Harper's Bazaar Paris edtor-in-chief Carmel Snow  attending a press showing for fashion designer Elsa Schiaparelli. Both Snow and Ballard had their own designated seats at collections and no fashion show would start without them. The two magazine editors operated in tandem but pretended to ignore eachother, although the mischievous Snow could never resist going up to Ballard after a show to tease her about their supposed rivalry, hoping all the while to pump her for information about what they had just seen. Carmel received star treatment in Paris. Her suite at the San Regis was inundated with flowers, cases of champagne, and a shower of invitations; she gleefully compared mornings in her hotel room, with their constant stream of telephone calls and visitors, to the king's bedside at the court of Versaille. Bettina Ballard found the whole thing disgraceful. She refused to fall in line with the dictates of Paris high society. Editors decide on fashion, not duchesses.
*
via
Christian Dior: The Man who made the World look New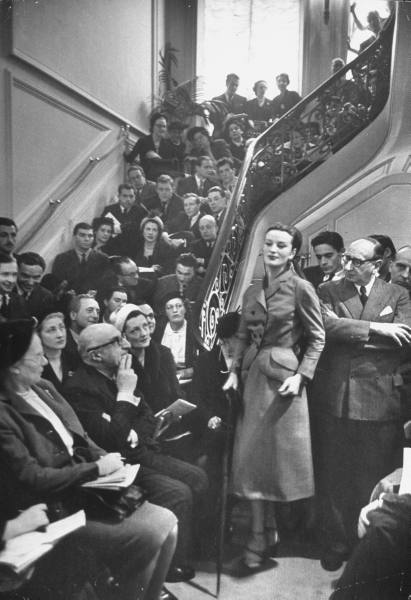 Buyers perch on the steps and overflow the halls of a clothing exhibit as a the model poses in her outfit.
A french model shows off a black evening gown by Castillo at Lanvin during a fashion show. Lanvin had become one of the biggest names in French fashion when high society  took notice of the beautiful clothes Parisian dressmaker Jeanne Lanvin was making for her own daughter, Marguerite. She became known for her mother-and-daughter outfits and was soon designing for some of the most famous names in Europe from her new boutique on the rue du Faubourg Saint-Honoré, Paris.
While the average age of a model during fashion week today is 14-15, most models were in their late twenties, early thirties. Above, a buyer samples an evening dress on a model to check its quality. It was recently revealed in a documentary by one of the highest paid models of the 1950s, China Machado, that some of the buyers were a little too touchy-feely. "You didn't allow the buyers to touch your dress because they would try to feel underneath to see what was inside." The models above and below certainly don't look thrilled.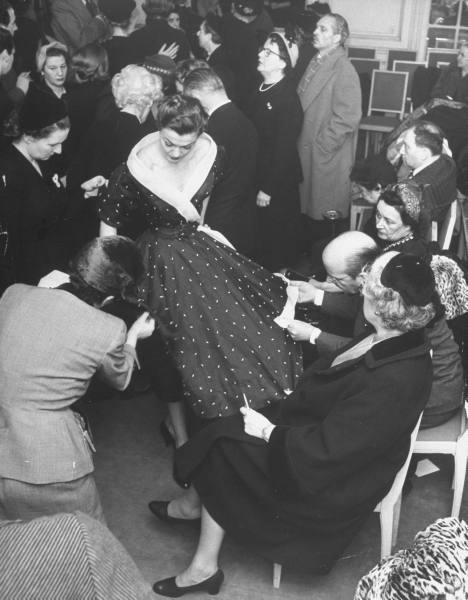 In a rather chaotic and informal scene, buyers paw and grab at the dress of a model as she exhibits a designer's clothes.
Workers with piles of gems putting pattern on a heavily embroidered gown.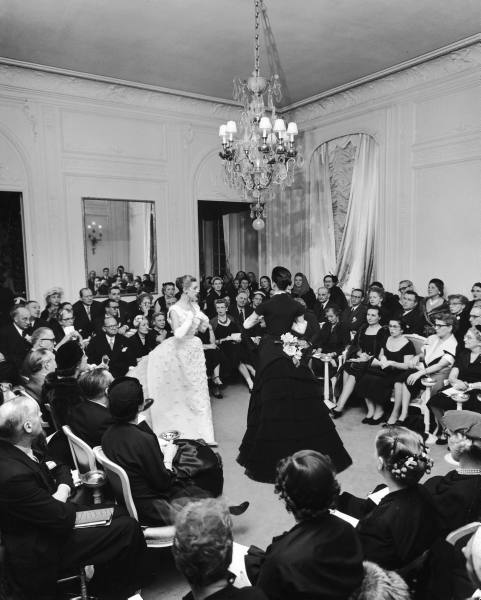 Two French models showing off evening dresses while surrounded by eager crowd of buyers at Dior fashion show. Christian Dior was the new star of the scene and the moderately priced fashion market was trying very hard to emulate the styles that were coming out of Paris.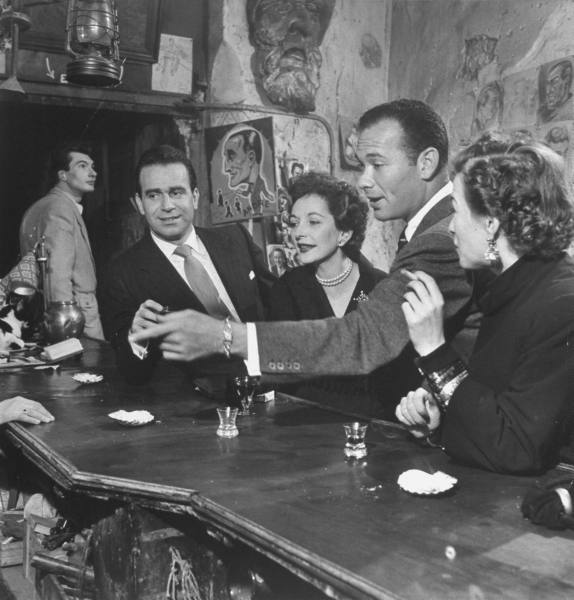 Buyers consorting together after a buyers exhibit to indulge in a drink.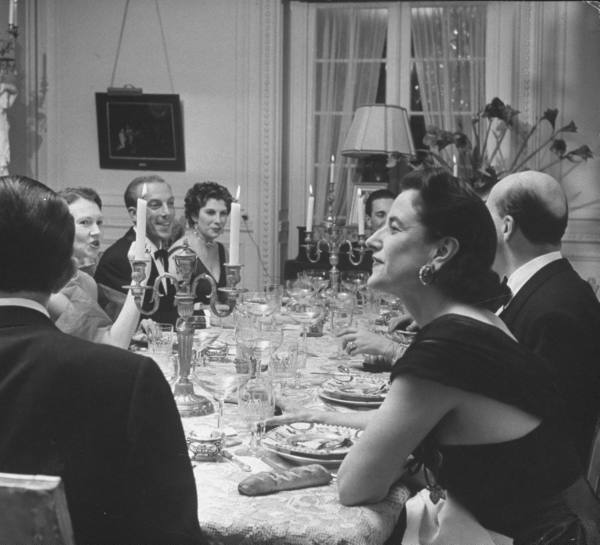 VOGUE magazine editor Bettina Ballard dining at the home of designer Jacques Fath with Parisian aristocracy.
Members of the fashion buyers exhibit dancing away the samba at a Dior party.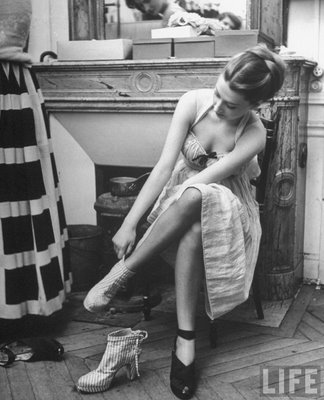 A model backstage at Balmain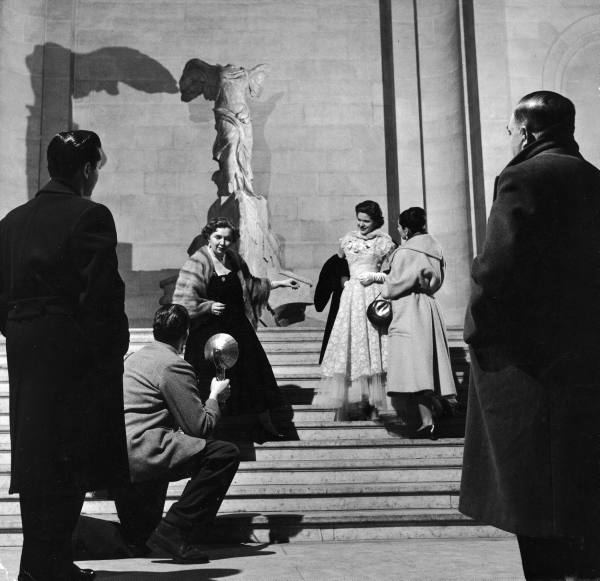 At the Louvre, the press and models stage some kind of publicity stunt.  As haute couture experienced something of a revival, a myriad of star designers profited hugely from the rapid growth of the media.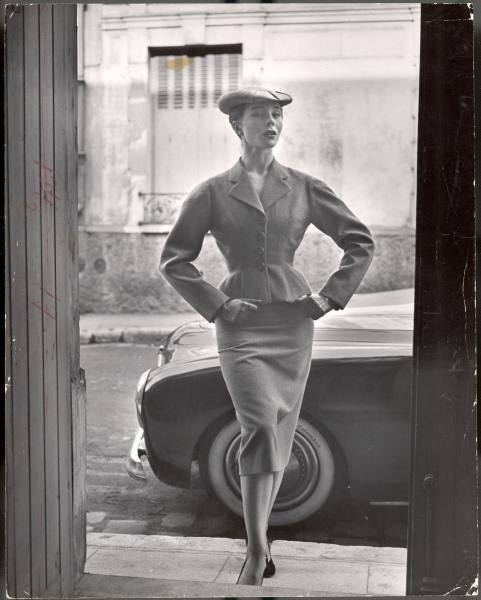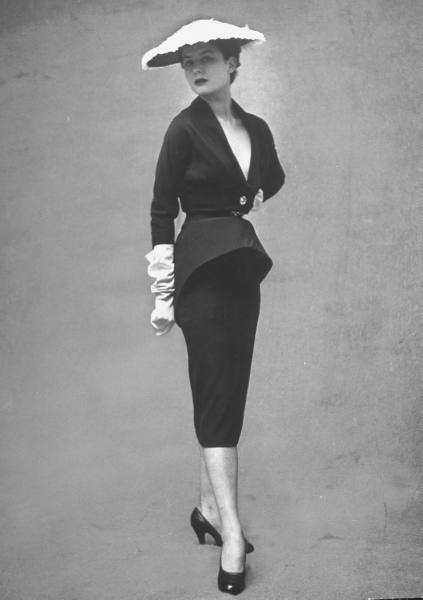 Model posing in black cocktail dress by designer Jacques Griffe.