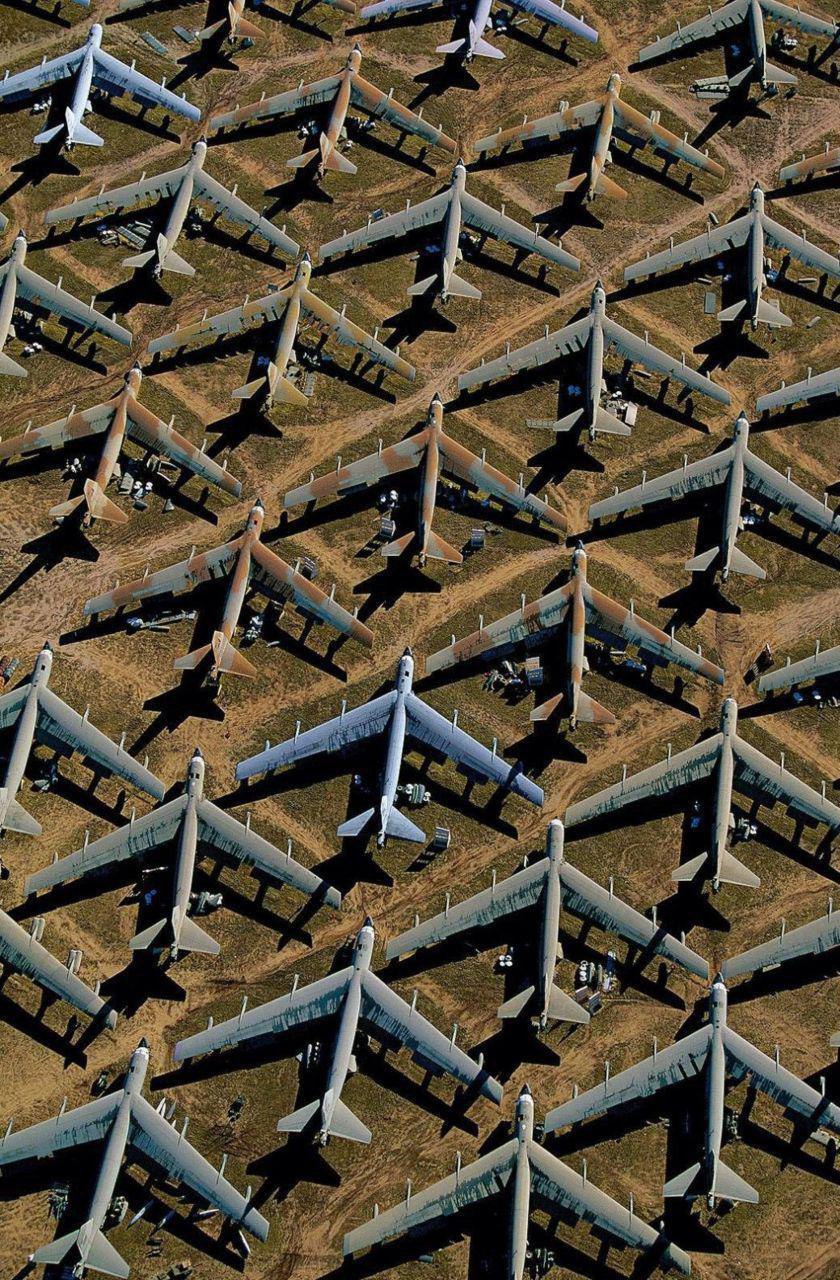 Before they are put to rest, airplanes undergo funeral-esque rituals known as 'pickling'. Their engines are removed, the windows covered and the fluids drained. But of course these giants are too big to bury. In the parched deserts, where a dry climate is an old machine's best ally, aircrafts young and old lie nose to tail, row after row like fallen soldiers in the secluded airplane boneyards of America. Planes can be preserved here for years. At the world's largest-known boneyard, 309th Aerospace Maintenance and Regeneration Group (AMARG) outside Tuscon, Arizona, you would be able to see "just about every kind of airplane that the military has flown since WWII," says John Weeks, an avid field researcher into aircraft boneyards.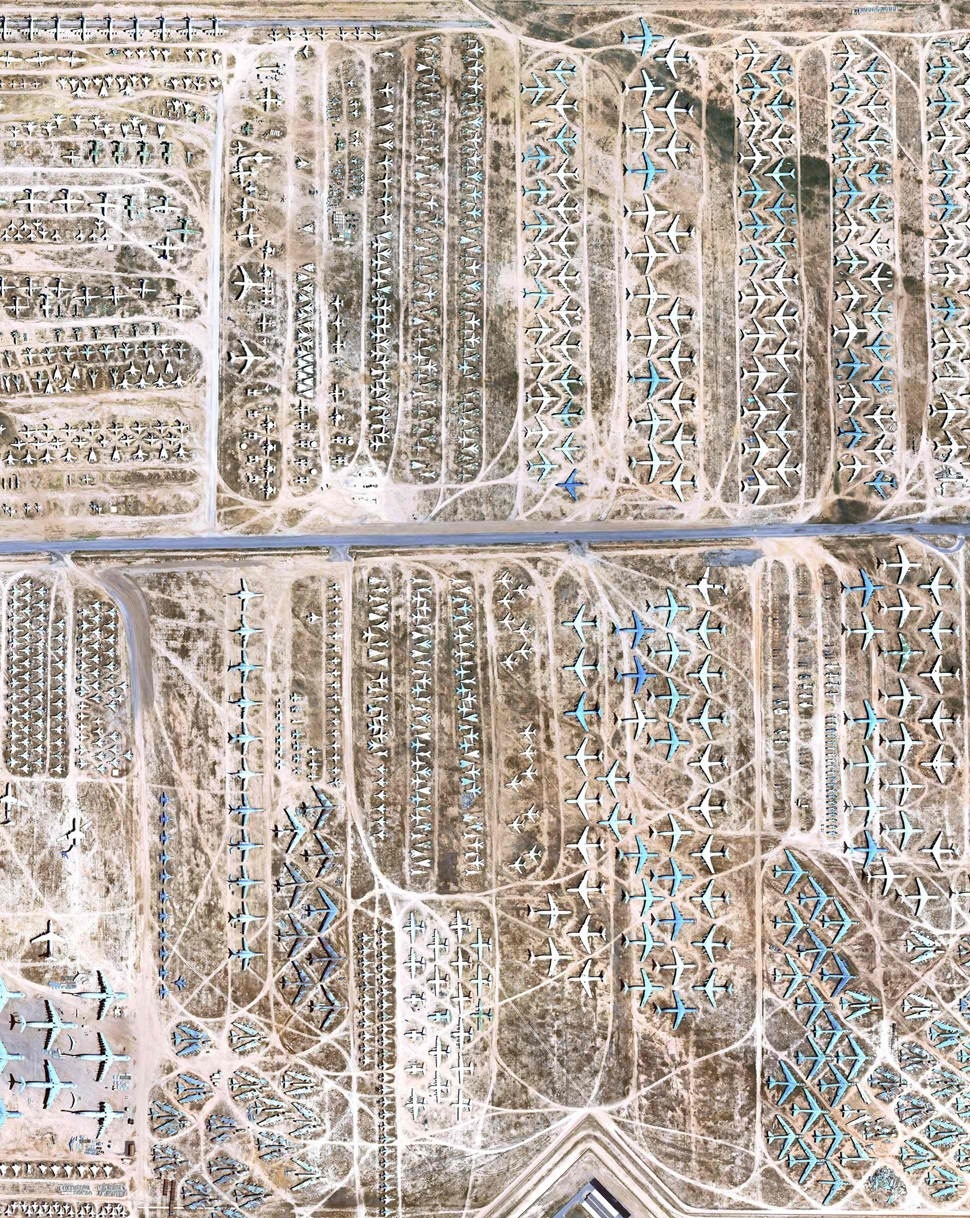 More than 5,000 hulking aircrafts, many that were nuclear capable, are resting on the hard desert ground at the military depot next to the Davis Monthan airforce base. Post 9/11, most of America's boneyards became fairly secretive restricted areas and close-up photography is rare, although satellite images like this high resolution one above from Google maps are certainly impressive.
It is however, possible to go on a chaperoned visit of the AMARC site. According to the terrorist threat levels at the time, the nearby Pima Air & Space Museum operates weekly bus tours of the storage area, but you're not allowed to get off the bus. If you're lucky enough, you might get to witness something special on your tour…
What you just saw was a boneyard guillotine in action. You might have been wondering what all these airplanes that originally cost anywhere from a few million to hundreds of millions of dollar each, are doing just sitting around in a massive junkyard. There are a few lucky ones that might get restored and returned to the skies. At AMARC, fighter jets are more frequently being reused as drones. But most of the airborne giants await a bleak fate.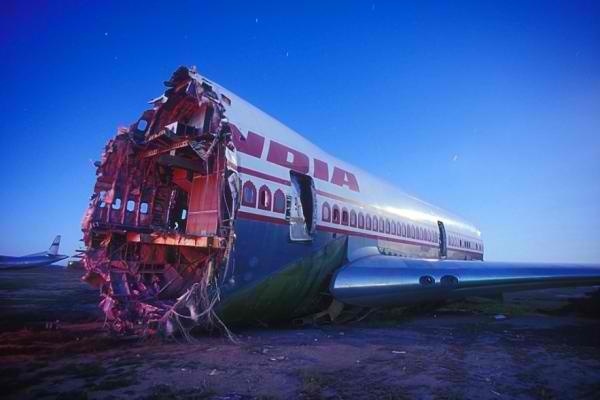 These incredible nocturnal images come to us from Troy Paiva of Lost in America. See all of his work on abandoned sites here.

It's estimated only 10-20% planes that end up in a boneyard will ever fly again. Some get lucky and are sold off to other international airlines (not a comforting thought). Most will be gutted or stripped for spare parts, chopped up into pieces by a huge guillotine or smelted down for metal scraps. And until then, they're just doing in a barren desert like this eerie FedEx 727 plane.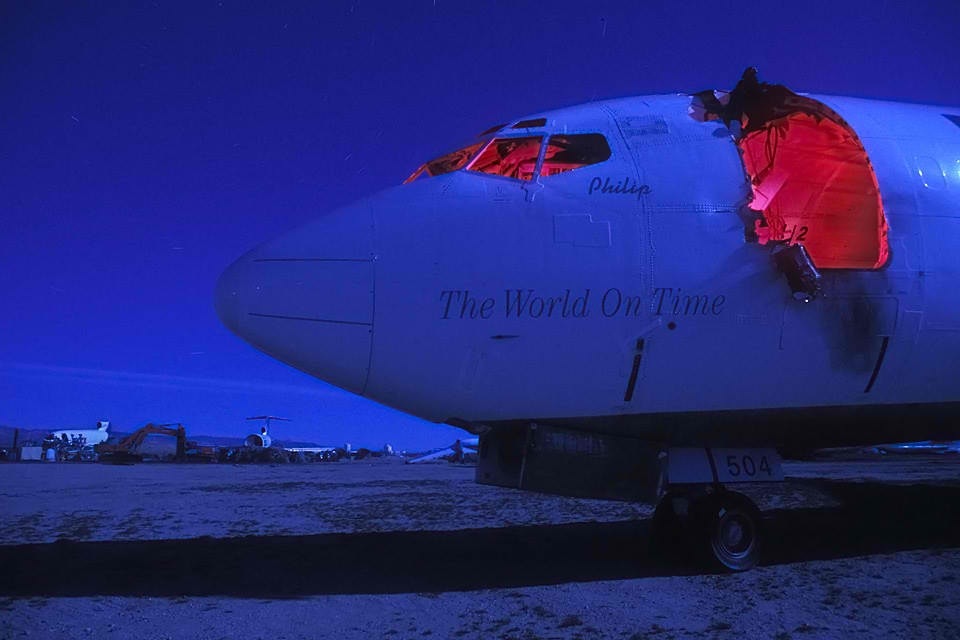 The Mojave Airport, a boneyard north of Los Angeles has housed entire Boeing 747 fleets that were sent here after airlines went bankrupt. "Ironically, some aircraft that were on order as of 9/11 were rolled off of the assembly line, and flown directly to storage in Mojave without carrying a single paying passenger," says expert John Weeks.
As fuel costs rise, aviation technology changes and the financial crises endures, more and more planes are being grounded and business is indeed booming for airplane boneyards. The LA Times said the Southern California Logistics Airport, a 2,300 acre boneyard in Victorville is "more crowded at times than Los Angeles International Airport."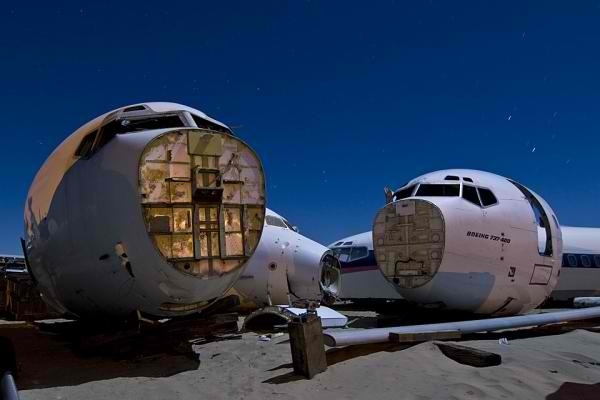 At the Aviation Warehouse, in El Mirage Dry Lake, California, a Mr. Mark Thompson sells his aircraft parts for use in film and television. Most of what he sells are pieces of planes beyond repair, often used in movie crash scenes. You can browse his surreal website "shop" for crashed airplanes, helicopters in his scrap yard. It makes for unnerving browsing.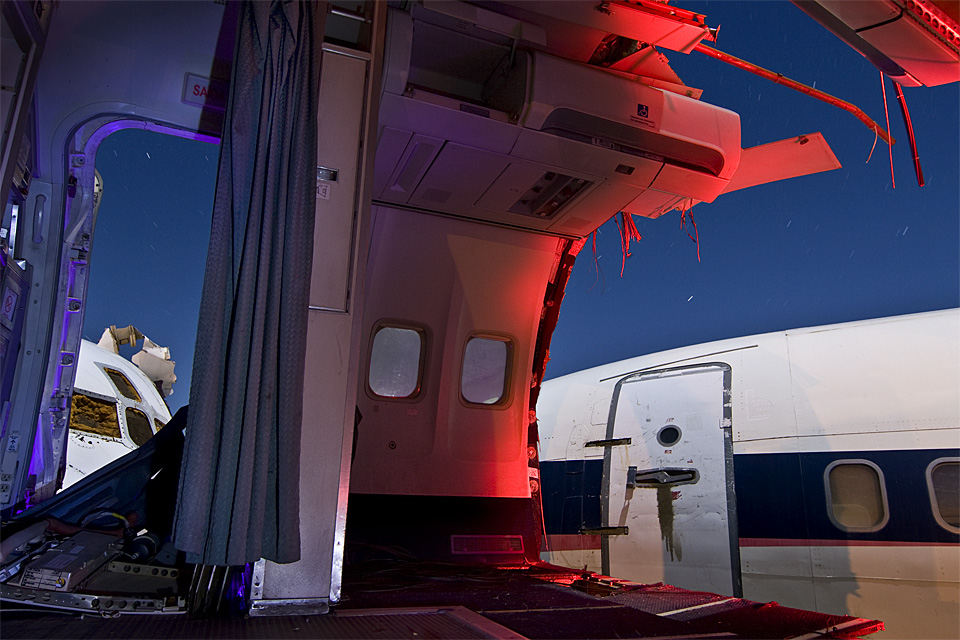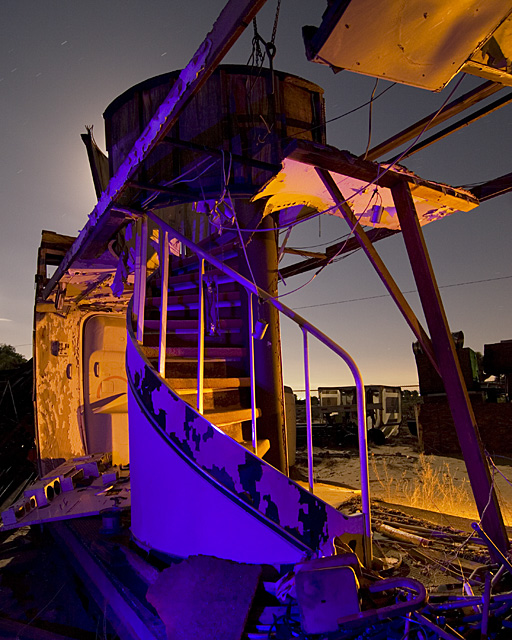 A little over century ago, they were just figments of an engineer's imagination. Just a few decades ago they would have been host to the high flying jet set of a futurist era. And now their twisted metal bodies lie in junk yards. You have to wonder, what will our garbage look like in the next century?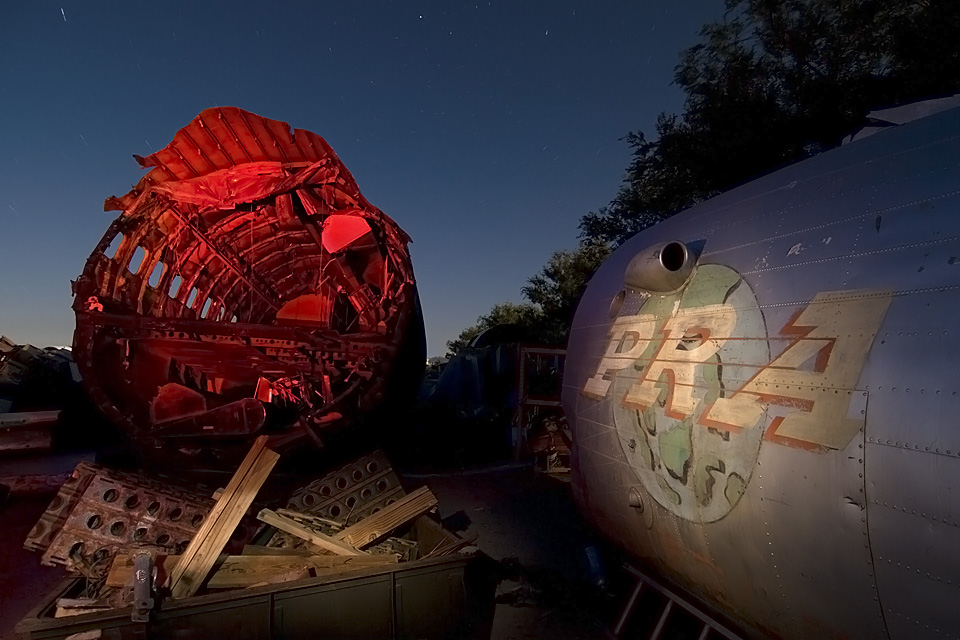 Thanks to John Weeks and Popsci and browse more nocturnal boneyard photos on Lost in America!