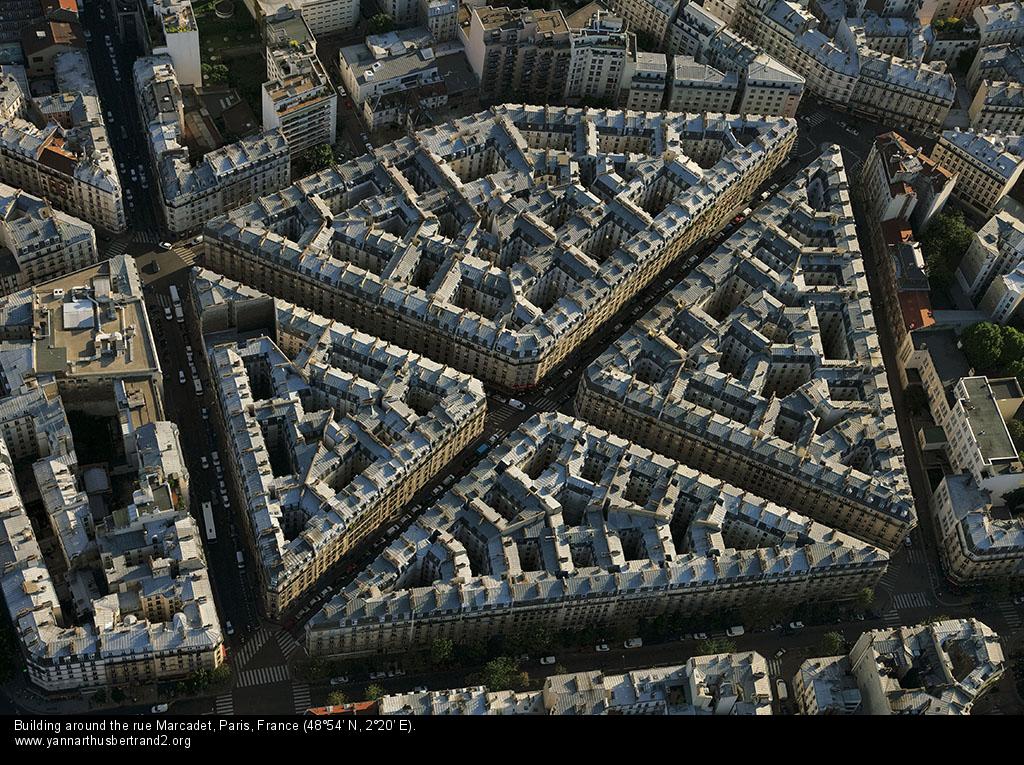 You may recall we once discovered Kowloon City, the Hong Kong 'historical accident', an urban enclave so densely populated by squatters that even the law lost its grip on the seven-acre plot crammed with 300 interconnected towers. It turns out we had one just like it right here in Paris. And unlike Kowloon, which was razed to the ground in 1993, our 19th century 'walled' citadel still remains standing to this day, just a few streets away from Montmartre.
Birds-eye images by Yann-Arthus Bertrand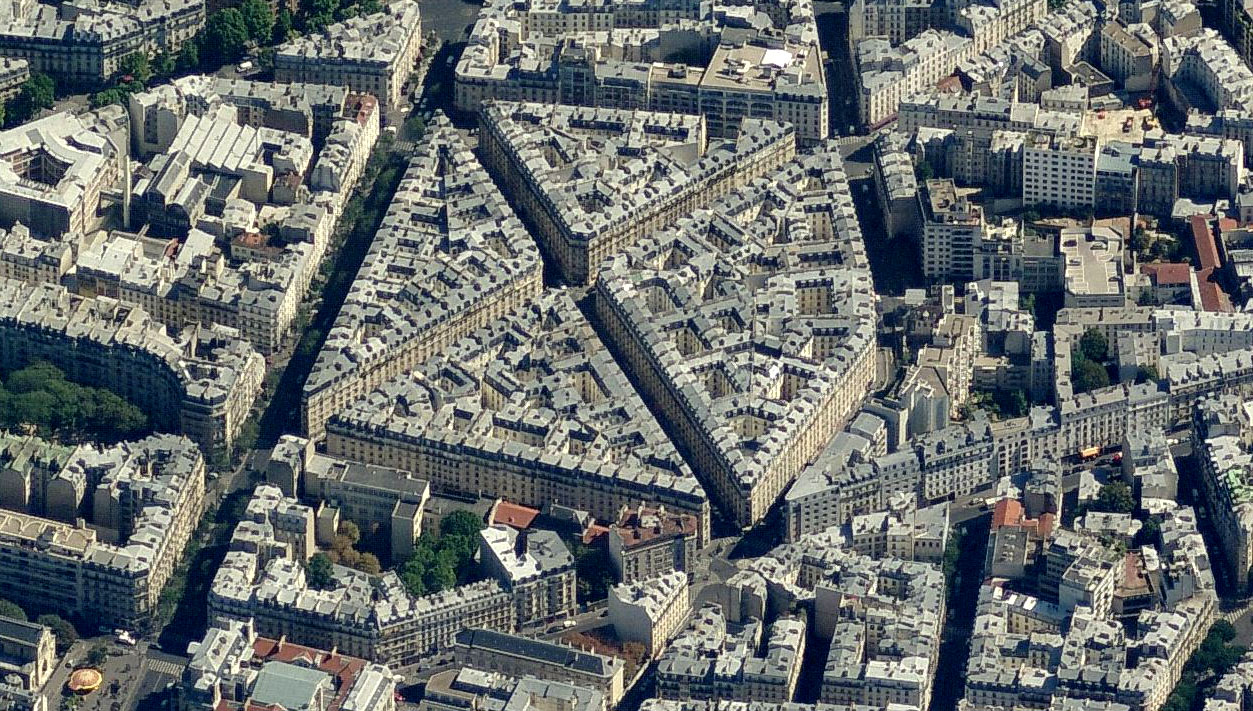 According to Léopold Lambert, writer of the architectural narrative blog, The Funambulist, these buildings pictured here were built in the second half of the 19th century under Haussmann's rebuild of the city, in order to host 10,000 working class Parisians. A proletariat citadel, "incised by two streets and punched by a multitude of more or less narrow courtyards," writes Léopold, this impressive labyrinth of grey Paris rooftops is situated where rue Eugene Sue meets the rue Simart in the 18th arrondissement.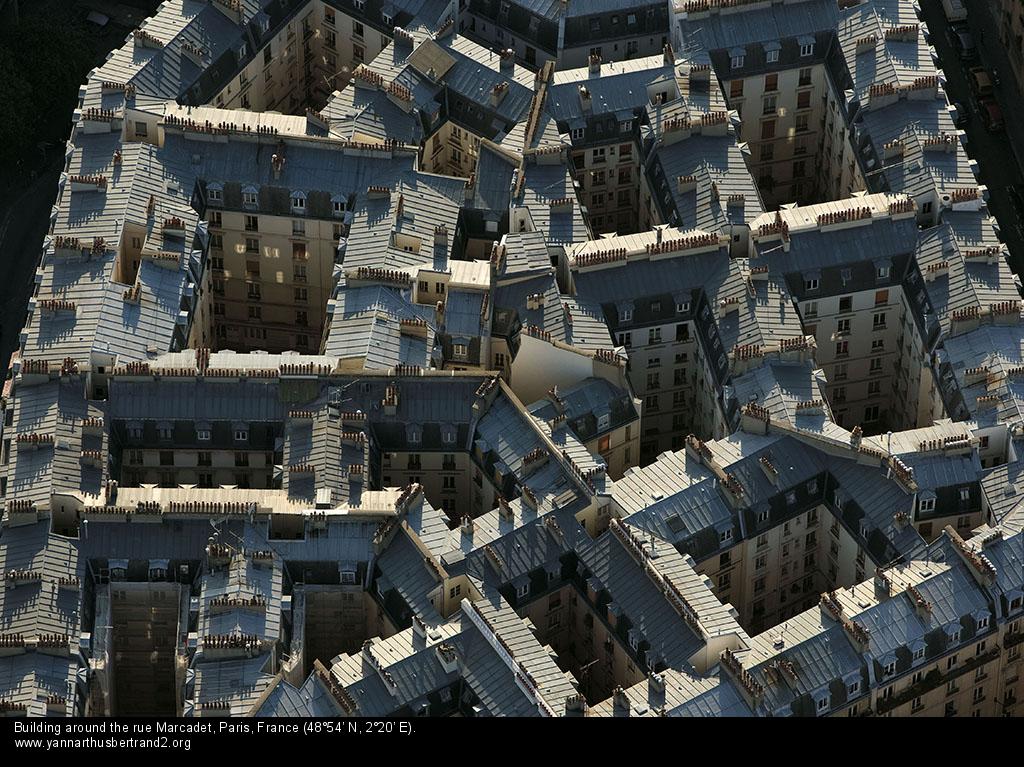 Whether our Parisian 'Kowloon' citadel was as lawless and squalid as the original walled city of darkness; a stain on the urban fabric of British colonial Hong Kong, is left to our imagination. In his three-part series about this Hausmannian social housing complex, The Funambulist envisions a possible manner in which the citadel's inhabitants lived…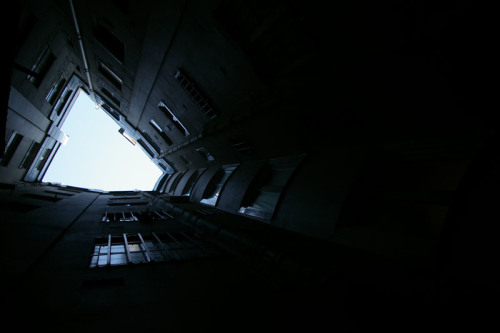 "Laundry drying, well buckets bringing up goods coming from the depths, people conversing from one window to another, maybe even bridges who knows? […] artisans who audaciously added more or less reflecting pieces of bad metal on the courtyard walls to bring down more light, or others who organized networks of ropes used for a horizontal and vertical circulation of objects and bodies."
View the detailed illustrated plan of the property lots here.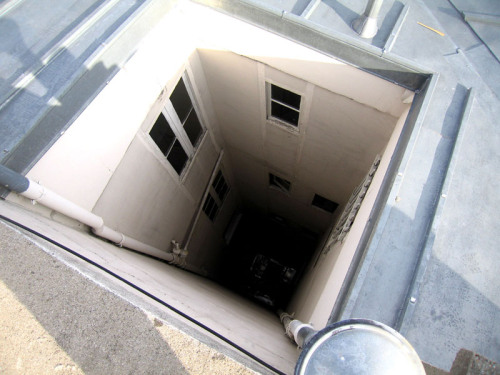 Léopold goes on to suppose what would have been really cool, imagining the block functioning as a stronghold of the revolutionaries during the attack of the Commune by the Versailles troops in 1871:
"An autonomous entity with its 10,000 inhabitants [… resisting] the various forces of suppression by the use of this architecture's defensiveness and labyrinthine organization of space."
But, ofcourse that never happened! My guess is the structure would have been demolished just like Kowloon city if it had.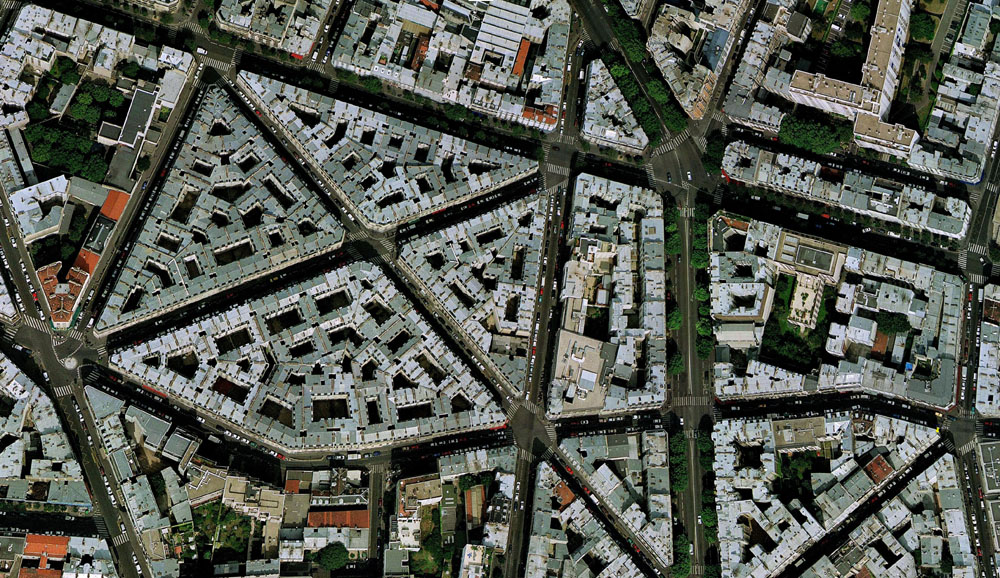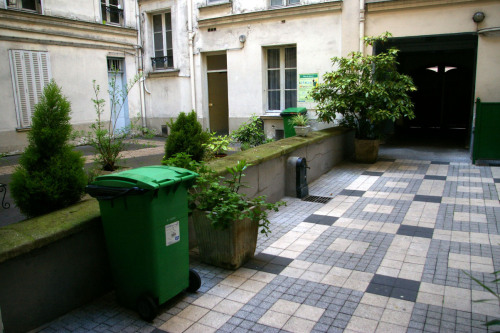 Today, the Citadel is no longer insufferably dense and its mass of interconnecting blocks have been divided to suit the Parisian real estate market. The community that would have once existed in these interwoven living quarters has been extinguished by modernity.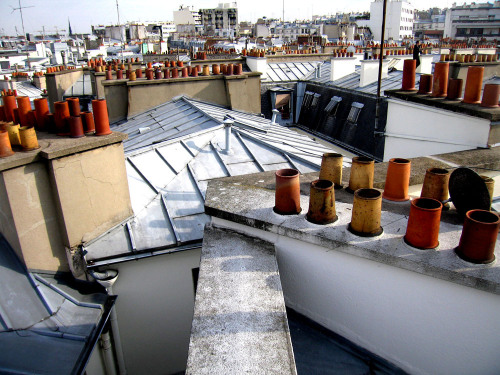 But I certainly wouldn't mind a walk across those creamy grey rooftops with a Paris sunset in the backdrop…
Images by The Funambulist and Yann-Arthus Bertrand
Find out more about the Paris citadel on The Funambulist