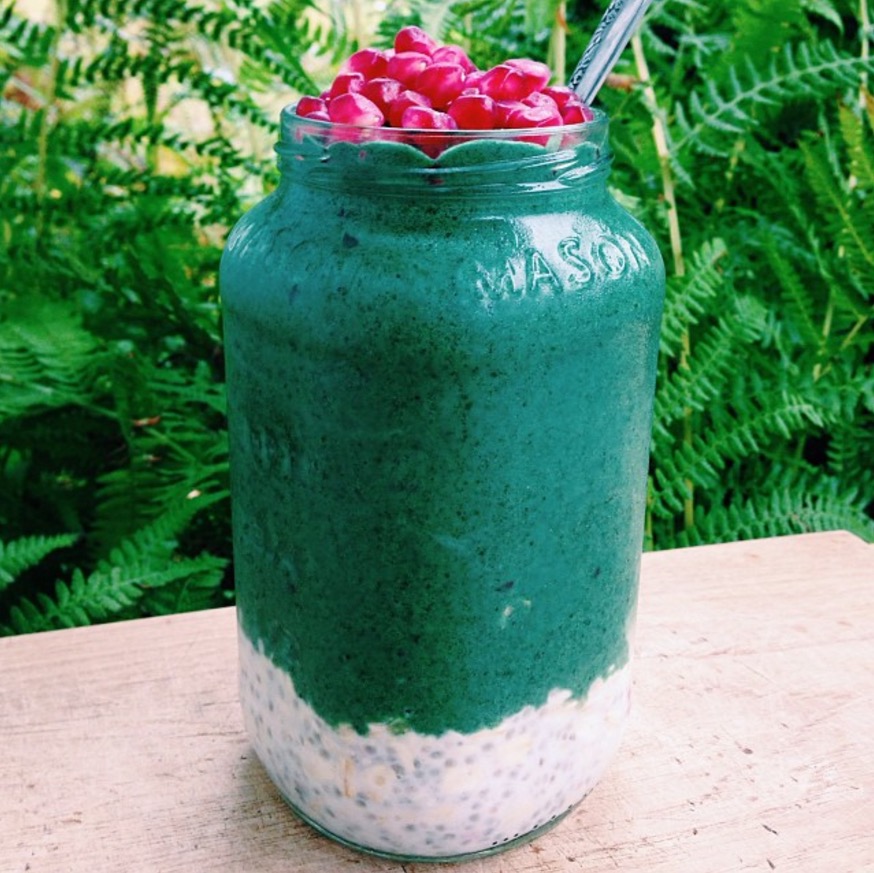 The thing about eating healthy, raw and green is, you don't really have to be a very skilled "chef" to do it. There's no risk of over-cooking or sinking the soufflé– when it comes to the rabbit food, you are the master, the crazy inventor, the abstract painter, the mad mixologist. With a little creativity, you could become the most complex and gourmet salad-maker in the land! So that's what Canadian food diarist Anna Sneddon did. Let's check out her inspiring and healthy food p0rn ….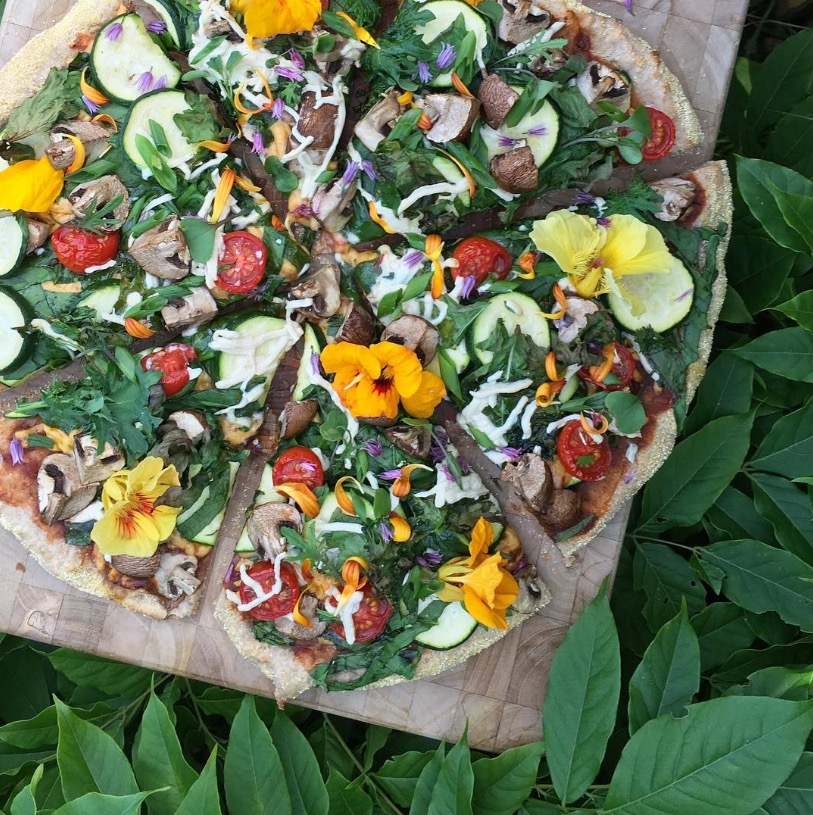 Exhibit A: 100% homemade veg pizza.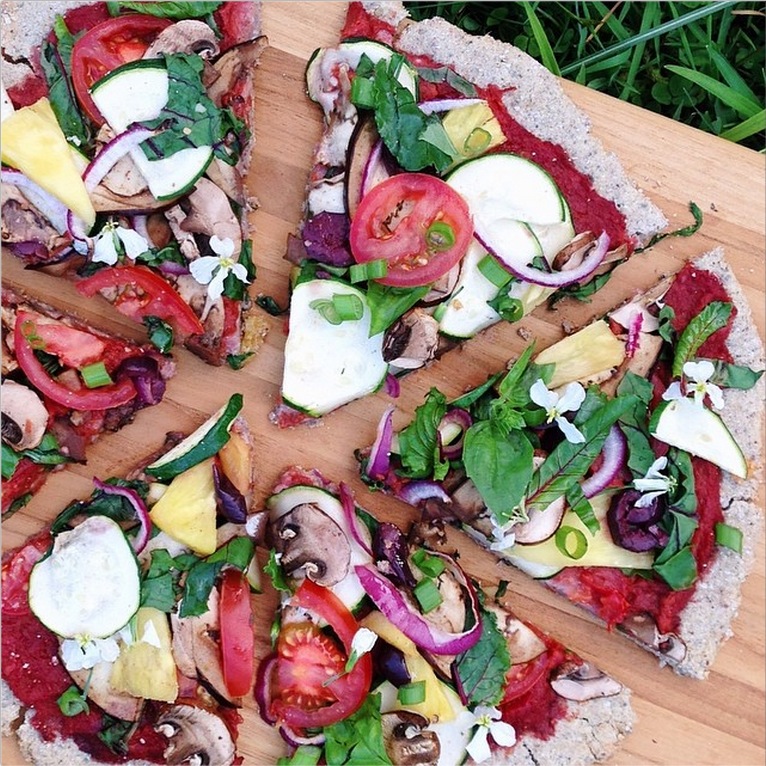 Buckwheat-chia seed crust topped with mushrooms, beet greens, eggplant, zucchini, olives, pineapple, basil, red onions, scallions, daikon radish blossoms, & a really yummy tomato sauce.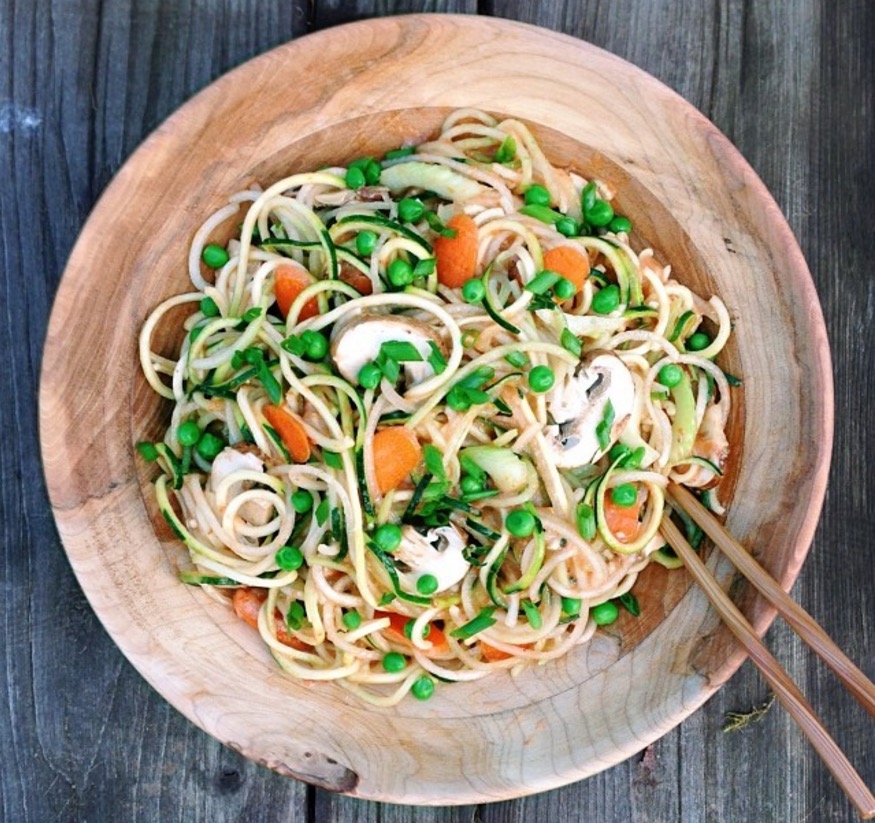 Asian inspired veggie noodle dish
Spiralized zucchinis, chayote, & cucumber with sliced carrots, celery, mushrooms, scallions, & green peas. The dressing was a blended mix of a bit of tamarind, 1 mango, 1 small orange, 1/2 red pepper, 3/4 lb tomatoes, 2 small medjool dates, & a tiny bit of spicy chilli pepper.
P.S. To "spiralize", Anna uses a Paderno world cuisine vegetable spiral slicer.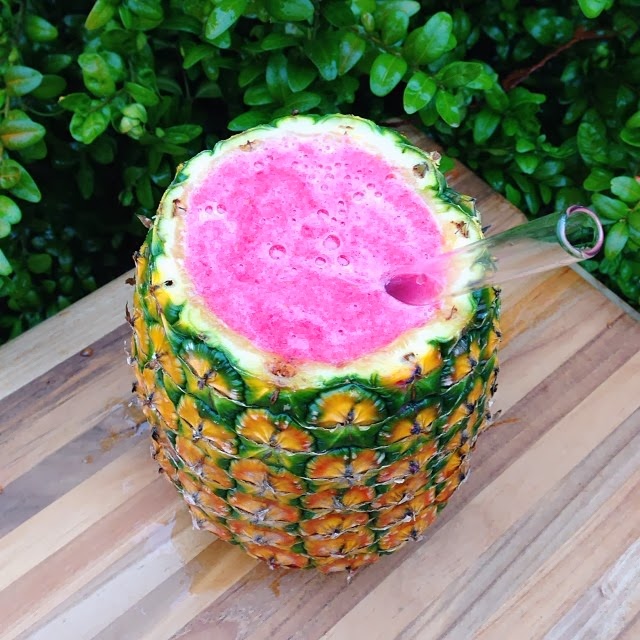 Date night smoothies?!
Chopping and carving is much more fun with a partner. Carve out one pineapple, and blend it with the water from one small young coconut (about 1 1/4 cup), and 1 1/2 cups frozen raspberries.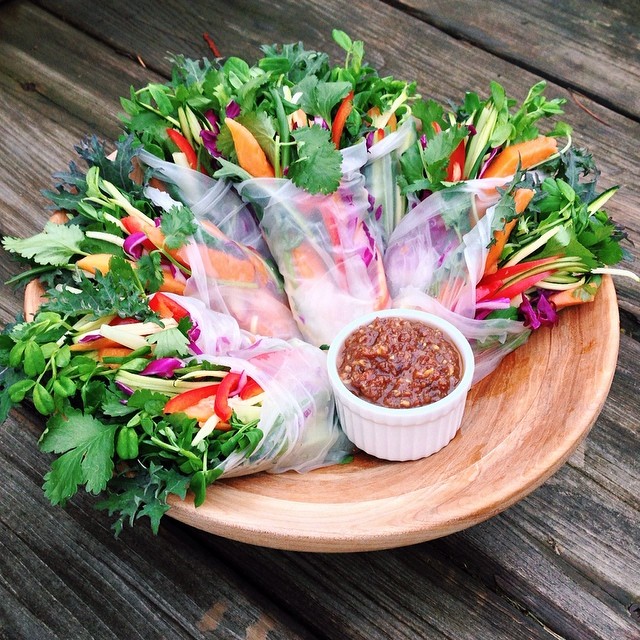 Fresh veggie & papaya spring rolls with raisin chutney.
Fill rice paper wraps with baby kale, cilantro, pea sprouts, red cabbage, papaya, cucumber, zucchini, red pepper, & scallions. To make the raisin chutney I soaked 1/2 cup (about 80g) raisins in 1/4 cup lemon juice & 1/8 cup water for 1 hour, then I blended that with 1 small garlic clove & a large price of fresh ginger (about 8g).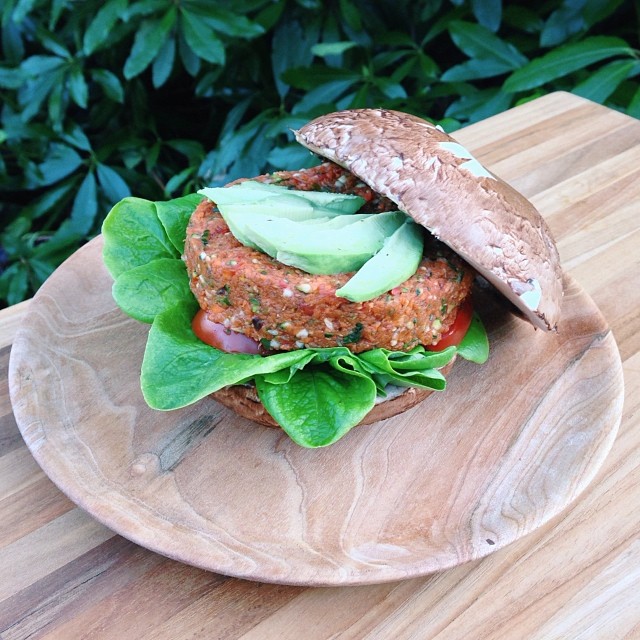 Raw vegan "burgers".
"I used portobello mushroom caps as buns, and the burger patties are made with carrots, celery, scallions, dehydrated tomatoes, zucchini, & mustard powder. They are sooooo flavourful and filling!"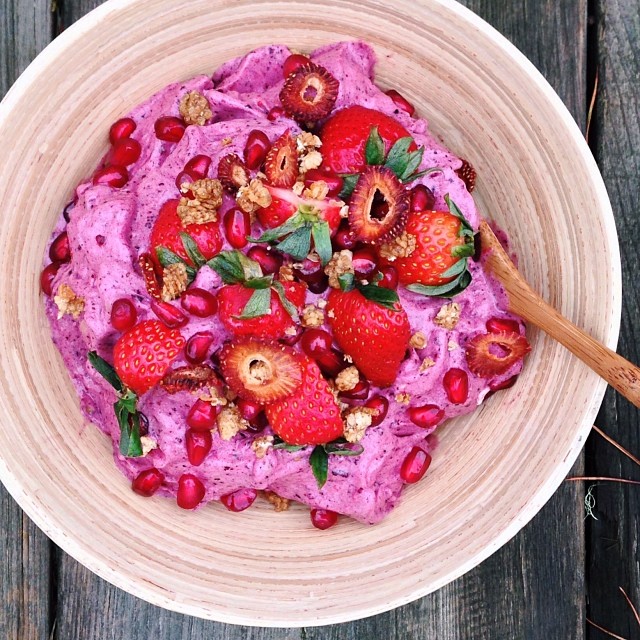 Banana-berry "ice cream"!
Just 4 medium bananas (peeled and frozen overnight), 1/2 cup frozen raspberries, 1 cup frozen blueberries, & about 1/3 cup coconut water mixed in my food processor (a high speed blender works, too). Topped with fresh strawberries, pomegranate, dehydrated strawberries, & chopped dried mulberries.
Fudgey banana-carob "milk shake" … come on, do the finger quotations with me.
"Just 3 large frozen bananas, 3 medjool dates, & 3 tbsp carob powder. Tip: in my food processor I blended the carob & dates with one banana first, until it was fairly smooth, & then added the other two bananas. That way the dates get evenly blended up & mixed in without the bananas melting too much.
I've grown to love the taste of carob, even more than I used to love cacao/chocolate (which I used to be really addicted to, and now I haven't eaten any or even craved any for months, even when there have been chocolates right in front of me!). If for whatever reason you are trying to quit chocolate and still have cravings, or if you just want a sweet & fat free treat, this nice-cream is perfect!"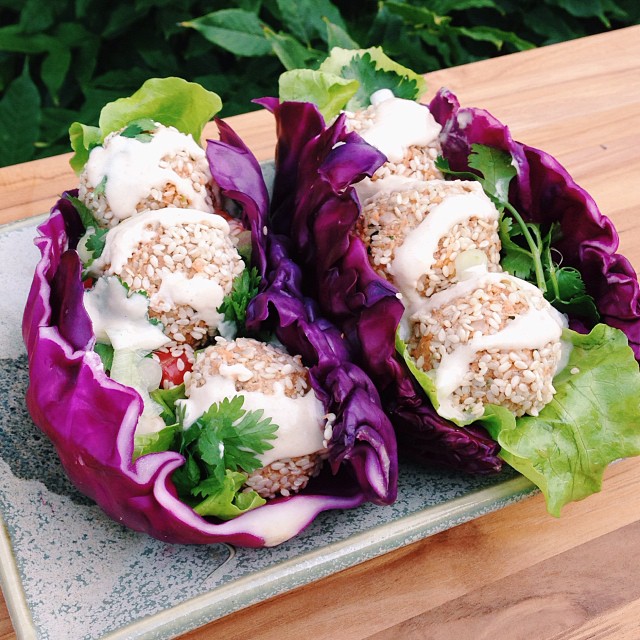 Raw vegan falafels with tahini dressing.
"So this was kind of amazing! Falafel balls were made with carrots, sunflower seeds, cilantro, lime juice, scallions, cumin, coriander seeds, and covered with sesame seeds."
Full recipe here.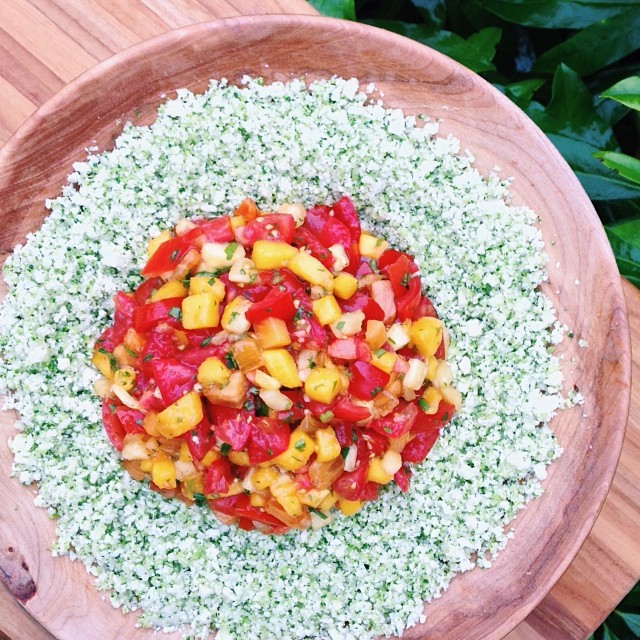 Raw vegan "couscous" topped with fruit salsa.
"For the couscous I just pulsed 1 head of cauliflower & one big broccoli floret in my food processor until they were about the size of couscous. The salsa was really simple to make also, I just chopped and mixed together 1/4 pineapple, 1 mango, 1 lb tomatoes, 1 fairly ripe fuyu persimmon (without the skin), green top of 1 scallion, a handful of cilantro, & the juice of one lime."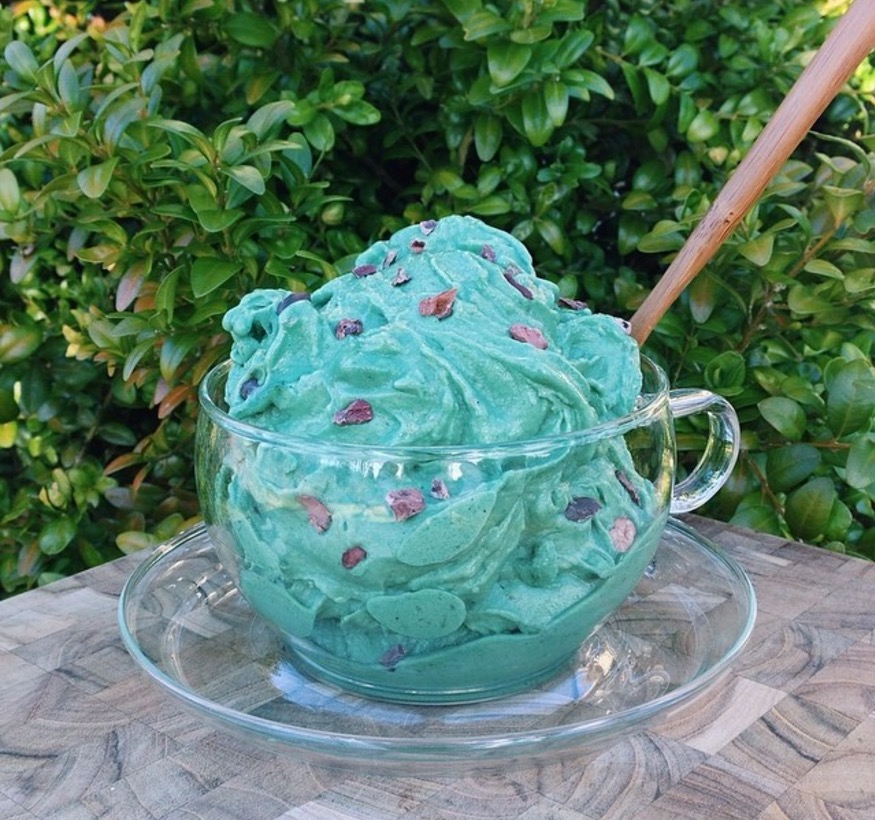 Mint Chocolate Chip Vegan Ice Cream
5 bananas (peeled and frozen overnight), 1 teaspoon of spirulina powder, & 1 little drop of peppermint extract mixed in a food processor. Added in a few cacao nibs afterwards. The spirulina is added just to get the green colour. I honestly hate the taste of spirulina, but luckily I can't taste it at all in this recipe… the bananas & mint overpower it!
A blueberry, coconut, almond, vanilla, pumpkin and flax seed breakfast. Recipe here.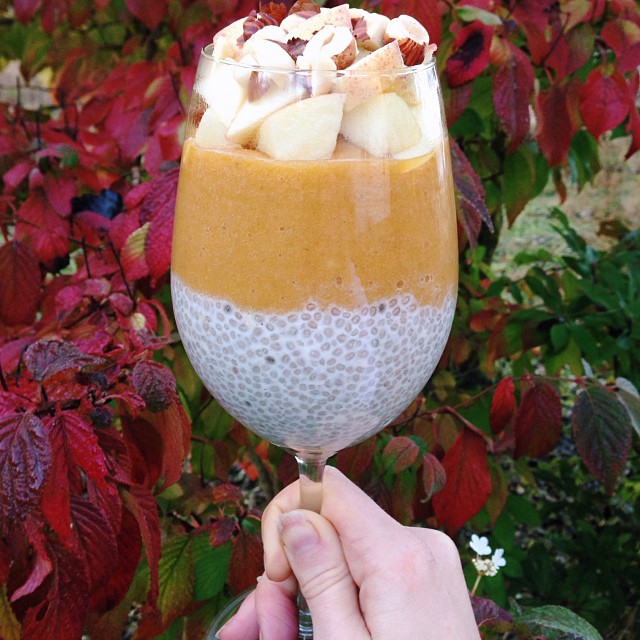 Chia seed, buckwheat & hempseed layered with chai tea infused pumpkin, date & banana purée. Apples & roasted hazelnuts on top.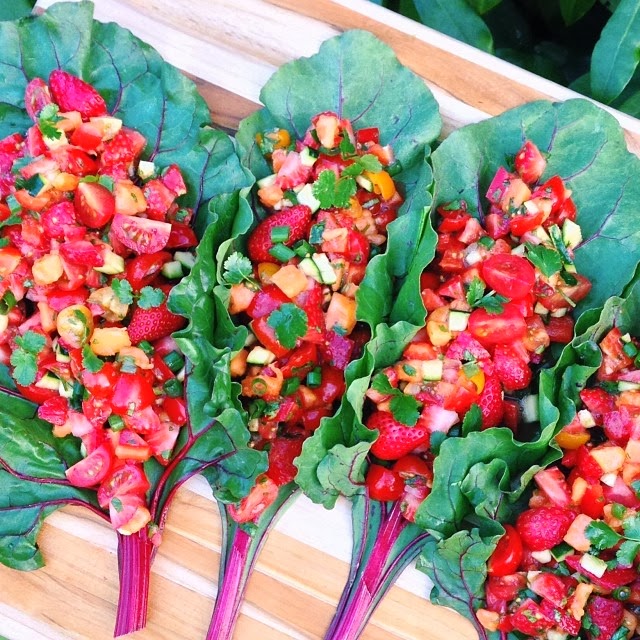 Swiss chard leaf "tacos".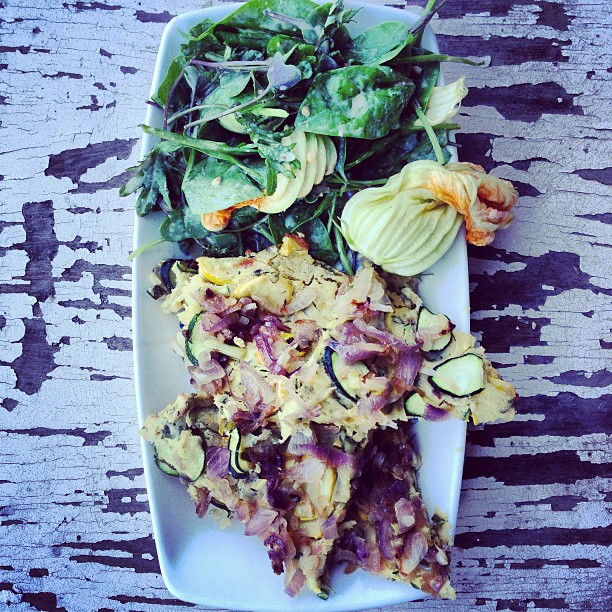 Zucchini, basil, & caramelized onion socca. Recipe here.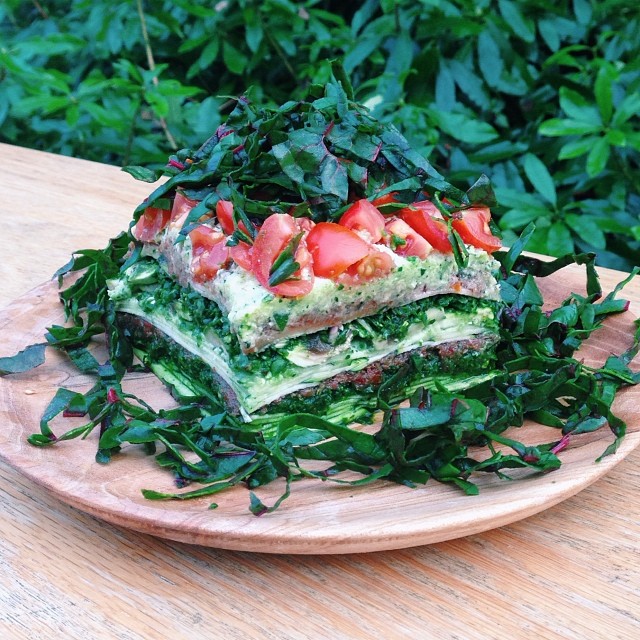 A Veggie Lasagna
Containing zucchini, spinach, parsley, cilantro, basil, swiss chard, rosemary, thyme, garlic, scallions, mushrooms, cherry tomatoes, & pine nuts. Recipe via here.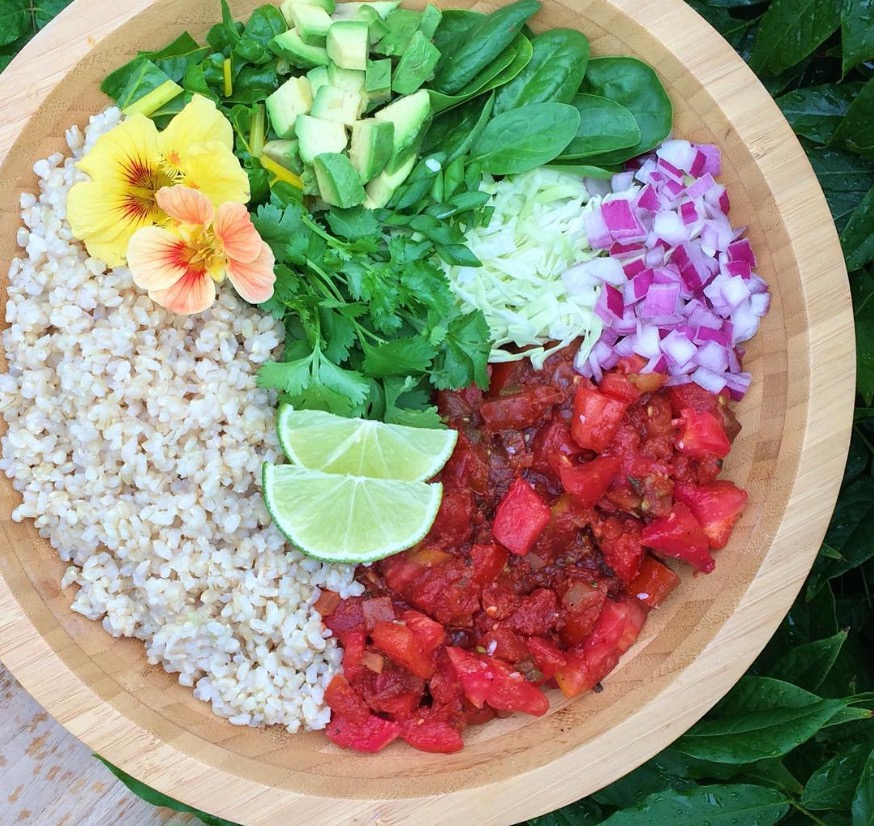 Obviously the main ingredient most of us our missing to become salad painters and mixologists is time. But when you're inspired, making time is suddenly easier, isn't it?
If you're on instagram, Anna's @Eat_to_Thrive is a great account to follow and get you pumped about eating a little healthier, or pick up some ideas on her Tumblr and make them your own.