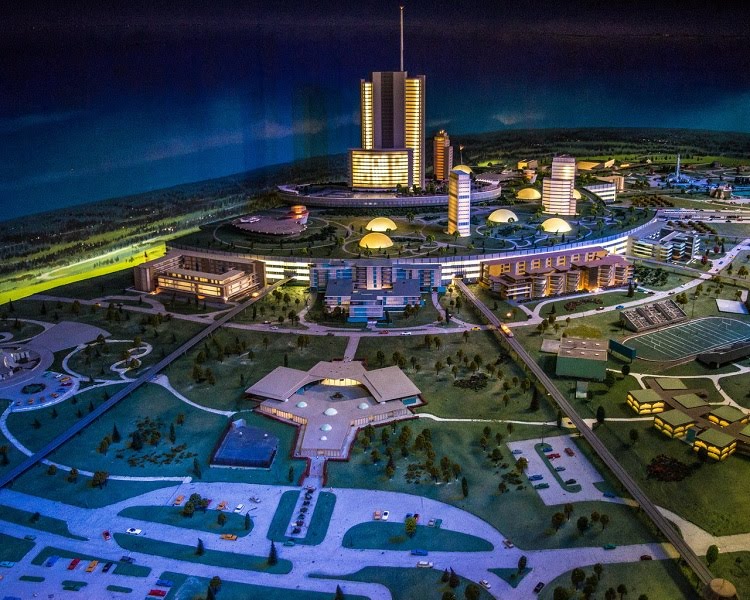 And then, Walt Disney created utopia. Well, almost.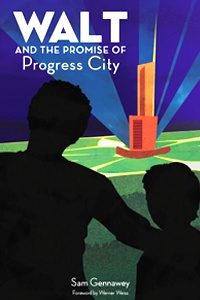 Before his death in 1966, America's greatest entrepreneur was planning his own city which would have almost total autonomy within its borders, where residents would live and work for Disney in some way, using the latest technology in their homes and experimenting with innovative community ideals.
Walt called it E.P.C.O.T, the Experimental Prototype City (or community) of Tomorrow. "It will be a community of tomorrow that will never be completed, but will always be introducing and testing and demonstrating, new materials and new systems."
Here's Walt Disney himself in 1966 encouraging American industry and various corporations to opt in and help create the dream…
Sounds pretty neat, right? A futuristic city whose progress never ends. But had the project been fully realised, there could very well have been some darker undertones to Disney's utopia…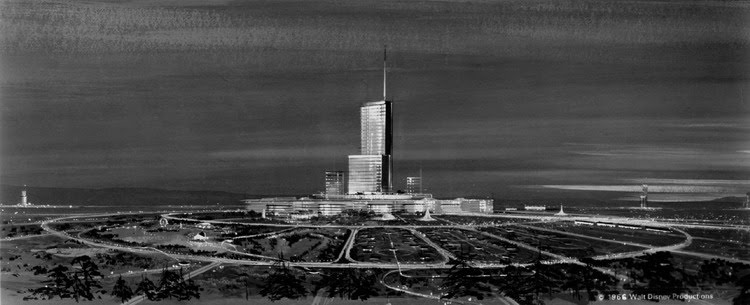 The Master Plan
In 1964, Disney began 'quietly' purchasing what would total to 27,000 acres of land in Orlando, Florida. By quietly, I mean Walt used his multiple lesser-known shell companies to buy up the land at very low prices from unknowing landowners that would eventually become part of the Disney prototype district. (By the way, those shell company names are listed on the upper story windows of what is now the Main Street USA at Walt Disney World).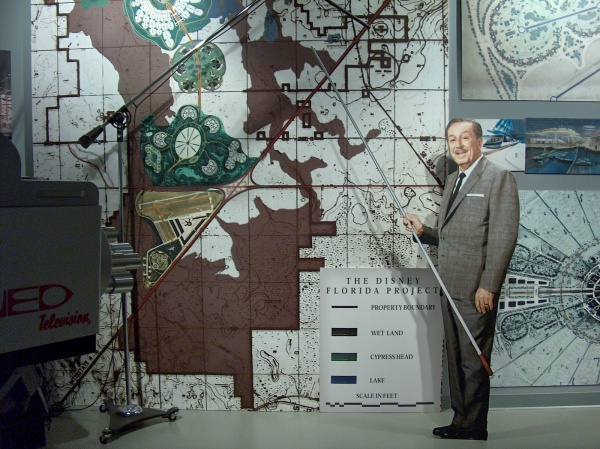 An Autonomous City
Next, he wanted independence; unprecedented quasi-government control over the area. He succeeded and in 1967, convinced the State of Florida Legislature to sign over municipal jurisdiction over the land Disney had acquired, which he named "The Reedy Creek Improvement District", after a natural waterway that crossed through it. This essentially meant Disney could do almost whatever he wanted on that land without government interference, like oh say, build a nuclear power plant. The idea was actually talked about in planning believe it or not, but instead they decided to go with a more traditional plant that would supplement power from outside the borders.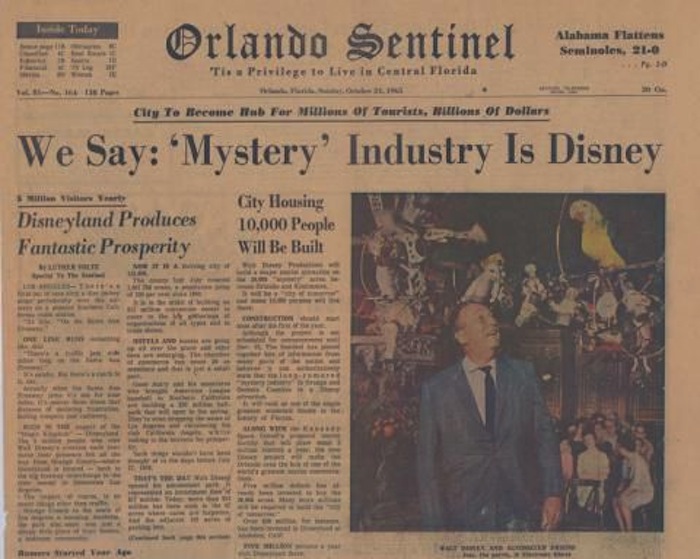 Disney could now build almost anything they wanted, such as airports and industrial parks, issue tax-free bonds for internal improvements and were exempt to state zoning and land use laws. Still today, this 38.6 square mile area within the outer limits of the Orange and Osceola counties in Florida is under the municipal control of Disney with far-reaching powers.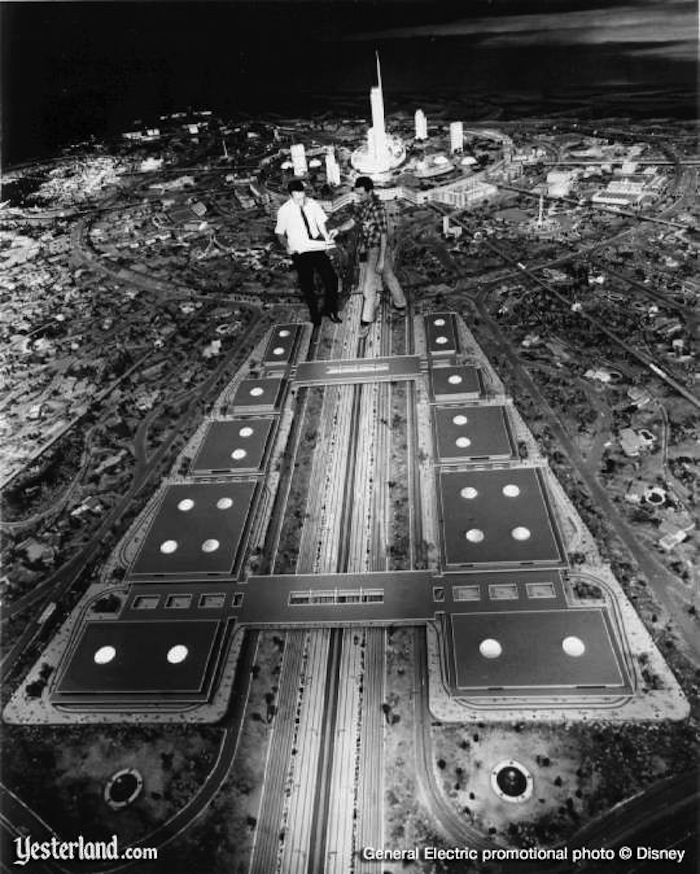 A large-scale model of Epcot via Yesterland.com
Living in EPCOT
But back to Walt's utopian city that never was. The prototype community was designed to be an operational city, an example to the world where the future thrived and … no one could own land or vote?? That's right, all 20,000 something residents would be tenants of EPCOT, employed by Disney in some way, all paying rent for the privilege of living there (which wouldn't leave much room for retirees– everyone had to have a job). All family homes would benefit from the latest technology, constantly being developed and tested by resident scientists, but of course, controlled and overseen by the man himself, Walt Disney.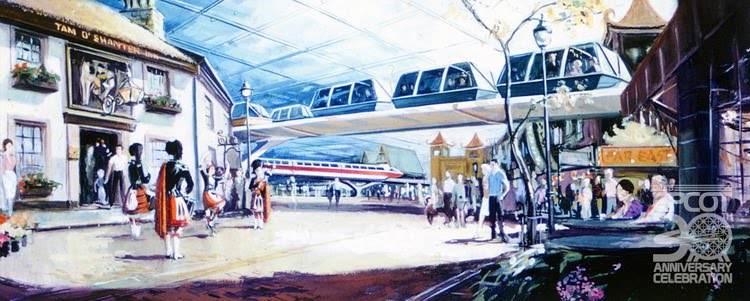 There would be no cars in EPCOT either, at least not any visible ones. Devised to be built in radial design, a city that would radiate like a wheel from a central core, EPCOT would run on its own internal transportation system that never stopped. Connected to the other points in Disney World via monorail, passengers could disembark at the EPCOT transportation lobby and transfer to the PeopleMover; motors embedded in a track, much like Disney's theme park rides, that could transport residents from the metropolitan centre to the outer residential areas. The PeopleMover was actually developed by Disney but ended up being installed at the Magic Kingdom, renamed the "PeopleMover Tomorrowland Transit Authority".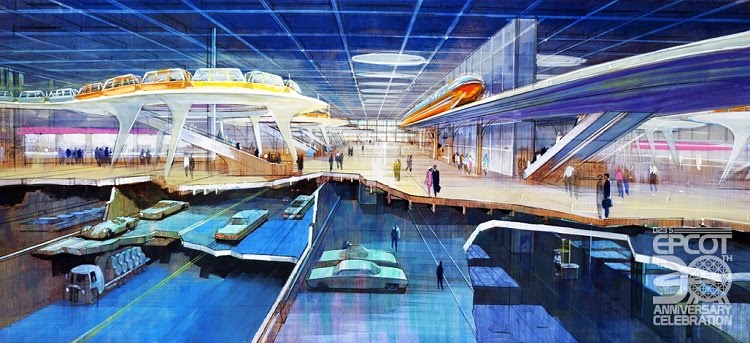 However the glitzy monorail and the amusement ride style PeopleMover wouldn't do much good for the heavy-lifting of EPCOT. Supply trucks, delivery cars and generally all the behind-the scenes stuff would travel and operate underneath the city core, discretely delivering via underground tunnels, unseen by guests and residents, just the way Walt liked it at his theme parks.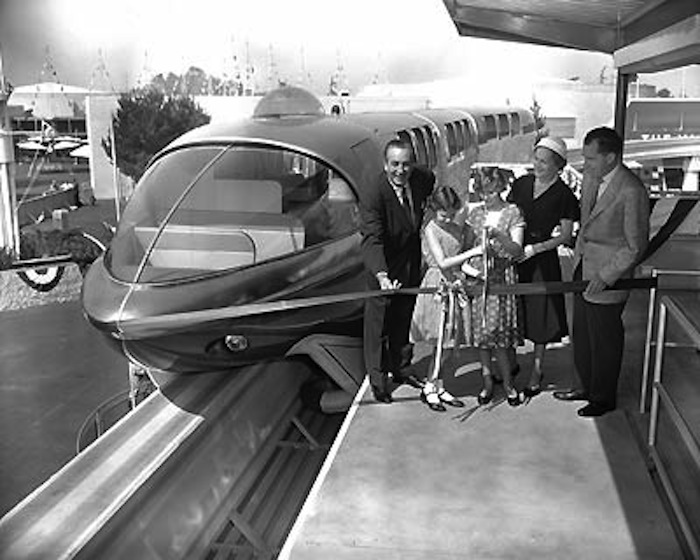 According to Disney's imagineer Bob Gurr, on an inspection of one of the EPCOT scale models, Walt Disney pointed to one of the benches on the roof of the tallest 30-story building to be built right at the centre of the city, and declared, "This is where Lilly [his wife] and I will sit when this thing is finished, taking everything in".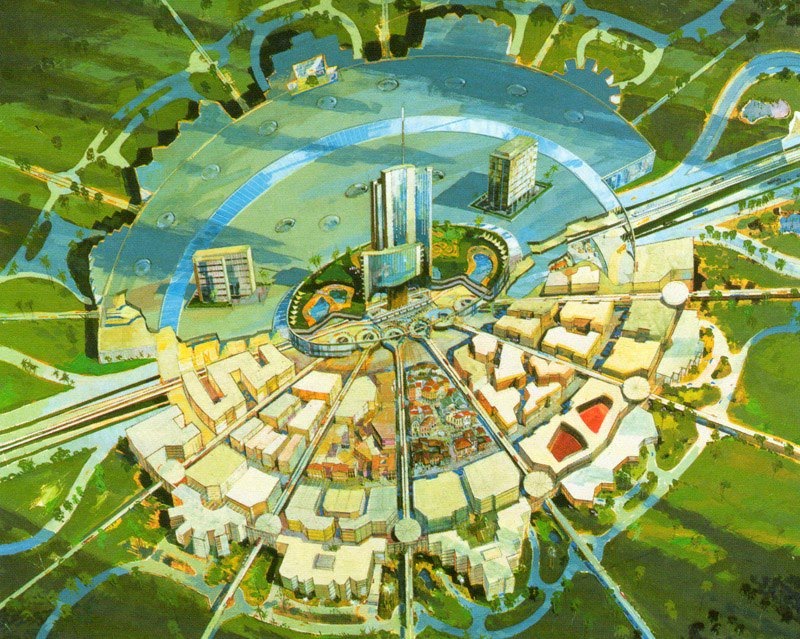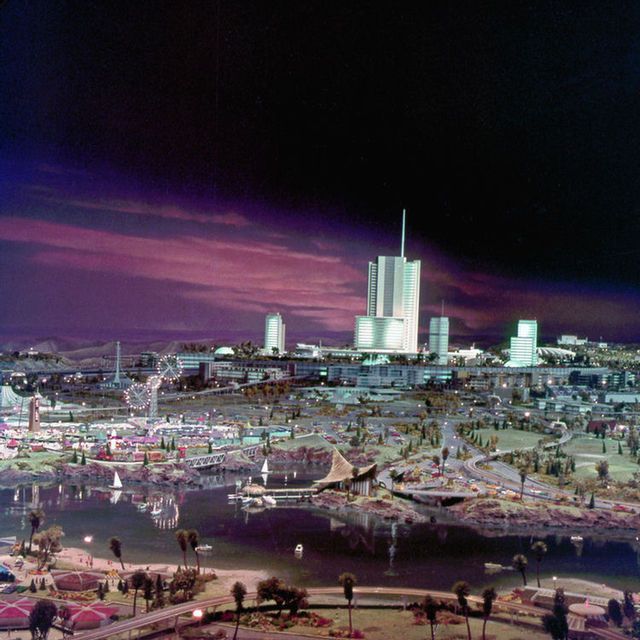 An Epcot scale model. 
Walt the Dictator?
Of course it's widely acknowledged that Walt was a pretty nice guy, but is this concept starting to sound a little George Orwell's 1984 to anyone else? Since no one living in E.P.C.O.T would own their own land or home, they would thereby having no municipal voting rights. The Original EPCOT website however, stresses that Walt Disney wanted to exercise this control only to be able to change technology in the homes easily. Hmm. 
On a lighter and perhaps greener note, EPCOT was going to be a pedestrian and environmentally friendly city…

"Separating the city core from the low-density residential area would be an expanse of grass areas, known to the planners as the "green belt"… Establishments such as parks with playgrounds, community centers, and churches would be located here. Beyond the Green Belt was the low-density, single-family house neighborhoods. These areas would have resembled the petals on a flower, with the houses located on the rim of each "petal". Inside the "petal" was a vast green area. The area would have had paths for electric carts, light recreation areas for adults and play areas for children."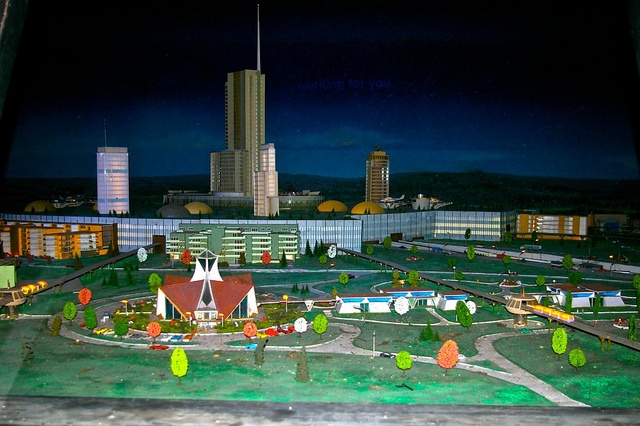 So what happened to EPCOT and why did it never happen?
After Walt Disney's sudden death in 1966, the Disney board of directors backed out of the project, deciding they didn't want to be in the business of running an entire city and abandoned Walt's last dream project. That didn't mean the company wouldn't remain in complete control of the District. Today a five-member board of Supervisors governs the District; senior employees at Disney who each own lots of land within its borders. The only residents of the failed utopia today are some Disney employees and their family members, living in two small communities in the district.  What remains of the EPCOT dream is essentially a living world's fair called the Epcot Theme Park, "a far cry from the actual functional city that Disney had envisioned", says the Disney Wikia page.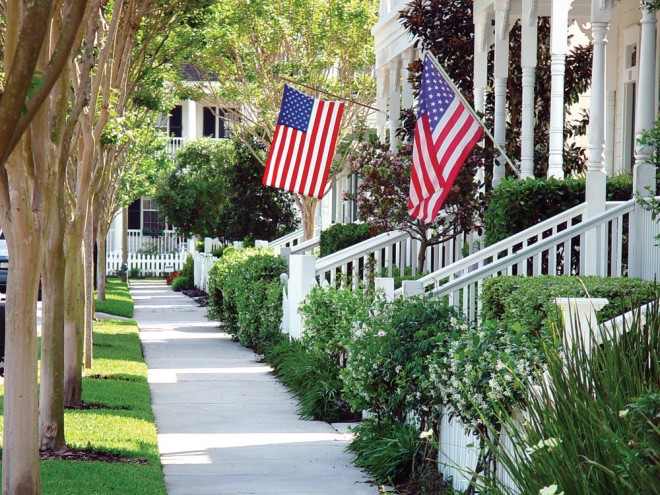 The "Stepford Wives Town" inspired by EPCOT
In the 1990s, the Walt Disney Company did however manage to create a master-planned self-sustaining community somewhat inspired by Walt's EPCOT, on 4,900 acres of undeveloped land in the southern portion of the Reedy Creek Improvement District. They called it Celebration, a $2.5 billion investment designed to be worthy of Walt Disney's EPCOT vision that would collaborate extensively with leaders in education, health and technology to create its own policies and living standards. Like EPCOT, there would be no slums or ghettos. It was to be the perfect cartoon-like living experience.
"In autumn, leaf-shaped confetti shoots out of the lamp posts on Market Street to simulate falling leaves. During the holiday season, suds pour out of the lamp posts to replicate snow while Christmas music streams from the sidewalks."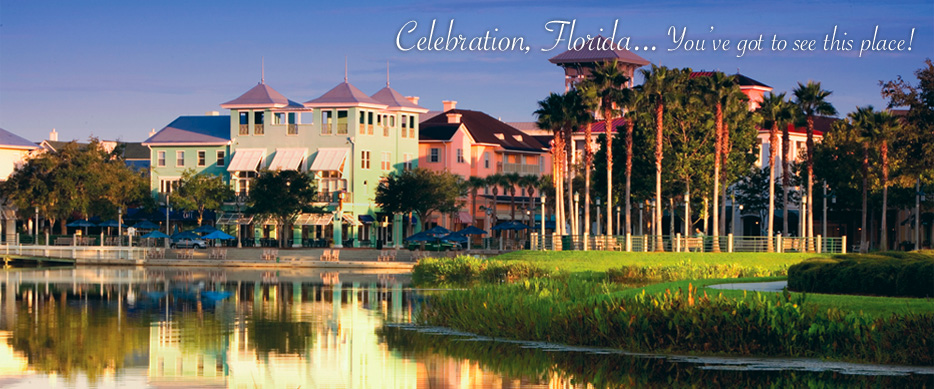 A 1999 article for the New York Times suggested the plastic lifestyle in Celebration wasn't all it cracked up to be. A visitor to the town town the reporter, "Before I came here my sister told me it creeped her out, it was too perfect. It is kind of Stepford Wife-like."
In 2010, the first murder took place in Celebration and the streets lined with white picket fences were soon decorated with police signs requesting witness information about the crime. Despite unprecedented quasi-government control over the area, the District does not have its own police force and relies on the two surrounding Florida counties to respond to incidents. Later the same year, a father of three barricaded himself in his house and fired shots at police before shooting himself in the head.
Not exactly the perfect Mickey Mouse community Disney had hoped for.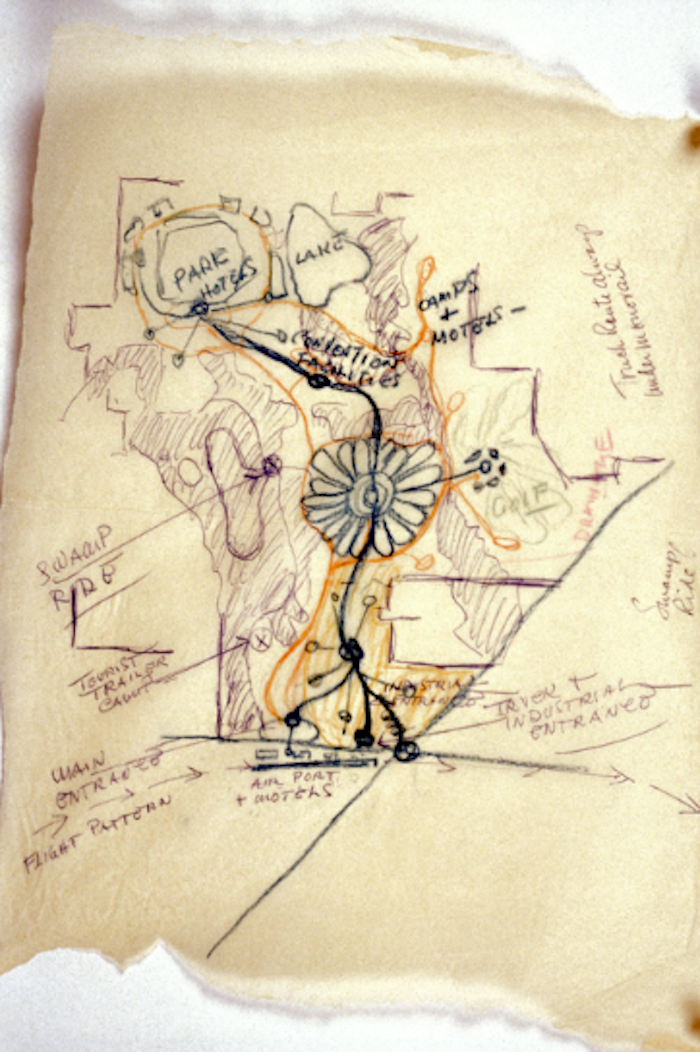 This is Walt Disney's original sketch for EPCOT. Would he have done a better job of creating the perfect city had he lived long enough? Or should the idea of building a utopian city stay well and truly in the past?
Discover The Original Epcot website