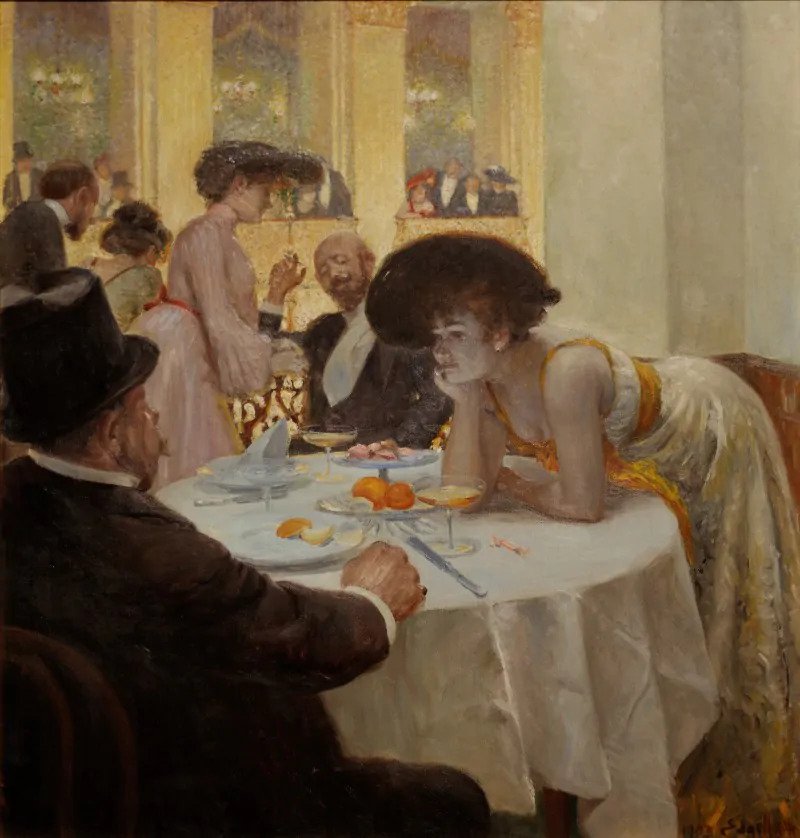 That inimitable bedrock of Parisian social fabric, the traditional French brasserie has been synonymous with French lifestyle since the second half of the 19th century, but during a little-known a moment in history, one could indulge in a whole lot more than a good ol' steak-frites. For once upon a time in France's Second Empire, the male waiter contingent had been ousted in favour of les verseuses (female pourers); essentially, waitresses 'with benefits'; and it was not uncommon for a Parisian brasserie to have a dedicated backroom or a connected apartment known as a the "Cave à Venus" for private encounters. This was the long-forgotten era of le brasserie à femmes, where prostitution thrived in broad daylight amongst polite society.
Drinking & dining had been kept separate from sex in the public sphere until the rule of Emperor Napoleon III (1852–70). Licensed brothels or maison de tolerance had been legalised in 1804, but under strict oversight by the authorities, with every sex worker properly registered, policed and medically monitored. These lucrative and controlled businesses were protectionist and it was tough for prospective new brothels to get a foot in the door and a licence, so it wasn't long before legal side-stepping birthed a new concept of the all-female-staffed brasserie. Around the time of the Exposition Universelle of 1867, these brothels in disguise began mushrooming across Paris' Left Bank and the Latin Quarter, employing thousands of waitresses and offering similar services to a brothel, but in less intimidating and more accessible environments.
The role of the attractive and flirty verseuse was to encourage customers to drink to excess and lure the willing into their Cave à Venus; often a garishly decorated storage room or upstairs maid's room. In some cases, she might accompany her client to a nearby Hôtel de passe, where the manager of the latter would have a prior accommodating agreement with the brasserie manager. They worked twelve hour shifts in the smoky brasseries, matching their patrons drink for drink, which no doubt would have taken its toll on a waitress' health. Little wonder most waitresses only lasted around ten years in the job.
The verseuse was part of a very organised set-up, one that mostly swayed in the favour of her employer. She would be fed meals, but not clothed by the brasserie – in addition to her paying a fee for 'the right to serve', she had to bankroll her own theatrical outfits required by the boss. Brasserie à femmes often adopted fantasist themes and names as marketing gimmicks, requiring female staff to dress like Scottish maids, Spanish or Italian peasants, setting the trend for the extravagant themed cabarets of the Belle Epoque that would become popular in the late 19th century. Across from the Paris courthouse, one might even be served their drinks by overly-friendly waitresses dressed in lawyer's robes. These brothels in disguise no doubt benefited from an unusual level of leniency from the police. Verseuses were not subject to the same rules as brothels either, and weren't required to declare themselves to the authorities, which was a more appealing option to young women with few options.
So popular was this 'new' concept that the traditional brothels started to suffer and many subsequently closed their doors. There was no shame in entering a brasserie (as opposed to a brothel), which only made the brasserie à femme more enticing to a broader (younger) clientele that might not have otherwise dabbled in the Parisian sex trade. Of course, the downside of this booming but unregulated business was that many more patrons and hostesses fell victim to the fate of venereal disease and excessive alcohol consumption.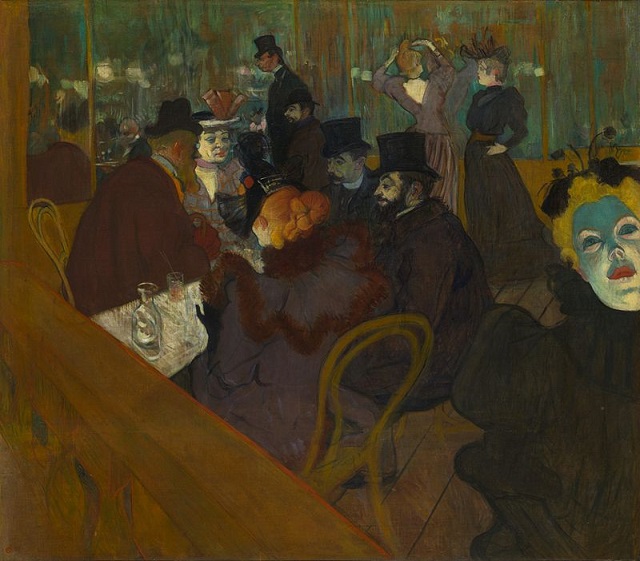 Clientele consisted mostly of young intellectuals, academics, students, artists, shop assistants and clerks alike, who thrived in the company of verseuses, hoping as much for a love affair as for casual sex. The first Brasserie à femmes ("La brasserie de l'Espérance") emerged on the doorstep of the Sorbonne University and employed fourteen girls. It quickly became nicknamed by local students as "the fourteen buttocks". Once the brasserie à femmes conquered Paris and spread across France to provincial and port towns towns too, some of them expanded their business to include opium dens, mostly frequented by naval and army officers. As fears heightened for the nation's bright young things being devoured by the underworld, the golden era of the daylight brothel brasserie met its end. At its height, the police estimated that 40,000 men a day – a quarter of Paris's men – were having relations with prostitutes.
Victorian feminist Josephine Butler and her travelling companion, French Republican politician Yves Guyot lent their weight to an increasingly popular abolitionist campaign at the end of the 19th century. So strict were the resulting laws, that for a long time, women were outright barred from serving in France's brasseries, except for family members of the owners. After World War II in 1946 the Marthe Richard bill was passed, the prostitution registry was abolished and 1400 brothels were summarily shut, including 180 in the French capitol. Some brothels morphed into hotels, that (as still is the case to this day) prostitutes have continued to use to entertain their clients.
Having possibly ruined your quaint image of the iconic Parisian café forever (but one hopes we've only enhanced your curiosity) we'll leave you with this rather punchy 19th century job application filled out by a young lady from Marseille seeking a position as a verseuse for one of Paris's bygone brasseries à femmes.
Have you already served in brasseries?
Yes, in Lyon and here.
Are you young?
I'm 24.
Pleasant?
Like a jewel.
Pretty?
See my photograph.
Flirtatious?
With art. I offer, I attract, and I hold.
Do you have a good stomach?
I have a robust constitution and if I don't have sobriety, the virtue of a camel, by contrast I possess the stomach of an ostrich used to all kinds of drinks, even adulterated ones. I have, like many of my co-workers, begun to practice fraud and today I can drink without getting drunk. You will hear my voice, you will see my chic and you will appreciate my talent for manipulation.