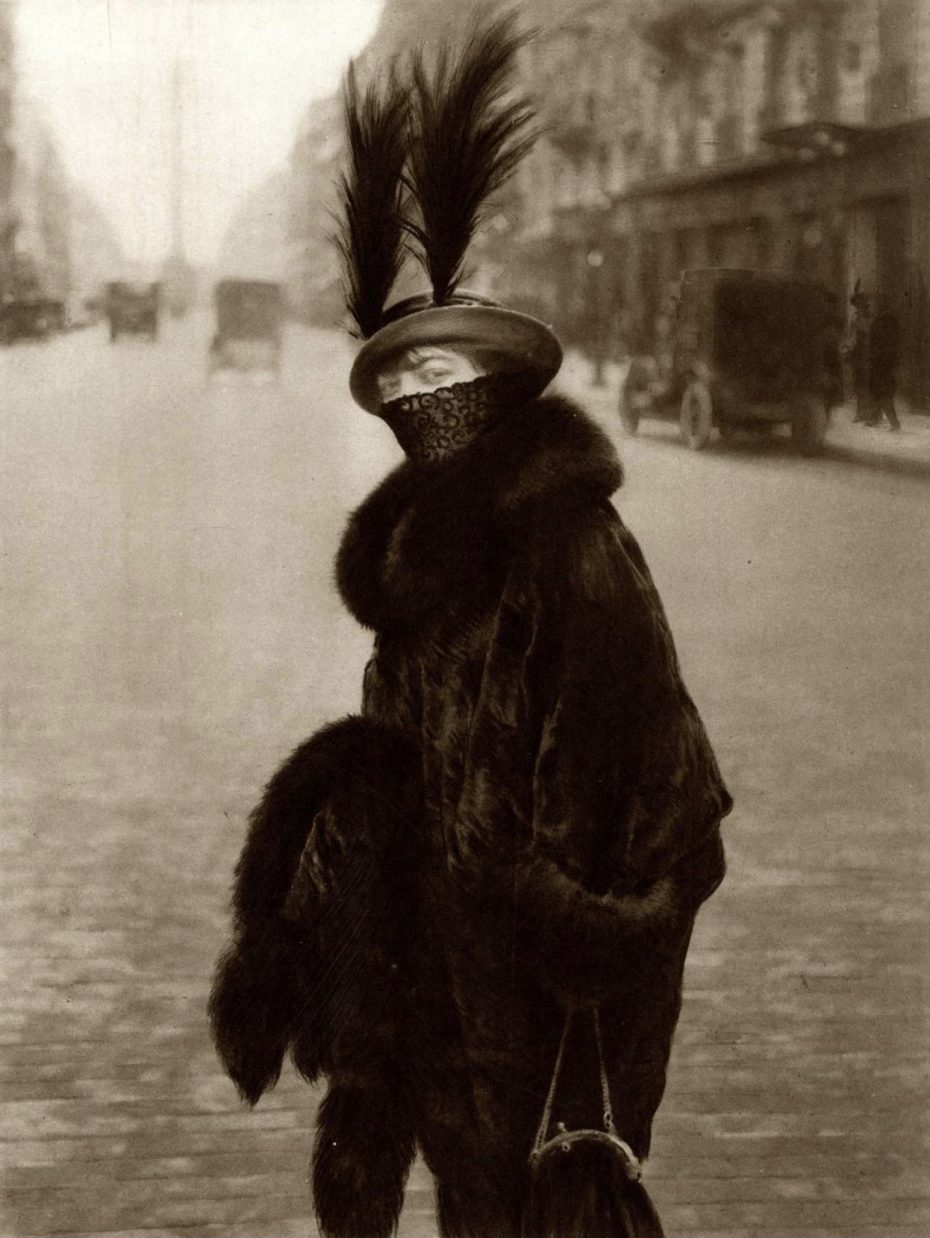 The lady in the dark mink coat on the Rue de la Paix is my paternal great grandmother Alvine Piget.

The photo is taken on the late afternoon of the 24th February 1914 and Alvine is on her way to a bal de carnival, dressed as an oriental princess in a thin, elegant light green-greyish silk dress, in the new ankle-length, made for the occasion for her, by Balenciaga.

She wears a dark brown mink coat with a black Siberian fox collar. She is holding another mink collar in her hand, to cover her shoulders at the ball, and a silver-framed evening handbag. She wears a plume decorated hat and a silk face mask.
Alvine is about to meet her husband, my great grandfather Hubert Piget, a French Huguenot, who had left L'Hotel two hours earlier to meet with his business partners. What she does not yet know is that she is aboutto meet another man, a young man. And that this evening will mark the
beginning of the end of her calm, safe and protected life in the splendid family villa in Geneva.

Alvine and Hubert Piget lived at the Lac Leman, overlooking the Alps.
The two storey villa with a terrace to host a ball bordered a little park that belonged to the Piget estate. Alvine was a well-provided for lady of the Genevan high society, a devoted mother, and a gifted piano player. Alvine was most probably a happy woman. She had certainly no reason not to be, as her husband's relatives would say.

This evening, the 24th of February of 1914, will change the course of our entire family and affect it for several generations to come. The trauma which is about to unfold, and the avalanche it will set off will be unstoppable. It will drag our family into a long series of tragic events with the relentless stubbornness of a fast train, unstoppable on its track towards the abyss. But right now Alvine crosses the street; she has left L'Hôtel, where they usually stay during the opera season in Paris, once every winter.

Alvine is soon to be introduced to a young man. His name is Henry de Journet. He is a young architect, in his late twenties, almost ten years younger than my great grandmother. Henry had only recently returned to Paris after his studies in Vienna. She notices his charming laughter and that he is so "playful and boyish", she would write in her diary, adding a brief comment about her shoes, noting that "silk shoes do not go well with Paris' climate in February. I should have thought of that and brought along an extra pair. I've ruined them".

It started with Champagne. Alvine and Henry danced and they laughed. My great grandfather talked business, smoked cigars, added Cognac to the blend, and was as jovial as ever, thinking strategically with some important suppliers even long after midnight. "H working – as usual", notes Alvine in her diary, to summarise the whereabouts of her husband during the evening.

The laughter ended in just the way most love triangles usually end. Abruptly, with a smashing scandal. With a broken down marriage, with the sudden death of my great grandfather Hubert at the age of 44, due to a stroke, two years later, in April 1916. The private railway company he had started had expanded with connections as far as to Belgium, The Netherlands, France and into Switzerland.
It was a prosperous business. My family travelled in their own train when going abroad. Now it all went bust. In spite of wartimes being traditionally good times for any kind of transportation, in less than two years after Hubert Piget's unexpected death, incompetent new managers and the greed of shortsighted shareholders managed to ruin the company.

My great grandmother Alvine had now become a widow at the age of 37 with five children, four girls and one boy. The children had lost their father. One of the girls was my grandmother Marthe. Alvine's' problems had now become much bigger than ruined silk shoes. She was about to become the impoverished and shamed outlaw in the family.

Henry had been given his orders and left for Dunkerque in the beginning of February in 1915. Together with a group of young academics that had been trained in 'special technical skills' to work with 'supply and logistics' in defence of the strategically important harbour. The Great War had broken out. Europe was at war. Henry's task was called 'silent work behind the front lines'. In reality it meant playing Russian roulette with death.

Henry had left from the Gare du Nord with his usual irresistible smile and a dreadfully heavy rucksack, together with his comrades and with hundreds of young soldiers. Farewelled by worried mothers, proud fathers, crying fiancées, and by my great grandmother Alvine, who was "stern and unable to neither speak nor cry" as she wrote into her diary, adding, "time has stopped. I won't be able to laugh again; my heart is gone."

Henry's letters are preserved. They live on. They are filled with poetry and with love, at times even with a sense of humour. He recalls some small everyday moments with my great grandmother; he reminds her – and probably himself – of their days and nights. Henry's letters don't mention blood, dirt or dying. Alvine has kept these letters, bundled. She has carried them along during her various moves later on in life. My grandmother Marthe has since kept them and, when she too, died in 1996, I inherited them.

Henry's letters stopped arriving by the end of November 1917. Alvine was informed three days after Christmas, on the 27th of December, by Henry's sister that Henry had died "avec honneur pour la patrie" during a bomb raid in Saint-Pol-sur-Mer in the beginning of December.

My great grandmother Alvine never married again. She died in 1949. She never "got her heart back." But she kept on writing her diary.
Dagmar Nordberg is an interior architect who has worked as exhibition producer for various museums around Europe. Since retiring from that frenzy urban lifestyle she enjoys living in her timber cottage at the Baltic Sea in Sweden. She watch the wild geese flying over her roof top as they return to their breeding grounds in the North in spring, she writes, chop her own firewood, bake bread and talks to her cats Snowy and Coffee, and her sheep. (Alvine's story is based on real events, but she is not the woman in our photo).