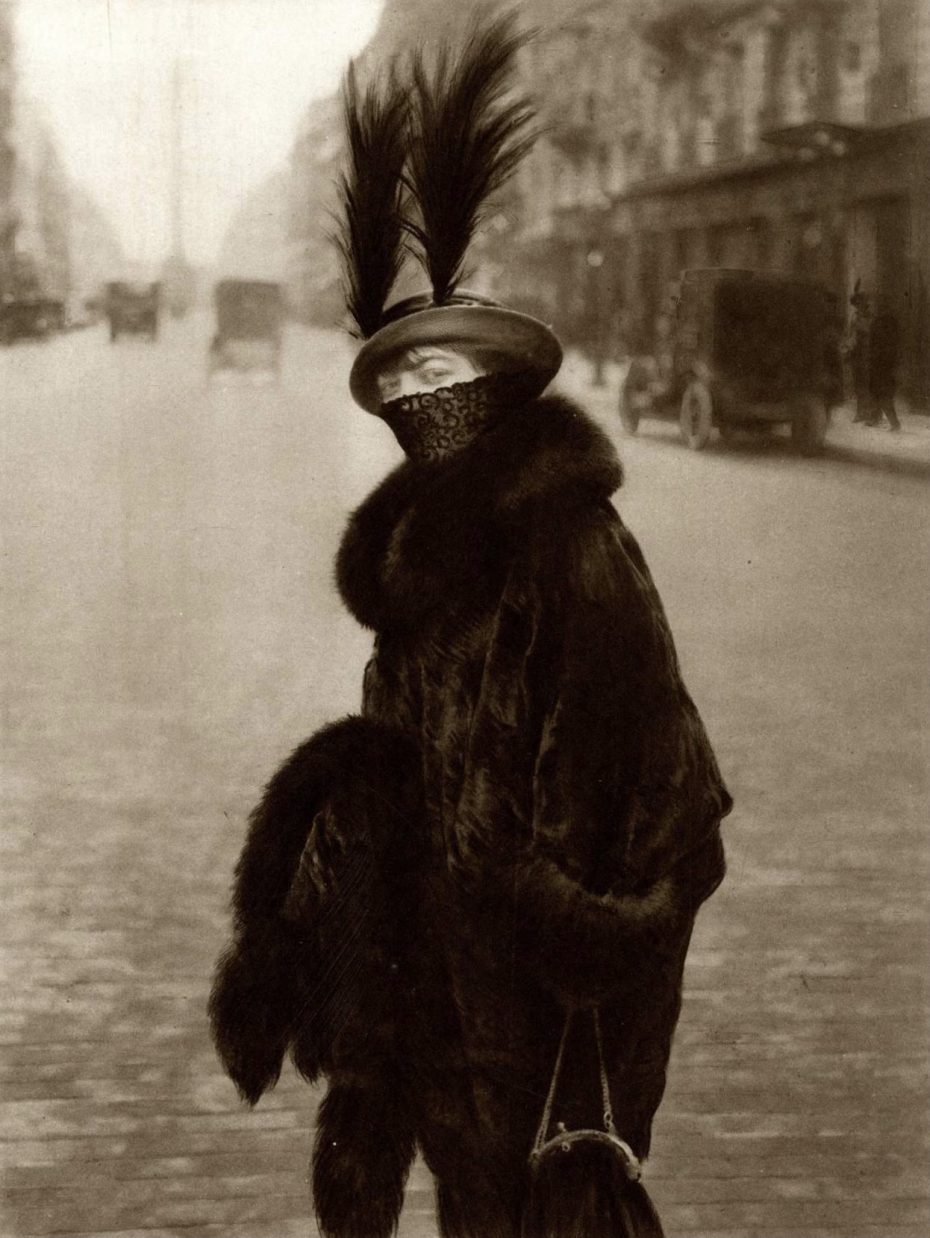 Pictured here is Amélie Marriam, a woman of gentle birth whose husband, André, an officer in the French Army, was one of 27 000 men killed at the Battle of Charleroi on August 22. Fifty-two percent of those mobilised were killed or wounded that day. This photograph was taken by a society photographer, while she was still mourning his passing, a few months later.

With the war claiming the lives of so many, it was not long before women were called upon, or volunteered, to serve in any way possible. Some began teaching, or became ticket clerks on the métro and the tramways. Others entered factory work.

By 1916 women were driving streetcars; then on June 1, 1917, female mail carriers began delivering letters in the 10th and 17th arrondissements. Parisian fashions changed to better suit working women; skirts became shorter and corsets less tight.

New feminized words entered the French language: "factrice" for a female delivery person; "conductrice" for a woman tram driver and "munitionnette" for a woman working in a munitions factory. The first business school for women, the Ècole de Haute Enseignement Commercial, opened on December 2, 1915.

Mme. Marriam, a gifted seamstress, entered the garment industry as soon as an opportunity arose. Through hard work and determination, she quickly earned the respect of her employer and wholehearted support from her co-workers who looked to her as a natural leader.

It was practically a foregone conclusion that she would be elected as the factory's shop steward handling trade union matters even though there was little need, at first, for her to attend to anything beyond routine administration work on behalf of her members.

By 1917, however, with continuing shortages, rampant inflation and wage increases that fell far short of what was needed to survive, employees could no longer accept the status quo. Workers and citizens at large had, until then, accepted philosophically that they were all in the war effort together and that sacrifices had to be made. Staring starvation in the eye quickly changed that.

Amélie and her co-workers joined the industry-wide call for action. She and two thousand of her fellows, known as midinettes, launched the garment makers' first strike on May 15, 1917. They demanded a salary increase of one franc a day and a five-day week (referred to as an "English Week"). The strike spread to other trades and ten thousand working women soon gathered outside the Labour Exchange.

Negotiators from the clothing industry's governing body suggested an increase of 75 centimes a day and a five-day week, but this was rejected by the employers' association.
Midinettes then marched to the National Assembly and, on May 23, employers reluctantly agreed to raise wages by one franc a day and to grant the requested five-day working week. Needless to say, Amélie's standing in the eyes of her employers plummeted. From being permitted almost complete freedom to go about union duties, she found herself having to account for every minute of each working day. Even twice-monthly Union meetings, held off company premises, came under scrutiny. Thinly veiled threats to have her arrested and imprisoned, for "hampering war efforts", forced her to take extreme precautions.

She could thus be seen hurrying home from meetings dressed in one of her old, and no longer fashionable, long dresses. The extra length accommodated pockets, sewn into and above the hems, enabling her to smuggle Union literature and correspondence without fear of harassment.

Sadly, even as the Americans advanced steadily, France's troubles were far from over. The German boche stepped up its efforts to demoralise the country into submission and, by 1918, almost continuous bombing raids and artillery attacks became a fact of everyday life. The factory in which Amélie worked was among many reduced to rubble while thousands of Parisians died.

Workless, hungry and weakened by stresses of war and years of selfless effort, Amélie Marriam, aged just 37, succumbed to Spanish Influenza in October 1918. But her indomitable legacy marches on …
Gordon Hall is a retired crime scenes photographer and technician. He grew up as a car and bike nut, worked in the motor trade and you can now find his postings at Scarlet Pumpkin.