Like a mirage in the dusty haze that settles over the African bush, stands an almost exact replica of St. Peter's Basilica in the Vatican City. Upon its completion in 1989, not only did the lookalike structure 'borrow' the design of the Roman Renaissance dome and encircled plaza, but measuring in at 30,000 square metres, it even took St. Peter's title as the largest church on earth, surpassing the Guinness World Record.
Oh, and the whole thing is totally empty.
Lead image: Nic Bothma—epa/Corbis 
Image (c) Gabygobou
Images (c) Jbdodane
Basilique Notre-Dame de la Paix de Yamoussoukro, also known as the "basilica of the bush", is the estimated $300 million indulgence of President Félix Houphouët-Boigny, the Ivory Coast's first President and third longest-serving leader in the world at the time of his death (after Fidel Castro and Kim Il-sung of North Korea). Perhaps you see where this is going.
Democrat or dictator (I'll leave that argument for a rainy day), Houphouët-Boigny was ruling a country already in dire financial straits when he decided it would be a good idea to build a luxurious Vatican clone in the outskirts of his hometown of Yamoussoukro, surrounded by poverty.
Image (c) Mount Holyoke McCulloch Center
After importing 30 acres of marble from Italy and 23,000 square feet of contemporary stained glass from France, when asked about the details of the church's financing, he simply replied that "a deal with God has been done". (All 7000 seats are also individually air-conditioned).
Image (c) Jbdodane
The Basilica took three years to build, headed by Lebanese architect, Pierre Fakhoury, and an army of hard labourers who worked secretly both day and night. When the Vatican got wind of its copycat design, Pope John Paul II personally requested that the observatory crowning the dome be built slightly lower than the height of St. Peter's dome. The Ivorian President complied, but then went ahead and topped his dome with a huge gold cross, earning it yet another title of the tallest church in Christendom.
Houphouët-Boigny offered it as a gift to the Pope, who consecrated the church in 1990, (rather controversially) under the condition that a hospital be built nearby. The papal villa, which was built exclusively to house the Pope on his visits has stood empty ever since.
Image (c) A Al-Mamun
In fact, the whole thing is arguably one big empty and outrageous contradiction. Up to 18,000 people can worship in the basilica (7,000 seated, 11,000 standing) but in a nation where more than two thirds of its people aren't even Christian, it has a tough time filling just a few seats. A recent visitor to the Ivory Coast told me that there couldn't have been more than three other people inside when he toured the massive house of worship. Nevertheless, the basilica is flaunted in the country's tourism promotion. This (ever so slightly dated) tourism video shows the Basilique Notre-Dame de la Paix de Yamoussoukro alongside golf courses, hotels and casinos.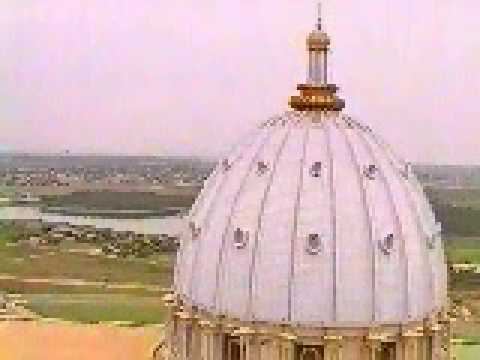 In reality, seemingly misplaced in a barren and poverty-stricken landscape, what was built to represent a country's political and economic stability, is anything but. Perhaps hoping to immortalize himself and his presidency, during which time the country briefly prospered following independence from France, Houphouët-Boigny commissioned his portrait beside Jesus in one of the stained-glass panes inside the basilica he called 'the greatest church in the world'. But the President's legacy had lost its shine, the economic prosperity was short lived and stability was fleeting. Less than a decade after the grand monument was complete, the country was plunged into civil war.
While the people of Yamoussoukro are living in slums and struggling to survive, there's the basilica, an African Vatican towering over the horizon, waiting to air condition the bottoms of seven thousand people who will probably never come.
:::
YOU MIGHT ALSO LIKE:
.