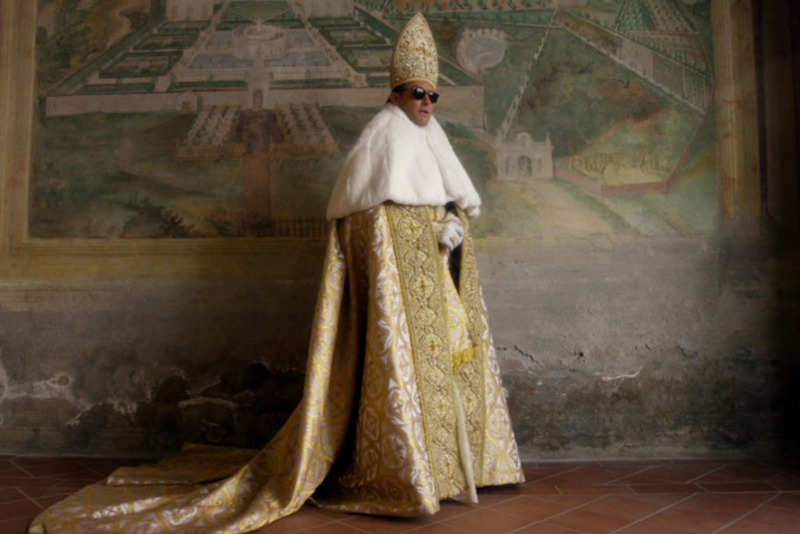 If the clothes make the man, then the shoes make the Pope – and more specifically, his ruby red shoes. The scarlet slippers have been reincarnated for thousands of years for his Holiness, and each pair has a story to tell in the history books as well as on-screen, from HBO's TV show, "The Young Pope" (2016) starring Jude Law as a dapper Pope Pius XIII, to the new film by director Fernando Meirelles, Two Popes (2019), which hinges on the theological (and sartorial) differences between Pope Francis and his predecessor, luxury loving Pope Benedict XVI…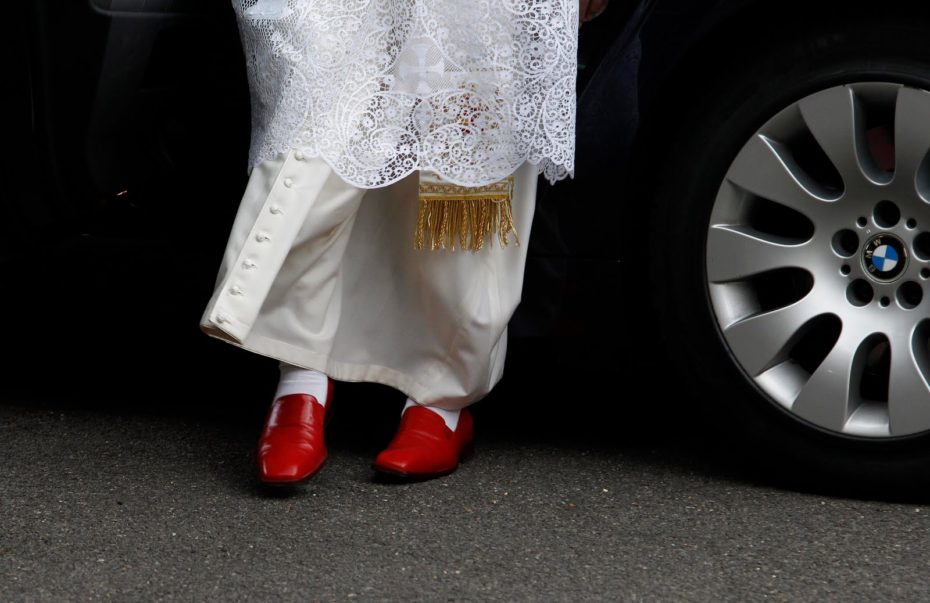 But before we delve into the Vatican's shoe closet, we might note that the Pope usually has two kinds of red shoes: indoor "liturgical slippers" made of silk and gold brocade, and an outdoor, loafer-like pair that is often plain red.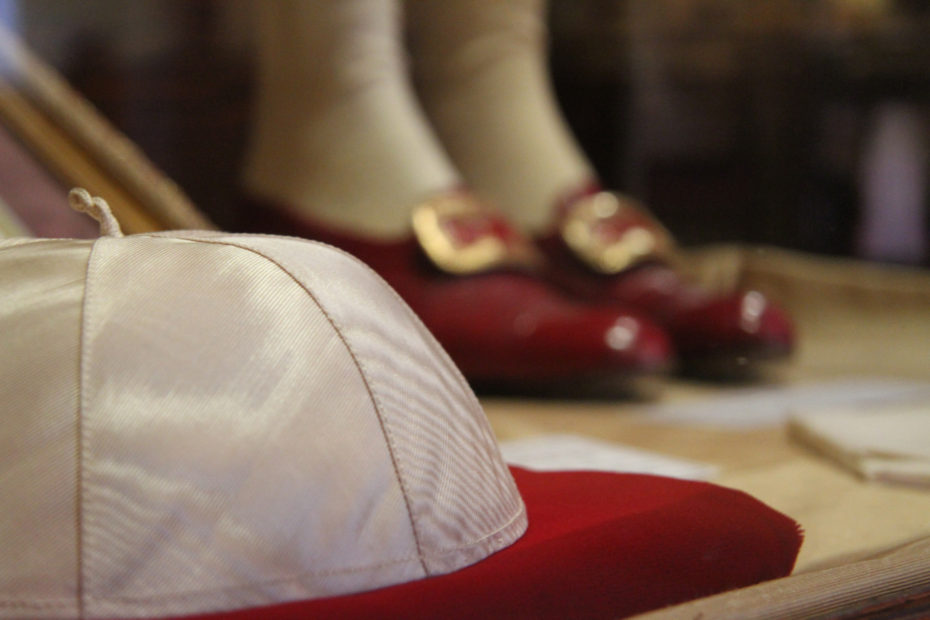 The shoes' origins go back to Byzantine days, when they were donned by Norman kings as symbols of bloody martyrdom. Their successors, the Roman Emperors, stuck with it – in fact, they became a standard high-fashion accessory for aristocrats. If your shoes were red, you were a somebody.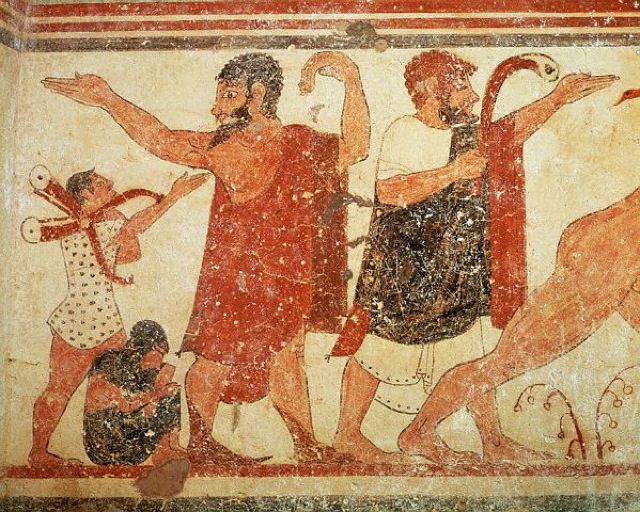 Now, historically speaking, Vatican life was pretty luxurious. Pope Martin IV spent a fortune to import his favourite delicacies of melon, and eels boiled in wine. Pope Leo X had a pet white elephant named "Hanno." Extravagance was standard, and not even the Pope's shoes went overlooked in that regard. They became more and more ornate, and were even kissed by visitors just as one kisses the ring of the papa today…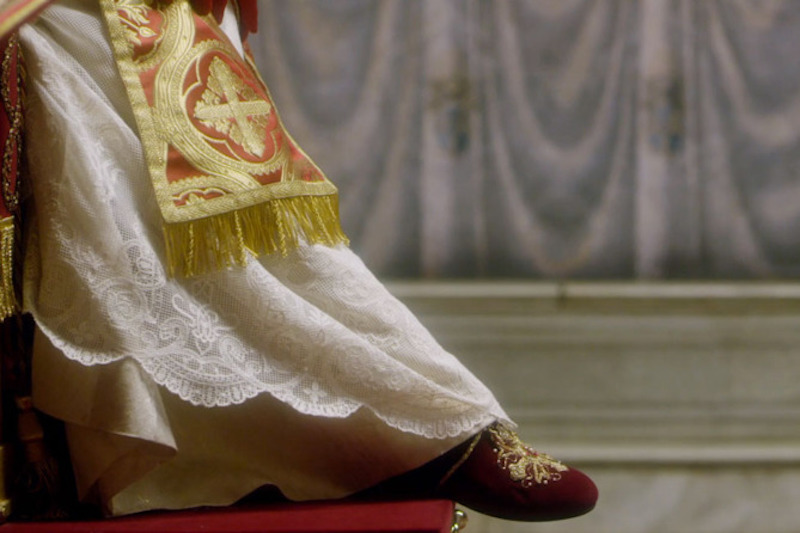 Pope Pius X suffered from poor blood circulation, and was in a constant state of shaky health, so his sisters made him a pair of no-fuss, white slippers…
But he also had a red pair prioritising some seriously fluffy comfort.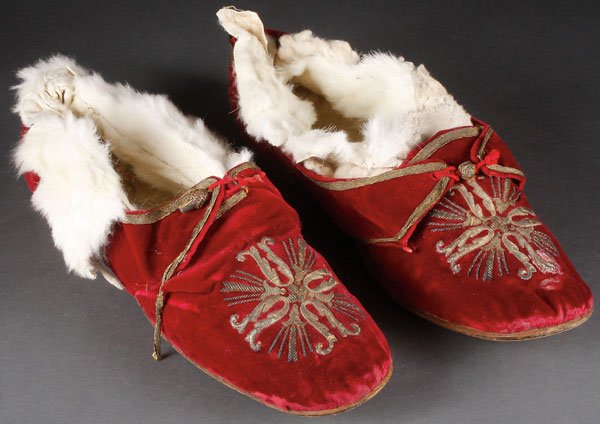 The shoes also started their fare share of drama. In 1958, Pope John XXIII's habit of adding golden buckles and crosses to the shoes was given the boot by his successor, Pope Paul VI, in 1969; he also did away with the papal foot kissing, and nixed the indoor slippers entirely. Although we'd sure like to hear him explain this lavish pair from his wardrobe: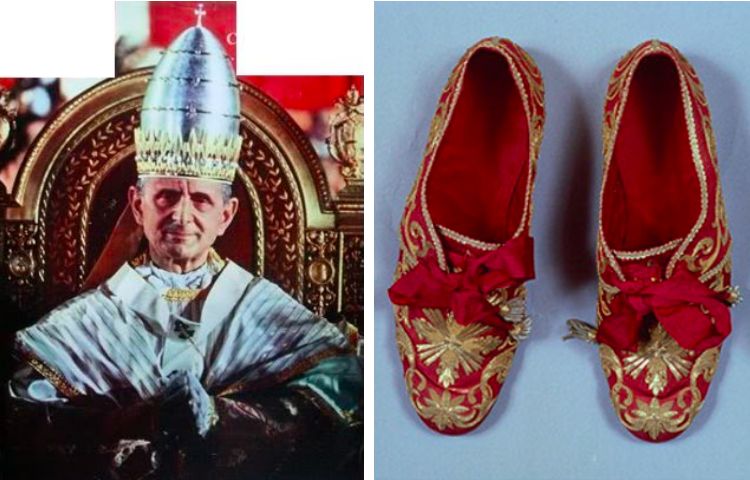 As time went by, so did memories of more opulent shoes, with Pope John Paul II opting for a pair of brownish loafers:

Fast-forward to 2005: Pope Benedict XVI comes on the scene with a pair of swanky, bright red slippers, and for many, their revitalisation is seen as an extension of his conservative positions within the church. Of all the popes, his may be the most fascinating relationship with the sacred slippers.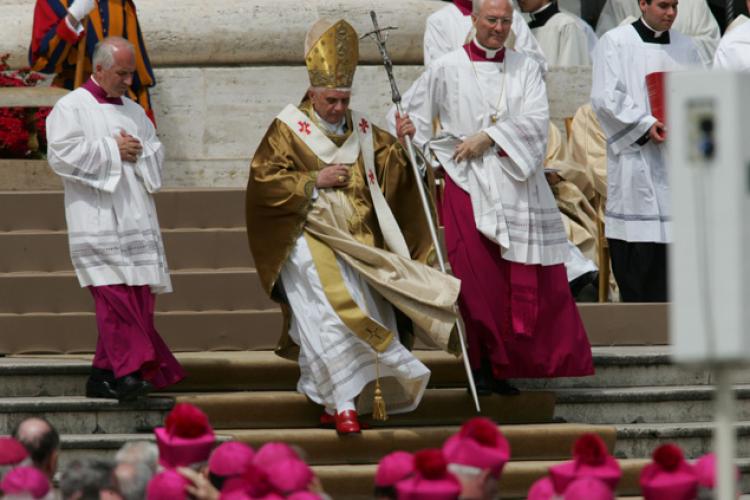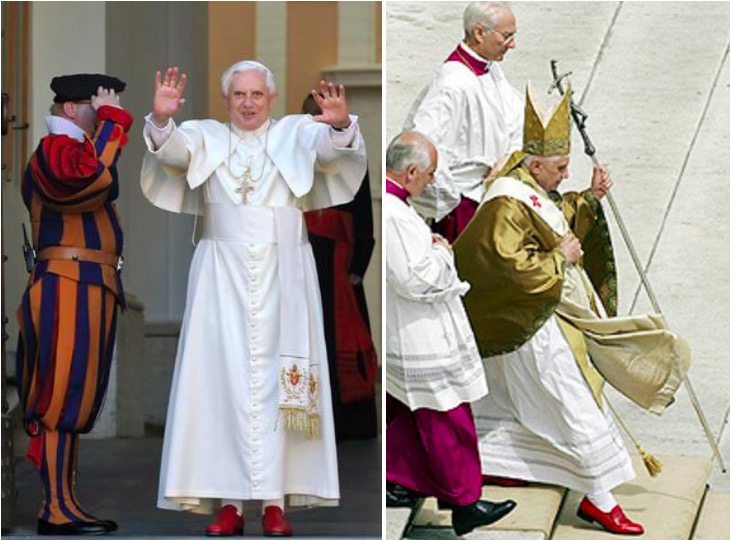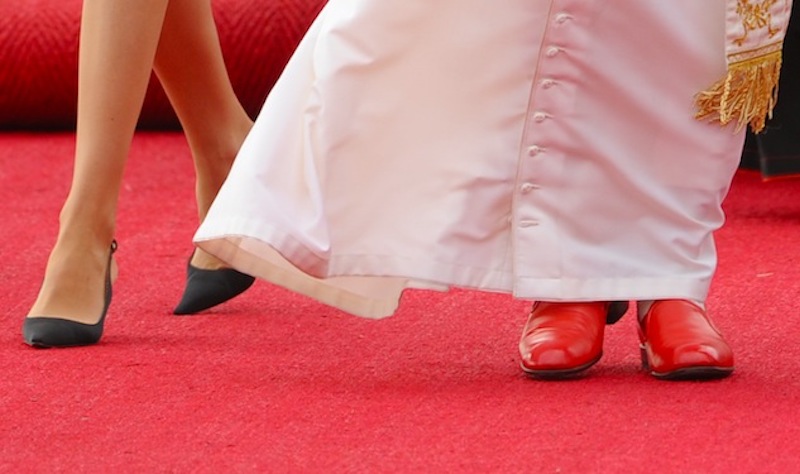 Rumour had it that his shoes were designer made, giving him the nickname "Pope Prada." In 2007, Esquire went so far as to crown him "Accessorizer of the Year." As it turns out, the shoes were made by Italian Adriano Stefanelli, whose other clients have included Barack Obama and Ferrari: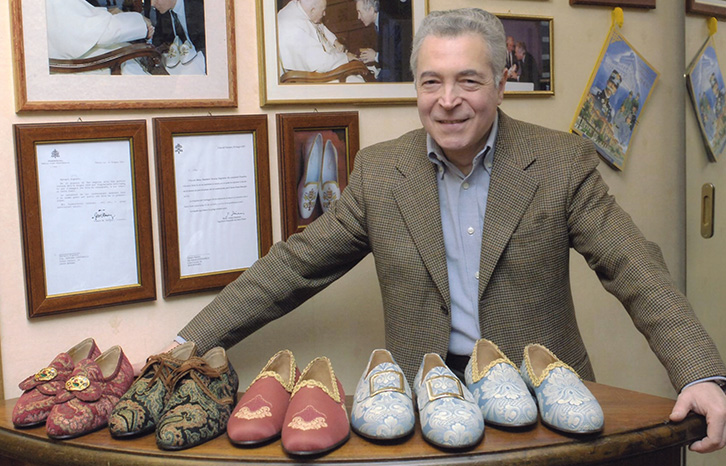 The media frenzy around the shoes was so nuts that a photo was (serendipitously) released of Stefanelli gifting the Pope his shoes in 2005: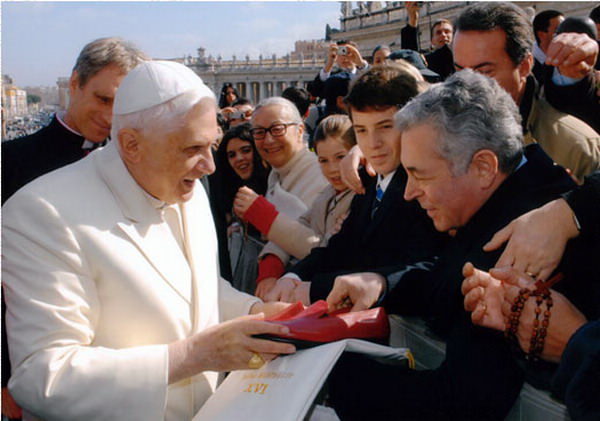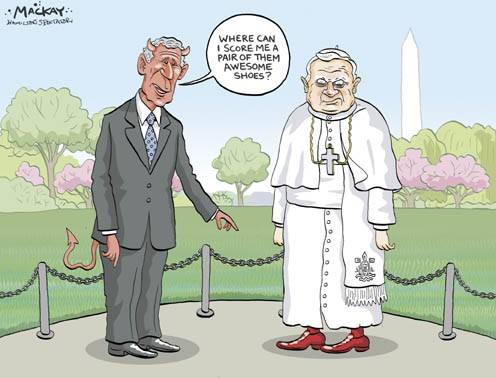 Then, the unthinkable happened. In 2013, Benedict resigned — with lighting even string the Vatican moments after his announcement. "When Pope Benedict XVI left the Vatican and his papacy," reported NPR, "he slipped out of his trademark red shoes and put on a pair of Mexican leather loafers. The shoes, actually three pairs, two burgundy and one brown, were a gift to the Pope during his trip last year to Mexico." It was a symbolic departure from his habitual ways.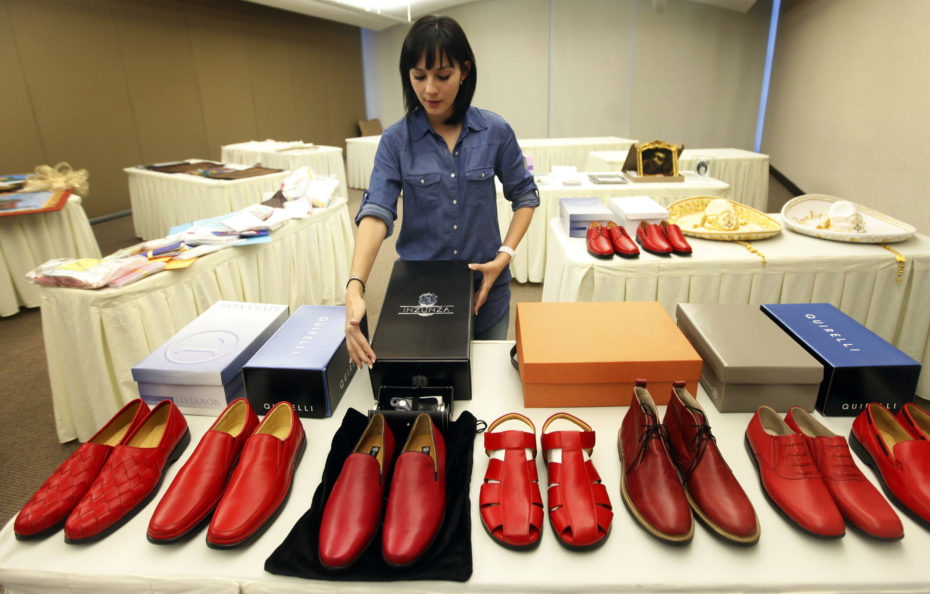 Today, we're in the era of the less traditional Papa Francesco, who has gone back to basics with his sartorial tendencies. Instead of getting a new ring cast (as is typical practice), he chose a hand-me-down. He rides buses, and gives TED Talks. Oh, and his papal shoes? Plain black.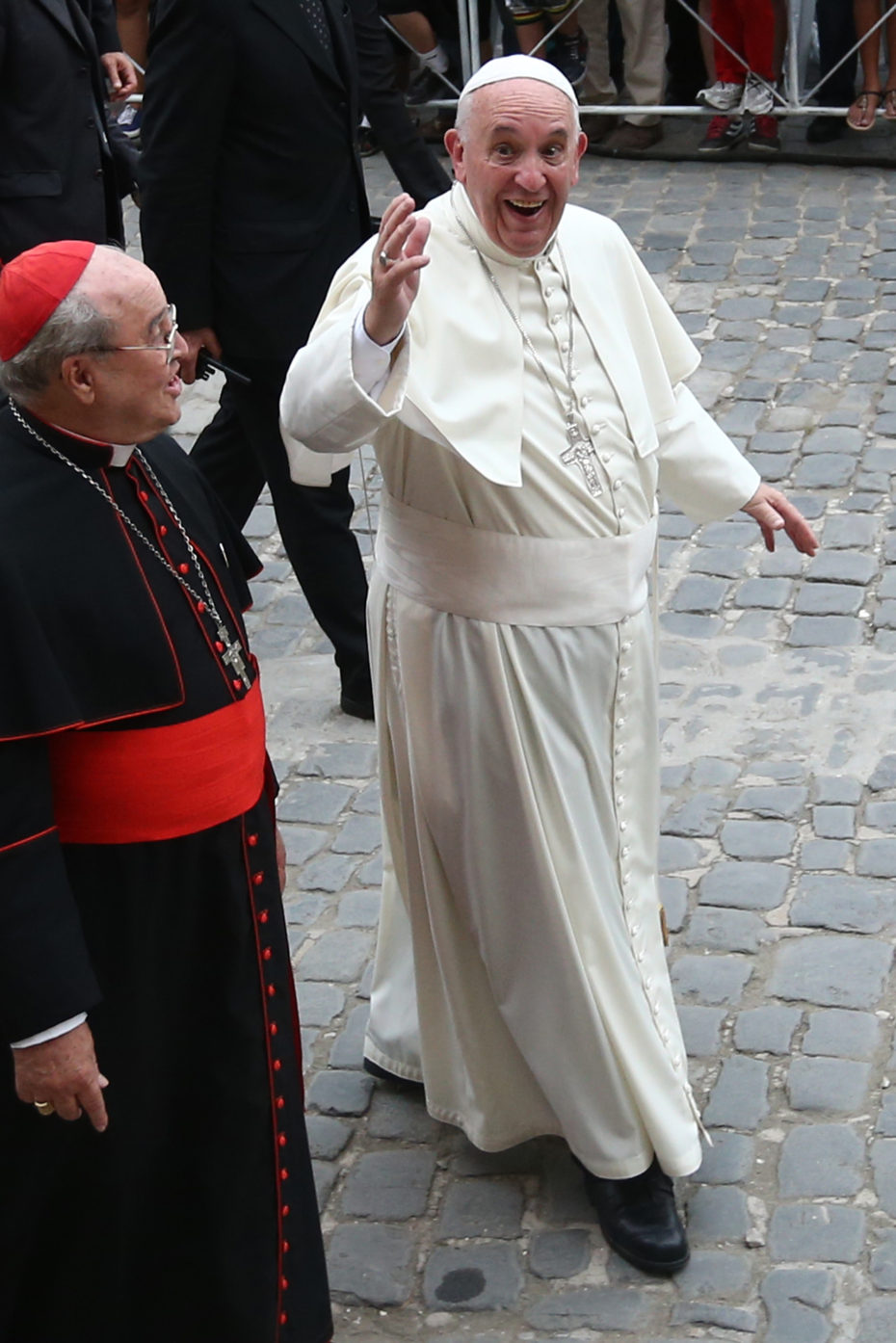 Director Fernando Meirelles' new film, The Two Popes (2019), broaches the shoes in the first scenes where the deliciously spiky Pope Benedict XVI (Anthony Hopkins) and the jolly Cardinal Jorge Mario Bergoglio, AKA the soon-to-be Papa Francesco (played, in uncanny resemblance, by Jonathan Pryce) go head to head.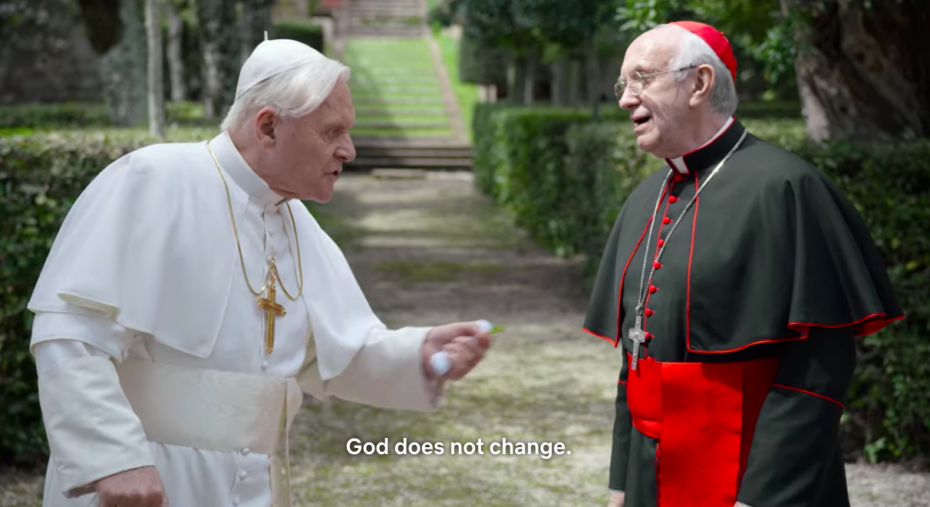 In the placid garden of the papal summer residence, Bergoglio asks to tender his own resignation – which Benedict, his rival of sorts, surprisingly won't allow to happen. If Bergoglio leaves, he says, it would look like a noble act of protest on the state of the Church. "Do you understand? You were almost elected pope. If you resign it will look like a criticism," says Benedict, "The way you live is a criticism. Your shoes are a criticism."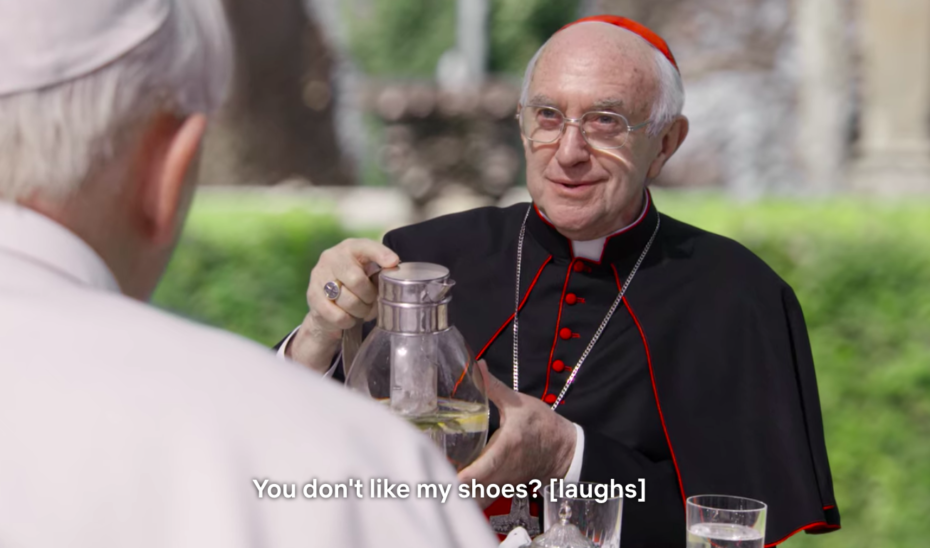 We all know how the communion wafer crumbles, of course. But Meirelles leaves viewers with the sunny conclusion of a blossoming friendship, slipper differences and all. If you're keen on getting pair of loafers by Stefanelli, go on ahead; they usually start at about €400, and are available for anyone to buy at his little shop in Novara, Italy. Just don't tell Francesco.