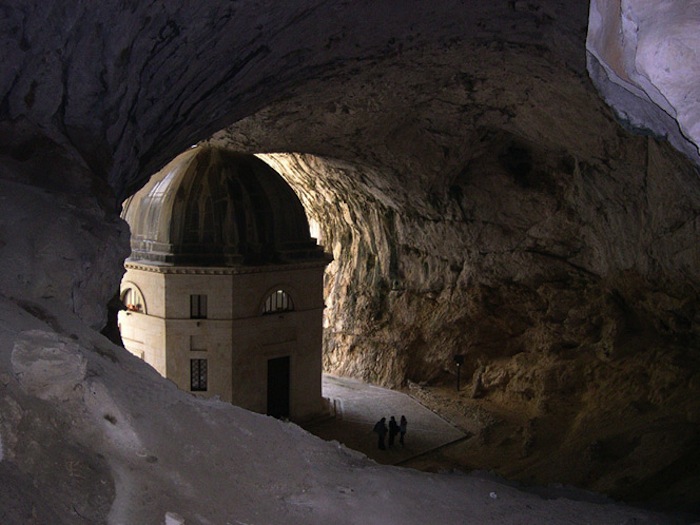 If you're in need of the perfect spiritual hideaway, I think I might have found it. Like something out of a legend, nestled inside an ancient grotto carved out of steep limestone cliffs in a remote region of Italy, the clandestine Temple of Valadier is thought to symbolize the Virgin Mary's Roman Catholic title, "Refugium eccatorum", meaning "refuge of sinners"…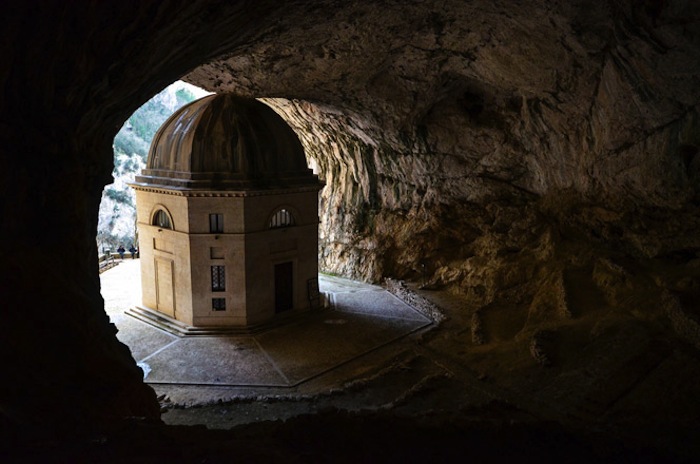 For centuries, those seeking an escape from others or even perhaps from themselves, have sought refuge in these caves along the Sentino river in the province of Ancona. Found at the end of a steep uphill path from the road to Genga, the nearest town in the Marche region, locals likely took refuge here from invading Hungarian tribes during the 10th century.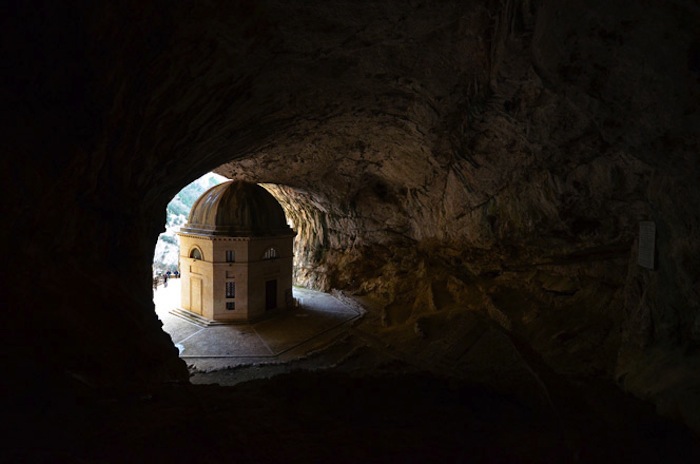 The church itself was commissioned in 1828 by pope Leone XII, and once housed a statue of the Madonna and Child made by the famous Italian sculptor, Antonio Canova, but was later relocated to the Museum of Sacred Art in Genga.
During the construction of the temple in the 19th century, various human remains of prehistoric origin were discovered,. They found the bones of several adults and children, ovens for baking bread, two stores of grains, and some coins from the Bronze or Iron Age.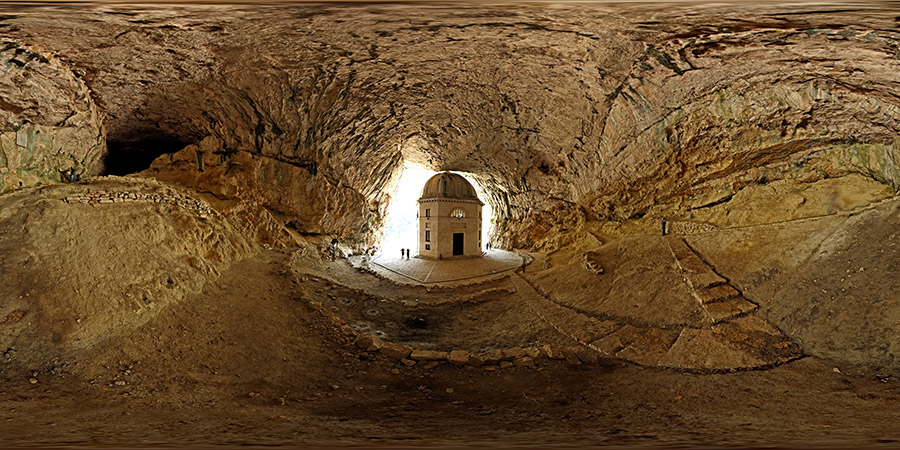 Behind the temple, a huge cave system awaits, inviting those who dare to disappear deeper into obscurity…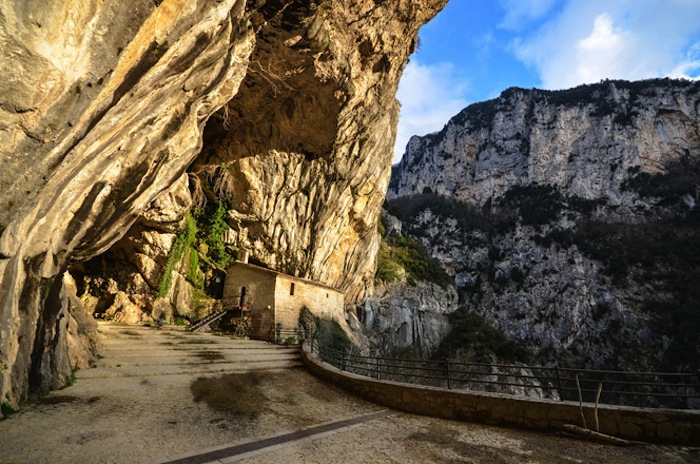 You'll know you've found the right grotto when you come across the other man-made structure precariously built under an overhanging rock outside the cave. This is the Madonna di Frasassi, a simple little place which shares its walls with the side of the cliff…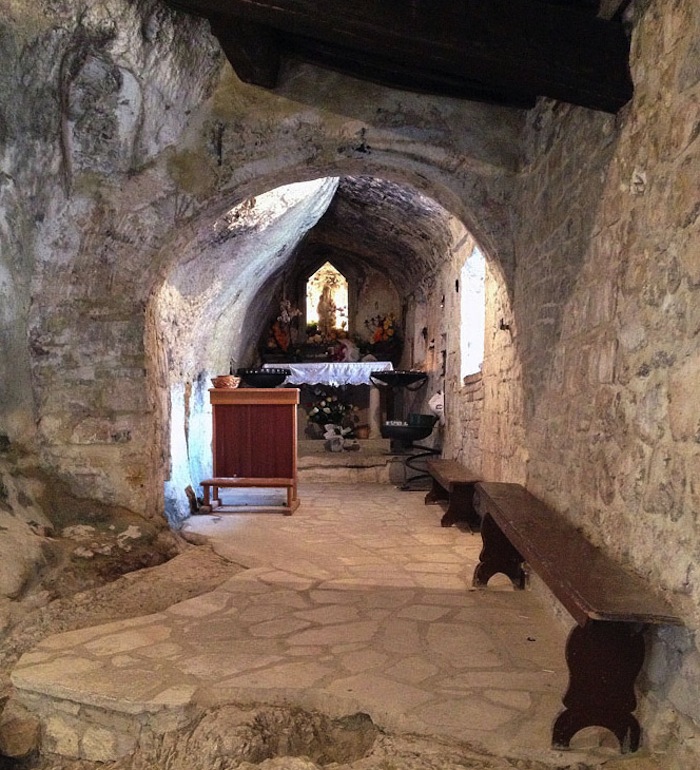 Admittedly a little more rustic than the palatial style of the Tempio del Valadier ↓ with its octagonal form built of redeposited limestone quarried from the very cave it's hiding in.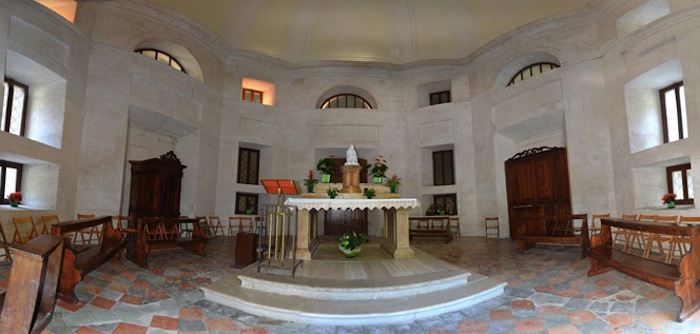 Perfectly sheltered by the cave itself, the chapel probably didn't need a roof, but they went ahead and crafted one out of lead anyway.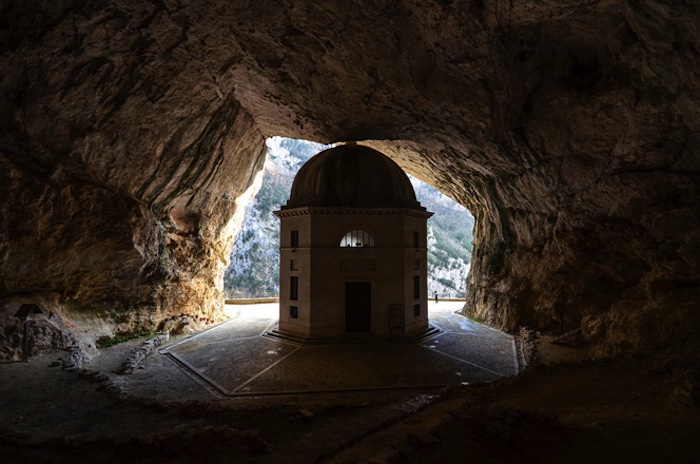 So, if ever you happen to meet a fugitive in need of a neoclassical mini cave palace to hide out while they do a bit of spiritual soul searching, you might recommend the Temple Valadier.
Photos by (c) Roger Conti / (c) Luca Argalia / (c) Turismo Marche