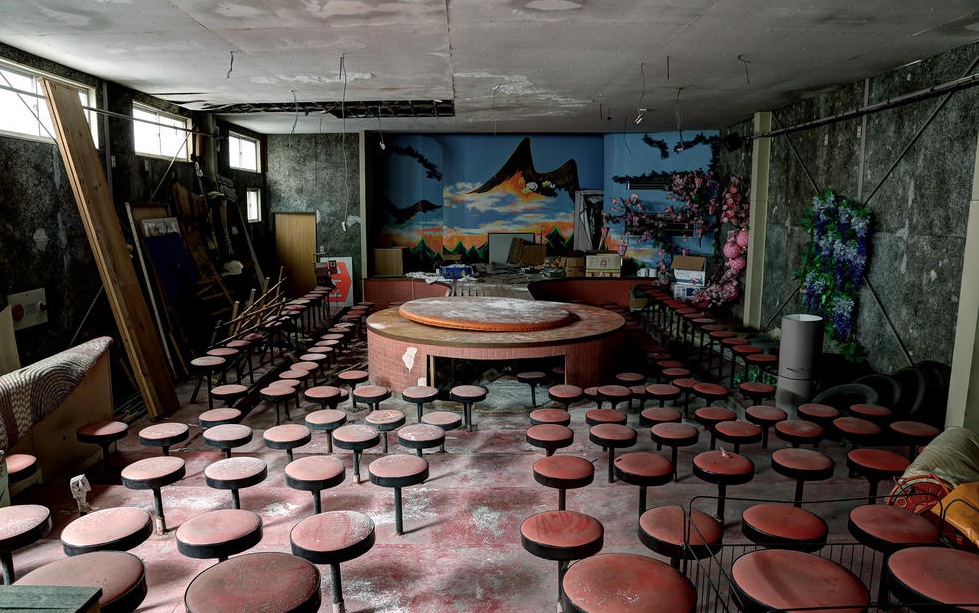 I opened my inbox today to find a note from my favourite urbex photographer over in Japan updating me on his latest find. You might recall his surreal visit to Japan's rather inexplicable abandoned American Cowboy theme park, and this time, Shane Thoms has really outdone himself. Rotting away on a lonely road side in a small regional town in northern Okayama, he discovered a former strip club with certainly more spook than sex appeal going on these days.
"Hanging out in this psychadelic time capsule was like stepping into the aftermath of a 70's new years eve party (that never got cleaned up)."
Let's step into the aftermath with Shane Thoms as our guide…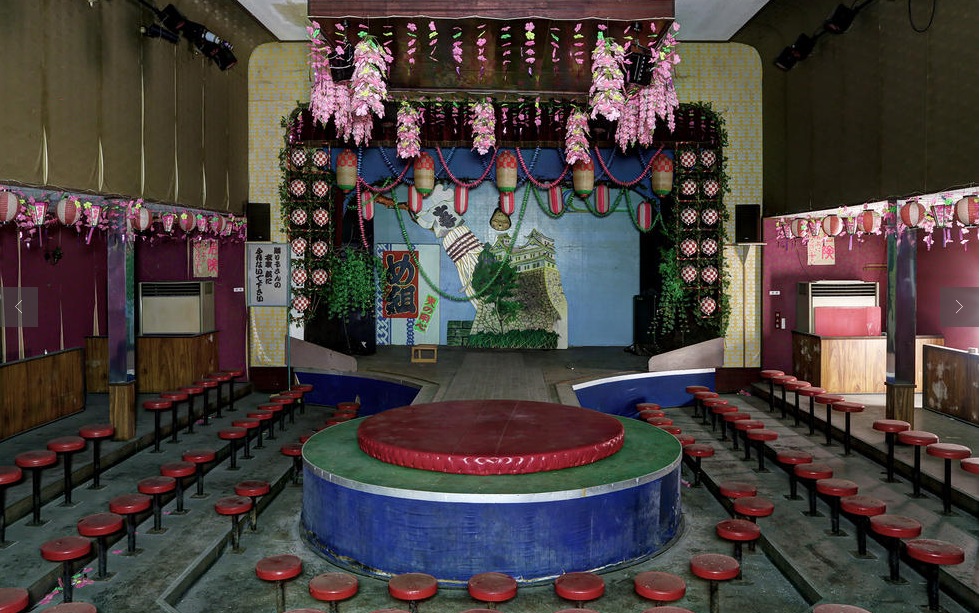 "I discovered the first strip hall– a 70's tropicana visual delight which totally jolted my senses […] I began to think that the owners were a little too presumptuous with the installation of so many stools … this building sat on the outskirts of a tiny (very tiny) country village, so where would the clientele have come from to fill such a large venue?

I stepped onto the stage and took a few snaps and started hearing these strange fluttering noises, but I ignored them and kept taking photos.  When I heard the sound again, I shone my light towards the ceiling and realised I'd woken up a bunch of bats who'd taken up residence in the lighting and projection room on the second floor.  The fluttering sound started to get louder and more dramatic with the amount of bats increasing, so I decided to head back out towards the reception area."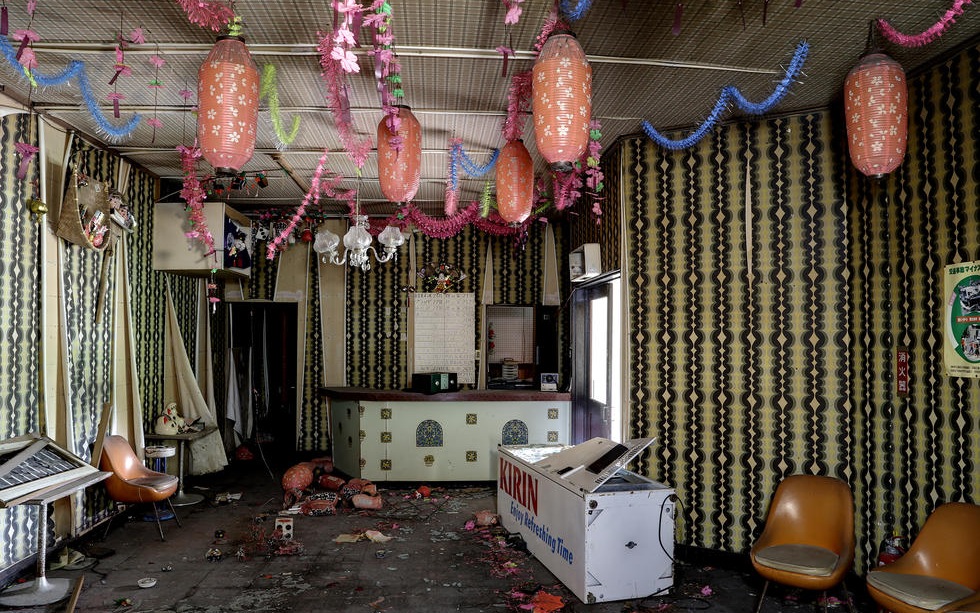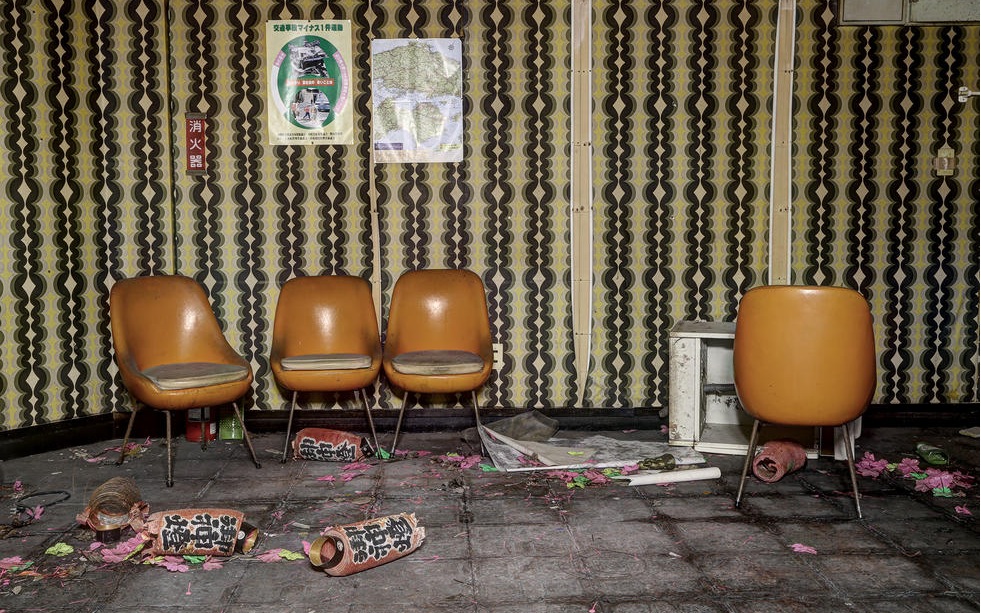 I found a staircase which I climbed, and discovered a long hallway with a number of small rooms attached.  I opened each door and found small, creepy windowless dressing rooms with mirrors, old make up and bright underwear strewn over mouldy furniture.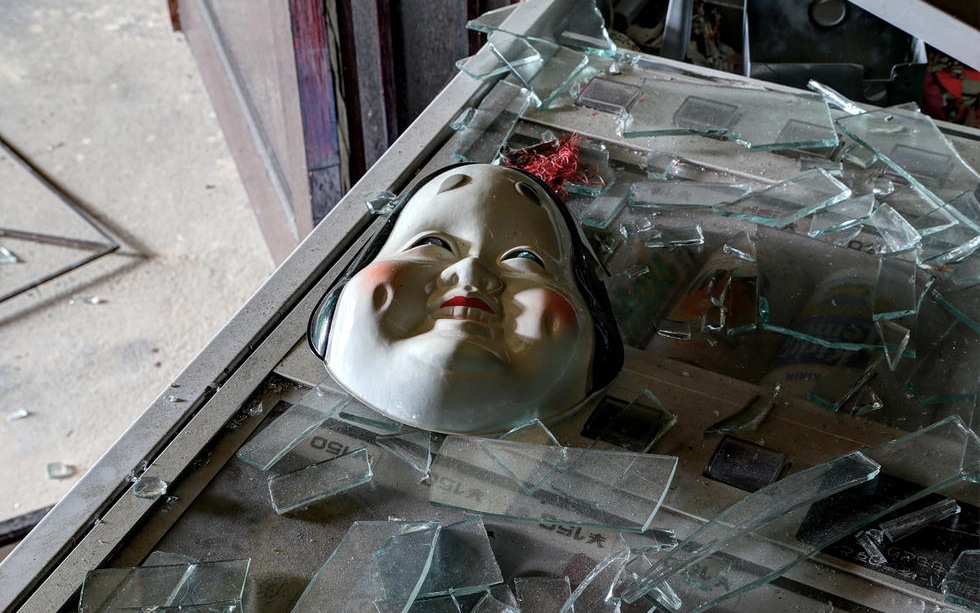 I found a small decayed, greasy kitchen and an office area filled with piles of paper, then opened a side door and unleashed about 20 bats (I'd stupidly opened the door to the projection room bat cave), and slammed the door and went back down stairs.
"Stepping outside into the daylight, I felt kind of hung over".
Find the full photo story here.
Shane Thoms is an Australian photographer who has a passion for decay, abandonment and disrepair, something he seems to be finding in abundance while living over in Japan. Discover more of his incredible adventures.
And if you're not already following Shane on Instagram, here's one very big reason why you should…