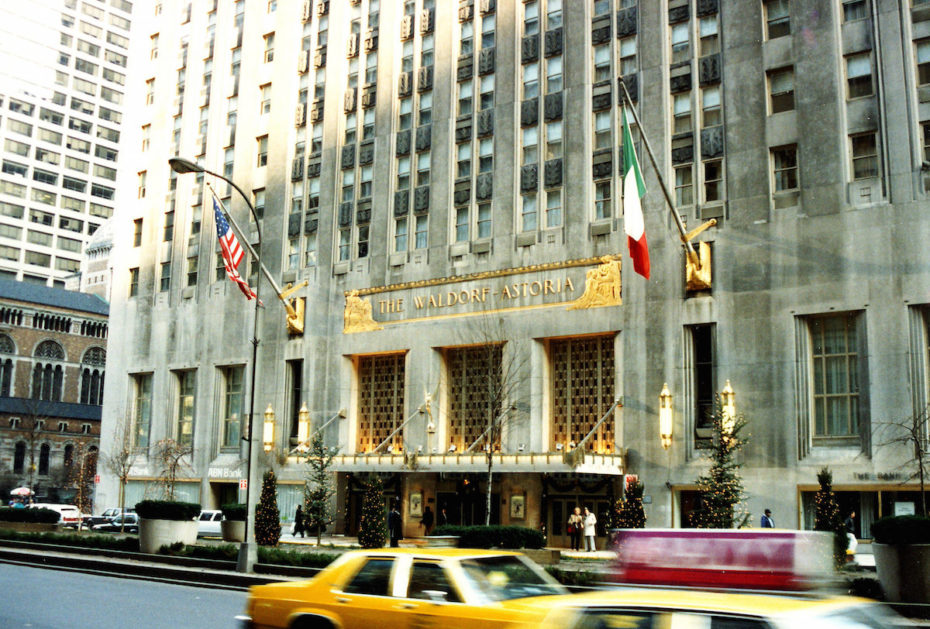 The Waldorf Astoria became an icon of Manhattan glamour ever since it first opened in 1931. One of New York's oldest and perhaps grandest of hotels, it closed its doors as we knew it for the last time in the winter of 2017. We were there to say goodbye. Nearly four years later, the Waldorf Astoria hotel is now auctioning off some 80,000 items and furnishings in a historic and monumental sale. The seven-day auction beginning October 17th held by Kaminski Auctions is one of mammoth proportions – almost triple the size of the historic Plaza Hotel sale after it was sold by Trump in the early 90s as part of a bankruptcy. It took 3 weeks just to move the inventory out of the Waldorf Astoria hotel and 88 trailer loads to a warehouse upstate.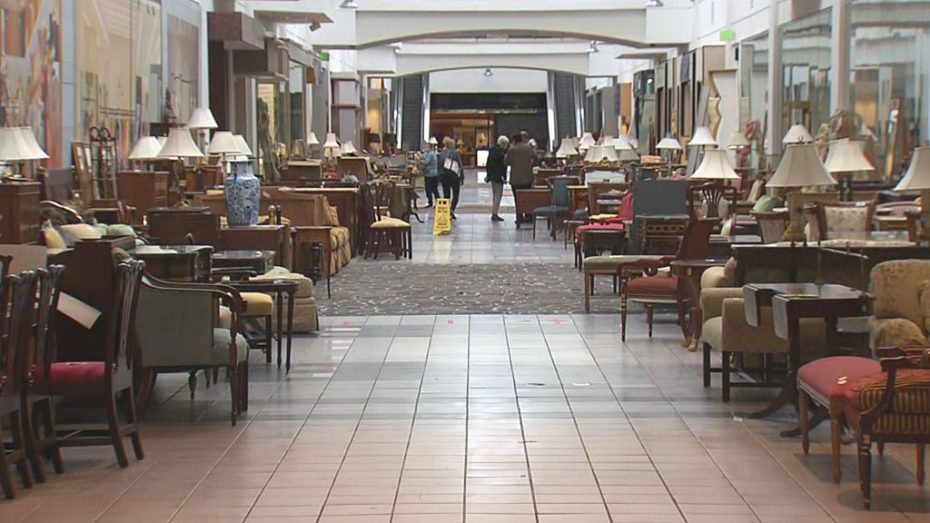 Once it was decided to go ahead with the auction, Kaminski chose an abandoned mall in Massachusetts, recently bought at foreclosure to display the lots.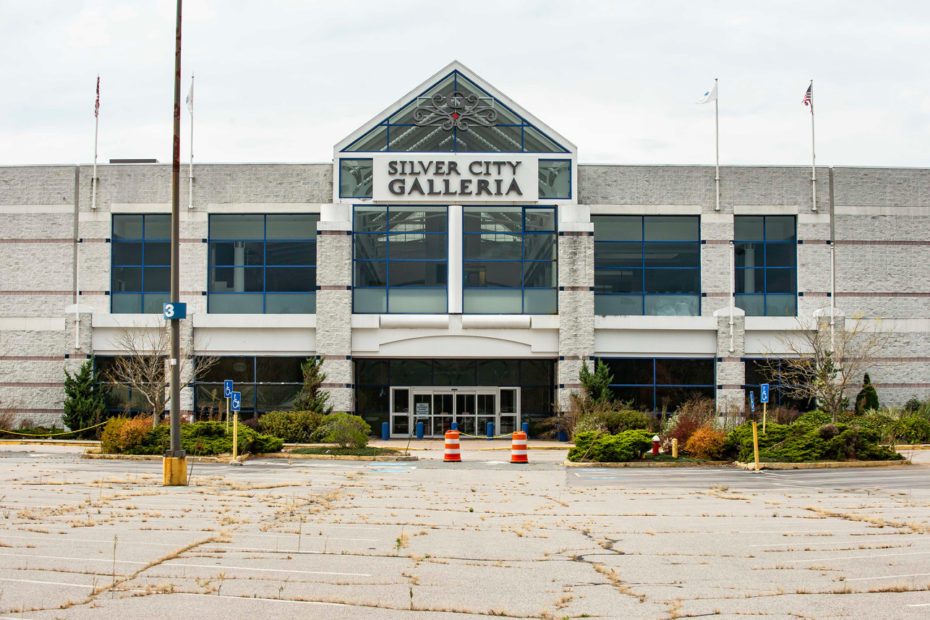 The public is invited to view the auction items at Silver City Galleria Mall in the town of Taunton and online bidding begins this weekend.
A statement from developers says all proceeds from the auction will go to St. Bartholomew's Conservancy to support the renovation of the exteriors and gardens of St. Bartholomew's Church and Community House, a neighborhood landmark across the street from the Waldorf Astoria.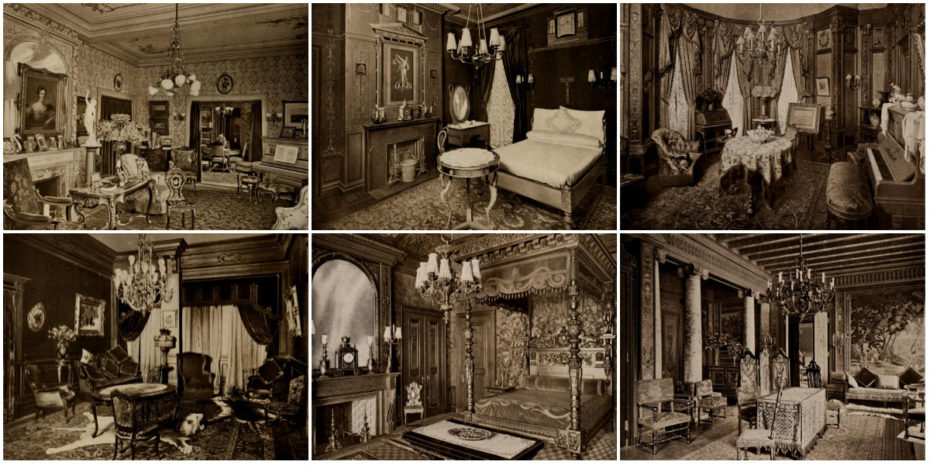 As opulent as it was luxurious, the Waldorf Astoria had played host to every President since Herbert Hoover, to British Royalty including Queen Elizabeth, and Hollywood icons like Elizabeth Taylor and Marilyn Monroe. Several of the luxury suites are named after celebrities who actually lived in the hotel for several years, such as jazz legend Cole Porter Suite, the Duke and Duchess of Windsor, Frank Sinatra, and two Presidents, Hoover and Eisenhower. Several furnishings up for auction would have still been in their suites during their residency.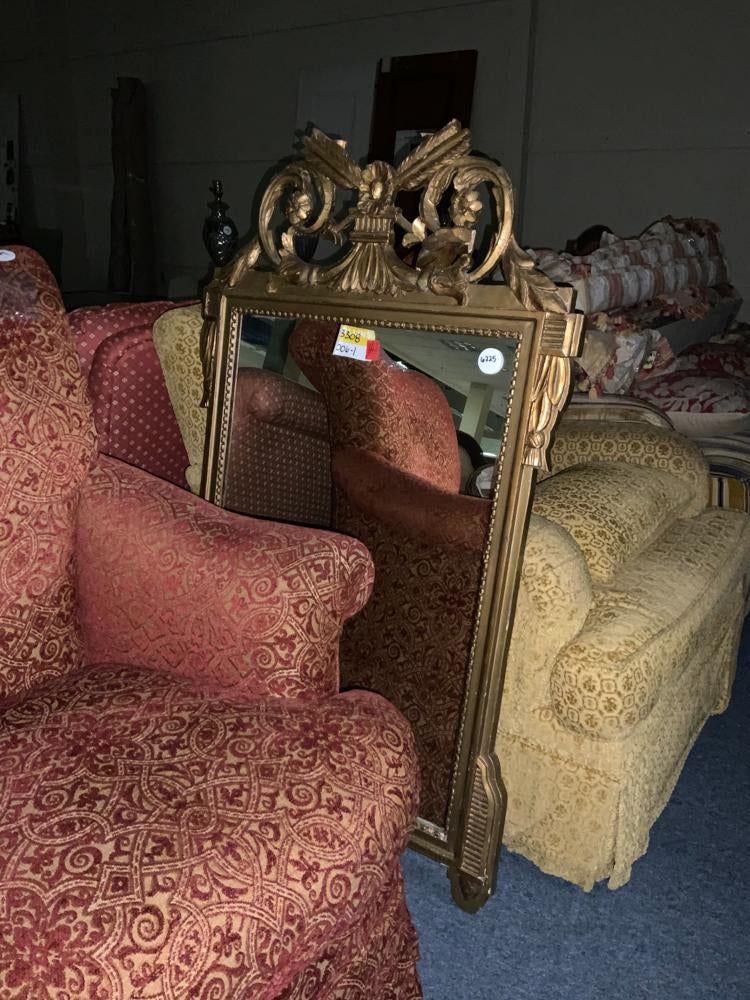 Hilton Worldwide sold the hotel to a Chinese Insurance Company for just under $2 billion in 2014, and the hotel closed within a few years for major renovations. The plan is for 375 luxury condos to be built on the upper floors of the 52 story Park Avenue landmark and 375 hotel rooms on the lower 18 floors.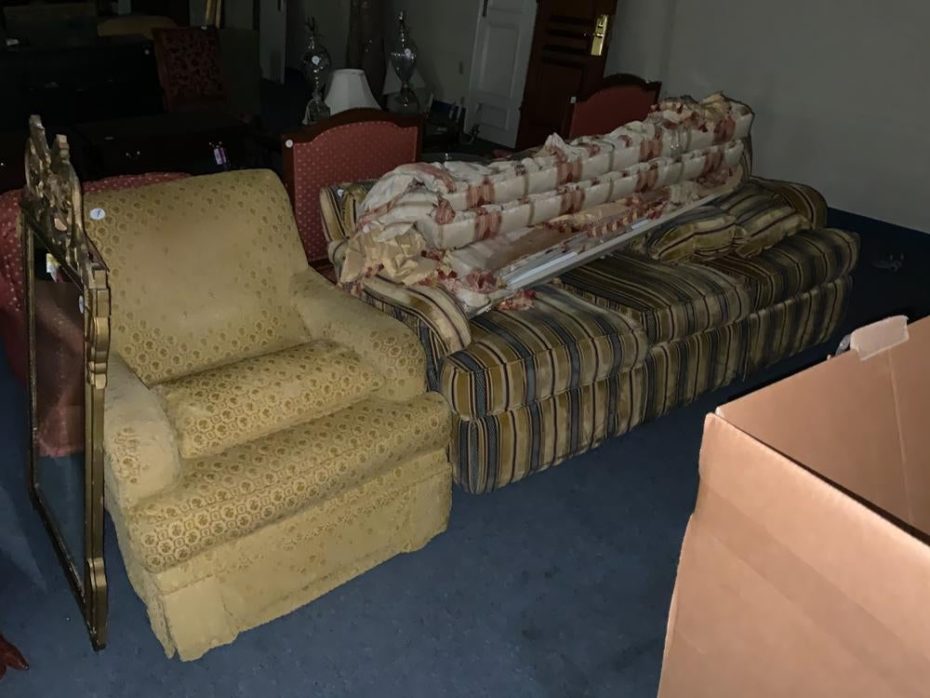 I'm not gonna to lie – I felt a little heavy-hearted looking through hundreds of pages of photographs of the Waldorf Astoria's historic contents; couches once sat on by Presidents and beds slept in by royalty, now looking forlorn in a defunct 1990s suburban mall.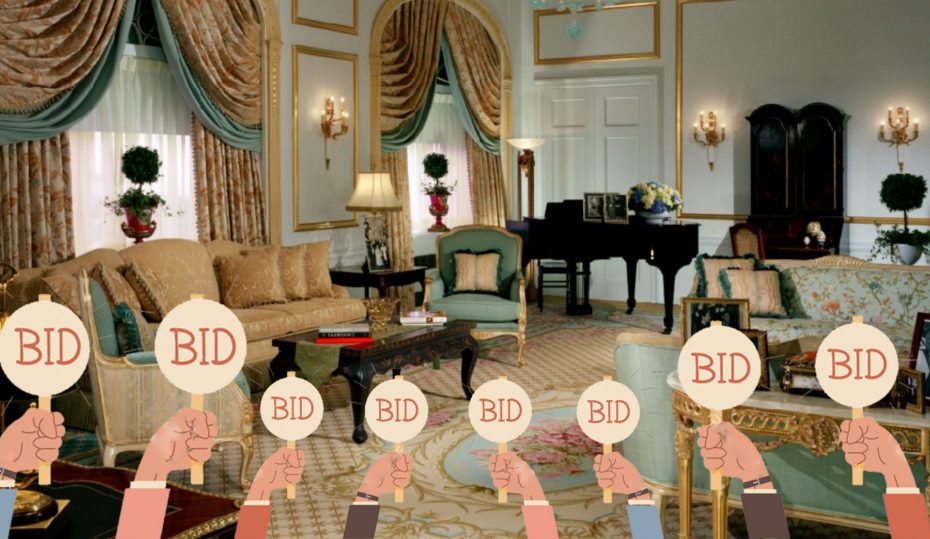 But then, imagine inviting guests over and being able to seat them in Cole Porter's chair from the old Waldorf Astoria. Prices are rather reasonable too, with bids starting at $20.
We've combed through 80,000 lots and picked out our most unique favourites so you don't have to…
The President Herbert Hoover Suite Door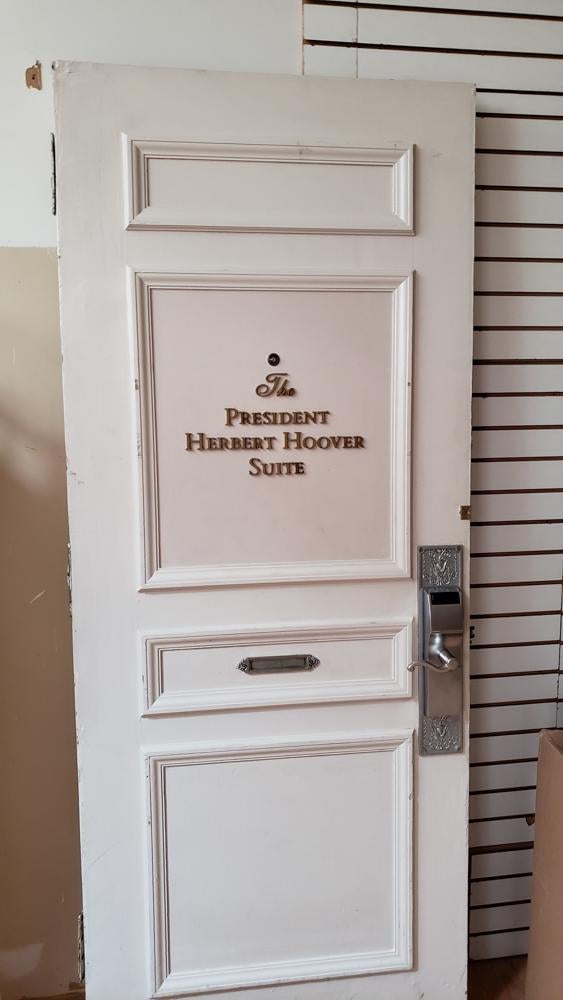 Lot 0401, starting bid $225.
Folding Screen, with parrot and jungle motif from the Trianon Suite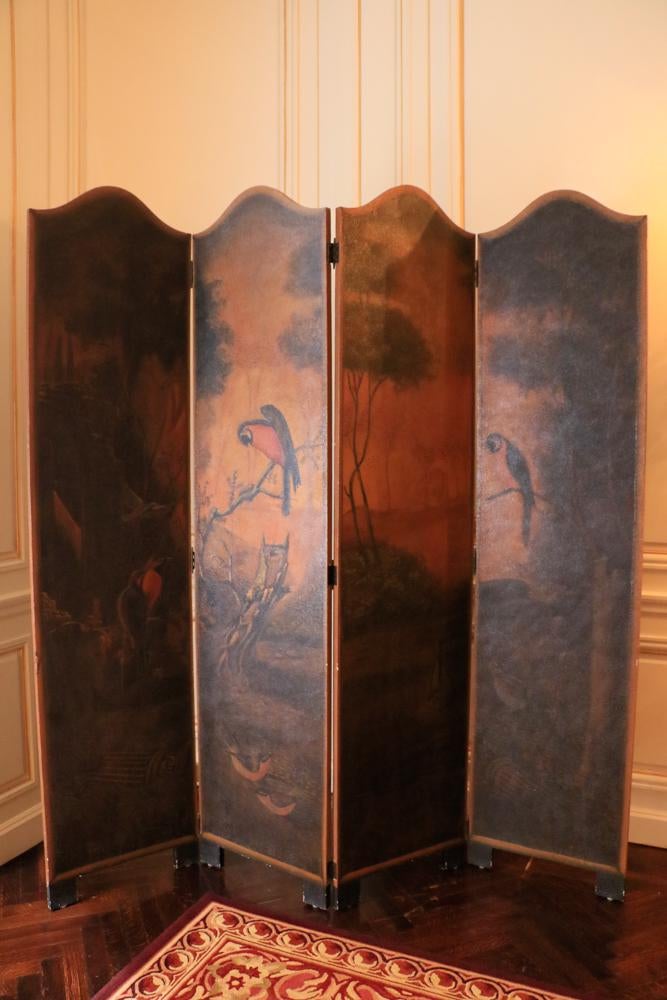 Lot 1200, estimated to go for between $200-$300.
Lobby Keydrop Box in brass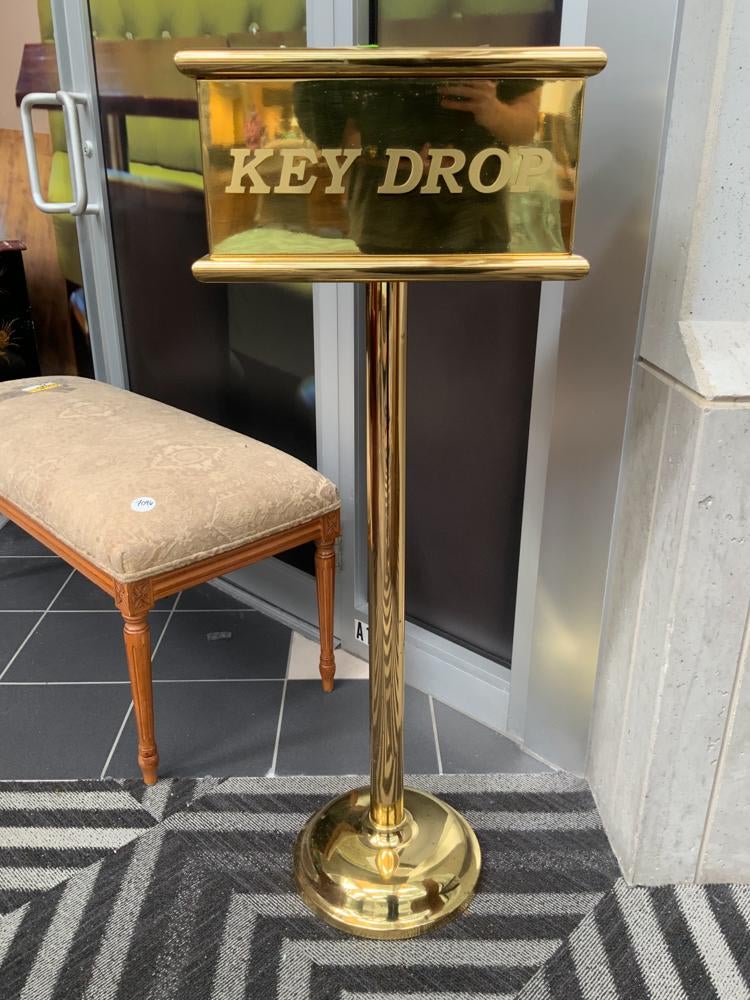 Imagine coming home and dropping your keys into the Waldorf's key drop. Lot 7097. Starting bid at $100.
These unusual snakeskin suitcases from the 30th Floor Tower Suites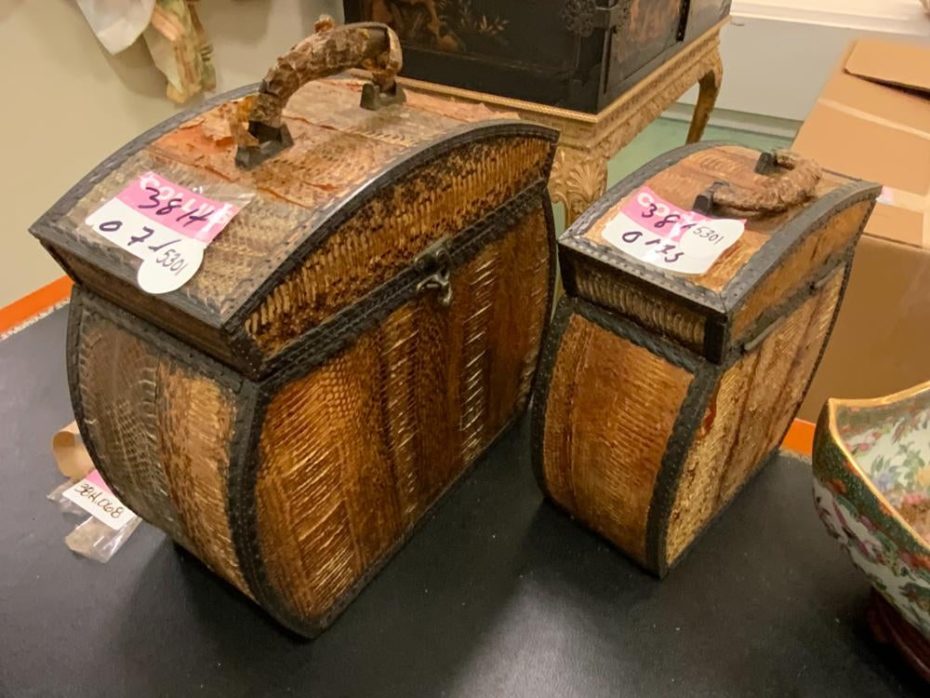 Lot 5301. Starting bid at $50
Coat check sign art deco style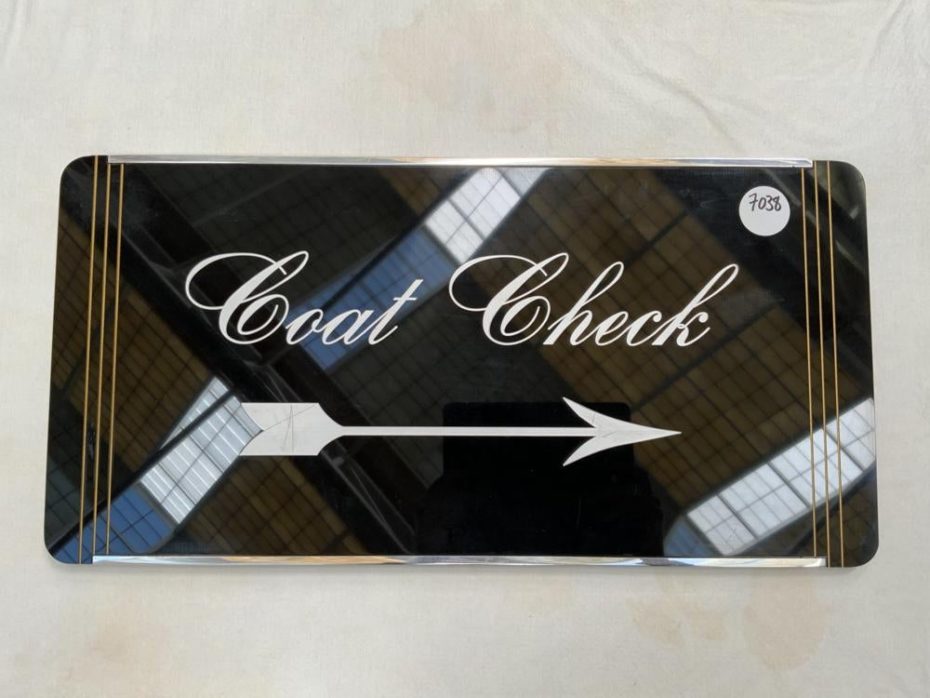 Lot 7038, starting bid $100.
1920s Elevator Wall Lobby Fixtures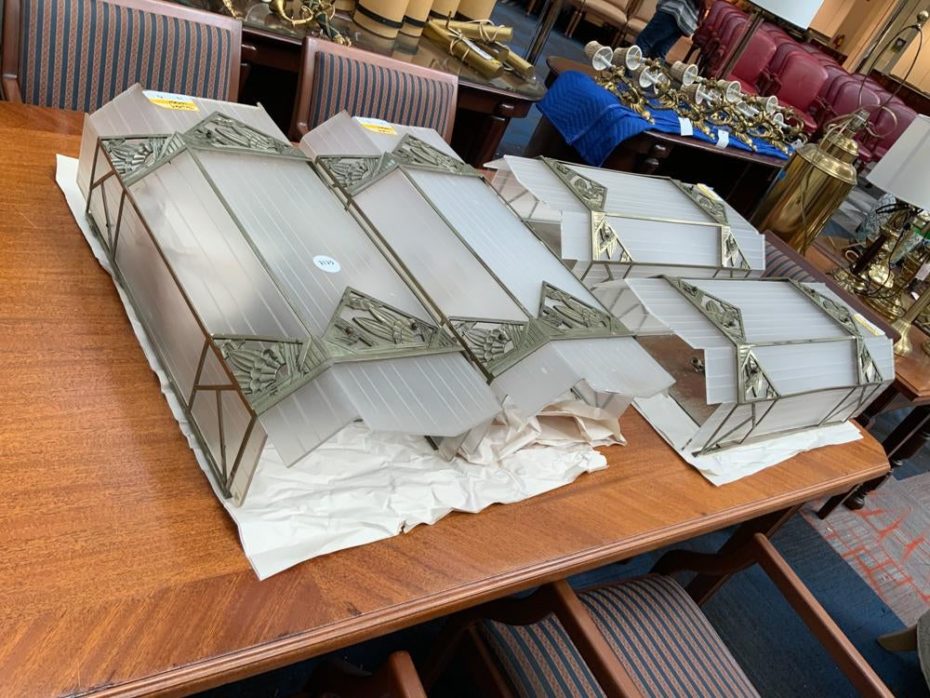 Lot 7123, starting bid at $650.
A 1920s dome shaped alabaster light from the Douglas MacArthur Suite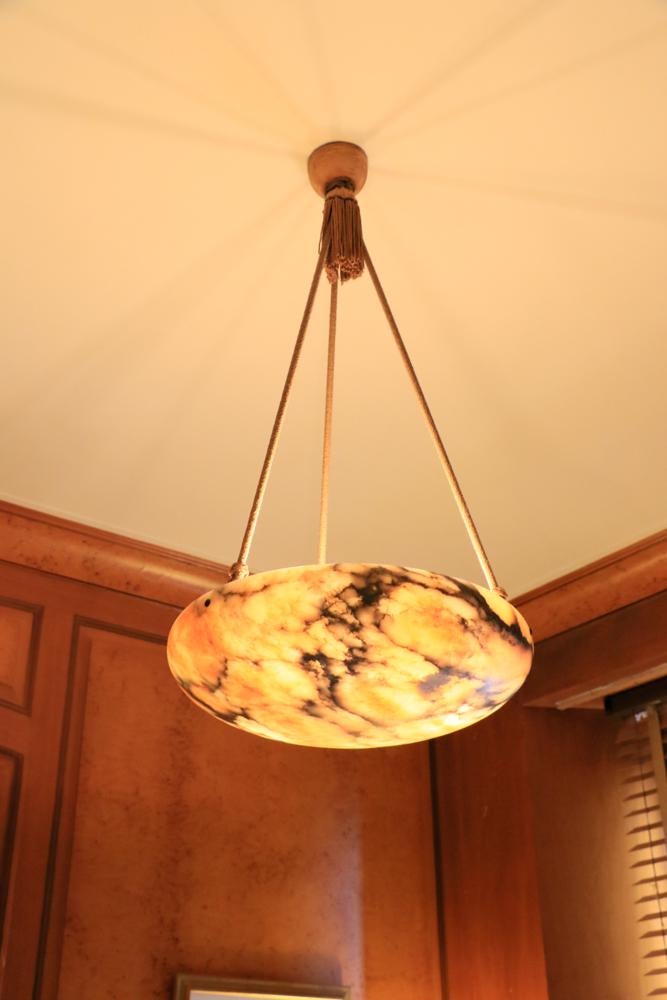 Lot 0223, starting bid of $650.
Library Globe from the Presidential Suite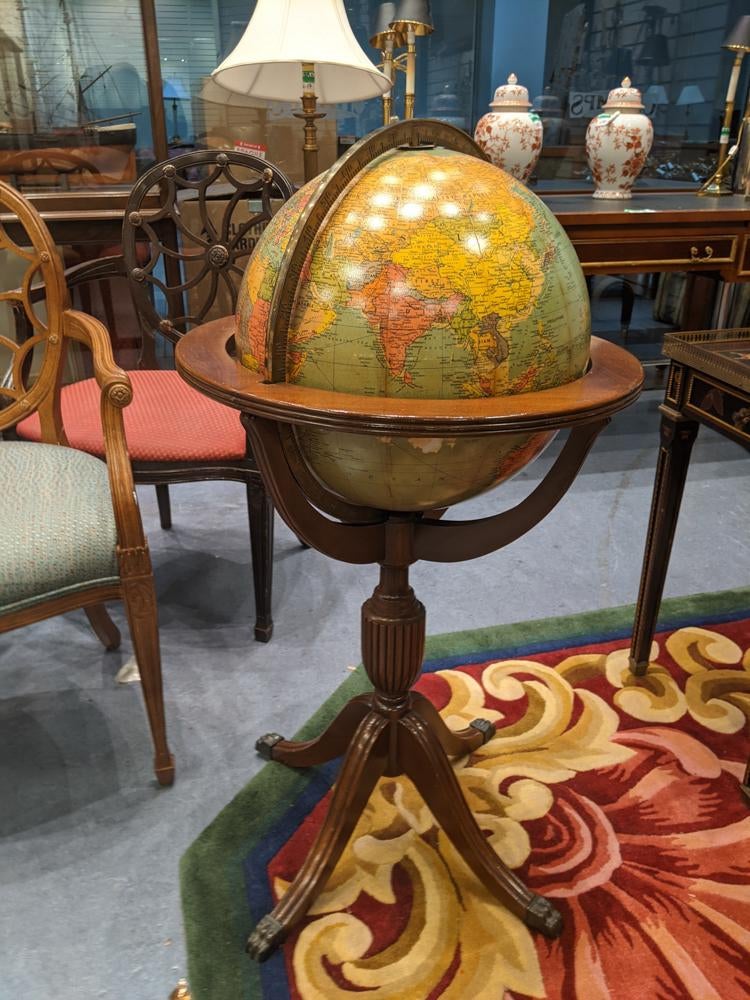 Lot 1533, starting bid of $125.
Pair of Thai wooden carved doors from the Peacock Alley Restaurant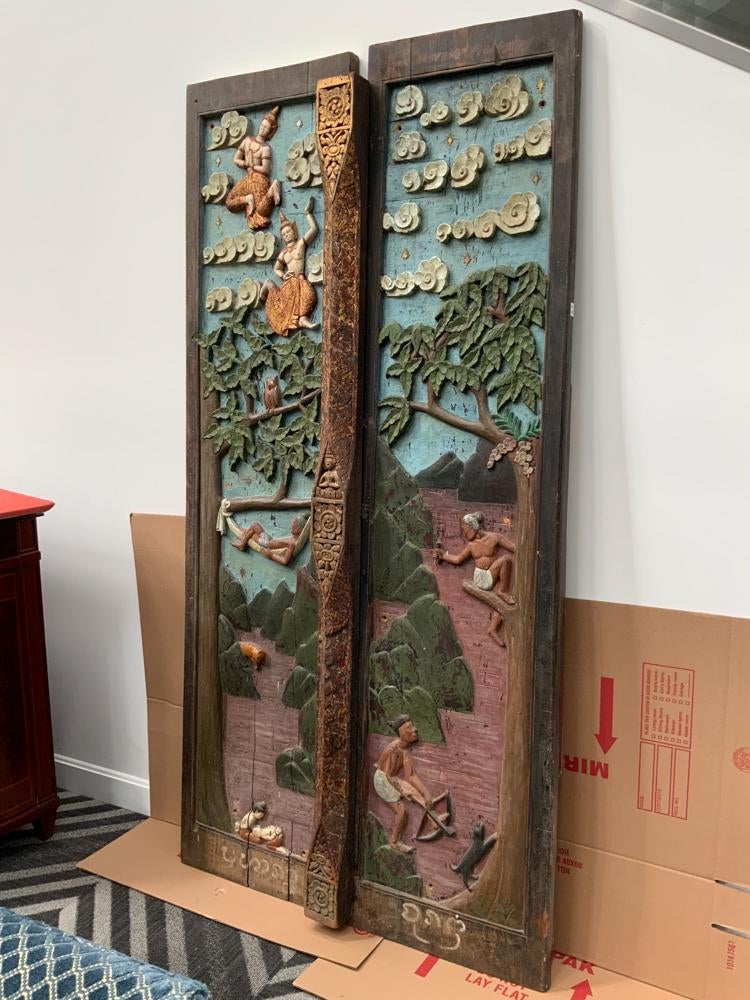 Lot 7201, starting bid at $400. The Waldorf was built by the merging of two luxury adjacent hotels owned by William Waldorf Astor, and his cousin, John Jacob Astor IV. The two hotels were joined by a luxurious passageway known as Peacock Alley. The Alley was not only was the most fashionable place to be seen in New York's Gilded Age, but it would also become symbolized in the hyphen of the hotel's name: Waldorf=Astoria.
Bull and Bear Steakhouse Sign circa 1960s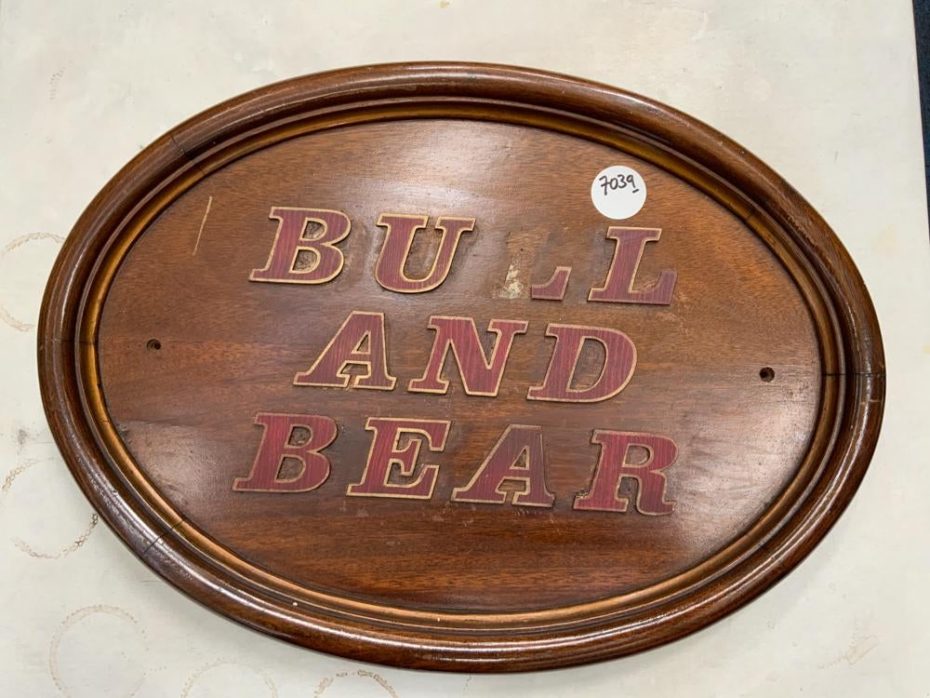 Lot 7039, starting bid of $30.
Neoclassical Window Benches from Queen Elizabeth's Suite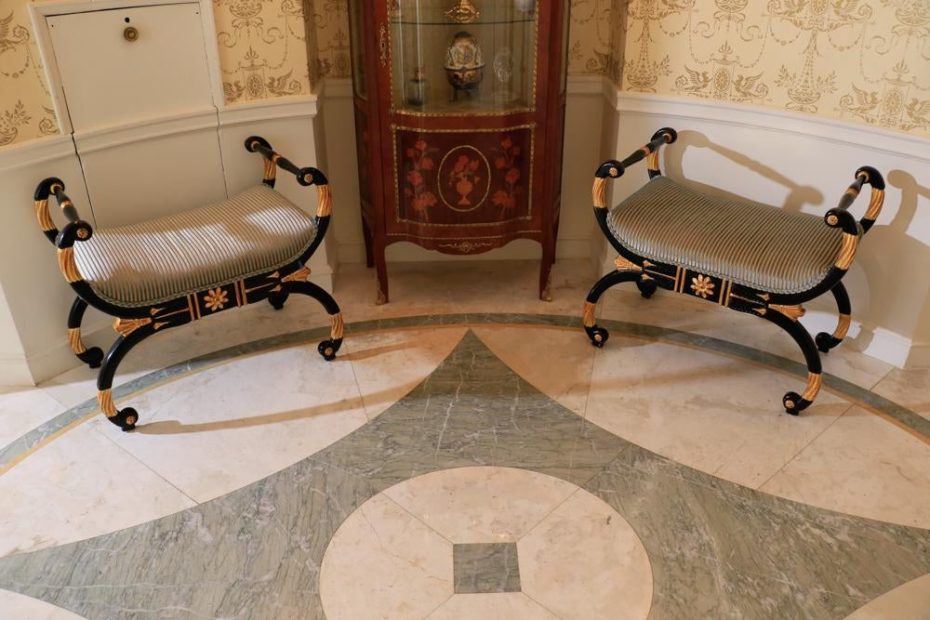 Lot 1000, starting bid of $700. There's a similar pair of leopard print benches that once belonged to Cole Porter.
Cole Porter's Italian Painted Cabinet from from his Suite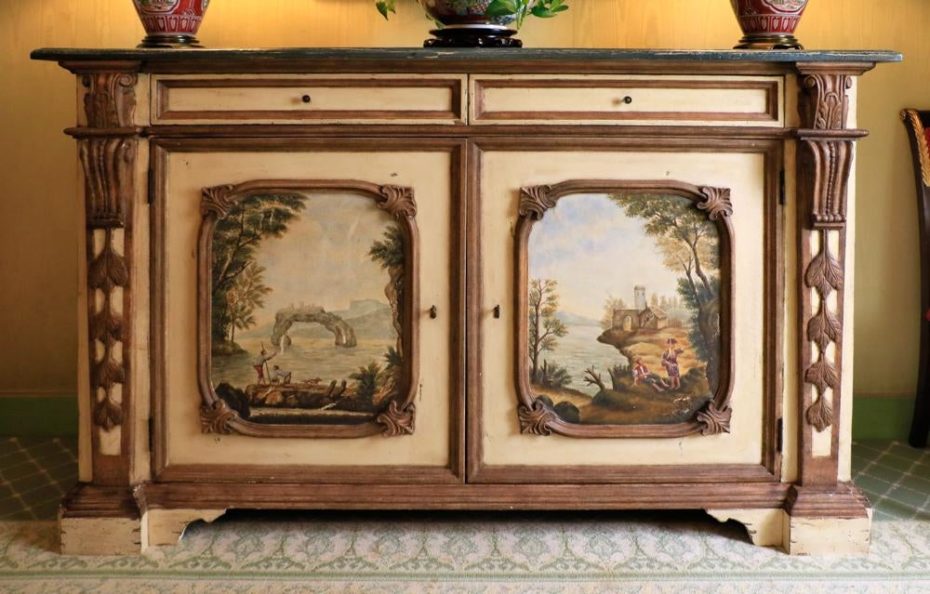 Lot 0929, starting bid at $350. There's also some Cole Porter photographs for sale here. Cole Porter was one of the many iconic names to stay at the hotel. The legendary musician kept a suite here for the last thirty years of his life.
French c 1900 Vanity mirror and twin beds from the 30th floor suites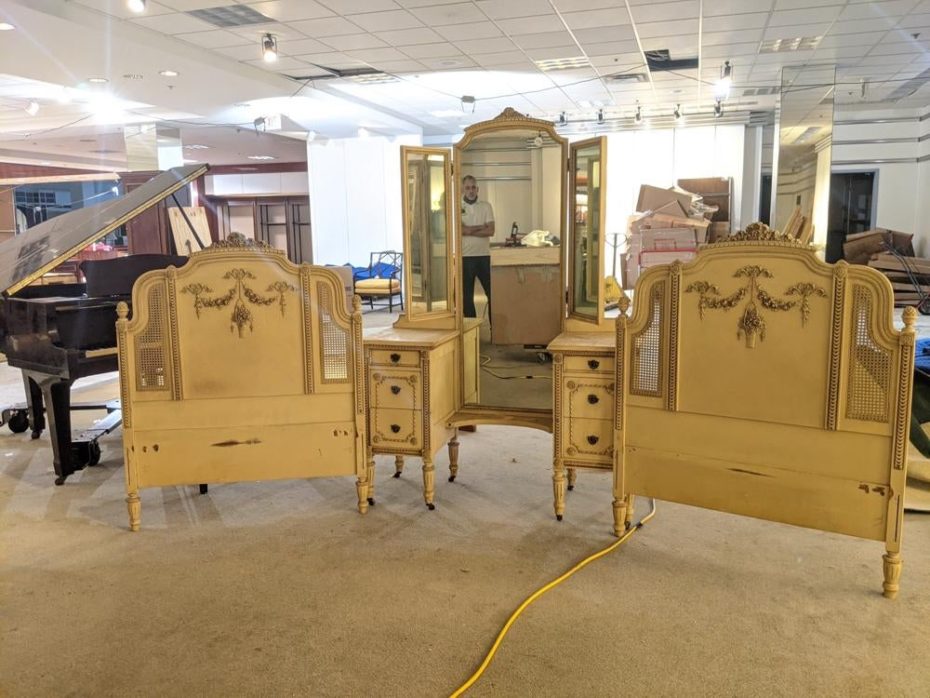 Lot 5012, Starting bid at $125.
Regency style mahogany bed from the royal suite
Lot 1075, starting bid at $800.
Pair of Louis XV matching sofas from the royal suite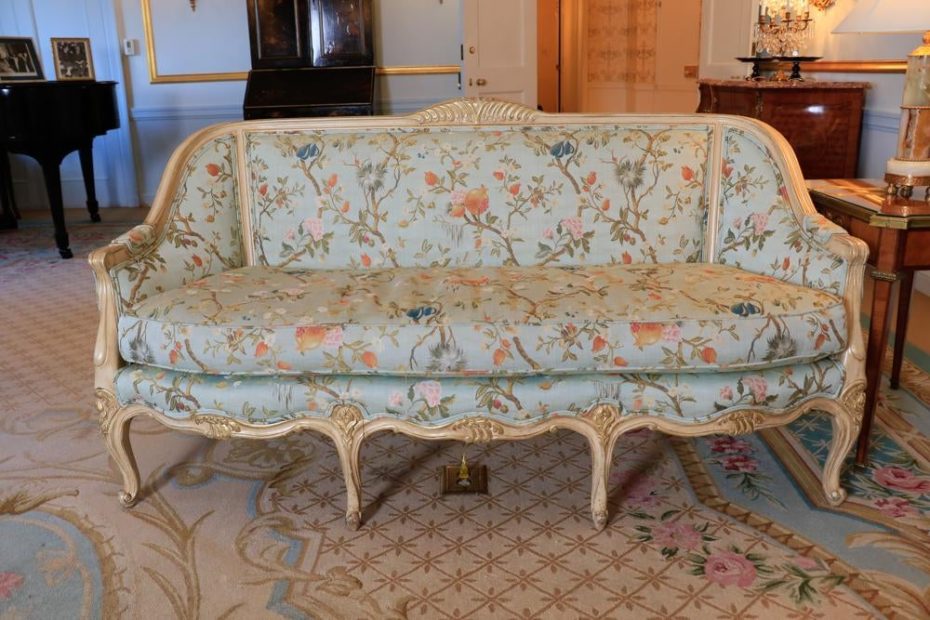 Lot 1131, starting bid at $325.
Brass fireplace screen from the 30th Floor Suites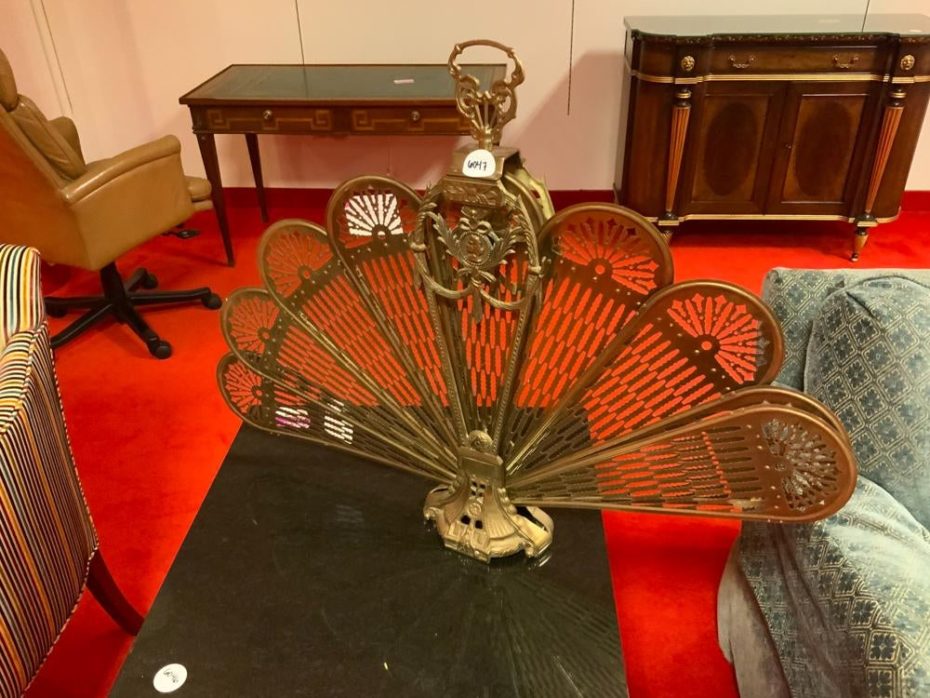 Lot 6047, starting bid at $30.
Stained glass ceiling window found in Storage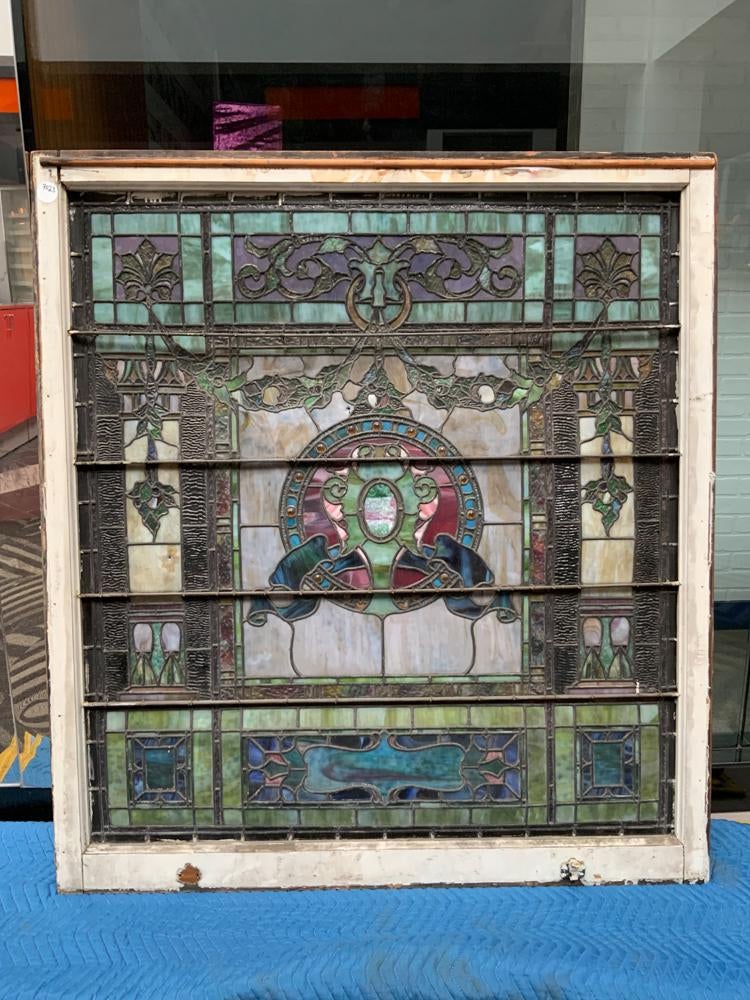 Lot 7023, starting bid at $800.
Pink fringed Ottomans from the Trianon Suite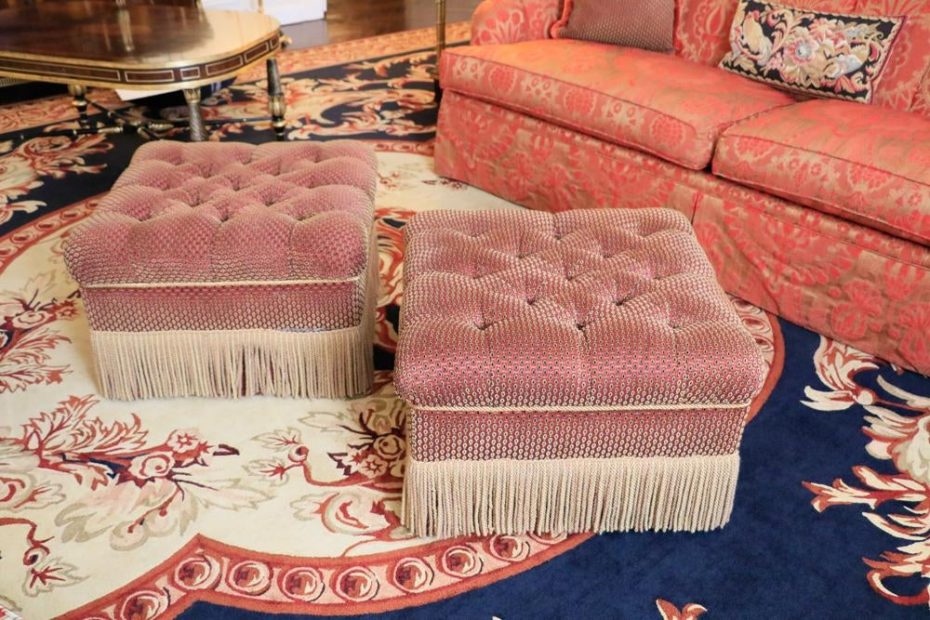 Lot 1268, starting bid at $175.
Victorian style ottoman from the McArthur Suite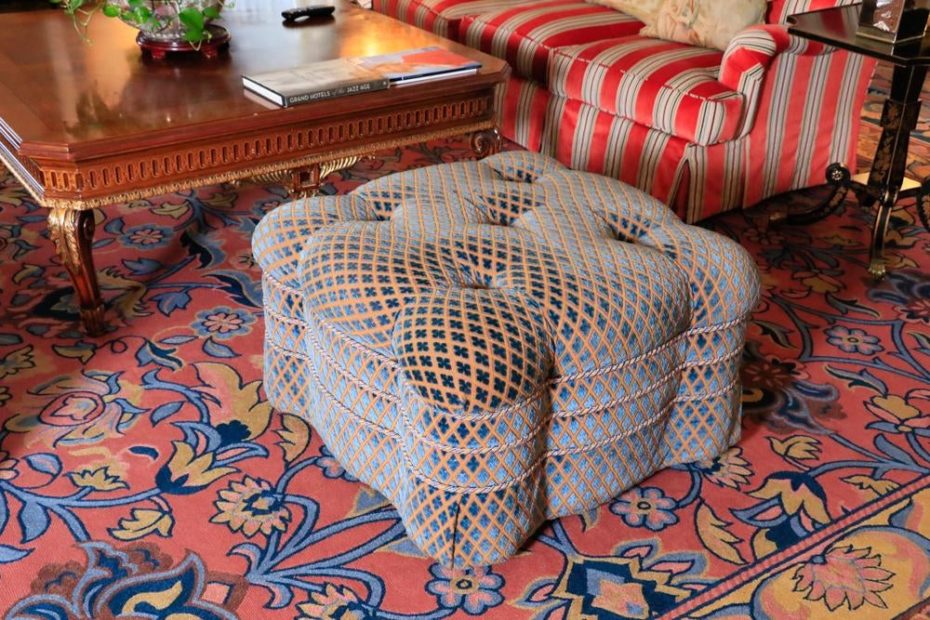 Lot 0245, starting bid at $325.
Corner cabinet decoupage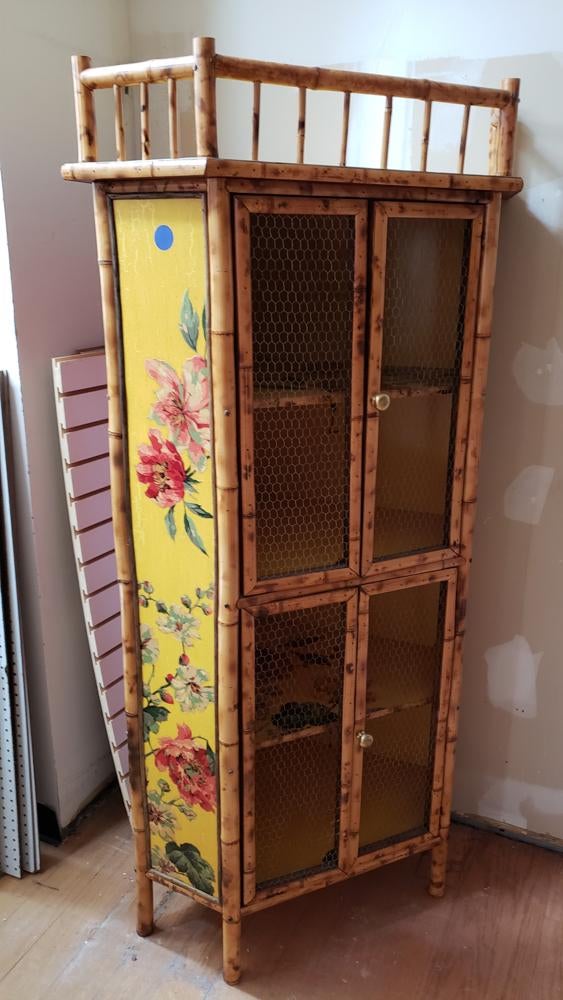 Lot 0400, starting bid at $450.
This Mustard Chaise Longue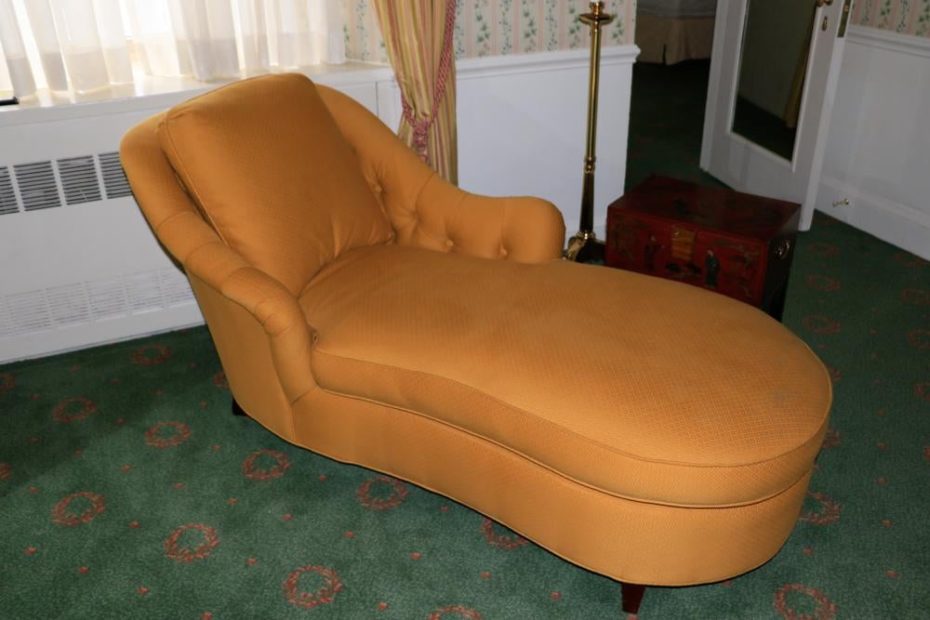 Lot 0451, starting bid $125.
Fainting Sofa from the 30th Floor Waldorf Towers Suites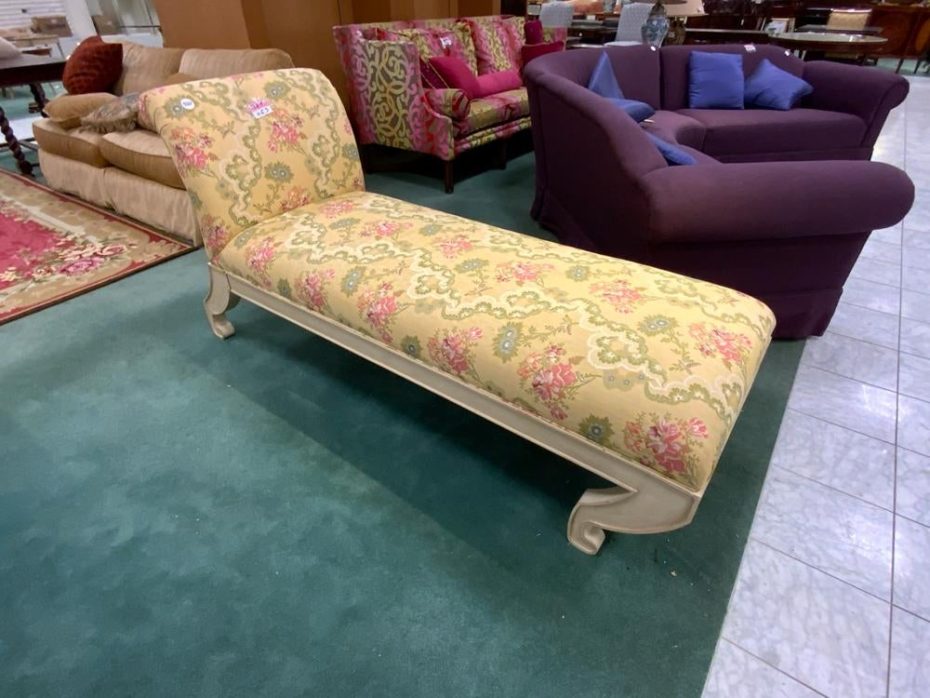 Lot 5325, starting bid $100.
Large French doors once installed in the lobby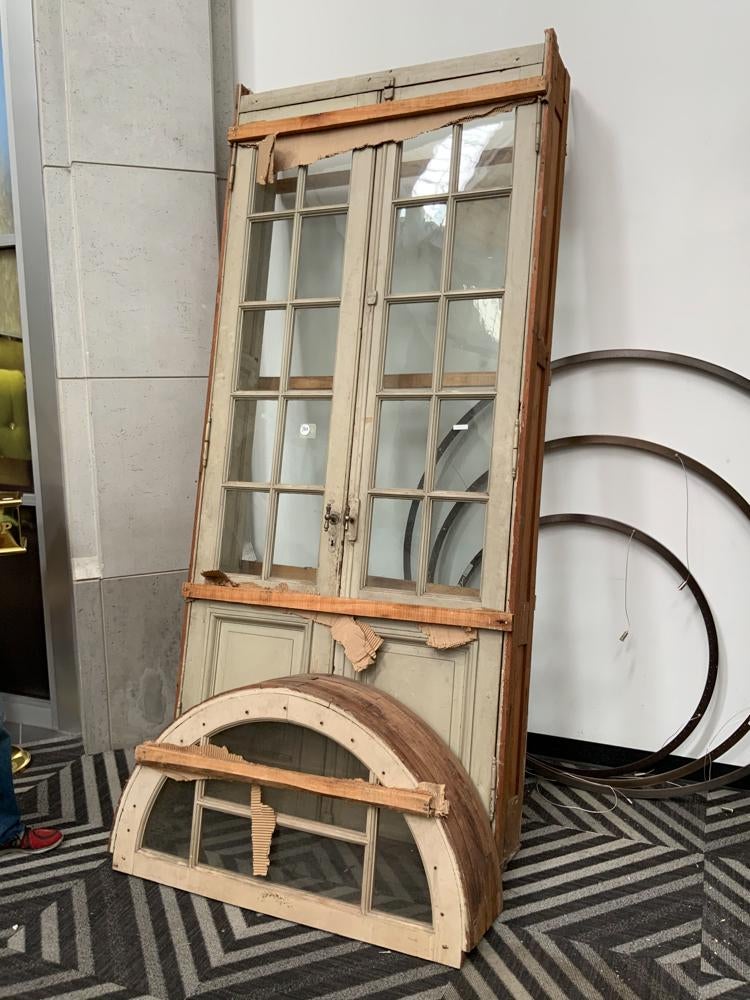 Lot 7108, starting bid at $800.
A Lot of 5 Green Library Lamps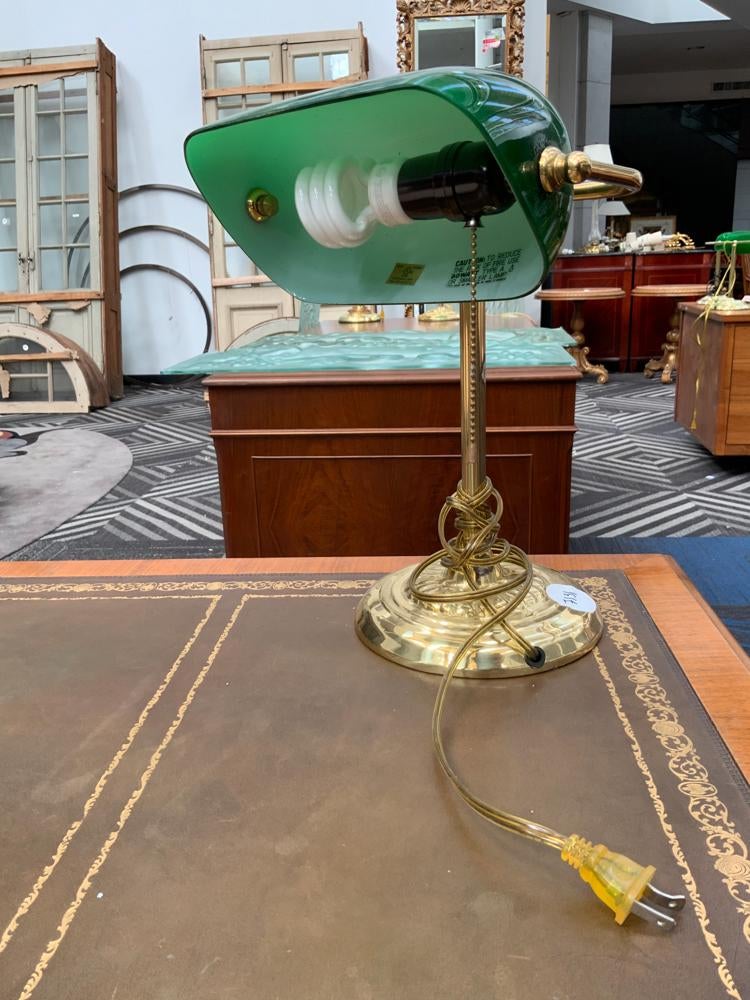 Lot 7131, starting bid of $75.
Mirror with Painted Scene from the Royal Suite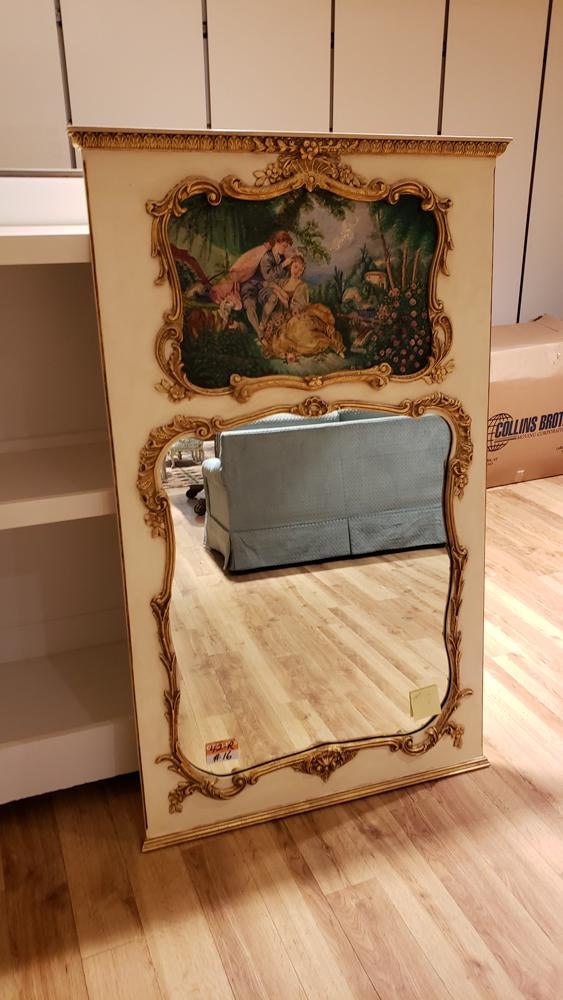 Lot 1123, starting bid $175.
Ladies Boudoir Chair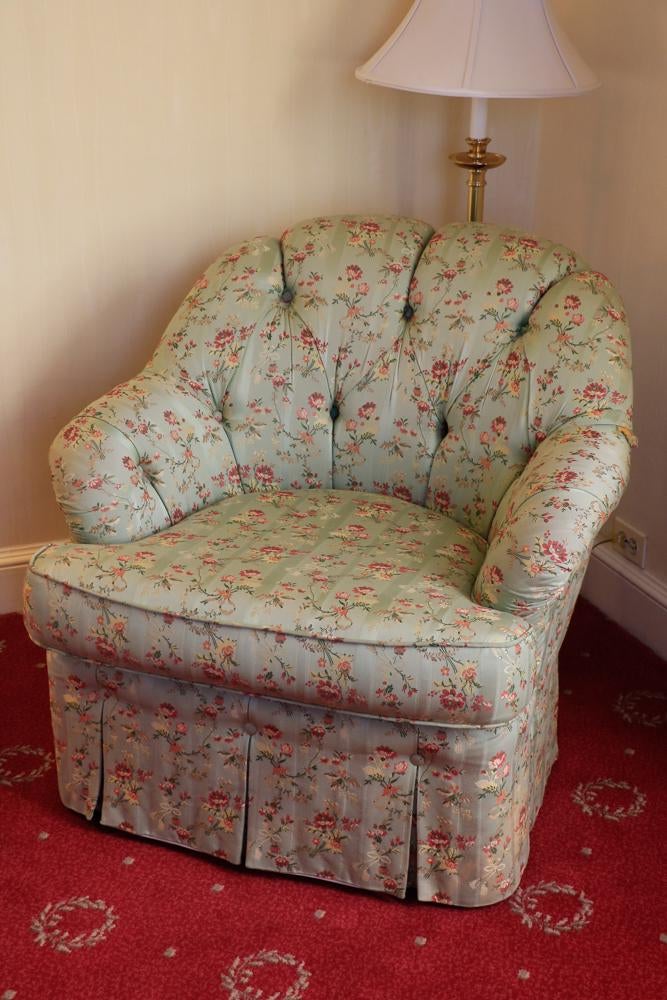 Lot 0651, starting bid $125.
Photograph of Queen Elizabeth II arriving at the Waldorf in her limousine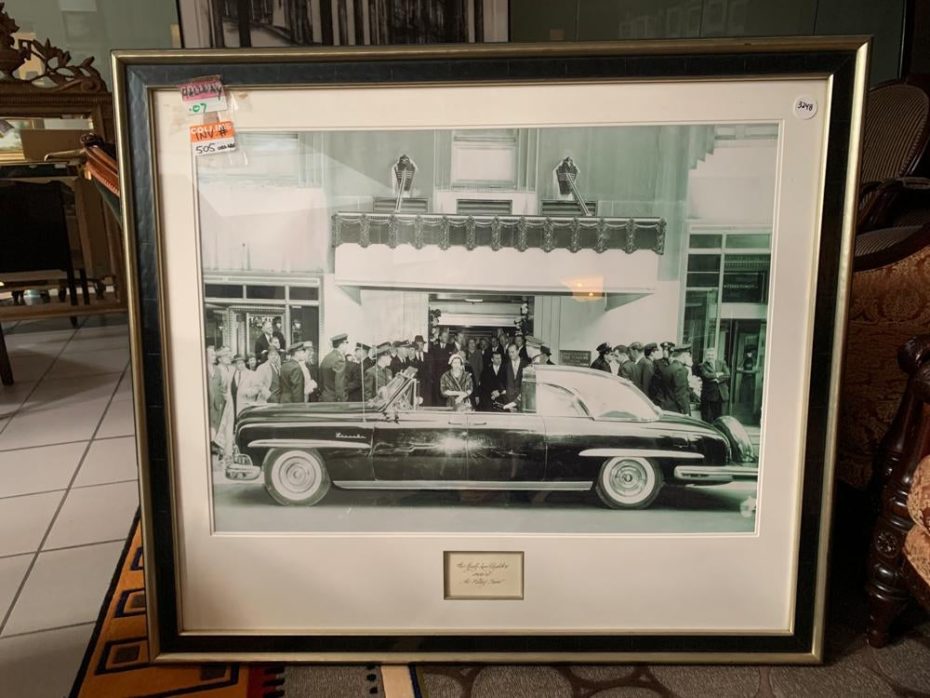 Lot 3248, starting bid at $50.
These unique Riopelle style lobby chairs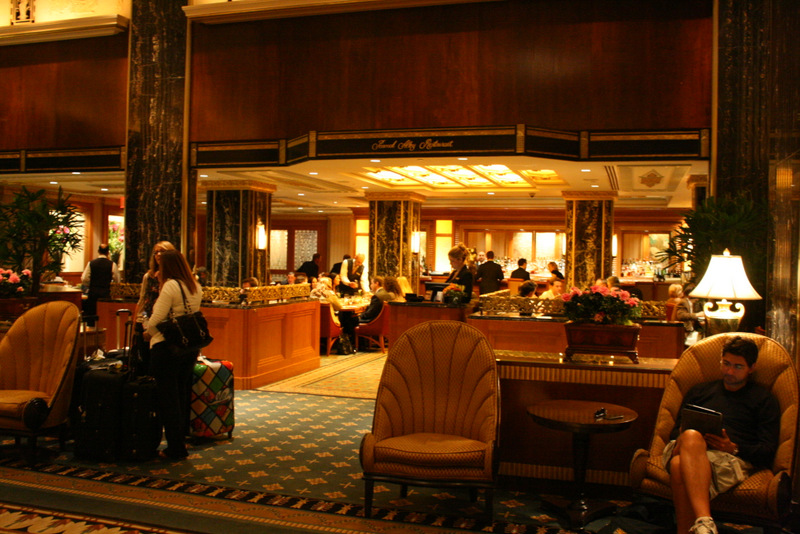 Lot 7217, starting bid at $425 for a pair.
A Lot of 13 Hall Mirrors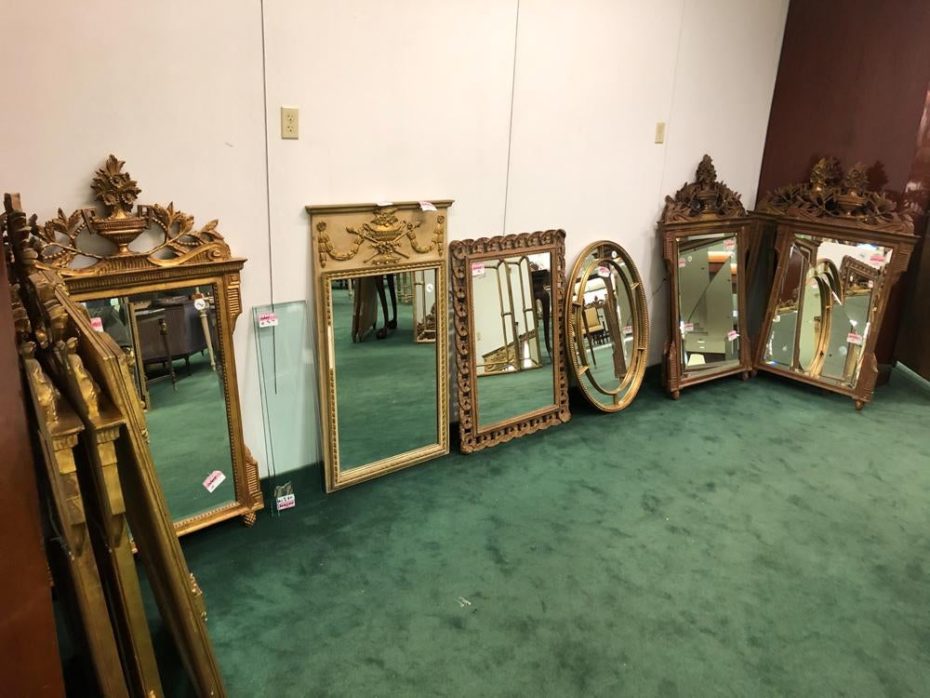 Lot 3446, starting bid $425. Imagine an entire wall of these mirrors.
Photograph of Elizabeth Taylor arriving at the Waldorf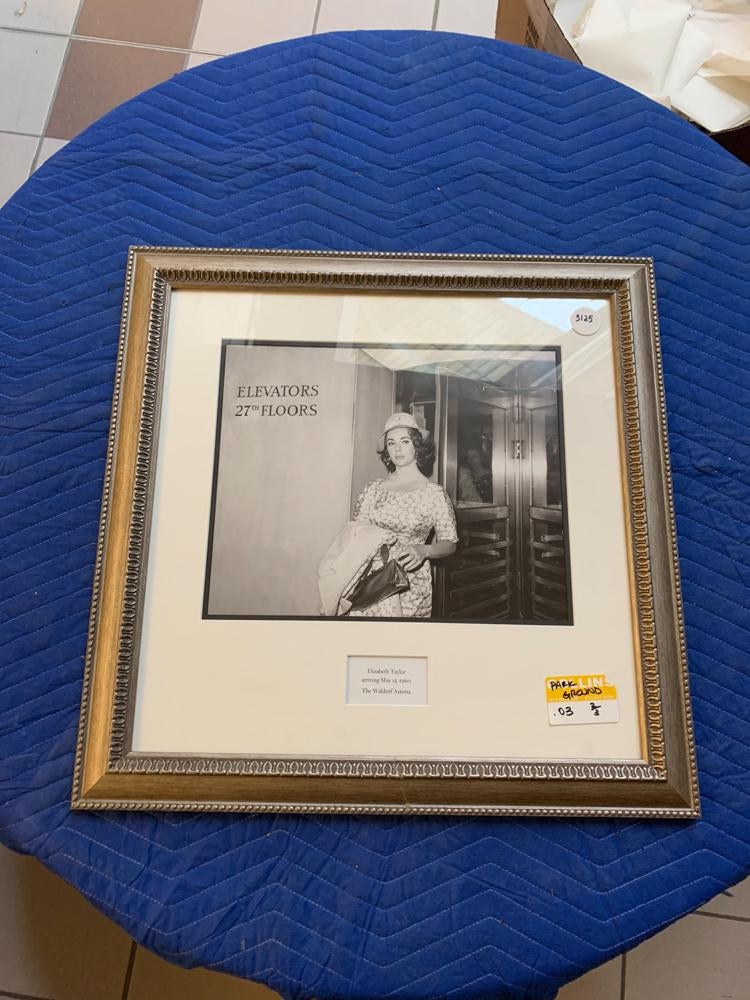 Lot 3125, estimate $50 to $100.
Photograph of the Park Avenue Entrance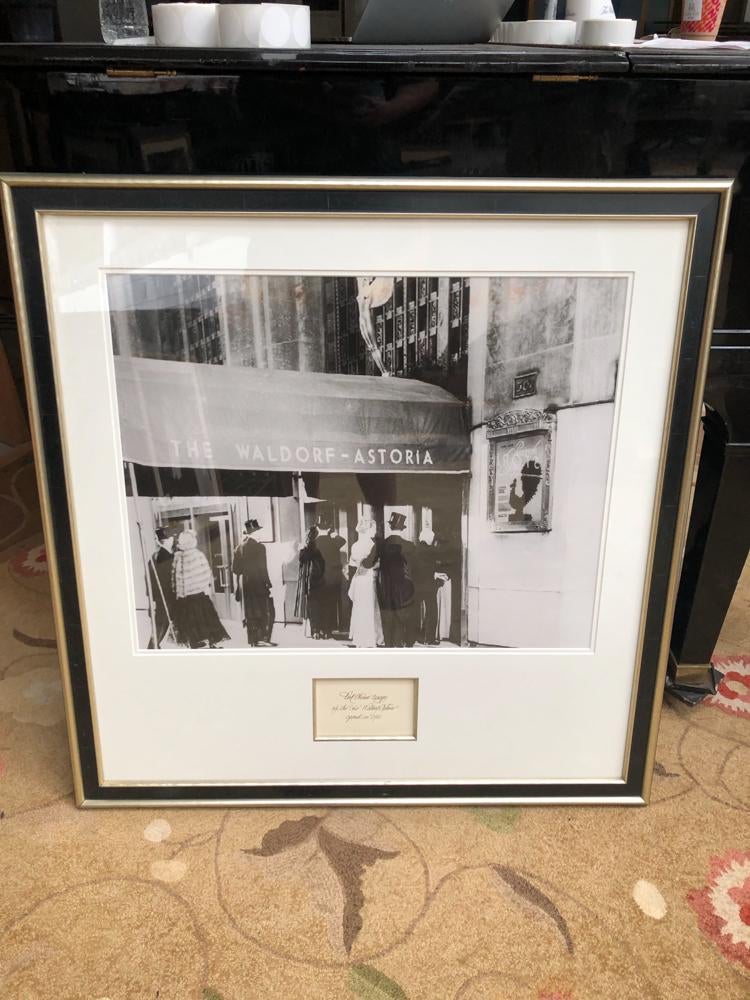 Lot 3053, starting bid $50.
Browse the full auction lots here.