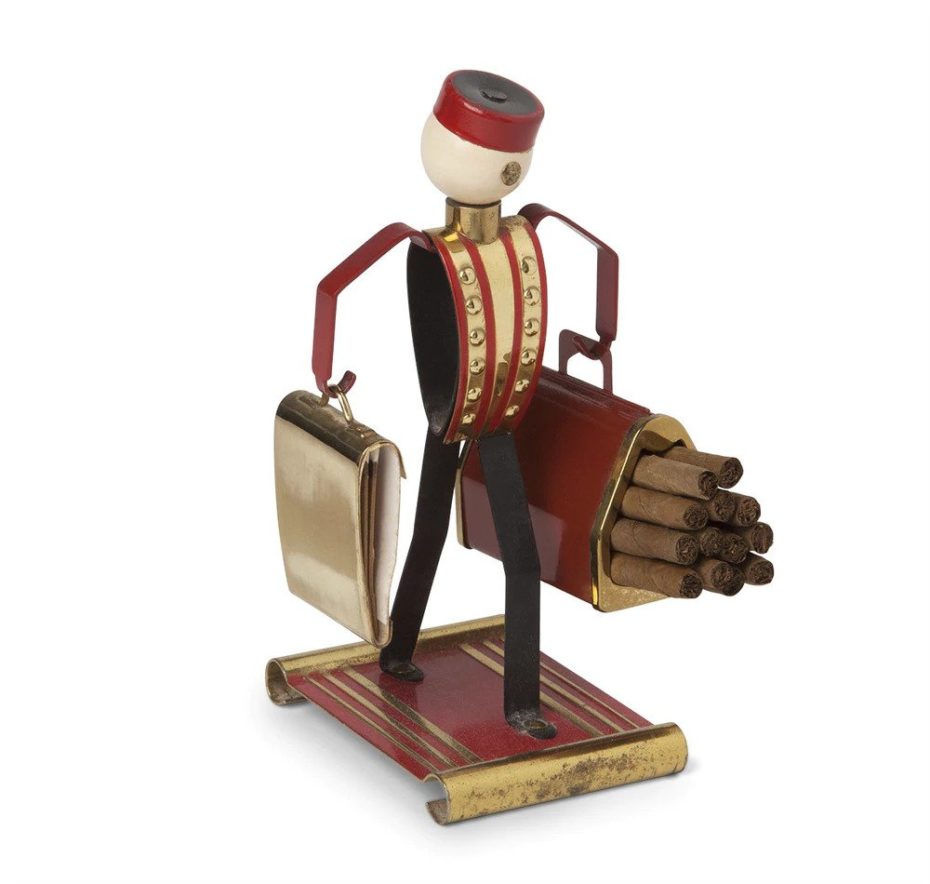 "Tobacciana." That's a big 'ole blanket term for all things smoking-obsessed. Not very 2020, perhaps (and for good reason! Don't smoke, kids). But the reality is that until relatively recently, folks smoked a lot. So they were getting rather creative with the ways they lit-up, especially when it came to their cigarette dispensers. These often ornate objects were more than a mere way to store your smokes, they were works of craft. They could be music boxes and gag gifts. They were ice breakers for anyone to say, "You ever pulled a cigarette from a donkey's rear?"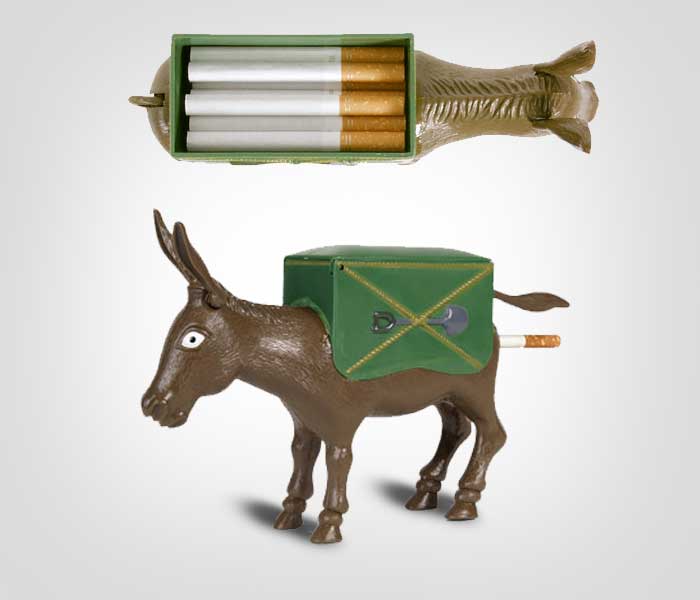 They take on the shape of everything from animals to a musical Parisian kiosk; they've been inspired by everything from traditional inlay craft, to goofy Sputnik-esque creatures. They also get damn fancy. Check out this Italian ceramic tabletop carousel with doors that dispense cigarettes while playing "I Could Have Danced All Night" on a Swiss music box:
These days, you can find them at places like the Paris flea market, a veritable mini-city of antiques, and on websites like eBay, 1stDibs, and Etsy, ranging anywhere from under one-hundred dollars and into the thousands.
Let's peruse a few of these bygone novelties…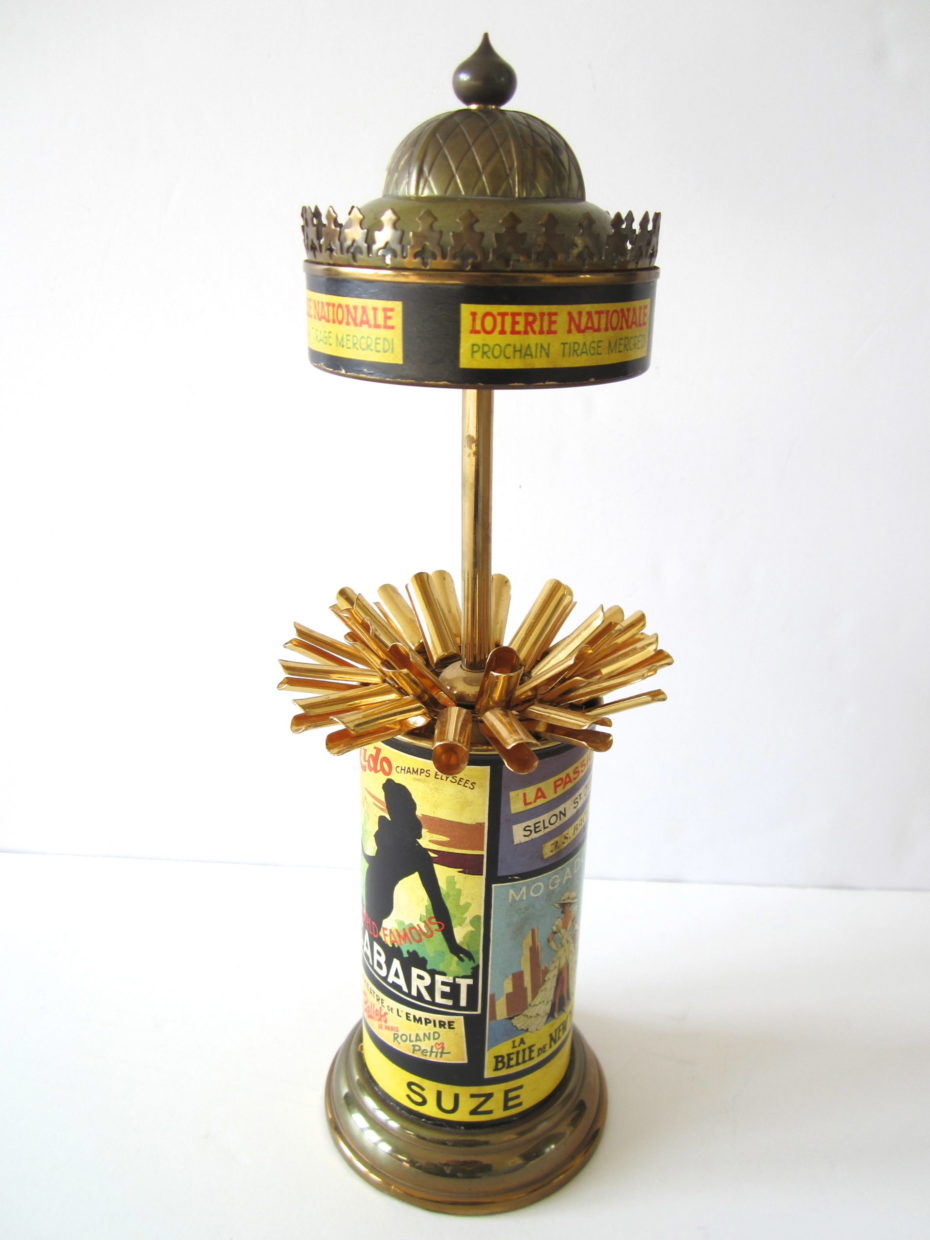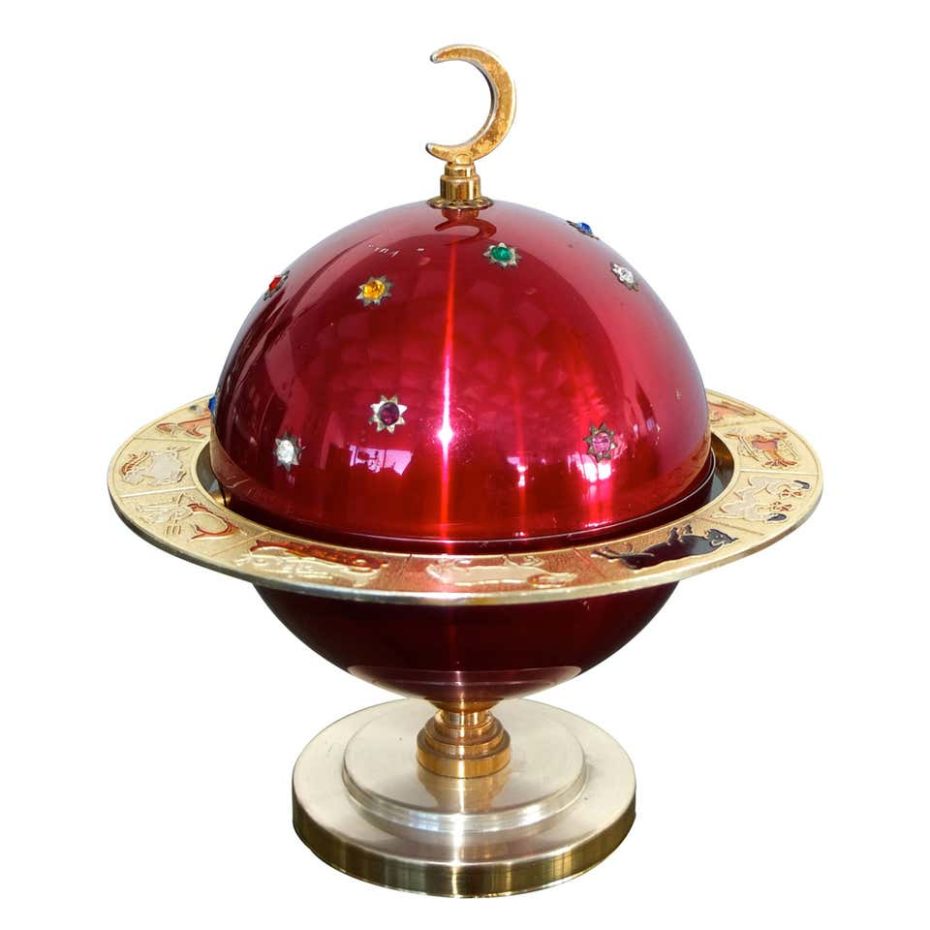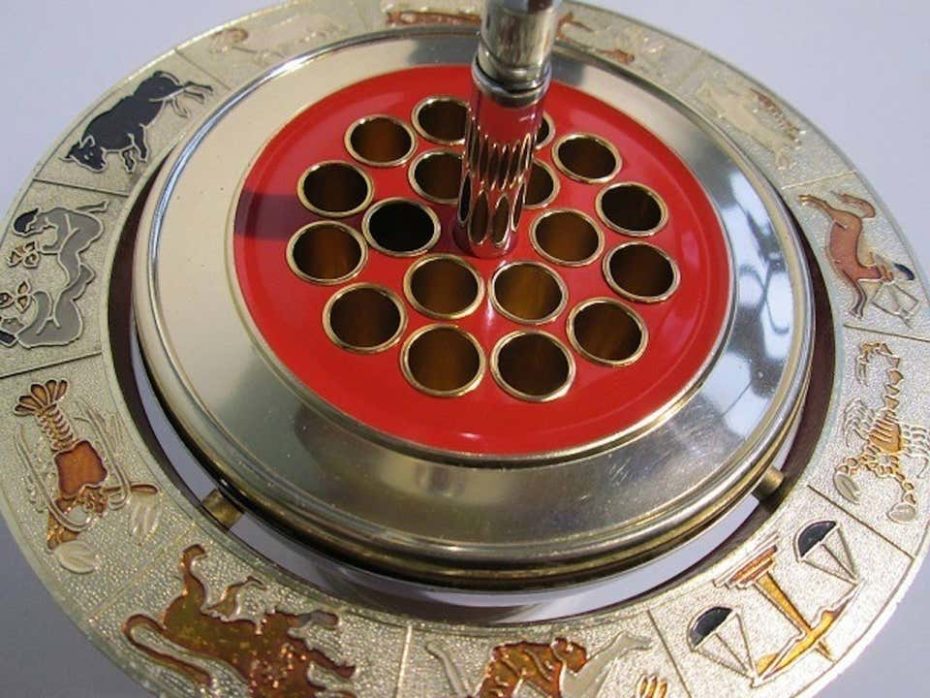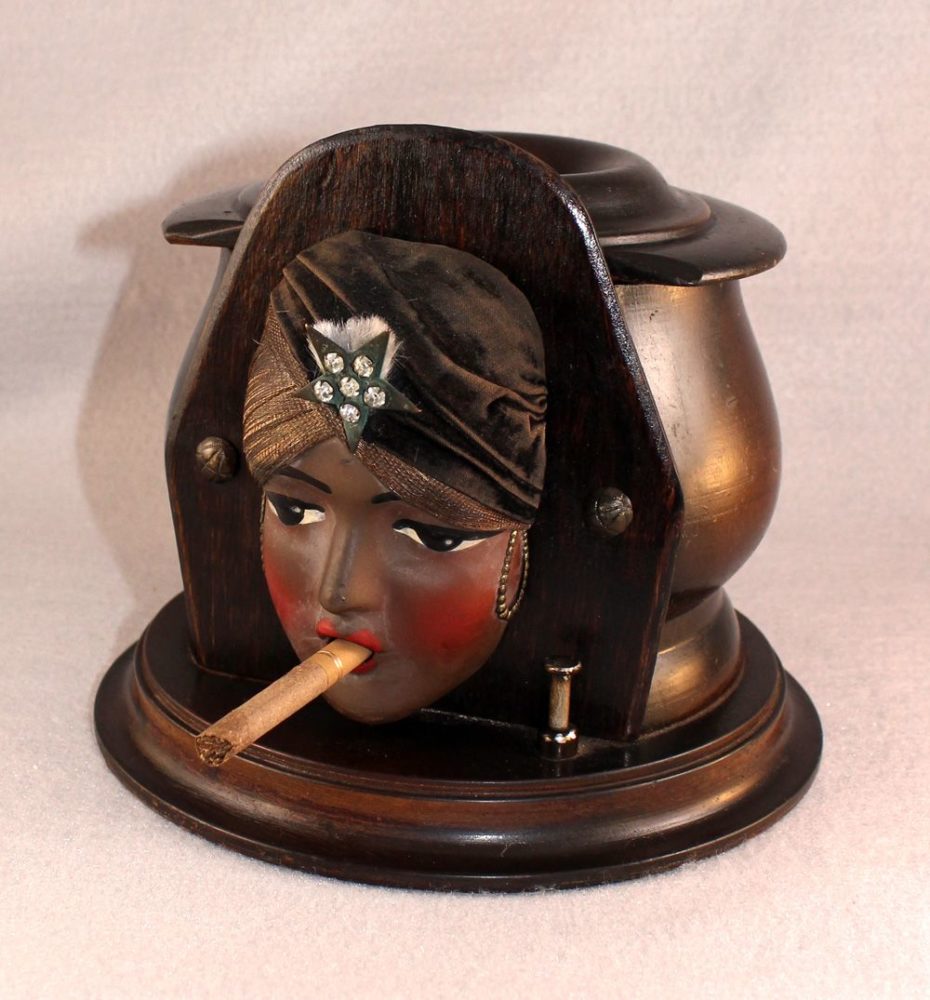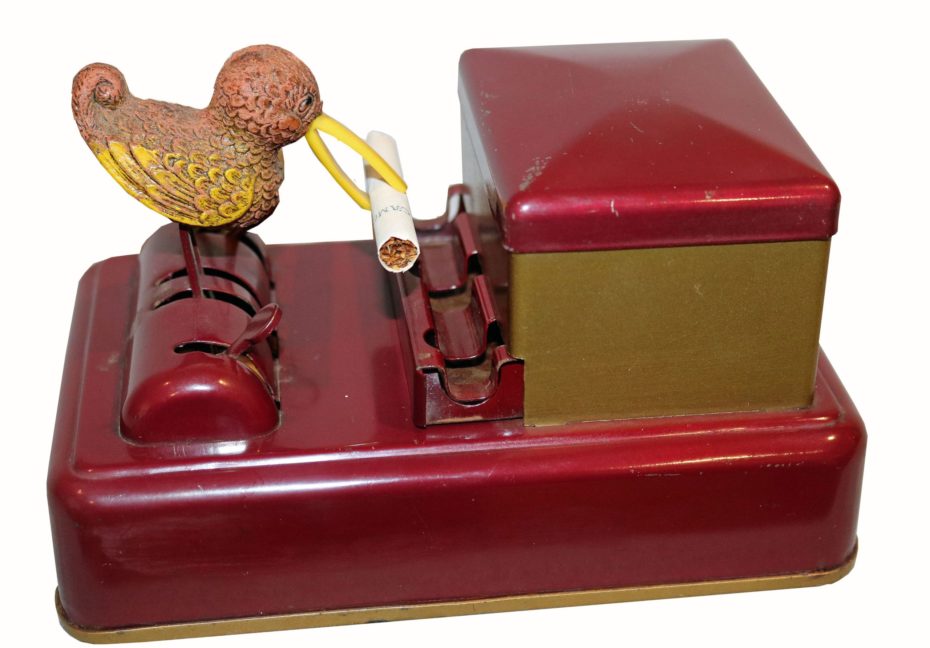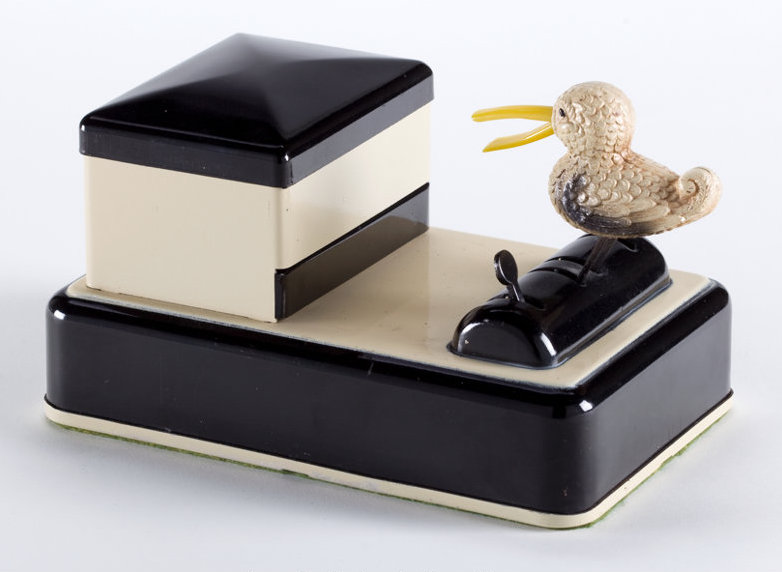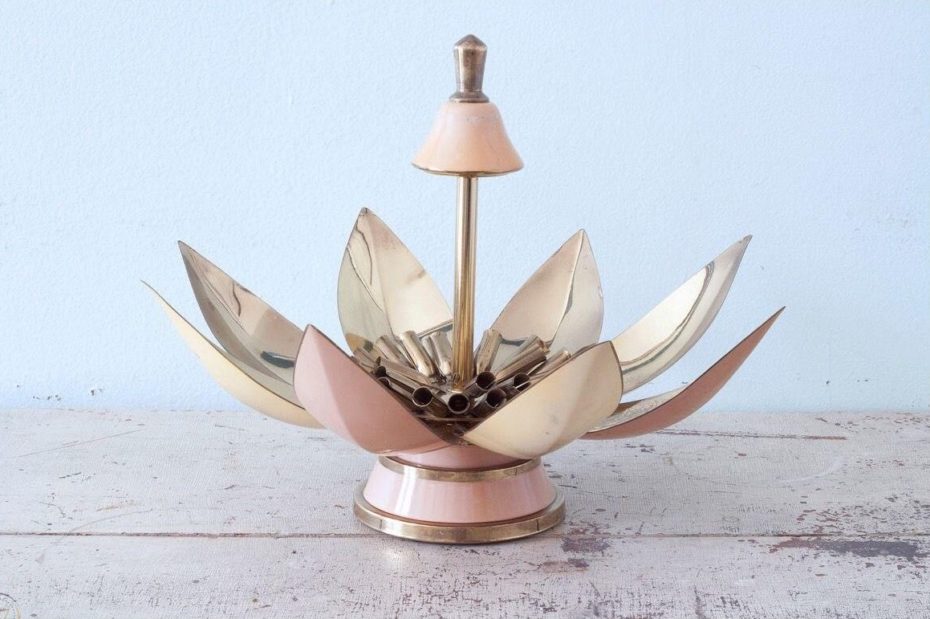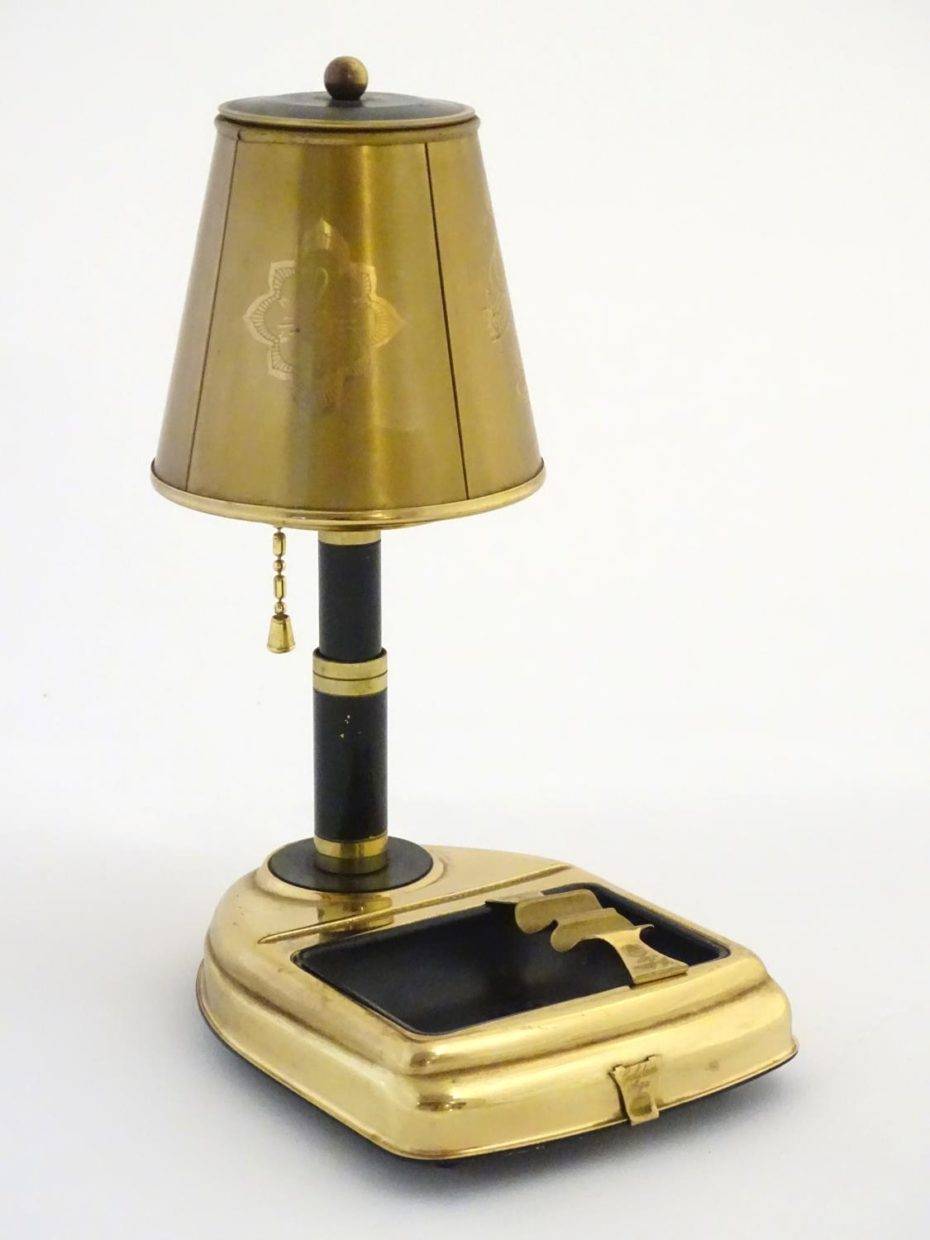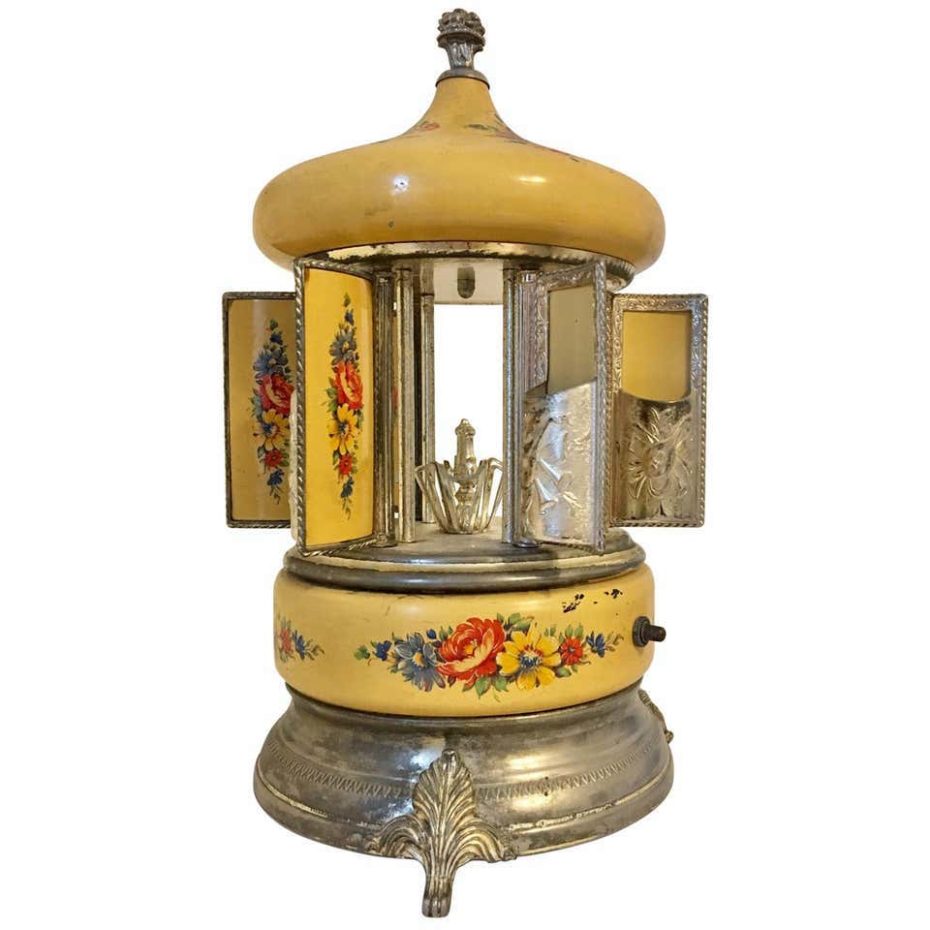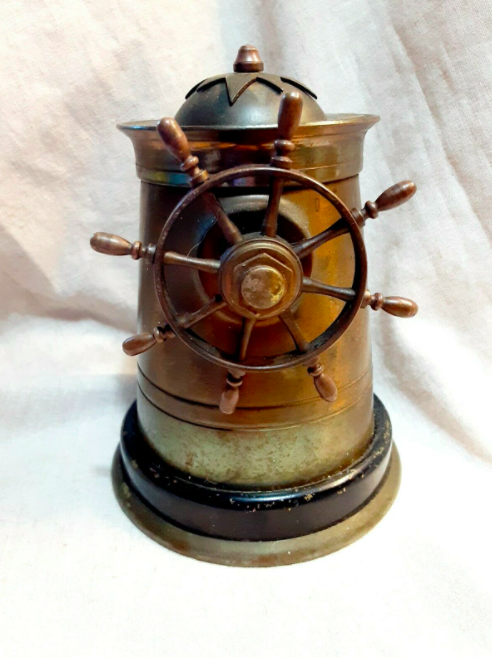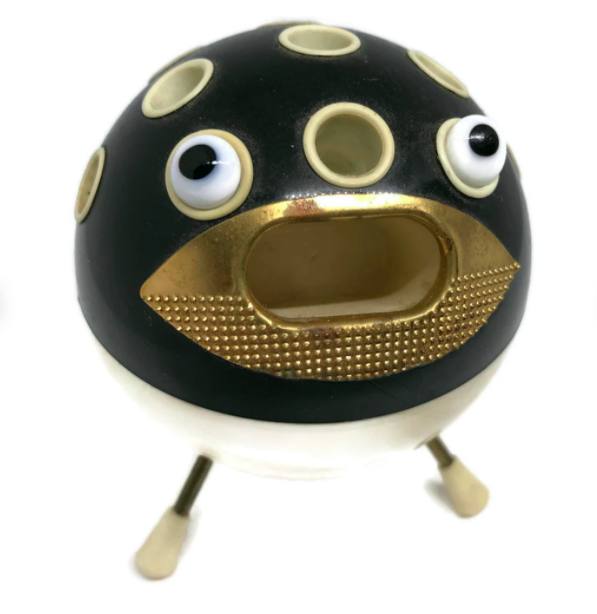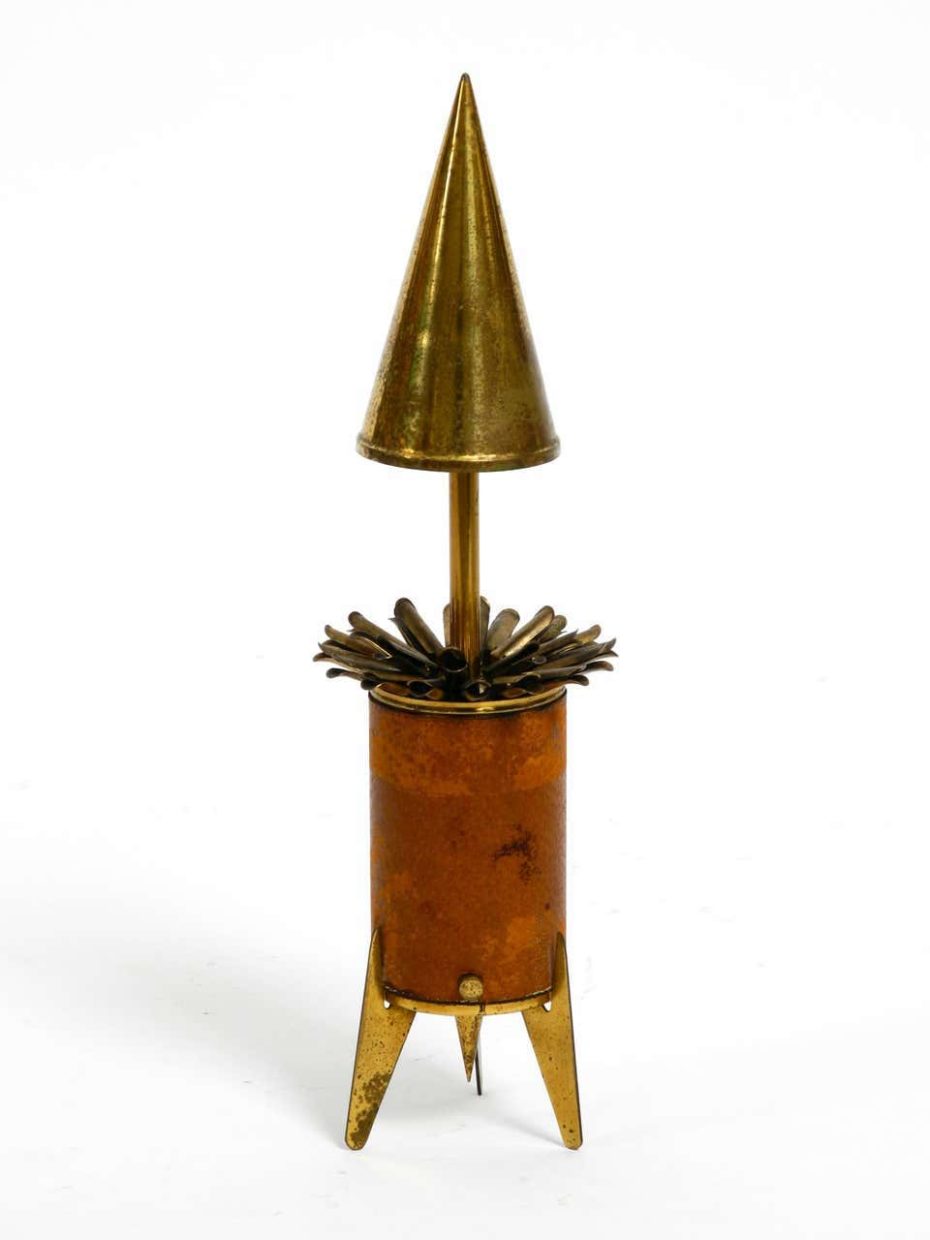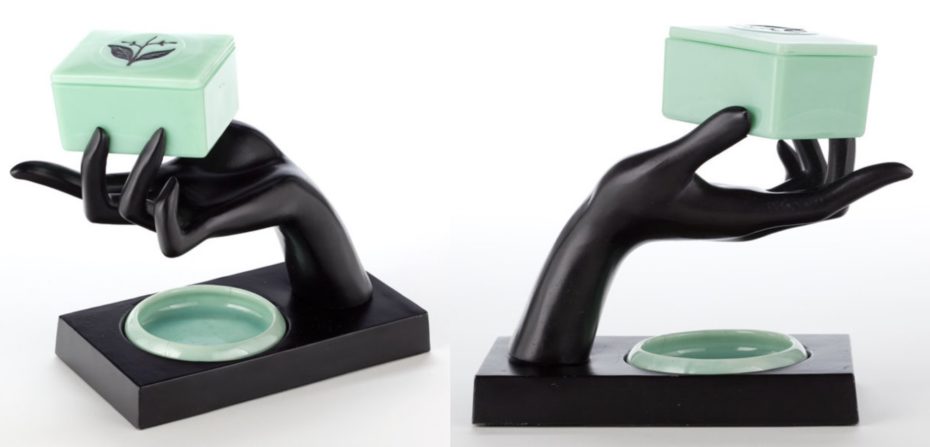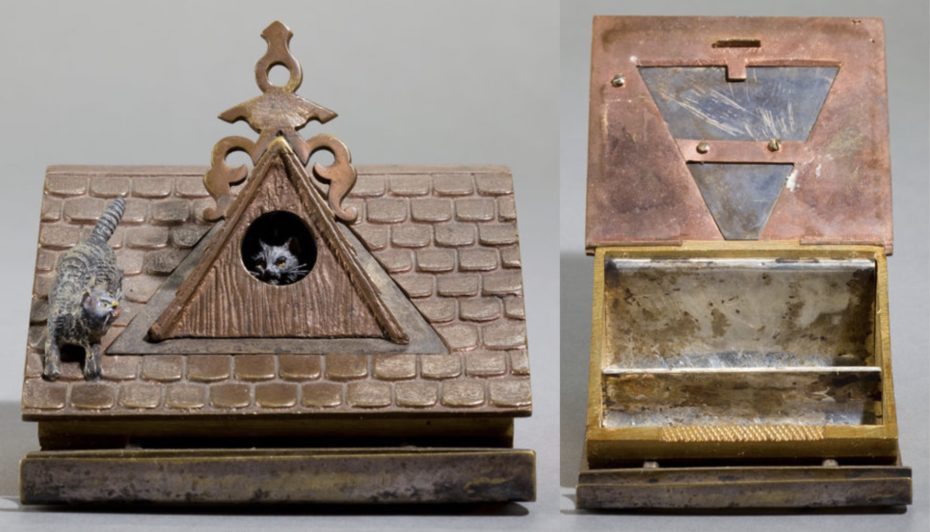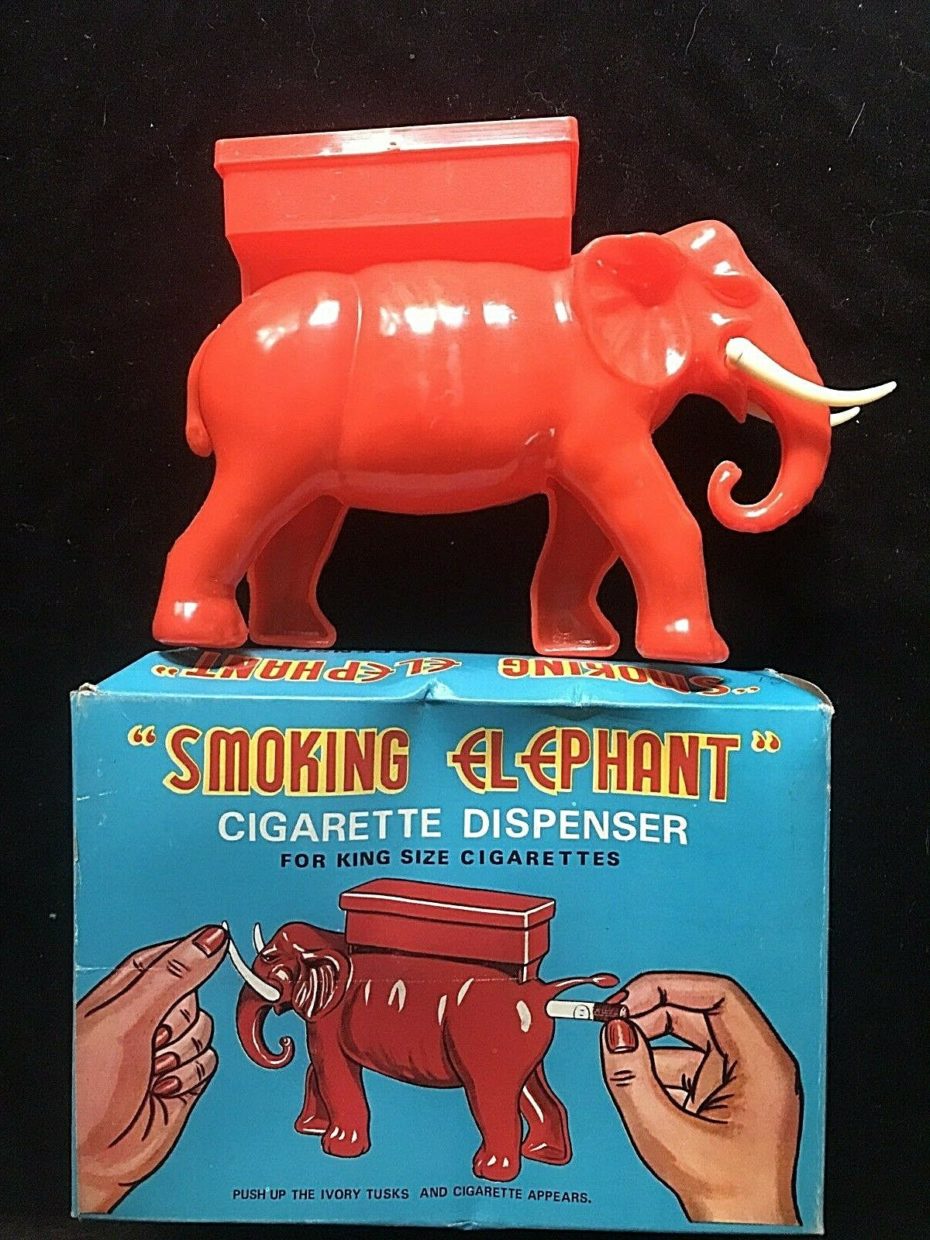 Nowadays, novelty tobacco accessories of course aren't produced in the same manner and mass as they were in the 20th century. Some of the smaller dispensers can perhaps be repurposed into boxes, pen holders etc, but what about the larger cigarette dispensers were once found in ever bar in town?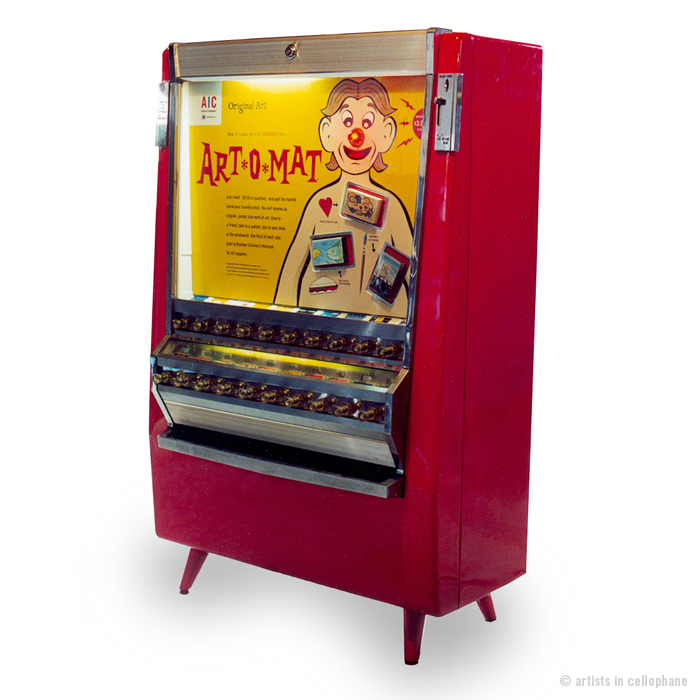 Behold the Art-o-mat! Formerly the not-so-wholesome cigarette dispenser that lured teenage smokers with warm glowing lights, futurist artwork and steely knobs; today, a friendly little machine, rescued from its junkyard destiny to sell art, packed neatly into small boxes about the size of a pack of smokes. Pretty neat-0!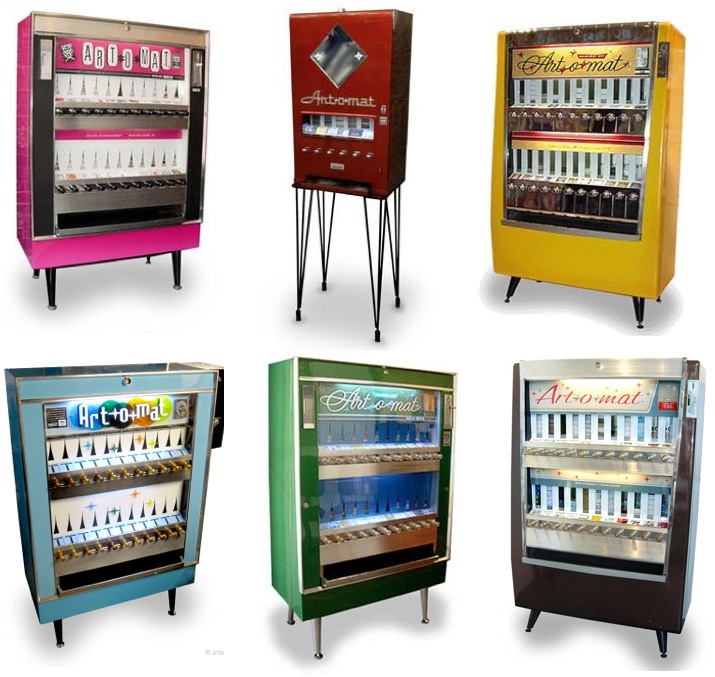 There are about a hundred of these retro gadgets in various locations across America currently dispensing vending machine art to encourage the consumption of art in an innovative form. It all started out with one guy, an artist by the name of Clark Whittington, when he was set to have a solo art show at a local cafe, Penny Universitie in Winston-Salem, N.C. Alongside his paintings, he decided to install a recently-banned cigarette machine to sell his black & white photographs mounted on small blocks for $1.00 each. And the first Art-o-mat® was born.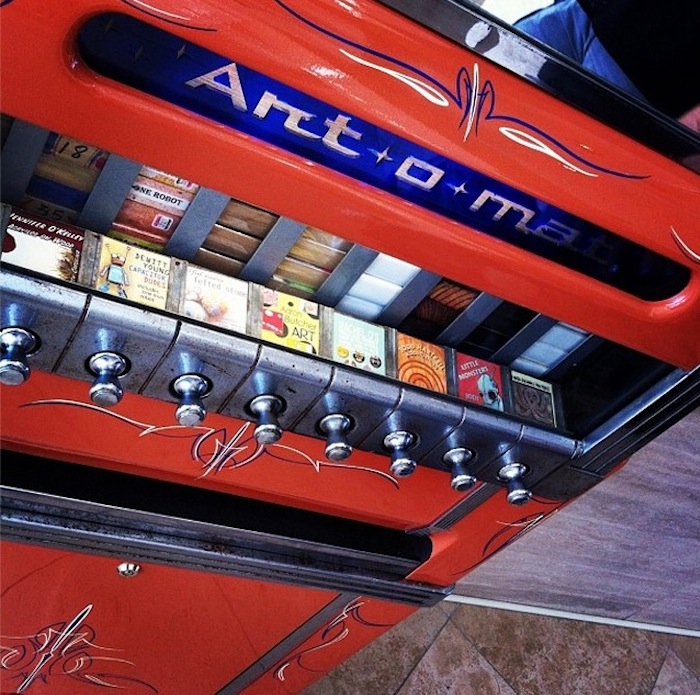 The owner of the café where Clark held his exhibition loved the idea so much, she kept the Art-o-mat® in her café several years after the show was dismantled. Seeing an opportunity to involve other artists while providing exposure and promotional support for them, the group 'Artists in Cellophane' (AIC) was formed. Of course, these repurposed vintage machines are works of art themselves but here are some examples of the art you can also expect to find inside them today …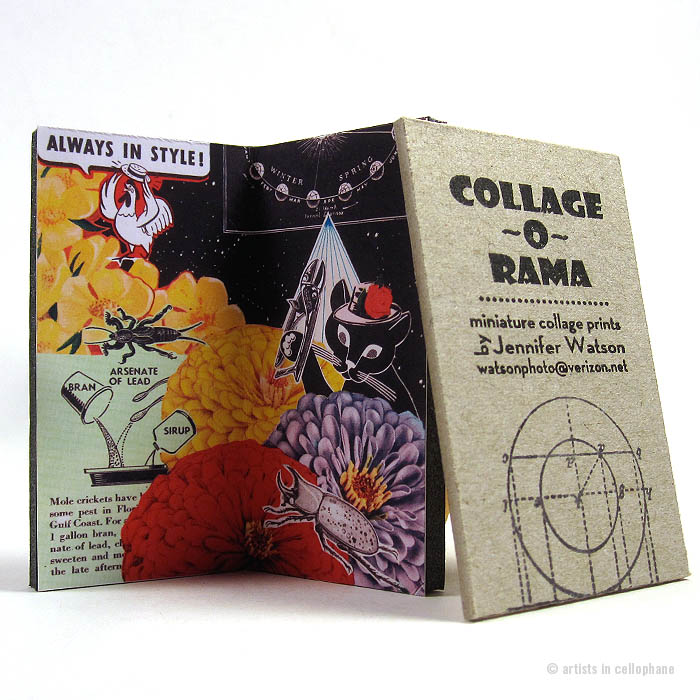 There are around 400 contributing artists from 10 different countries currently involved in the Art-o-mat® project and the sponsorship organisation are always looking for new talent. Machine locations range from the Whitney Museum of American Art in New York and the Smithsonian in Washington to Whole Foods markets, social clubs, hotels and university campuses around the country.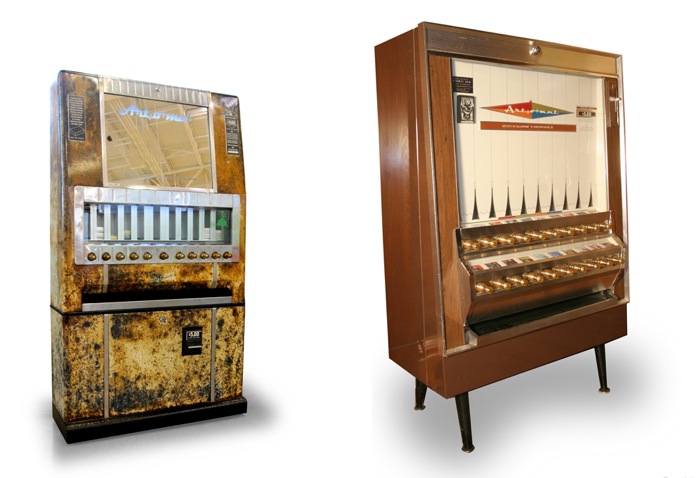 Inspiring stuff! Find Art-O-Mat on Facebook & Instagram.