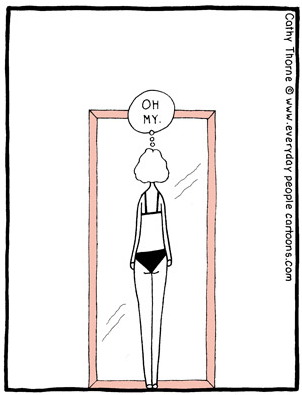 Confessions of a Girl on a Teeny Weeny Bikini Mission
I have to get something off my chest.
But I'm afraid your opinion of me may be slightly altered by what I am about to tell you.
After much careful consideration, agonizing thought and deliberation, I have decided to go on a little d … di … die … DIET.
[Shiver]. It's so much more real when it's in black and white.
Okay here's the thing. I've got a date with a bikini on a beach in less than 30 days. I understand that I'm not fat. In fact I'm doing pretty good for my height and all that.
But then I don't quite look like this either…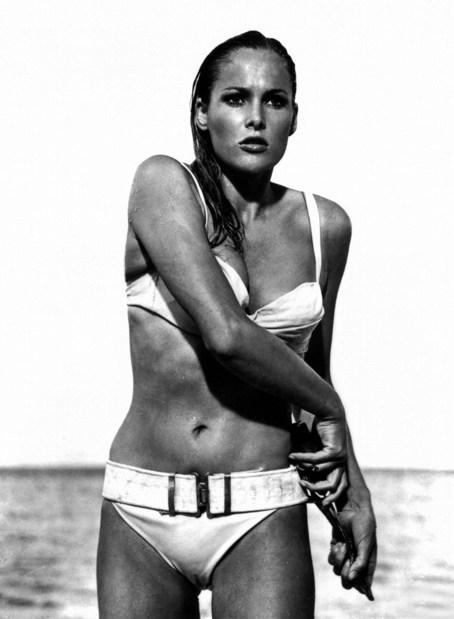 So sue me if I want to look a little more like Ursula Andress when I emerge from that water; reaching for a dagger in my waist belt (obviously).
As I sat down at the kitchen table last week, fresh from my morning jog, tucking into a melted cheese and ham croissant, a bag of crisps to follow and a soft chocolate chip cookie for dessert, all strategically laid out in front of me, it suddenly occurred to me that something was wrong with this picture. With less than a month until full bikini body exposure time, I knew this kind of cushy lifestyle just wasn't going to cut it.
I had gone too far, taken too many liberties. An Ursula Andress-style entrance was out of my reach at this rate.
And that's how it happened. That was the moment reality hit and I realized it was either me or the croissant (or the cookie).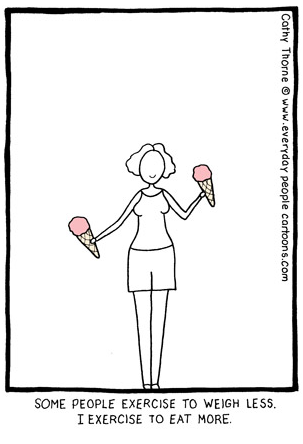 I browsed a few diet plans online, finding it amusing that many of them claimed their regimes would make you feel more in control, one site even going as far to say how sexy it is to be in control.
But I knew exactly what I was in for…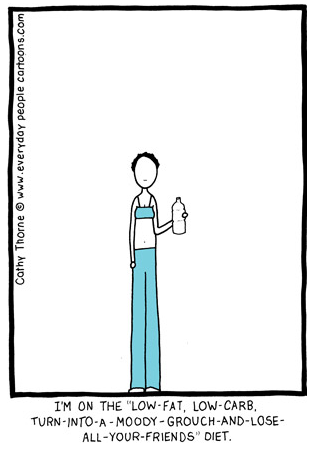 As any like-minded person might agree, diets are not sexy. 'In control' are the last words I would use to describe my state of mind since I started a diet five days ago.
Here's a little insight on what an average dieter might experience during their weight loss efforts… (along with some mouth-watering food imagery to ogle at so you can really get a feel for just how painful dieting is).

Look in the fridge on day one of your diet. Everything in there will now rot because it's not permitted on your new diet. Oh yes and you just went to the supermarket the previous day. How perfect is it that you came up with the will-power to start a diet on this particular day!
Prepare to be confused pretty much whenever presented with the prospect of eating something. Am I allowed this Low fat Low carb double chocolate cookie dough ice cream fudge cake? It does say low fat, low carb on the box… would they lie to me? Why would they lie to me? Especially at this price. Stand there in the food aisle like a totally obsessive idiot for up to ten minutes, squinting to read the encrypted nutrition label. What has become of you? Who are you? …. a mere shadow…
Food envy– everywhere you go and everywhere you look. Dining out? Hey, you get to watch every succulent morsel of carbo-liciousness being devoured by your fellow diner. The complimentary bread basket? Cruel torture, plain and simple.
Not to mention deciding what to order in the first place. Presented with a menu, just wait for the little droplets of sweat to start rolling down your forehead as you browse the options. At least sweating means you're burning cals right? Yeah! Awesome. Your heart jumps for pure joy as you think you've found a suitable option for your incredibly specific diet rules and regulations, but no. Read just a little further and you discover that it's pre-marinated in lard. Damn it. Cry. Because you realize the only thing you'll be ordering while on this diet is that stupid rocket salad. Stupid, stupid salad.
Most diets advise you to dramatically increase your daily intake of water to 1.5 litres (just hope that this doesn't later put you off water for the rest of your life). Now see if you can go half an hour without needing to disappear for a tinkle. If you work in an office environment, your boss/ co-workers will automatically begin to suspect you have developed some sort of drug habit. 
Fallen off the wagon? Snuck a little innocent Kit-Kat in there did ya? [Thunder and lightening]. Well condemn yourself to a sudden, overwhelming sense of guilt worse than that time you stole candy from your own baby (I don't have a baby, but I imagine I would feel pretty guilty). Oh god, oh god, oh god. Pure fear. Visualization begins of how those four sticks of Kit Kat are rapidly transforming into blubbering deposits of terrifying fat, building their evil little alien pods around your waist. Shshsh. If you're quiet enough, you can hear them.
Plan to lose weight without cutting out the booze? Haha! Fat chance. Sorry about the pun. And sorry about the really sober nights out you'll be having while everyone else appears to be riding imaginary unicorns.
The dilemma of whether or not to tell people you're on a diet. Other than your best bestie, who needs to know right? Except if you're not typically known to refuse something that so obviously looks like chocolate heaven, or your usual Friday night glass bottle of wine, or a slice(s) of pizza on 'movie & pizza night' (the list goes on)– sure enough, the moment you refuse, up goes the eyebrow in confusion– "Are you okay?" 
Oh, the humiliation. Either you try to invent some ridiculous excuse other than 'I'm on a diet'– and this fabricated story will then lead the other person to again, suspect you've developed a drug habit.  OR– after years of slandering the latest diet fads, gloating about the simplicities and pleasures of life without diets while friends hopelessly struggled with theirs– just admit the fact that yes, it's true, that was me lurking around the weight watchers aisle of the supermarket last night. I guess my sunglasses, bowler hat and trench coat in mid-summer attracted more attention than I had anticipated.
So quite clearly, I don't want to be on a diet. Quite clearly, I think it's kinda stupid. And quite clearly, dieting sucks.
But here I am, counting my calories… or is it carbs…? Oh please God, just make me look like Jessica Alba in a bikini.
My boyfriend feels sorry for me and probably can't wait until it's over so we can once again play our favorite meal time challenge 'who can finish their double decker burger the quickest?'.
Friends who I previously made fun of for dieting are probably enjoying every second of this.
But let's get a few things straight…
This diet doesn't have the power to make me crazy or obsessive (repeat five times while breathing in and out). This diet probably doesn't have the power to make me look like Jessica Alba in a bikini either (….okay then how about Angelina Jolie in the Lara Croft movies? I could settle for that…)
But this diet does have the power to remind me that no one is perfect. And hey, I guess that's okay.
Too cheesy an ending?
Hmmm… cheese … melted on garlic croutons with … [fade out].