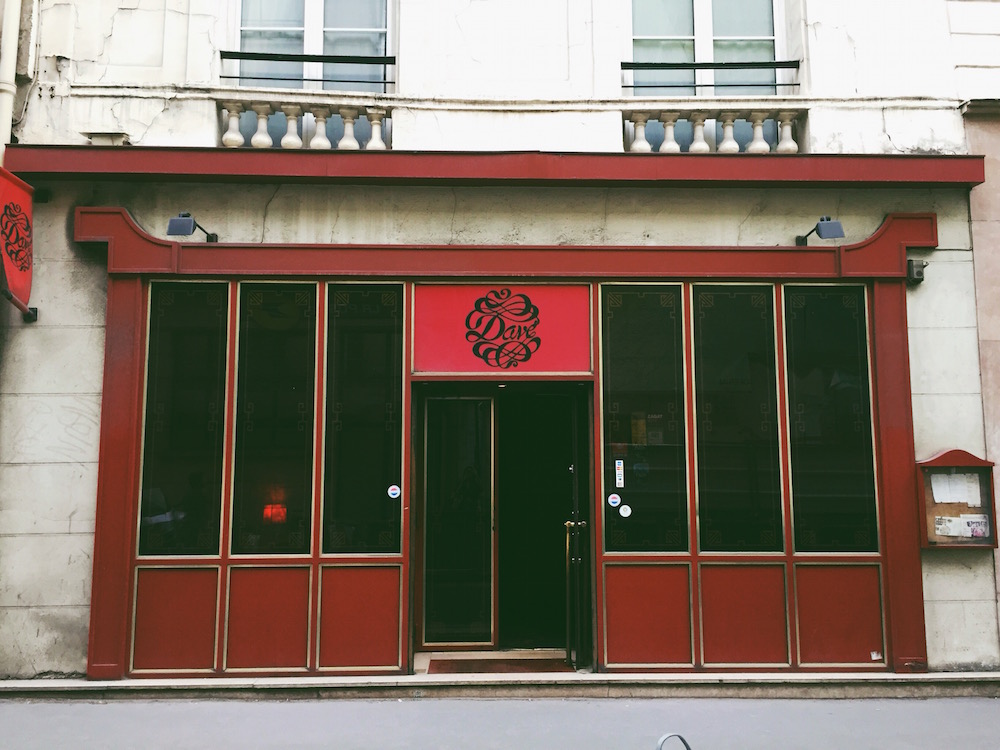 The facade of 12 Rue de Richelieu, a nondescript Chinese restaurant ironically called Davé, looks like its seen better days. One could easily mistake it for a questionable massage parlour hiding behind clandestine red velvet curtains; but you would never guess that it's one of the most legendary celebrity haunts in Paris, counting such icons as the late Yves Saint Laurent among its loyal patrons over the years– all thanks to the restaurant's owner and head waiter, whose name is of course, Dave.
Dave Cheung is a legend in his own right (some people call him Dave, others Davé). He's one of those people that has the natural talent of instantly becoming everyone's friend. And when I say everyone, I also mean everyone that's anyone.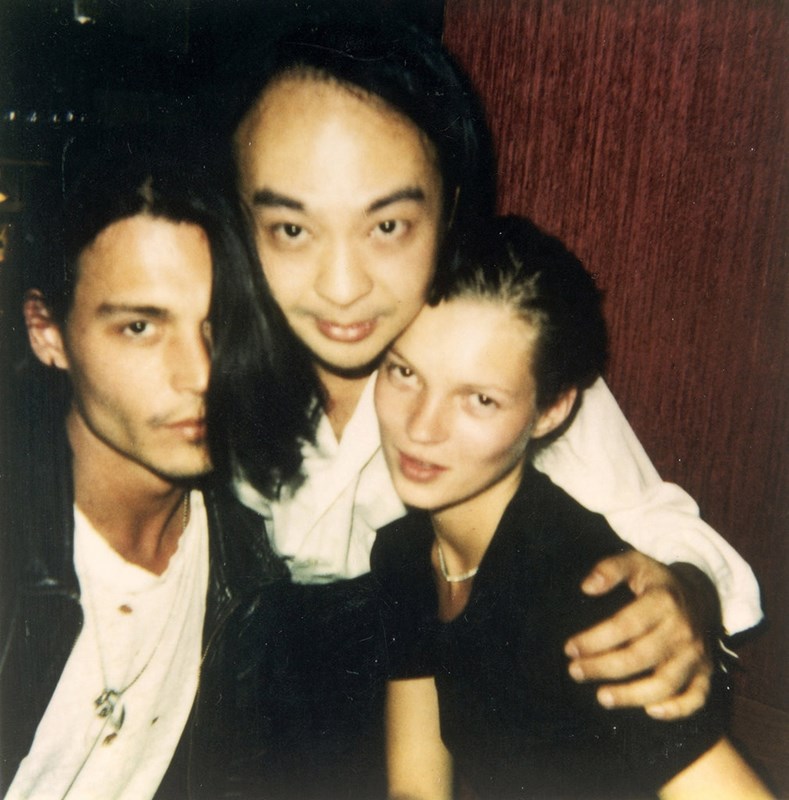 Johnny Depp, Davé, Kate Moss
When celebrated photographer Helmut Newton died, his close friend Davé welcomed a mournful Anna Wintour, Karl Lagerfeld, Jane Birkin, Manolo Blahnik, Tom Ford and 75 other members of the fashion elite into his Chinese restaurant following the memorial service, for some of his homemade comfort food: spring rolls, spare ribs and lemon chicken.
Newton and his wife had spent the previous Christmas with Cheung in his restaurant, just the three of them. Anna Wintour was also loyal customer, having once hosted a party there for 100 people that saw 97 limos parked outside the restaurant for the evening. Johnny Depp and Leonardo DiCaprio took their supermodel girlfriends of the time, Kate Moss and Gisele, on secret dates chez Davé, because they trusted he would never call the paparazzi. It also became known amongst the celebrity elite as a place to come dine, not with their "publicity partners," as Davé would call them, but with their real girlfriends or boyfriends.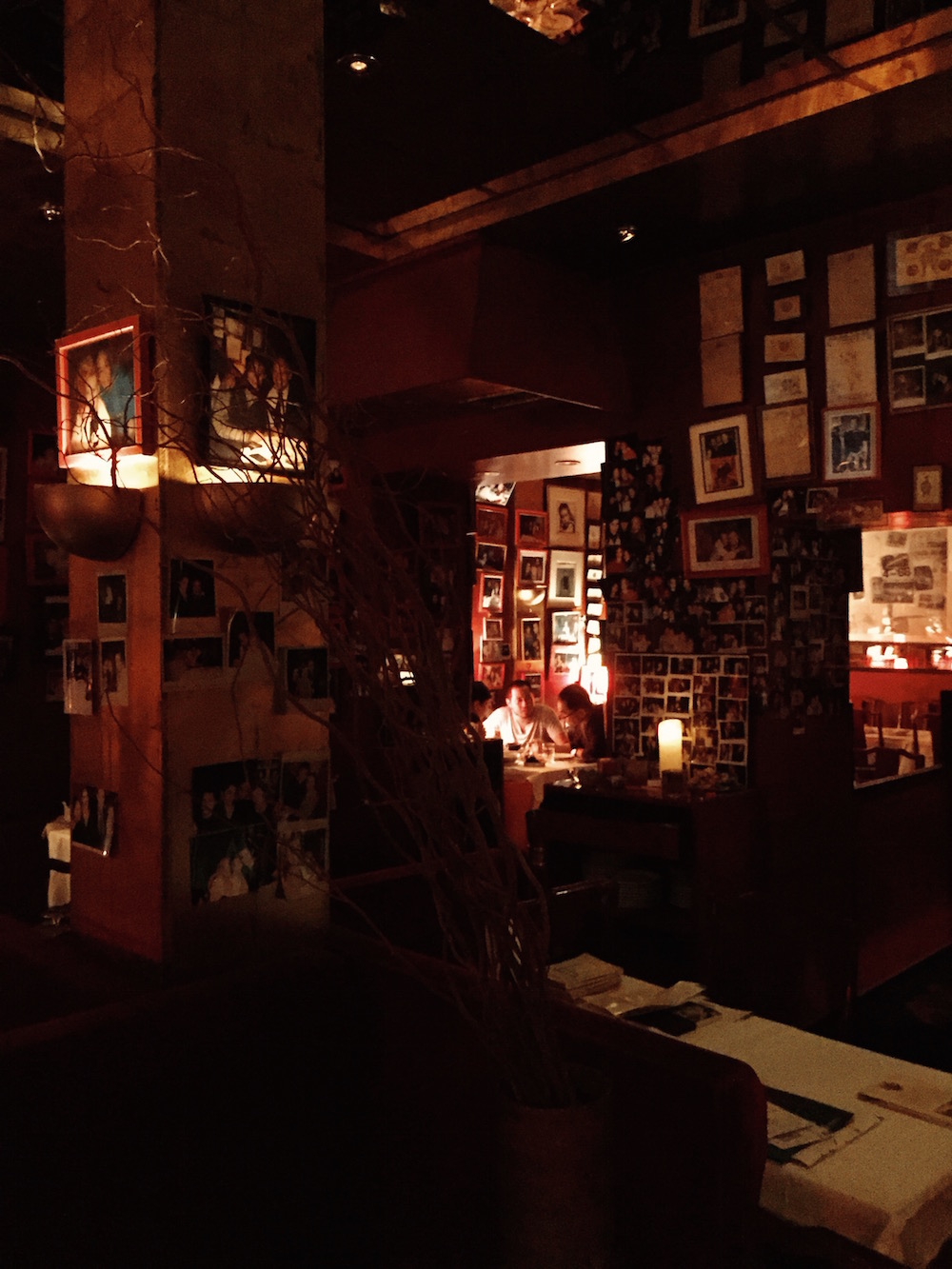 The first thing you'll notice when you step behind the red velvet curtain of Davé is how terrifically dark it is for a restaurant that's supposedly open for business. It could double as an opium den for a movie set. The living ghost of Yves Saint Laurent himself could be reading his paper in the corner booth over a plate of dumplings and go unnoticed, hiding behind the protection of Cheung's clandestine set-up.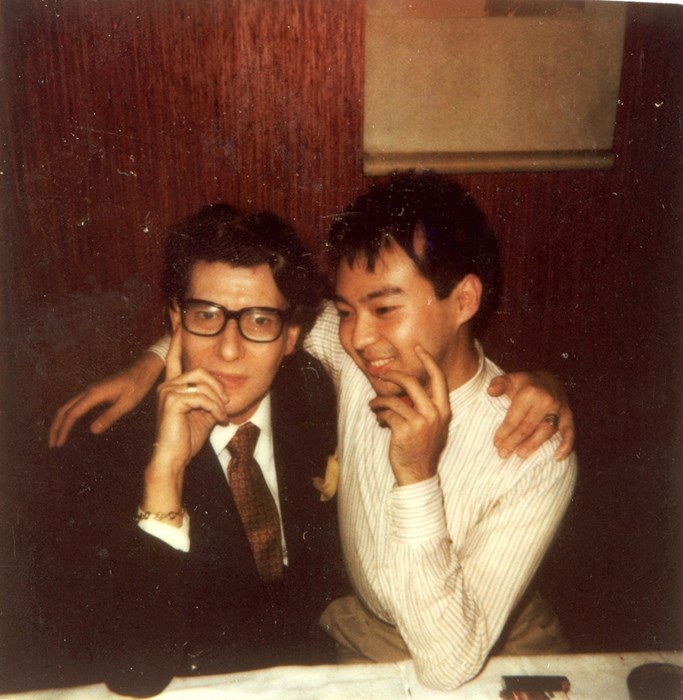 Yves Saint Laurent and Davé
To enter is to step into another world, another time where you could live out a strange dream you once had in which you dined in candlelight alongside Keith Haring, Woody Allen, Cindy Crawford, Allen Ginsburg and Keanu Reeves– all once counted as loyal customers of Davé when in Paris.
Keith Haring on the phone at Davé
Davé with Leonardo DiCaprio
And their pictures are on the wall to prove it. That's the second thing you'll notice upon entering Davé's restaurant; the walls are covered from floor to ceiling with picture frames, squeezed onto every inch of the crimson red velvet wallpaper, holding his precious collection of polaroids that could fill a museum. In most of them, Davé is decades younger, cheek to cheek with the world's most revered fashion, film and music icons.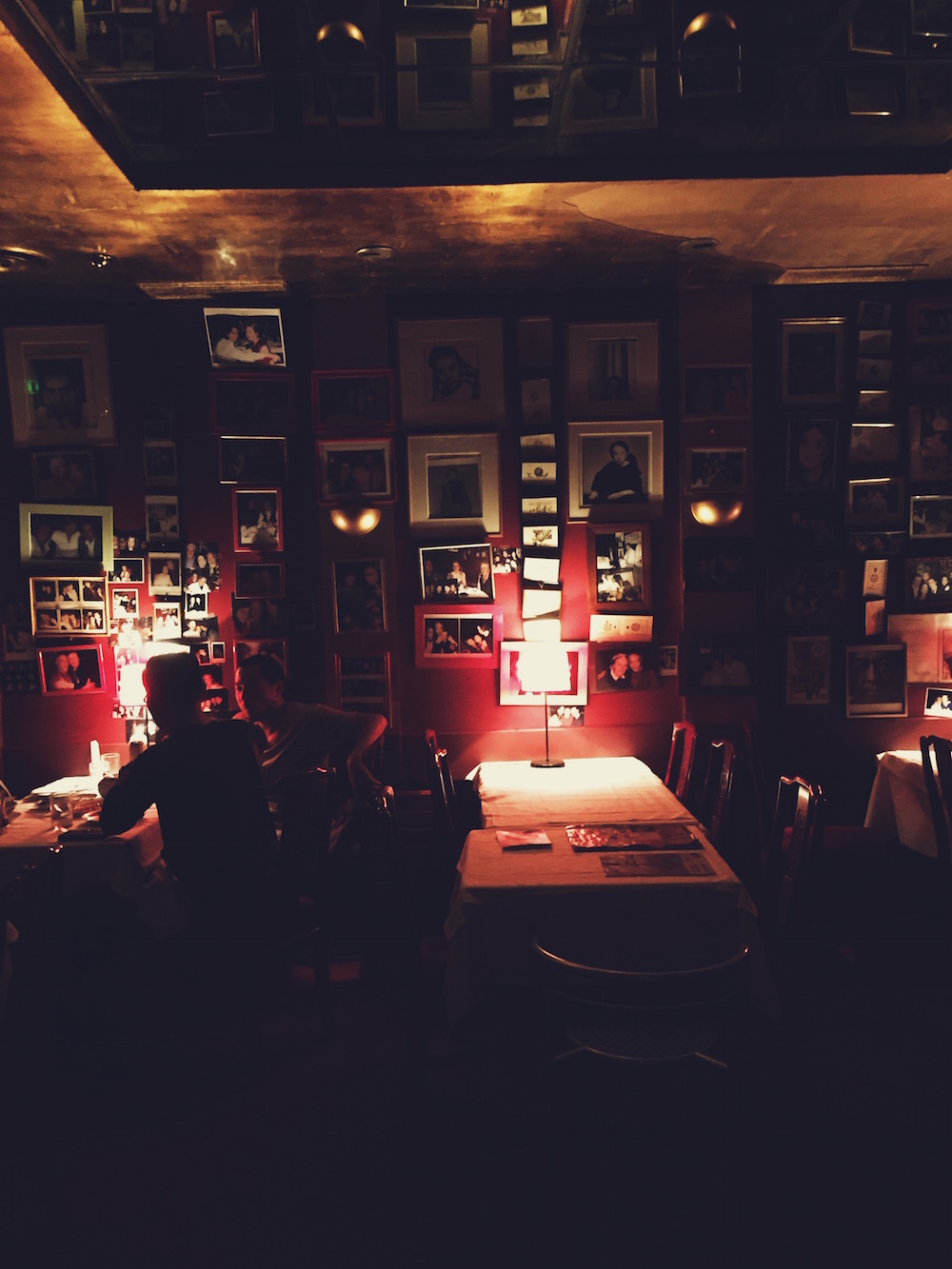 On my visit, after my eyes have finally adjusted to the darkness, I realise I have not come on a day where I will be rubbing elbows with Leonardo, or Naomi, or Birkin or Bowie and Iman, or any other faces hanging on the walls around me. In fact oddly, I had no trouble at all calling last-minute to reserve a table for two when Cheung personally picked up the phone of this fabled celebrity haunt in Paris– the same restaurant that supposedly hangs a "Complét" (full) sign outside the door even if it's half empty, because Davé doesn't want 'just anybody' coming in. Then again, it is currently the middle of August, the nadir of cultural life in Paris. And it's not Fashion Week, when Cheung has admitted he pretends to be fully booked for the entire week so he can keep his celebrity sanctuary open solely for his longtime regulars like Grace Coddington, who first led the fashion pack to Davé in the 1980s when the restaurant was located closer to the shows in the Jardins des Tuileries. Then came the rock stars and then Hollywood.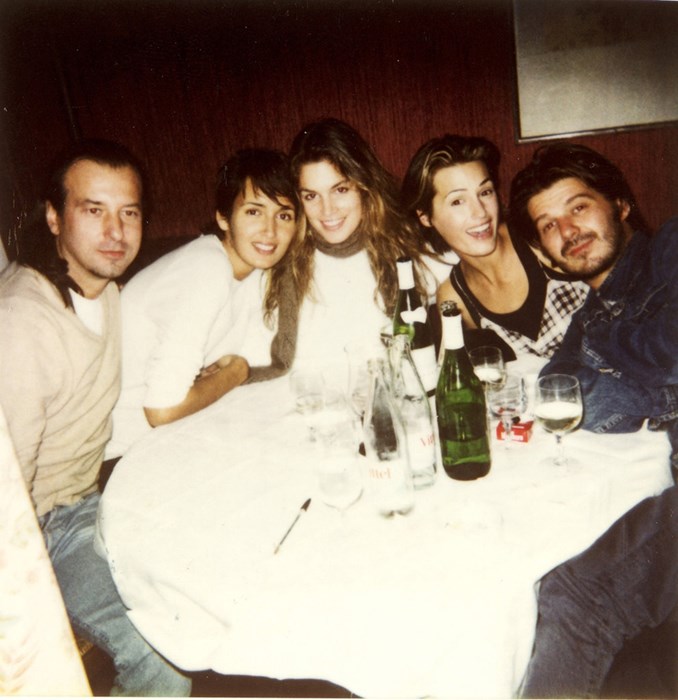 Helmut Lang, Cindy Crawford and Yasmine Le Bon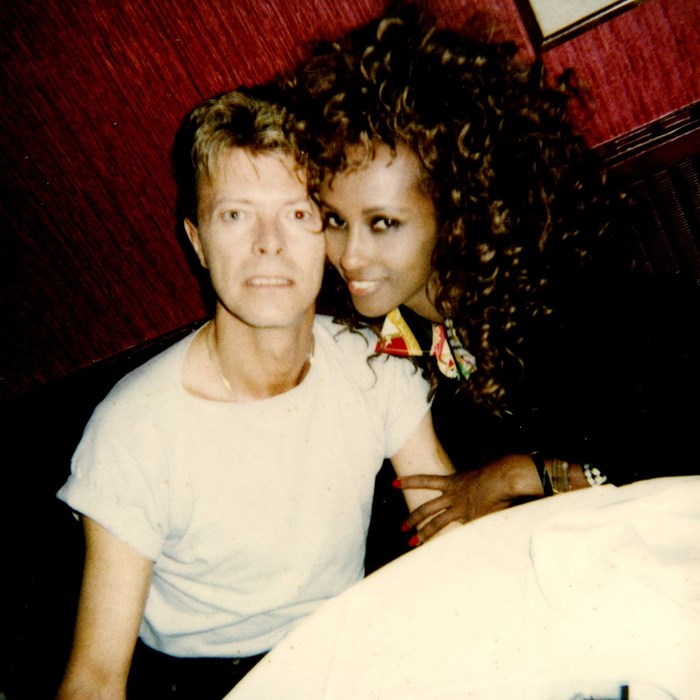 David Bowie and Iman at Davé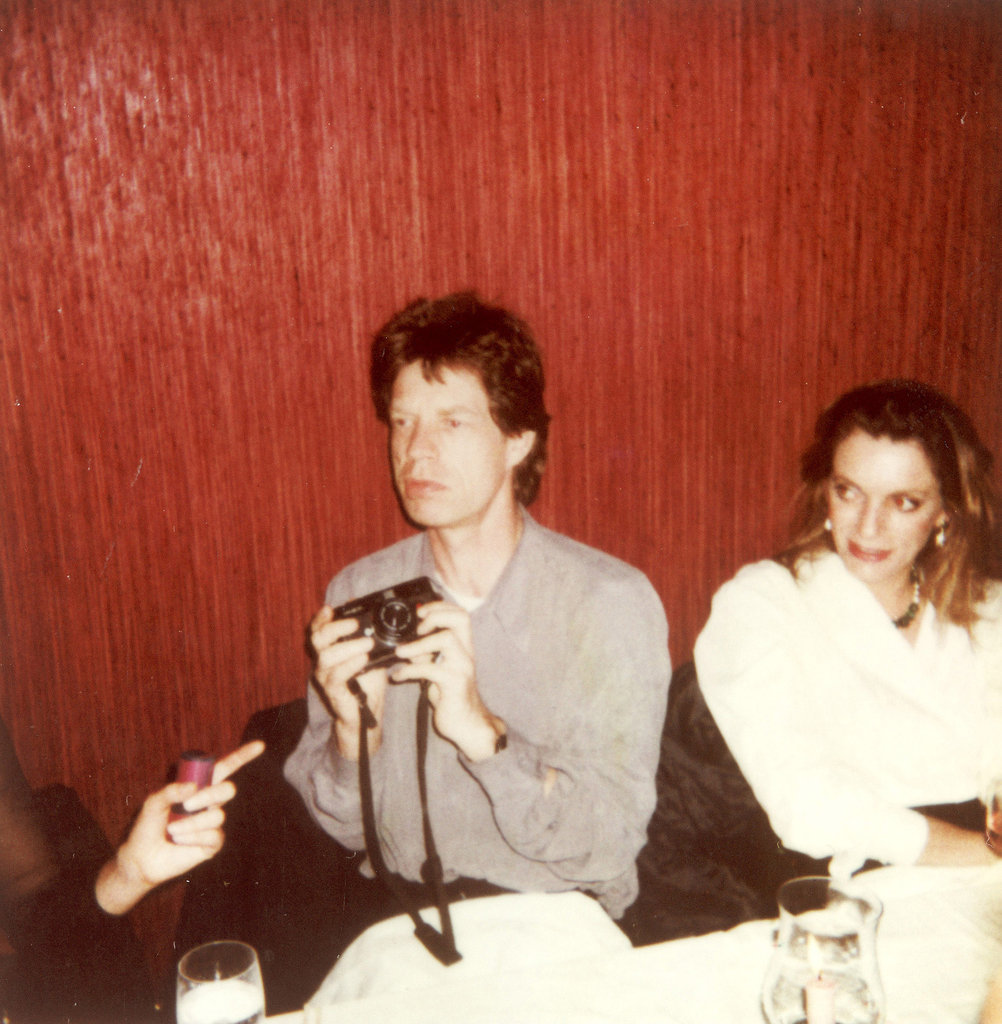 Mick Jagger at Davé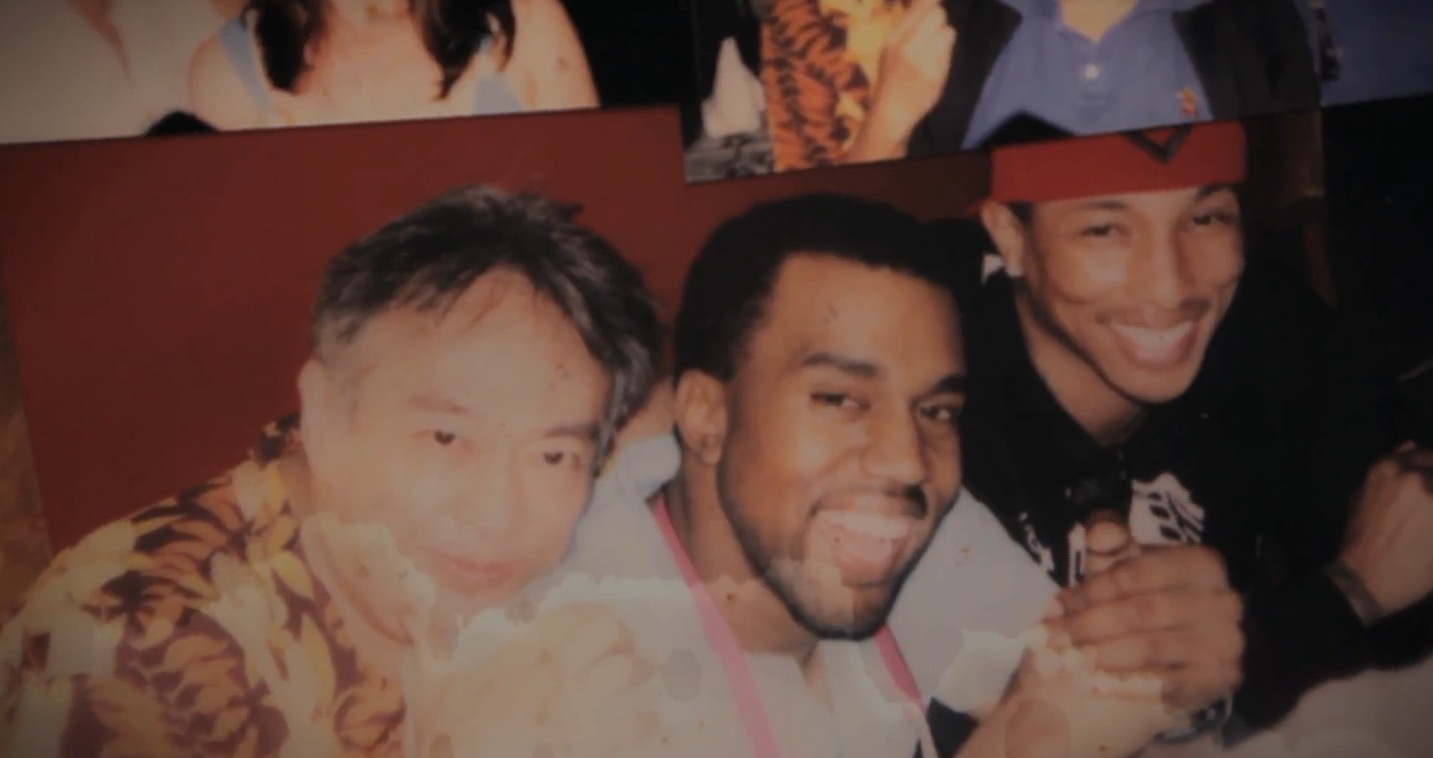 Davé, Kanye West, Pharrel Williams
I'm half expecting to meet a rather unfriendly Davé, whose charming reputation for making friends would in fact turn out to extend only to the rich and famous. But to my relief, he's instantly likeable with a kind face and an honest, easy way about him. More of a Dave than a Davé, in fact. Dave moved to Paris with his family as a teenager from Hong Kong and worked as a cook and a waiter for fifteen years until he could finally open his own restaurant in 1982. He's the only one to greet us and the only one to serve us casually throughout the meal. I choose not to say that I'm hoping to write an article on the restaurant and give no indication that I'm anything but your average Joséphine dropping in for some Dim Sum– "Thanks to a friend's recommendation", I respond when he curiously enquires as we sit down, how we had heard of his restaurant.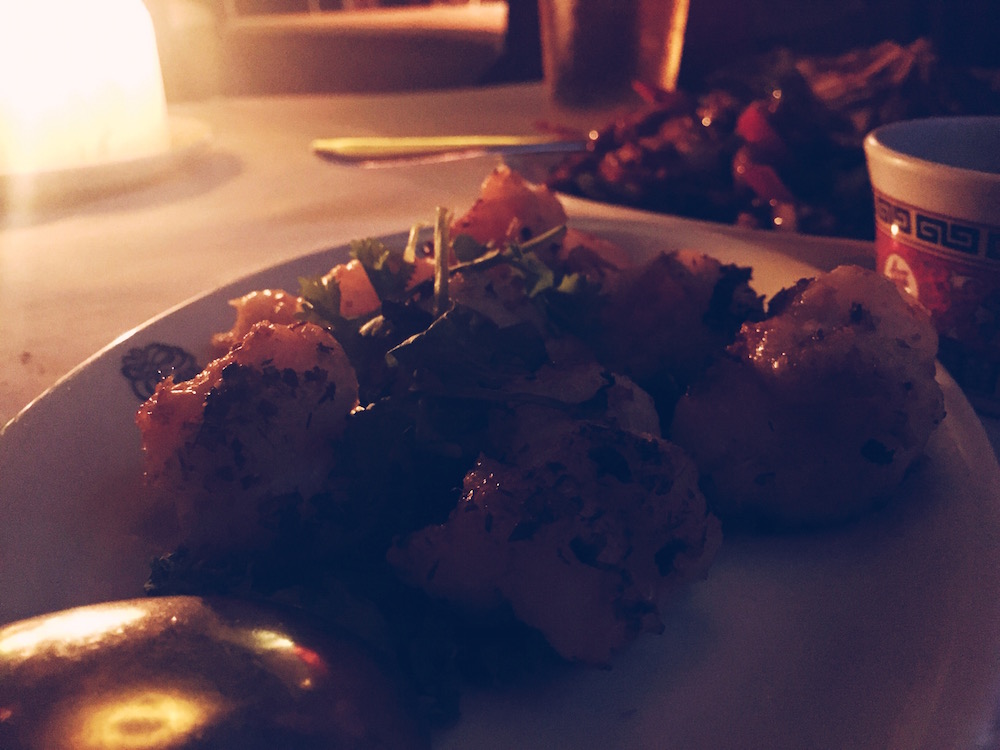 Again, I found this enquiry a little odd for a restaurant that can name-drop just about any celebrity on the planet as a customer. Surely everyone would know of such a place? But unlike the Hotel Costes or Brasserie Lipp or any other of the Paris' celebrity fly-traps, Cheung has managed to stay off the radar; a true secret celebrity sanctuary, which I can imagine– in an age where a new breed of media-hungry reality stars are out for world domination– is a truly rare commodity. And possibly, no longer needed by the modern-day cult of celebrity.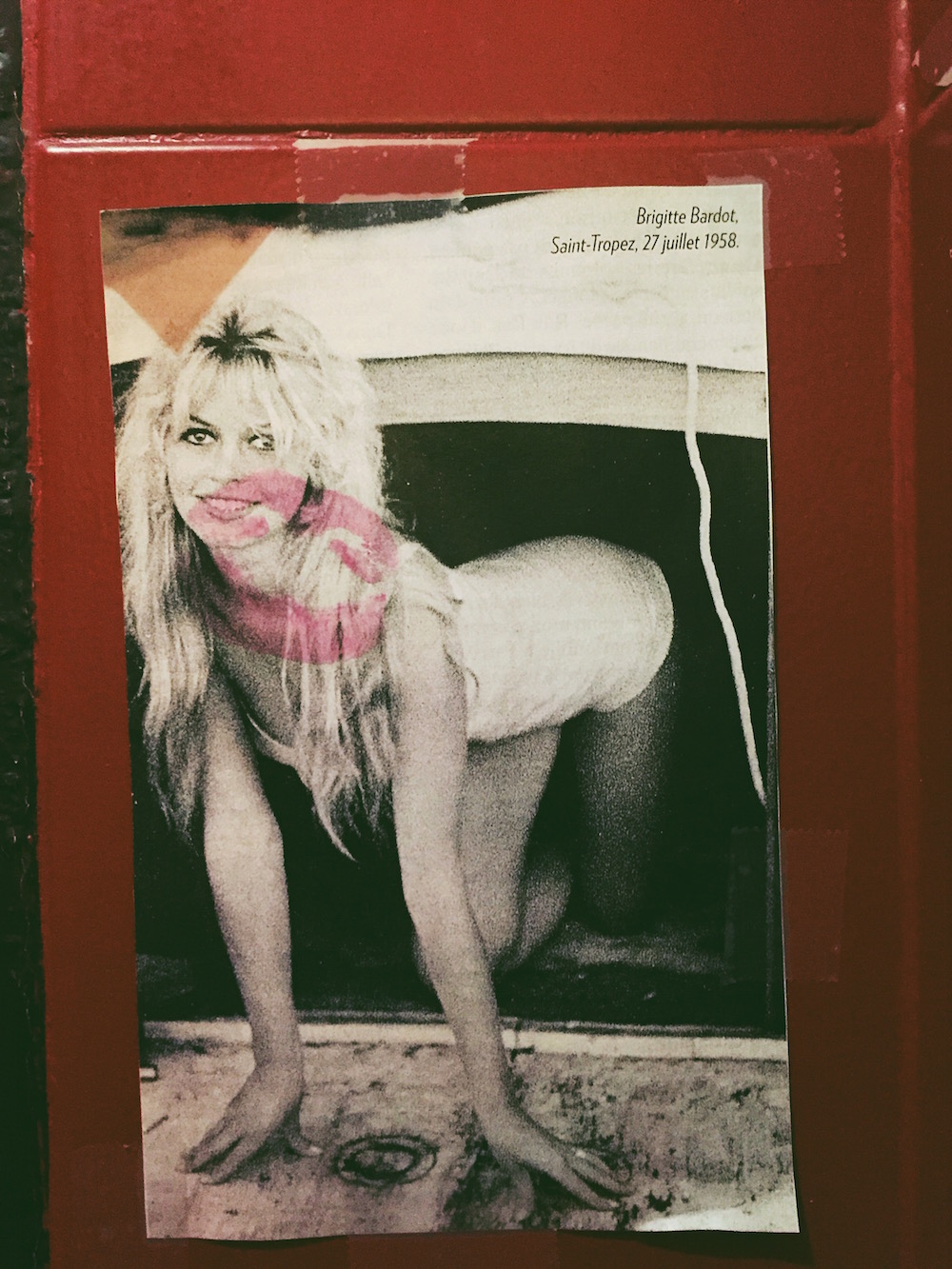 Which brings me to the realisation as I bite into my pork dumpling, that the reason it feels so nostalgic here and void of its iconic patronage, might not just be due to the fact that I've come to Dave on a particularly quiet day for business. It seems that Cheung's scruffy greying beard and the empty tables surrounded by distinctly grainy polaroids of celebrities or 90s supermodels in their prime (when Johnny Depp was still dating Kate Moss and before Karl Lagerfeld gave up Chinese food and went on a diet), are all probable signs that an era might have passed at 12 Rue de Richelieu. Perhaps it passed when his old friend Helmut Newton departed in 2004. And perhaps I'm wrong, and when I put it to the test come Fashion Week in September, Dave will laugh when I ask for a table.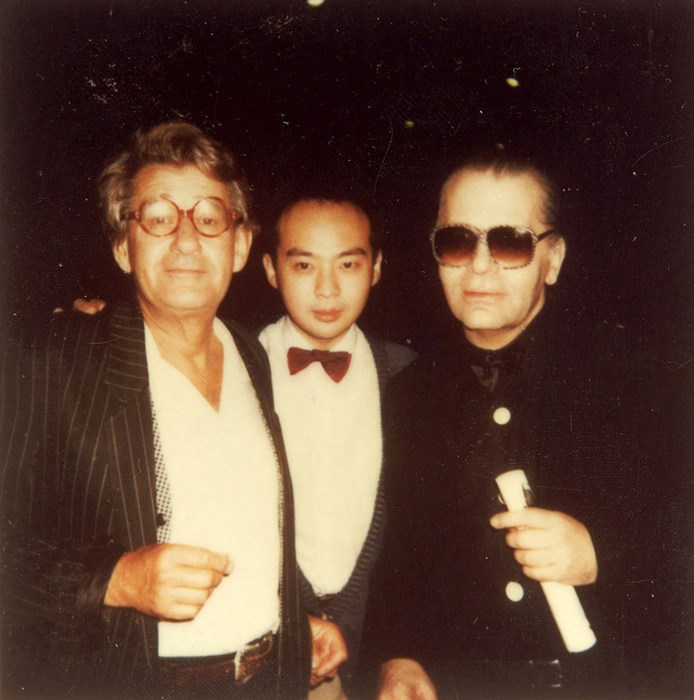 Helmut Newton, Davé, Karl Lagerfeld
Certainly, suggesting the heyday of his pride and joy is somewhat over, wouldn't go over well with the man who gladly gives a tour of his museum of celebrity polaroids to any customer that asks. But I can't help but feel like Davé is just that, a museum of celebrity culture that captures the last generation of true icons, truly being icons– when they weren't so accessible, so overexposed and "victims" of the media. Which is exactly why I think I like Dave or Davé, the way it is now.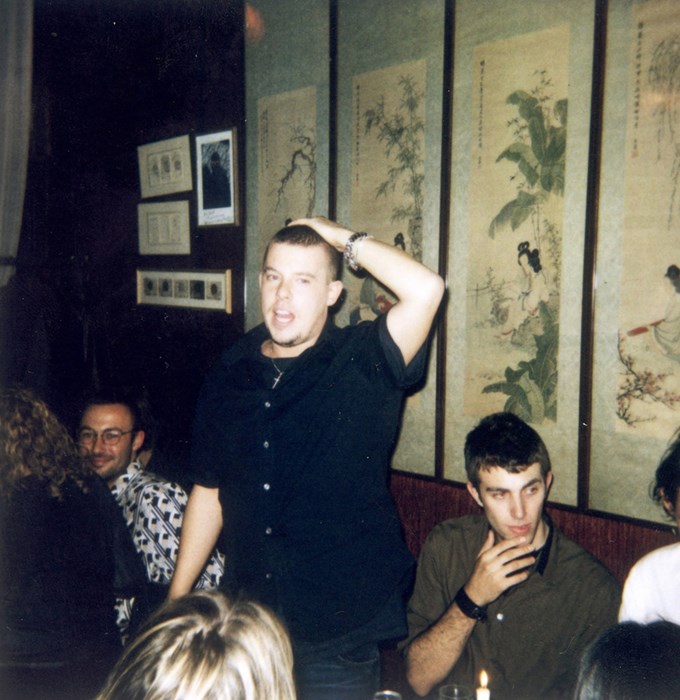 Alexander MqQueen at Davé
Would I really want to eat in the same restaurant as Yves Saint Laurent were he still alive today? It would take away the romance, the mystery, the icon, and he would just be the guy eating stir fried beef at the next table. I prefer simply to know that Yves Saint Laurent might have once sat in my chair, followed by Helmut Newton or Allen Ginsberg.
And who knows? Maybe Grace Coddington or Jane Birkin might slip in for a quiet meal with Dave right after I leave and I'll have missed them by a flash, which of course would have been Dave's intention anyway.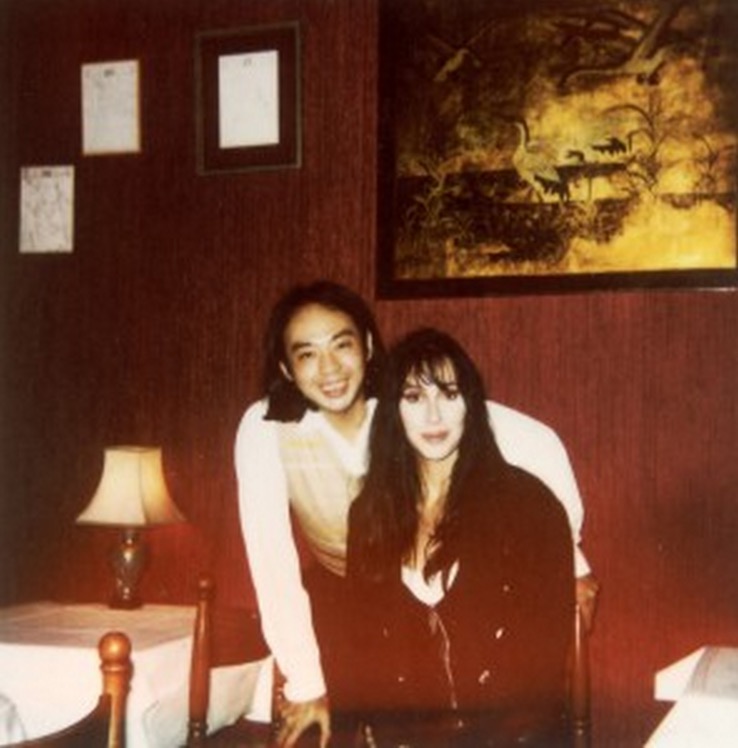 Yes, I prefer the Dave that just lets me dream amongst his polaroids and imagine which Hollywood legends he's spoken to with the same gentle voice he speaks to me.
What you need to know about dining with Davé:
Find Dave at 12 Rue de Richelieu (01 42 61 49 48). Call before and preferably hold off during Fashion Week to avoid the sting of Dave's polite but possibly inevitable rejection. If he doesn't bring you one of his hand-written menus before coming to take your order, don't panic, he's generally 'anti-menu' anyway and likes to make suggestions. Trust him not to take you for a ride with the most expensive dishes from the kitchen, but be prepared to spend up to 50 euros per head. And don't leave without asking for the mango for dessert– it's a life-changer.