Most people know Amsterdam as the city of legal weed and the Red Light district. But that's not all – or the most interesting – that Amsterdam has to offer.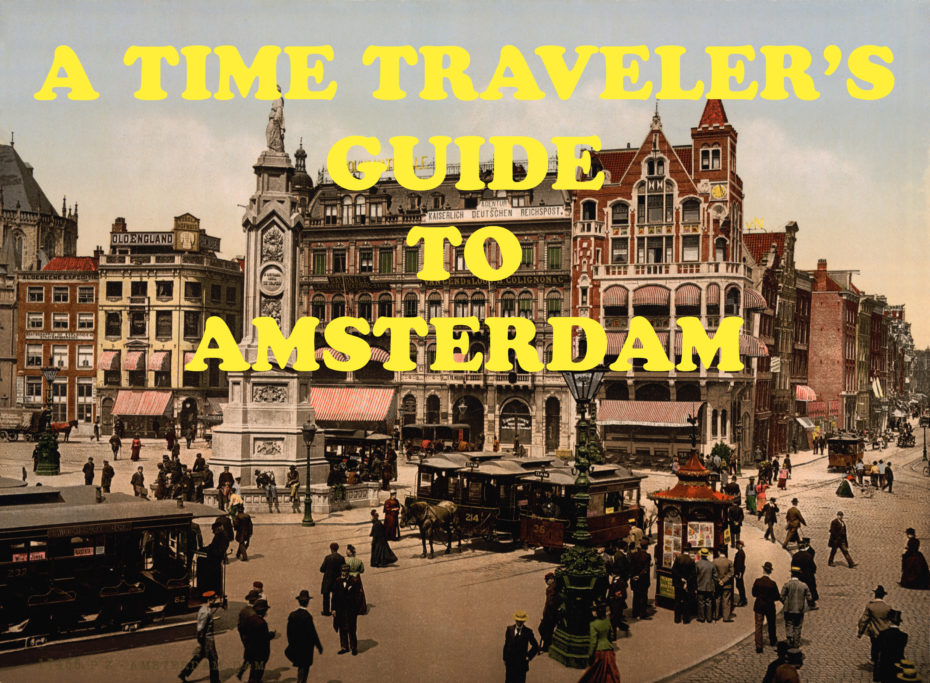 Amsterdam's historic city center houses many old buildings – most of which have been around for many centuries – rebuilt and repurposed to fit the needs and preferences of each new generation. And as the epicenter of everything cool and new in the Netherlands, Amsterdam is constantly evolving.
This little Time Traveler's Guide to Amsterdam lists some of the best places where history meets hip, so you can enjoy both simultaneously on your next trip to the Dutch canal town…
1. A former Roaring Twenties Theatre turned Tiki (and coffee) bar
C-T Coffee & Coconuts is located in de Pijp – one of my personal favourite Amsterdam neighbourhoods.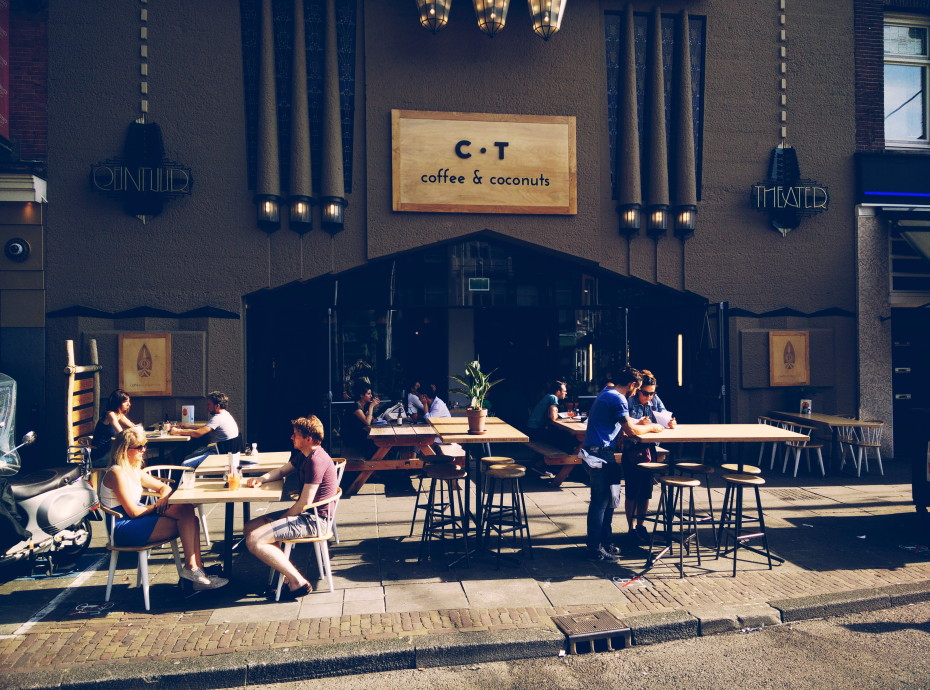 The building immediately stands out for its intricate Art Deco façade– which even though it was custom designed for the 1920s Ceintuur Theater, perfectly complements C-T Coffee & Coconuts' New York tiki bar style. The original cast-iron theatre sign still graces the café's front, as well as the striking custom designed lamps.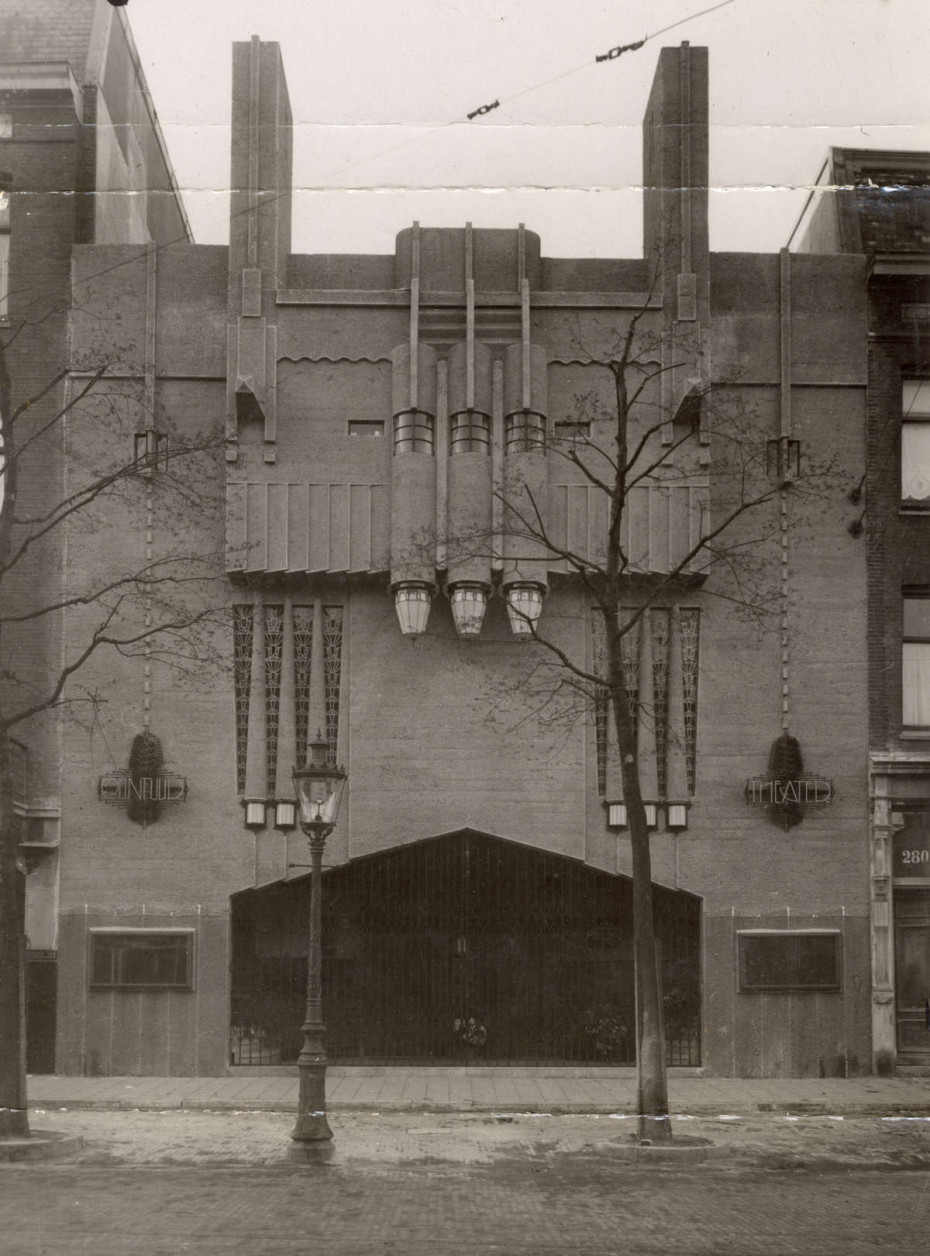 The theater originally opened in 1924 and received the rather unfortunate and misplaced nickname of 't Stinkertje, loosely translating to the little stinker. The name had wafted over (pun intended, sorry) from another theater that closed in the same year that the Ceintuur Theater opened. The similarly named Ceintuurbioscoop was notorious for its non-existent ventilation and the resultant bad smell in the theater's rooms.

Luckily the Ceintuur Theater did not – and does not – stink, neither literally or figuratively. (On a side note: I do recommend checking out the very original bathrooms).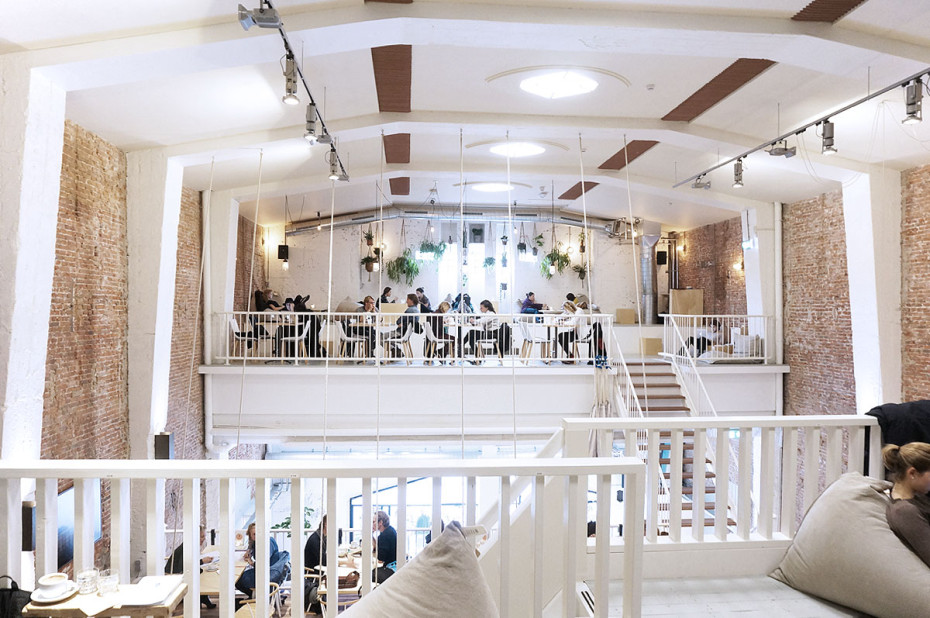 After closing down in 1976, the theater stood empty for decades and was shortly inhabited by a kitchen supply shop. Luckily, the building has recently been completely renovated and you can now chill on a bean bag, on one of the lounge couches, or at an intimate table while sipping a coconut, fresh coffee or eating lunch/dinner while appreciating the open space of the former theater.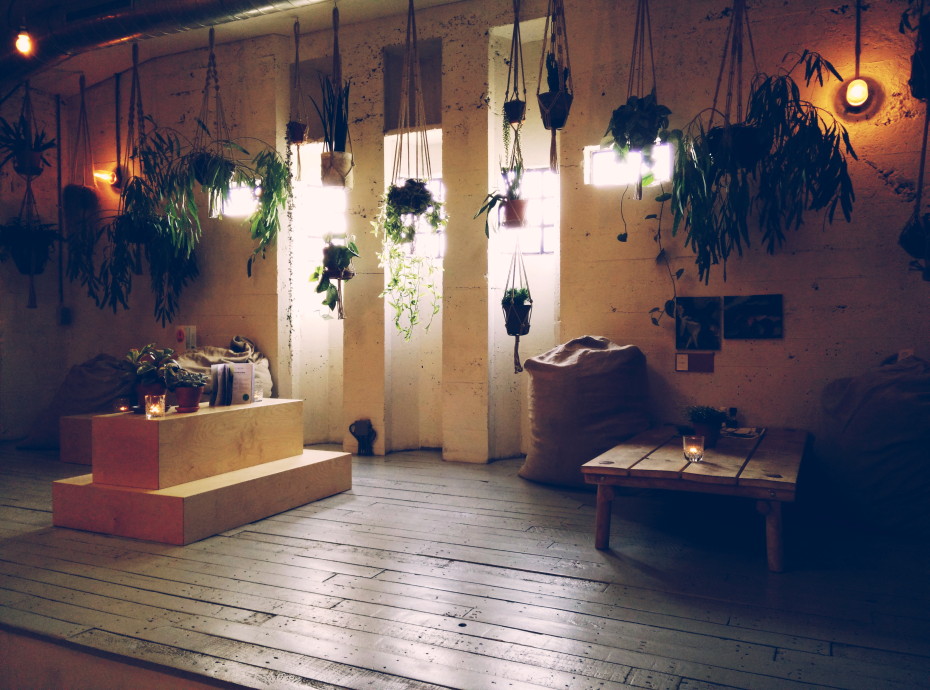 They're open Monday to Friday from 7 AM to 11 PM and Saturday to Sunday from 8 AM to 11 PM.
Check out their delicious menu here.
2. The Culinary Art Café in a Whimsical Townhouse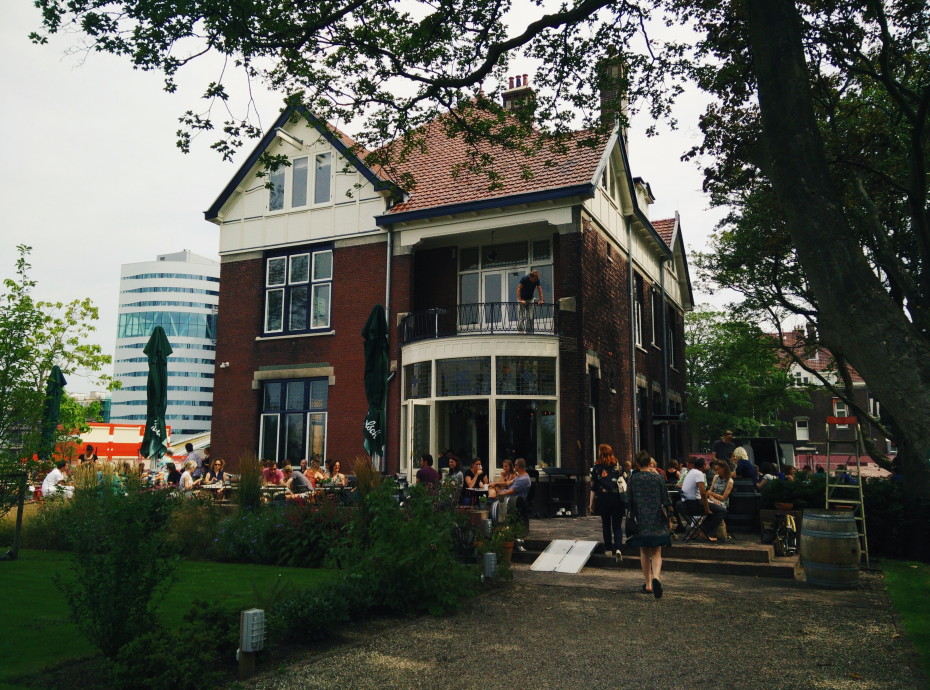 A little way outside the city center, walking distance from Amsterdam Amstel station, you can find a little oasis at tHUIS aan de AMSTEL. This culinary art café is housed in what used to be the family home of the managing engineers of Amsterdam's old gas factory plant Westergasfabriek up until the 1960s. The factory dissolved in 1965, when carbon gas was replaced by natural gas, and the factory district has since been repurposed as a park and a recreative and cultural hotspot (hosting different festivals as well as the Amsterdam Fashion Week).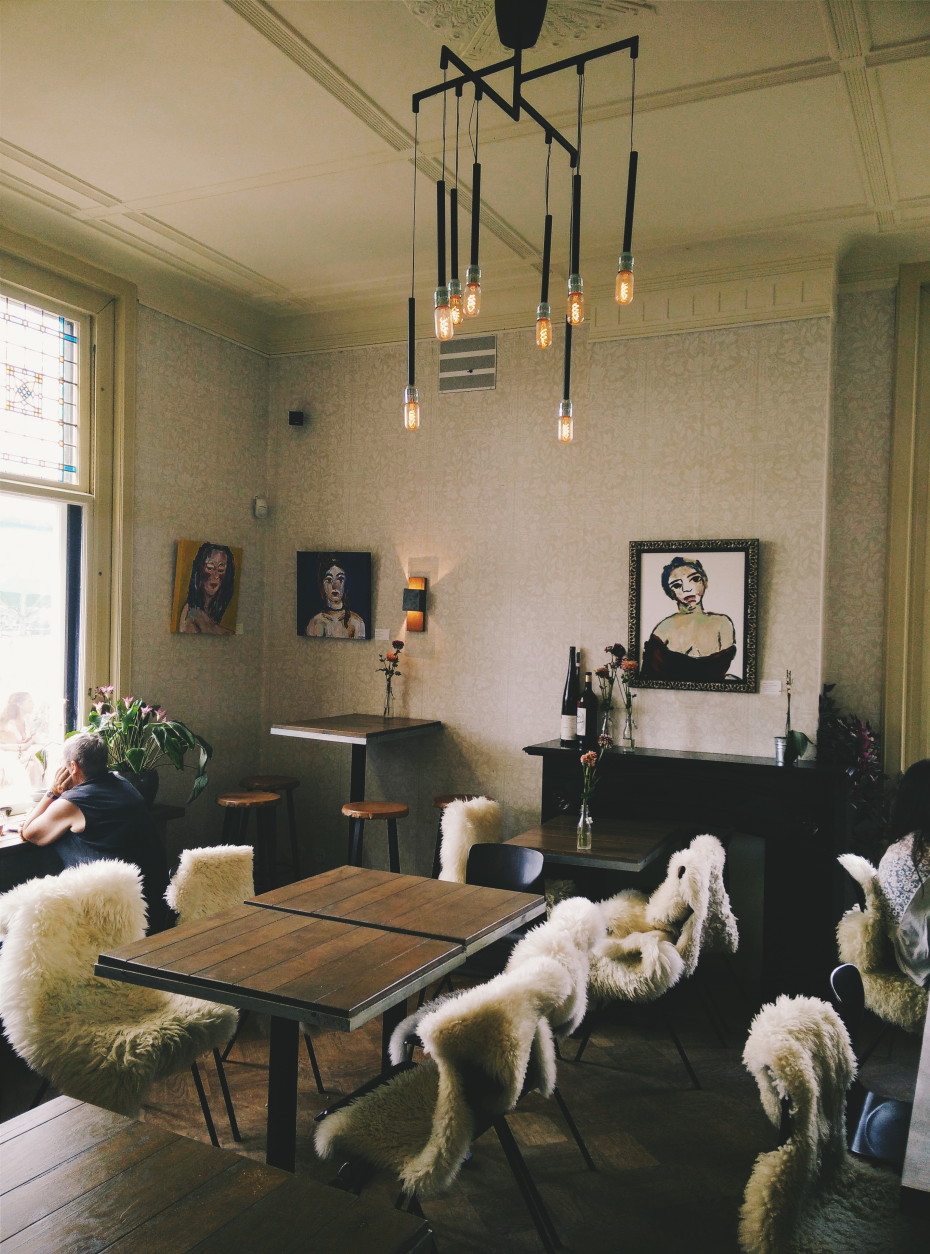 Although the building was once heavily neglected, the house has recently been respectfully restored to its former glory. All the original features and details have been retained.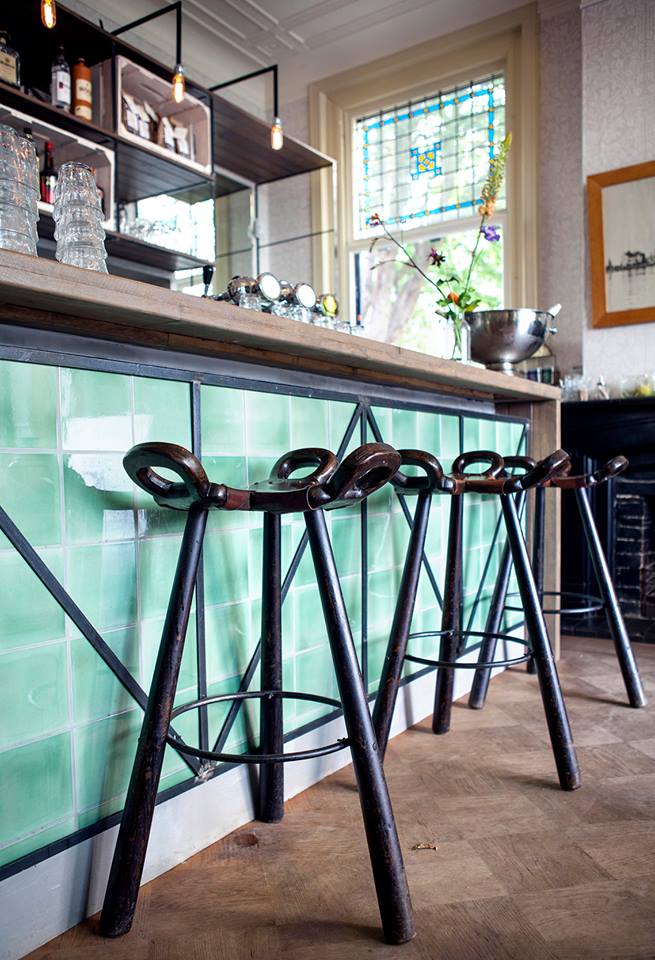 The interior of the café feels more like a luxurious living room than a restaurant and you can snoop around the different rooms if your curious side hits you.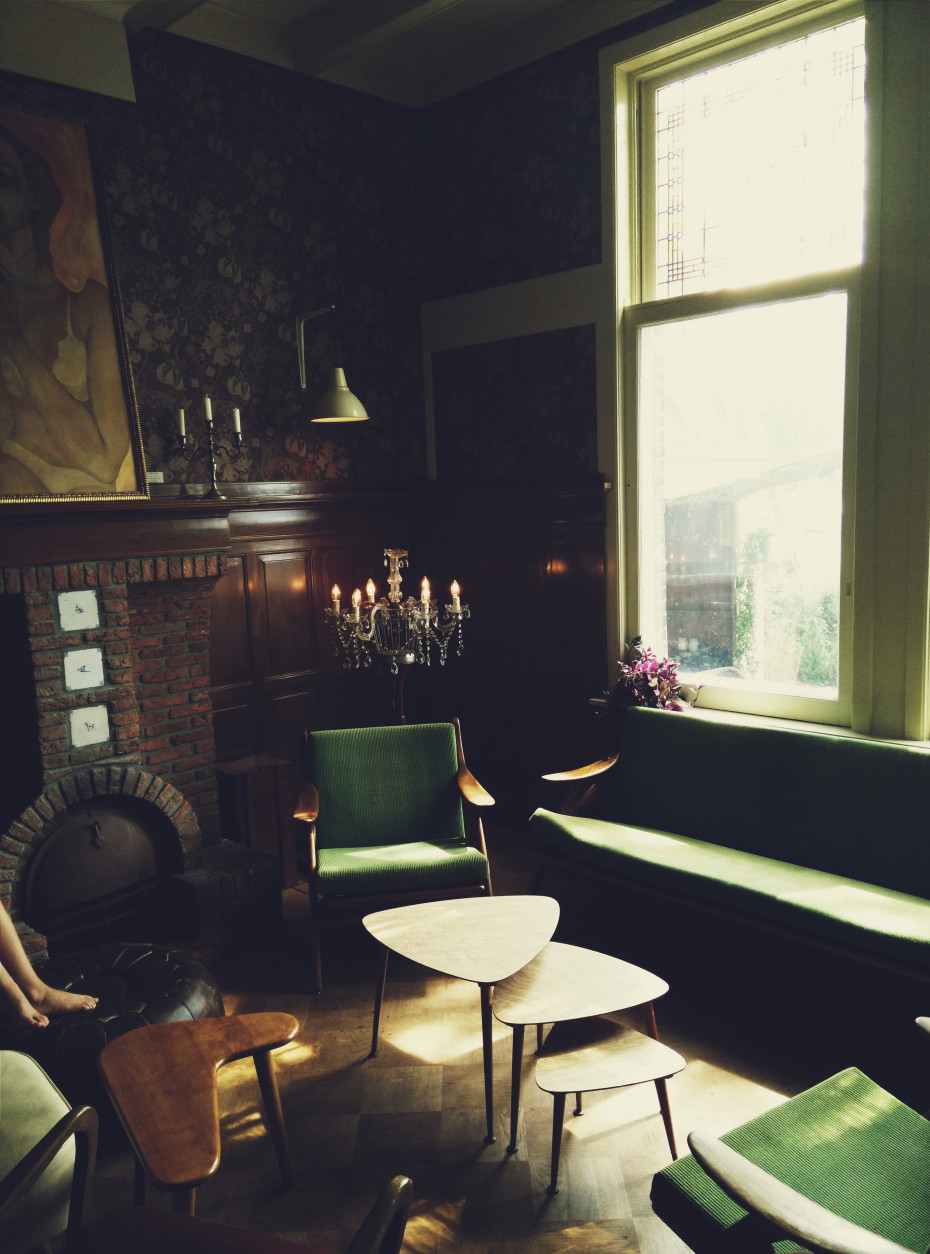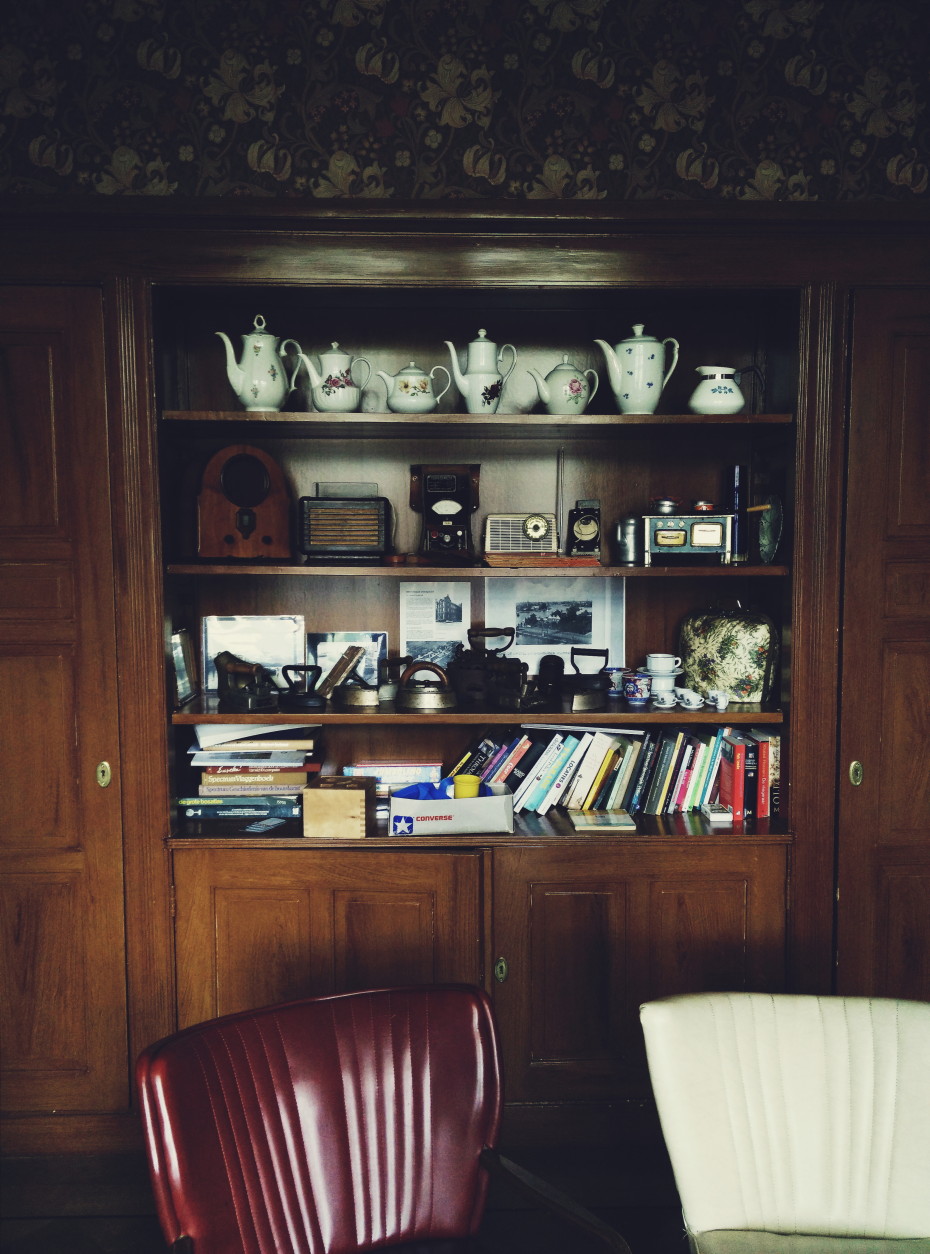 Not only will you stumble upon original furniture and trinkets, but you will also come across some surprising modern art. Some of the rooms upstairs have been redesigned as lounges/exhibition rooms and art by contemporary artists is strewn all around the house – from paintings and figurines to ceiling lamps.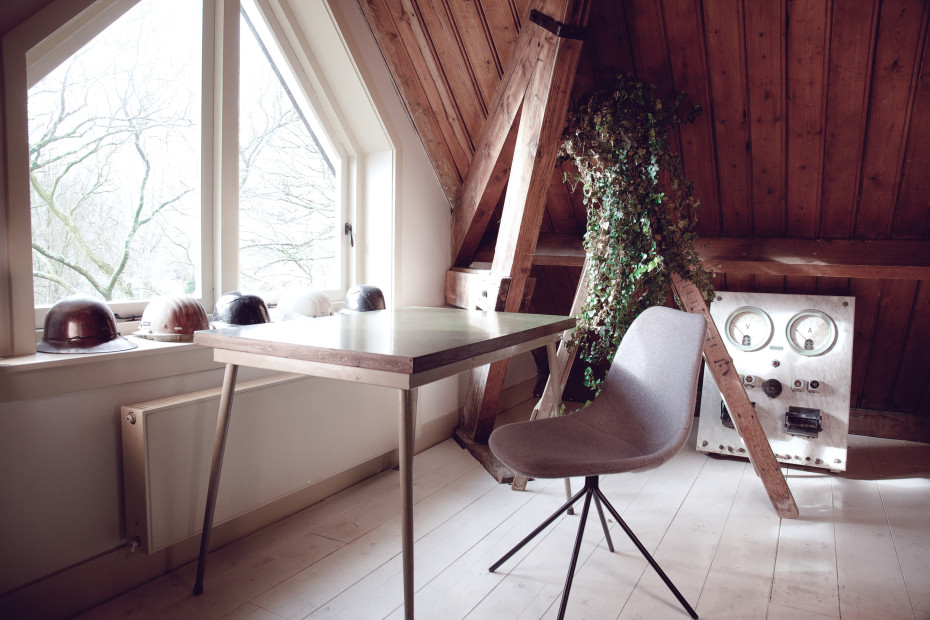 Nearly everything served at tHUIS aan de AMSTEL is local and organic and you can satisfy any cravings for coffee and cake, drinks and snacks, breakfast, lunch and dinner. You can also reserve one of the rooms for a private dinner or event.
3. The Movie Cathedral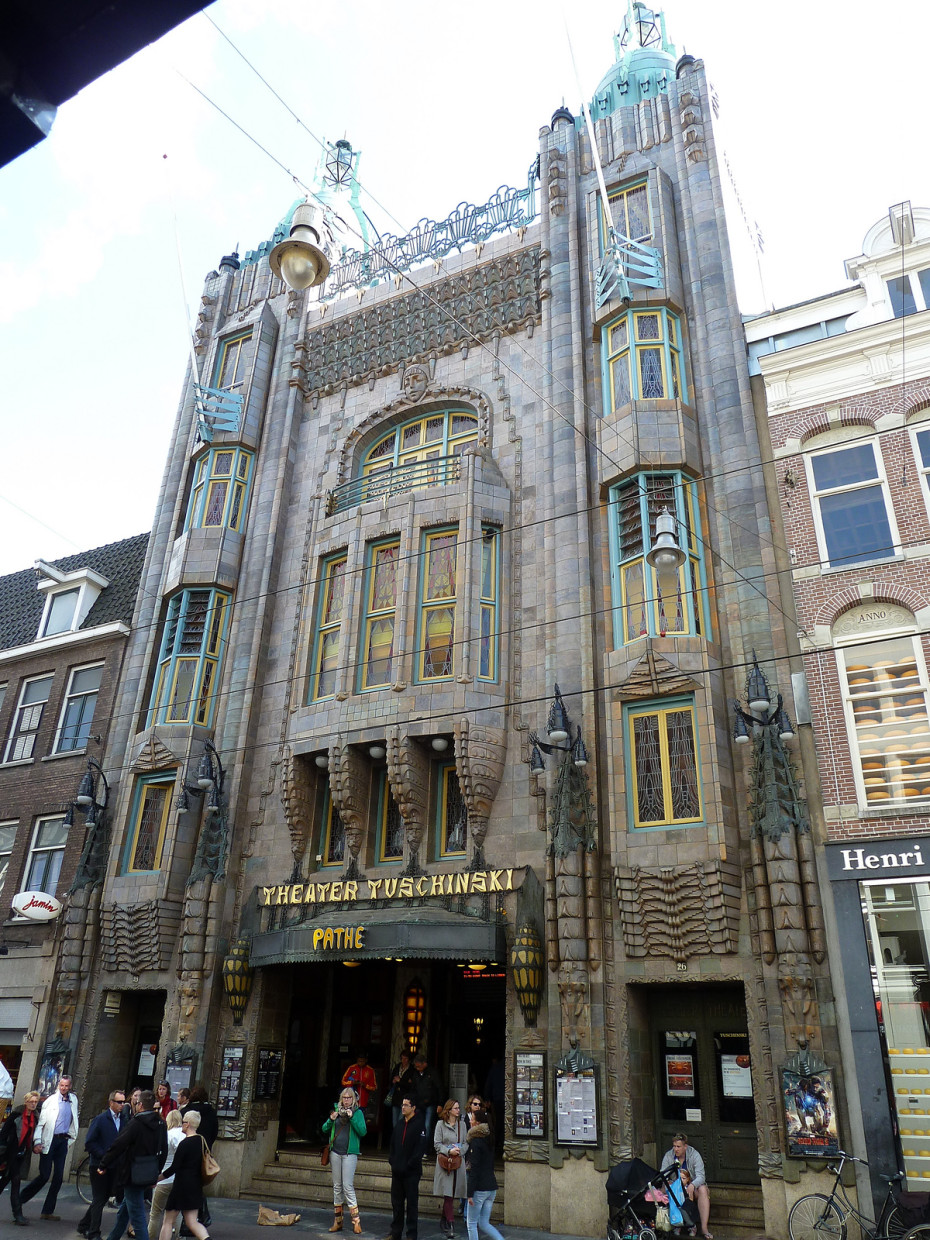 One of my personal favorite places in Amsterdam is the Tuschinski movie theater; the perfect place to spend a rainy day and see a new movie in a truly awe-inspiring setting.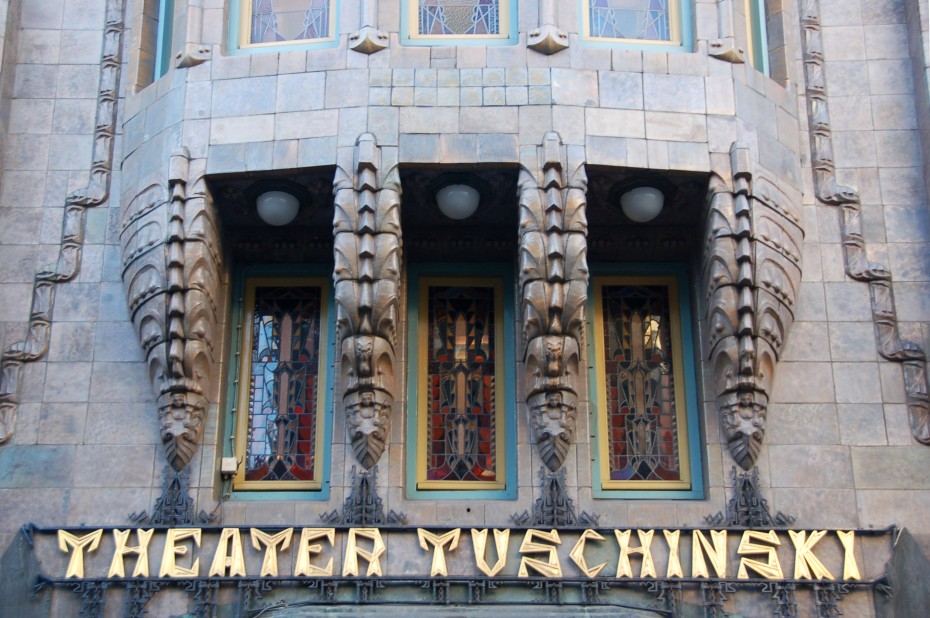 It's hard to miss the impressive Jugendstill/Art Deco building, but the outside doesn't compare to what you'll find inside…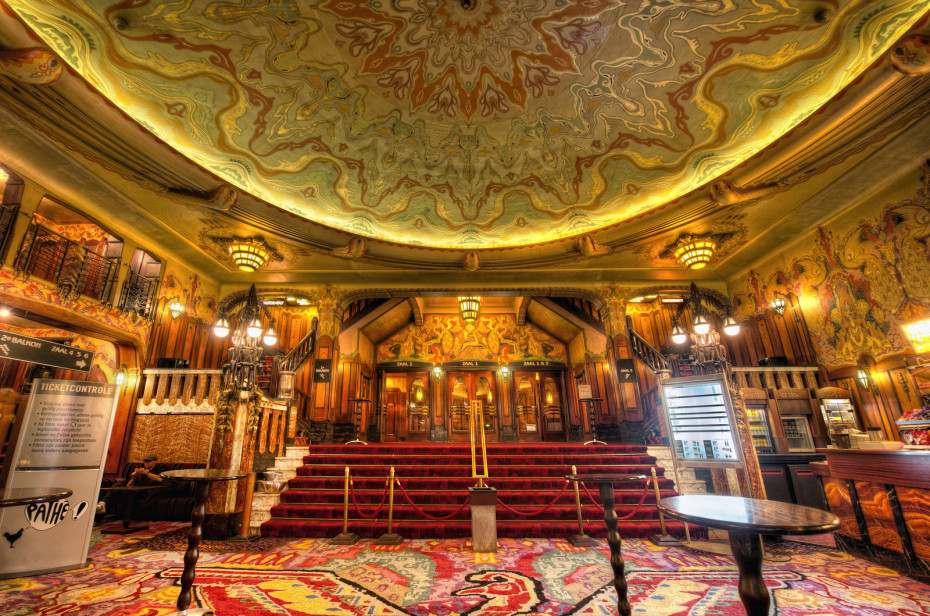 (c) Framing Colours by Bernardo Contopoulos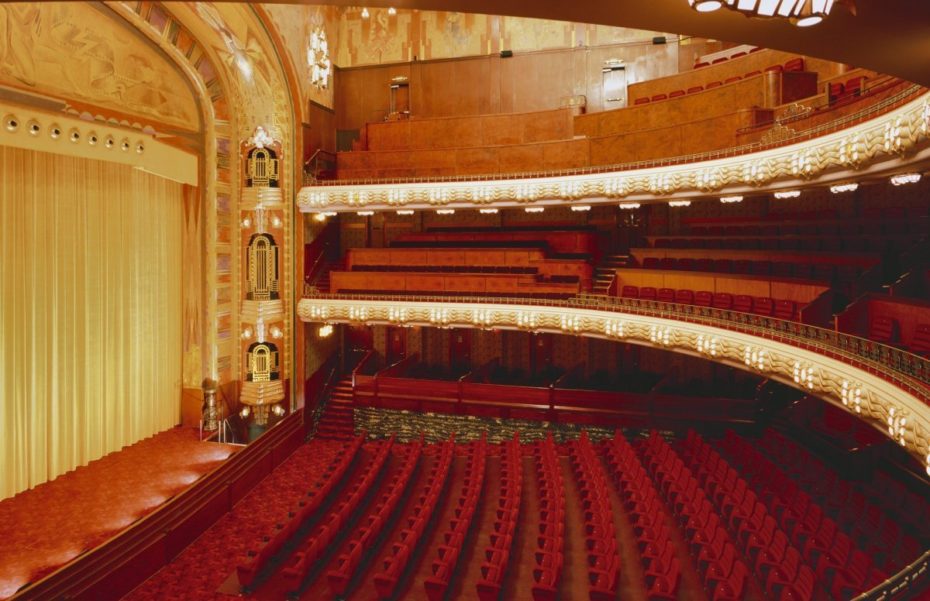 The theater was built by cinema magnate Abraham Tuschinski – a Polish born Jewish vestmaker who had intended to depart to America from Rotterdam. Instead, he opted to stay in the Netherlands. In 1911 he opened his first cinema and two decades later, he owned eight of them.
(c) Rapsak
Tuschinski decorated all his theaters in a style that was quickly nicknamed the Tuschinski style – it was incredibly flamboyant, opulent and ambitious and true to a "bigger than big" philosophy.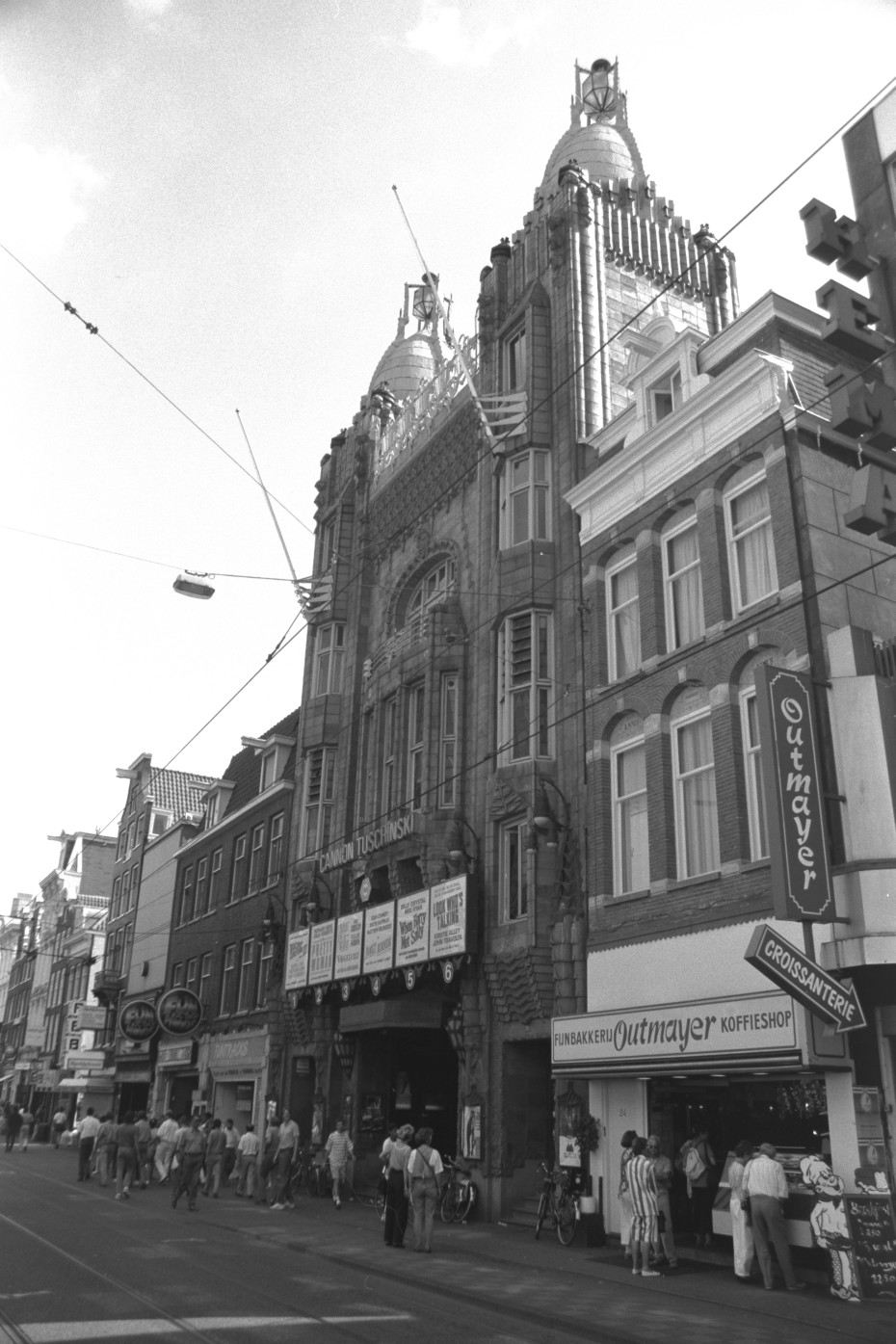 With the Tuschinski Theater in Amsterdam, Tuschinski meant to build to biggest and most extravagant theater the city had ever seen. It had to feel like a palace – a movie cathedral – that would leave the public in awe.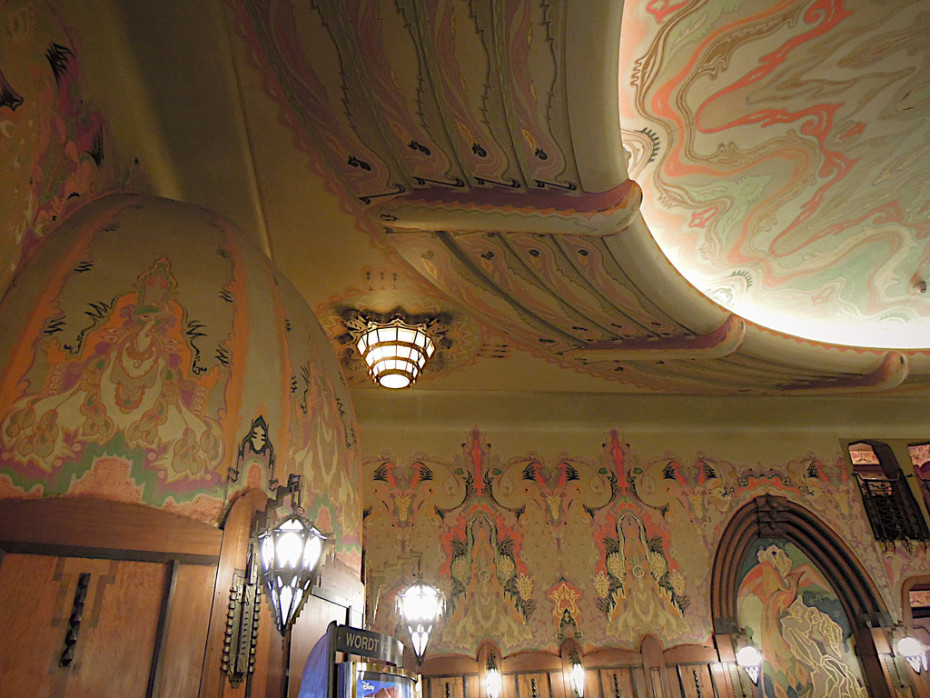 But his larger-than-life plans took a while to realize. Tuschinski was already in serious debt before even starting to build. But he refused to spare any costs and splurged on his movie castle like there was no tomorrow. He installed a 50,000 guilder organ that could imitate every sound imaginable and smuggled the special support beams he needed into the country underneath a Dutch flag And because of strict importing rules that had come in place after WW1.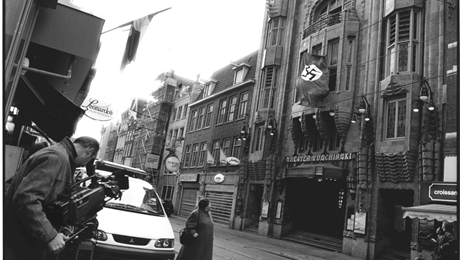 Tuschinski was never happy however and he kept tinkering with the design until the start of the Second World War. The bombing of Rotterdam tragically destroyed most of Tuschinski's cinemas, and he died in Auswitsch in 1942. After the war and again many years later, the somewhat rundown theater was restored to its former glory of 1936 – when Tuschinksi himself had last run the place.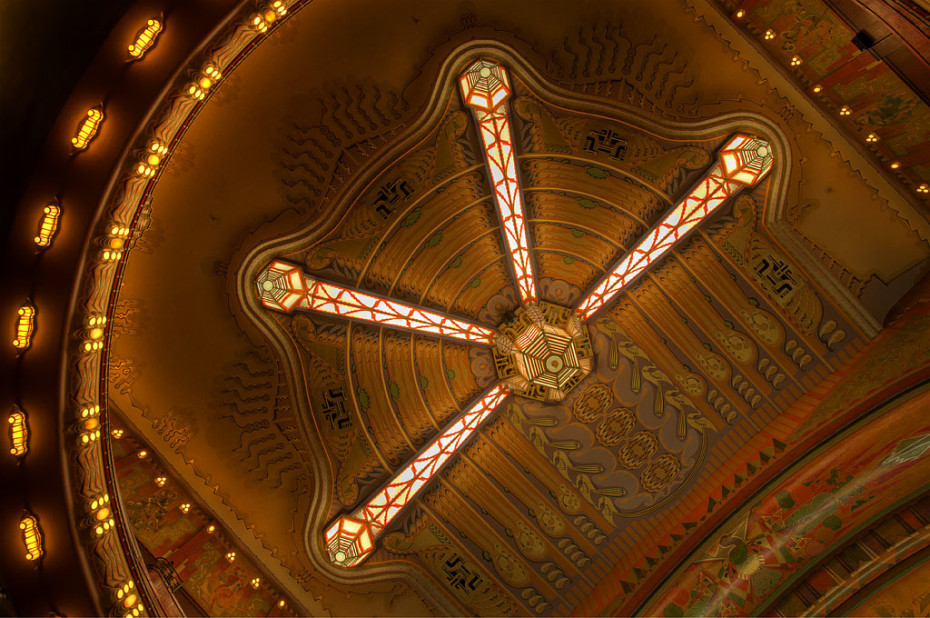 Not everyone was or is a big fan of the Tuschinski style, but I can't help but feel like a 1940's Hollywood movie star whenever I enter the theater. The tropical wood, marble, gold, copper, carpeted walls and special cut and painted glass create an atmosphere that truly has the power to transport you to a different time.
4. The Hotel in the former HQ of a Dutch Newspaper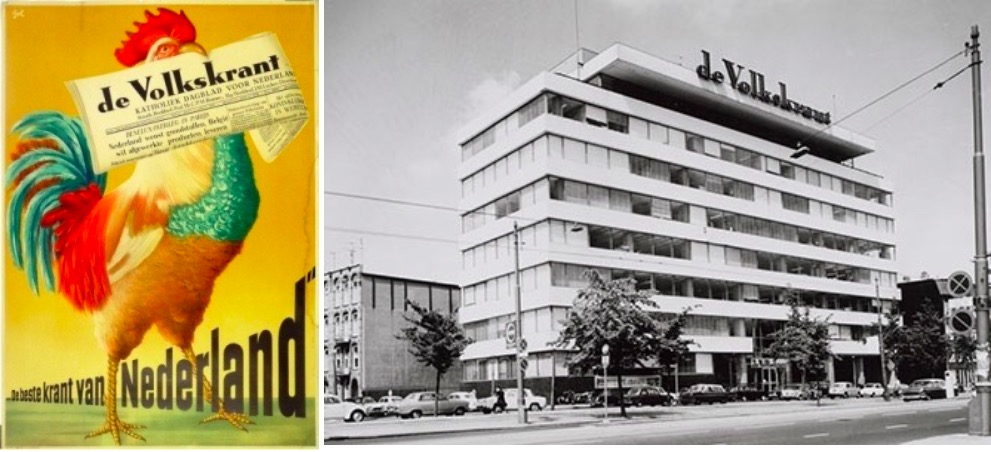 The Volkshotel is everything you could ever want, housed in the former HQ of the Dutch newspaper De Volkskrant…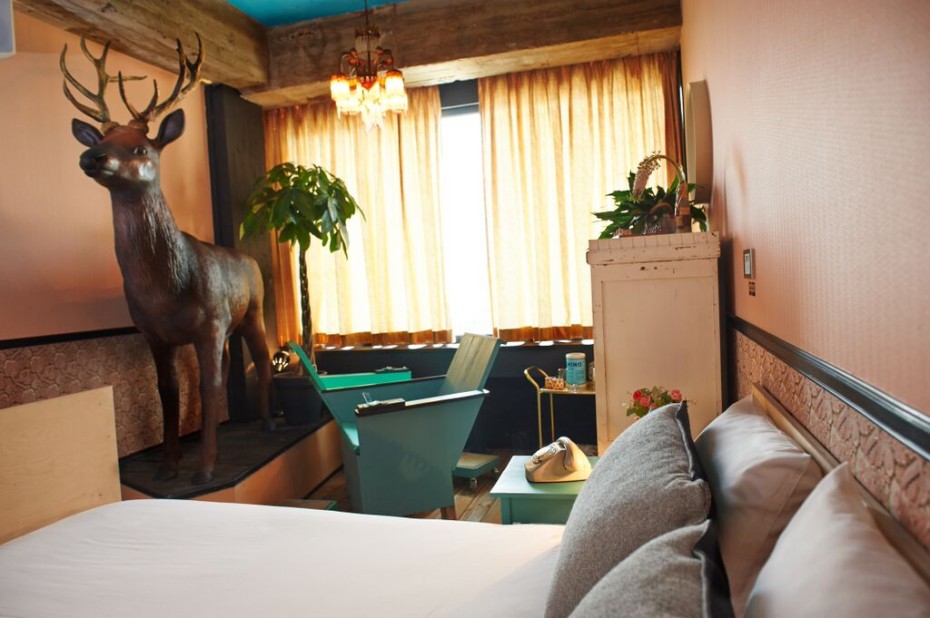 The newspaper's HQ opened its doors in 1965 and moved out in 2007. But because the move was planned long before it took place, the building was completely run down by the time it was vacated.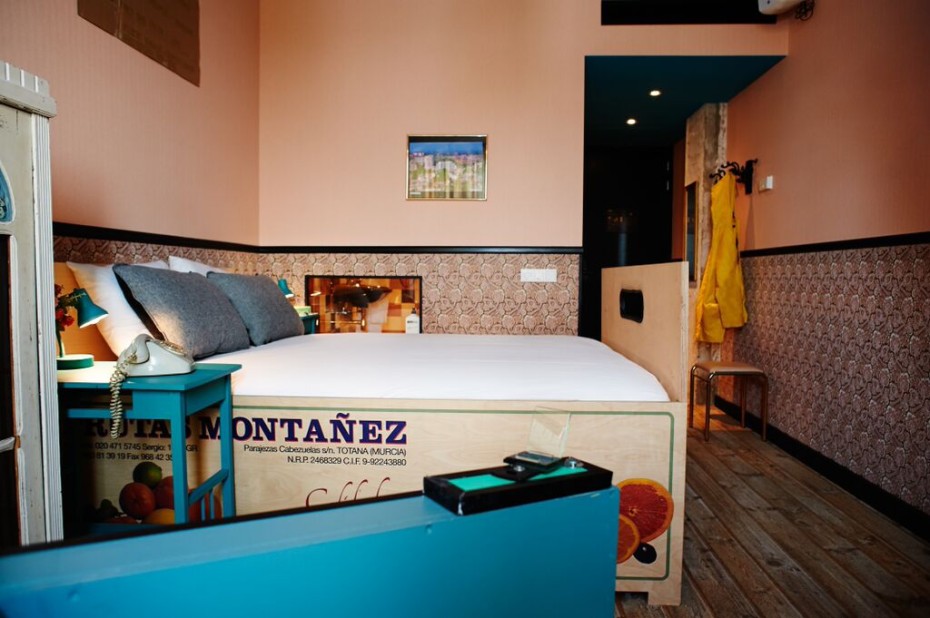 Tiles were falling off the front, the editor's office was plagued by an untraceable fungus smell and water kept piling up in the metal window frames. It seemed inevitable that the place would be demolished.
In the meantime, it was made available to a collective of Amsterdam creatives, and they had different plans…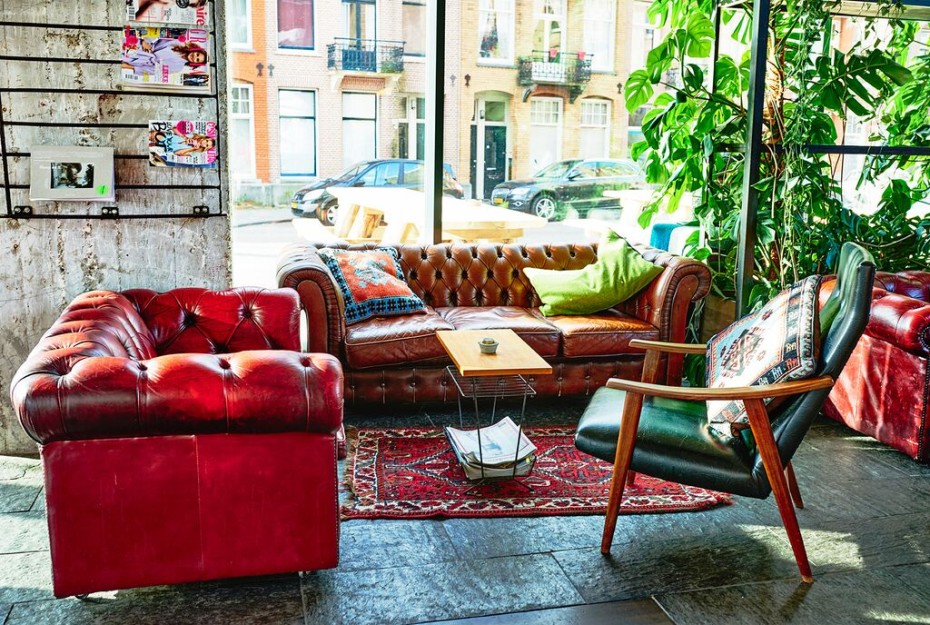 Architect Steven Steenbruggen kept the sixties outside exterior intact, and Interior Design Studio Müller van Tol let himself be inspired by the original purpose and structure of the building – using magnified newspaper cut outs and original elements of steel, wood, concrete and glass to create an eclectic interior that reflects the creative minds of those responsible for saving the place from demolition.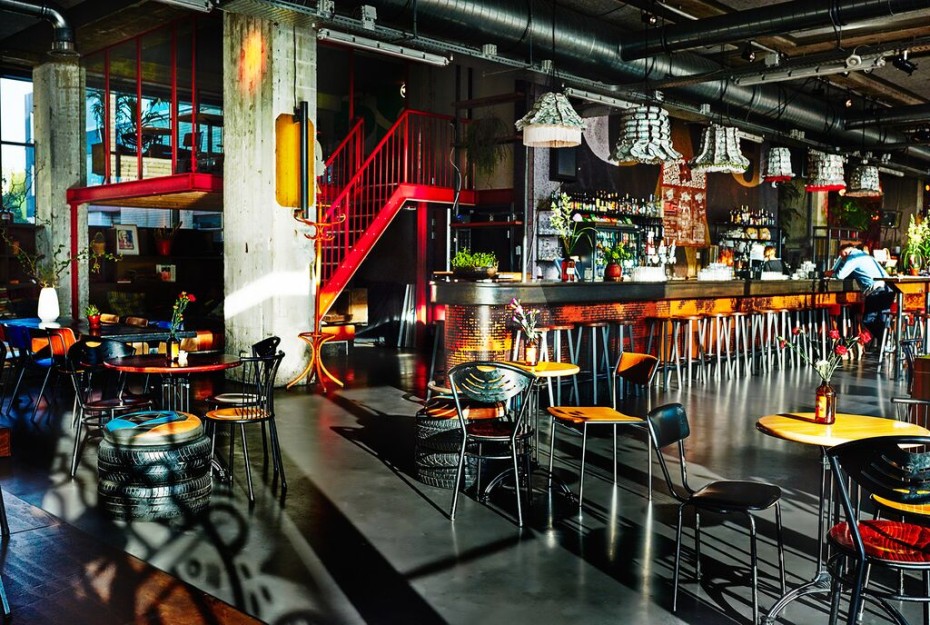 For those who are looking for an inspirational and central place to stay during their Amsterdam visit, the Volkshotel has 172 hotel modern rooms. You can book one of the (pretty awesome looking) standard rooms ranging from €69,- to €139,- a night.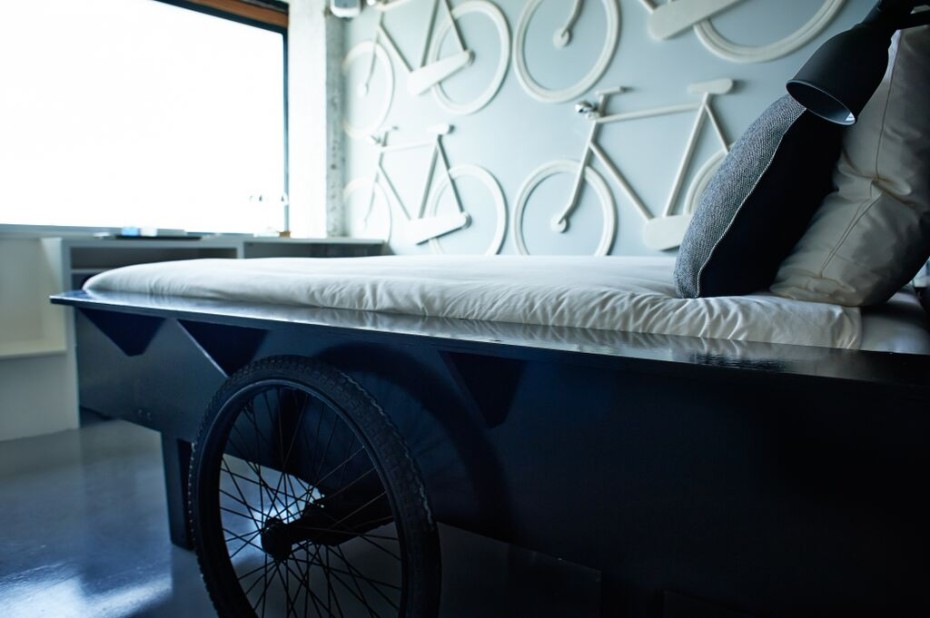 (c) Mark Groeneveld
If you're feeling a little more adventurous and have a bigger budget available, you can book one of the special themed rooms with names like Cabin in the Woods, Cinema Boudoir, Soixante Neuf and Johnny's Jukebox.
But there is also enough to do at Volkshotel for those who sleep elsewhere…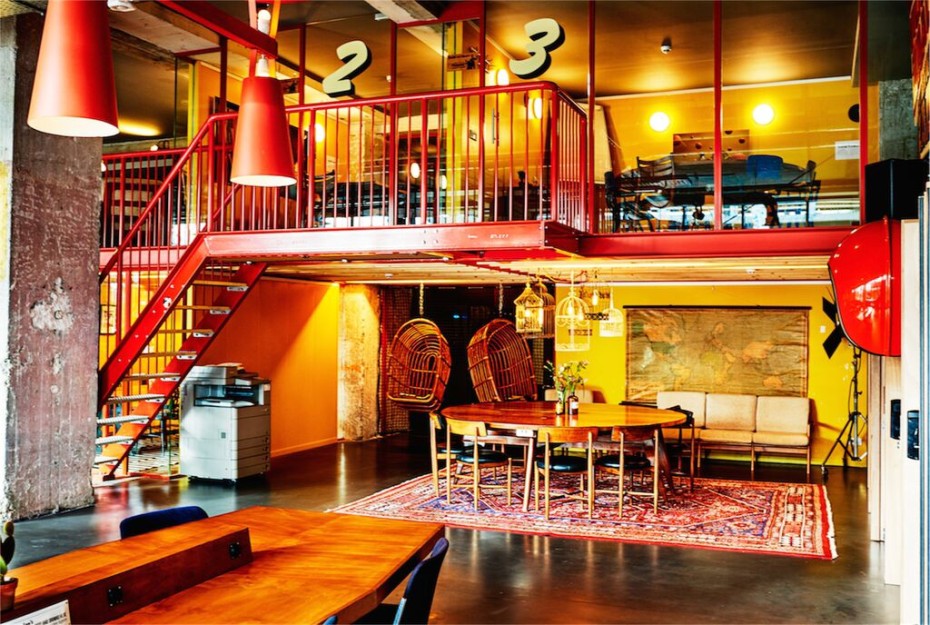 Images (c) Mark Groeneveld
Volkshotel has a café bar and co-working space called De Werkplaats, a club and restaurant on the 7th floor – Canvas – where you can enjoy a cocktail, beer or food with a spectacular view of the city, 85 working spaces for creatives called Broedplaats VKG and a nightclub and cocktail bar in the basement, called Doka.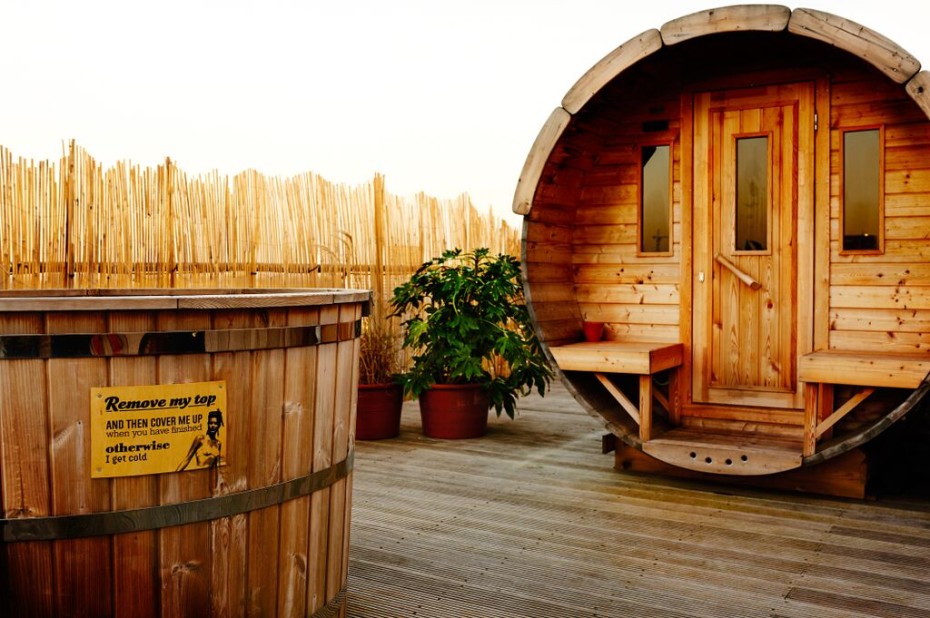 For hotel guests, there is also a rooftop terrace with a pool and spa. If you're already convinced, you can book a room here.
5. Dining in a 1920s Greenhouse

Situated in the Frankendael Park, a little outside the city center, this restaurant is housed in an 8-meter high greenhouse from 1926 that was once part of Amsterdam's Municipal Nursery.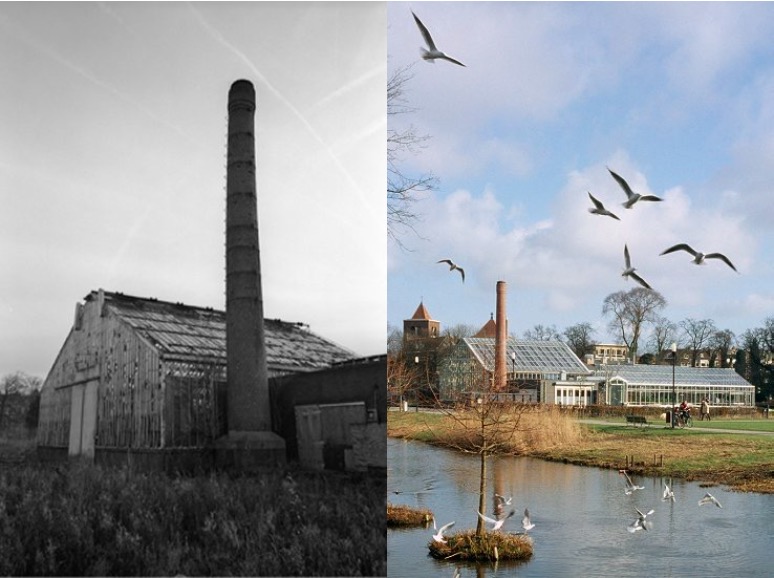 It's owned by Michelin chef Gert Jan Hageman, who was able to save it from destruction and (with a lot of hard work) convert it into an awe-inspiring restaurant with its own nursery.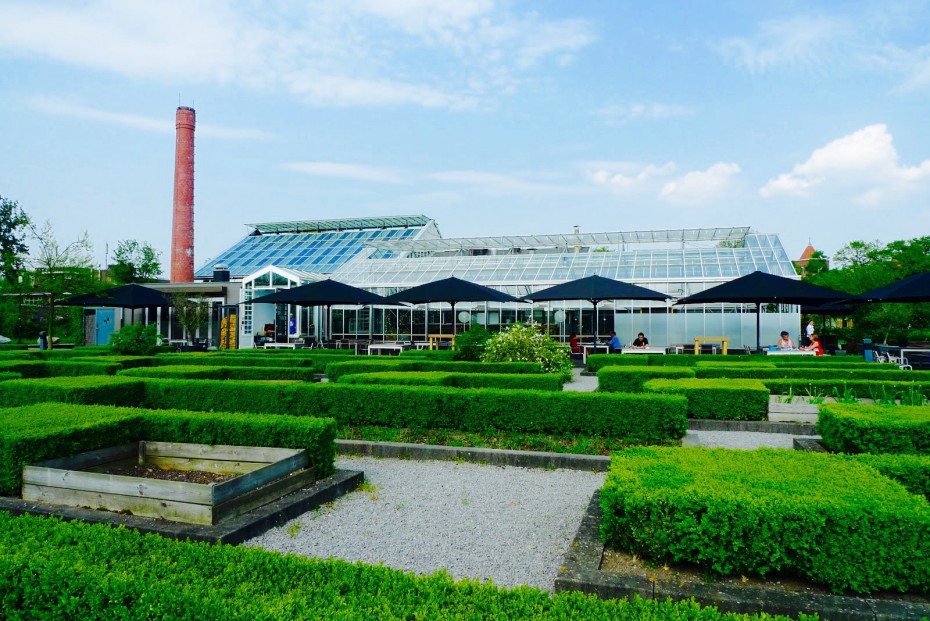 (c) Clyde Oak
You can eat with a view of the park/water or you can dine underneath the starry sky. There is also the option of eating at the Chef's table where you can have a look into the kitchen while enjoying a special meal.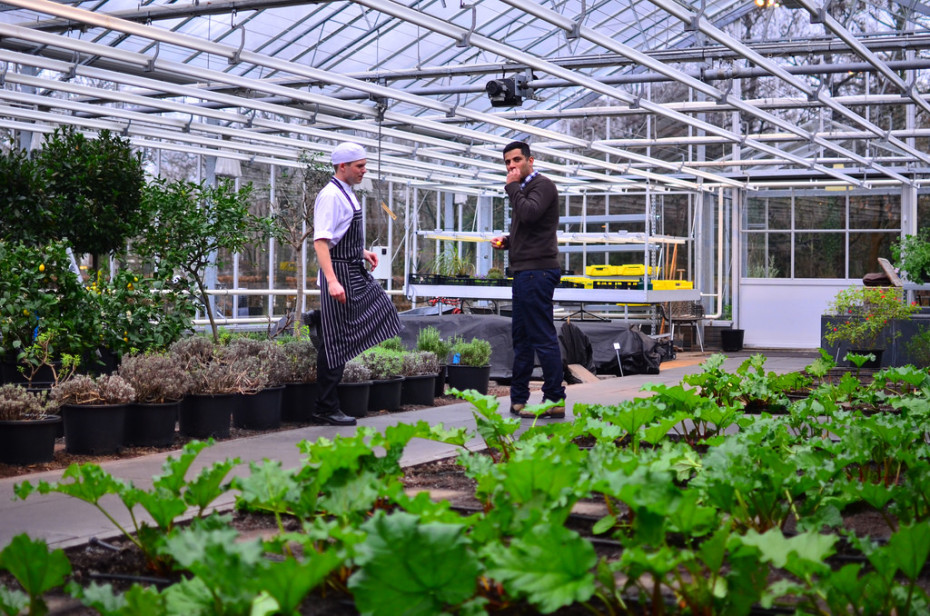 (c) freshgrub.net
The restaurant grows its own vegetables, fruits and herbs in the adjacent greenhouses and herb garden, and the owner personally plants, weeds, soils and cares for the food.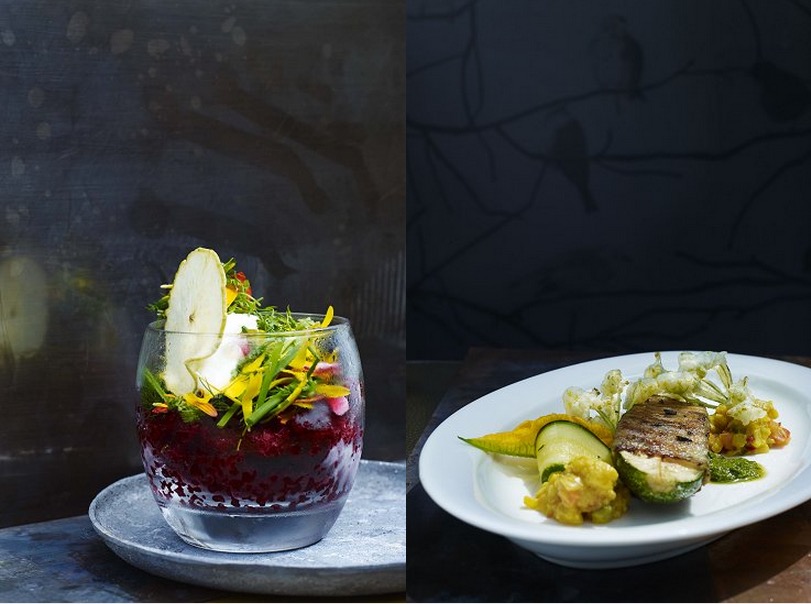 De Kas Restaurant and Nursery can also be rented out for parties, seminars or weddings. More information can be found here.
6. Timeless Little Shops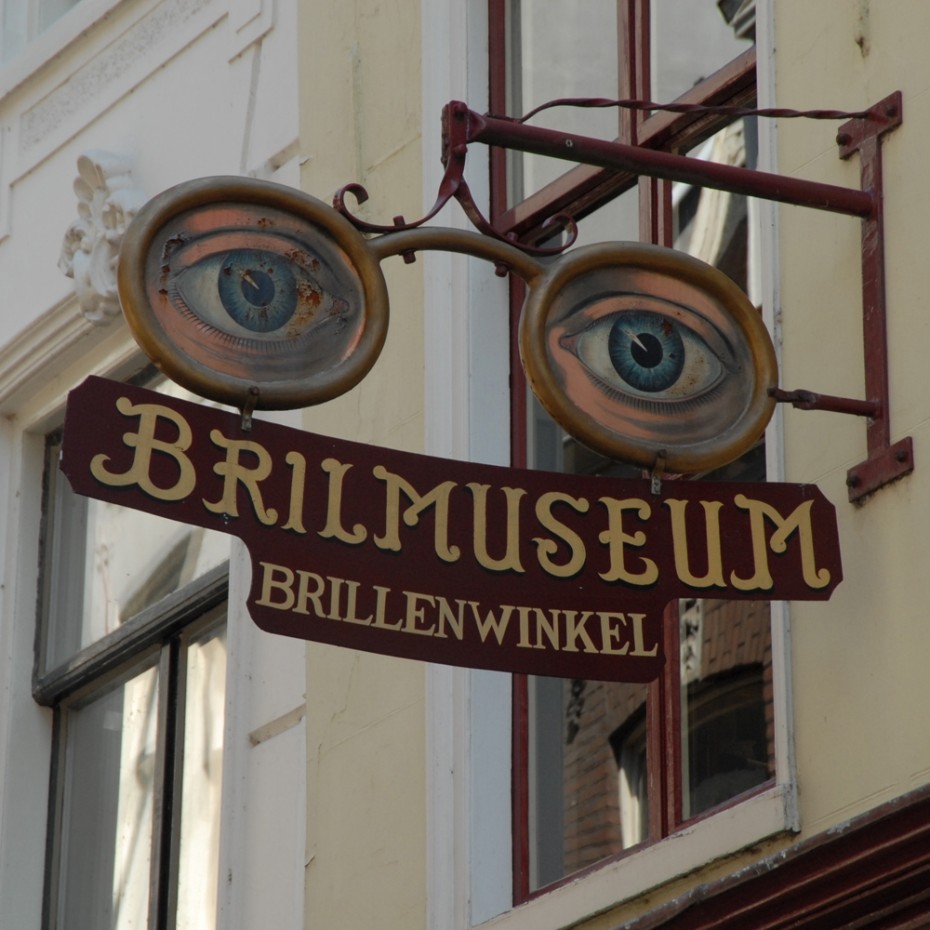 Your time traveling (or any other) tour of Amsterdam wouldn't be complete without taking a walk in the little streets just five minutes from the central Dam square. De 9 straatjes are – as the name suggests – 9 little streets, and they house some of the best of what old and new Amsterdam has to offer.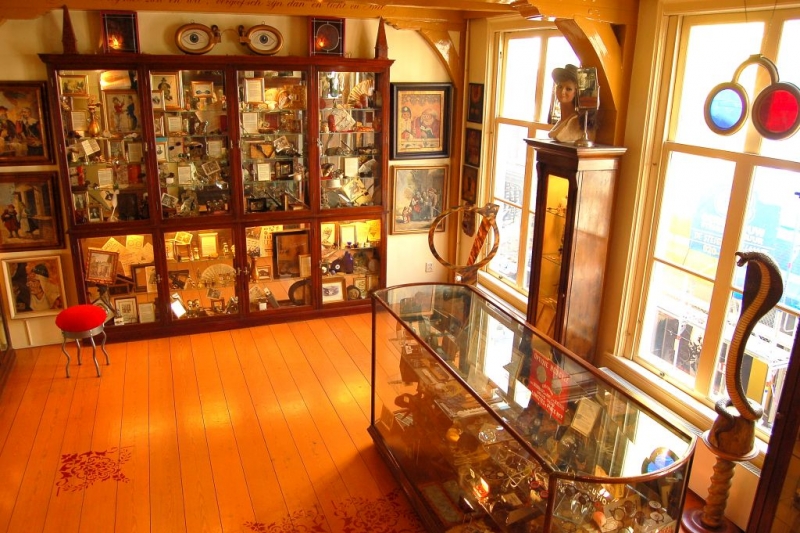 There are some true gems here for anyone who's a fan of quirky. You can visit the Brilmuseum (Glasses Museum) and shop, where you can view some of the world's most outrageous glasses – or you can even get a little crazy and buy a pair yourself.
If you have a wanderlust itch that needs scratching, you can pay a visit to literary travel bookshop Evenaar.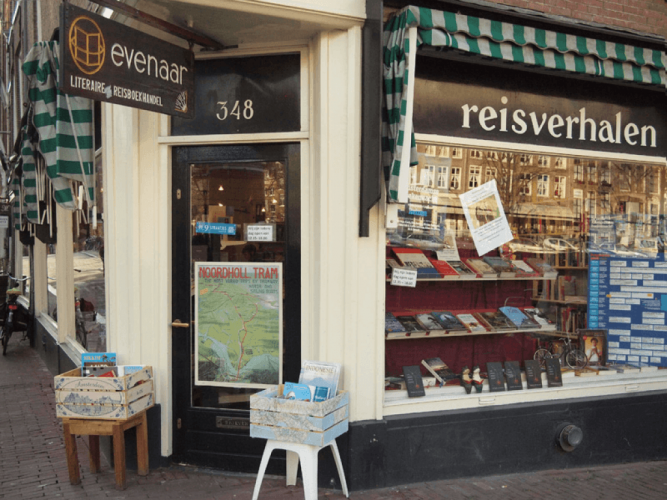 They have a vast collection of  travel stories, world literature, culture and history from en about all over the world. The owners are always ready to offer advice, and as they say: "our shop is very attractive for those who travel the world by book…."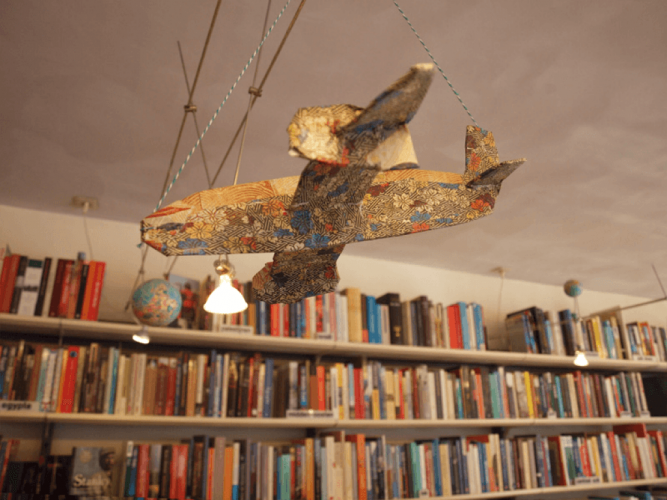 You can also find some great vintage shops in de 9 straatjes, including Laura Dols (especially for those who like fifties' glamour), Zipper, Episode and Bij Ons Vintage.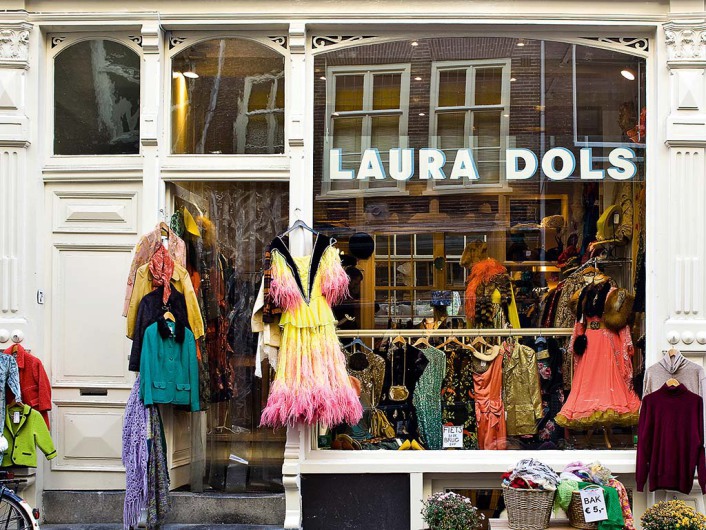 If you prefer vintage curiosities over clothes, you should take a peek at Roerende Zaken Rarities,  where you can find anything from sixties' designer chairs to a "Space-boy Stars + Stripes" trash can.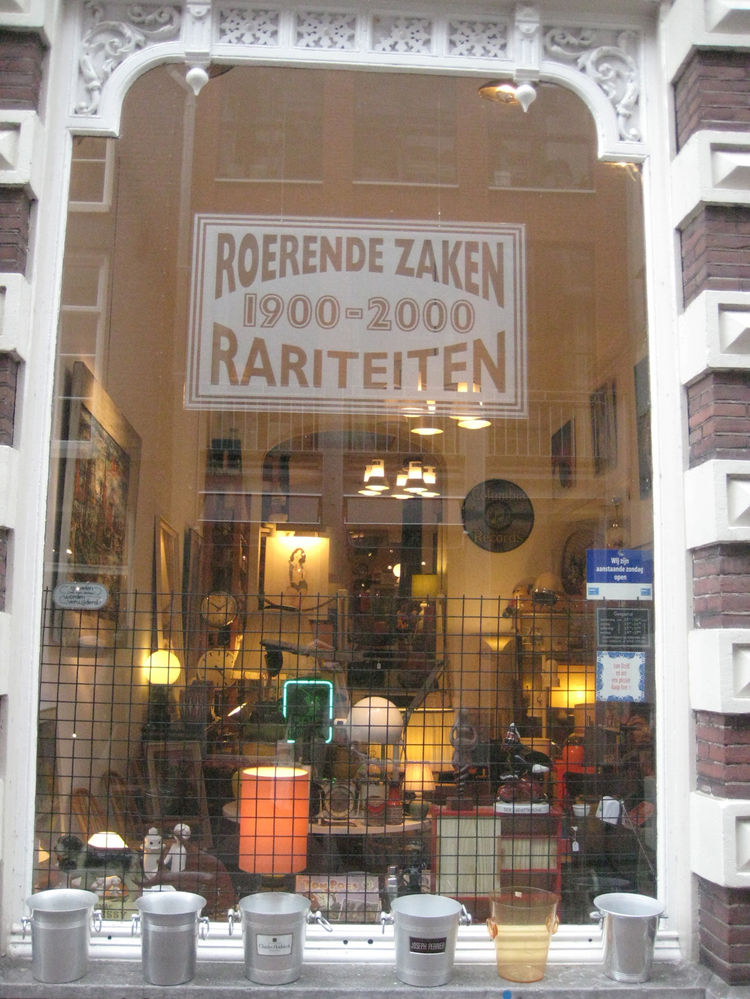 There are many more things to do in the 9 straatjes than I could possibly list here. There's different places to eat, drink, shop, visit galleries, gold smiths, sleep in one of the B&B's and much more. If you'd like to know or see more, you can visit the 9 streets' official website here.
(Last one … Don't get tired feet now!)
7. Old
Amsterdam

Food

Tour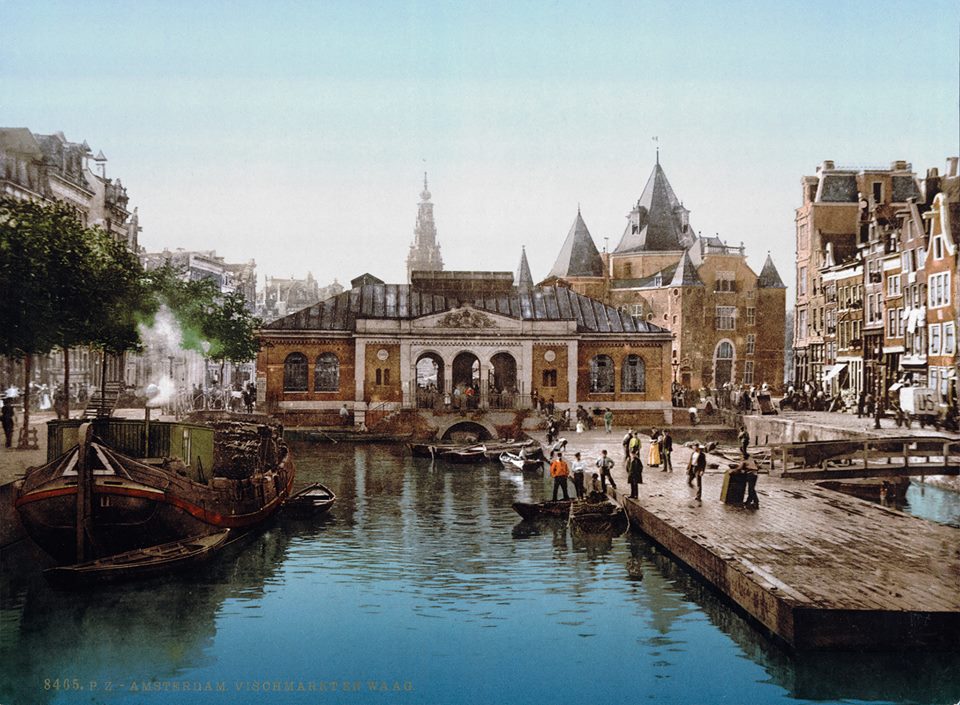 In case you are interested in combining food with history (I can't imagine who wouldn't be), there is a special Old Amsterdam Food Tour you should take.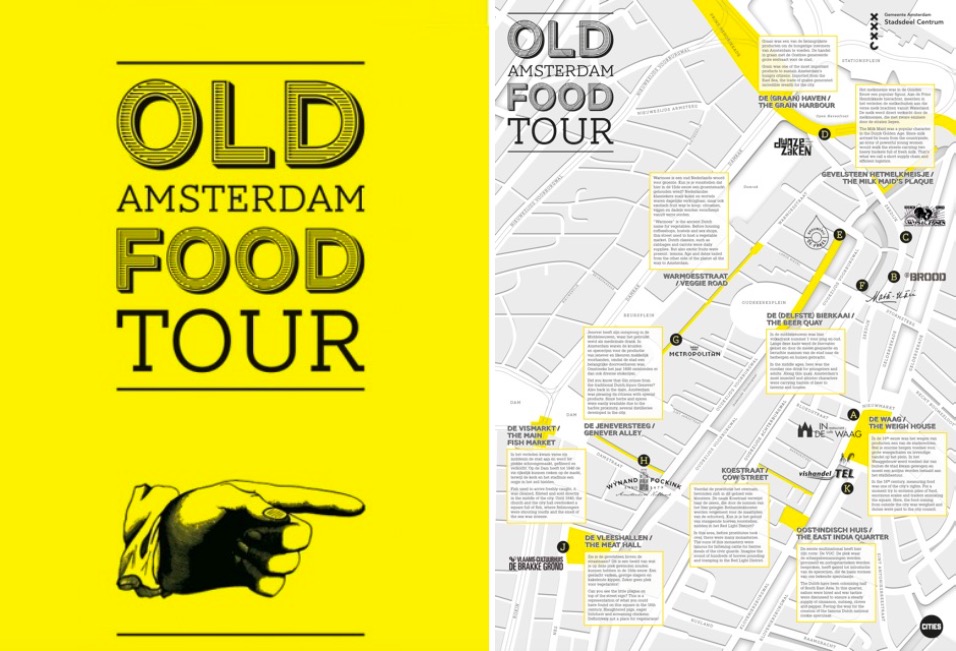 "The history of Amsterdam, which developed from a small village along the river Amstel to becoming an international city during the Golden Age, is literally shaped by food," says Farming the City, and they'd love to show you how that was done.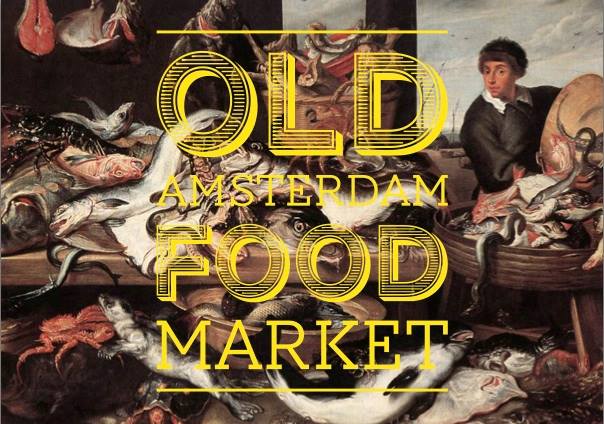 The Old Amsterdam Food Tour takes you along Amsterdam's pivotal food places of yesteryear while walking through the old city center, bringing history back to life with stories, tasting experiences and tailored workshops.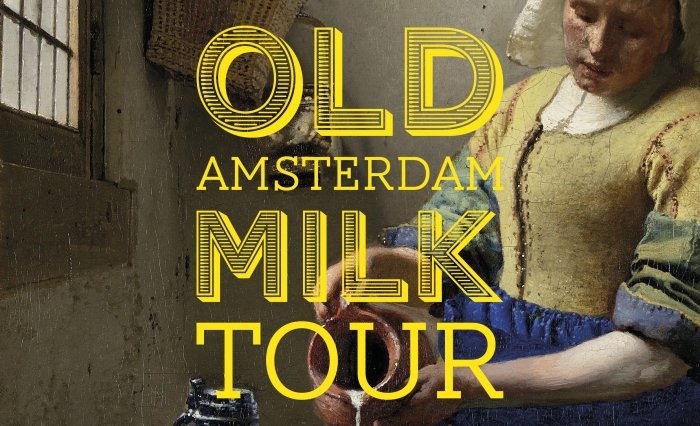 Tours are available for 2 to 20 people, and the tour guides are able to tailor tours and accommodate anyone's needs.
You can write to Foodtour@FarmingtheCity.Net to book your own Old Food Tour and discover Amsterdam from a new and tasty perspective!
About this Contributor
.
Inge Oosterhoff is a Dutch graduate of North American Studies, currently living in the Netherlands. With a love for the odd and the unexpected she is on a never-ending search for new stories, new people and the very best coffee in the world.
You can connect with Inge through her Linkedin profile, Twitter or Tumblr.