Tucked along New York's Hudson River is the town of Sleepy Hollow, where old carriage roads can still be walked, and the woodlands feel just a bit darker than they should. It's also home to the Union Church of Pocantico Hills, a gothic style church built in 1921 by the Rockefellers. Oh, and it happens to house works by two of the 20th century's greatest artists — nine by Chagall, and the last ever work created by Henri Matisse.
We might mention that this town doesn't just coincidentally have the same name of the Headless Horseman's village. These are the actual stomping grounds where the ghoulish legend takes place (its author, Washington Irving, is buried in its cemetery). With it's fieldstone foundation and gable roof, the gothic church couldn't contrast more with the sunbaked, French Riviera scenes associated with Matisse.
Beloved for everything from his Fauvist paintings to his playful cutouts, Matisse remains one of the most dynamic artists of modern history. The stained glass rose window he designed for the church was commissioned in memoriam for John D. Rockefeller's late wife, Abbey, in 1948.
The window would be Matisse's final masterpiece before passing away in 1954 from cancer. At first glance, the idea might feel like a bit of a departure for the artist, but the careful eye will recognise the piece as unmistakably Matisse:
The window's design makes more than a hefty nod to those famous cut-outs:
On the other hand, Chagall's portfolio boasts some pretty moody painting, a partial product of his Belarusian roots, and he completed many a stained glass church window in his time, including some for the French cathedrals of Reims and Metz. As far as Paris goes, he's best known for the ceiling he painted in our beloved Opera Garnier in 1964.
His swirling, avante garde figures contrasted greatly with the gilded theatre, and Parisians are still divided on the matter– but we digress…
Whatever your stance on Chagall, the fact that a small country town had not just one, but nine windows commissioned for its church by the same artist who painted the Paris Opera was, well, remarkable. (Major local bragging rights.)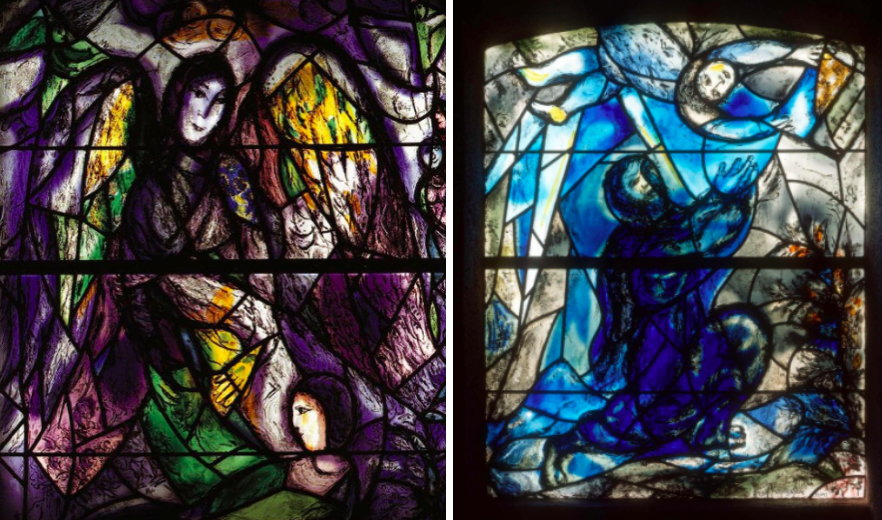 The French-Russian artist installed his pieces in the '60s (after Matisse), and even made a special "Good Samaritan" window when Rockefeller Jr. died in 1960. In case your wondering, why Rockefeller Jr. even cared about Sleepy Hollow in the first place? The answer is simple: his Kykuit estate (below) was just up the hill.
"The enthralling story of the windows, and how they came to be here," explains the Hudson Valley tourism centre, "is a story of relationships"; a classic tale of the give-and-take that has always fuelled the creations of great artists, by powerful figures of history.