Imagine having your name engraved in a seat at the mythical Opera Garnier in Paris, the theatre that inspired The Phantom of the Opera and has hosted some of the world's most iconic bottoms in its red velvet chairs. After hearing about the opportunity to adopt one, I've spent my morning wondering how to make this dream a reality…
What should a true patron of arts and culture splurge on this fall? The Palais Garnier has started a campaign to allow patrons, supporters and art enthusiasts to adopt their own seat at the opera and become a part of the the cultural monument's history by having their name (or a loved one's) engraved on a seat.
Frivolous spending? Not quite. The money used for your seat will be used for a good cause. Do you ever wonder about the future of theatre? Whether the younger generation will continue to engage in the arts? The Opera has a program called Youth Previews that allows theatregoers under the age of 28 the opportunity to attend events for 10€. Youth Previews already make up 58% of new spectators attending the opera or ballet for the first time. In a modernised world, it is comforting to know that the events at the Opera can still remain relevant. The funds from adopting a seat will go towards the Youth Preview program and allow you to share your affection for the Paris Opera with many future generations to come.
The real question is how much does it actually cost to adopt a seat? It will definitely set you back a pretty penny. So for must of us, unless we win the lottery this month or magically fall into a large swimming pool of money, this may not be in the budget. There are four seat options to choose from: Clivre, Ébene, Velour or Bronze.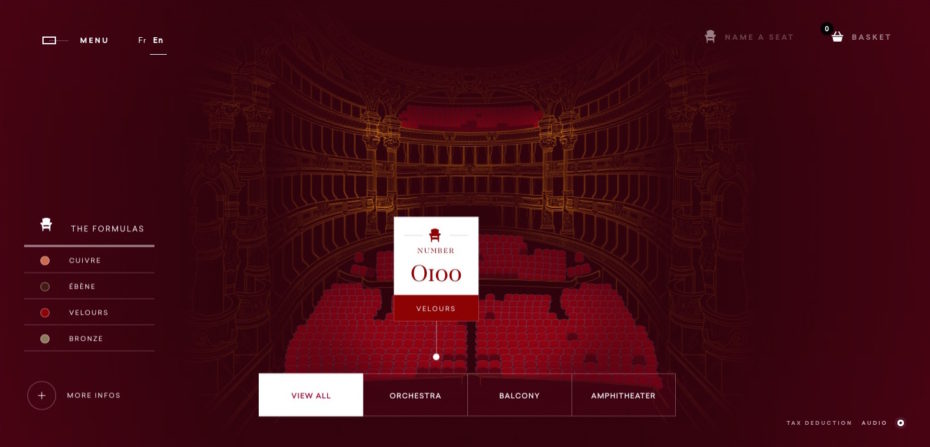 Prices range from 1500€ – 20000€ for a solo seat depending on the type of seat and location you choose. Selecting a seat on the theatre's online interactive experience is actually half the fun. If you selected a chair in the orchestra, some of the more expensive seats in the house, donors also get a backstage tour of the opera with cocktails.
So who is actually buying a seat at the Paris opera house? Perhaps a grandchild honouring a great grandmother who was once a renowned performer on Garnier's stage. Perhaps an eccentric art enthusiast who never misses show at the opera. A few chairs have been adopted by "anonymous" patrons. Perhaps it's the phantom of the opera himself! Perhaps it's you…
If you're curious about adopting, it's here.