Valentine's Day is just around the bend, which means you've got a great excuse to indulge in some treat-yo-self extravagances (i.e. chocolate, fancy undies, more chocolate). First up on our shopping list? Some vintage WWII Sweetheart Lingerie. Yes that's right,  World War II lingerie…
When Japan surrendered and the war was coming to an end, U.S. servicemen were stationed at naval bases across East Asia and in their downtime, they went looking for personal keepsakes from the war to take home. As soldiers prepared to return to their girlfriends and wives on American soil, souvenir shopping became a priority. The undergarments became a cult trend in the 1940s, a kind of sexy accessory to the iconic silk bomber jackets that soldiers also brought home from their service in Japan…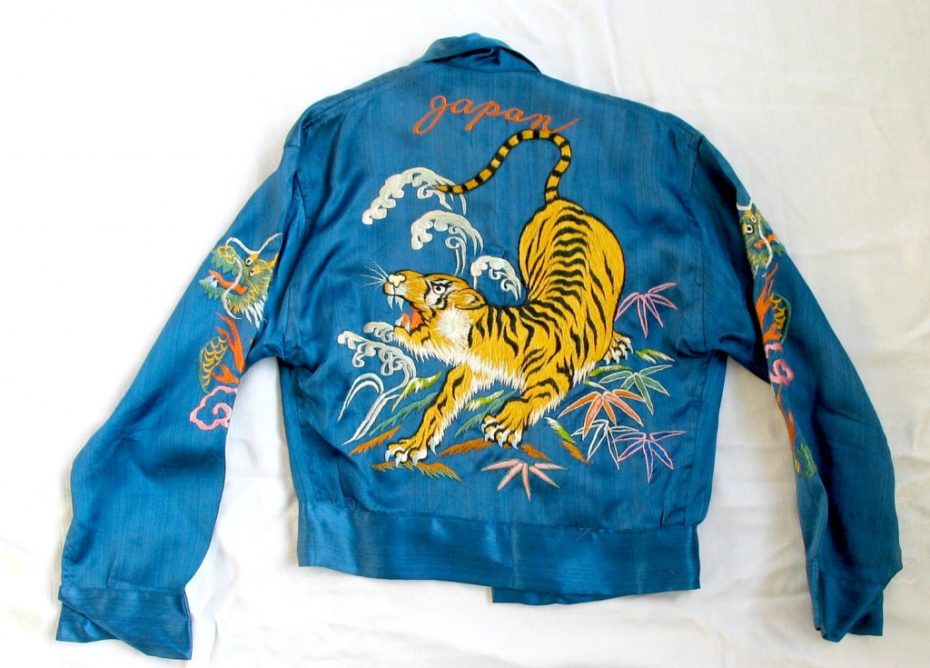 They say that the origin of the jacket can be traced back to a single U.S serviceman who took his flight jacket to a local tailor in Yokosuka after World War II to have it embroidered with his name and decorated with colourful oriental designs as a momentum of his time served in a country far from home.
The saucy undergarments were a memento of soldiers' love, as well as a playful way to make sure their girls stayed faithful while they were away. "Don't Touch" and "Off-limits" were commonly embroidered into the crotch area of the lingerie alongside the name of the soldier's naval base or fleet.
After a bout of digging around the web, we're crowning Instagram vintage boutiques @sugarviolette and Guermantes Vintage as the reigning purveyors of sweetheart sets. So let's go for a bit of (virtual) window shopping, shall we?
The sets vary in theme, but some make playful references to the hit Hollywood movie, Gone With the Wind, which came out the same year WWII began, 1939.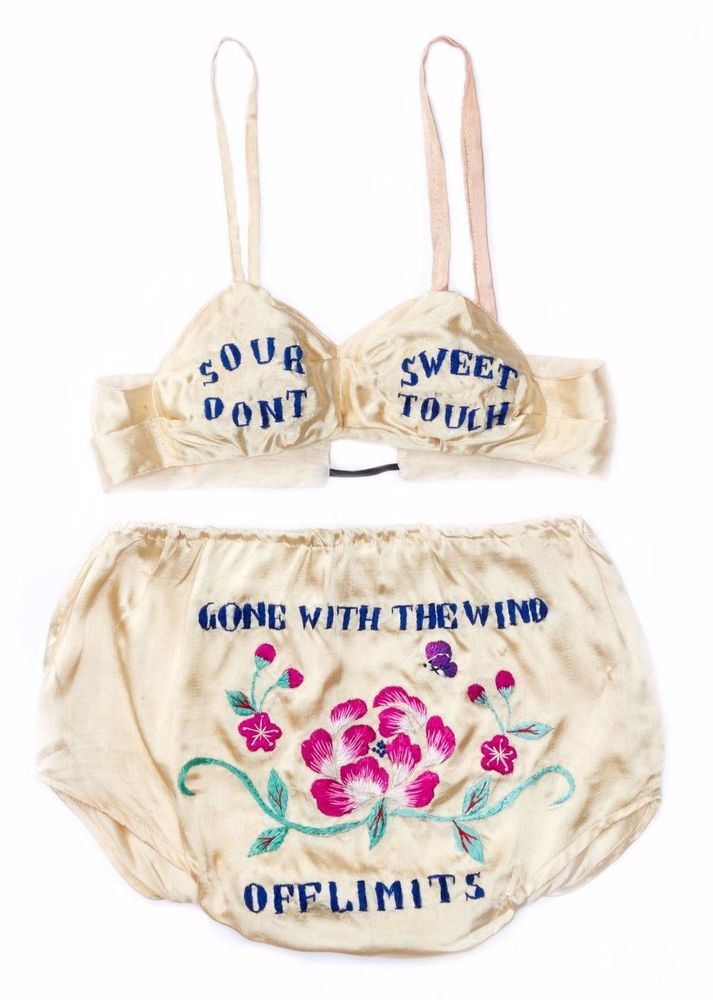 As dreamy as the silk sets look, some of them tend to teeter on the line between sassy, and merely reflecting a kind of  ill-sitting "I own my woman" bravado that we're not keen to wax nostalgic for…
That's why we're happy to see contemporary lingerie brands making updated versions of the classic pieces. Our favorite is "Retrograde," which has been churning out WWII Sweetheart-esque pieces. Need a new bottom slip? Go for the eagle screeching,  "You'll never have me," or the ferocious tiger on a green set saying, "Bite Me":
If you're not looking to splurge on an entire set, which can run upwards of $200, you can always opt for their silk tops: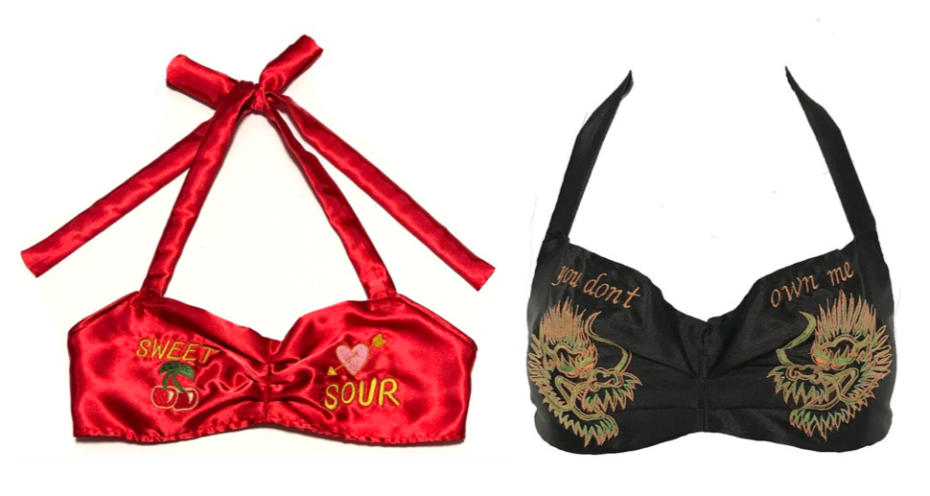 If anything, these pieces have inspired us to become more thrifty in manners of embroidery and stepping-up our needlework game. What do you say? Will you splurging on a pair of these old time undies any time soon?
By Mary Frances Knapp, our Californian in Paris & beatnik at heart.