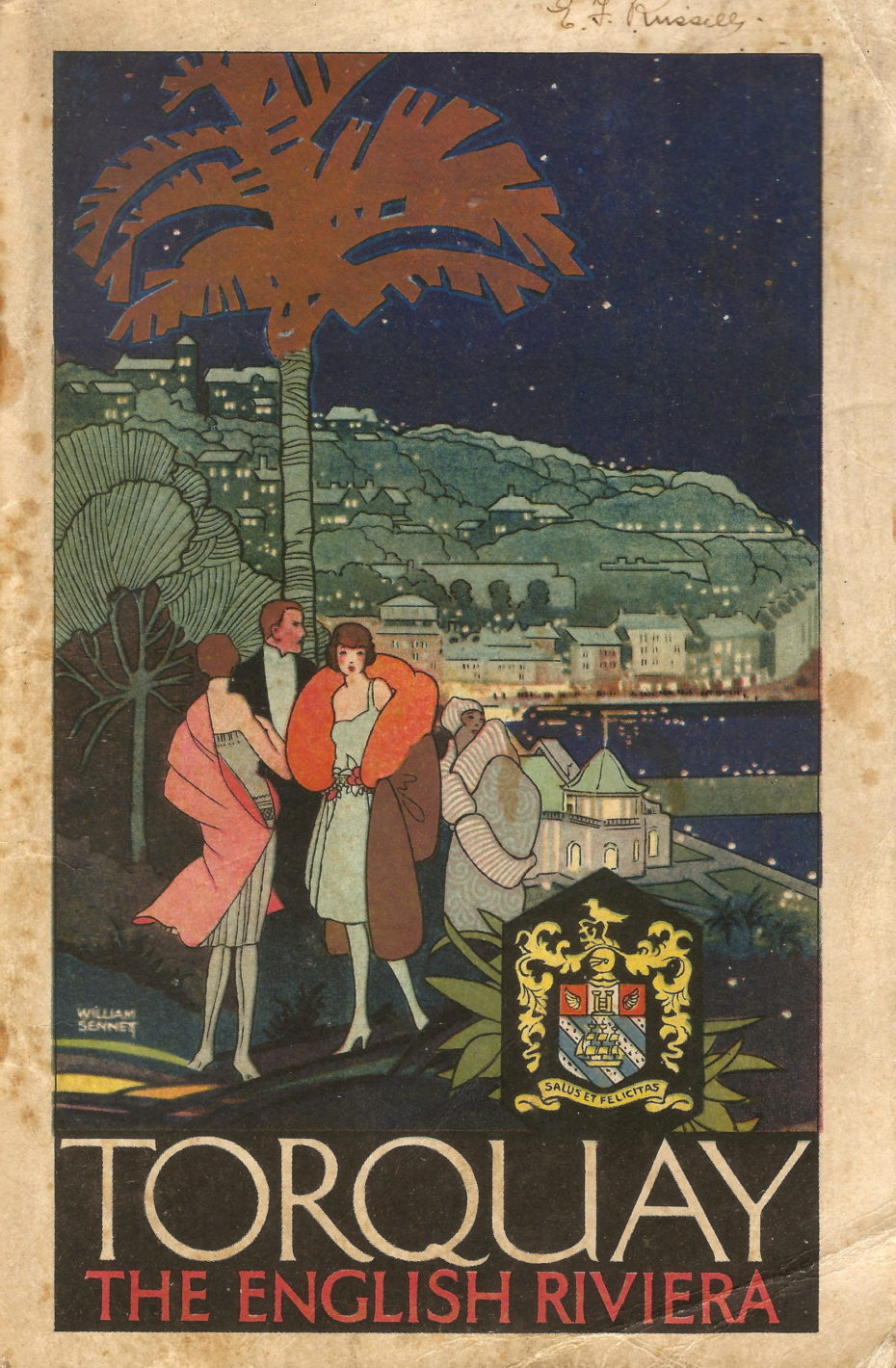 Picture the scene: tricolour flags line the yacht-filled harbour, art-deco hotels dazzle the streets at night, celebrities flurry to villas hidden along the hillside that overlook lanes filled with chic cafés, where colourful tourists sip wine and smoke cigarettes at small bistro tables, while vintage cars are judged during the annual concours d'élégance and beautiful ladies battle for the title of 'Queen of the Riviera'.
Without further context, you'd be forgiven in assuming the description of such a coastal resort referred to a mid-century Saint-Tropez or Cannes. But, as the wonderfully British voice in the Pathé tourism video below states, today the cry is "Vive les Anglais"!
Welcome to the sights and sounds of the English Riviera in its hey day!
(Also known as Torbay, a borough in Devon that unites 3 picturesque coastal towns – Torquay, Paignton and Brixham)…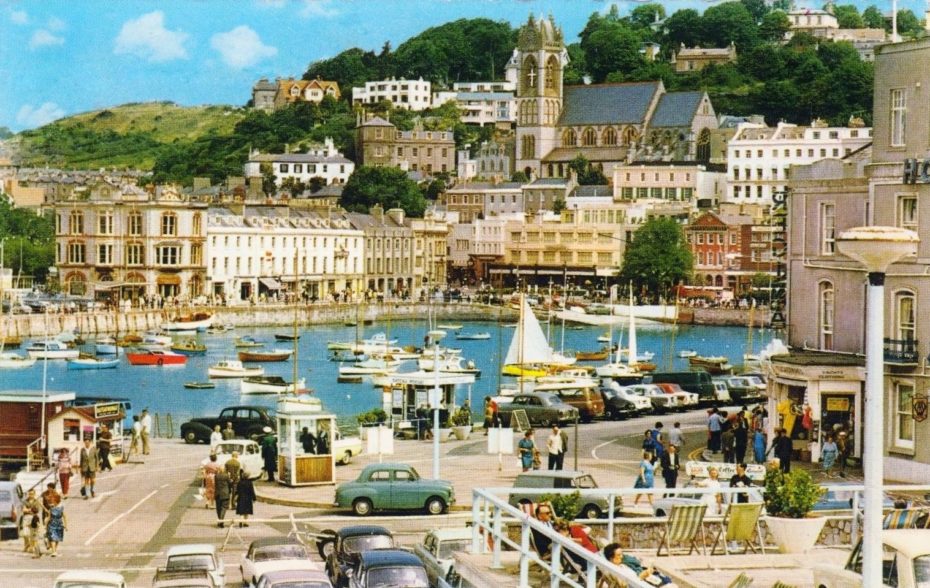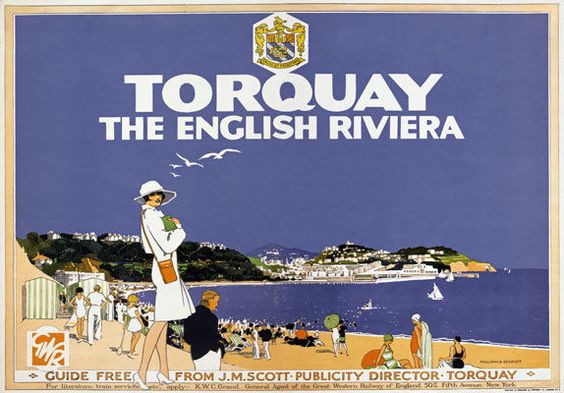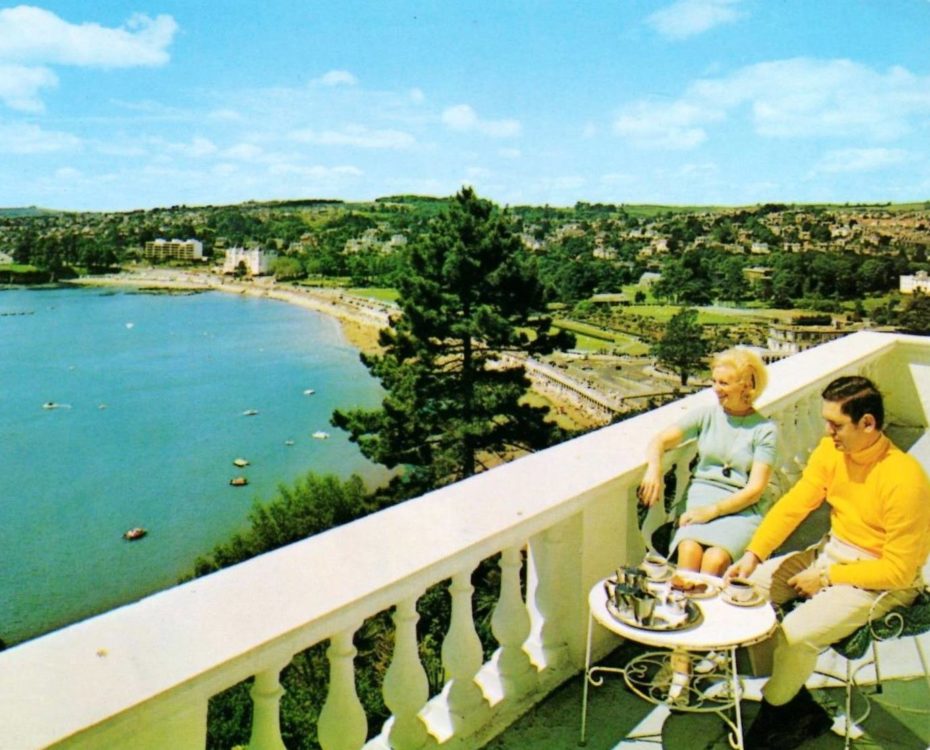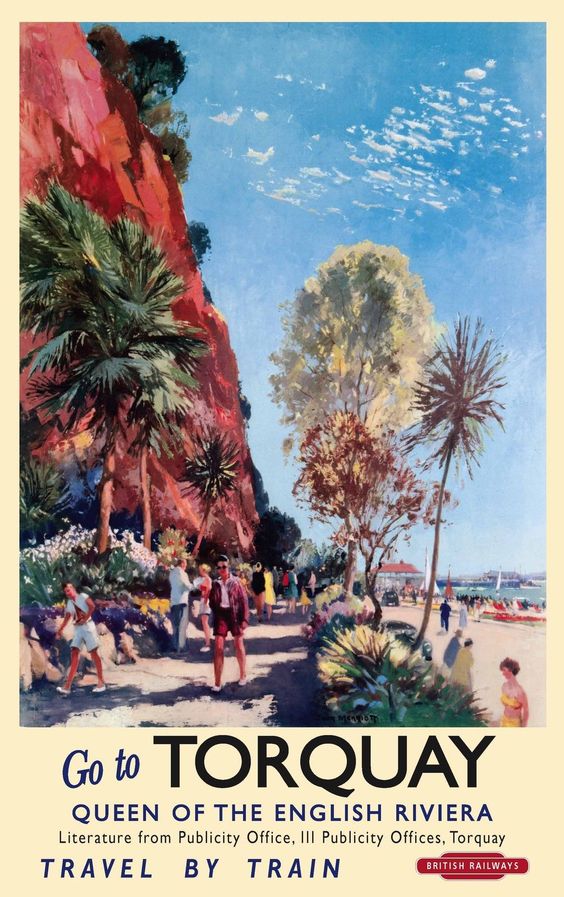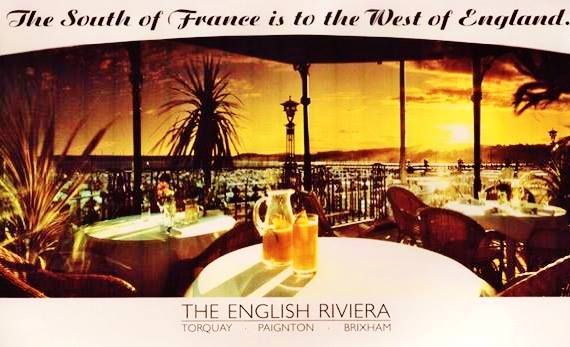 "Stay at home" may have been an unfamiliar requirement of modern life in the UK in 2020, but holidaying at home is definitely not a new concept for the people of Britain. Staycations have been "à la mode" for the last century or two for varying reasons; financial stress, war, inhibited travel following a pandemic, and let's not forget good old-fashioned patriotism. While it can be said that the weather for most of Britain is regularly questionable, it's widely understood that by escaping to a patch of coastline at the most southerly tip of the country, Brits are able to fervently absorb a mere fraction of the temperature experienced along the Mediterranean. And for some inherently sun-shy natives, that's more than enough.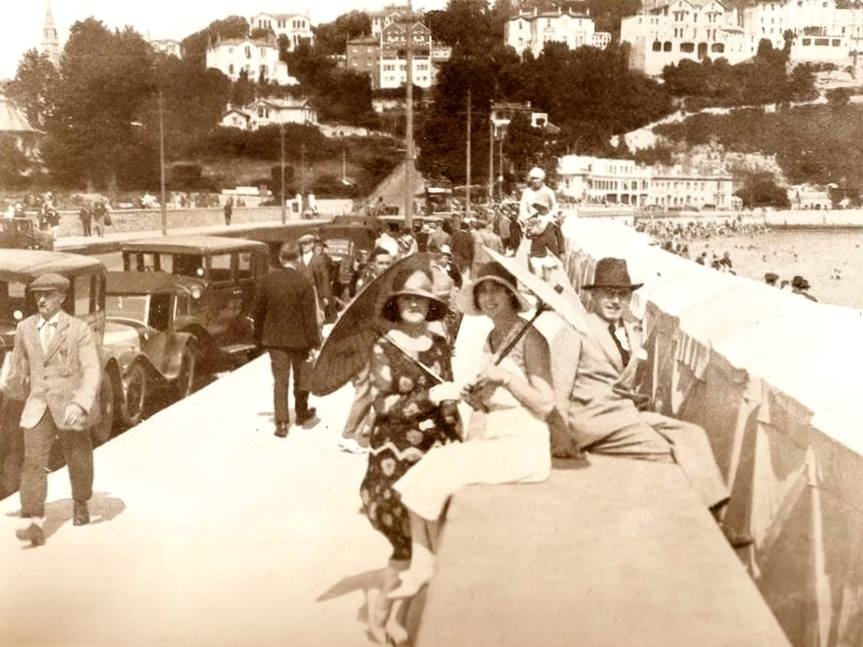 Torquay, undeniably the most luxurious and popular of the 3 towns, is where the resort found its humble beginnings. Originally a fishing village, the town soon gained traction as a fashionable holiday location by the eagle-eyed Victorians when they discovered its charm and comparability to the South-of-France.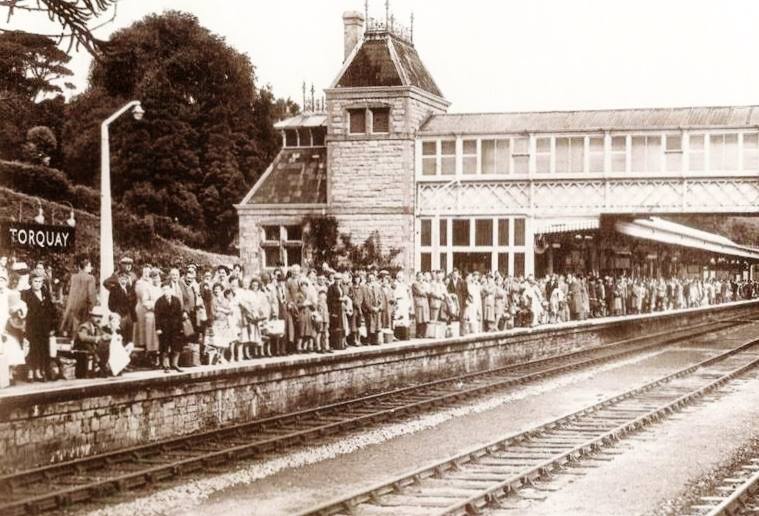 Once the destination was installed with not one, but two train stations in the mid 19th century, trains full of eager tourists, all rallying to promenade along the bay in their most chic attire, would excitedly spill into Torquay every week during the summer seasons. Soon enough the holiday spot was attracting visitors from all over the world, even by ferry from France itself, proudly boasting itself as an international resort.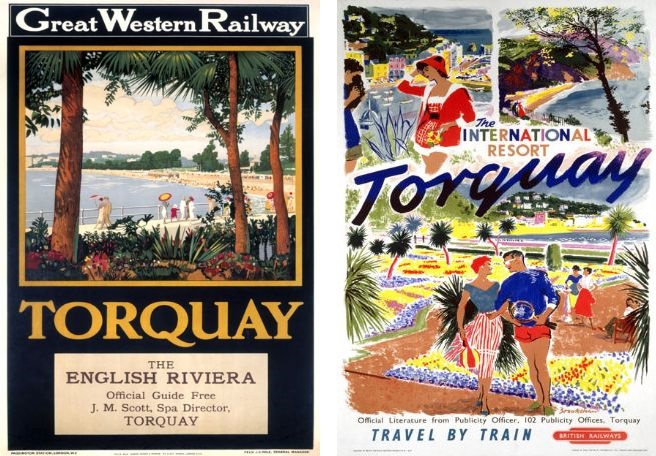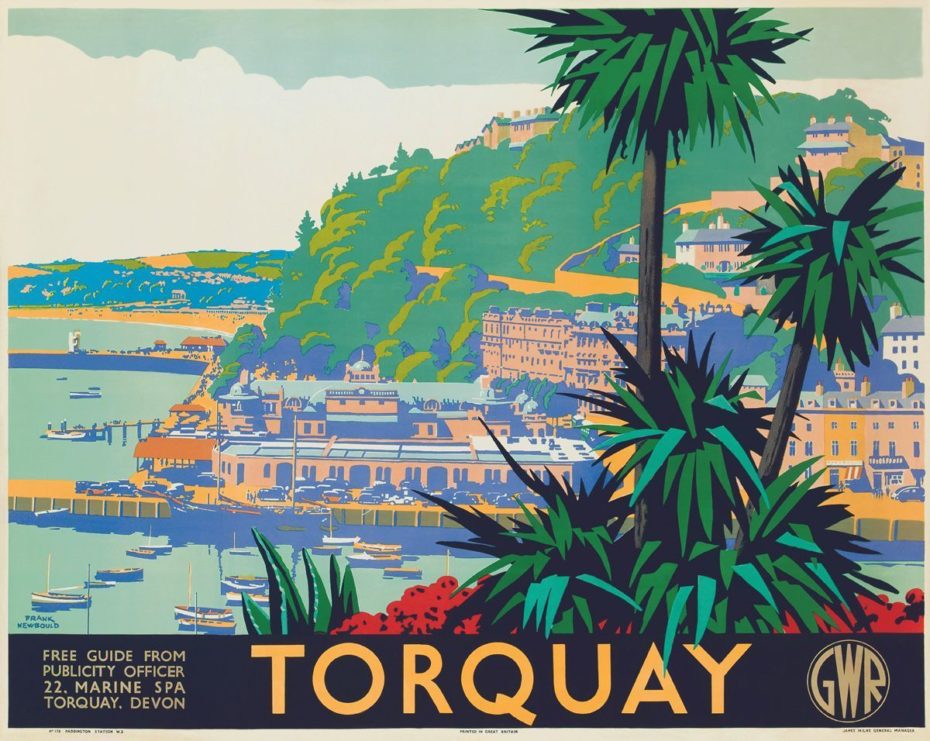 And it's hardly surprising with the plethora of activities on offer, such as a night of dancing, to a famous crooner or popular band at the Marine Spa Ballroom on its famous sprung dancefloor, watching competitive sports such as the annual Torquay Waiters Race, as well as glamorous accommodations in any one of the stylish hotels available at the time, such as the Grand, the Imperial, Waldon Castle, the Rosetor or Hotel Regina.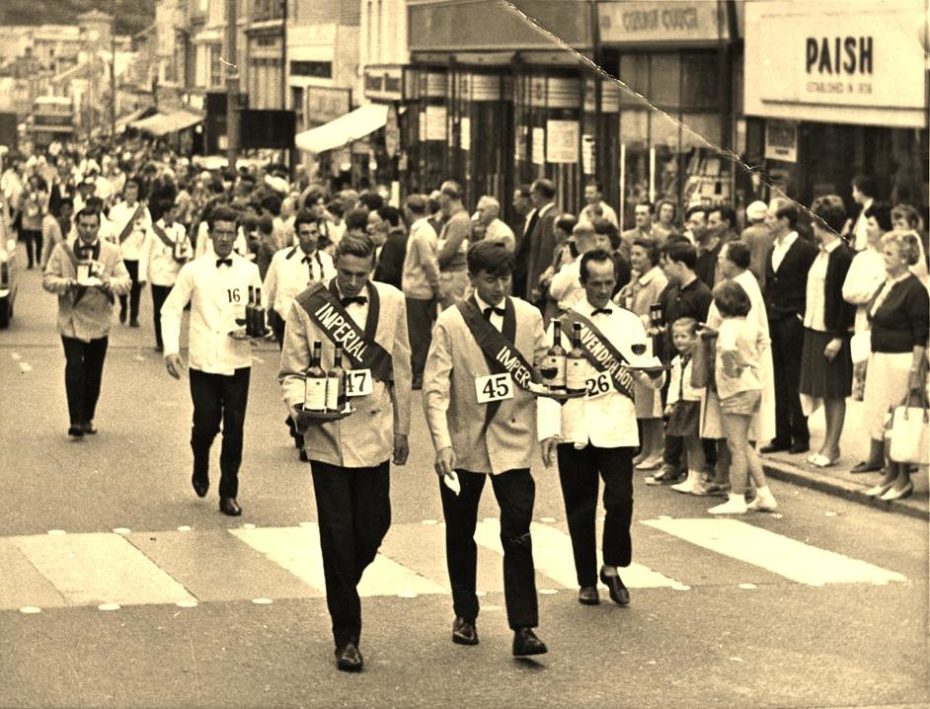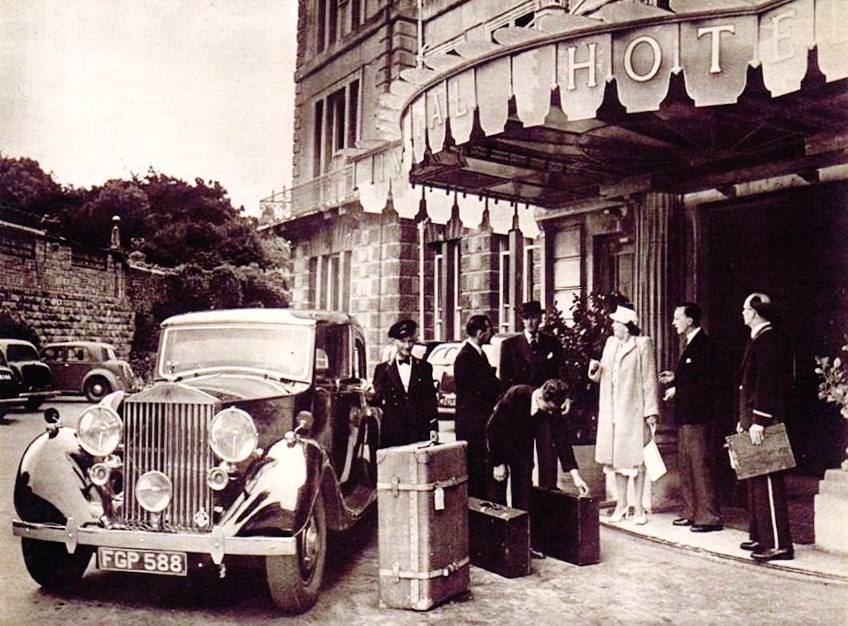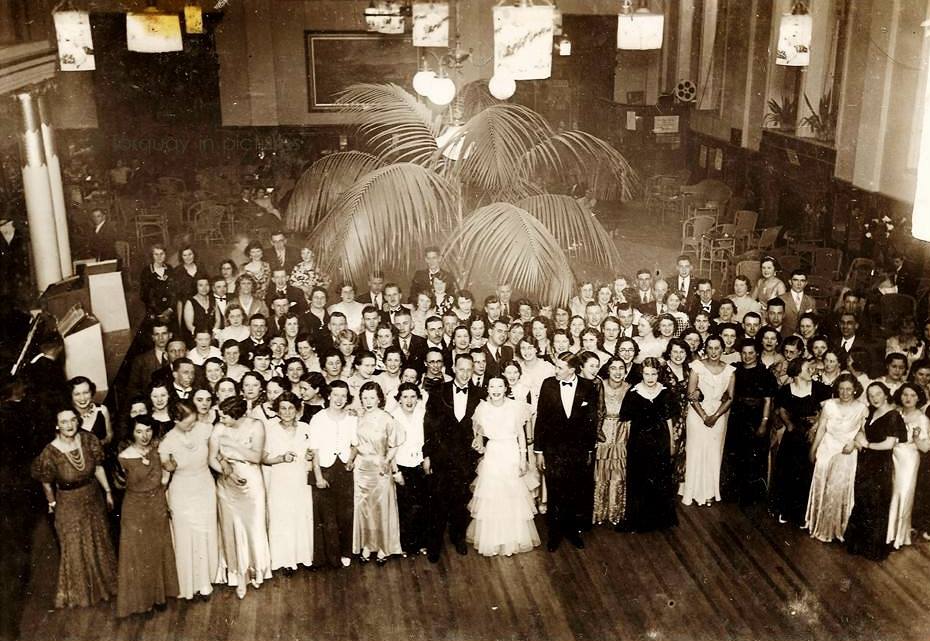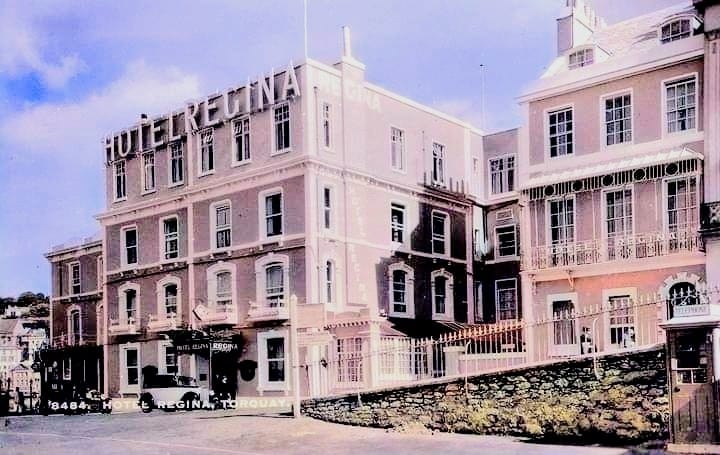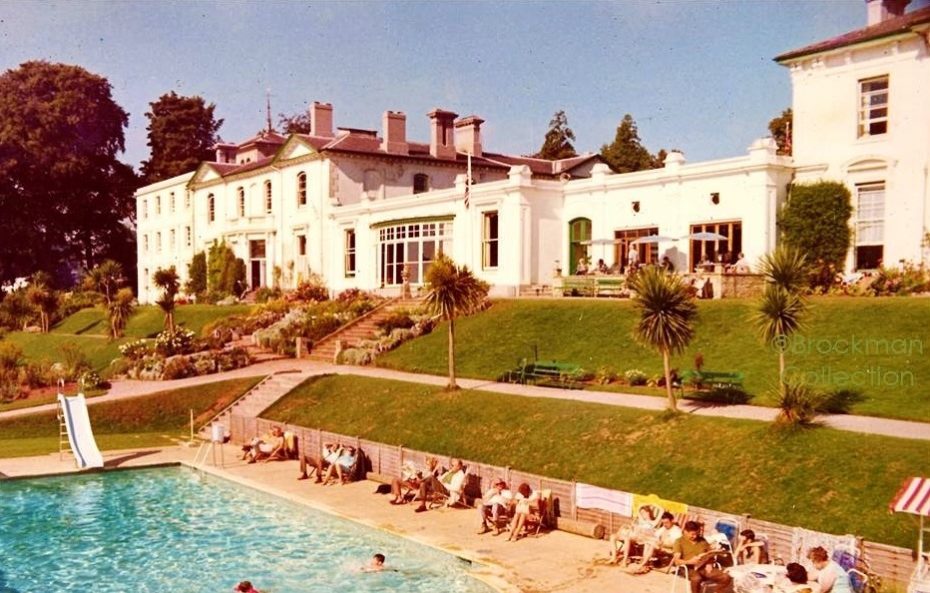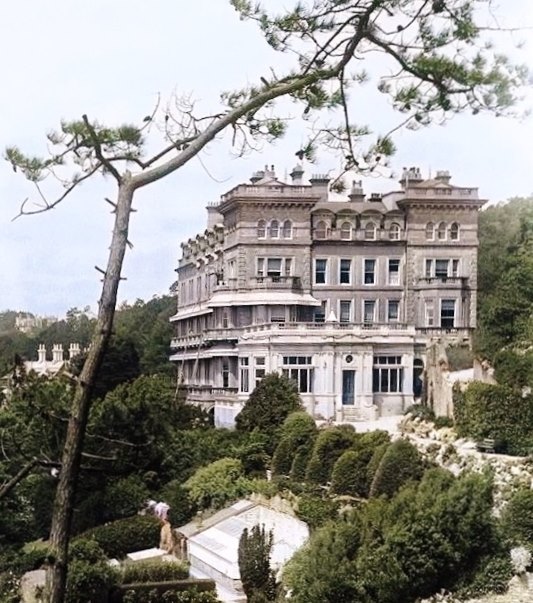 By the roaring 1920s the promise of a French inspired holiday at home was being advertised on luscious art deco tourism posters, painting a scene of blissful elegance, emerging just in time to entice post-war revellers to the glittering shores of South West England.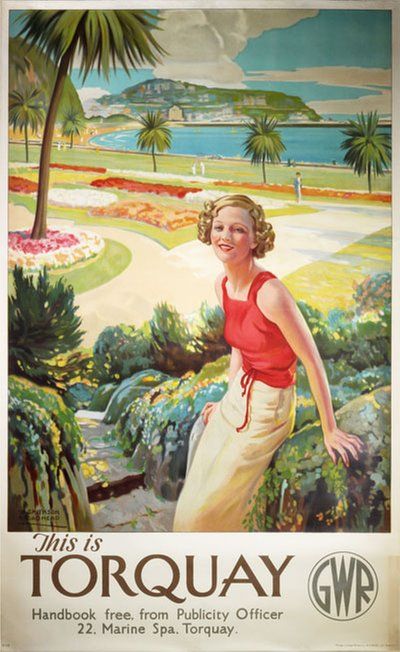 Fast forward to another set of post-war years, this time in the late 1940s, Torquay found itself becoming a movie set for Last Holiday, starring Alec Guinness & Beatrice Campbell. A bittersweet love story of a man stricken with a terminal illness who sets out to spend his final days in an upmarket hotel, somewhere heavenly, where he meets the love of his life.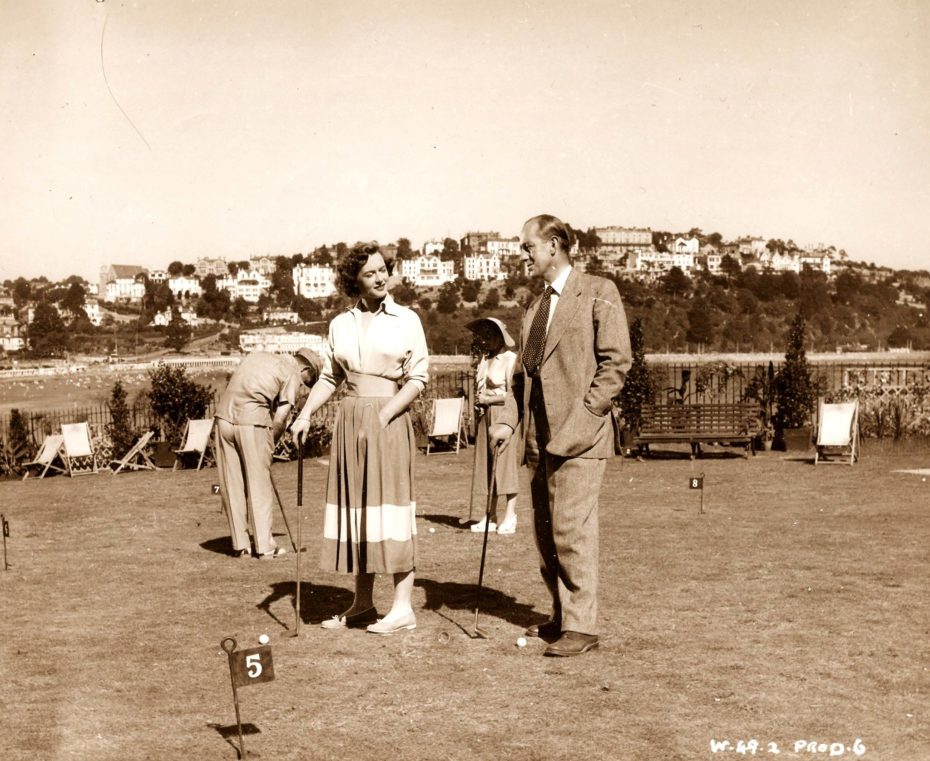 With the English Riviera remaining as popular as ever due to its reputation for luxury and glamour, it was an obvious choice for the movie's location.
For Monty Python fans though, Torquay is always known as something less than super-chic and definitely more comedic. While filming 'Monty Python's Flying Circus' in the early 1970s, John Cleese & co stayed at the Gleneagles Hotel, a stone's throw from the English Riviera. What transpired there during their stay was nothing short of a farce, with the manager of the hotel, Donald Sinclair, being the "the most marvellously rude man" Cleese had ever met. He went on to base his character, Basil Fawlty, in 1970s British TV show 'Fawlty Towers' on Sinclair.
The Gleneagles Hotel has since been demolished, but you can still experience the same level of slapstick buffoonery for yourself by visiting the restaurant in the West End of London where you dine as if you were an actual guest at Fawlty Towers.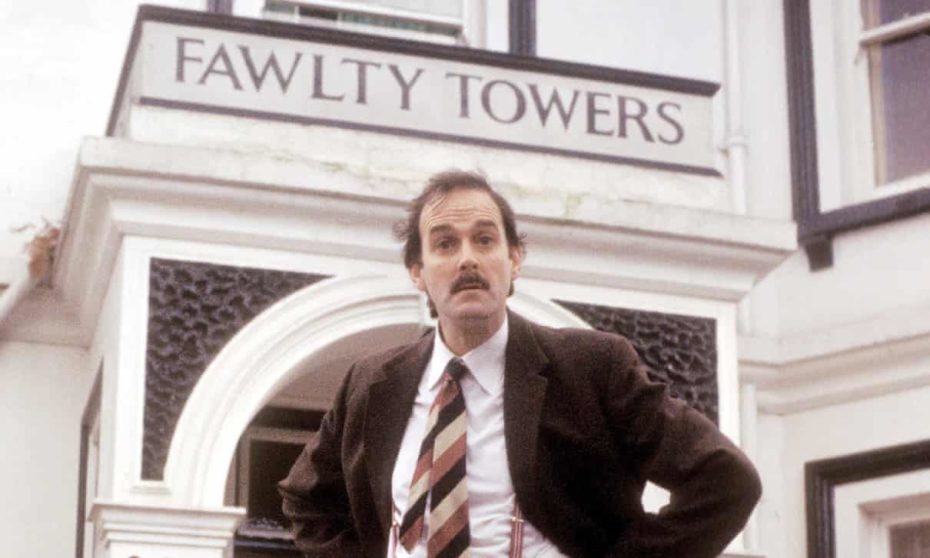 While it doesn't quite deliver on the same scale as its beloved French sister, by the 1930s, vacations in Torquay also included beauty pageants, motorcar competitions and, within a few years, there came the chance of spotting many of its celebrity visitors and inhabitants.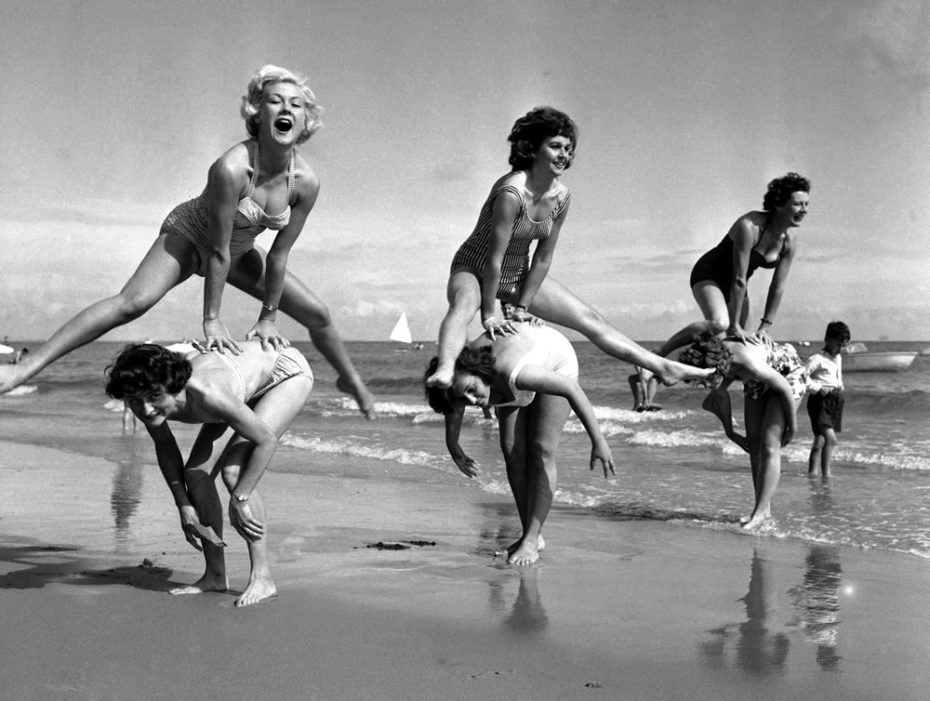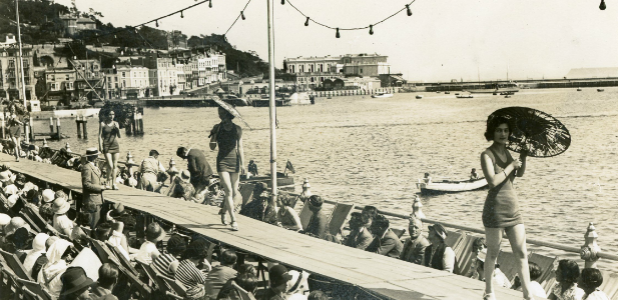 When the London born "Mod" subculture hit the seaside streets just down the coast in Brighton, Torquay gave rise to its very own set of scooter-loving, drainpipe-trouser-wearing, rocker-battling teens, who would go on to influence fashion, music and movies for years to come.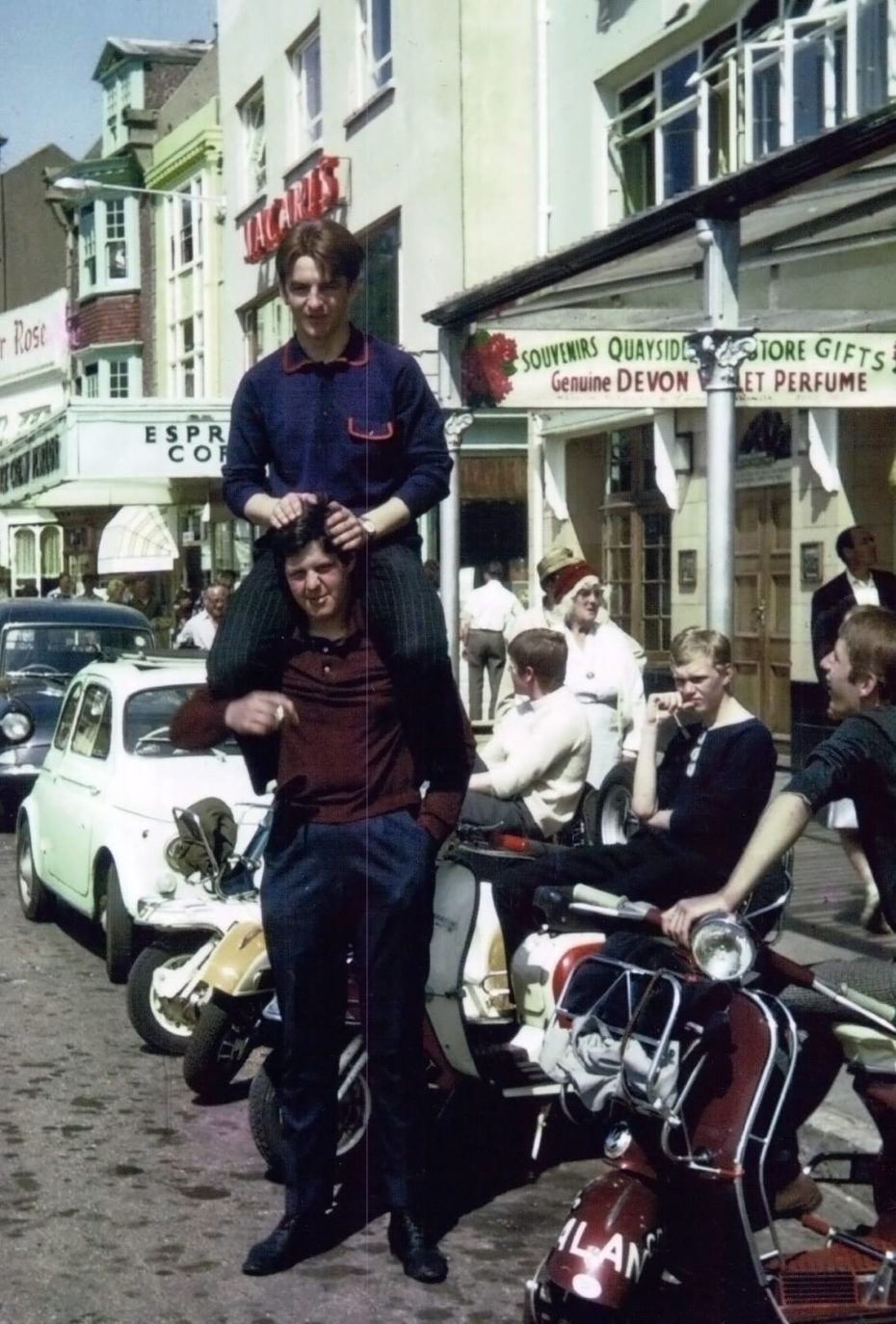 As well as the many talented acts who came to Torquay to walk the boards at the Princess and Pavillion theatres (such as the Beatles playing their one and only gig in there in 1963), other celebrities were documented as visiting the area for leisure, such as The Rolling Stones during their 1964 tour.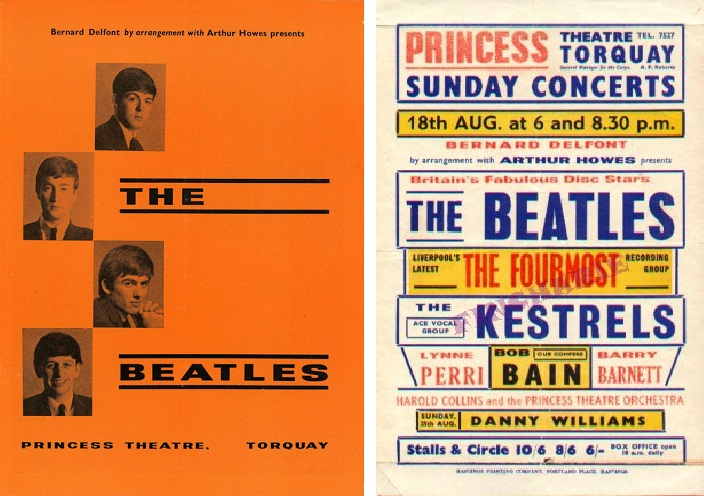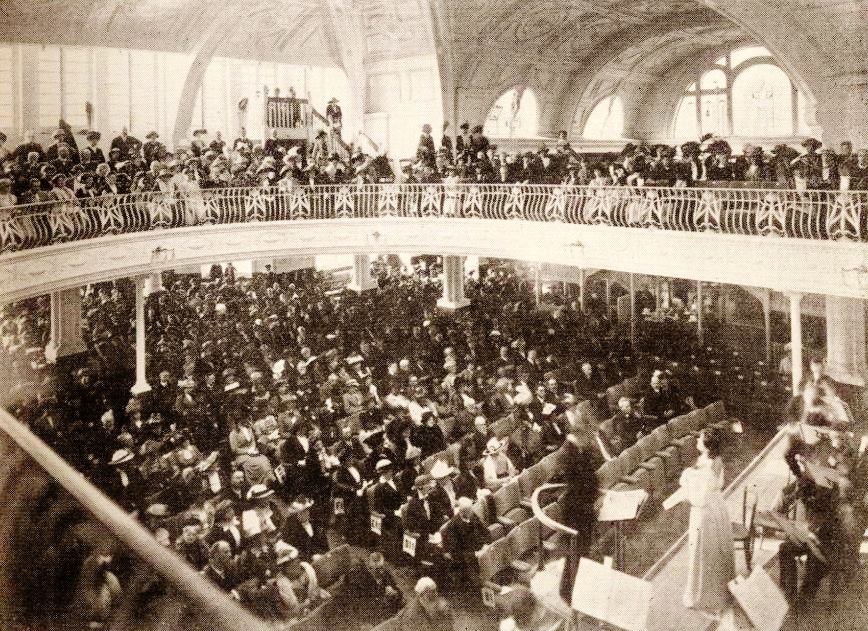 Almost a century earlier, authors such as Mary Anne Evans (pen name George Eliot) and Beatrix Potter had less than satisfactory initial impressions of the destination, but Torquay was yet to produce one of the world's most prolific female authors – Agatha Christie was born and raised in Torquay and went on to base most of her novels in the Devon area, later purchasing her own holiday home there. Perhaps she saw what Evans and Potter could not.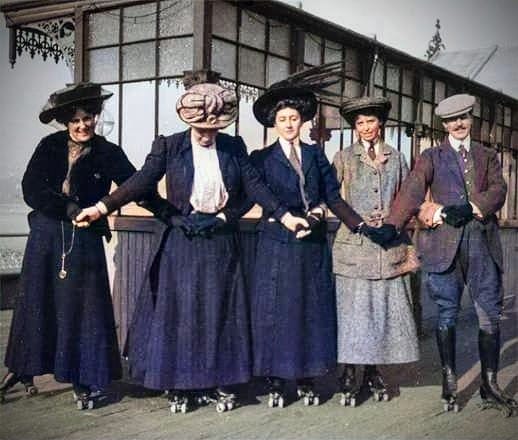 And so as not to leave out the male consortium of authors and English 'elite', Rudyard Kipling and poet Edmund Gosse also, at one time, were found to favour the semi-tropical climes of the English Riviera.
Charles Darwin's great-great-grandson, William Pryor, set up his own book shop, called "Cosmic Books", to live a quiet life after conquering his addiction to heroin. John Keats penned a lot of his work up the road in neighbouring Teignmouth, but while he professed to be fond of the area, he also infamously described it as a "splashy, rainy, misty, snowy, foggy, haily, floody, muddy, slipshod county." So much for the aforementioned promise of a mild, almost-Mediterranean, microclimate. Although definitely poetic, it's safe to see why the early 20th century tourism board left Keats' well-documented description out of their advertising campaign.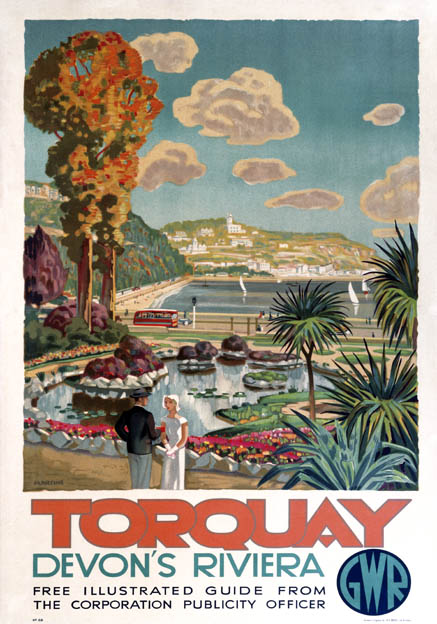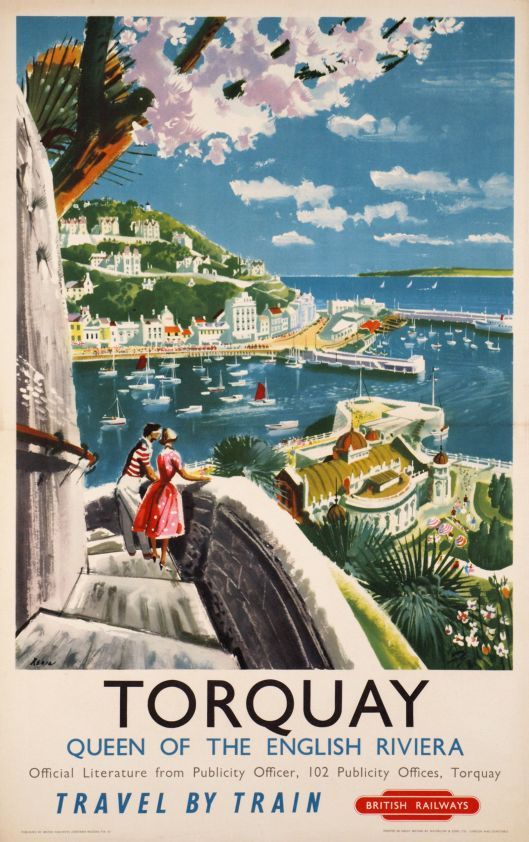 While the English Riviera is still a favourite amongst travellers, an unfortunate loss over the last 50 years of many of the stunning, much-loved Victorian and early 20th century buildings means the landscape looks quite different today. But perhaps a small sojourn to what was once a dazzling, trendy, French-inspired holiday location for the glitterati-of-the-past might be just what the post-pandemic doctor ordered.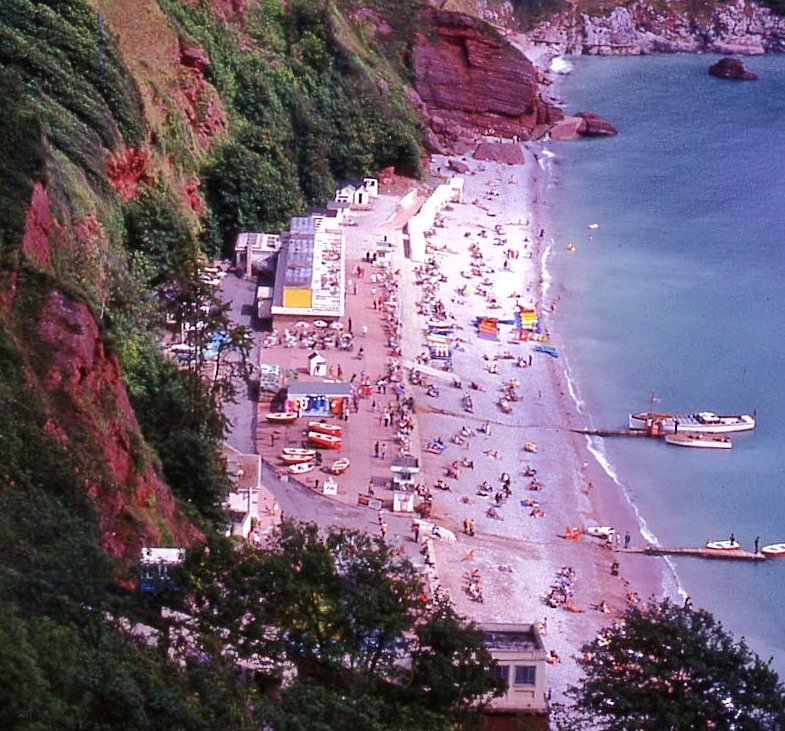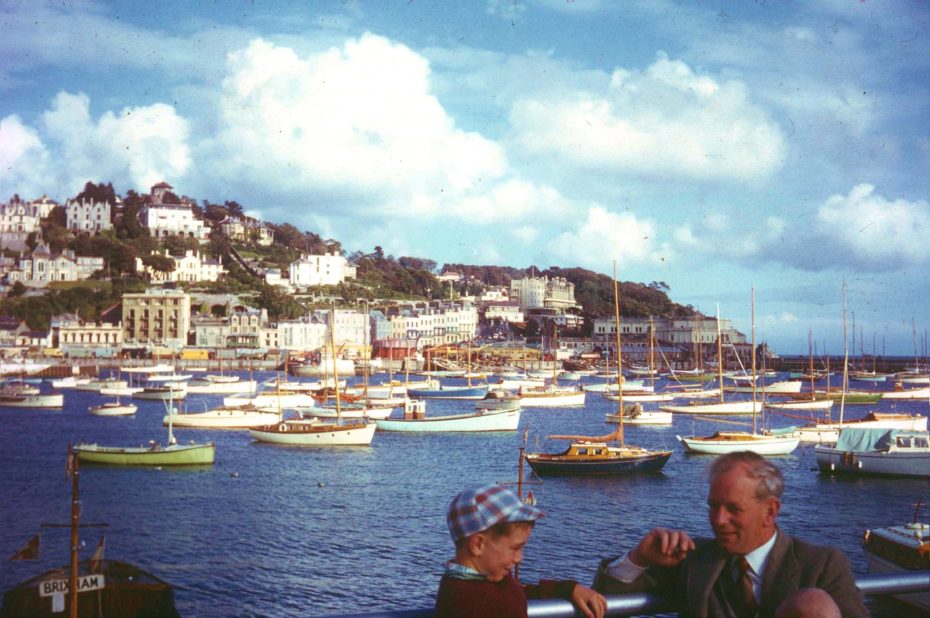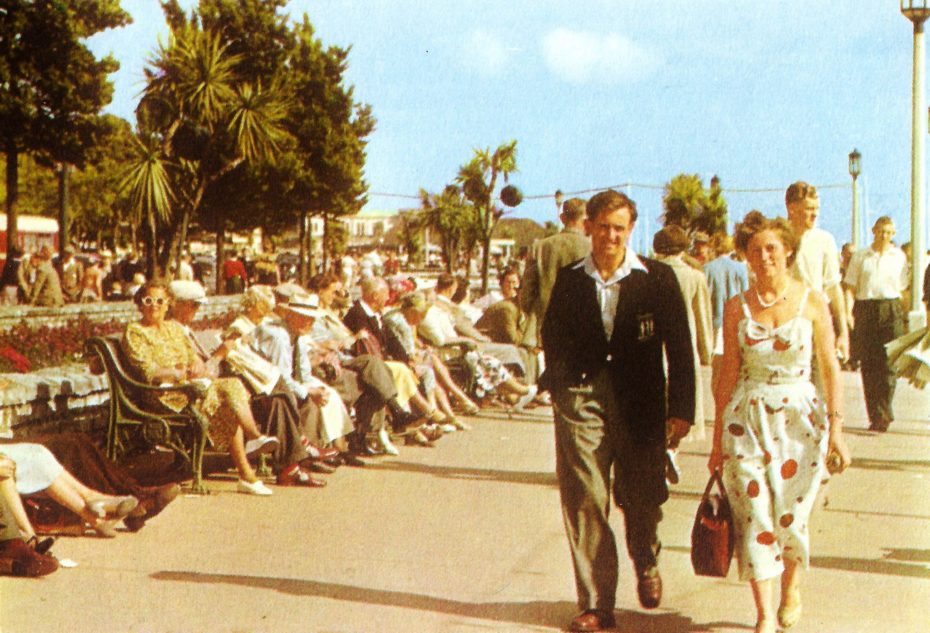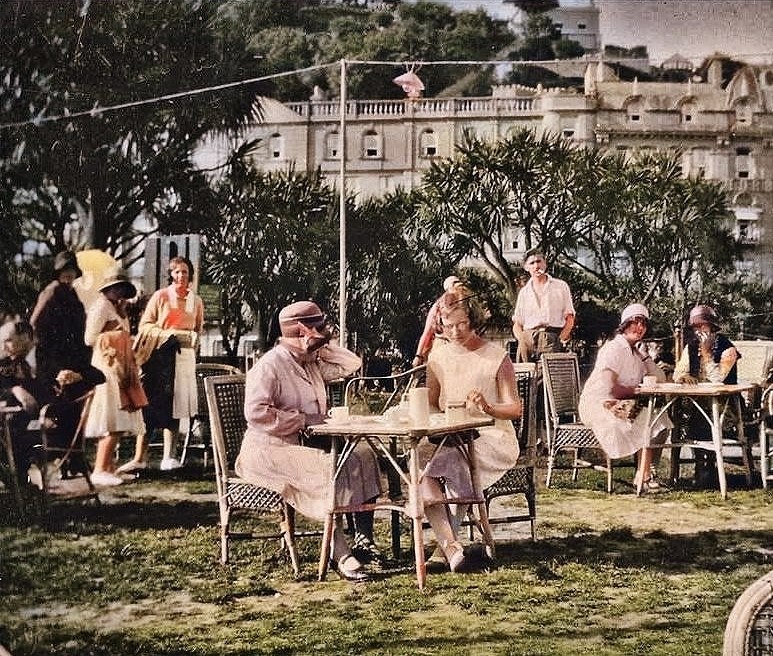 About the Guest Writer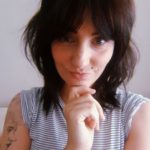 Amy Faith is a wedding photographer obsessed with all things historical (usually macabre). Living in the north of England with her partner Tom and dog Maggie, she spends most of her spare time collecting books as well as studying vintage photographs, Victorian serial killers and the history of drag.