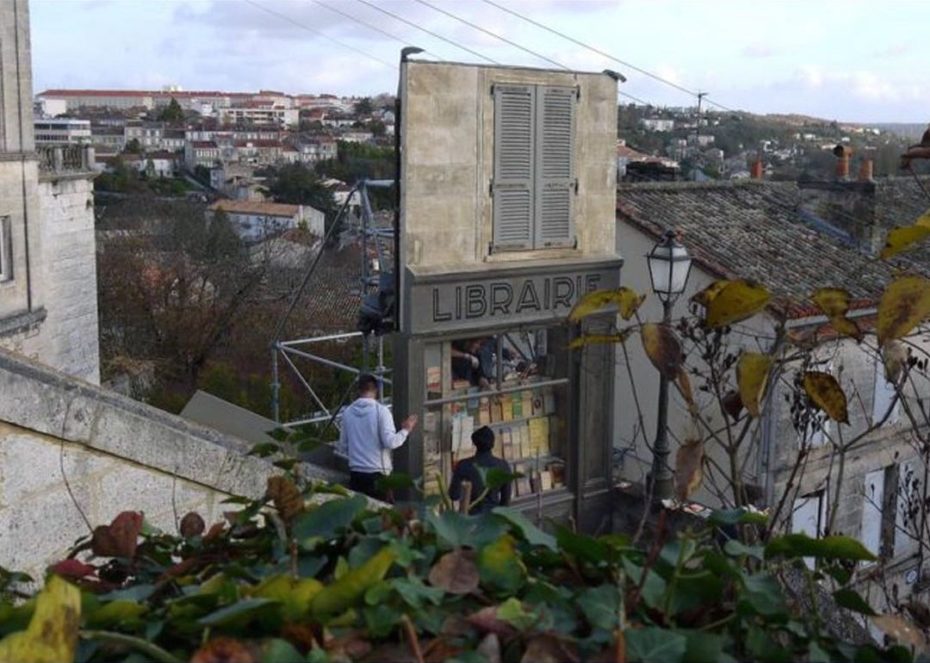 It feels like a lifetime ago that were spying on the film set for The French Dispatch, desperate for a glimpse of the movie magic that Wes and his team of talented elves were busy creating in the French town of Angoulême. Alas, nearly two years later, the much-anticipated film has finally made it to cinemas and we've scored ourselves a behind-the-scenes treat that brings us full circle. Those enchanting sets of old world shopfronts and vintage signs with deliciously nostalgic lettering? They were all painted by Francois Morel and Vincent Audoin, who took the time to sit down with Messy Nessy Chic Keyholders this week for a Zoom date. Turns out, they're not elves, but real-life professional sign painters based in Paris, and were only too happy to answer all our burning questions…
If you want to re-watch the full Video Chat or be sure not to miss any live Q&A's in the future, you can unlock all of that here in the Keyholder's Vault. In the meantime, we've edited some of the interview's highlights to whet your appetite…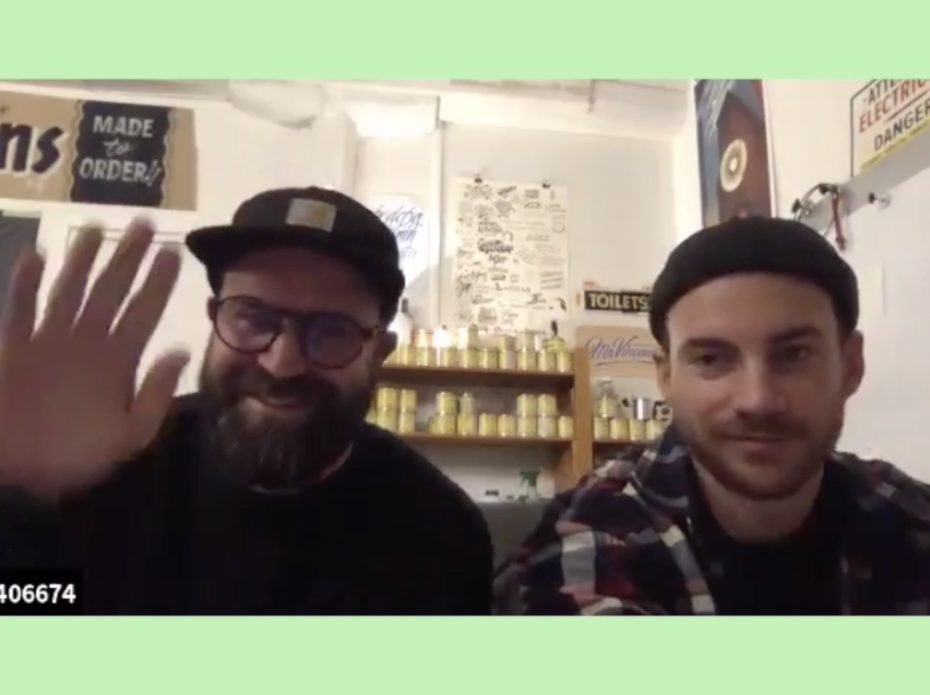 How did you get into sign painting?
Francois: It was a childhood dream, I was fascinated by painted signs since I was a kid. When I was a teenager I did graffiti for years and designed logos. Then I studied art and graphic design and became a graphic designer in 1999 mainly in the music industry doing art for records. Then one day I was really bored by all the marketing and meetings so I changed and became a sign painter, since it was always my dream. I quit everything and dove into it.
Vincent: I studied graphic design then started my career as a sign painter in 2016. I work with shops and other clients and sometimes work with Francois for big jobs like The French Dispatch movie.
Francois: My first job was a bar in Paris, a brasserie. It was a typical script typography. At first you are not sure if you'll have a job, but then you get started, and with instagram and word of mouth you begin to get jobs. So we are quite busy.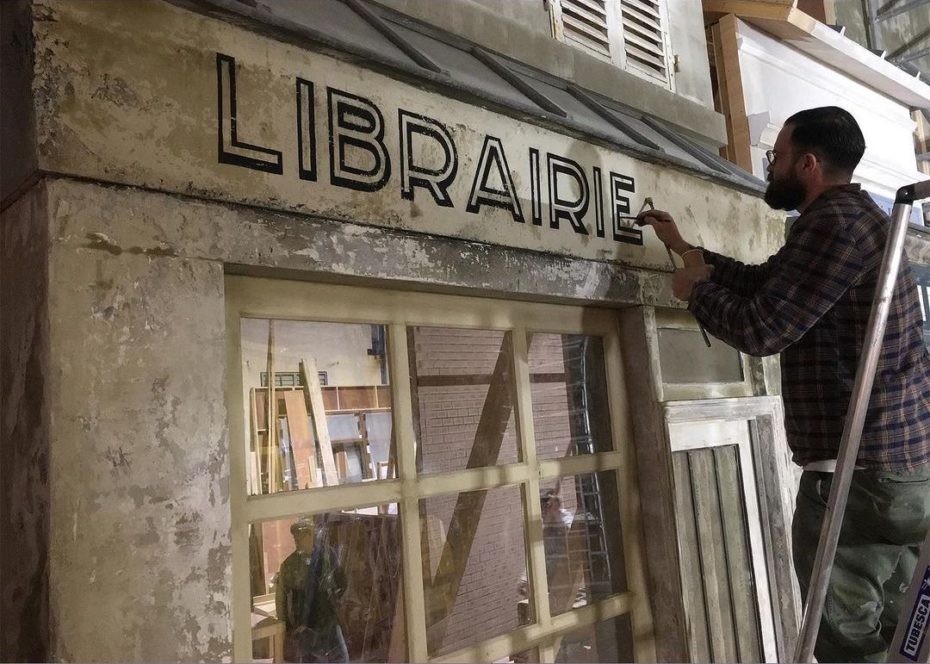 How did the opportunity to work with Wes Anderson come about?
Francois: I was on my way to work and saw there was a movie set in the street. So I went to the guys [working on the set] who were doing signs with stencils and I said "look I'm a sign painter and my workshop is just there so if you need help I can do it" they asked for my card and said they had been working with an older sign painter who just retired and they were looking for a new one. The supervising art director called me later asking if I wanted to do a movie but I had another job, then months later he called to ask if I wanted to do the The French Dispatch. Then he asked me to hire other guys because there was a lot of work to do. I contacted Vincent.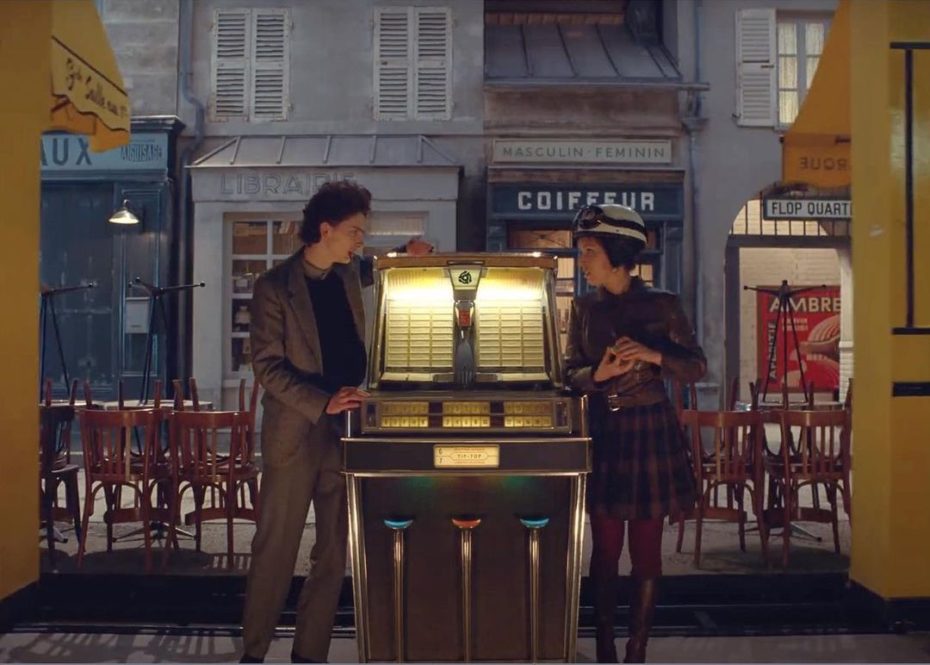 So there were only two sign painters of the whole French Dispatch team?
Francois: We were supposed to be four but finally it was just the two of us working on the movie. Some weeks we realized that it would have been great to have been a team of four, because we worked for hours and hours, at night and very early in the morning, some days from 8am-2am. But it was really fun, we didn't cry!
Vincent: It's something you never see with other directors, to hire sign painters full time for four months.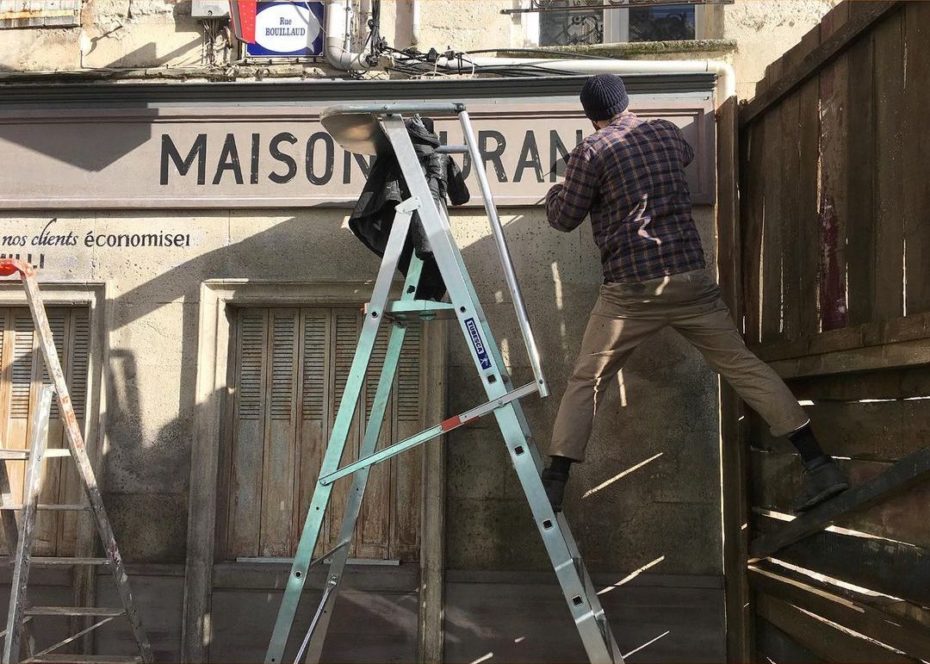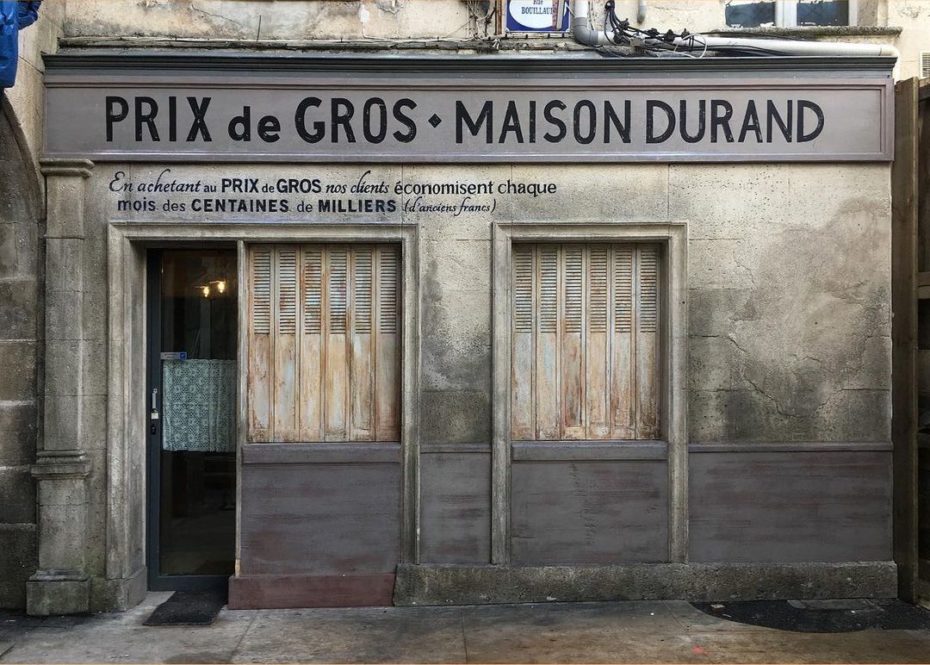 Would you say it was a stressful four months?
Vincent: Yes, at the beginning, because it was our first time working on a movie and it was quite a big movie. We were told that it was a pretty crazy production and were warned that was always the case with the cinema, but we got used to it over time.
Francois: I think when you watch a Wes Anderson movie, you realize the huge amount of work that goes into it. The designer, the carpenters, the patina painters, but even just us we worked for four and a half months just painting letters. So this is huge work.
For example, we did a huge advertisement on the wall of a building, for an old absinthe brand, and you spend hours there on the scaffolding in the rain but then you just see it for one second in the movie. But it's all worth it because we did it and it's really nice memories.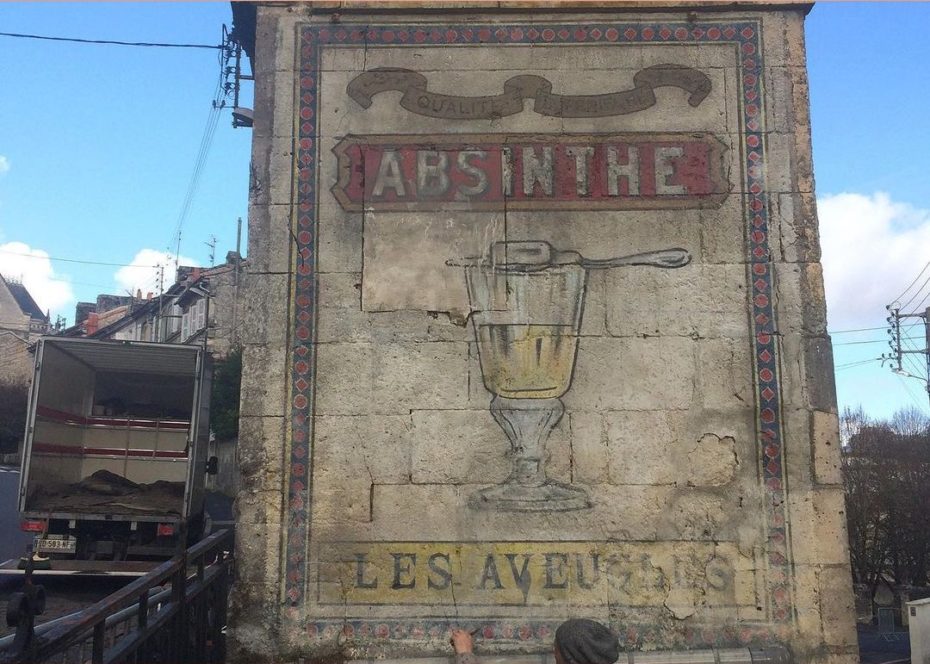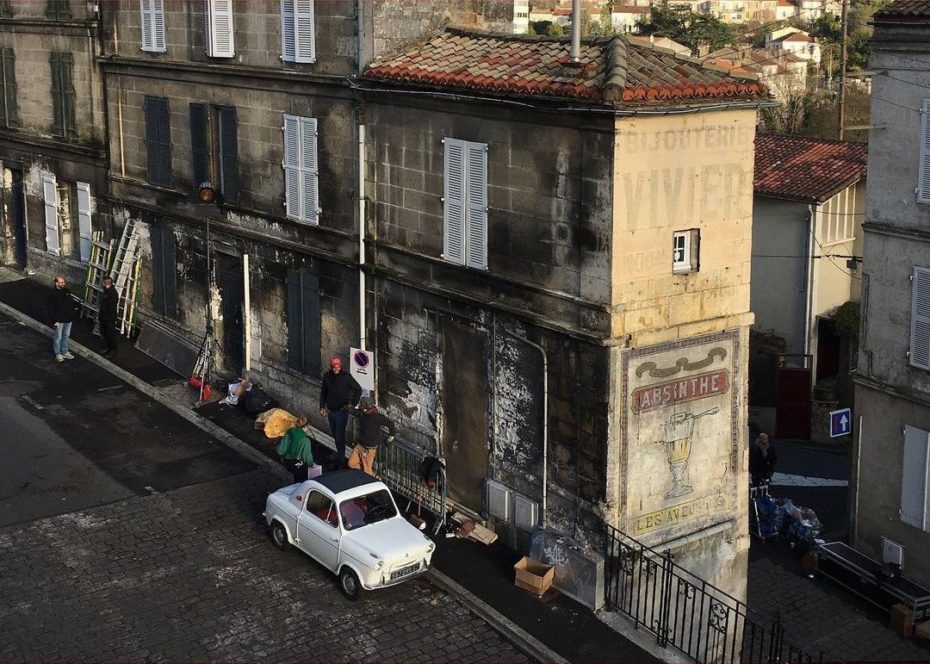 With Wes Anderson the cast & crew often lives on location for several months. Were you guys based in Angoulême where the movie was shot?
Francois: Yes. There were two warehouses and the main one was huge, and the whole art department and construction guys were there. The cool thing was we could see the whole process, from drawings to building to painting, to adding the patina. With Wes there is always something to move, something to change so we'd often do small, last minute touch-ups.
Vincent: And he has a painter on set in charge of those touch-ups. But he would ask us for panels with letters on it a few minutes before a shoot. Most of the time we were painting in the workshop, then giving it to the carpenters to install on set. 
Francois: Some of the scenes were shot inside the warehouse, where the main sets were hand-built, but sets were also moved into the streets and rebuilt in front of real building facades.
If we go to Angoulême would we see this sign of yours on a building anywhere?
Francois: There is one building where you can see, because it was brand new. We painted on several buildings and it was a mess for the guys to take everything off. At the beginning we heard the signs would stay there but quite everything has been taken off.
Vincent: There's maybe one or two small ones.
Francois: I have this guy, who last week when we posted the jail wall, who said "you know this painting is still on the jail wall" which is crazy because it's the real Angoulême jail. This one is there, I don't know if the absinthe one is still there…
Vincent: And a little one in the street, that says that kids can't play outside and be careful of the road, I think that one is still there.
Francois: Someone should do a tour and put it on google maps.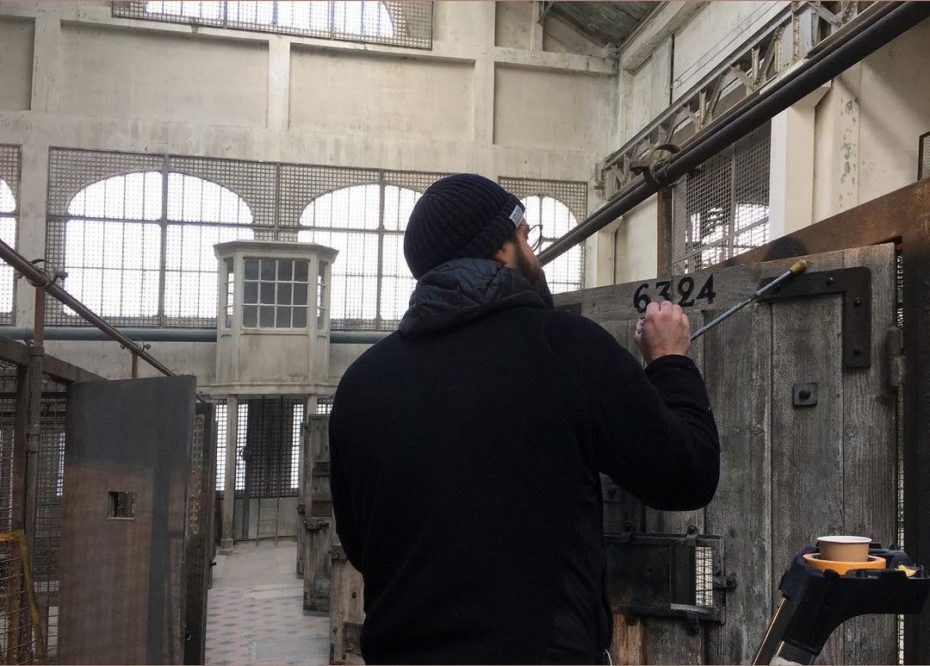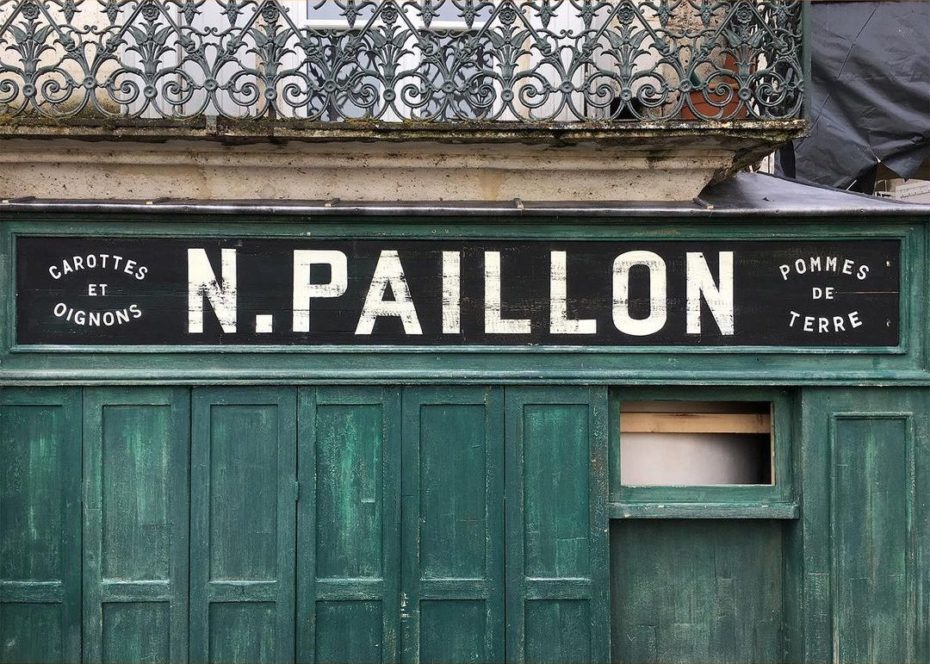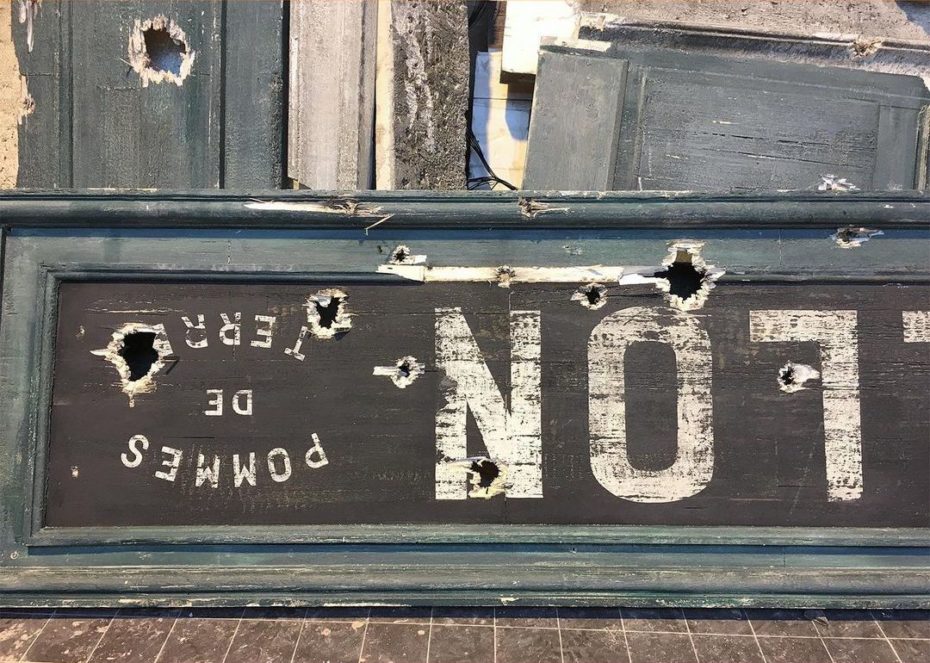 Do you guys get to keep the signs once the sets are dismantled?
Vincent: We would have loved to but Wes kept a lot of things, each time after a film he likes to do an exhibition, there's one in London with things from the French Dispatch. So we kept some little things but not much, the rest is with Wes.
Francois: Wes probably has a secret cave with a secret code with all his sets, accessories, signs.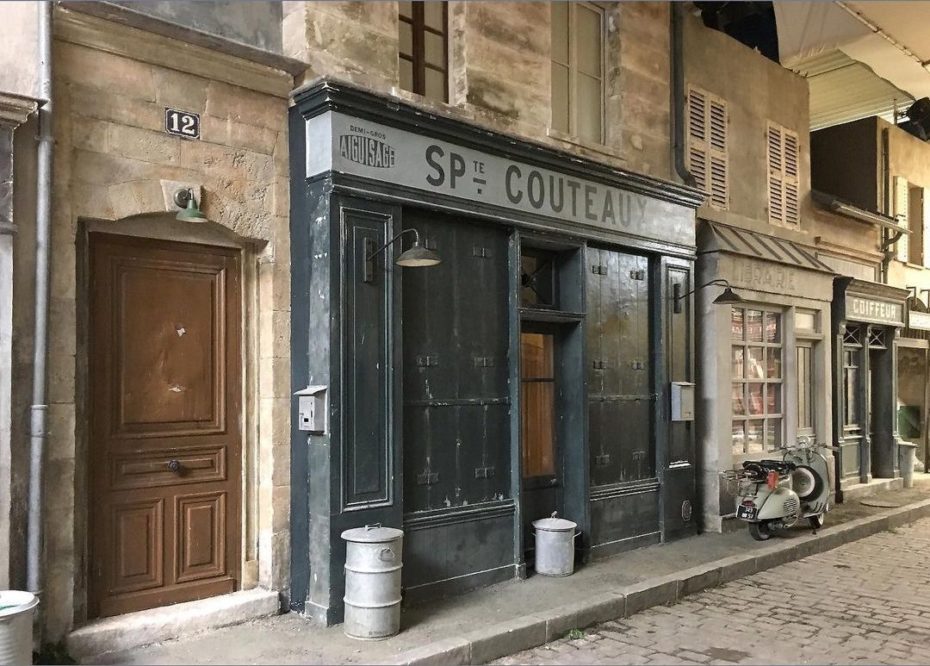 Why do you think fonts and lettering are so important to conjuring up the past in Wes Anderson's world ?
Francois: All his movies are really narrative, huge stories with lots of detail. He creates whole worlds.
Vincent: As it was a tribute to a French press, I think it was important to him to have lots of French words, mixed with English, in the sets too. And as he loves detail, I think it's a game for him to put words everywhere. We were painting on really small things too, painting words everywhere.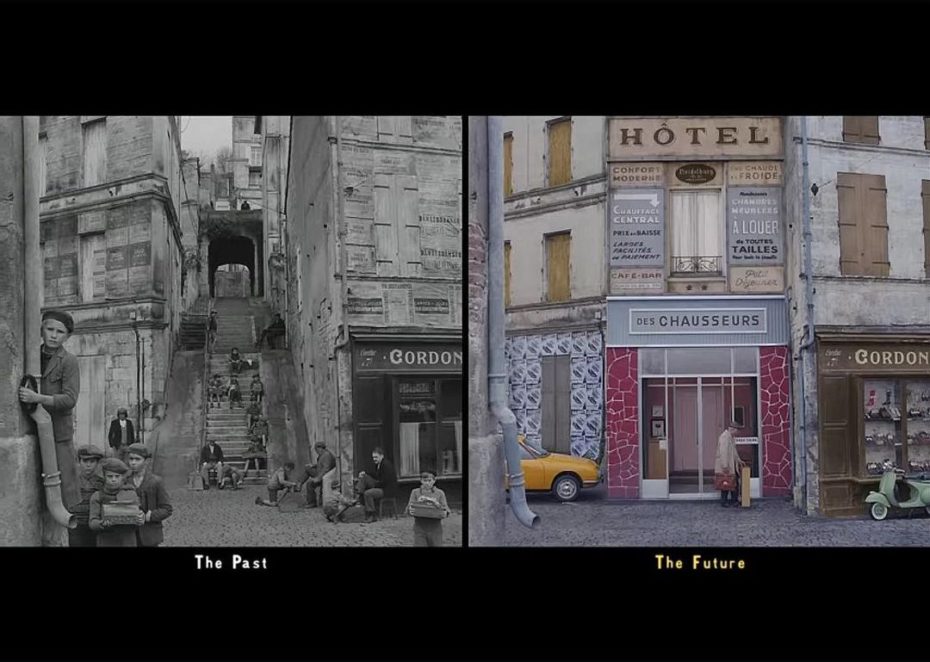 Francois: There are lots of details you don't even see in the movie, words we painted you can't even read because they're in the background. With the props it's the same thing. But Wes sees every detail as necessary, if something is missing he needs to have it done, everything is built, it's really crazy. 
Vincent: It's like he wants to play in his little playhouse with his actors.
Francois: Even the graphic designers, they are doing a crazy amount of work with all the administrative things like letters, even the texts that are created by Wes. You can see that in the movie, he builds his own world and you only see a part of the story. He must have a vault somewhere with all the things he uses in the films.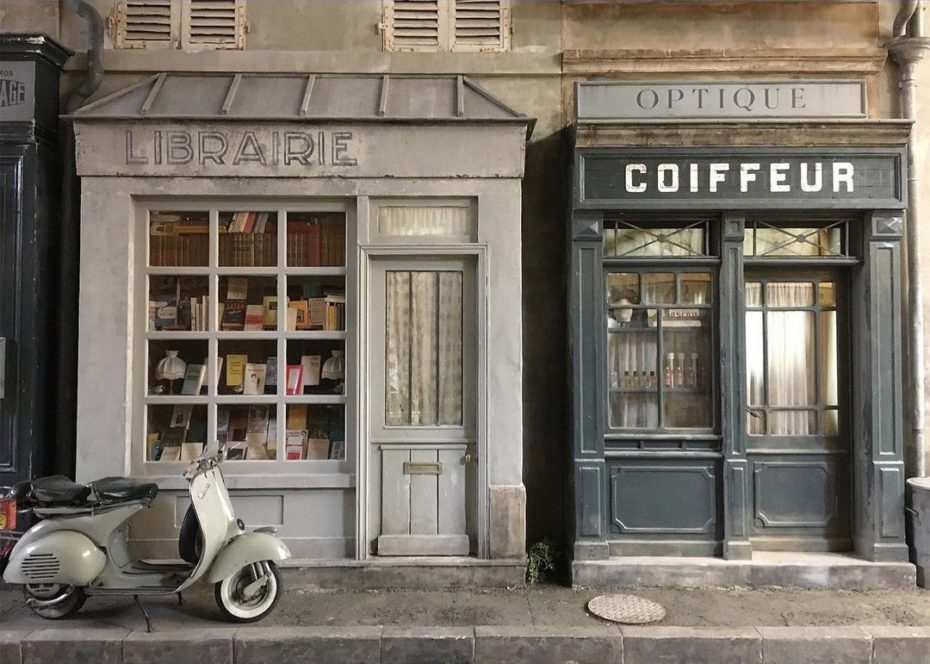 How is the sign painting business these days? Is there a renaissance happening?
Francois: Yes, it's been coming back in the last ten years. In France it's particular because there aren't many of us. Including the suburbs there are maybe 15 of us (including the old timers)
But in England, Canada, Australia, and the US it's much bigger, I don't know why because we have a huge history in France. After that it's the same thing for the whole world, when the machines arrived, it killed the industry. Back in the day sign painters didn't see the machines as we see them now, they thought it would be a way to be faster. A lot of sign painters bought the machines and ran businesses with them.
Vincent: It's more of a niche market now, the clients are more luxurious. We work for hotels, art galleries, lawyers' offices. We're very busy because there are a lot of jobs that can't use vinyl, like painting on walls, outside, gilding. And it's part of a big movement where people want things that are well made.
Francois: It's also grown with the food business, a lot of people who worked in marketing have opened bakeries or restaurants and they have a sensibility about doing things the old way, so they want a carpenter to do furniture, and they want a hand painted sign. This has also brought sign painting back to the forefront.
When you have too much shit, you get a generation of people who want to go back to beautiful things made by humans.
Vincent: People care about things lasting, too.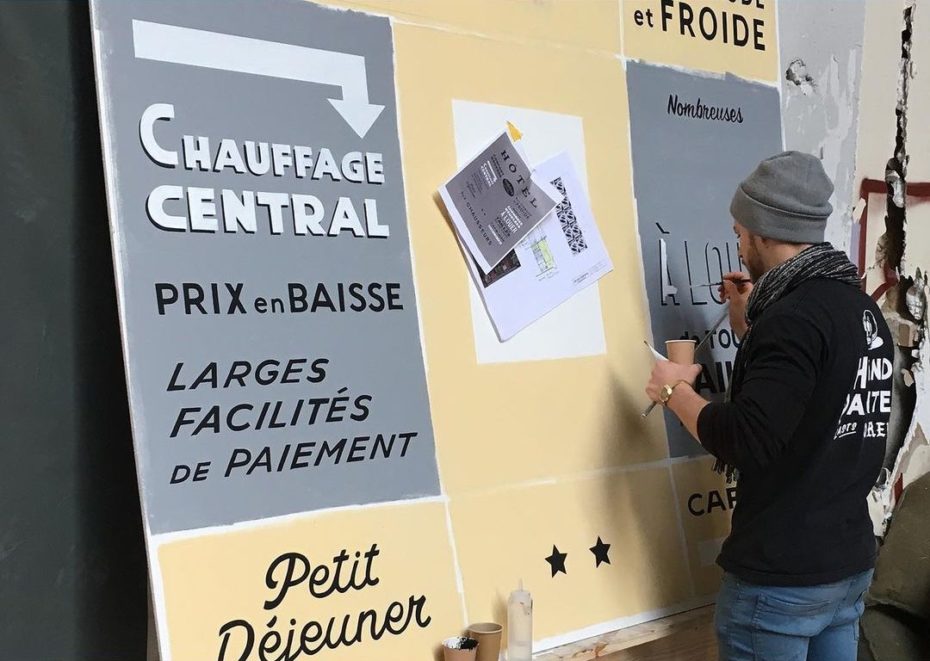 I was thinking, especially in France, that there should be a sign painting museum, is that something discussed among your community?
Vincent: There's no museum, in the US there's one in Cincinnati, but we don't have one in France unfortunately.
Do you have a union?
Vincent: No. Maybe there was before because there used to be schools to learn and a diploma of sign painting. But now there's nothing left, you learn it by yourself and then are on your own. We're all independent people.
How would you go about getting trained as a sign painter today?
Francois: We both learned abroad. I met Vincent in Australia, he was doing his apprenticeship with a friend. I went to a workshop in England and the Netherlands, following an American guy Mike Meyer and Pierre Tardif from Quebec. The few older guys I knew didn't want to teach. I think French people are how you see us, grumpy and we don't want to share our knowledge. The only guys we found who wanted to share their knowledge were from the US or England or Australia. It's a pity. 
Vincent: Maybe now that we know more people in the industry, we know some old guys who would share, but when we started we didn't know the world and the people we were able to see and contract were all abroad, and they were holding workshops and other things. That's why we learned outside of France.
Francois: It's still complicated, but we had some guys (and girls) asking for apprenticeships. If it's growing, there will maybe be some courses [in the future]. Some schools are calling guys like us to run a workshop for a few days or do events. So I think it will happen.
Vincent: But not yet.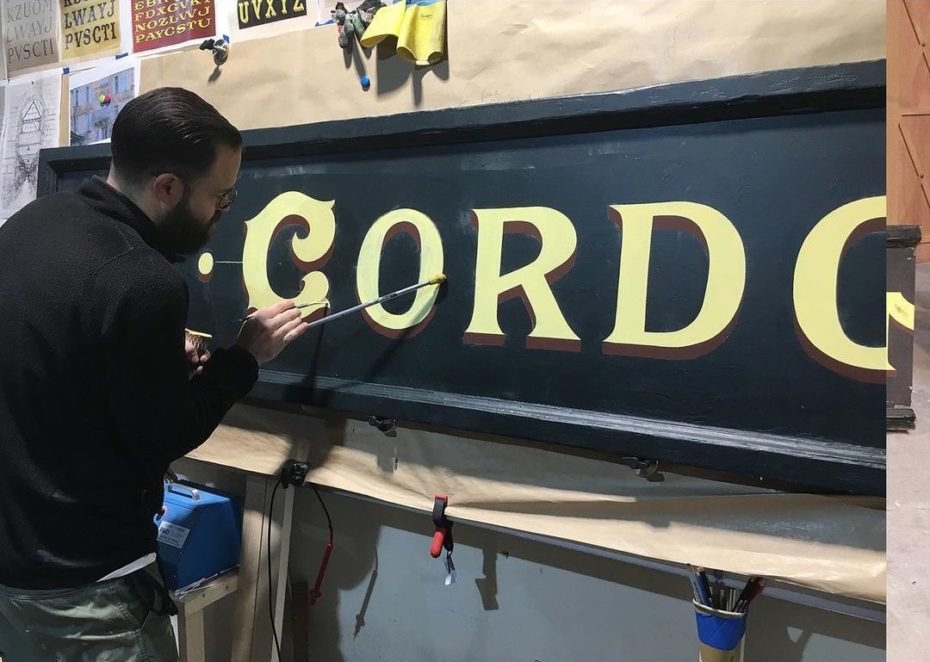 Would you say there is a lot of hidden signage in Paris? Are there still a lot of old signs that could be uncovered?
Vincent: There are a lot, when you look at pictures from the beginning of the century, there was lettering and painting everywhere in the streets.
Francois: Even straight on the walls.
Vincent: Yeah, and because they were using paint with lead it will last forever. So if we keep uncovering parts of buildings in the city we could find a lot of hidden things.
What is your favourite era for typography, fonts, lettering?
Vincent: For me, I love art deco, all the posters, big shapes, colors, block lettering. Not only fonts, the fix with the graphics.
Francois: In French history, from the beginning of the 20th century with art deco, until the end of the 1950s, all the different styles. Don't speak about the 70s to me, I hate the colors, maybe because that's when I was born. I love the beginning of the 20s, 40s, 50s.
Vincent: And the traditional French lettering, boule lettering, you can find everywhere in Paris.
Is there somewhere you go, an archive or address, to find old fonts and inspiration?
Francois: Old books, since I was a teenager I've collected mural, advertising, and other art books. Old ABC books by sign painters, not only French, also from the US, England. In libraries too, at the Paris design libraries.
Vincent: And walking around the city too you can find inspiration, looking at signs, especially in historical parts.


If you have any instagram accounts of finding ghost signs around Paris, I'd love to get them from you….
Francois: The one I run is The Sign Archaeologist. There's an account you may know called Pixdar which is great too. And check out Mr Ghost Sign by Sam Roberts, a sign painting and ghost sign specialist.
What would you like to see for the future of sign painting?
Vincent: I want it to keep being here, with people still interested in it. We hope it's not a trend. I don't think it is, as we said there's been a revival for the last ten years and it's still here, and we have plenty of jobs. I hope it does not become too mainstream and devalued.
Francois: Since you have to practice for years, it's not easy to become a sign painter. You need time, money, and you have to live. It's not just because you saw a cool picture on instagram – it's not so easy. We know how to work, you have to carry lots of things, climb on ladders, work outside, in the rain, in the cold. It looks nice and people think it's cool, but in fact it's kind of tough too.
Vincent: The hard part with social media is everyone sees the really nice part of the job, but when they want to really try it they often quit because they realize it's not that easy. It's quite physical.
What's next for you guys?
Francois: We can't say anything, but exciting things are coming very soon.