Wedding season is upon us. I know this because there are currently at least five brides-t0-be sharing every single disastrous moment that occurs in the build up to their weddings on my Facebook newsfeed. The closer they get to their big day, the more volatile the status updates become. And so to commemorate this joyous season, I've decided to dive yet again into my vault of vintage goodies and pull out some photographs of vintage brides.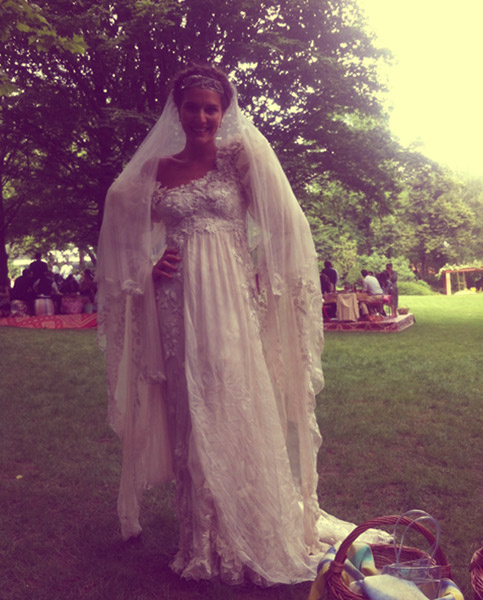 But we can't start without talking about Margherita Missoni's vintage gypsy-inspired wedding gown. Her dress made quite an impression with style blogs everywhere this week. I personally loved it even though I've always thought I'll choose quite a low-key dress myself. She still managed to make it look comfortable and relaxed however, and even wore flat shoes (my kind of gal).
Okay, time to turn back the clock for some wedding dress nostalgia …
Schoolgirl Collar Bride:
The Shah of Iran's half Sister, Princess Fatemeh Pahlavi marries American Entrepreneur from California Vincent Lee Hillyer who chooses to convert to Islam on May 5 1950.

1951
:::
Big Sleeves:

King Constantine and Queen Anne Marie, September 1946

Gloria Vanderbilt, 1951

February 1939 New York
:::
Virginal Bride:
:::
Extravagant Detail:

1951
:::
Capes:
1964, Paris

Richard Denning and Ellen Drew
:::
Gypsy Brides:

1940

Edward VII's Wedding

1900s
:::
Button-Down Bride:

Wallis and Edward, June 1937
1952 USA Military Academy, West Point
:::
Tiered:

Elizabeth Taylor's Bridesmaids, 1950

1942 New Yor
:::
Sixties Bride:
:::
Old Hollywood Bride:
:::
Quirky Bride:

June 1926, New York
:::
Lace:
:::
Shirley Temple Bride:
Shirley Temple's Wedding 1945
Bows!

Henrietta Tiark, 1961
:::
Princess Bride:

Spanish Wedding 1951
Photographs via here
Congratulations to all my Newlywed readers!
Which is your favorite bridal look?