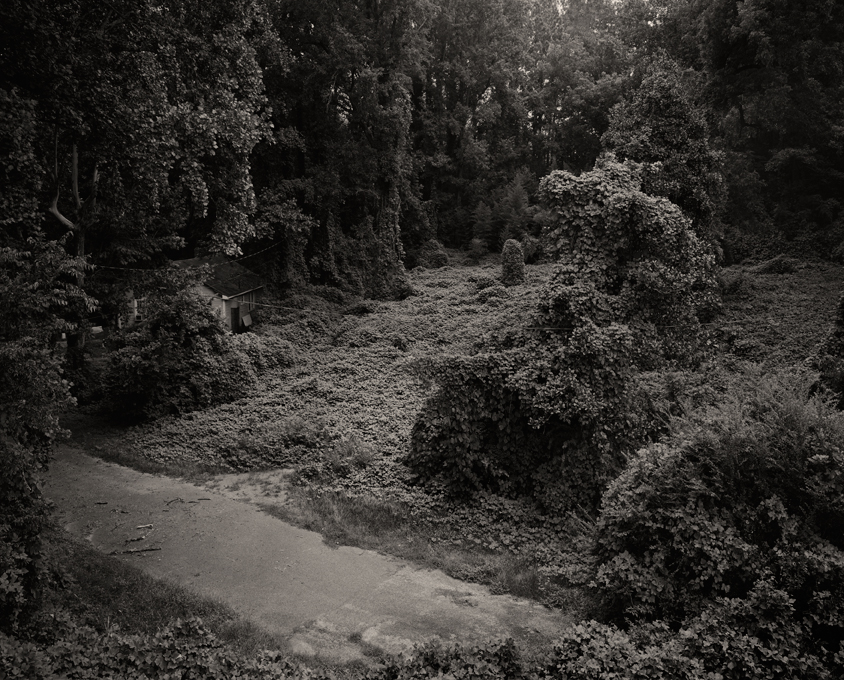 No really, that's its nickname, "the vine that ate the South"; Alabama, Mississippi, North Carolina, Georgia, Tennessee and Florida most notably swallowed by the invader so far. Kudzu is known as the most serious and aggressive invasive plant in the United States, spreading in the southern states at a rate of 150,000 acres a year, thirty centimeters a day, swallowing everything in its path, destroying power lines, buildings, and killing native vegetation in the process.
Swedish photographer Helene Schmitz has captured the beautiful but dangerous phenomenon. She calls it the Kudzu Project.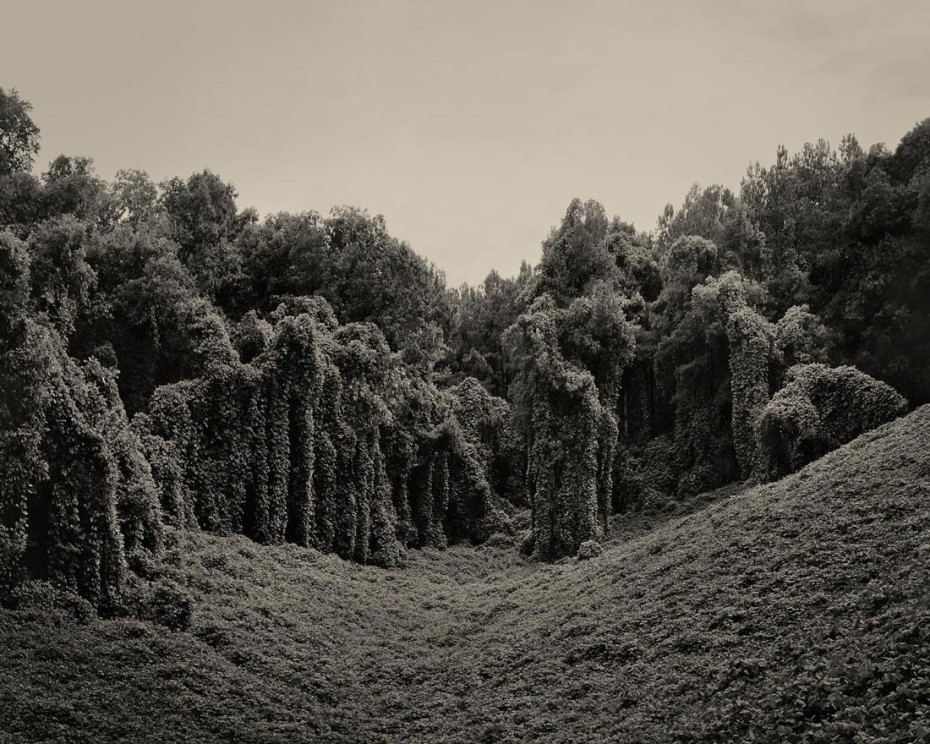 The powerful plant species originates from China, but in 1876 the Japanese offered it as a gift to the United States at their pavilion for the Centennial Exposition held in Philadelphia. It was promoted as a super plant that could grow rapidly to prevent soil erosion, and provide high-protein cattle fodder. In Japanese cuisine, it's considered the "world's greatest cooking starch". When kudzu was introduced to the Southeast at the New Orleans Exposition in 1883, the species was marketed as the perfect ornamental vine to shade your porch and planted in thousands of gardens of the deep South, along sun-drenched roads and even beside railway tracks to prevent erosion. By 1946, it was estimated that 3 million acres of kudzu had been planted.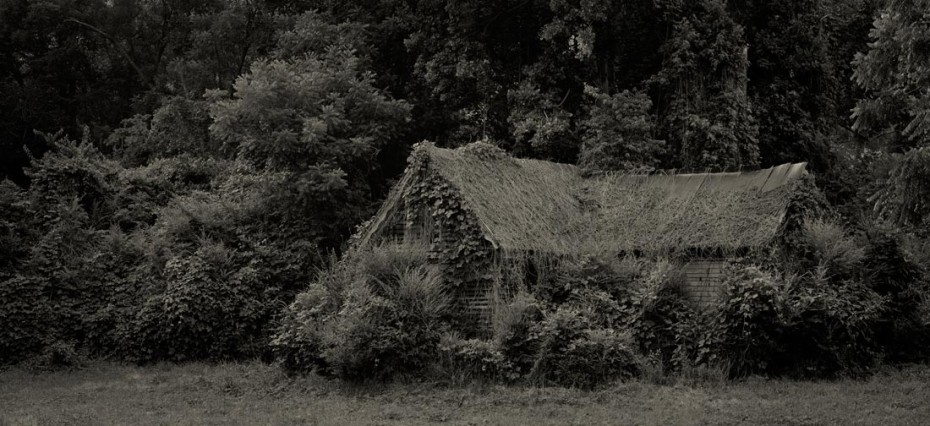 Able to attach and climb onto any surface, it can root wherever a stem makes contact with soil, allowing vines to grow in all directions and become new physiologically independent individuals within a year. Like any good science-fiction invader, Kudzu reproduces and spreads by cloning itself, able to survive in almost any environment (in the plant world's case, in full sun or partial shade). Without being treated, it's a structural parasite, because rather than supporting itself, it grows on top of other plants to reach light, smothering them under a blanket of foliage and eliminating their photosynthetic productivity. Kudzu can cover entire forests, uproot trees and envelope entire structures. And in the southeastern United States, that's exactly what it did.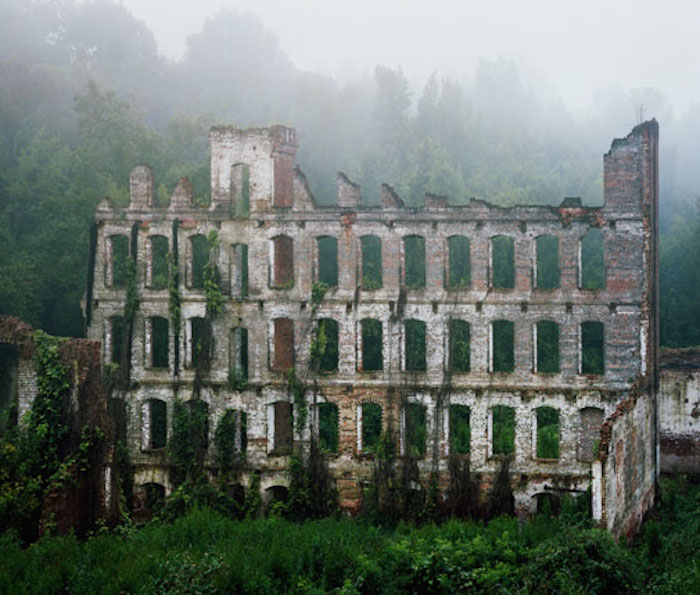 When cotton farmers were driven away from fields and into the cities during the boll weevil beetle infestation of the 1920s, kudzu was left to its own devices. Unattended in the deep South's ideal climate, it grew virtually unchecked and is today estimated to cover nearly 7.4 million acres, causing a loss of $100–500 million per year in forest productivity and costing $1.5 million per year to repair damaged power lines.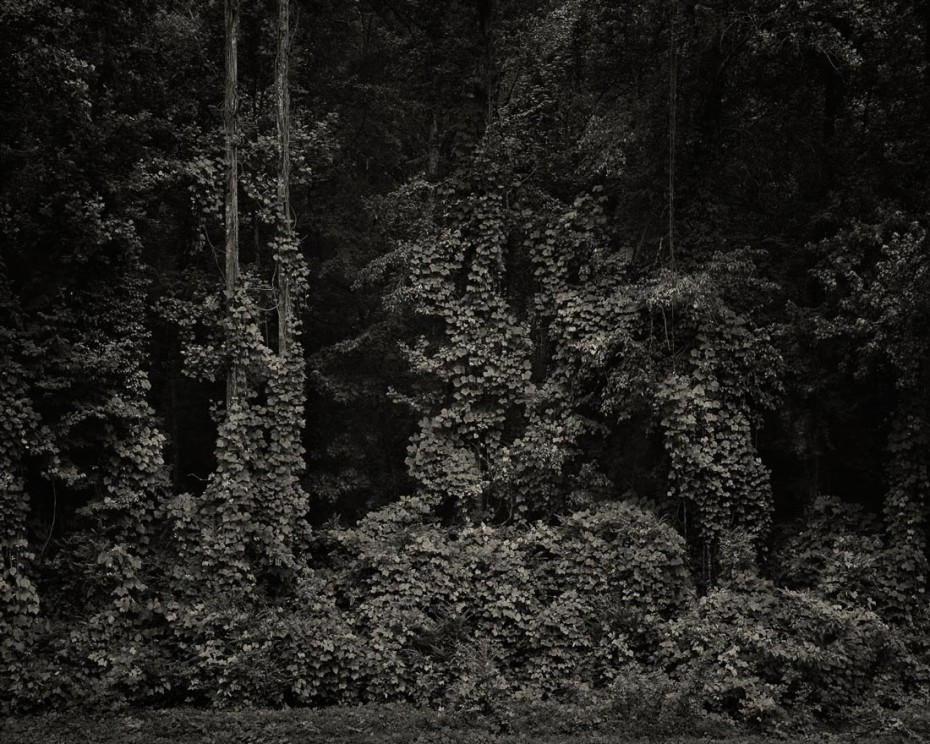 And then there's the ecosystem. Although not enough research has been conducted on invasive plants, a study at New York's Brook University showed that kudzu increases the concentration of NOx gases which react to form acid rain and smog. For those with sensitive lung tissue or suffering from asthma, when inhaled, these vapors can cause or worsen respiratory diseases, aggravate existing heart disease and cause premature death in extreme cases. In other words, kudzu is very bad news.

In China however, where it is believed to have originated, the vine has been kept from becoming a nuisance because their winter frost is one of kudzu's few weaknesses, dying back above ground once a year. There, the kudzu root is used in herbal remedies in the treatment of alcohol-related problems. It's even been found to have potential as a source for biofuel. But in the climate of the United States, particularly the south, the introduction of kudzu has produced devastating environmental consequences. Ironically, the only plants that can successfully compete with kudzu are primarily other invasive species such as the Chinese privet and the Japanese honeysuckle.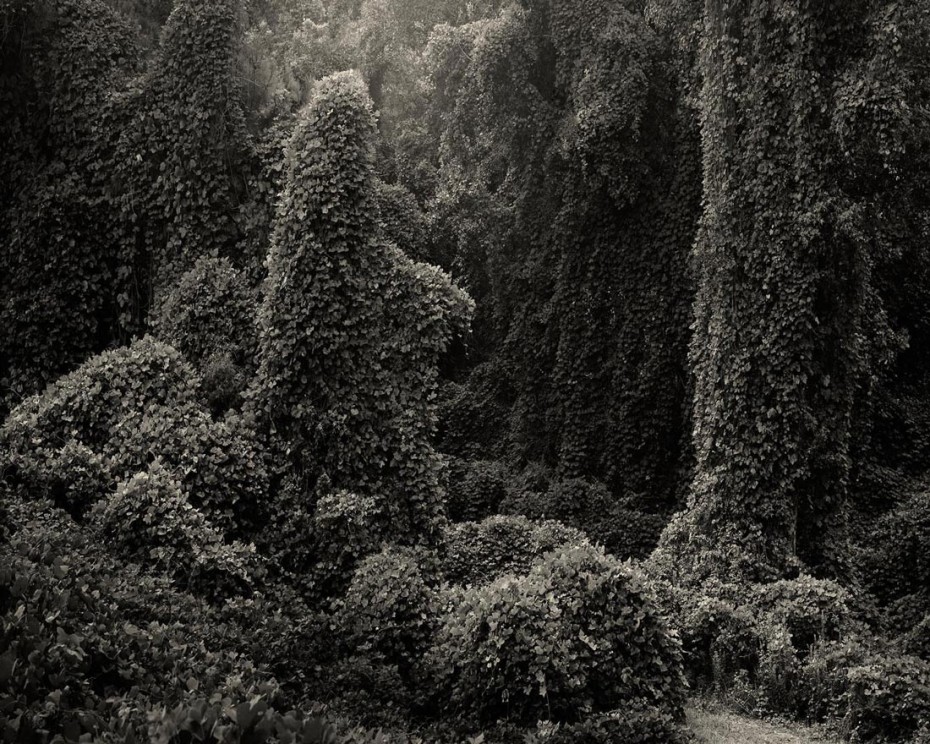 To control kudzu, the mechanical, biological and chemical methods of removal are estimated to take about $5,000 per 2.5 acres– that would make out to cost nearly $15 billion to remove all of the 7.4 million acres recorded not just in the Southern states but also in areas like Nova Scotia, Canada and all five boroughs of New York City.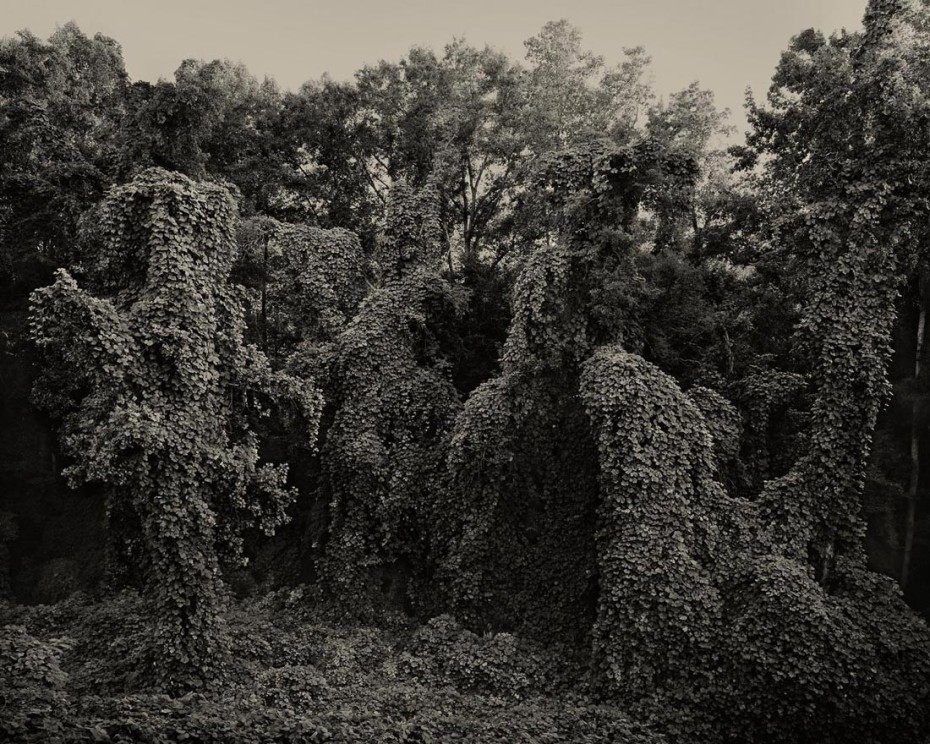 Helene Schmitz began documenting kudzu while working on a field study in Georgia, Alabama and South Carolina, to investigate the effects of its ruinous nature in the summer of 2012. Each black and white frame produced took hours of preparation in the sweltering southern heat using a special large format camera.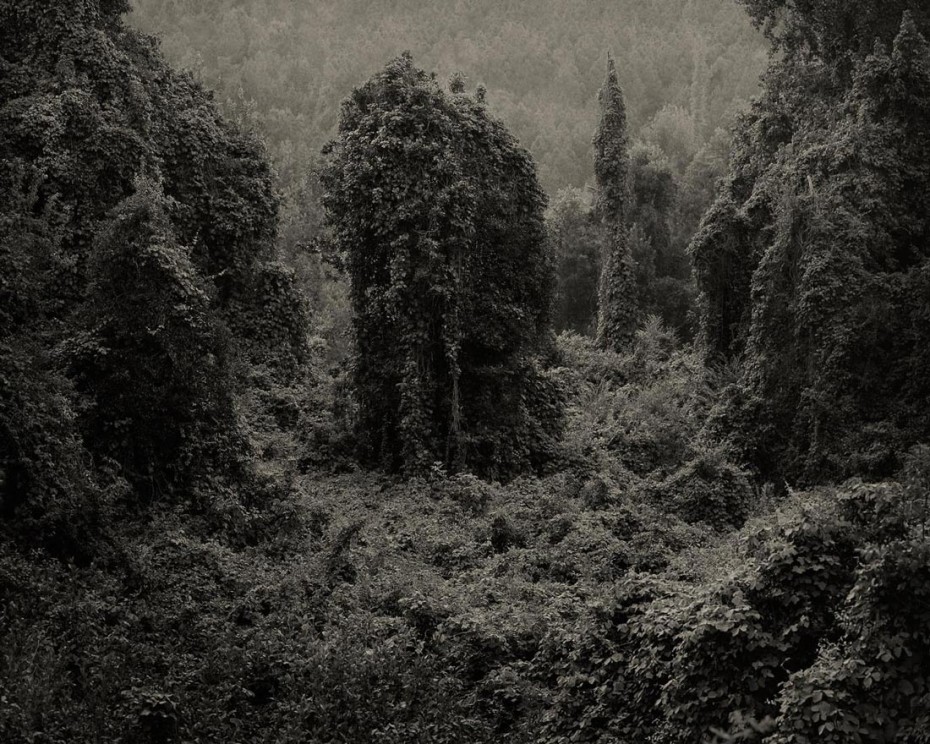 Helene's apocalyptic pictures perfectly capture the dangerous beauty of kudzu, warning us of a powerful invader that would no doubt thrive most in a life without people.
Helene Schmitz' work on the Kudzu Project is available in her book, Borderlands. Photography (c) Helen Schmitz and via Galerie Maria Lund.