If you've lived in Paris at any point during the last decade, it would've been impossible not to notice the pixelated mosaics of little aliens popping up all around the city. Elusive French urban artist known only as Invader is the man behind the most globally recognisable street art since Banksy, with his 1970s video game-inspired characters pasted on city walls around the world from Paris, London and New York to Melbourbe and Mombasa.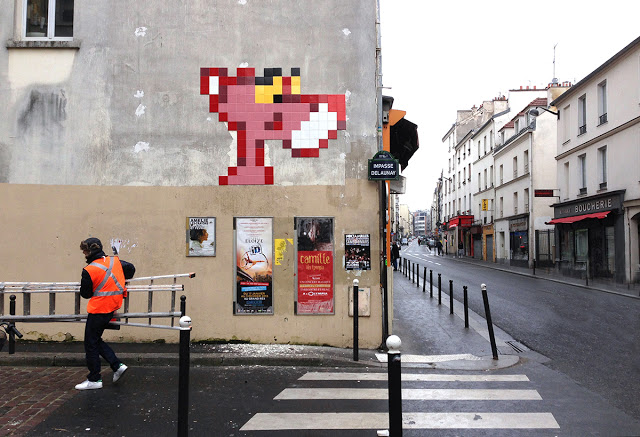 On the way to work today, sitting on the back of le boyfriend's scooter, I caught a glimpse of a new Invader mural, this time of the notorious Pink Panther. We zipped by too quickly and I didn't have a chance to snap it, so these ones are hot off the press from Street Art News, who caught the artist in action on Sunday morning in the 11th arrondissement just off the Rue Charonne.
There's a large concentration of Invader's art paying homage to the 1978 game Space Invaders, in the 11th arrondissement in Paris, where I suspect the artist resides in a very colourfully-tiled apartment!
This will be the artist's 1039th 'invasion' in Paris, a tally he keeps on his website like scores on a video game, documenting his global invasion.
Rumour has it that since he began his programme of installations in earnest back in 1998, he has only been arrested once on suspicion of vandalism in Los Angeles, where he has even made his mark on the famous Hollywood sign.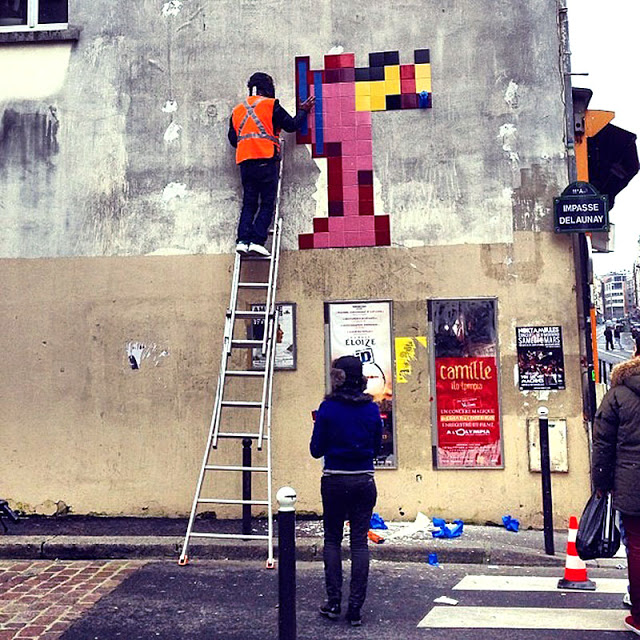 I think the panther is my new favourite which finally prompted me to do a long overdue post on Invader and his Paris murals. Let's take this opportunity to look at his other work around the city (he installed his first mosaic in the mid 90s)– a fine excuse for a tour of Paris and it's beautiful architecture with some rather unconventional alien tour guides!
All images below via Flickr user Lionel Belluteau
See hundreds more Invaders here on Flickr. 
:::
YOU MIGHT ALSO LIKE:
.