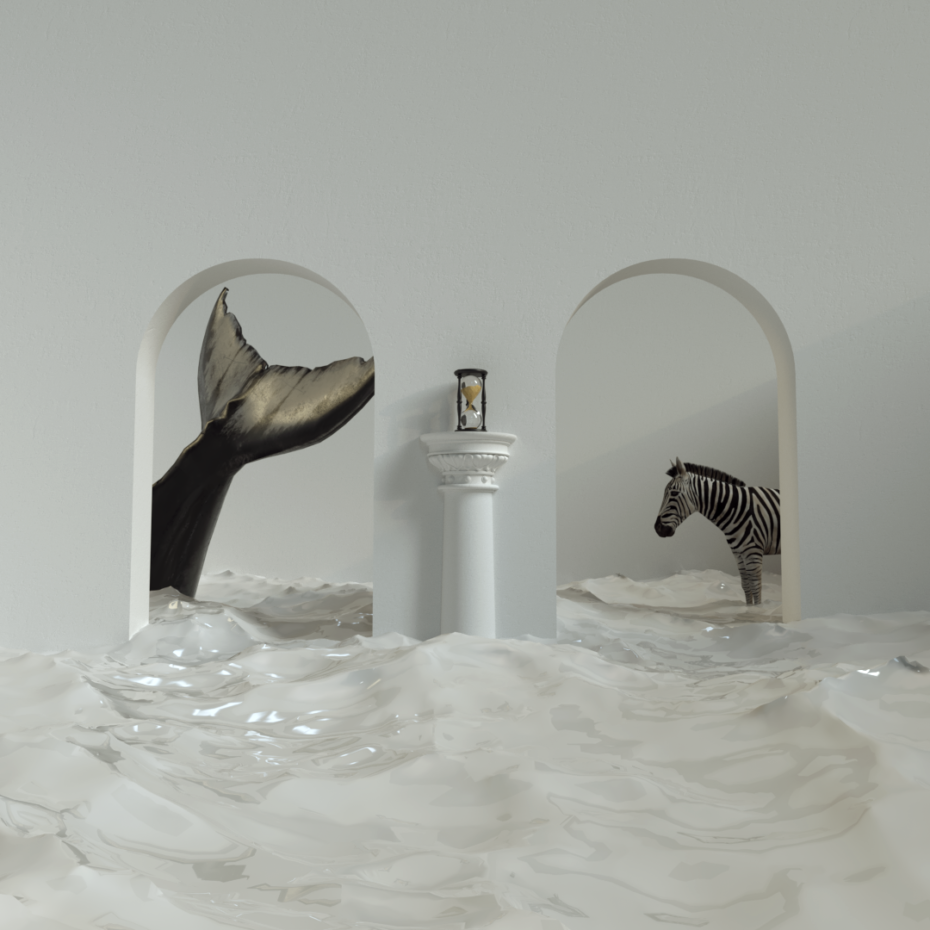 Traditionally, Surrealism is born from confrontation. Confrontation of war, gender norms, existentialism – you name it, Salvador Dali probably addressed it with a melting clock. Given that the 20th century movement emerged from this unflinching dive into the human experience as psyche, we started wondering: where has Surrealism taken us in 2020? In the midst of Covid-19? Who are the torch bearers of Salvador Dali, Rene Magritte, Meret Oppenheim and the many unsung women who penetrated the 'ole Surrealist's boys club? In an age where the finest surreal photographers and image manipulators are at our fingertips, using Instagram instead of museums as their platform, we've rounded up a brief compendium of the new-school Surrealists on our radar today. As multi-media forces, they're futurists with hope, humour, and insatiable imagination…
Murat Yıldırım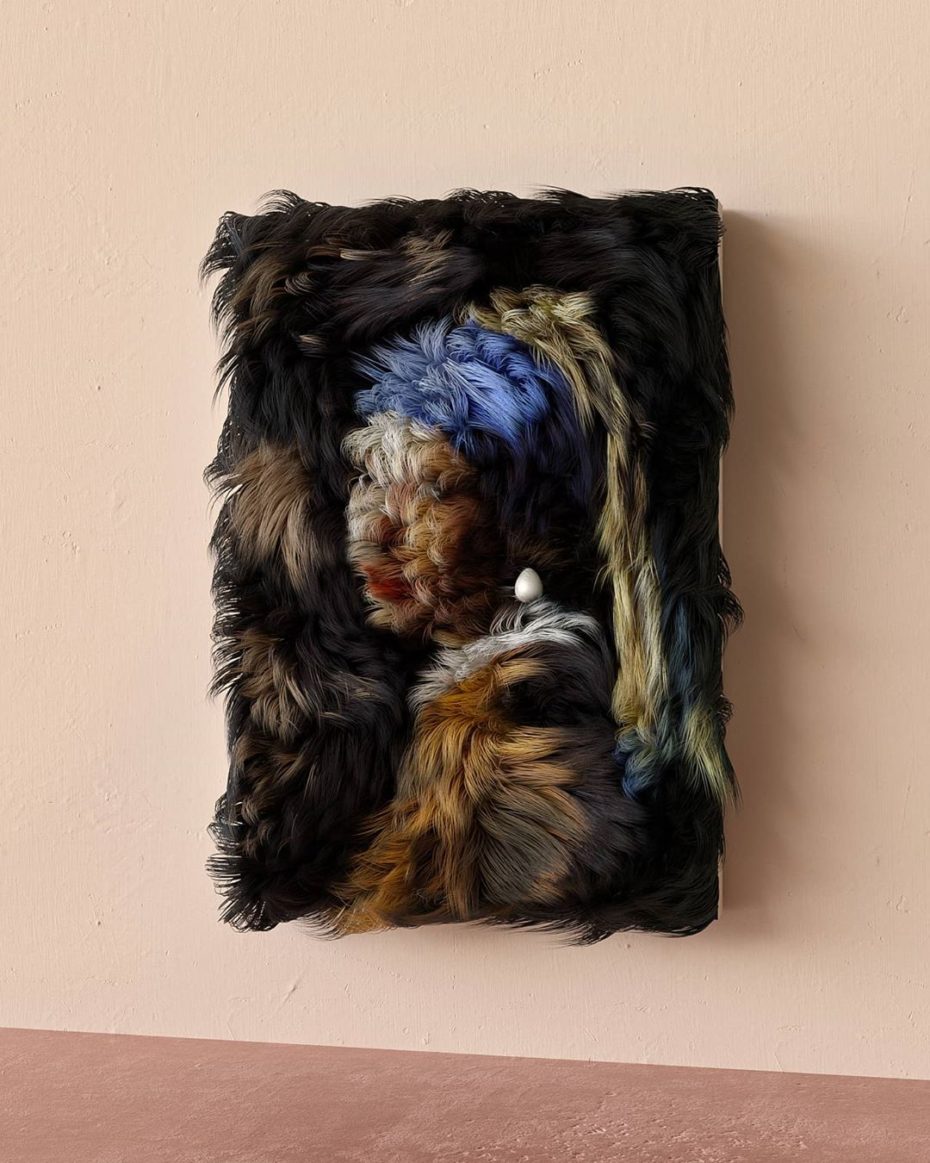 Murat Yıldırım knows how to jog your memory. His furry renderings of famous paintings, reproduced in touchable, tactile form, recently went viral across the internet and social media.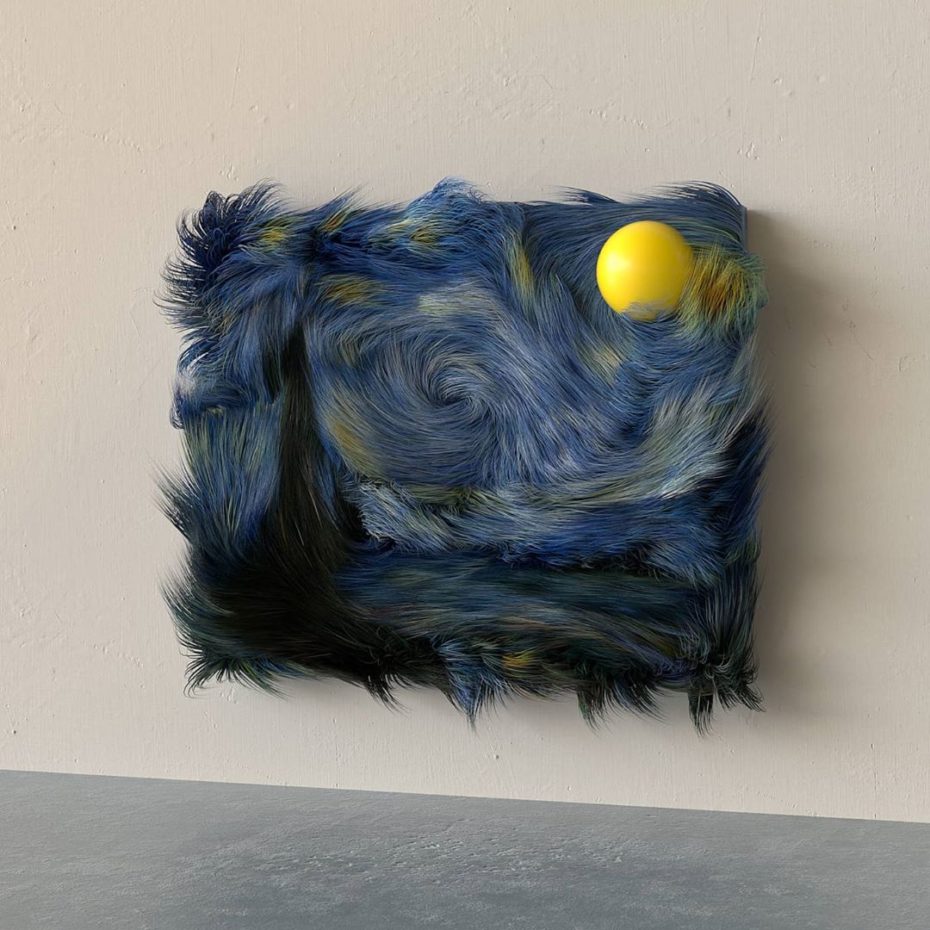 "Covid affected everyone's lives, positively or negatively. Maybe it will sound funny, but the quarantine period had the opportunity to produce endless work", the art director and illustrator told Museum Week. "Without changing my workflow, I became internalized by focusing more on just what I did, and at the end of the day I made people see it when they had free time …My serial works, Furry Artworks, spread all over the world. I think I owe this […] to those works and quarantine because all that an artist needs is too much time".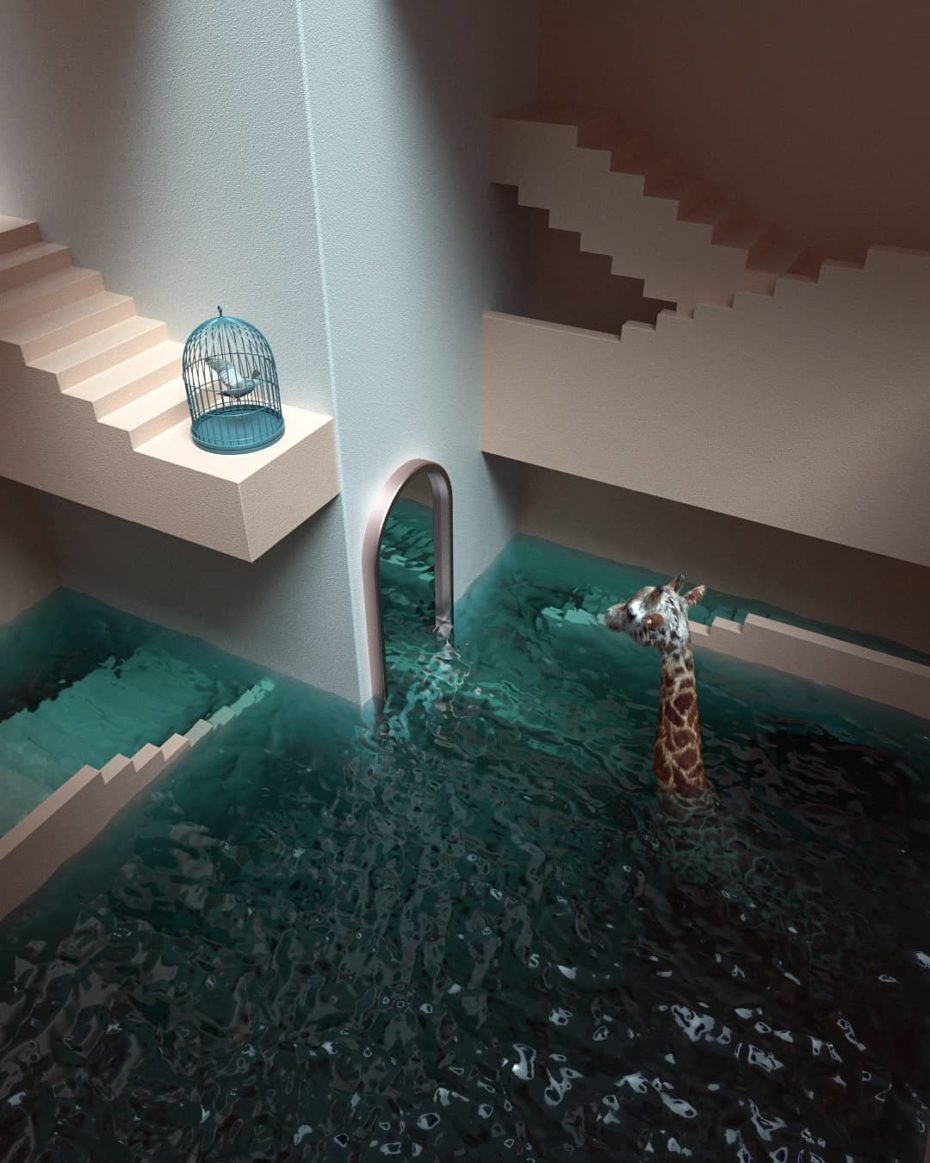 The Turkish artist's digital works play all the Surrealist tropes with new energy; we find furry, lighthearted "paintings" in his portfolio, but also errant wild animals in luxurious, improbable settings and peculiar structures somewhere between MC Escher, and Ricardo Bofill's Muralla Roja in Spain.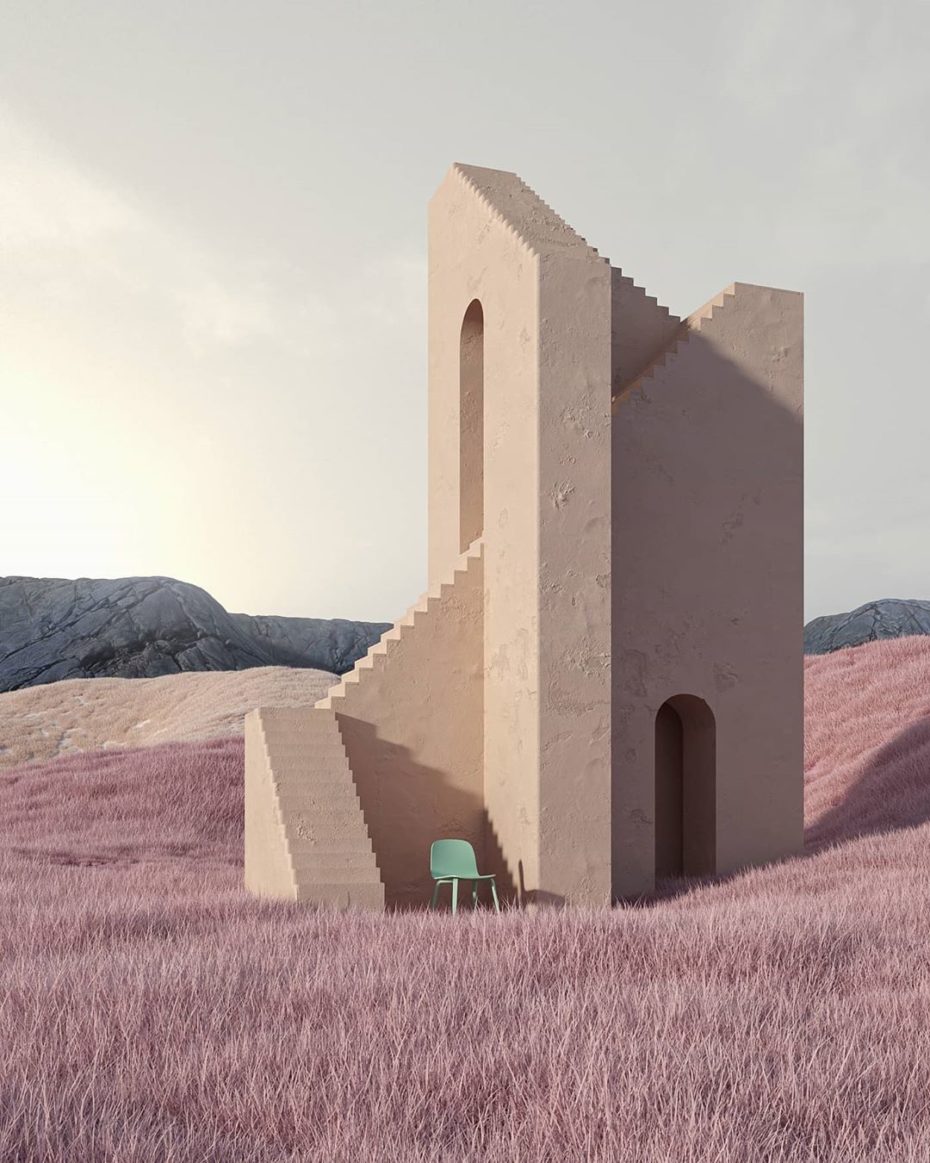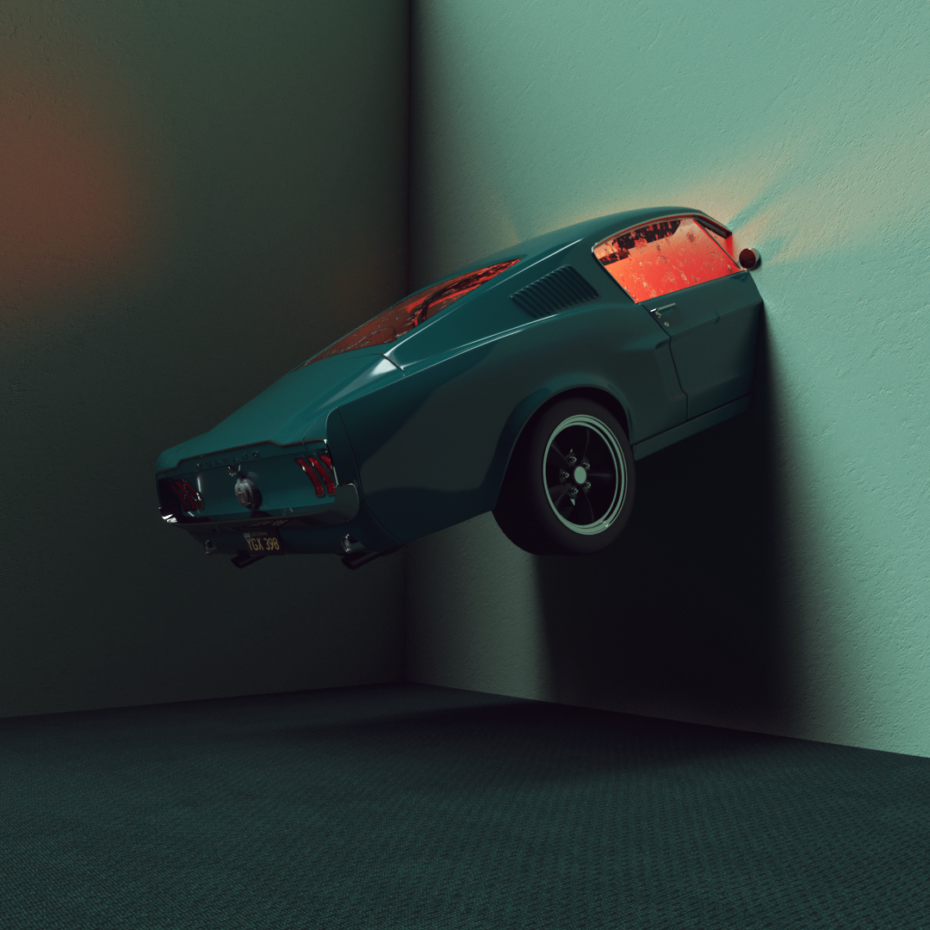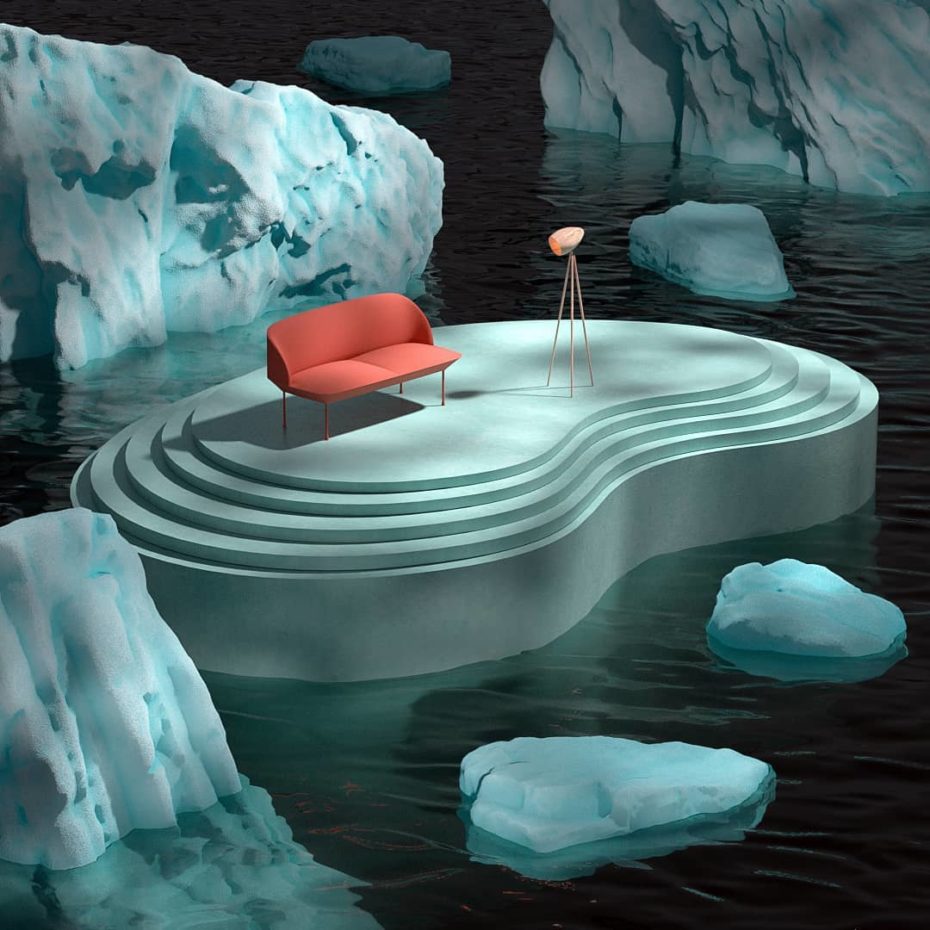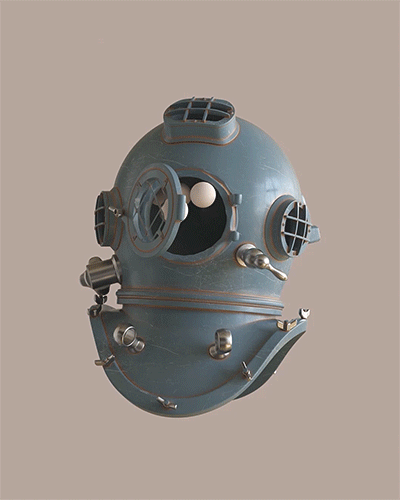 Discover more of Murat's work on Behance.
Aïda Muluneh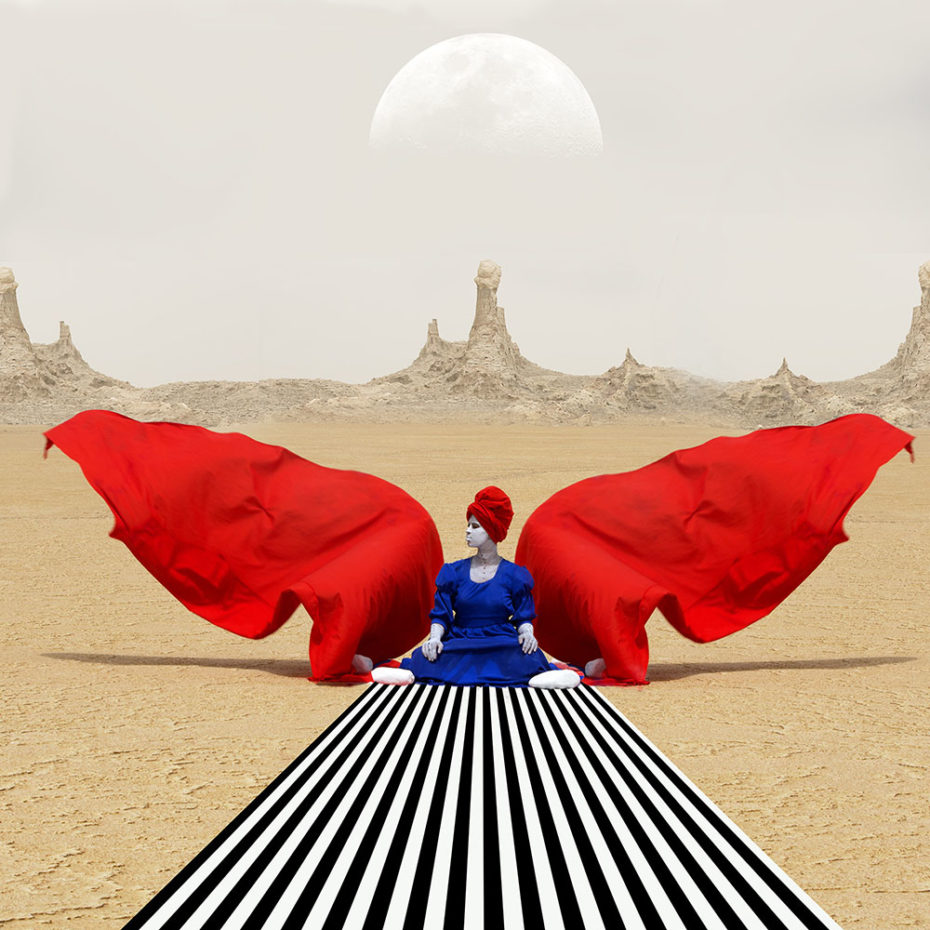 Aïda Muluneh's style is at the intersection of Alejandro Jodorowsky, Frida Kahlo, and Rene Magritte – while paving a road that is entirely her own. She was born in Ethiopia in the 1970s, and finally returned in 2007 after living in Yemen, England, Cyrpus and Washington D.C. Muluneh's work explores heated topics about culture, race, politics, environmentalism – no stone is left unturned.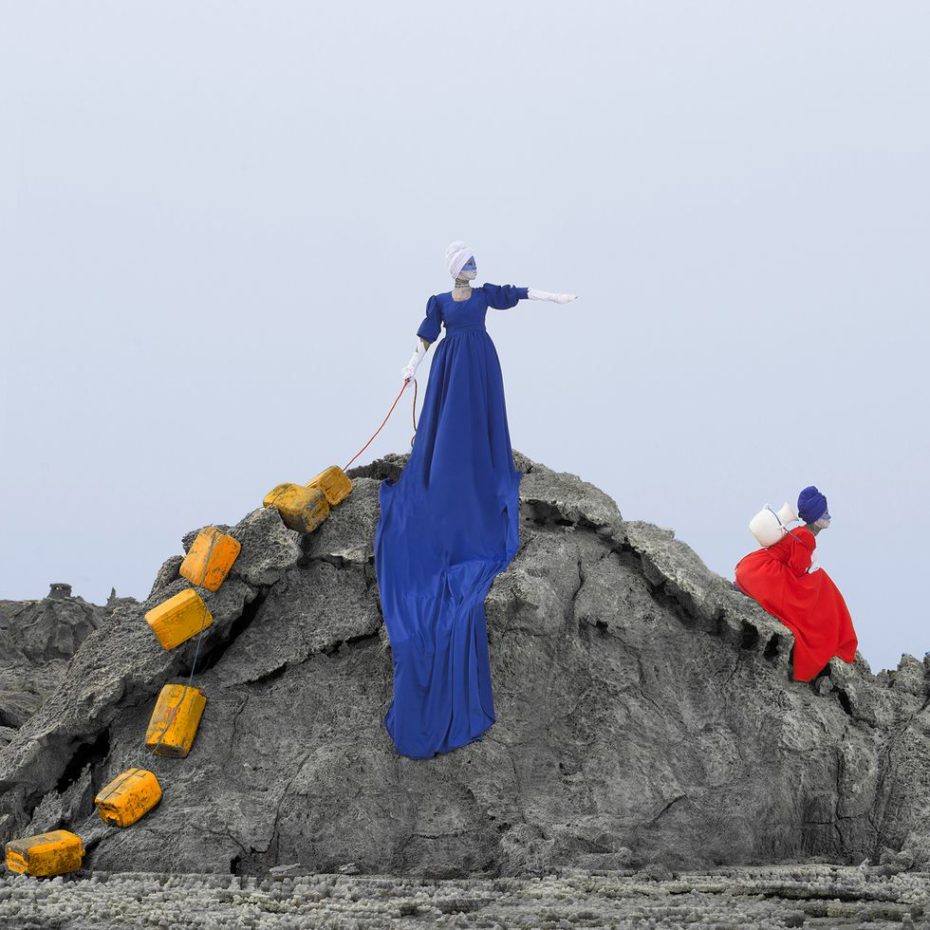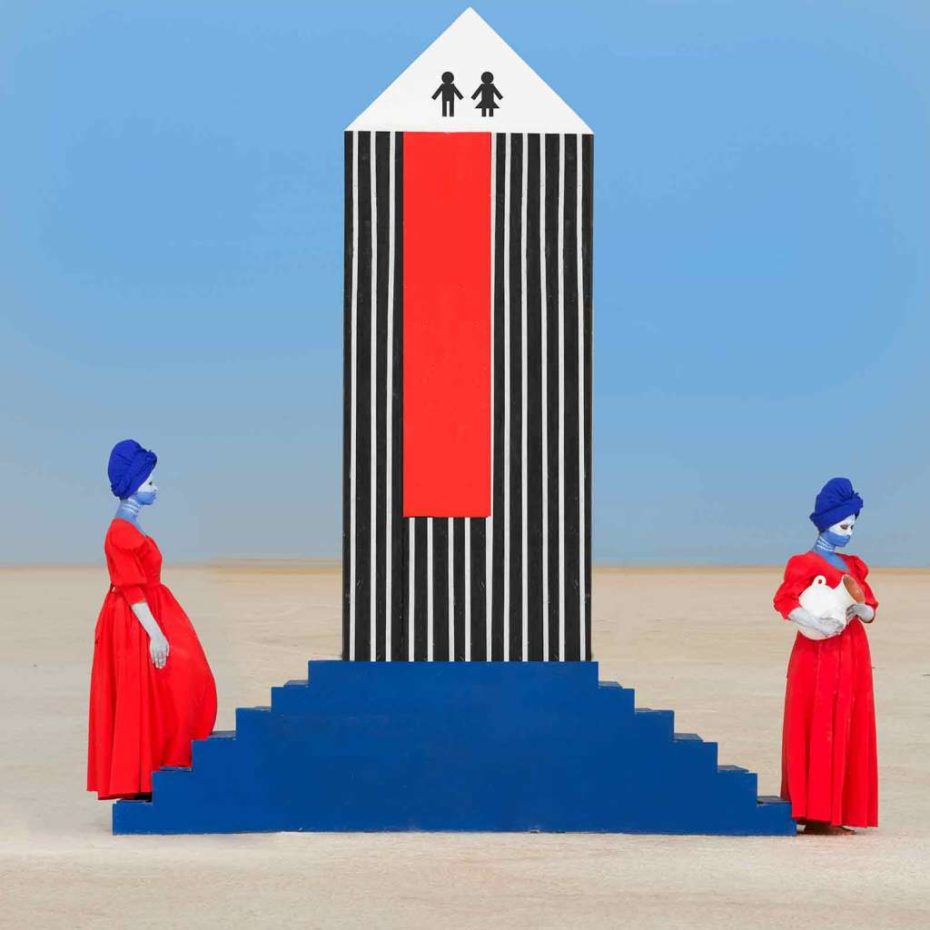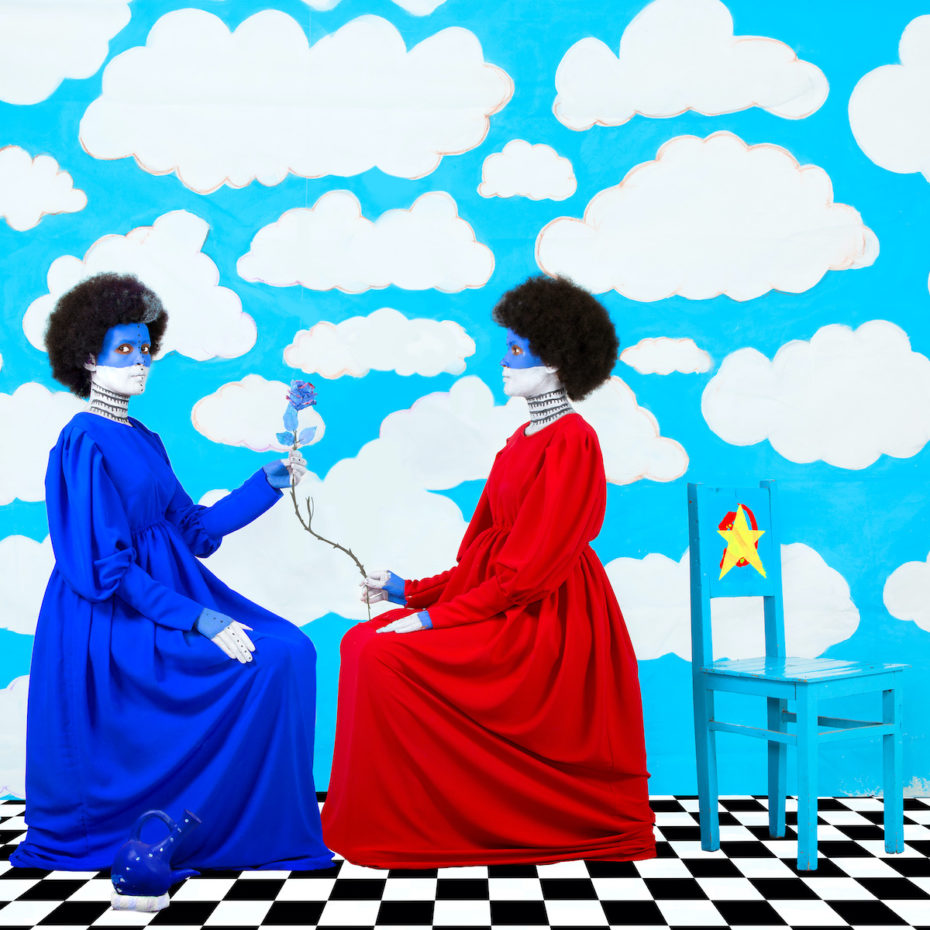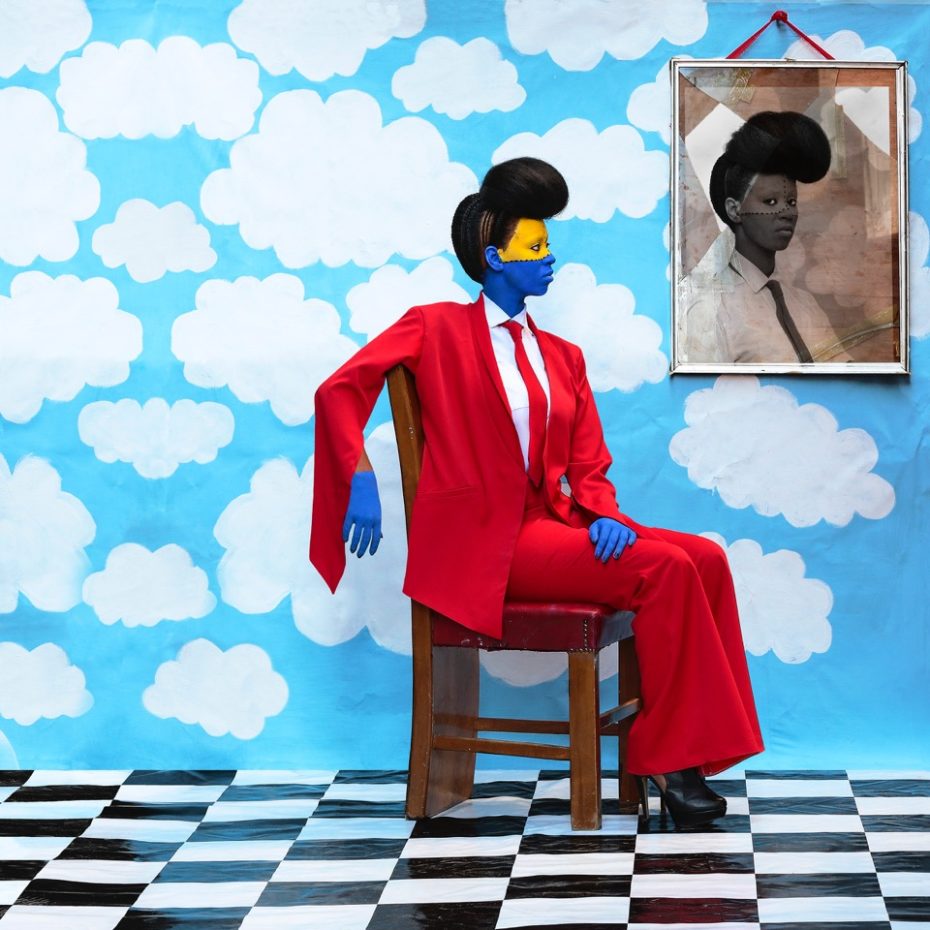 "I find that primary colors add strength to the messages I convey in each piece," she told Lens Culture about her color palette, "Also, looking at references within my own culture—through artifacts, clothing and also the wall paintings in Ethiopian Orthodox churches—these are the same colors that are the foundation of my roots."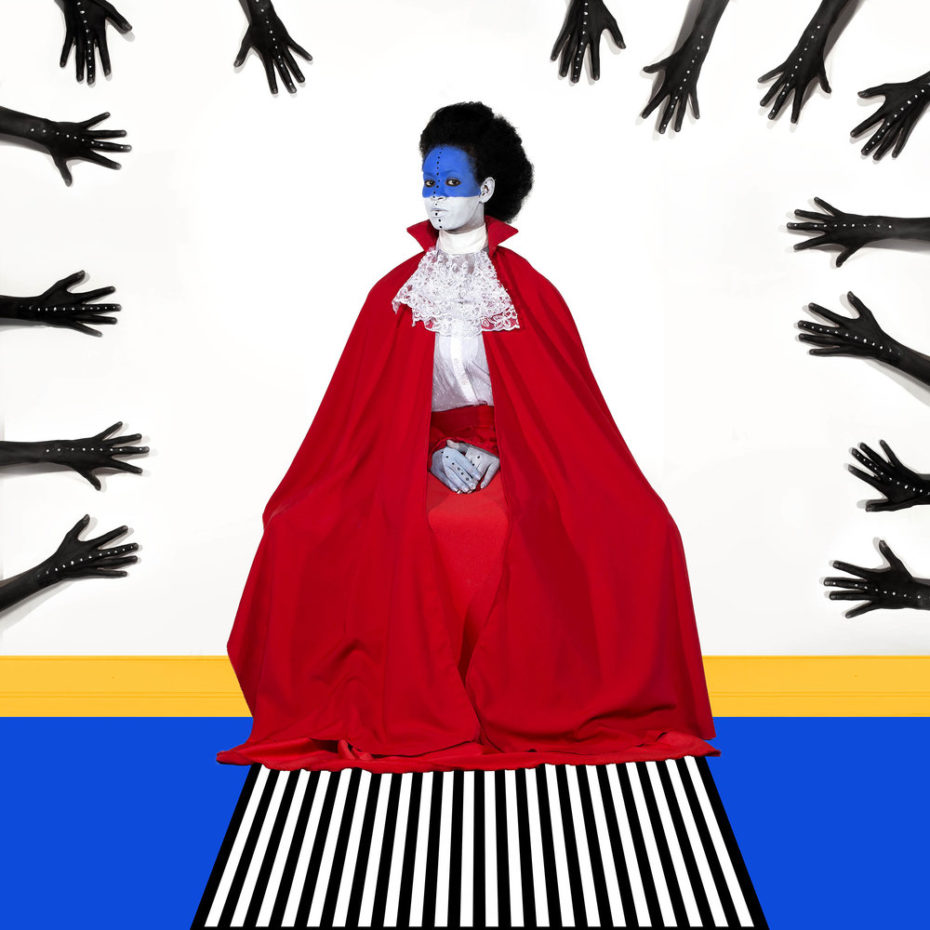 Visit Aïda Muluneh's website here.
La Fratrie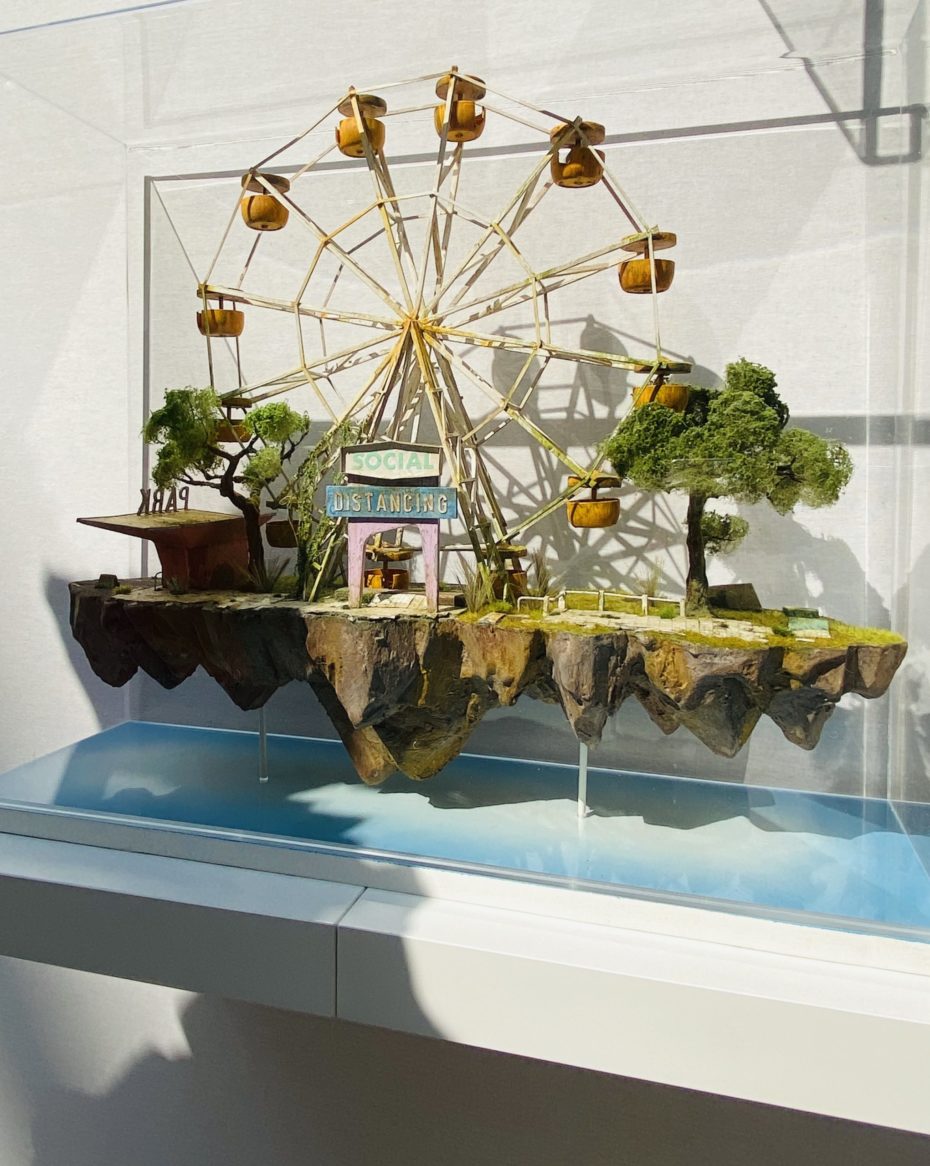 The artistic duo composed of two brothers, Karim and Luc Berchiche, were very productive (and reactive) during the quarantine period, as is evident from their latest pieces we recently spotted at the ART Paris fair – however the pair seem to have been tuned in to the dystopian conversation from the start of their career.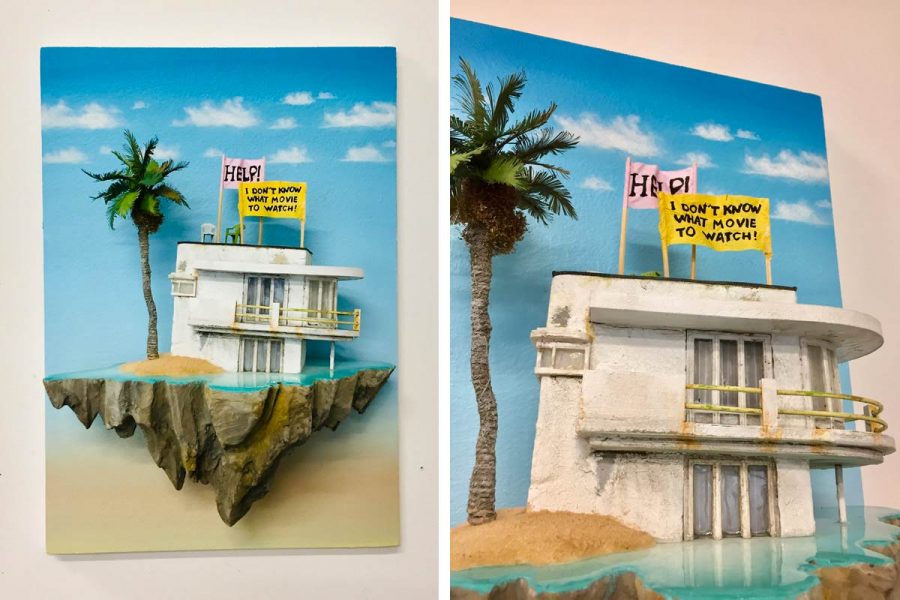 Made from mixed materials, their fascinatingly detailed sculptures of miniature islands intend to "question man and his report with the environment". Pastels and turquoise waters alluding to utopian ideals are laced with decay and dark humour. Reflecting on the fragility of life, the brothers are "artisans of a world that is utopian in the true sense of the word (a place that doesn't exist)".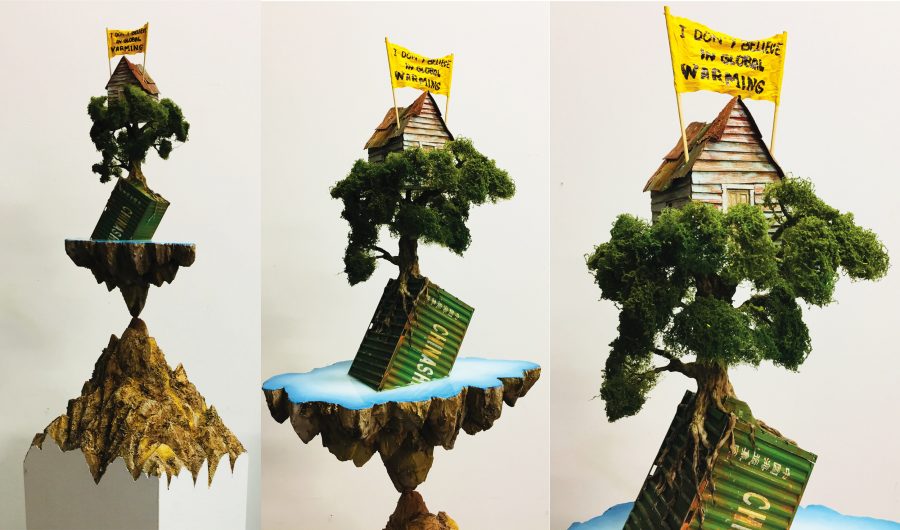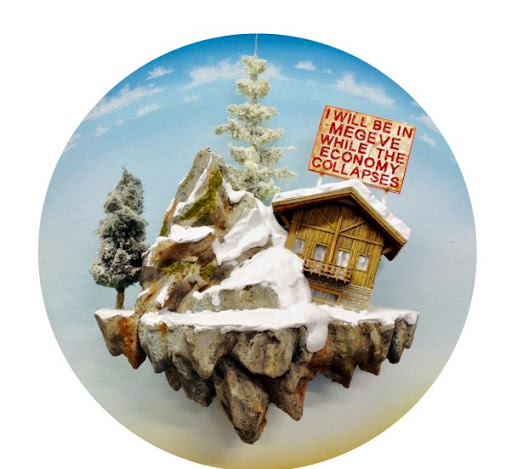 La Fraterie are represented by The School Gallery in Paris.
Oliver Latta
Just a warning, that you may find the following animations highly addictive or disturbing…
Olivier Latta, also known as Extraweg is a German digital artist who describes his work as "provocative, non-conformist and risqué". His bendy, bubblegum human pink figures are undeniably disturbing, yet incredibly satisfying – a yin and yang combination that have won him hundreds of thousands of Instagram followers over the past few years, which he admits has been life-changing for his career as an artist.
"Art expresses the emotions and struggles of the society it exists within, and inspires people to cope and even overcome," the self-taught 3D artist told Mind Mag. "Art is inherent to the human being and to picture a world without art would be like imagining a world with no voice. Nowadays, unfortunately there are many reasons to raise the voice, so to me art is fundamental."
Find Extraweg on Instagram.
Wendy Red Star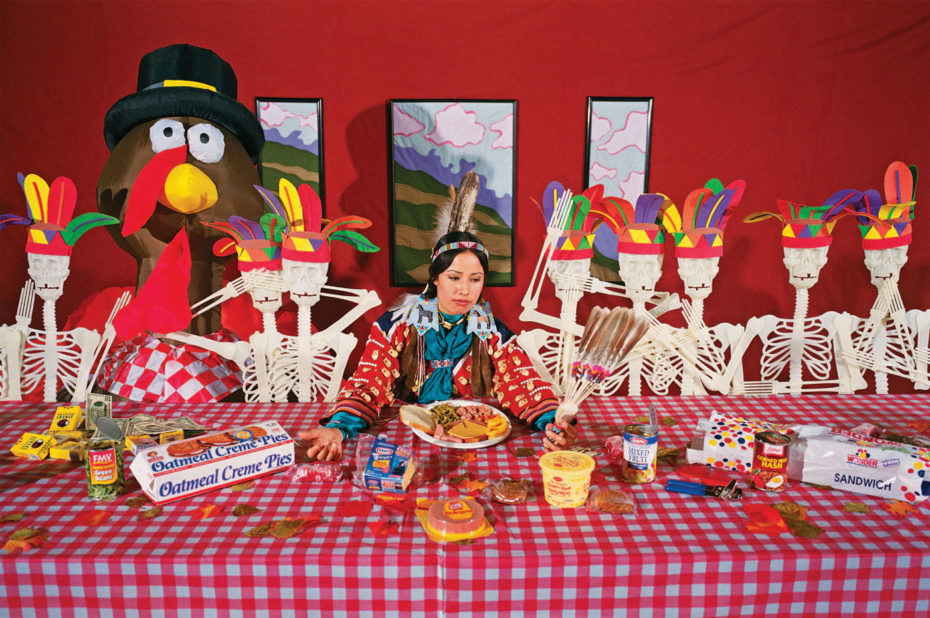 The Dada movement that paved the way for Surrealism owes a huge debt to indigenous African and American cultures. (Consider the work of Man Ray, and his interest in African tribal masks.) So what of the Surrealist art made by indigenous peoples? Native Americans? Well, meet Wendy Red Star.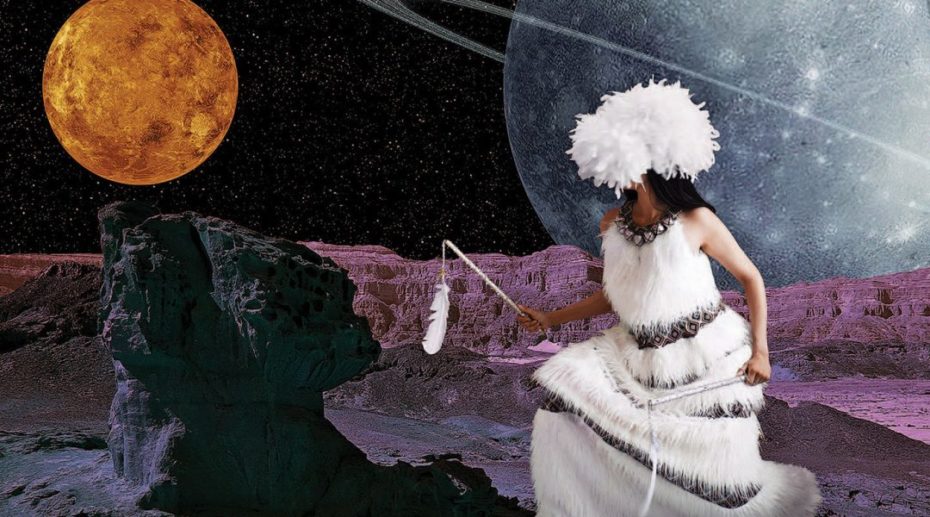 Red Star grew up in the United States, on a Apsáalooke (Crow) reservation in Montana. Currently, she works out of Portland, Oregon, on photographs that revisit her heritage through an lens that is (in her words) "inquisitive" yet "unsettling" lens. Consider her 2006 series Four Seasons, whose photographs are so beautifully (overly) stylised and darkly satirical, we're reminded of the best of Cindy Sherman, and Nadia Lee Cohen (the new queen of the Twilight Zone).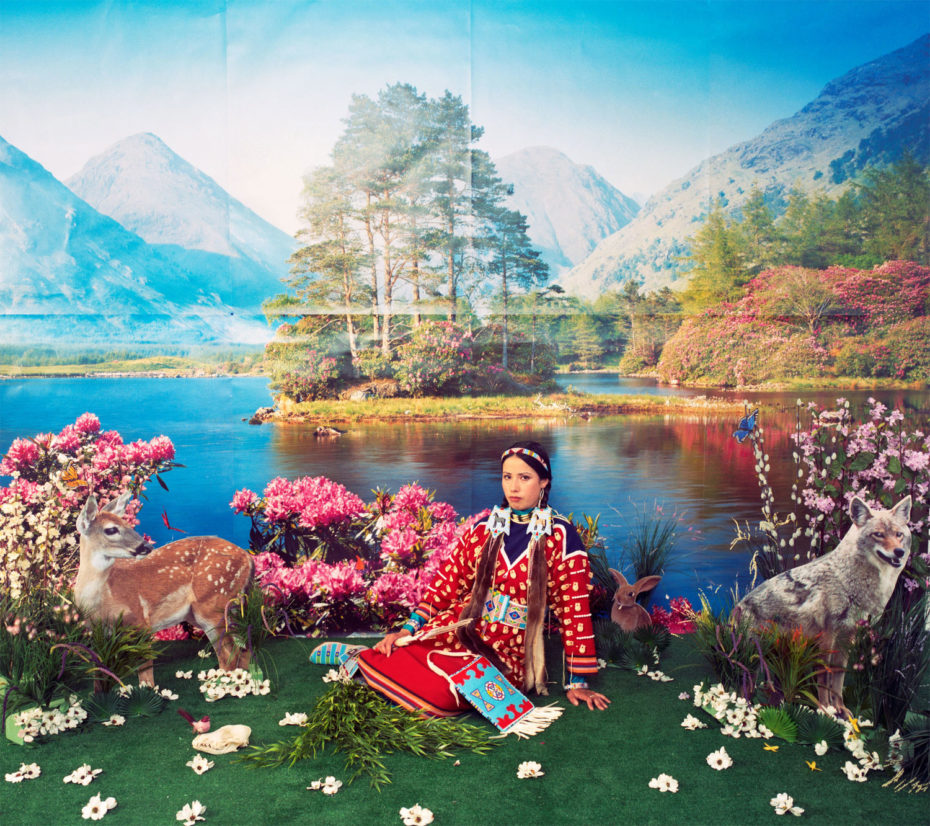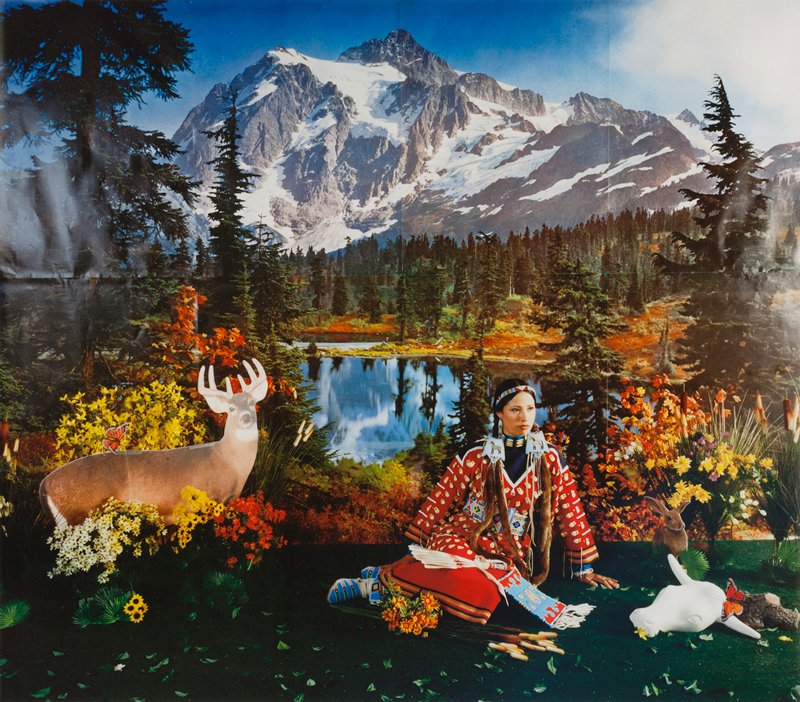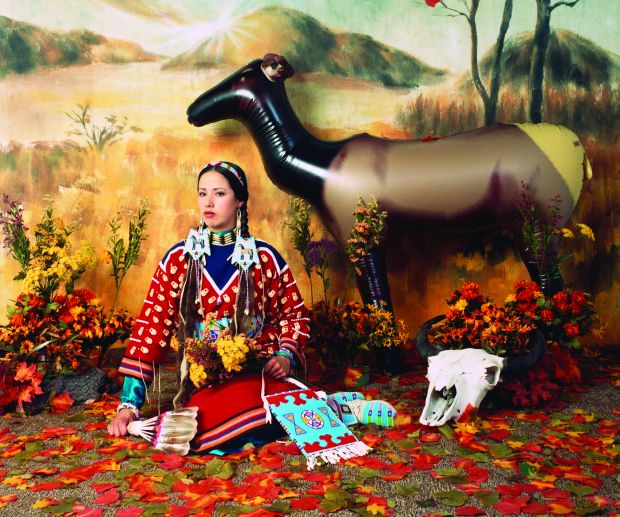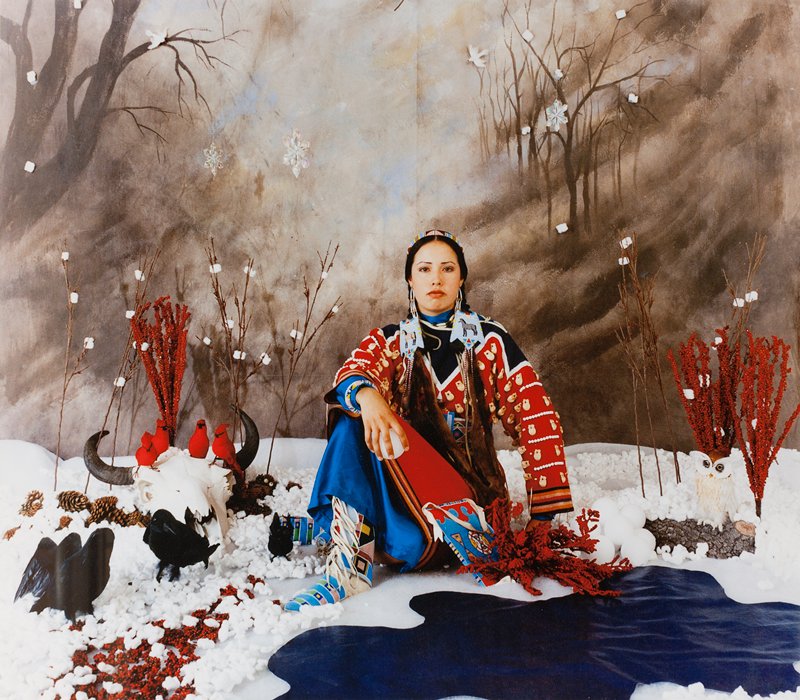 Follow Red Star's work on her website
Han Cao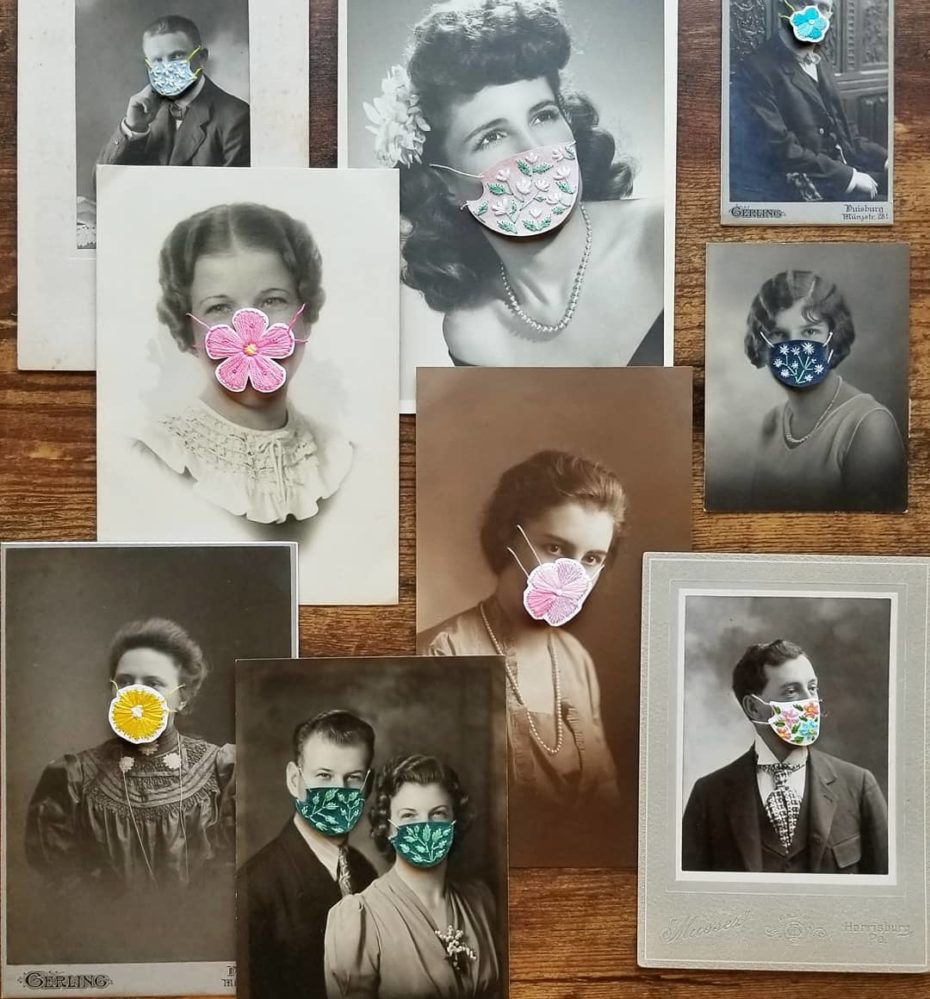 California-based artist Han Cao spent spent lockdown hand-embroidering floral masks on long-forgotten photographs she had found at flea markets and antique stores, updating them for the age of coronavirus. She began the series she calls Quarantine Collection as "a reminder of how other generations have weathered storms like these". Cao finds embroidery meditative and says it helps her "slow down and be present – something we always forget to do in this digital age."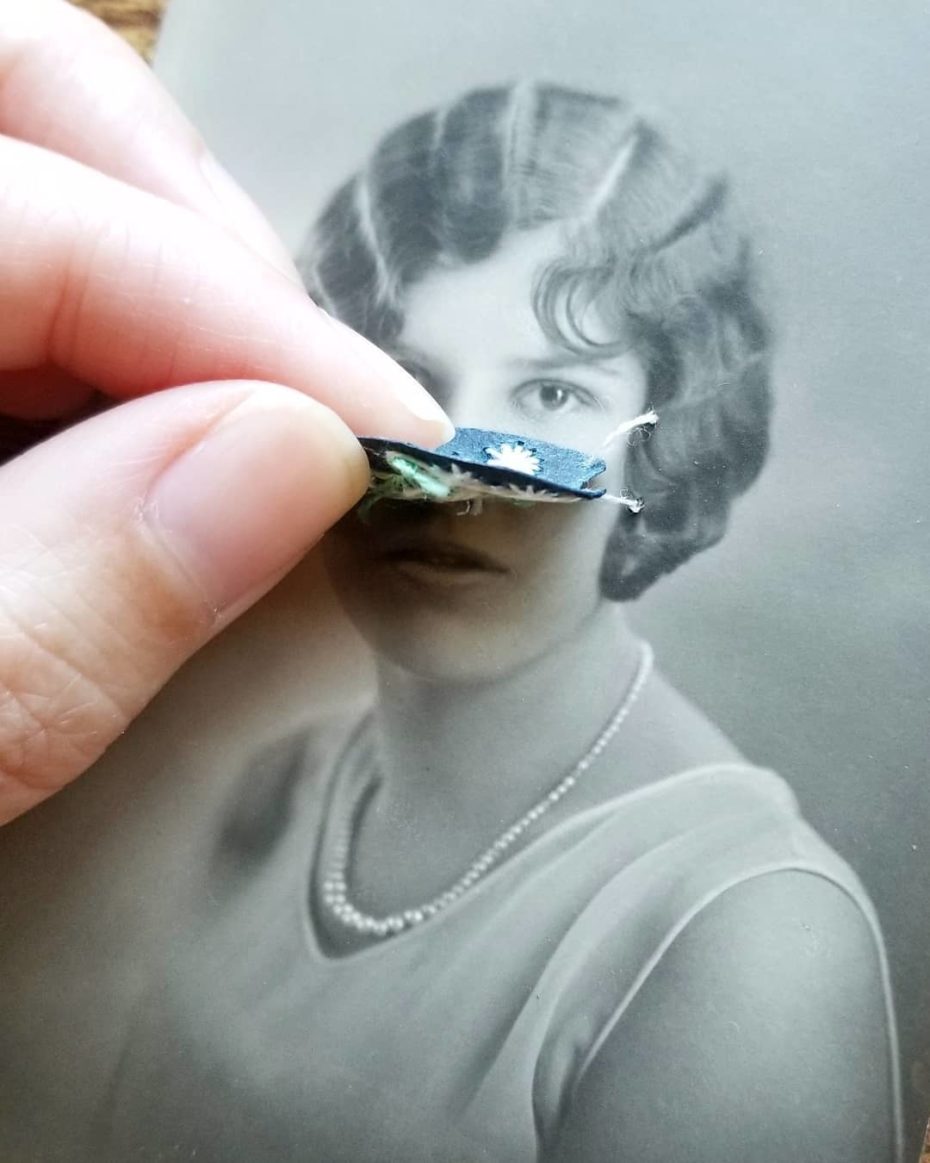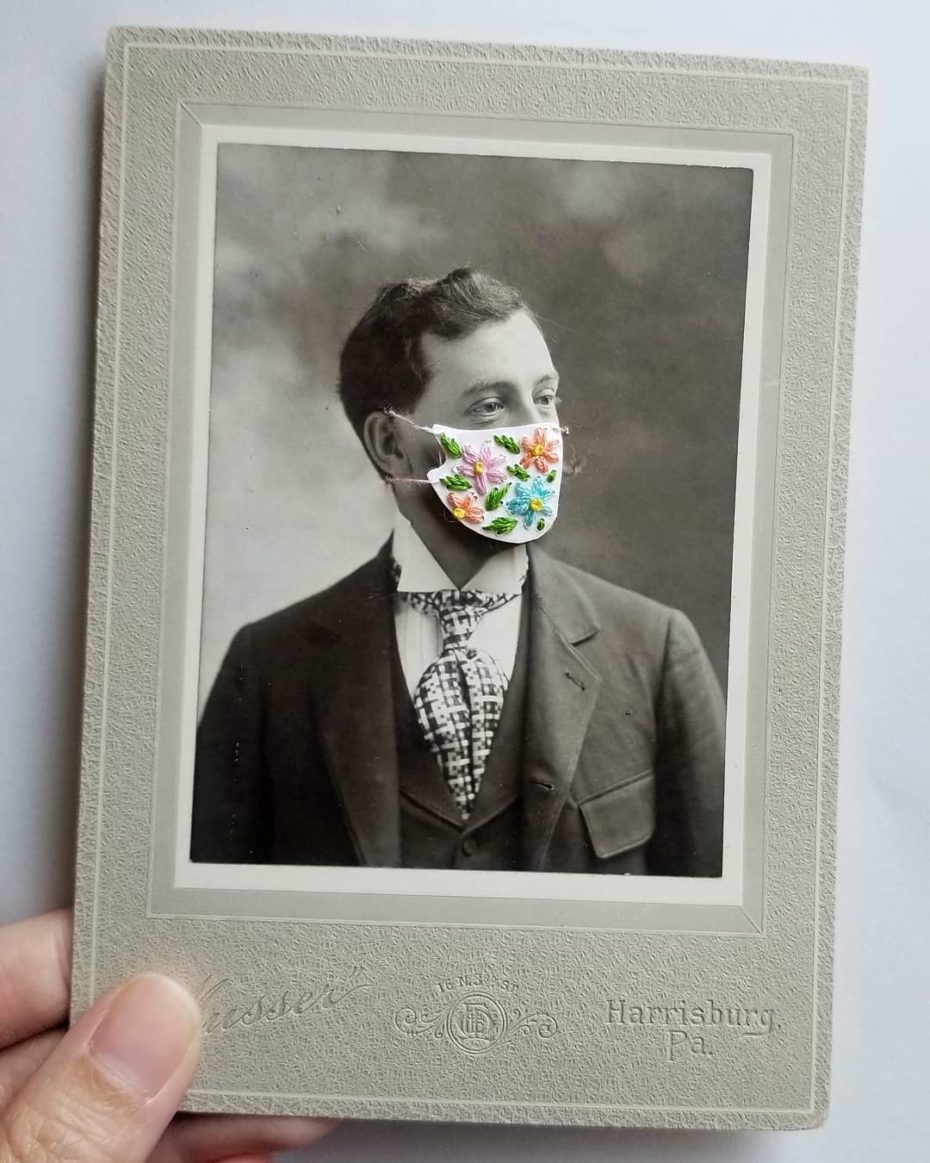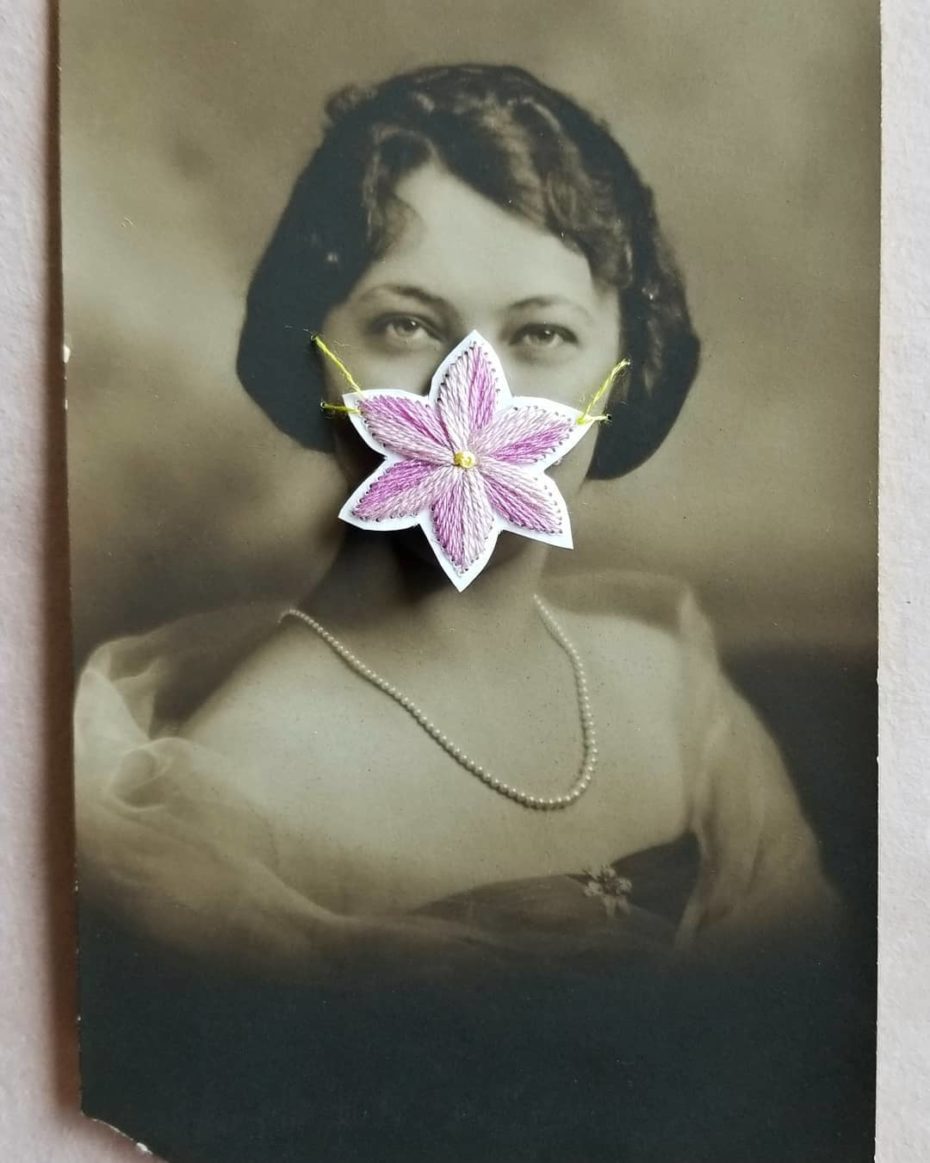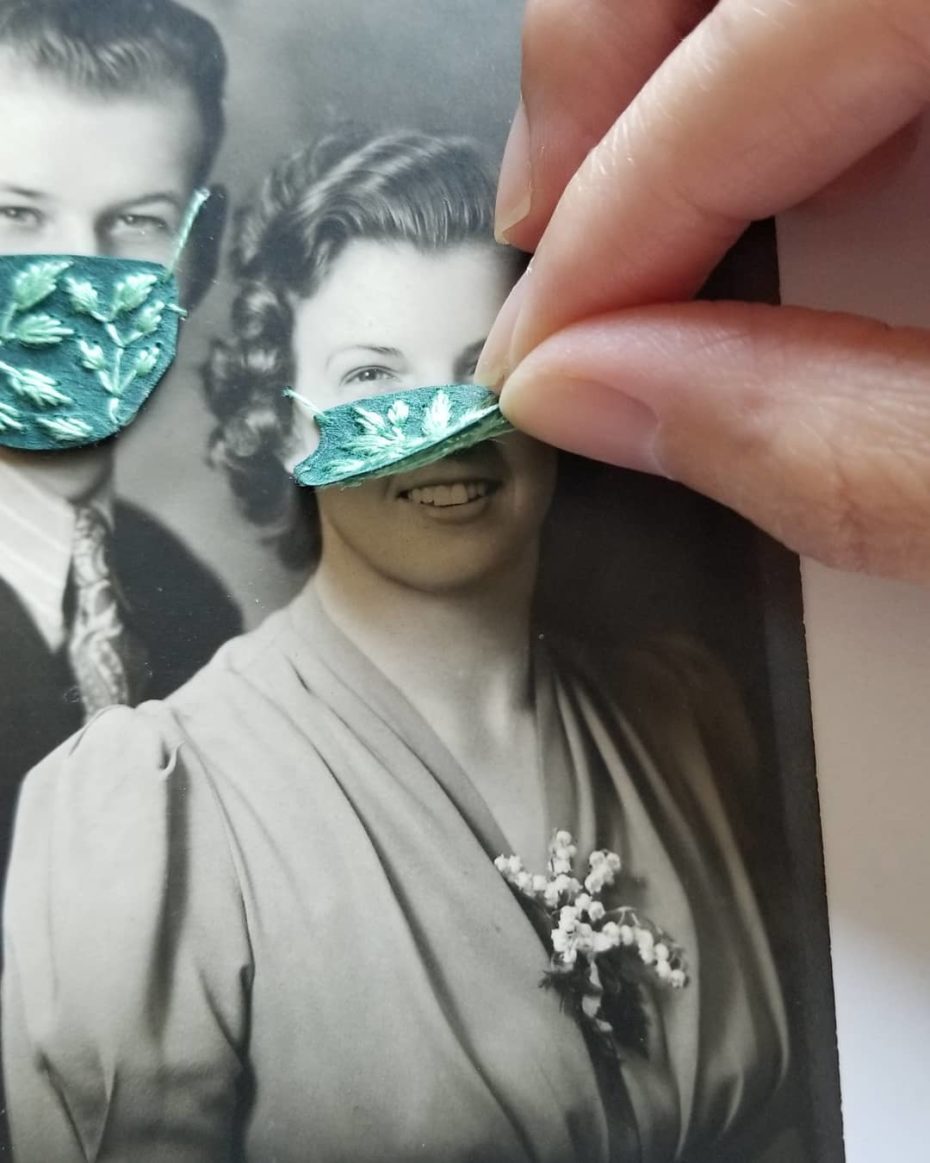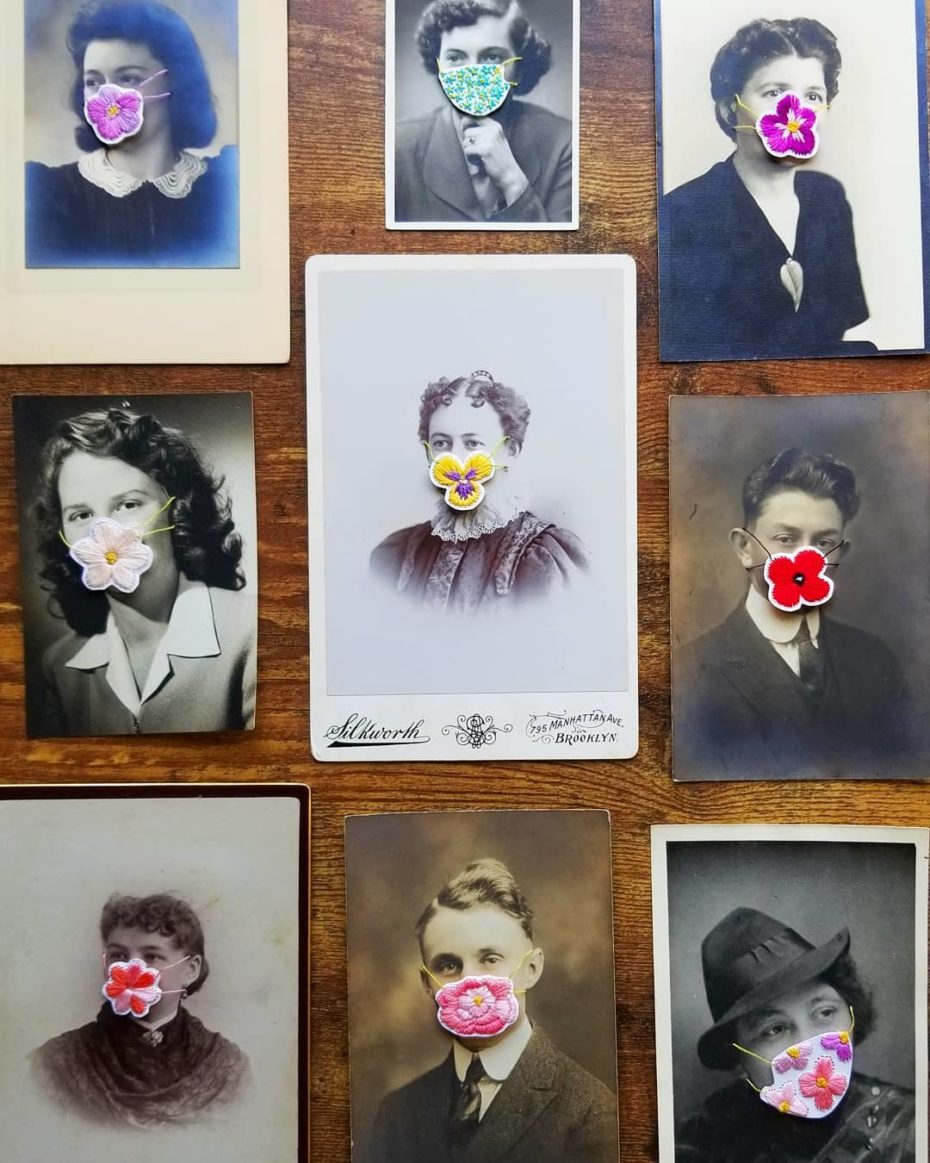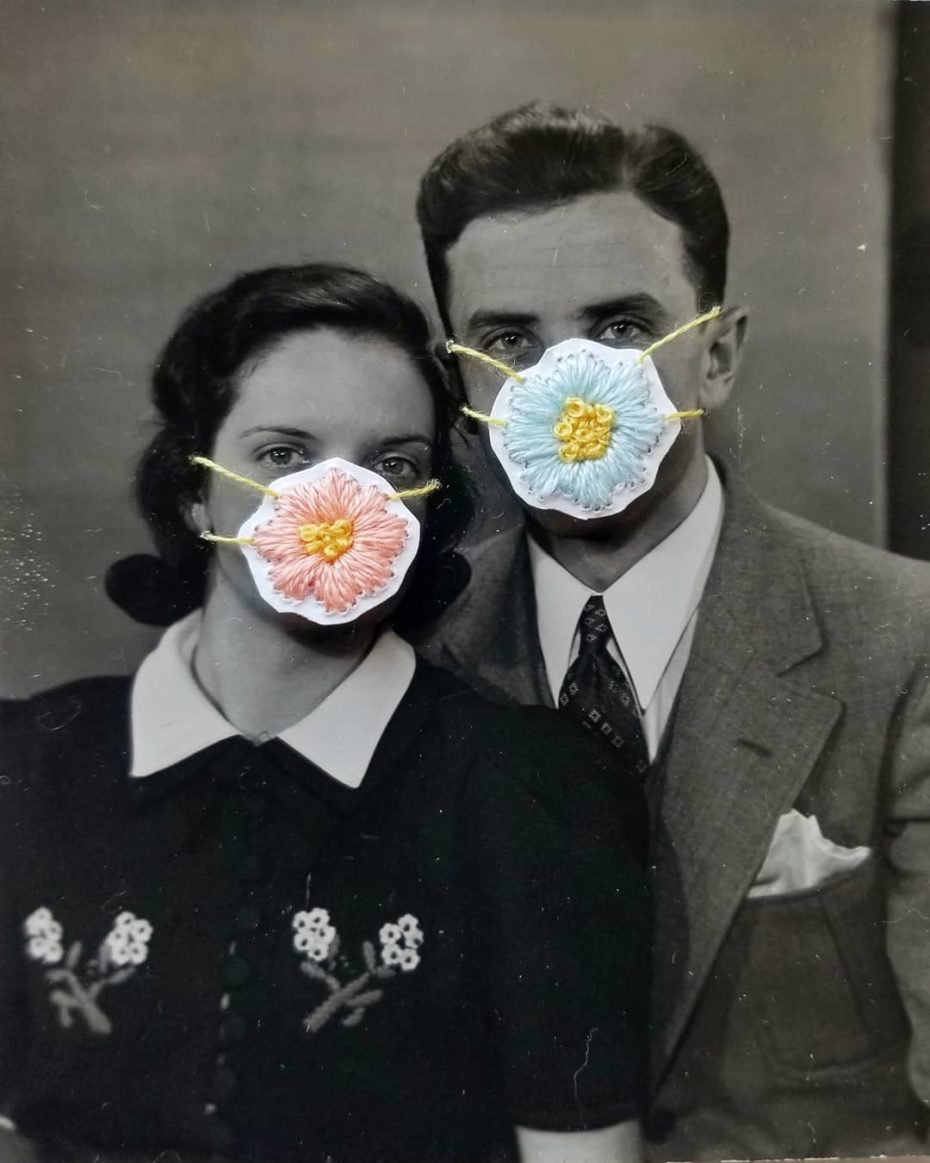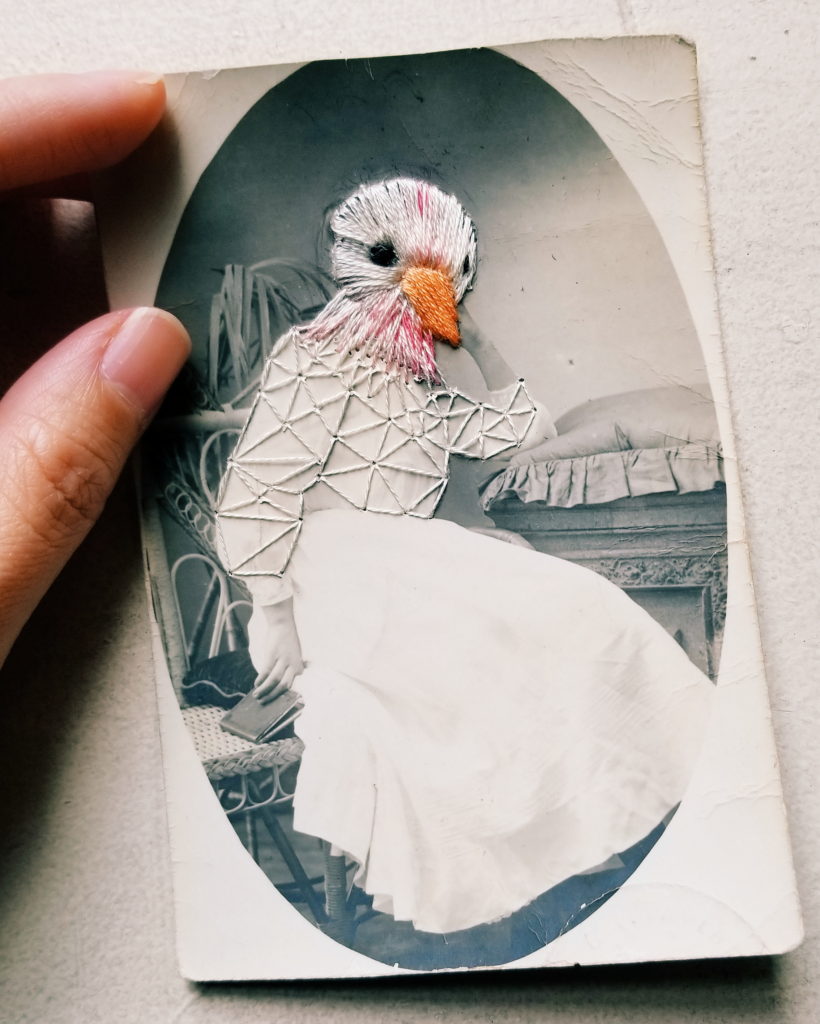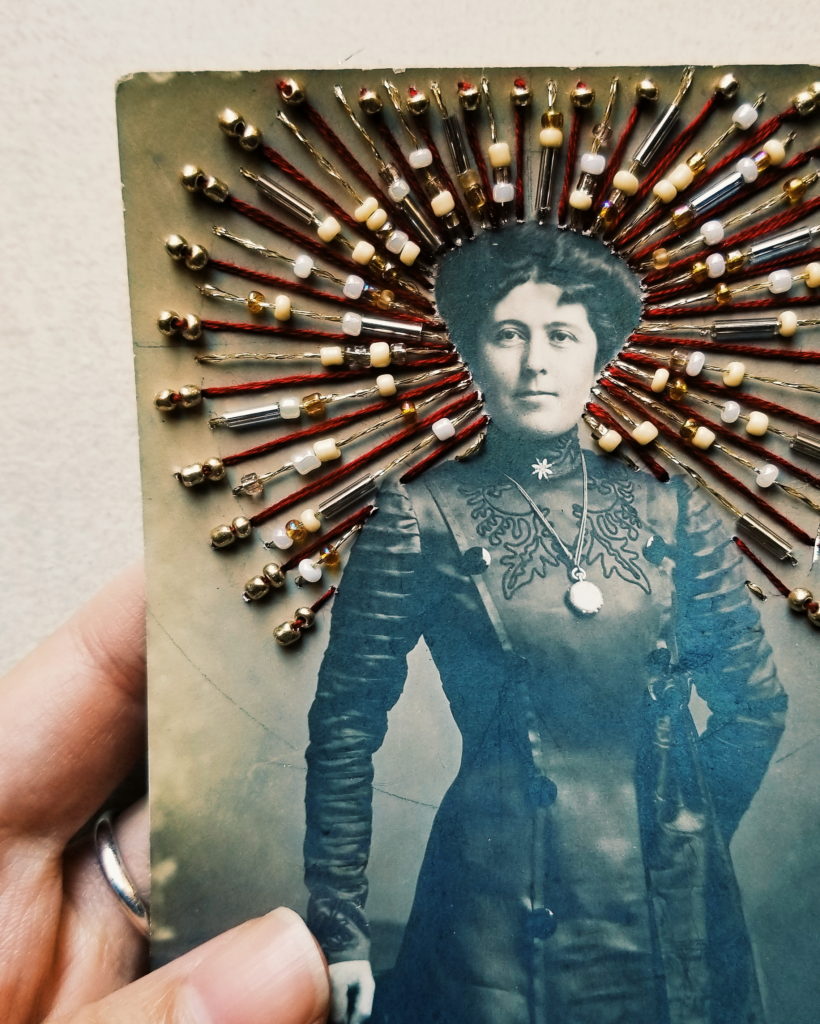 Han Cao's quarantine collection and other works are available to buy from her shop.
Naohisa Inoue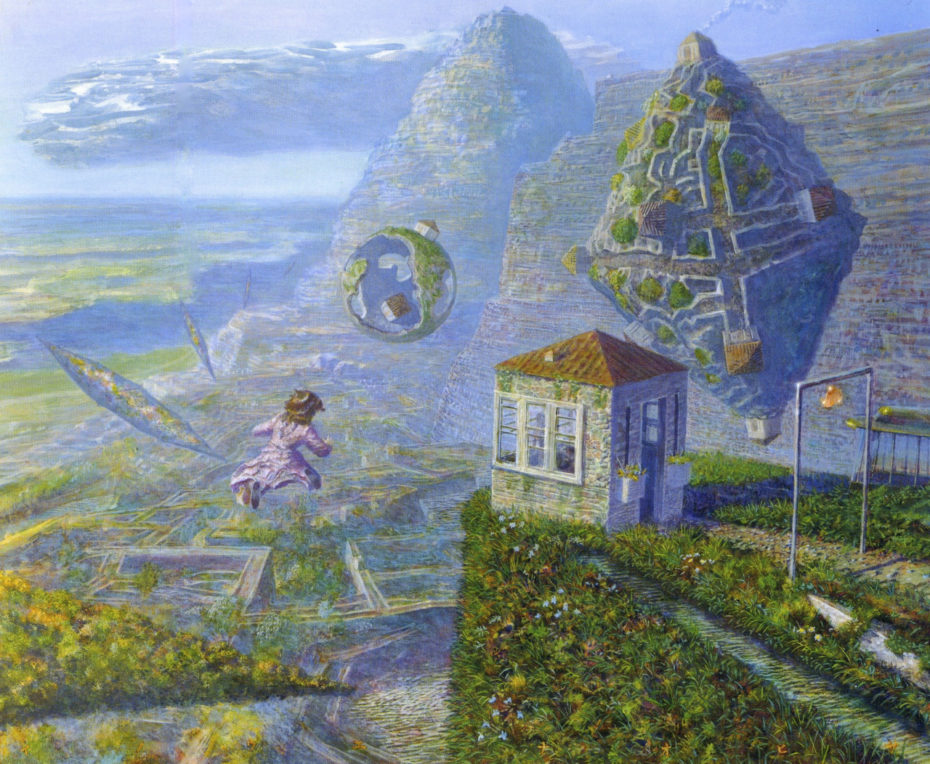 Equal parts Impressionist and Surrealist, the work of Naohisa Inoue is a portal to cotton candy galaxies with floating cottages worthy of a Miyazaki film…
Most of the work by the Osaka, Japan native is based in the fictional land of "Iblard," a place that is kind of everywhere and nowhere, all at once – an embodiment of an idealised, natural landscape we might remember from our childhood daydreams.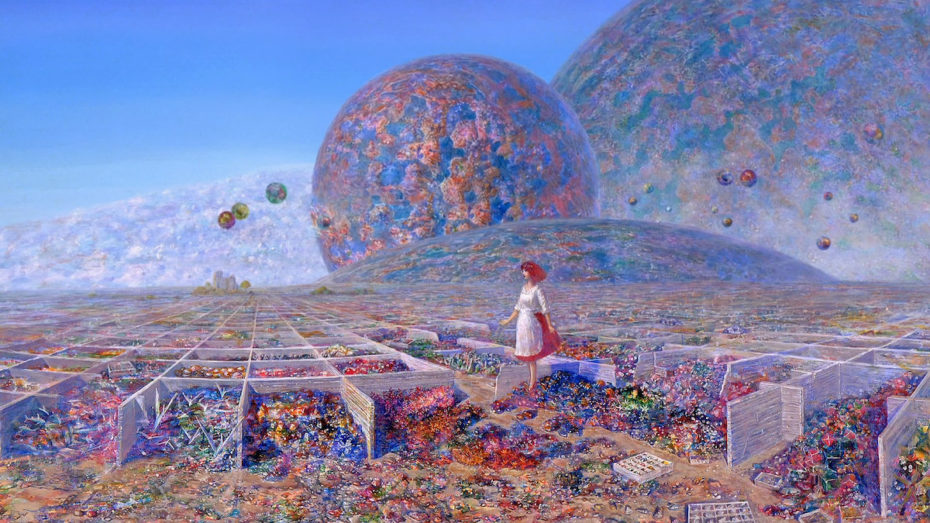 They're at once infantile, and powerfully cinematic – makes sense, when you consider Inoue created the background art for the beloved '90s Studio Ghibli film, Whisper of the Heart. We've yet to see an artist bring so much levity to the space age.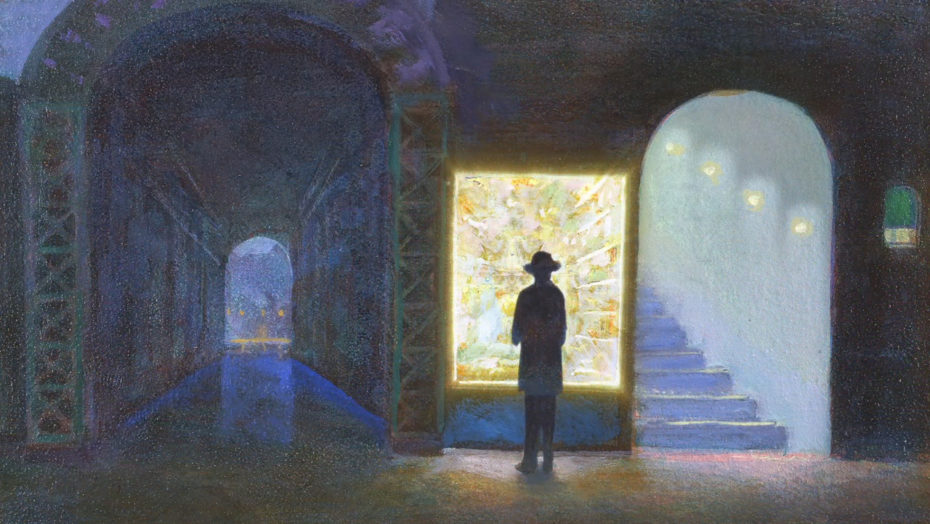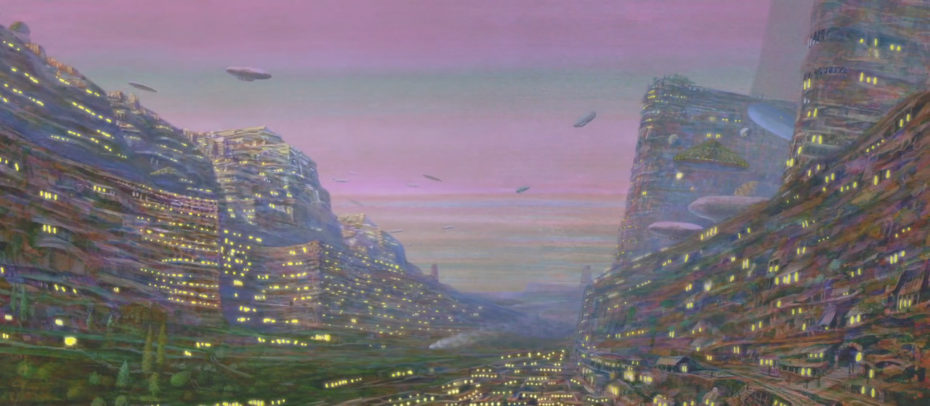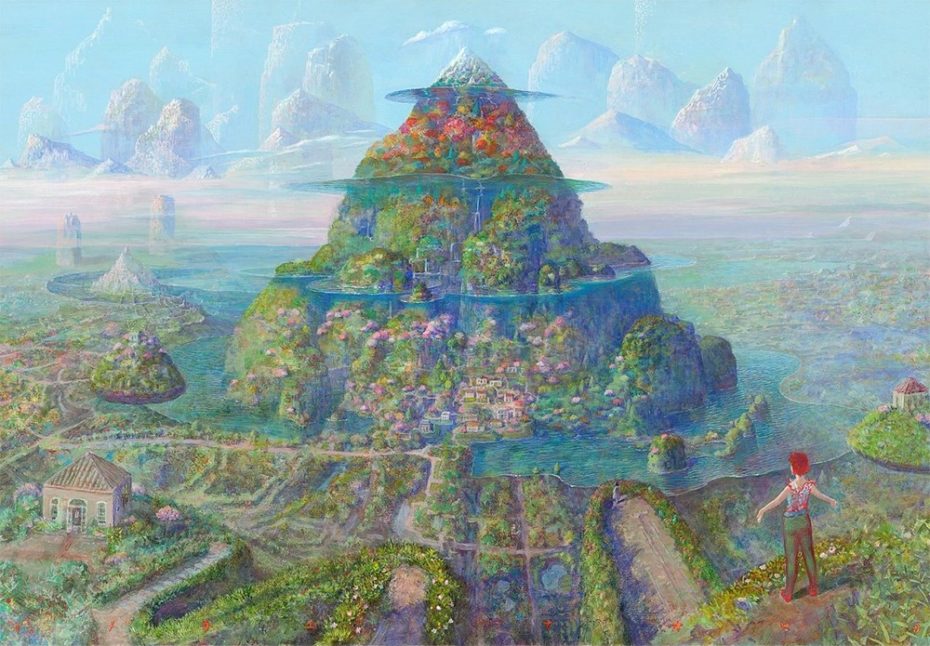 Paul Milinski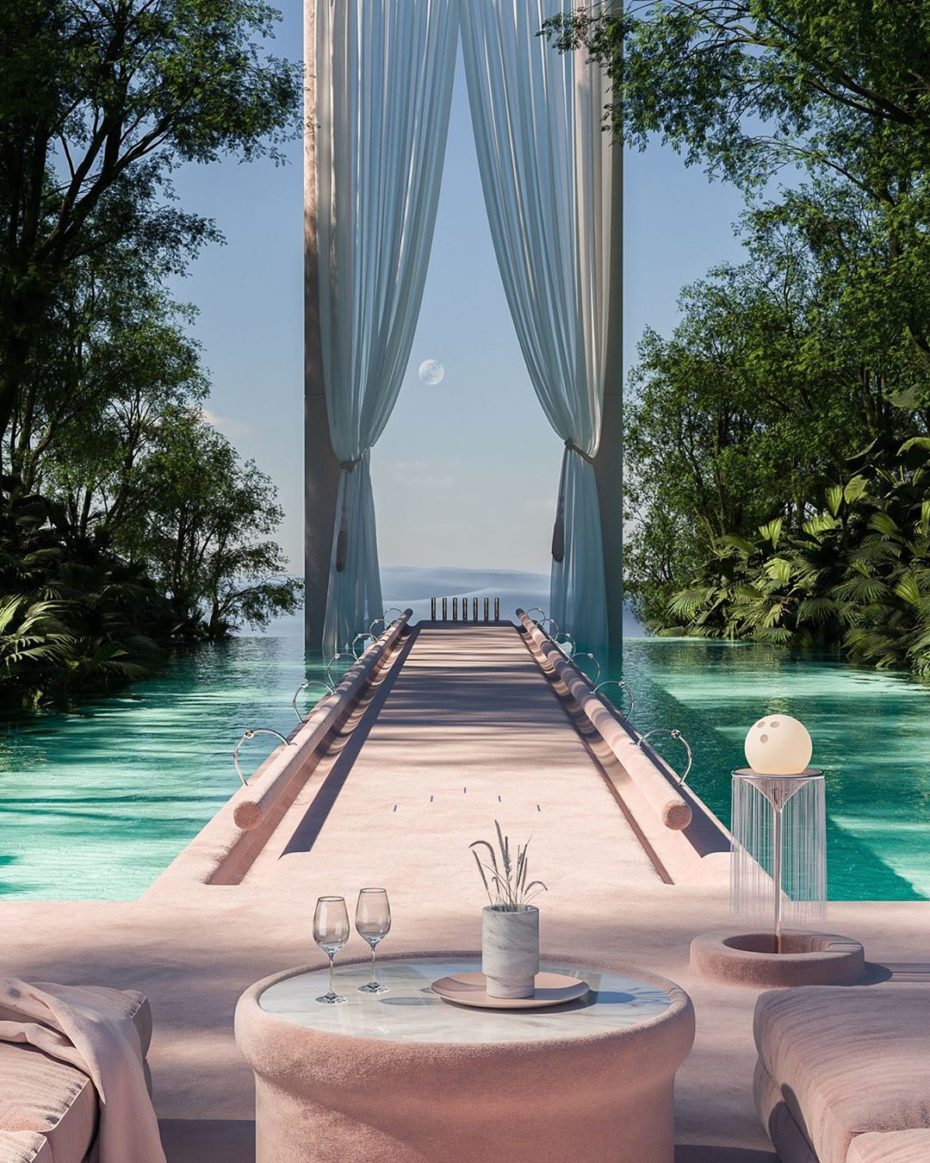 Paul Milinski is another artist whose work noticeably gained traction during Covid lockdowns, appealing to an audience in dire need of some escapism. He and previously mentioned Murat Yıldırım have the same taste for pristine grottos and oddly placed, incandescent furniture. He describes this hyperrealistic ballet, where every element has its own place as "Where leaking light through leaves becomes nature's disco ball. Places where all living things are seen as equal and where human elements conform to the environment."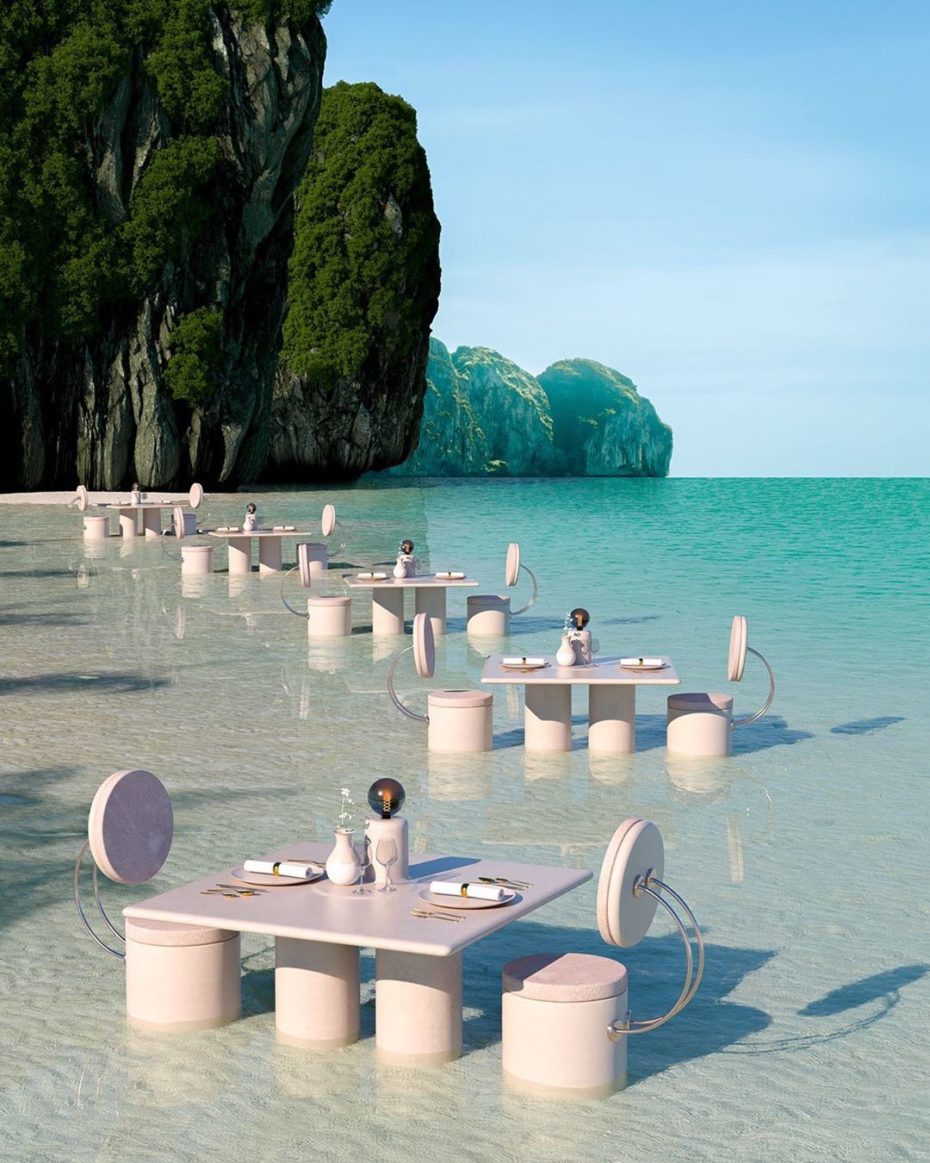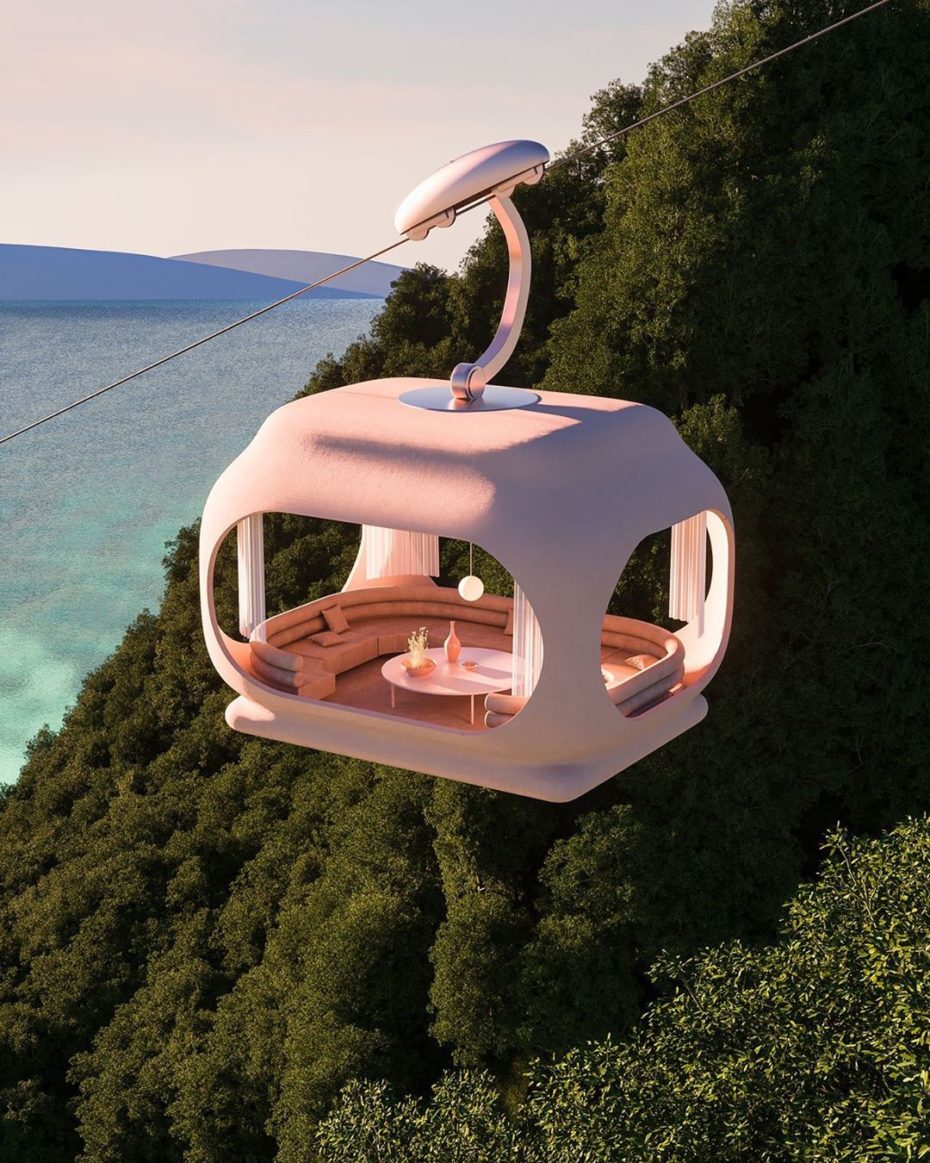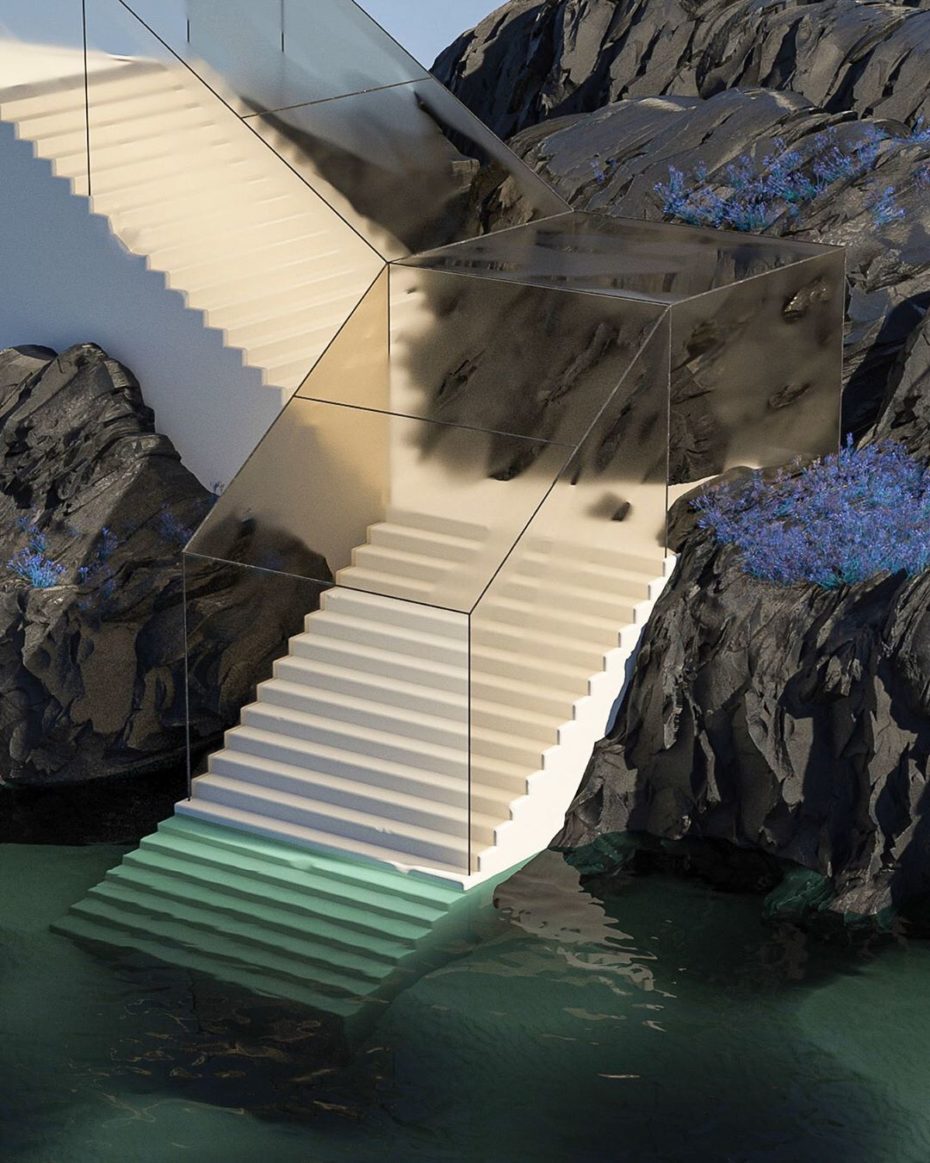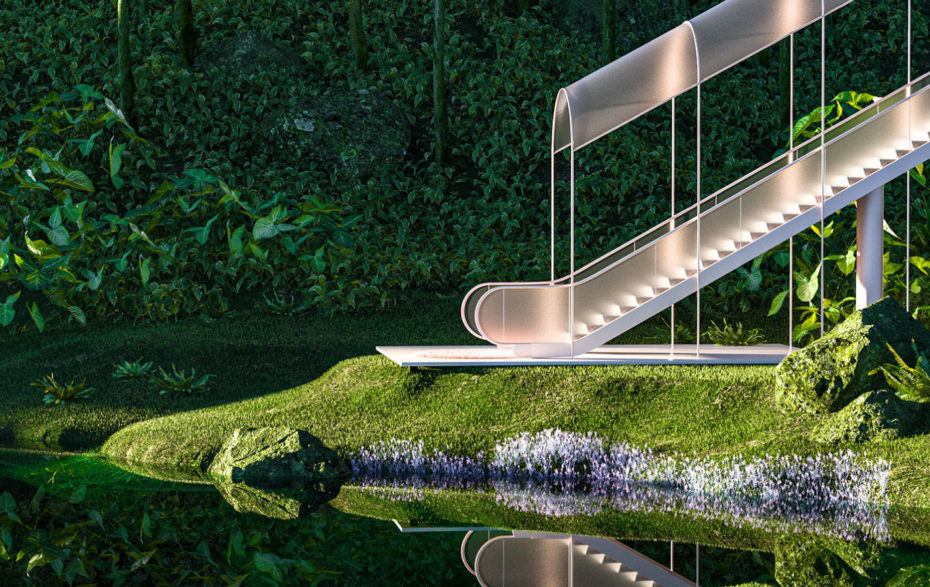 Milinski's thought is a utopian vision for the future that straddles material and environmental joys. They couldn't have come at a better time.
Alim Smith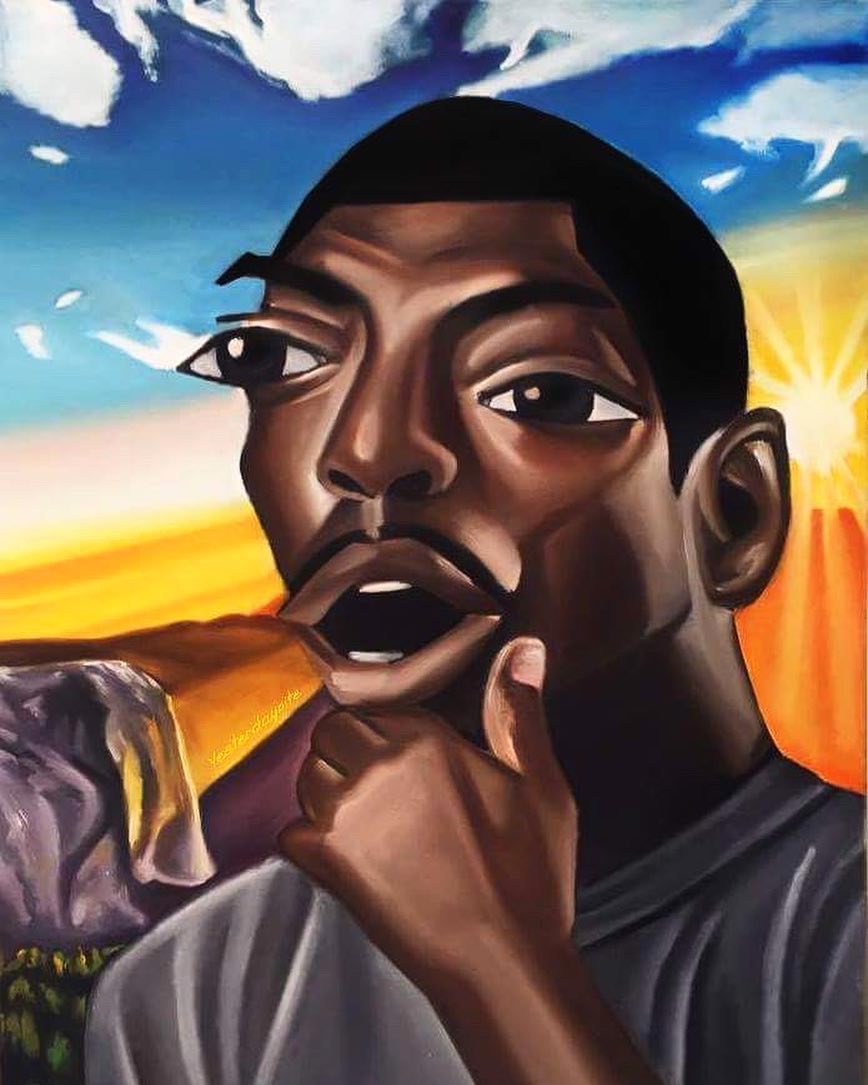 First, we fell in love with Delaware-born artist Alim Smith's Dali-esque commission for Fanta, which reminded us of all the wonderfully odd commercial work Dali also produced – like an Alka Seltzer ad! (But we digress)…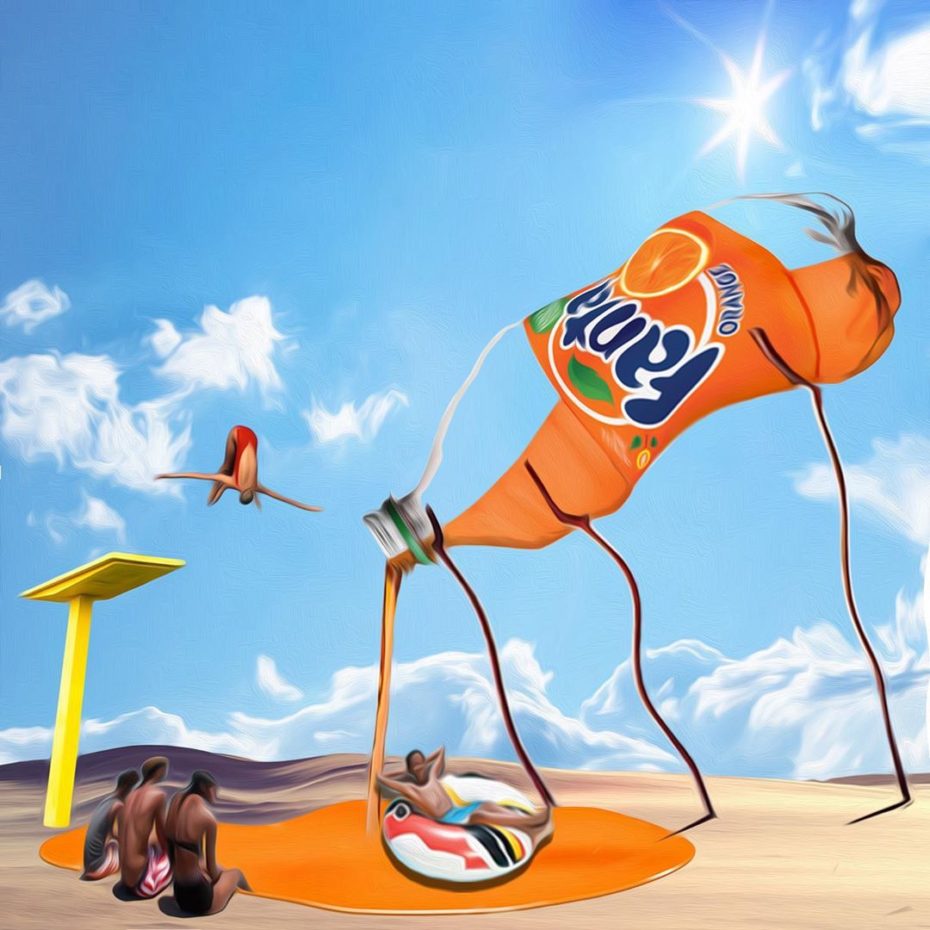 Then, we fell in love with the way Smith – who's dubbed his platform, "Yesterday Nite" – transforms memes into works of art. Yes, folks – memes! He's given them a Surrealist twist:
Smith's work takes a serious look at Blackness in entertainment, music, and pop culture without feeling too serious. In other words, it feels important but not stuffy. Inclusive! On his website, "Smith describes the spelling error in 'Yesterday Nite' as the overarching motive behind his work, explaining that its unsettling nature is meant to be evocative."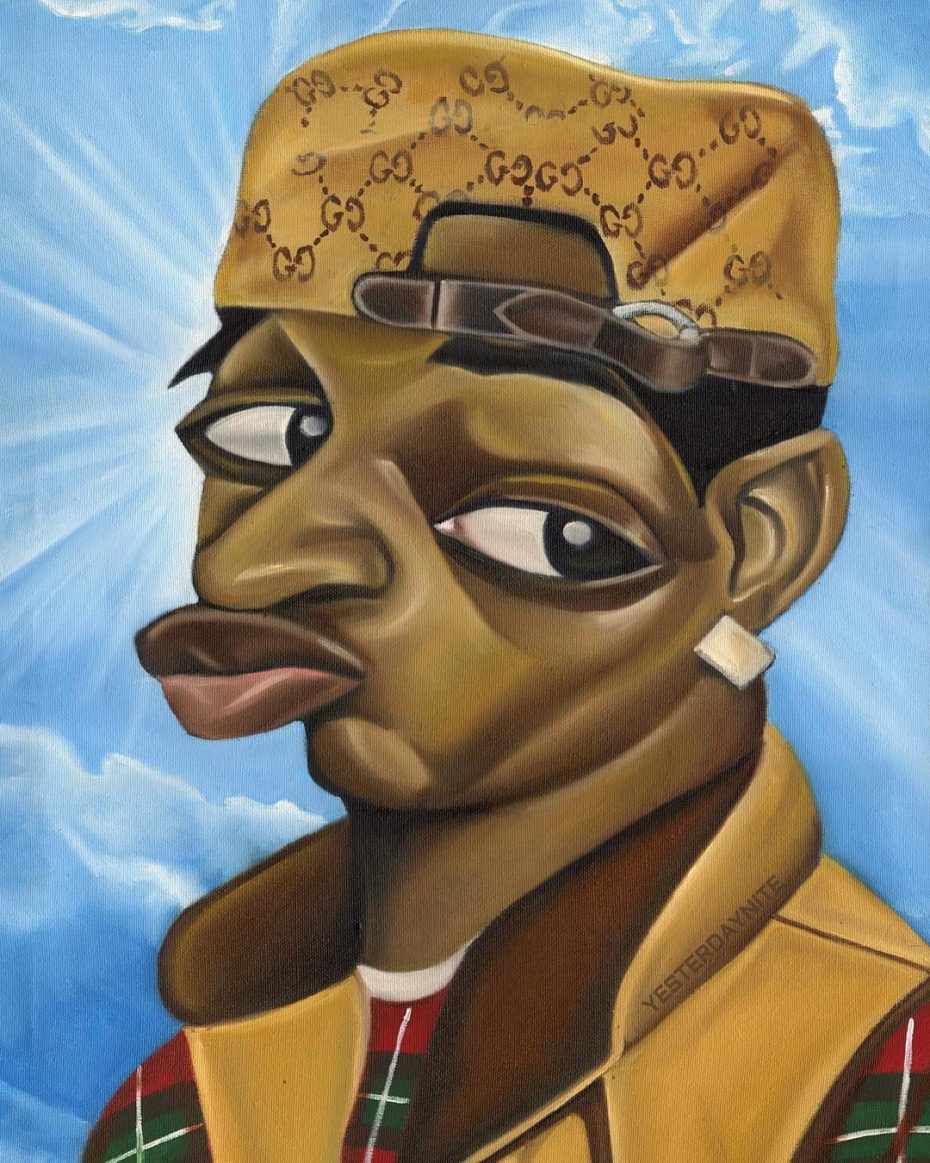 The decision to tackle memes came at a time when he wanted to shake up his style during Black History Month (as he explains says on one of his Instagram posts) but wanted to try something totally, utterly different. "I felt I abandoned my style. I had to return but this time without the pastels, because I wanna work more on getting better with Oil and actually painting and I wanted to do another series for black history month. I didn't wanna do the regular malcolm x, rosa park shit. I wanted to celebrate something that has become an incredible part of black culture. MEMES."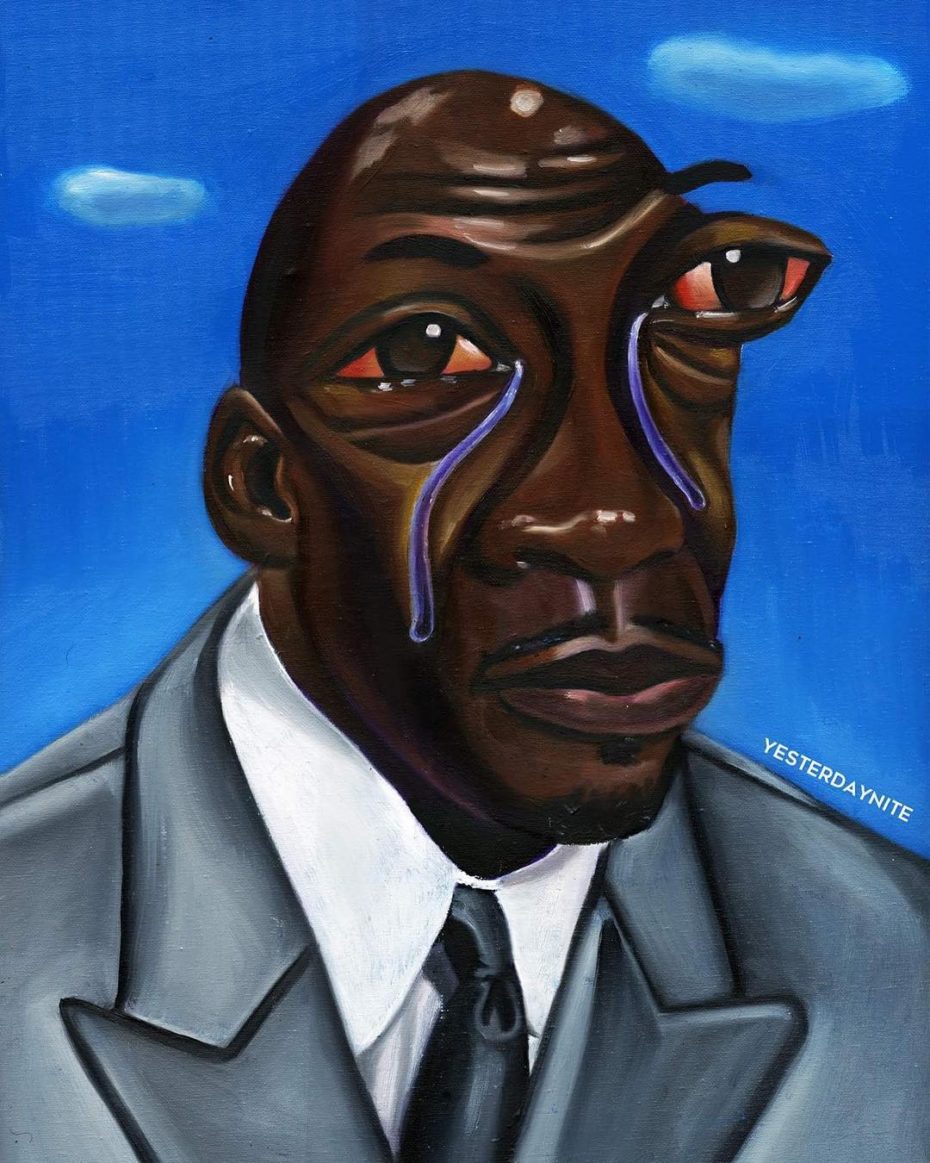 Learn more about the artist on his website.
Uno Morales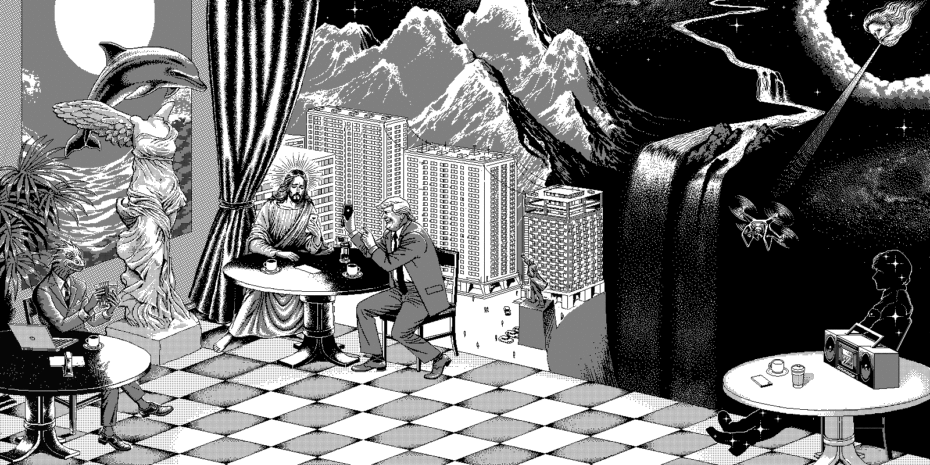 Uno Morales is one of many artists who has us wondering: Is MacPaint the most underrated form of Outsider Art? His work is basically like a cosmic film noir that unravels inside a Gameboy universe. It's eerie, often satirical, and even more fun when it's animated: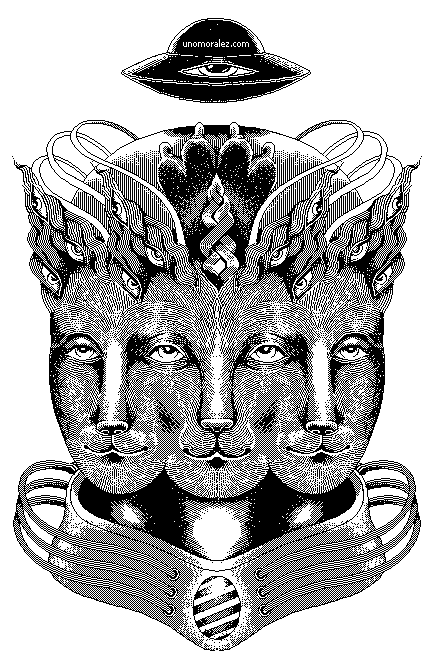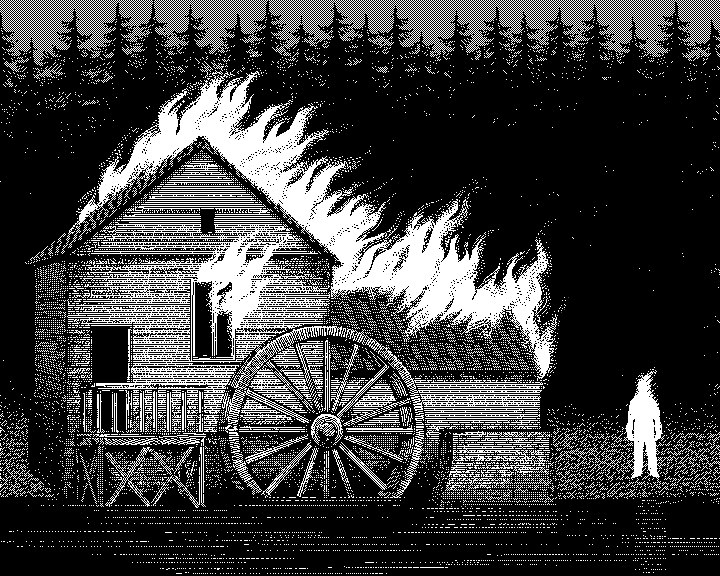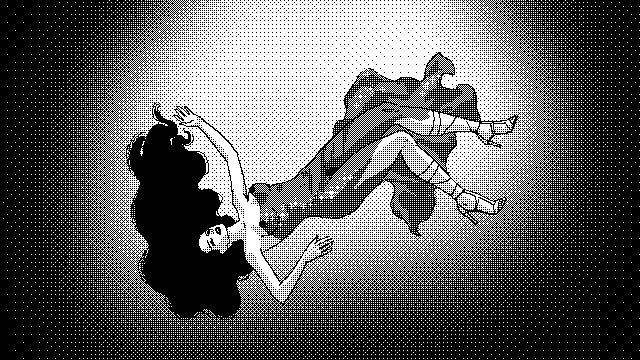 But the most intriguing thing about Morales is his totally reclusive nature. For one, he's not actually a latino named Uno Moralez, but a middle-aged Russian man living with his wife and cat. In the rare interviews he's done, "Moralez" says his work reflects the inherent weirdness of growing up in Soviet Russia, as well as the boundless worlds he'd discover on the web. Uno, if you're reading: we just wanna talk.