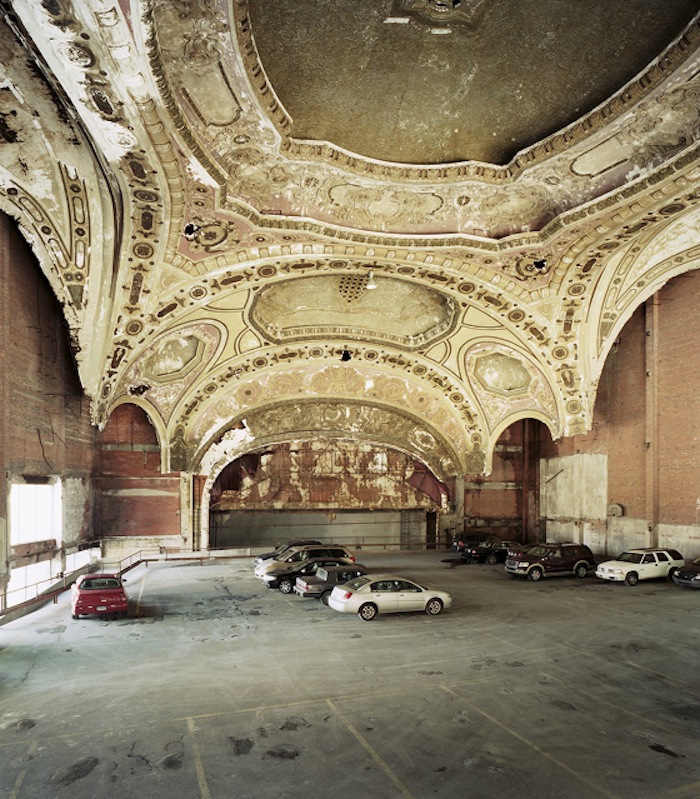 Detroit's haunting decline has been so well documented by urban explorers that to the outside world, it might seem like it's the only thing to know about this once great industrial metropolis. And yet undeniably, it's vast urban abandonment is intensely interesting. My latest guilty fascination is the Detroit's renaissance revival theatre that has ended up of all things, as a car park.
Photography by Sean Hemmerle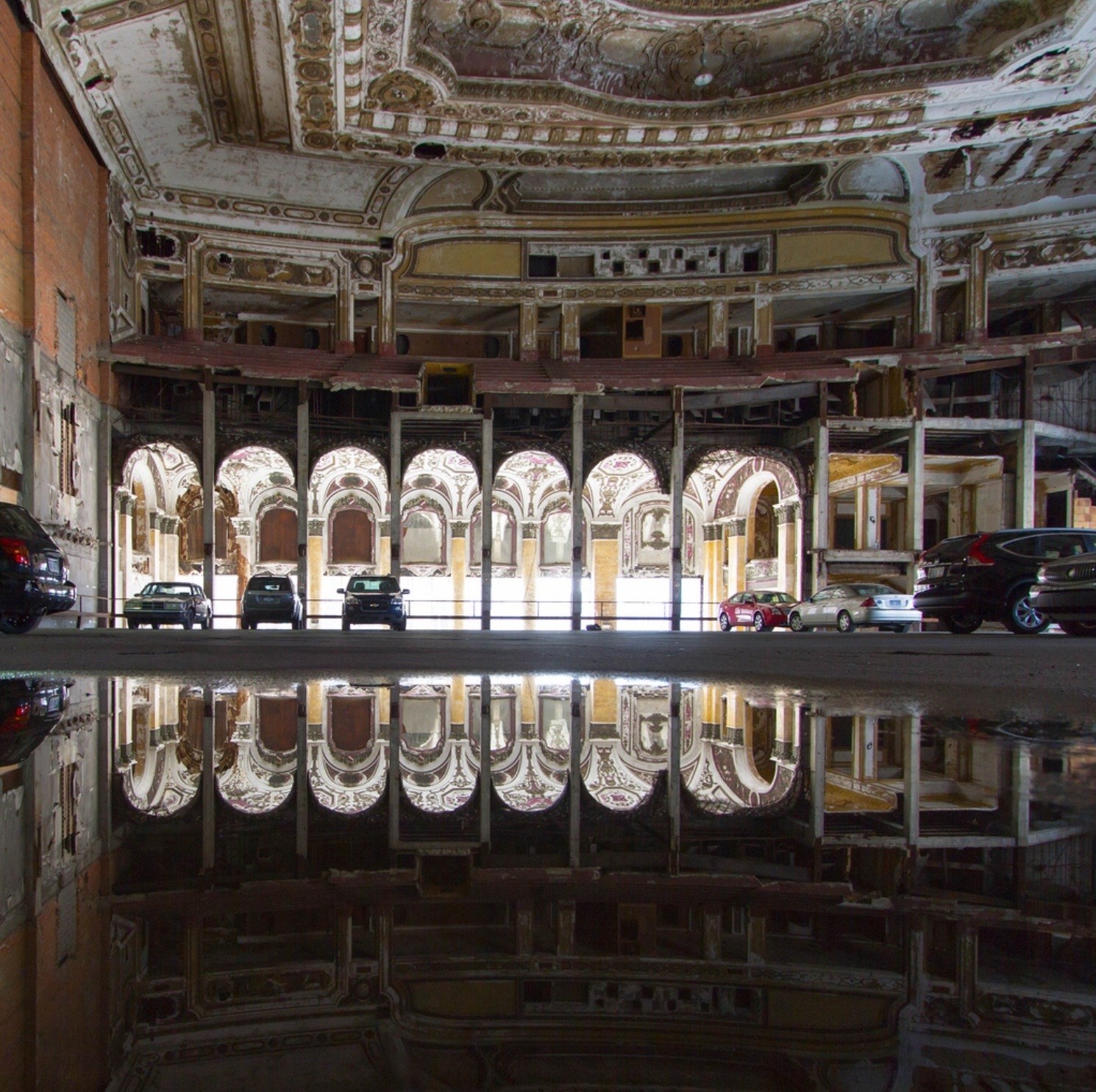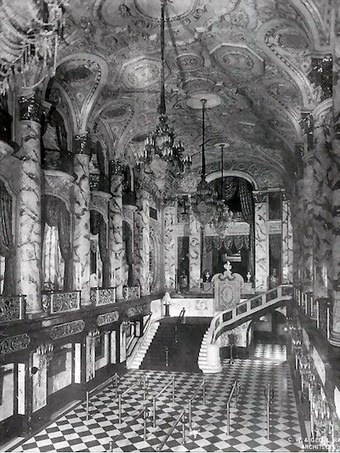 The Michigan theatre was built in 1926 at a cost of $5 million, close to $60 million today. Designed to leave visitors in awe of its magnificence, the 1,000 square foot showplace boasted more than 4,000 seats, ten foot crystal chandeliers and lavish gilding. Despite its initial black tie dress code, by the 50s and 60s, after changing ownership several times, the theatre began hosting less glamorous events such as screenings of hockey games for those who could not attend the nearby Olympia stadium. By the early 1970s it became a nightclub called the Michigan Palace and a venue for small rock concerts. In 1976, the theatre had its final curtain call and the closed for good.
Abandoned with plans for demolition, the theatre was a sad emblem of the end of an era. An adjoining office building next door needed a parking garage for its tenants, but studies quickly determined that demolition of the theatre would be impossible.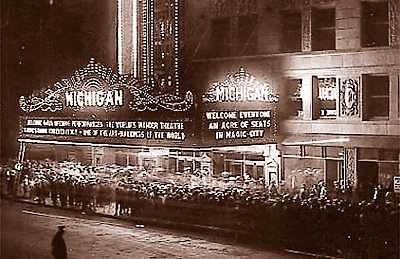 The Michigan was integral to the structure of the office building and destroying the old venue would be a potential disaster. And so the decision was made to gut the auditorium, making enough room for three-level parking garage, leaving the ornate ceilings, the grand lobby, parts of the mezzanine, staircase and balcony foyers in tact (almost). Even the projection booth is still there, covered in dust.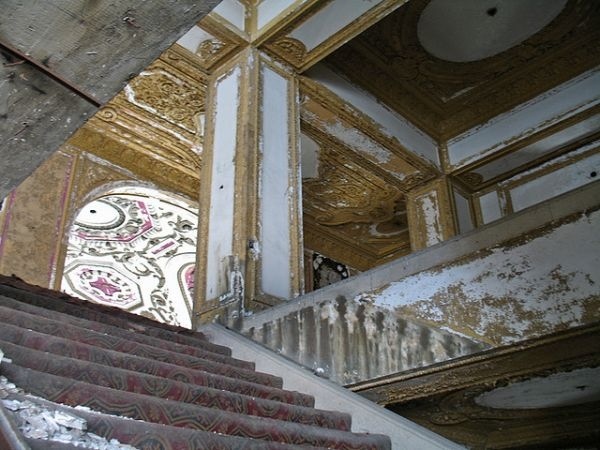 Certainly the car fumes aren't doing this place any good, but ironically, the building has returned to its first origins. The Michigan theatre had in fact been built right on top of the small garage where Henry Ford built his first ever car. The historical garage was even transported to the Henry Ford museum in Dearborn, Michigan, brick by brick.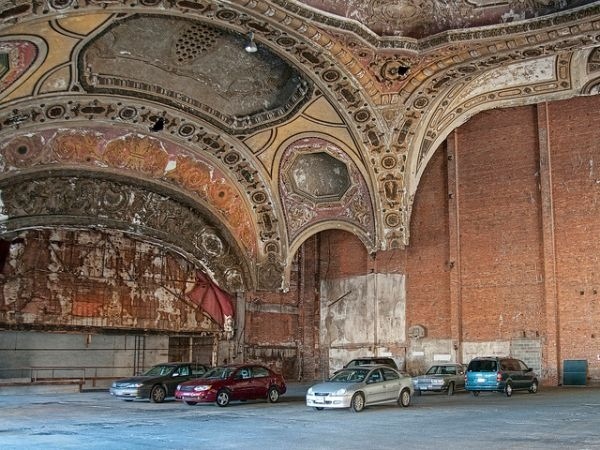 This shocking, magnificent, horrifying, beautiful place lives on, for better or for worse.
Images by Paul Hitz, Bob Jagendorf, Jim Garrett via nogoodnik