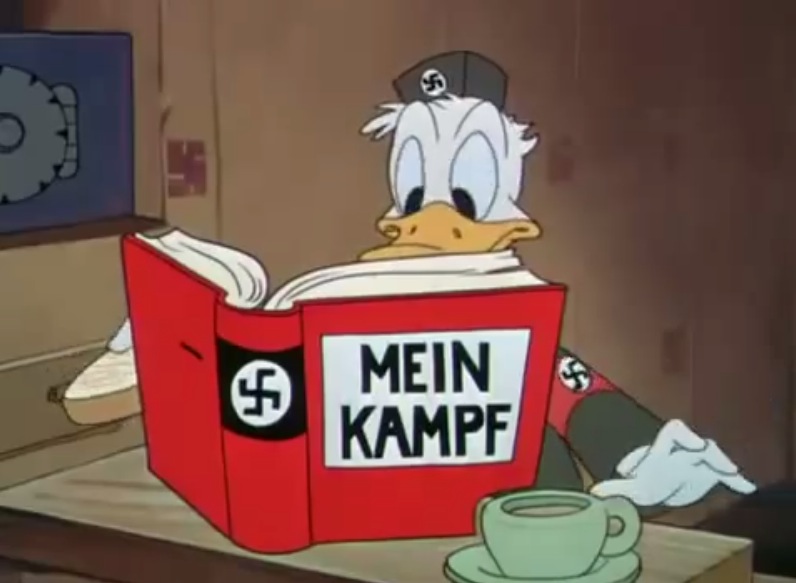 Disney has its fair share of questionable cartoons in the archives and over the years, the company has been accused of everything from racism to sexism, the promotion of drug use and even pedophilia. And then there was that time that Donald Duck was a Nazi.
In 1943, Walt Disney productions released the American animated short propaganda film, Der Fuehrer's Face, featuring Donald Duck as a reluctant factory worker in Nazi Germany. While I think most will agree that you can never have too much anti-Nazi propaganda, did Disney really need to go and masquerade it as children's/ family entertainment? I suppose the answer is that they did, because they bagged themselves an Academy Award for it that year (the only Donald Duck film to ever win an Oscar).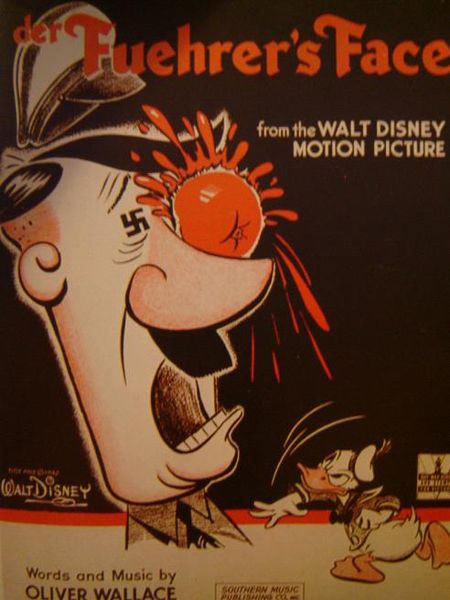 The cartoon begins with a marching band composed of WWII Axis leaders including Mussolini on the base drum, Heinrich Himmler on the snare drum, Joseph Goebbels on the trombone and Hideki Tōjō on sousaphone, parading through a small German town. They're playing the title song "Der Fuehrer's Face", also known as the "Nazi song", by Oliver Wallace, which was actually released before the cartoon's release to parody the Nazi anthem.
Here's a sample of the lyrics:
When der fuehrer says we is de master race
We heil heil right in der fueher's face
Not to love der fuehrer is a great disgrace
So we heil heil right in der fuehrer's face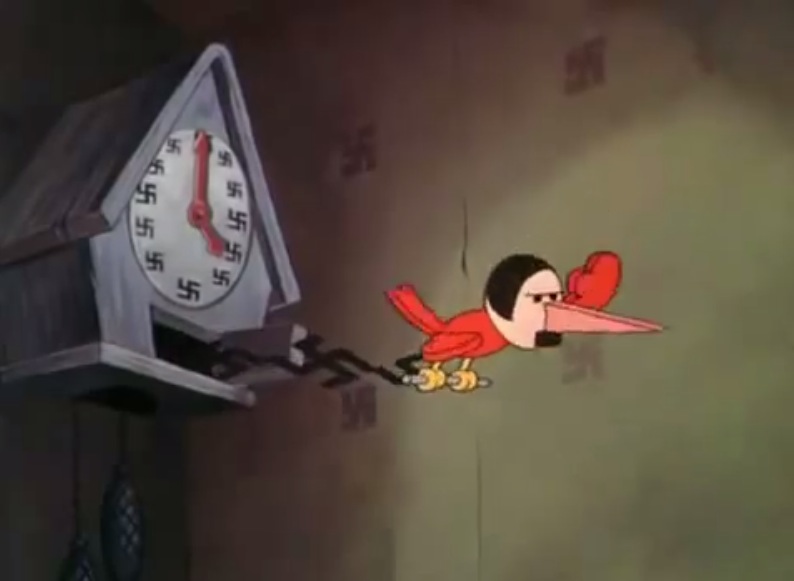 We then meet Donald Duck in his house, decorated with swastika wallpaper and Fuehrer cuckoo clocks. He begins his 48-hour daily shift at the factory's conveyor belt of artillery shells, all the while being bombarded with Nazi propaganda about the Aryan race and the glory of working for Hitler.
In the end, Donald wakes up safe and sound in his star-spangled banner decorated bedroom and realises that he hadn't actually defected to the Nazi regime and it had all been a very bad dream. But will you ever get the imagery of Donald Duck in full Nazi regalia out of your head?
Watch the 8-minute cartoon below*:
*It may or may not ruin your childhood.  
https://www.youtube.com/watch?v=kzH1iaKVsBM