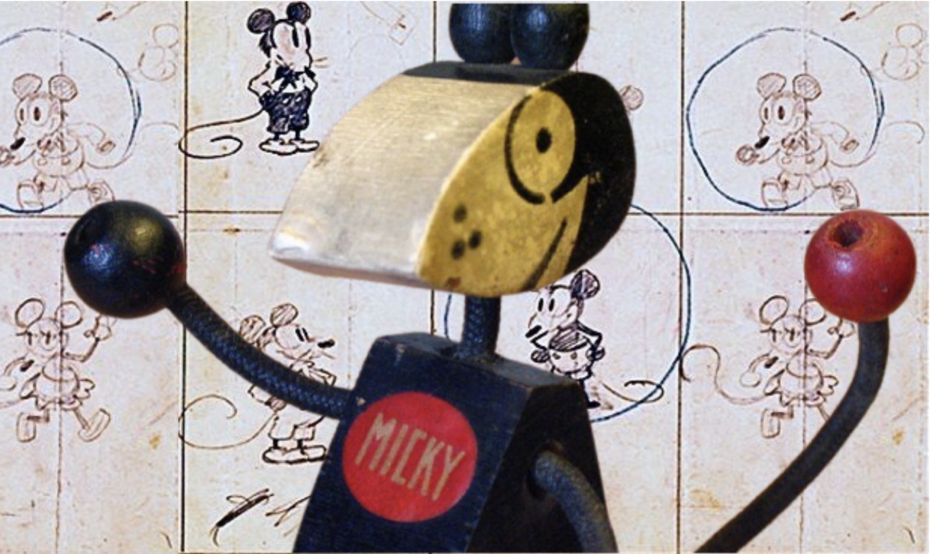 Once upon a time, in 1927, Walt Disney created Oswald the Lucky Rabbit for Universal. This bunny had a round white face, a button nose, and floppy black ears. After Disney sold a series of shorts to Universal, he returned in 1928 to offer his services to create more cartoons featuring Oswald. However, he not only discovered he lost his rights to his lucky bunny, but Universal also offered him a lower salary to animate Oswald. So, Disney walked out and quite literally hit the drawing board again with animator Ub Iwerks to rework Oswald. They shortened the ears and transformed Oswald into the mouse we would all come to know and love as Mickey in 1928 (keep this date in mind). At least, that's how the official story goes. A more romantic version of the story recounts how Walt Disney found inspiration for Mickey Mouse on a train from New York to Los Angeles in 1928. Legend has it he pondered his company's mascot on the transcontinental ride and made some of the first sketches of the iconic Mickey here. He named the prototype Mortimer, but his wife hated the name and recommended he change the name. Mickey became iconic and synonymous with Disney and his empire. But what if we told you that Mickey Mouse might have "lived" a secret life before Disney, even before Oswald the Lucky Rabbit?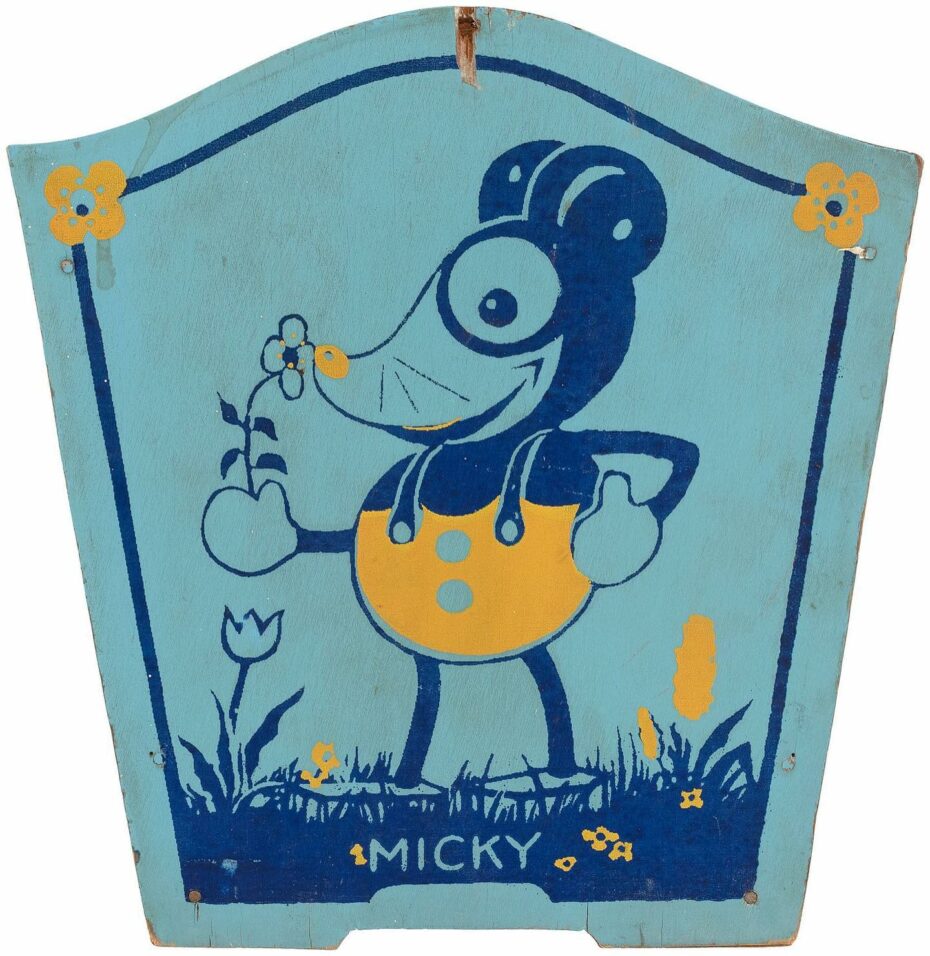 Cracks began to appear in the story when a few antique and toy enthusiasts started to uncover the original "Mickey", and the origin story as a purely Disney creation began to change. Craig L. Andrews released his book in 2002, "Broken Toy: A Man's Dream, a Company's Mystery," about his wife's grandfather, Torrence Dietz, who founded a toy company that made a wooden mouse with an eerily familiar name. Soon collectors came into the spotlight with their antique wooden mouse toys, appearing on PBS's History Detectives in 2005 and on eBay auctions, helping to bring even more attention to the fact that Disney's Mickey may not have been the first.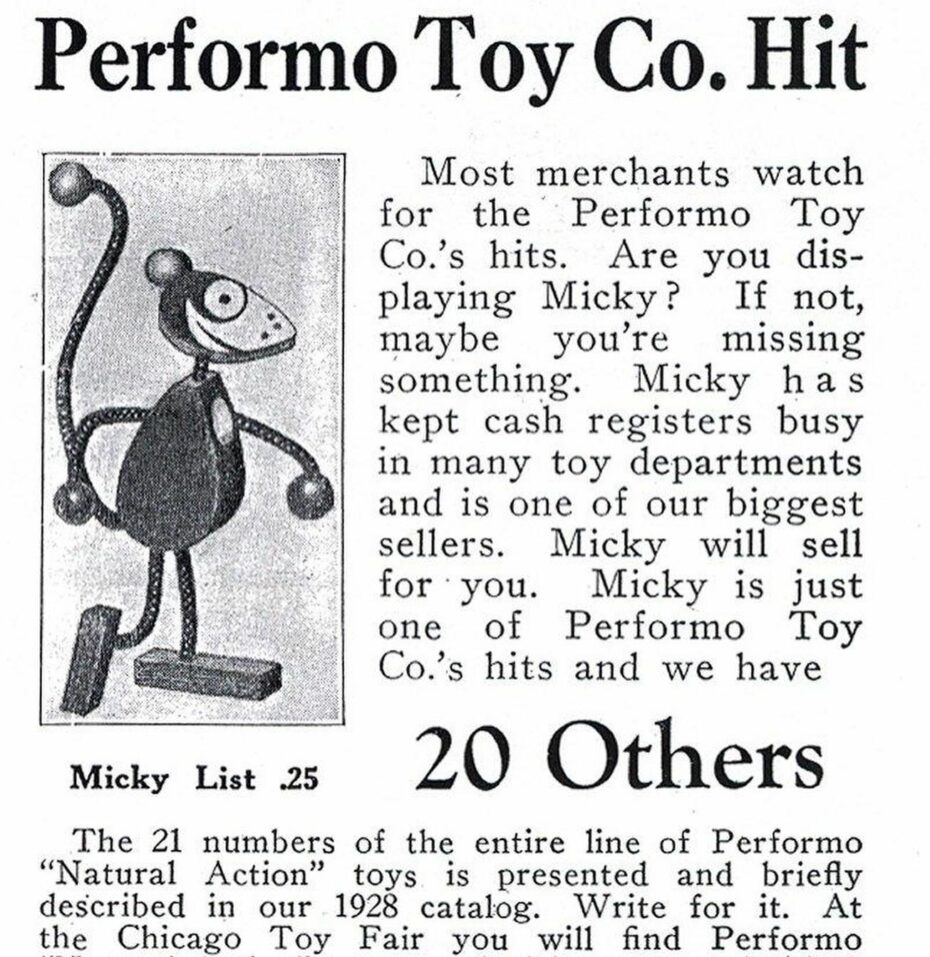 So let's wind back the clock to 1925, a few years before Disney even created Oswald the Lucky Rabbit, and look at what could very well be the real origin story of Mickey Mouse. Torrence Dietz founded the Performo-Toy Company in 1925 in Middletown, Pennsylvania, but it was designer and co-founder Rene Grove who came up with the original Micky (no, that's not a typo) Mouse.
The Performo-Toy Company specialised in small wooden toys and made some 35 to 40 joys featuring a diverse cast like Joy Boy, Dancing Girl, Bouncing Trixie, and their most popular toy Micky, a black and white mouse spiced up with a touch of red.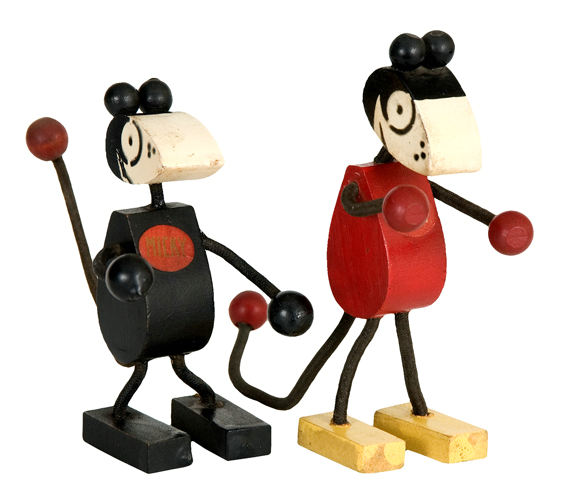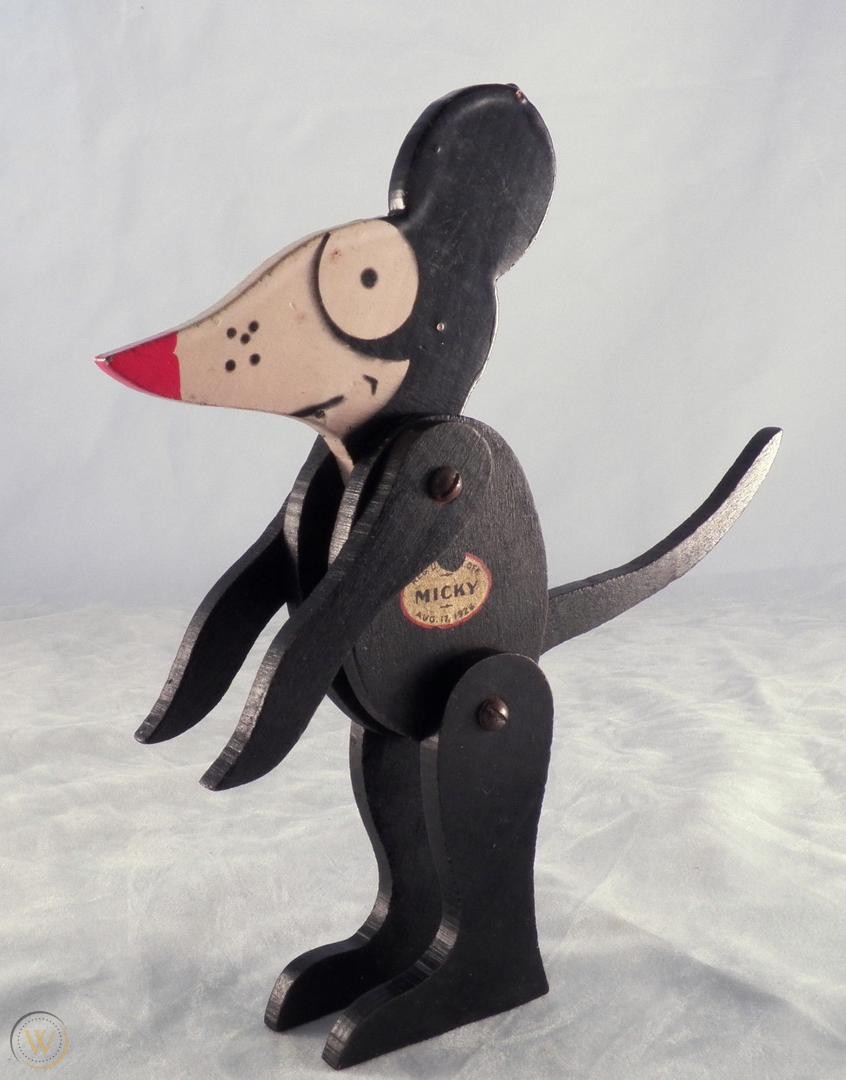 Although the timeline does put the two Mick(e)ys in close proximity to each other, luckily for the legacy of the Performo-Toy Company, Rene Grove applied and received a patent for his toy on August 17, 1926 (US Patent #D70,840). However, the name Micky came later when he held a contest to find the name among employees of the toy company. Employee Larry C. Grove pitched the name "Micky", and the Performo-Toy Company trademarked the name on February 8, 1927. The original wooden Micky was a hit, and the company sold the Micky Mouse toys from 1927 to 1931. It became so popular they even had to cut production of their other toys to keep up with the demand.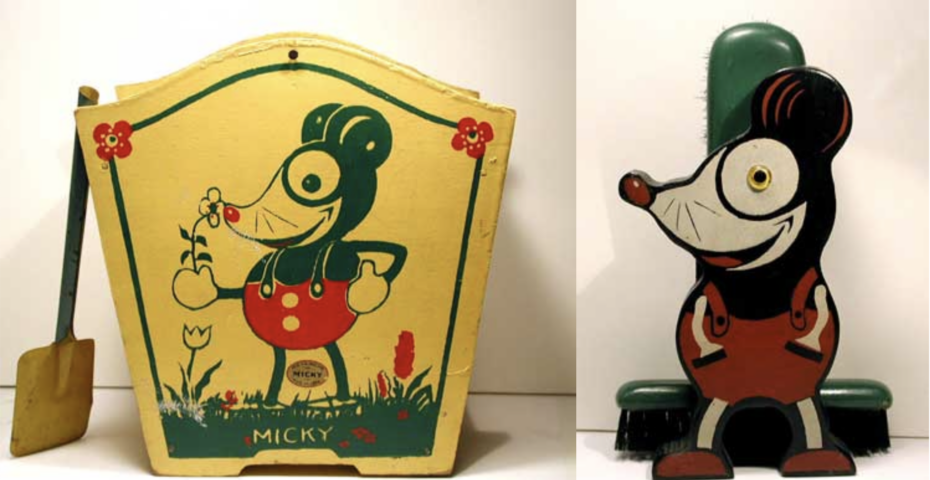 Micky made it out of Pennsylvania and was sold and distributed by the prestigious George Borgfeldt Company, which had its headquarters in New York City, all across the North East. This means that the wooden Micky Mouse was on sale right around when Walt Disney came to New York to pitch Oswald the Lucky Rabbit to Charles Mintz of Universal Pictures.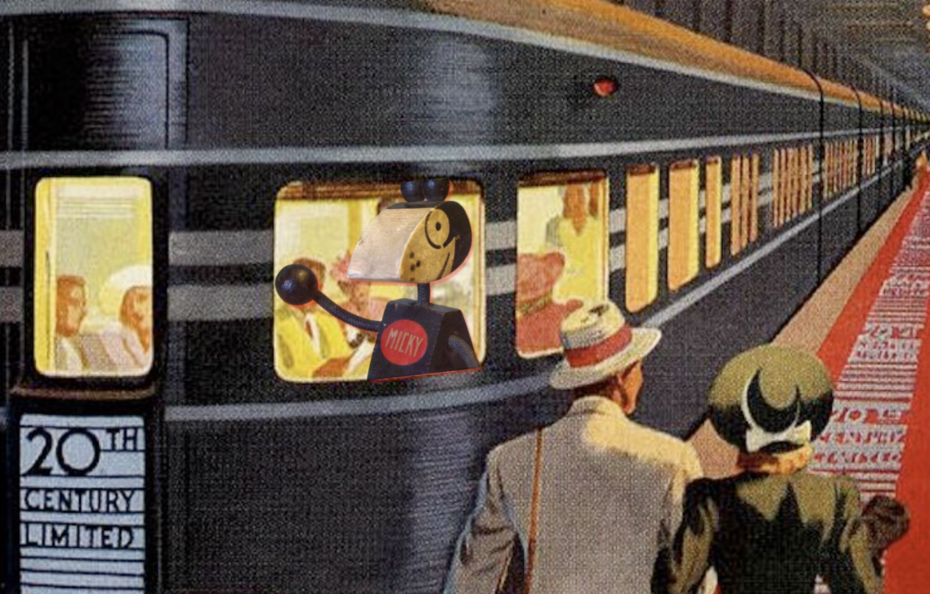 There is no denying that Grove's Micky came first, but was the story of the two Mick(e)ys simply a coincidence or did Disney steal the idea? Middletown historians say it's possible Walt Disney borrowed the idea from the Performo-Toy Company. Micky was on sale all over New York City when he was in town, and since Disney claimed Mickey inspired him on a train from New York, it seems like a tempting coincidence for conspiracy theorists. An article by the Middletown Public Library even suggests it could have been possible that the toy was so popular it may have even been sold on the train Disney was taking to Los Angeles. But it's also possible that it was simply a remarkable case of synchronicity that Disney had a similar idea. Either way, both Micky Mouse the wooden toy and Mickey Mouse the cartoon character were around at the same time between 1928 and 1931.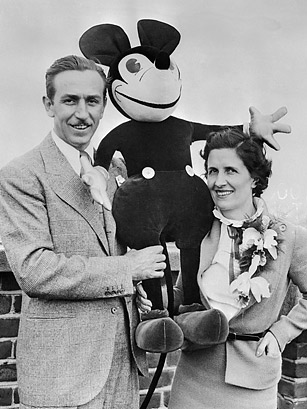 Things changed for the wooden Micky in 1931, when his cartoon namesake shot to superstar status and Disney put out a toy version of Mickey, and ironically, also sold it through the Borgfeld Company: the same company distributed the original Micky. Now the two mice were officially rivals.
You would have thought that the Performo-Toy Company, with its patented and copyrighted Micky, would have had a solid case against Disney, but it was the Disney Corporation that took the Performo-Toy Company to court, claiming they had stolen the idea for Micky from Disney. The Performo-Toy Company was no match against an empire like Disney and lost the case. The courts ordered the Middletown-based toy company not just to cease production of all their Micky toys, but to destroy any Micky toys in stock along with any catalogues featuring the mouse. Sadly, this loss didn't just lose the Performo-Toy Company its most popular toy, but along with the Great Depression, they went out of business.
Although the Performo-Toy Company is no longer around, a few original Micky dolls remain, and the legend still circulates around the mouse that came before Disney. Did Disney steal the idea? One of the world's largest collectors of early Disney collectibles, Mel Birnkrant (whose collection we covered a few years ago) seems to have the most interesting twist on the tale: "It seems that neither Mickey/ Micky was America's first celebrity mouse…"
"Mickey evolved from a whole series of generic mice from every cartoon before him," says Mel, including a mouse friend in Felix the Cat (from 1922), "Milton Mouse" of Aesop's movie fables (from 1920) and before that, "Ignatz" mouse of the Krazy Kat cartoons and cartoon strip (from 1914).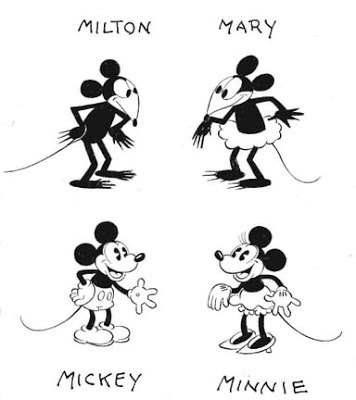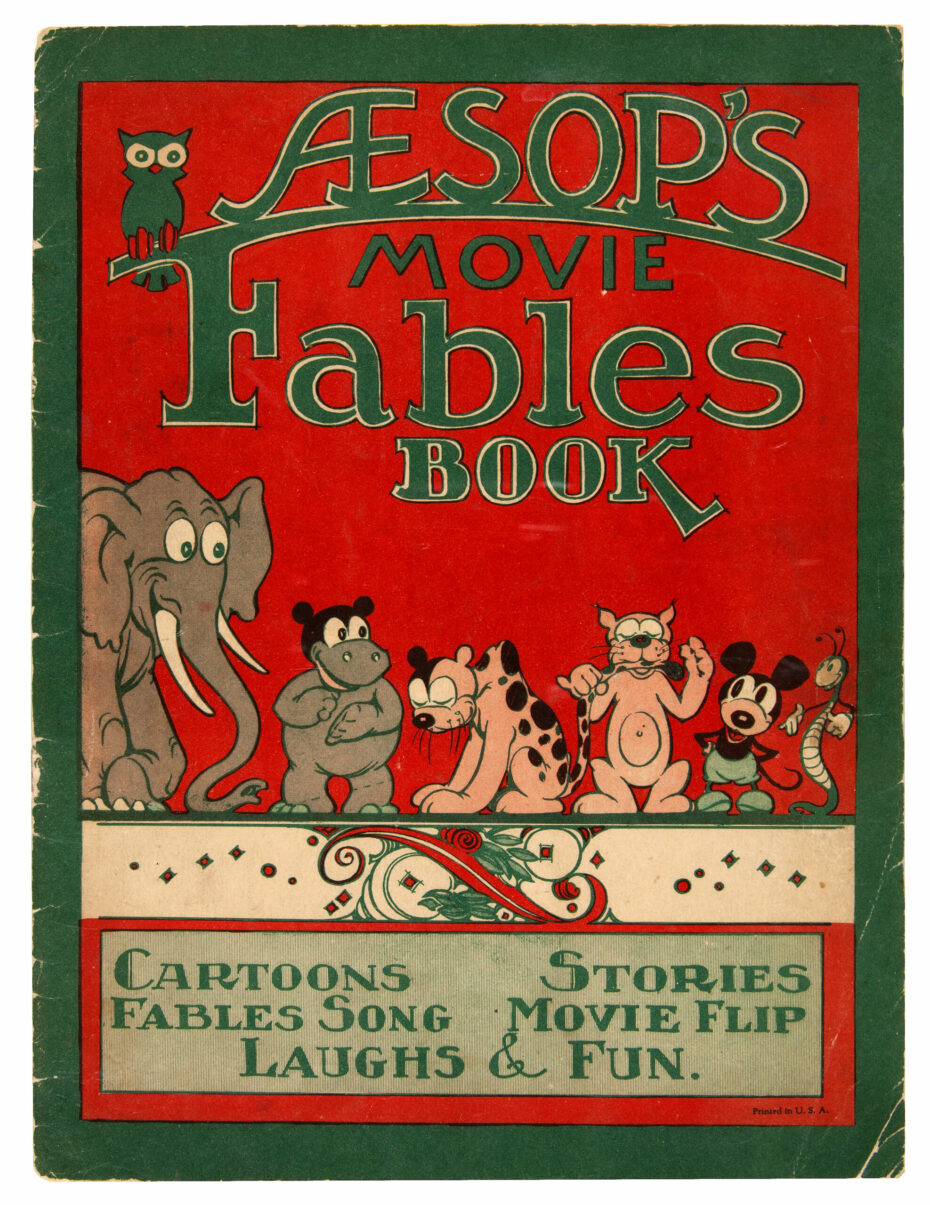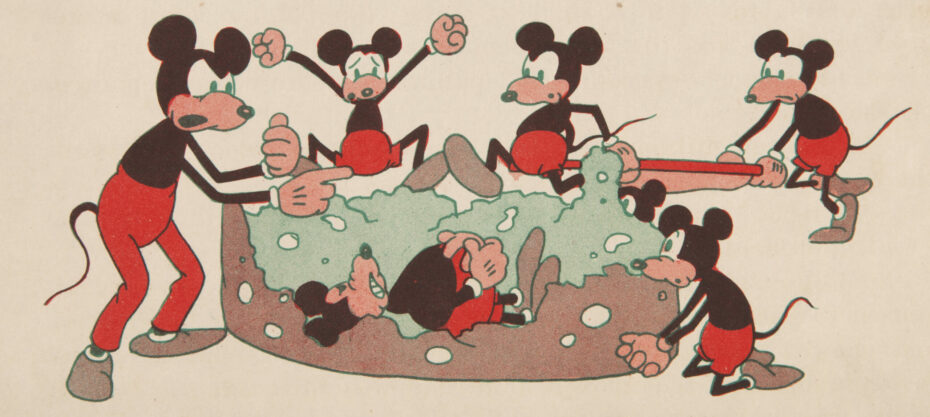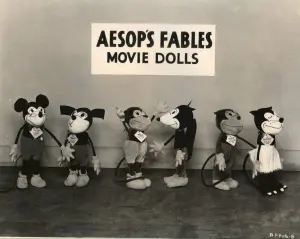 Mel believes that what enabled Mickey to shoot to stardom instead of the other mice on the scene was Disney's "exquisite design" and the fact they Mickey was in the movies. And by the 1930s, despite being the first to have put their mice to market, the other rival companies appeared to be "copying" Disney right back. Check out this 1930 Aesop's Fables cartoon that featured a male-and-female couple of mice. The characters' resemblance to Disney's Mickey and Minnie was "too close for comfort", which prompted Disney to take legal action against the Van Beuren Studio.
As Mel puts it, "If you can't beat 'em join em." It's very likely that the rival mice began to adopt such a striking likeness to the popular Mickey Mouse we all know and love today because the smaller companies ultimately "felt they had a right to." And while we'll probably never know the truth as to how Disney created a mouse with the same name as Peformo's "Micky", in the end, none of the rivals were any match for the destiny of Disney.
On that note, we'll leave you with an interesting quote from film director Jim Jarmusch: