During the week, I like a fast lunch, especially when I'm right smack in the middle of writing an article and my tummy starts to rumble. But when in Paris, with all these luscious food markets around, it's a little bit of a crime to settle for a sandwich in a packet. So today I thought I'd share my version of fast food– Paris style!
Twice a week, I hop on my mobylette and head to the nearby market. The closest one to MessyNessy's blogging bolt hole is the Marché Avenue du Président Wilson but every neighborhood has its own bi-weekly food market and they all have what I'm looking for…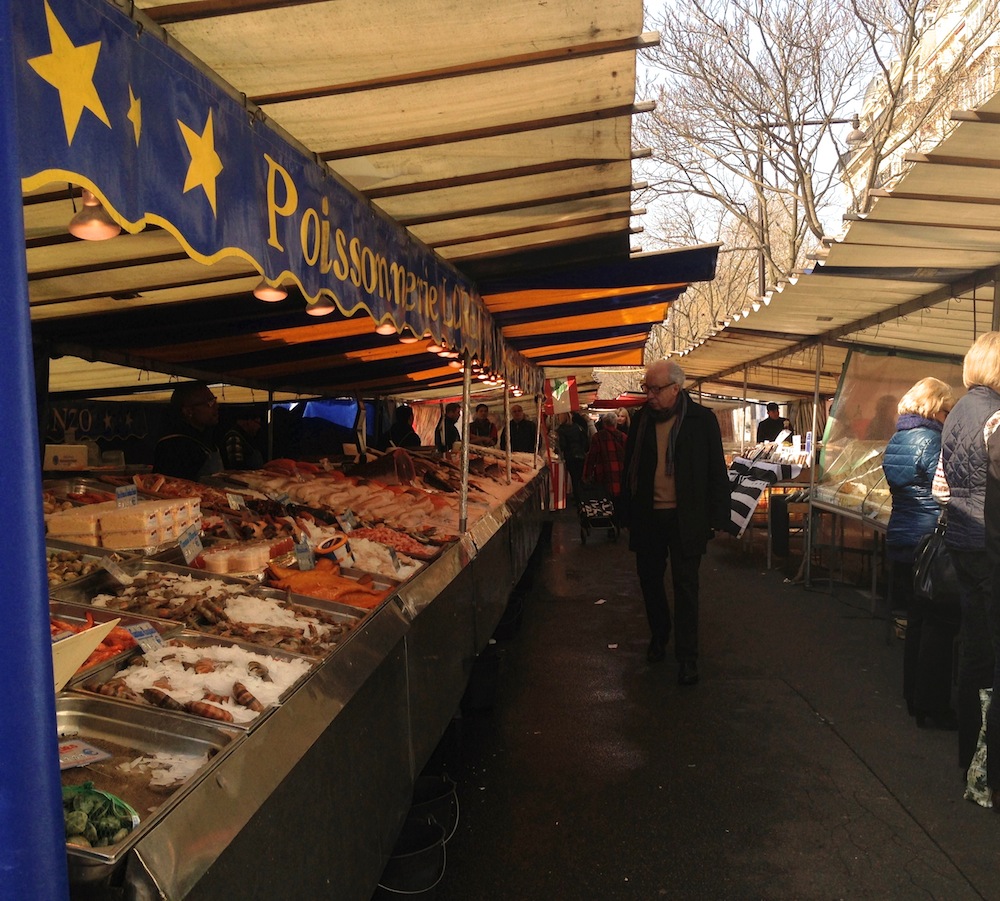 Enter Parisian street food heaven …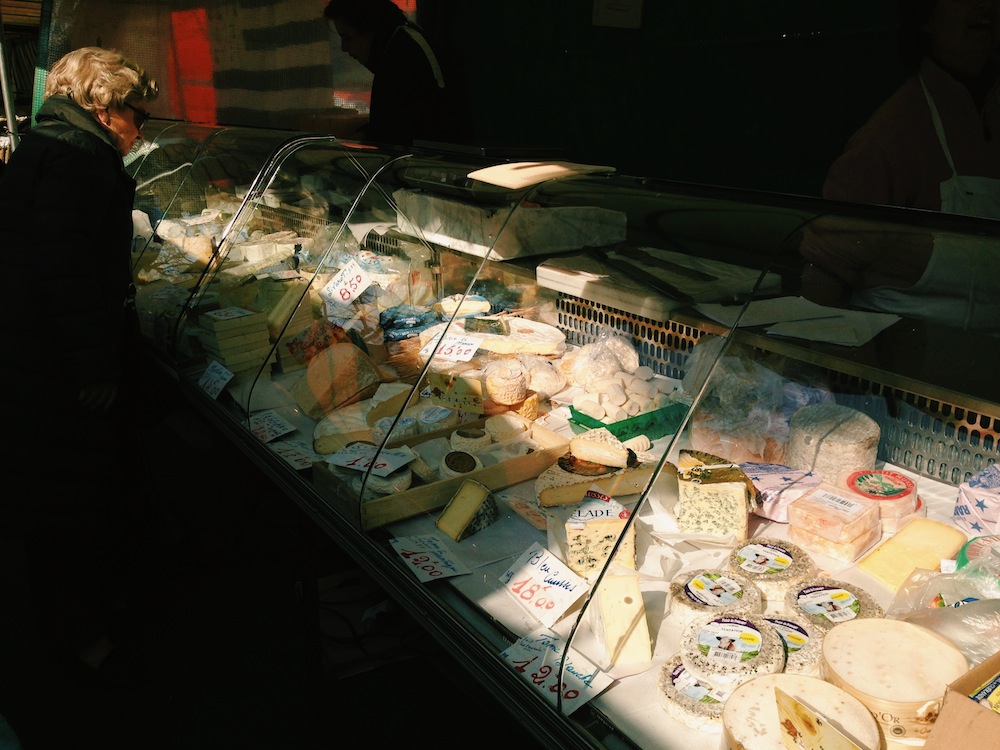 Skip the cheese stand (that's for weekends only!)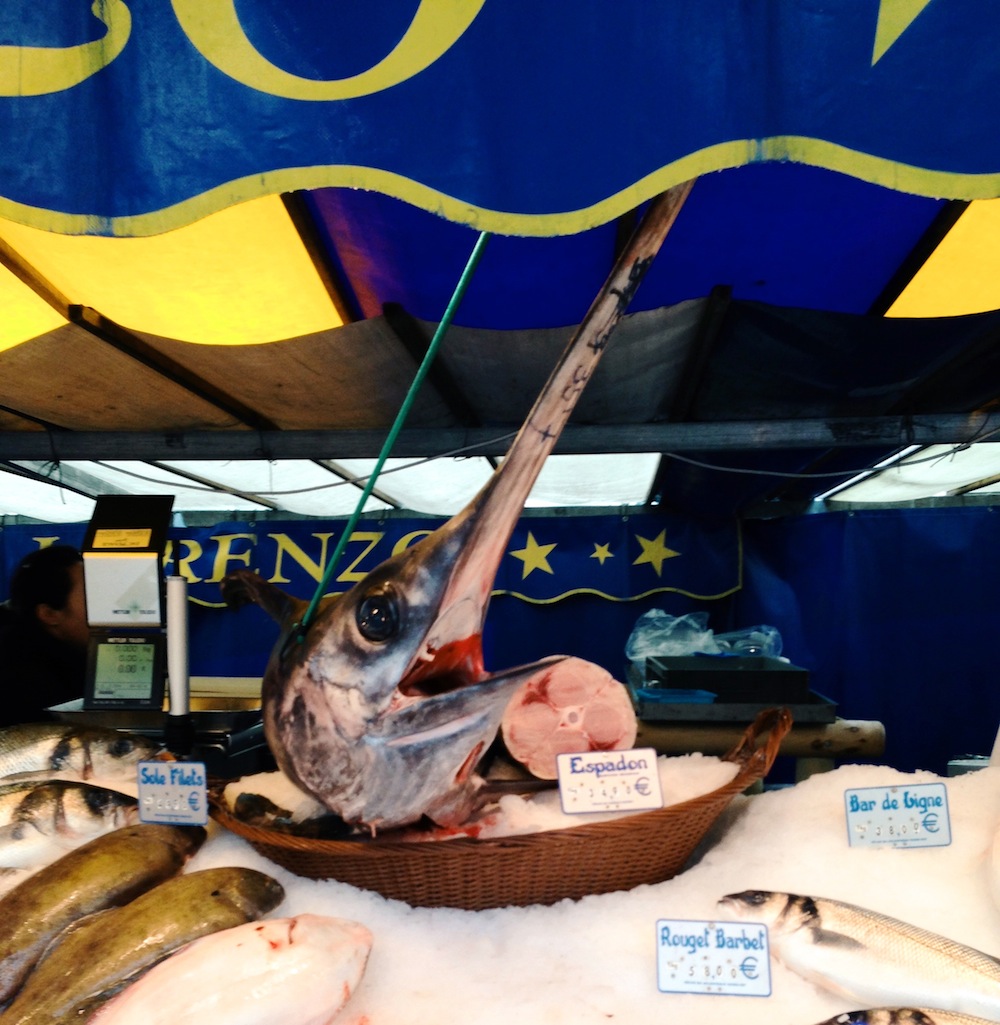 Hurry past the giant swordfish …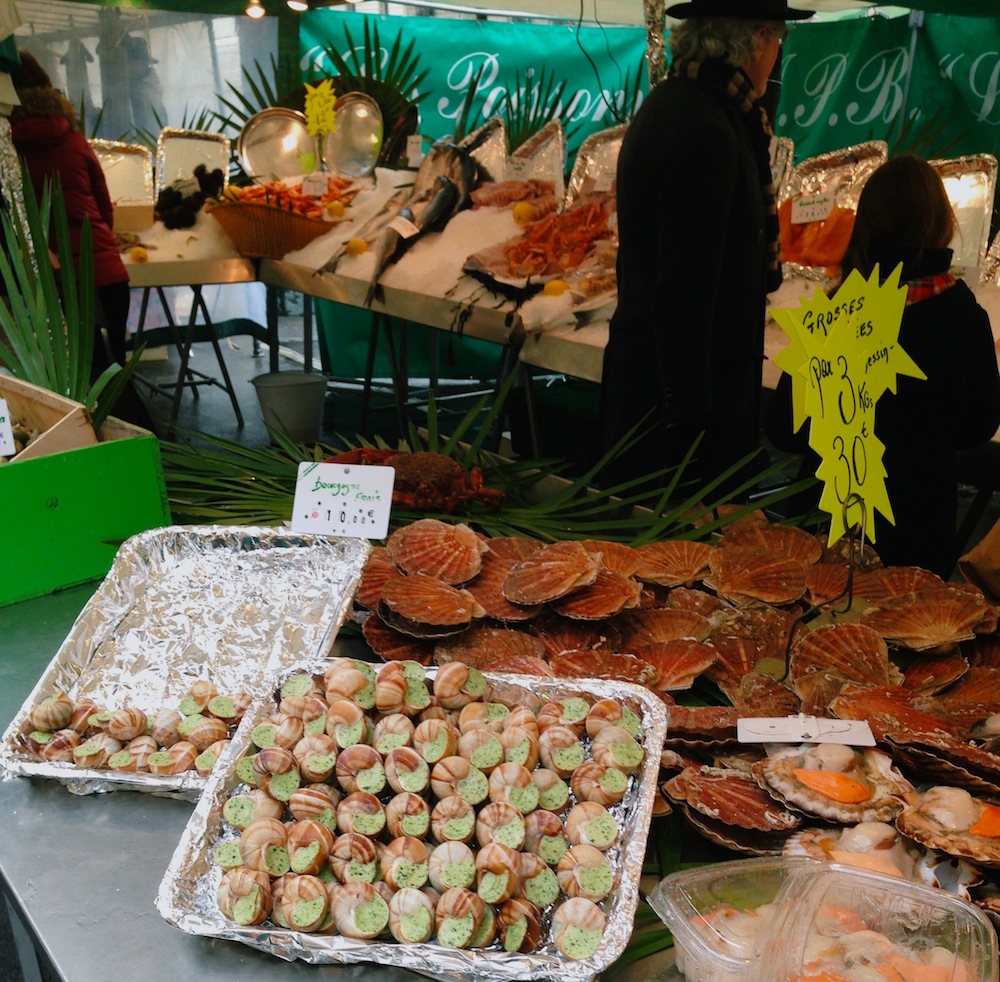 Keep on going past those garlic slippery suckers…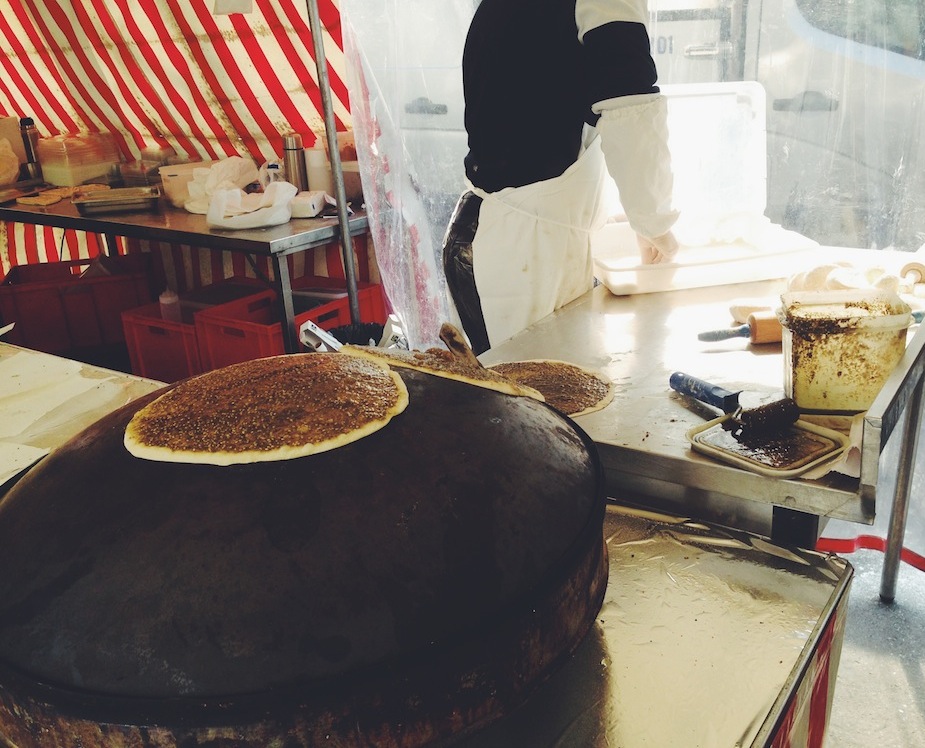 Pause to take in the Lebanese spices and fresh bread sizzling away on the Druze oven– but not today! We're on the hunt for one of the most classic and simple eats in the French diet…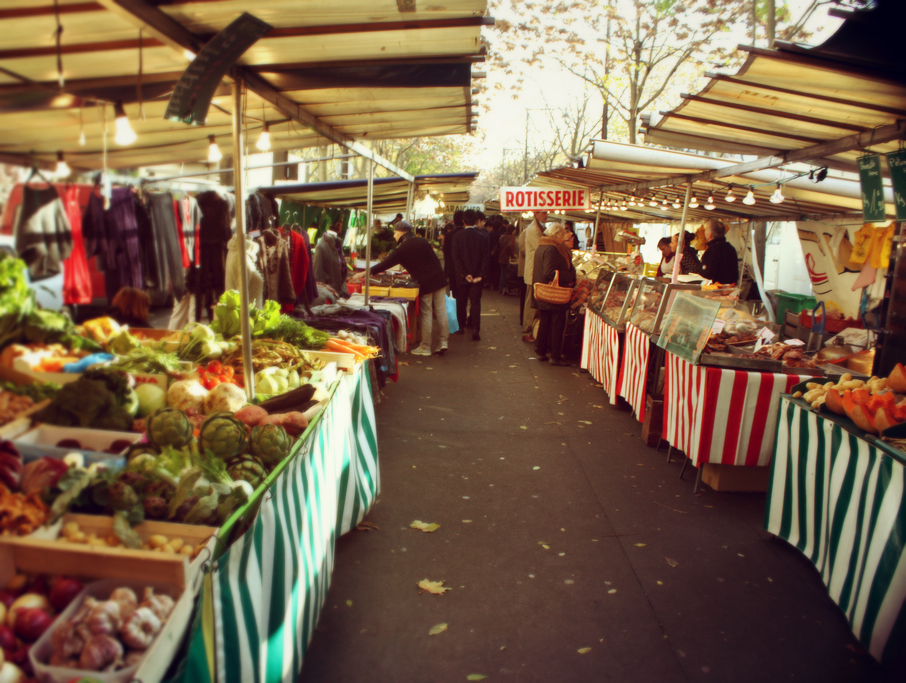 And there it is … the Rotisserie!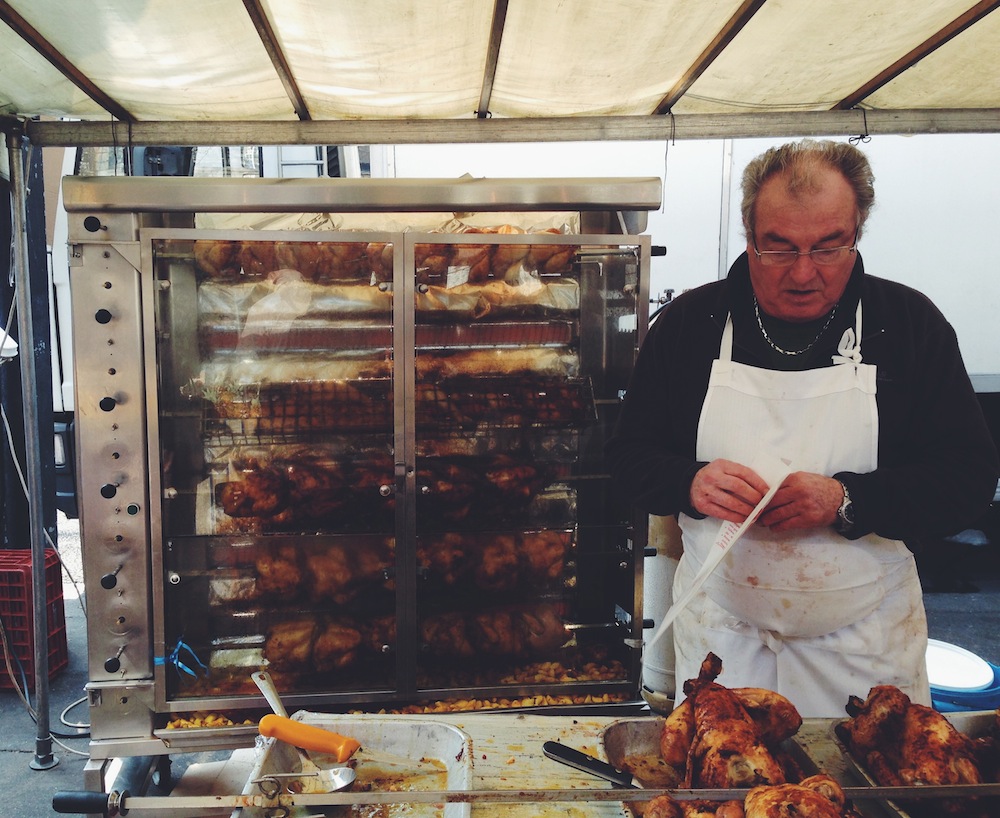 Here's our chicken man– or should I say the poulet man. Market rotisseries are usually family run, father & (slightly smaller bellied) son operations; a jolly bunch with grease-stained aprons and quite frankly, the best-smelling stand in the market.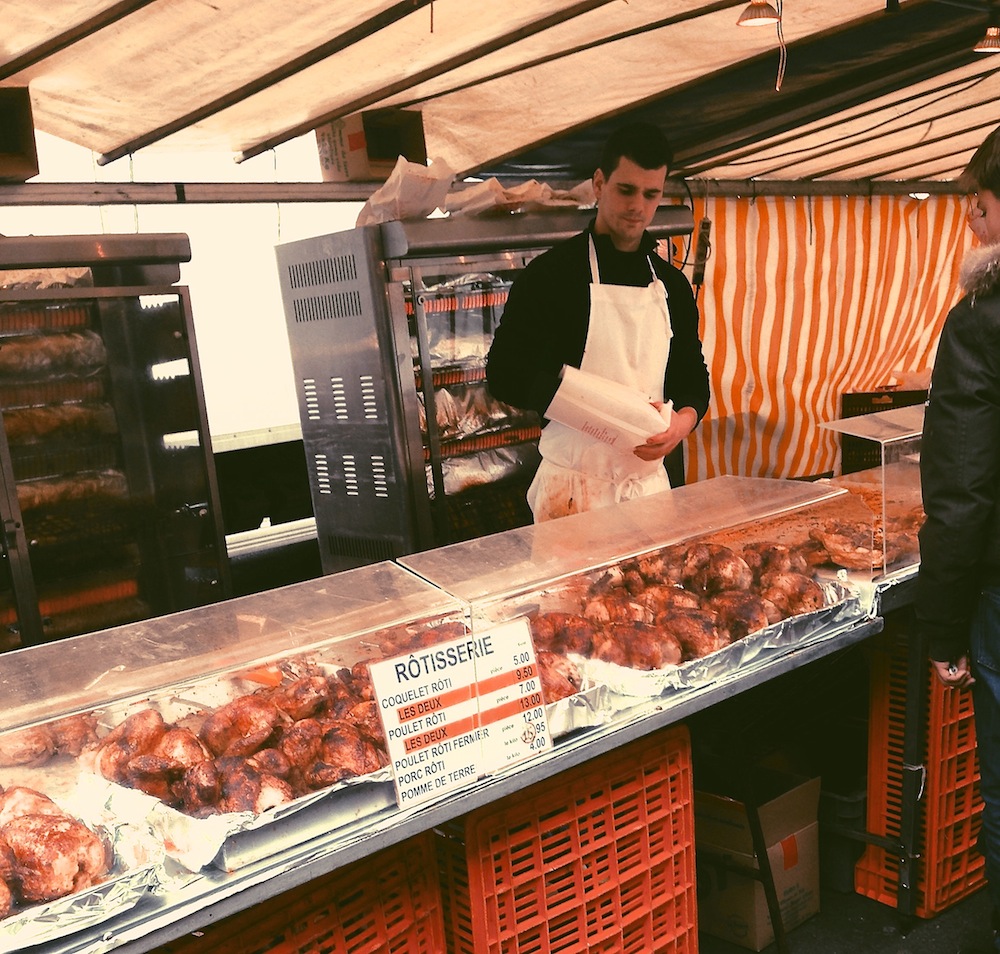 Now you might be wondering … how am I going to eat an entire chicken to myself for lunch?
Well, not unlike fast food shops, the Rotisserie sells their ready-roasted chickens in an array of sizes– small, medium and large! The smallest, the baby-sized one, is known as a coquelet (about the size of your fists if you put them together). And at five euros a pop, they make a perfect and affordable fast-food lunch. And if you're feeling extra famished, you could always be naughty and go for a medium…!
 For some reason they look a lot bigger in the photo than they really are, but trust me, you could handle it!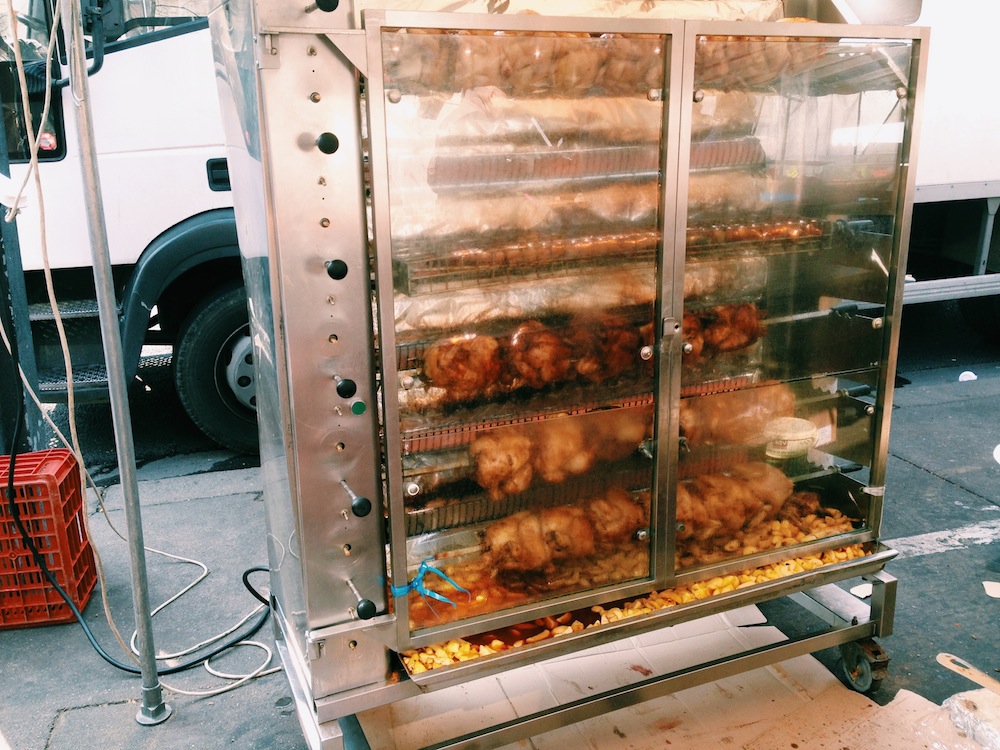 Now let's just take a second to focus on this ingenious French machine that roasts our lunch…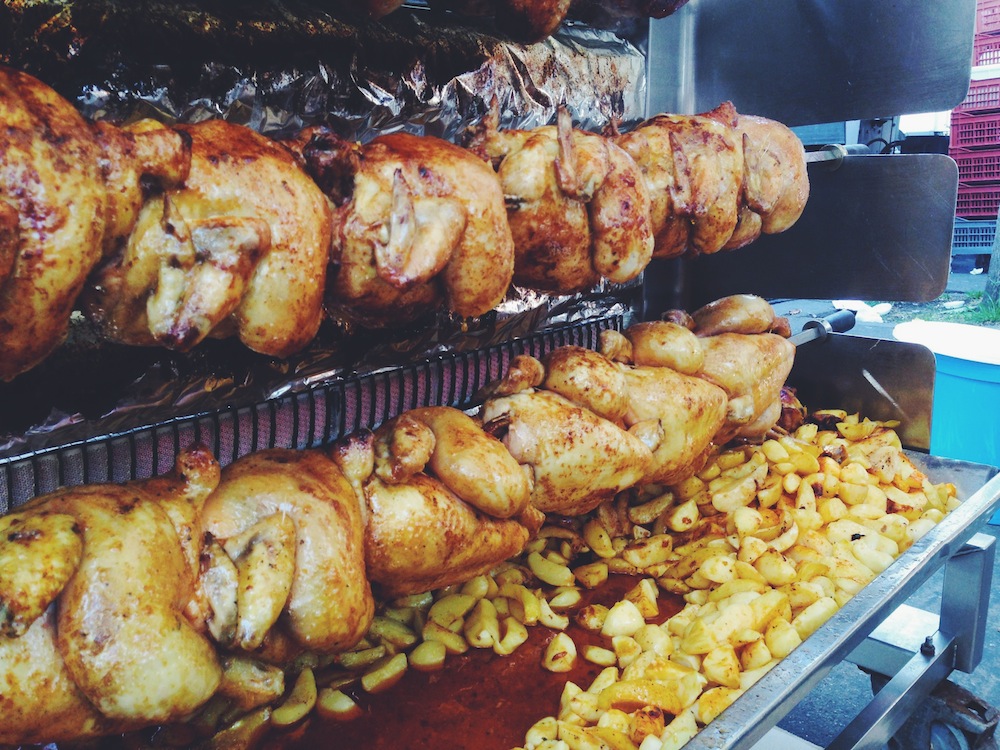 … and allows all that succulent chicken to rotate on spits while their juices drip down into what I like to call 'the potato den' below…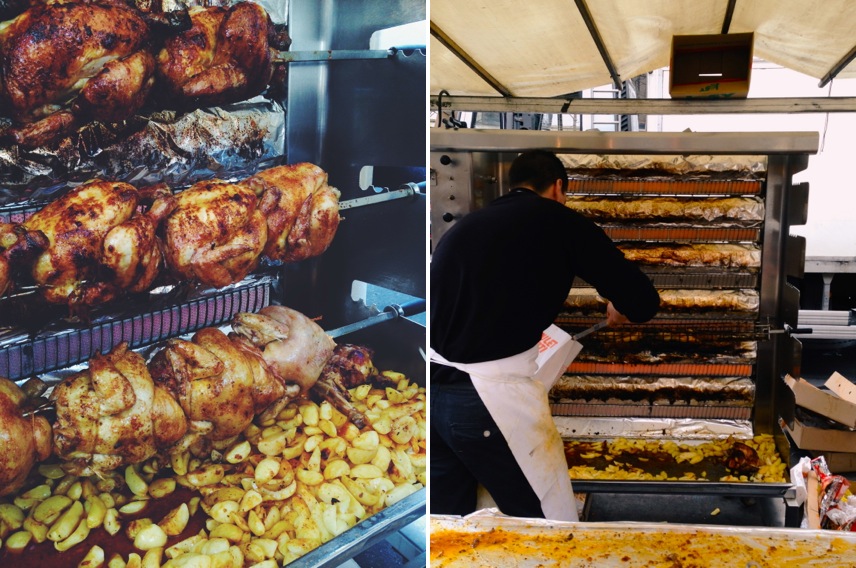 Then once they're all good and gold and roasted to perfection, the poulet man lays out his trophies to tempt the market-goers…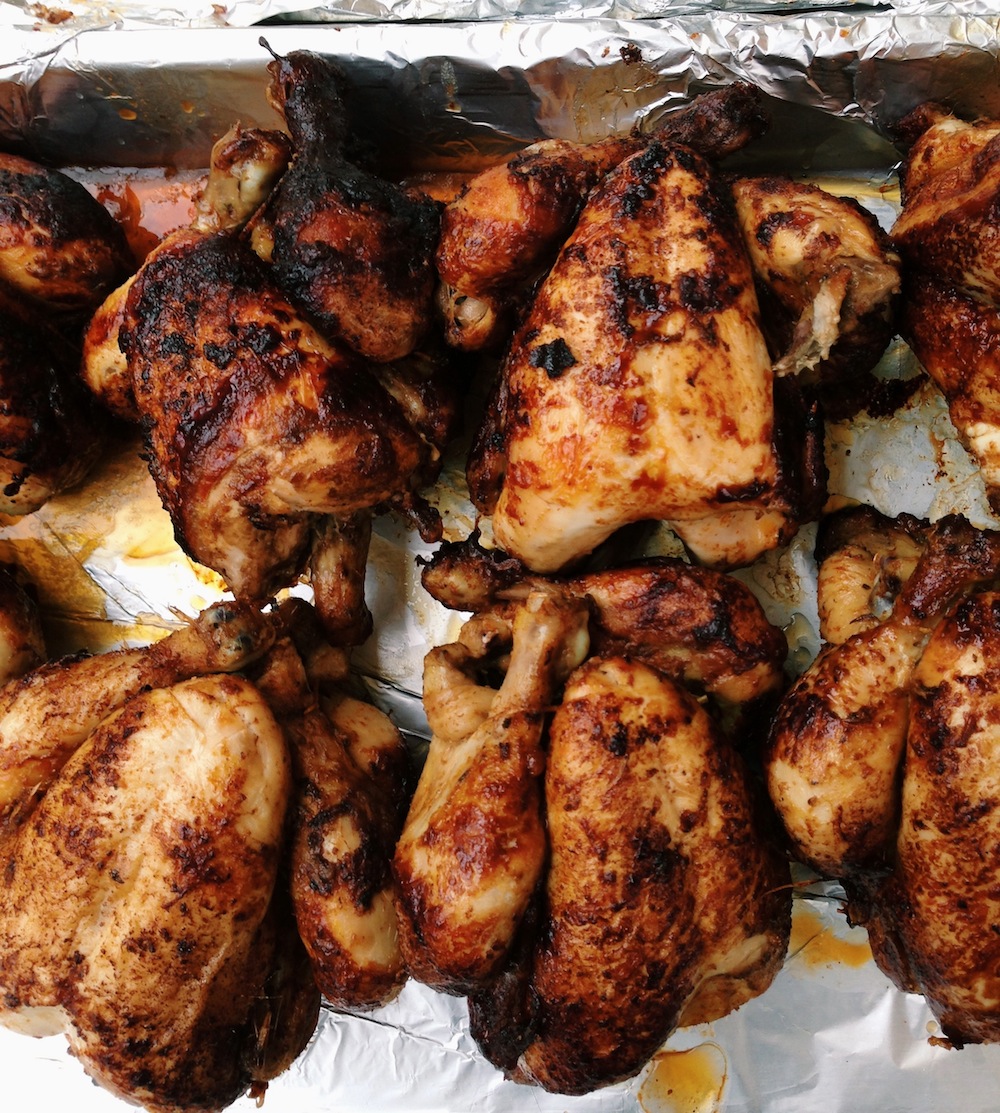 Just look at those browned babies!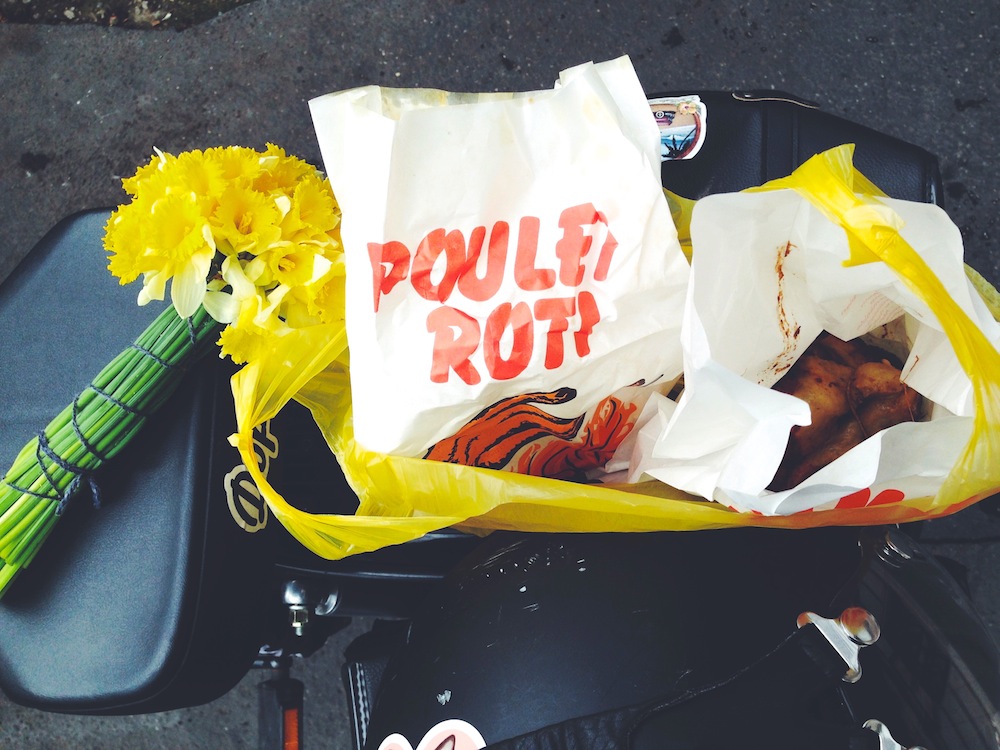 Once I've got my loot, I zip back through the market and load it on the back of my bike (including my little €1 bouquet I picked up from the flower guy on my way out).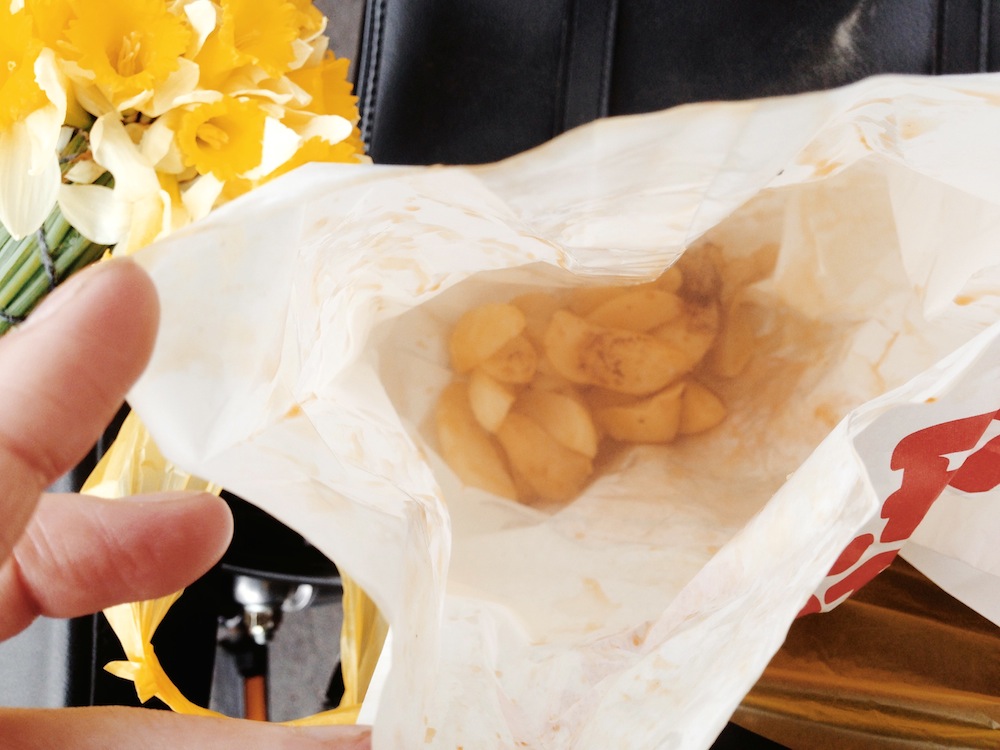 Oh and don't think I forgot my side of potatoes (for €2 euros), safely steaming away in their bag…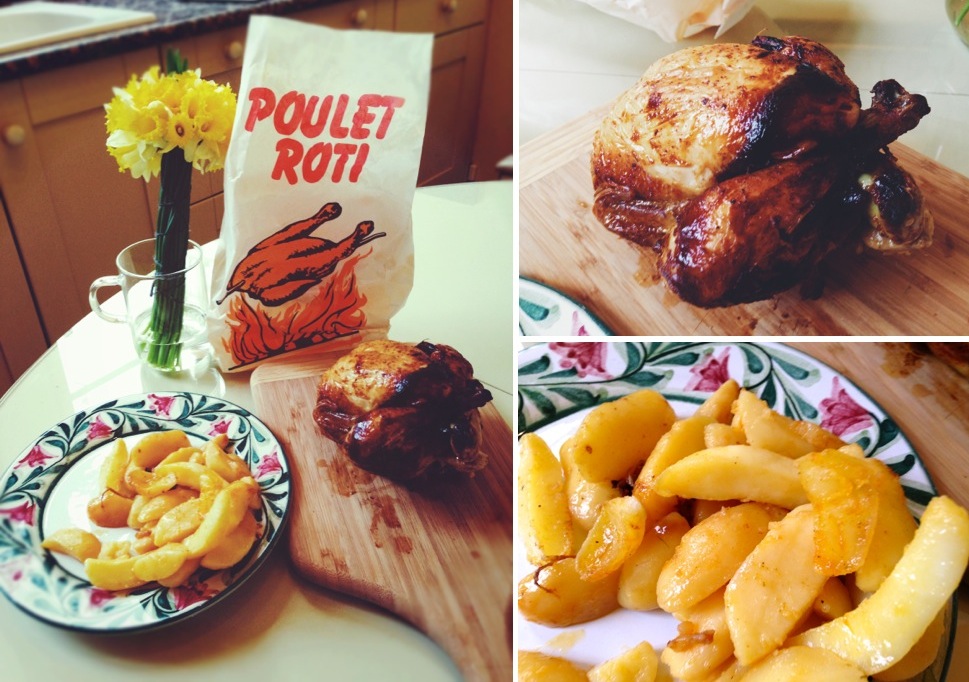 A few minutes later, back at the kitchen table and voilà, my affordable fast-food takeaway lunch is served!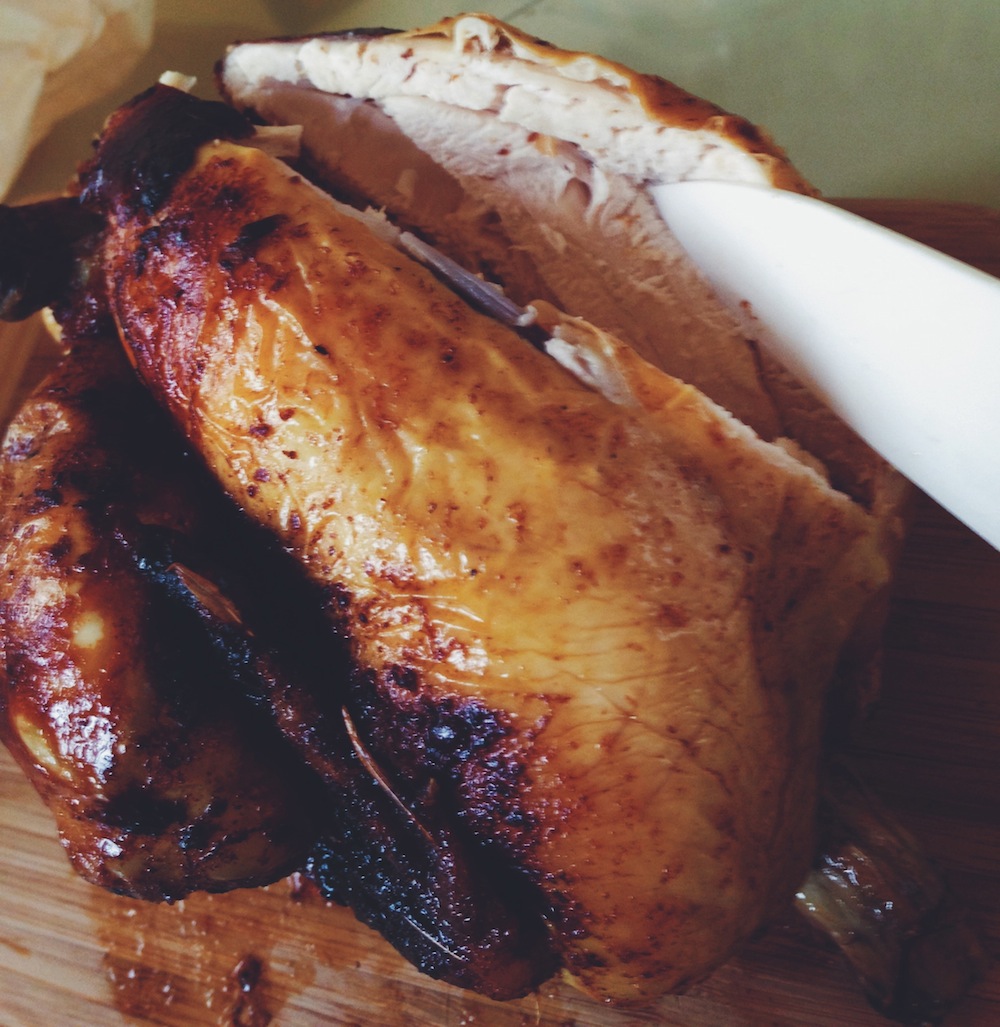 Let's get cutting…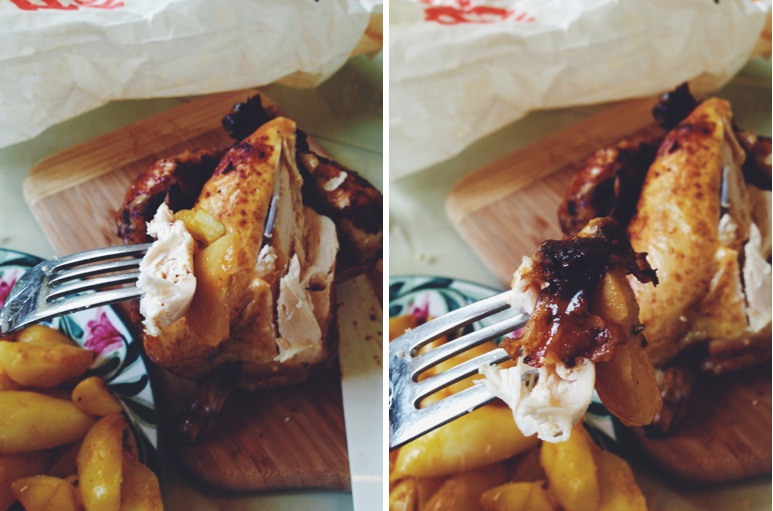 Don't forget to get a good forkful of potato + chicken + skin! Come on, the skin is the best part…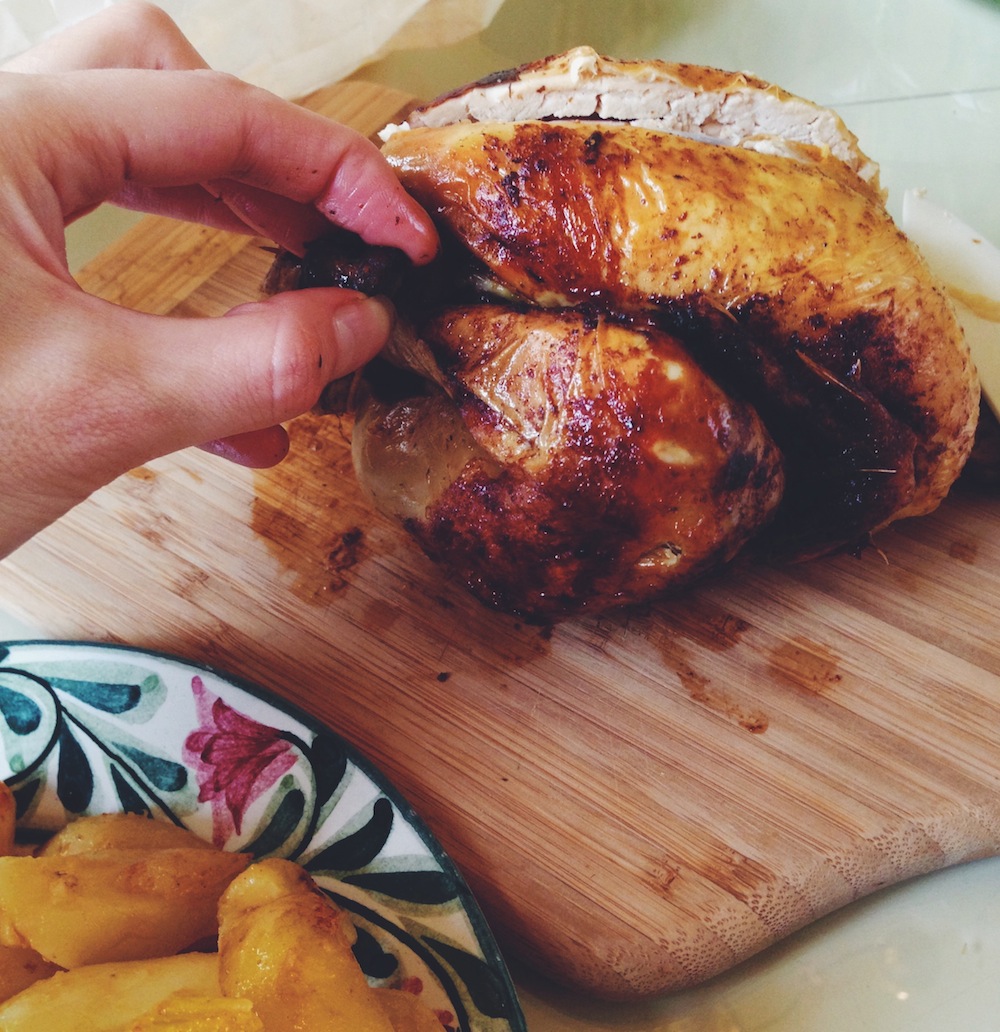 But who am I kidding? You and I both know the only way to truly enjoy this Parisian fast-food is to get your fingers right in there…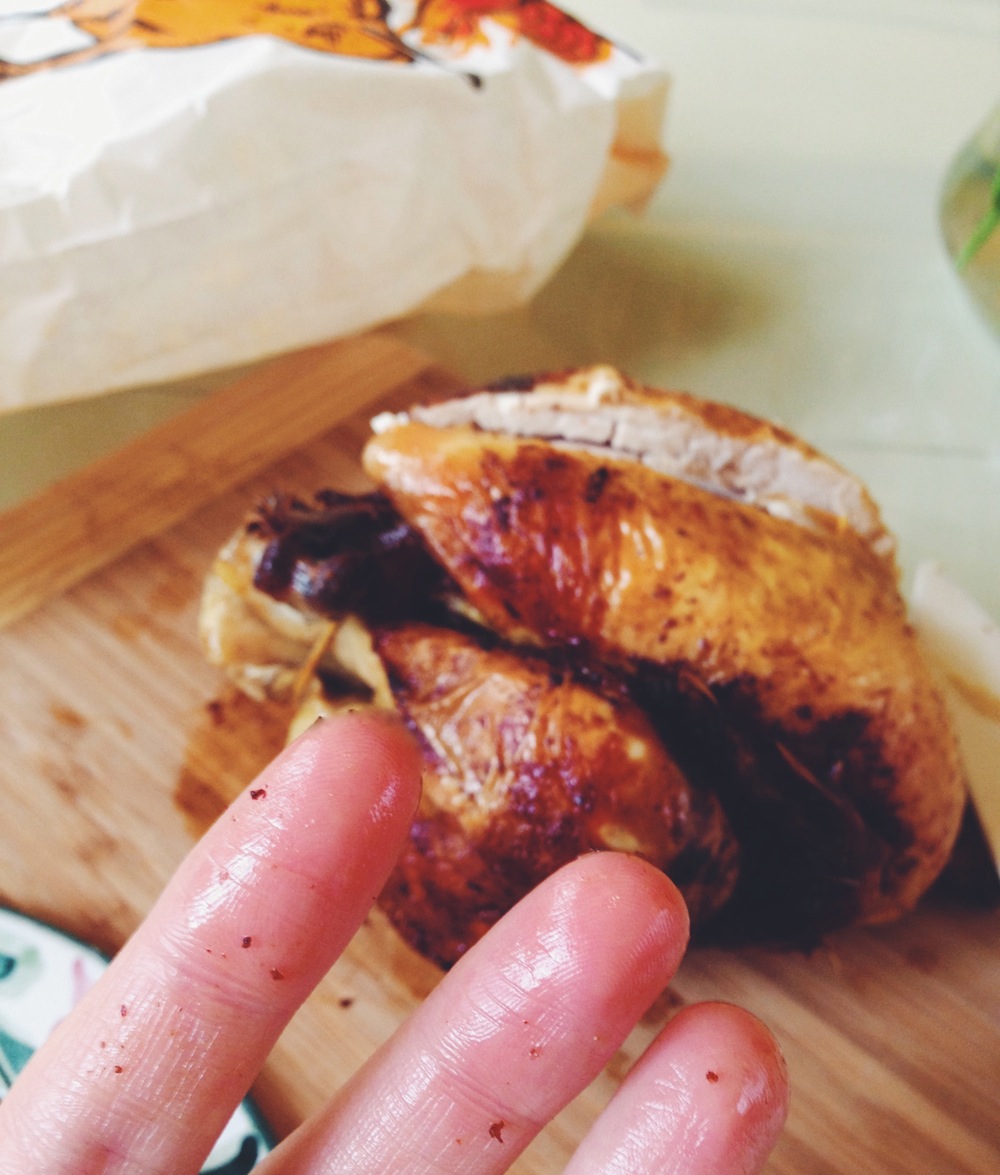 And you're not doing it right until your fingers look something like this when you're done. Perfect for licking off one by one!
So, anyone hungry?!