I had been curious about what was behind the door of No. 6 Rue Gît-le-Cœur in Saint Germain for quite a while before I decided to Google it, half expecting to be disappointed by news that it no longer existed. To my surprise, a kind voice picked up at the other end of the telephone line. "Yes of course, come by anytime between 5pm and 9pm, except on Sunday… you're most welcome". If you want to discover the secrets of Paris, sometimes, it never hurts just to ask.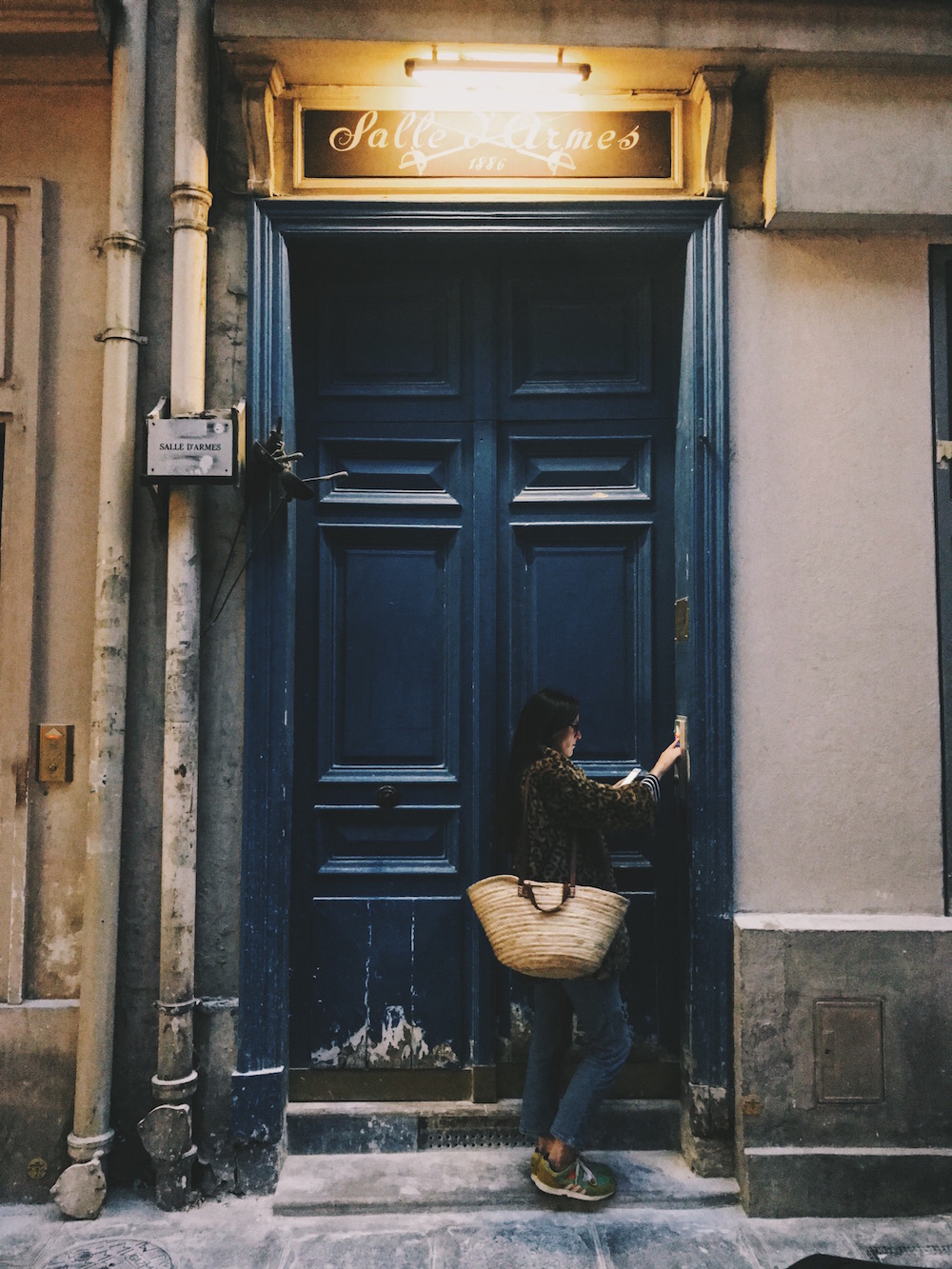 Armed with just the door code provided to me by the man on the telephone, I arrive at dusk, not knowing quite what to expect. At the end of the hallway and through a courtyard, I begin to hear the sound of tapping metal, sliding and tapping quickly again. Around the corner, there's a warm glow coming through the windowpanes of a door marked "Salle d'Armes", weapons room. We've found the oldest fencing club in Paris…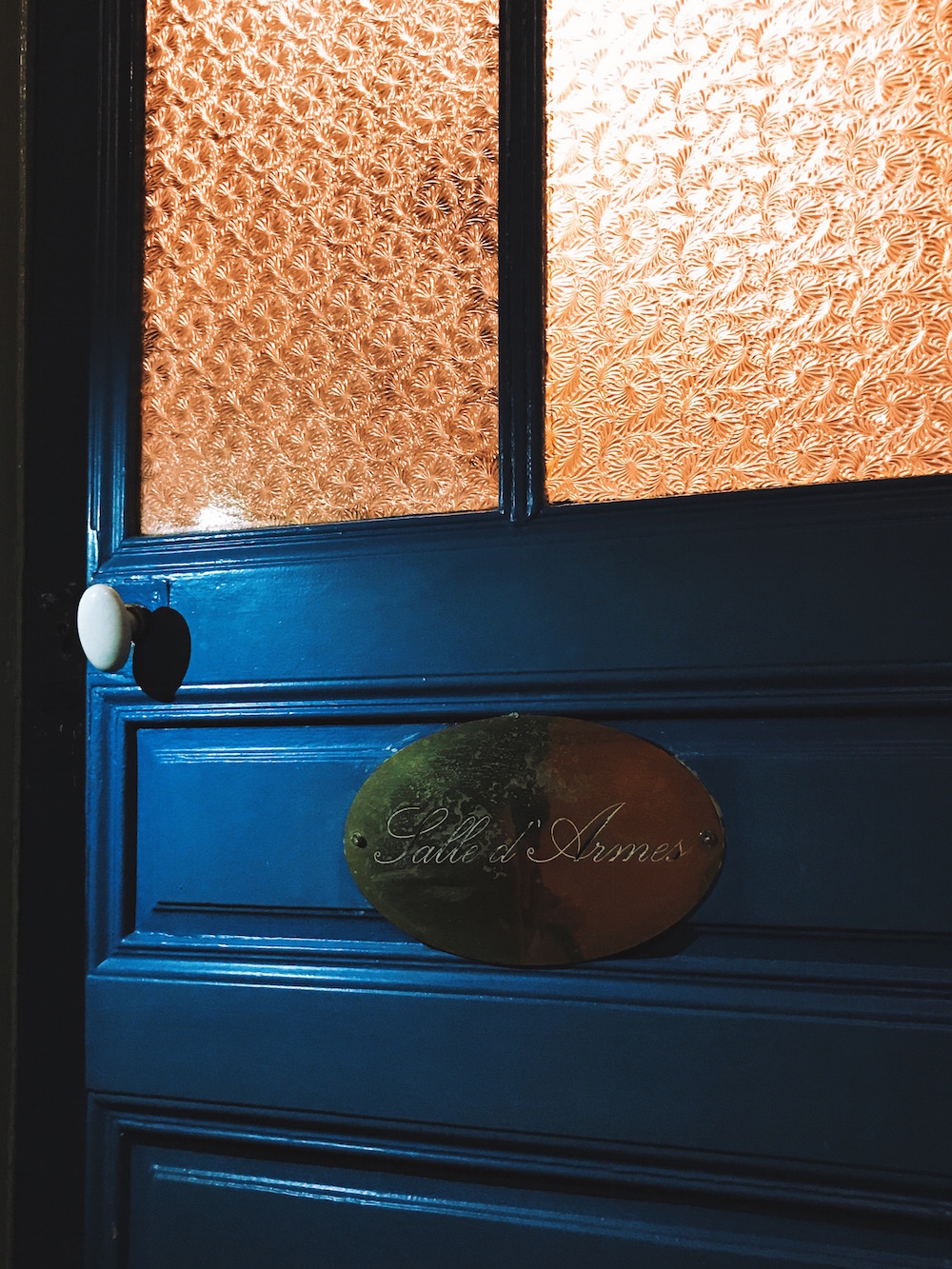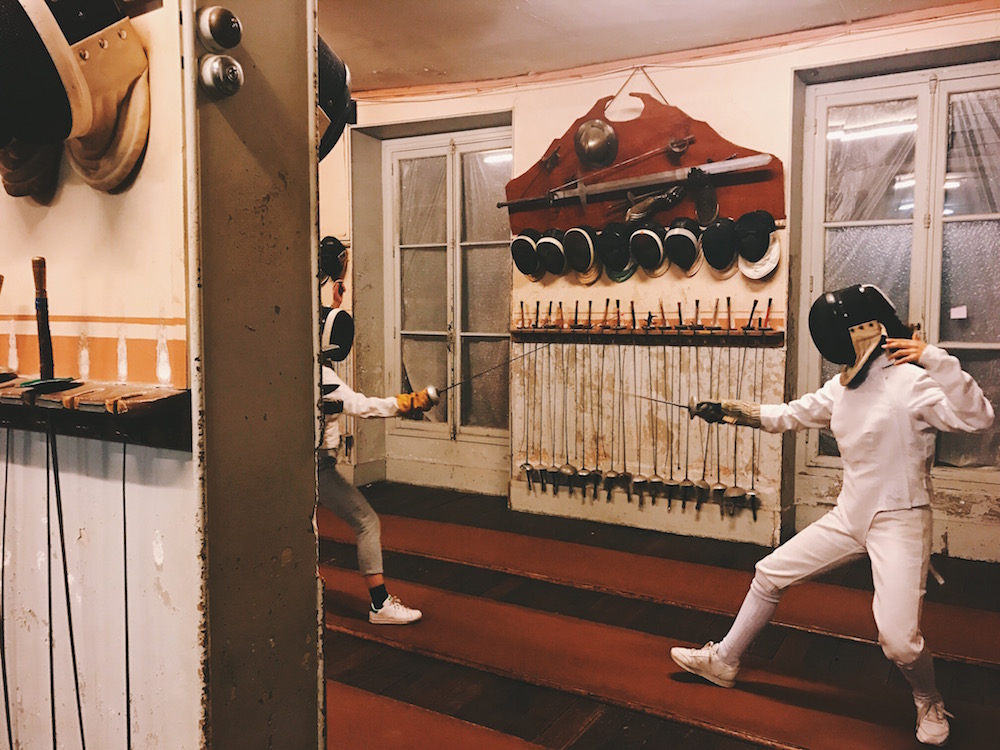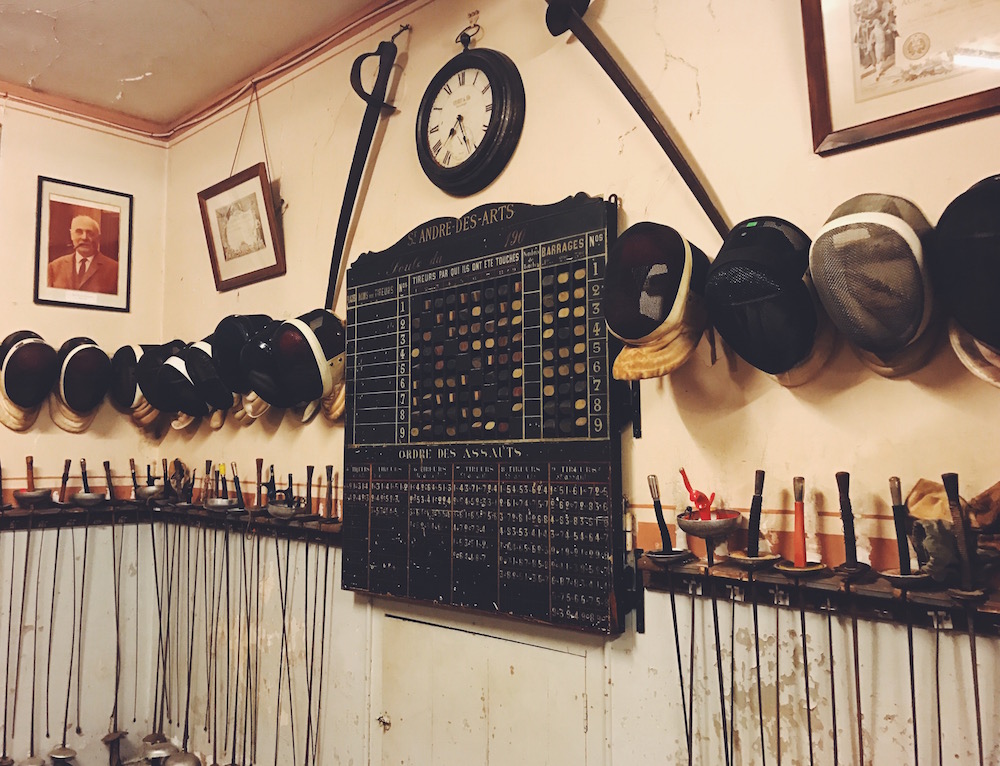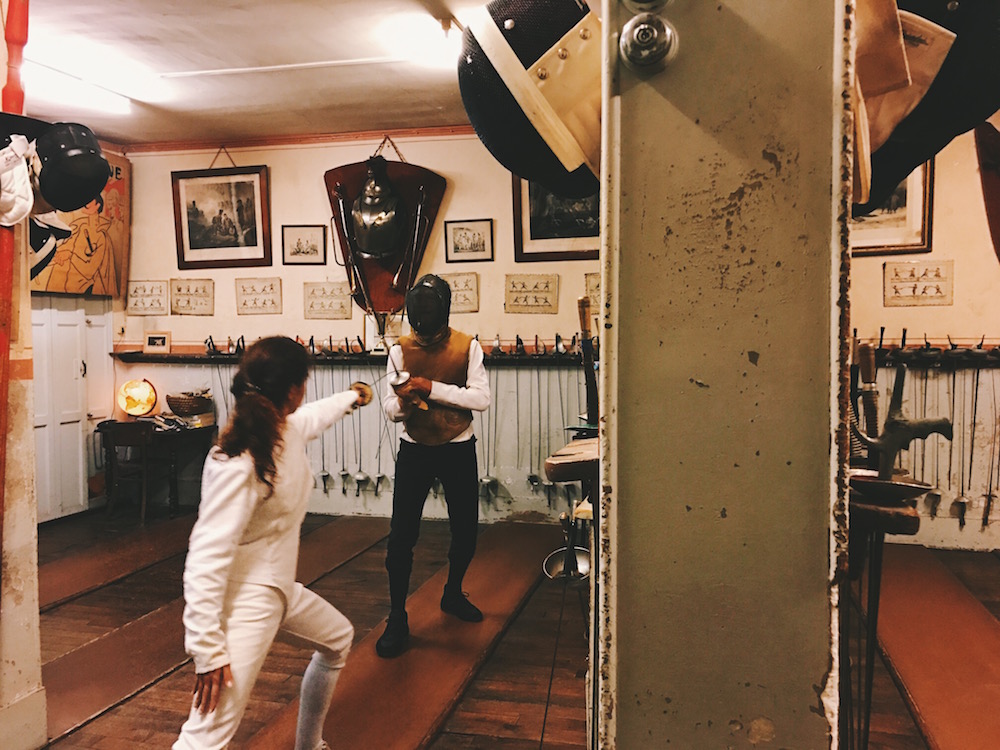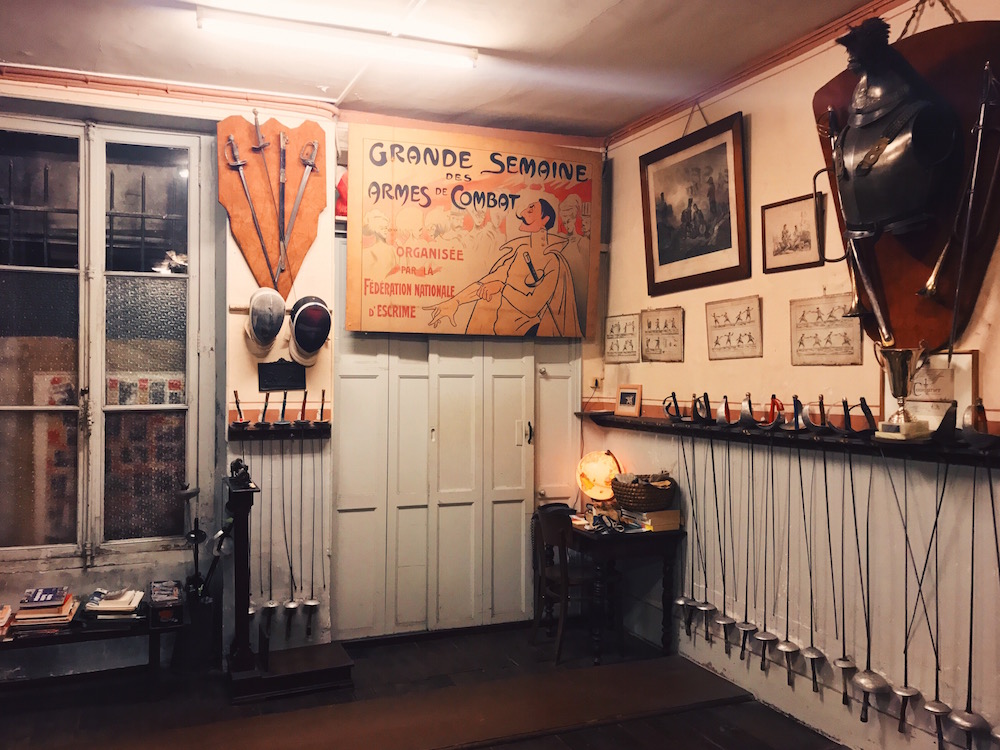 Inside there are four students and the master, their faces covered by masks, lunging back and forth on the cork strip, clinking steel to the repetition of his commands, "parry-riposte". It's as if he were conducting a dance.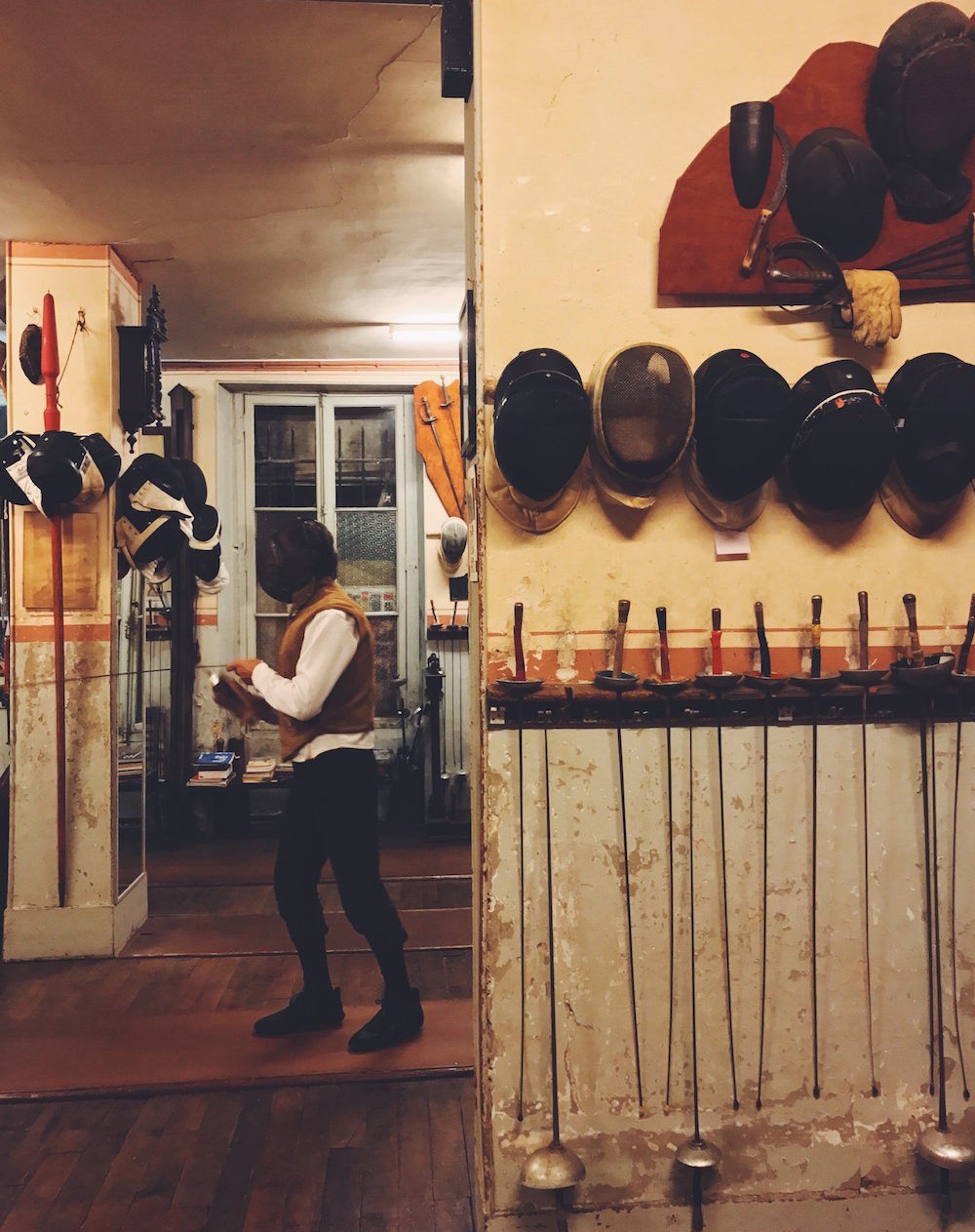 As I wait for the duels to end and introduce myself, my eye wanders around the room where time has stood still…
Like I mentioned, this is the oldest fencing club in Paris, founded in 1886 during the golden age of fencing, known then as the Cercle Saint-André-des-Arts. At a time when the slightest insult exchanged between gentlemen would likely end in a duel, fencing schools were all over the city. Up until World War II, there were at least two fencing clubs per arrondissement in Paris, but they've been disappearing ever since, converted one by one in to Club Med gyms. There are still a few clubs left, the art of fencing is so very French after all, but none like this one…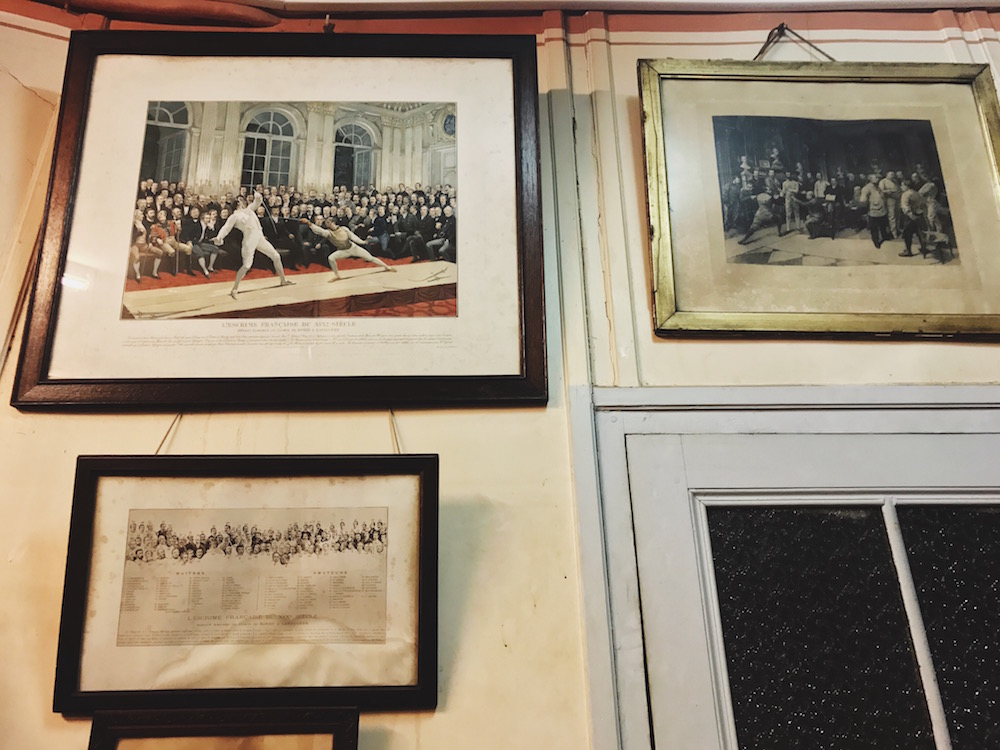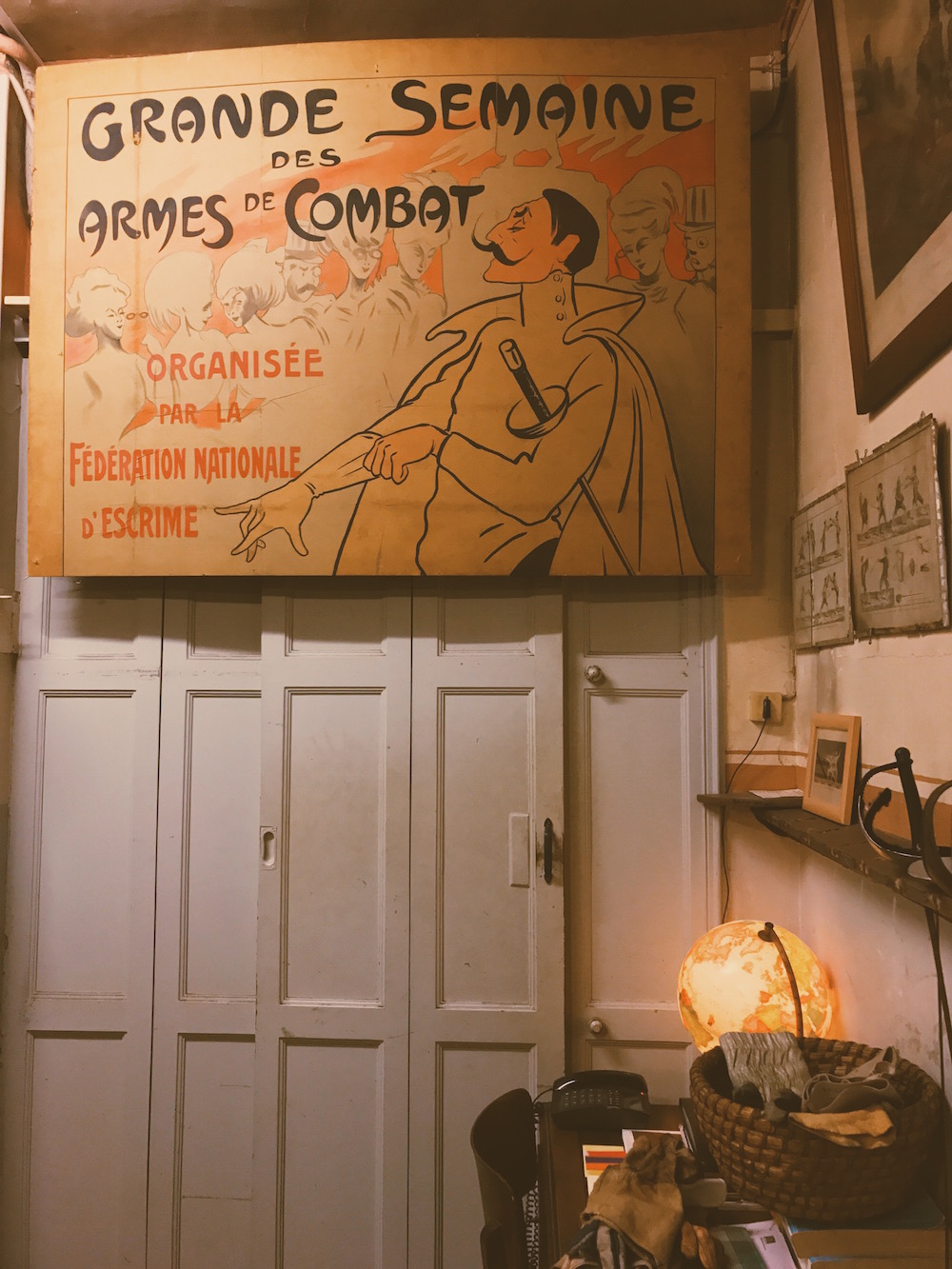 Everything has remained intact inside the club walls since its creation in the late 19th century. Nothing has changed, except maybe a few tell-tale electric appliances like the telephone circa 1990 and a light-up globe sitting on the desk in the corner.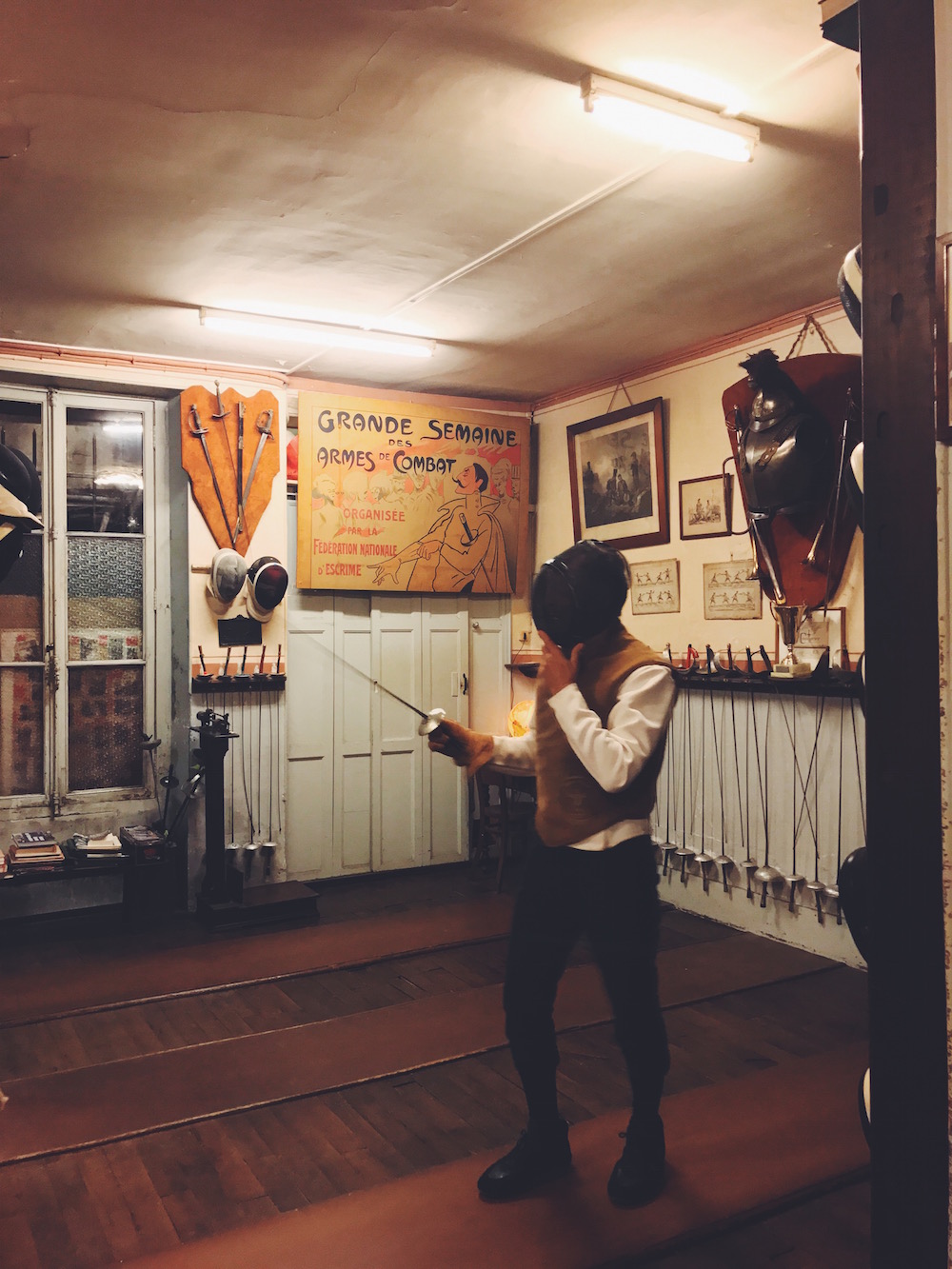 In 1893, a General of the Franco-Prussian war, master Alexander Coudurier took ownership of the Parisian club, giving it his own name, Salle d'Armes Coudurier. His breastplate still hangs on the faded wall behind where the current master of the house now stands en garde, conducting his students. He takes off his mask to shake my hand with a gentle smile.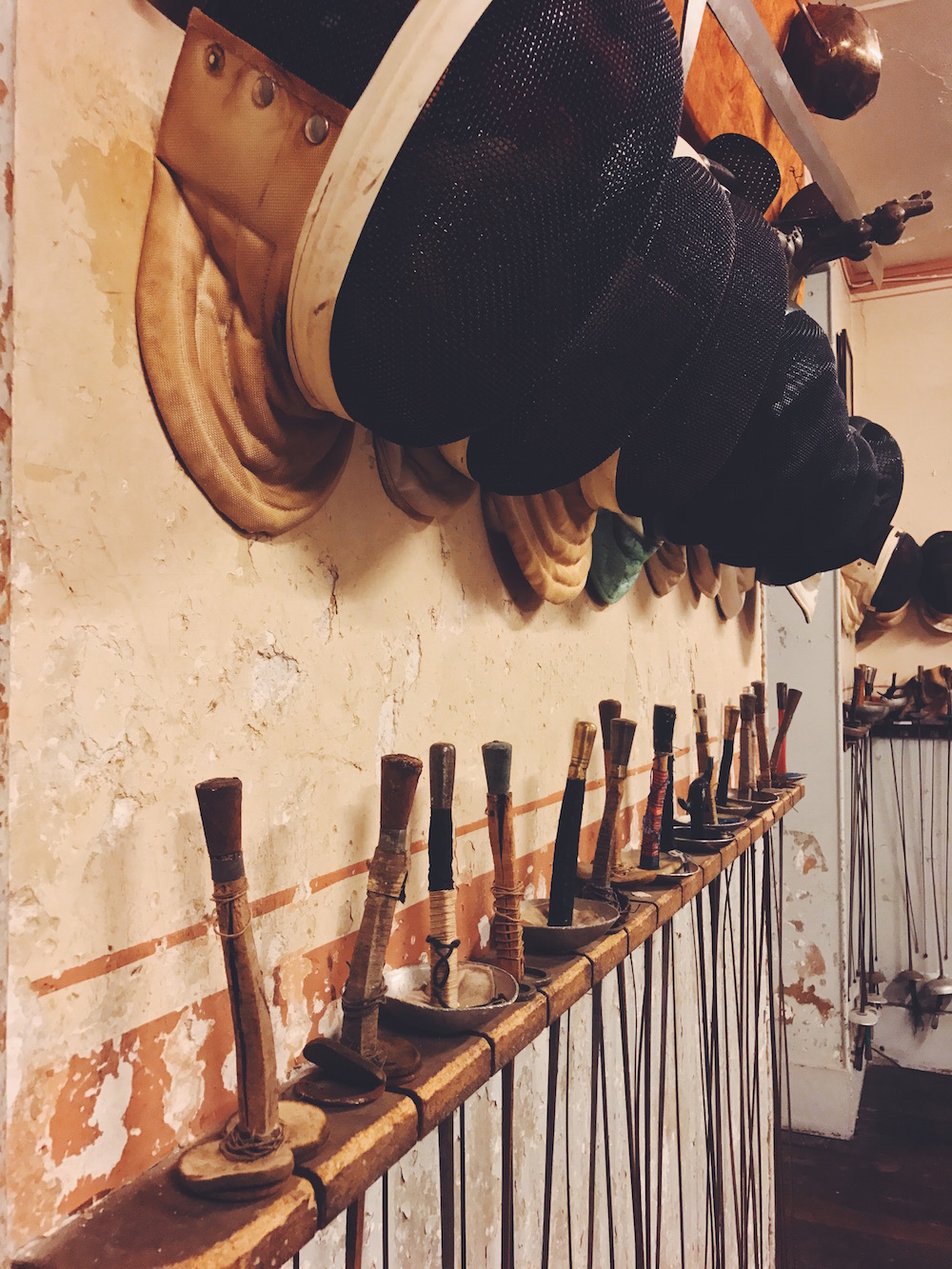 Fulfilling his childhood dream, Jean-Pierre Pinel La Taule bought this place in 1971 from the ageing son of Coudurier, who later died in 1986. Jean-Pierre has kept the name, the tradition, the spirit, the honour and the teaching, just as it was in the beginning.
"We don't use plastic swords here like the others. I don't like how it sounds. You don't feel the iron, you don't hear the beauty of her music." If only kids these days knew there was a place like this where they could play with real swords…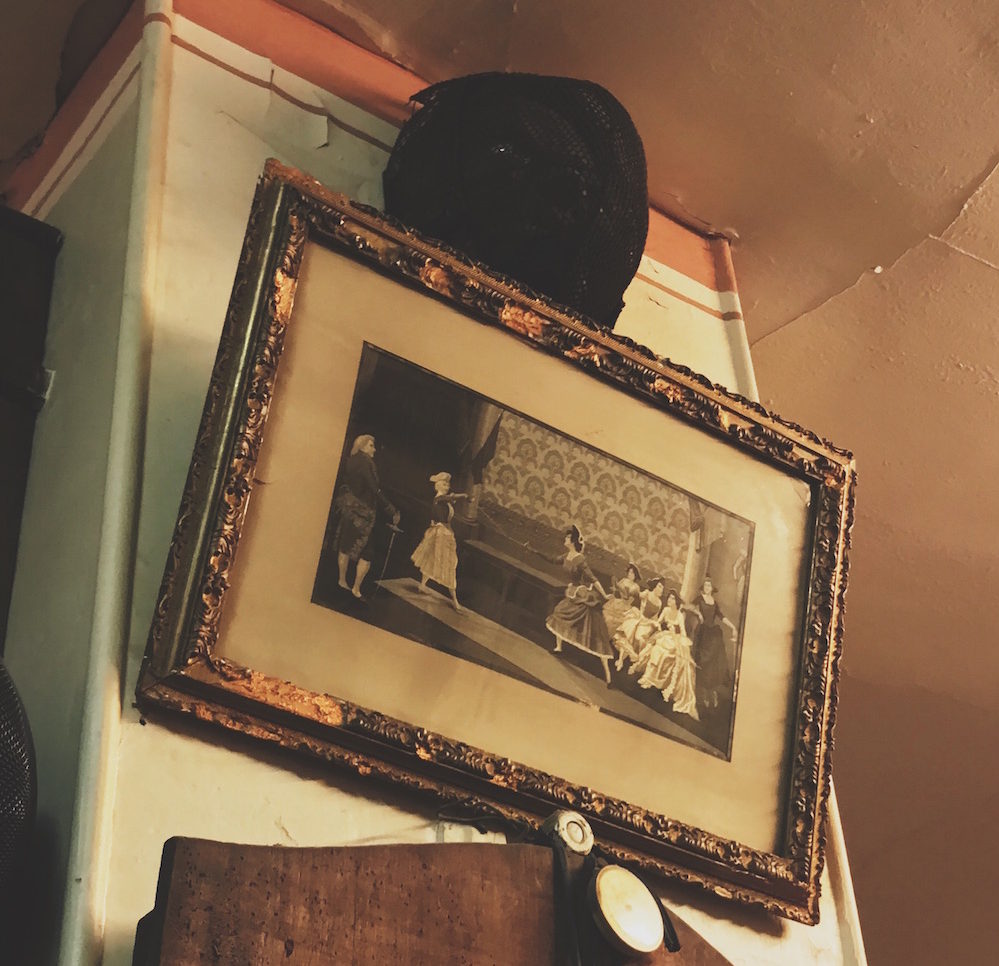 The 60m² room is open to women, men and children. La Taule has students as young as seven who practice on Wednesday evenings, reserved for beginners, but there is no age limit, young or old.
"It's a very intense sport that's mostly hard on the knees, which are rarely asked to perform such movements in everyday life," says Jean-Pierre.
I attended on a Wednesday evening and there were two female students, one in her early twenties, one middle-aged, a young man and a gentleman who's been living in an apartment upstairs for forty years.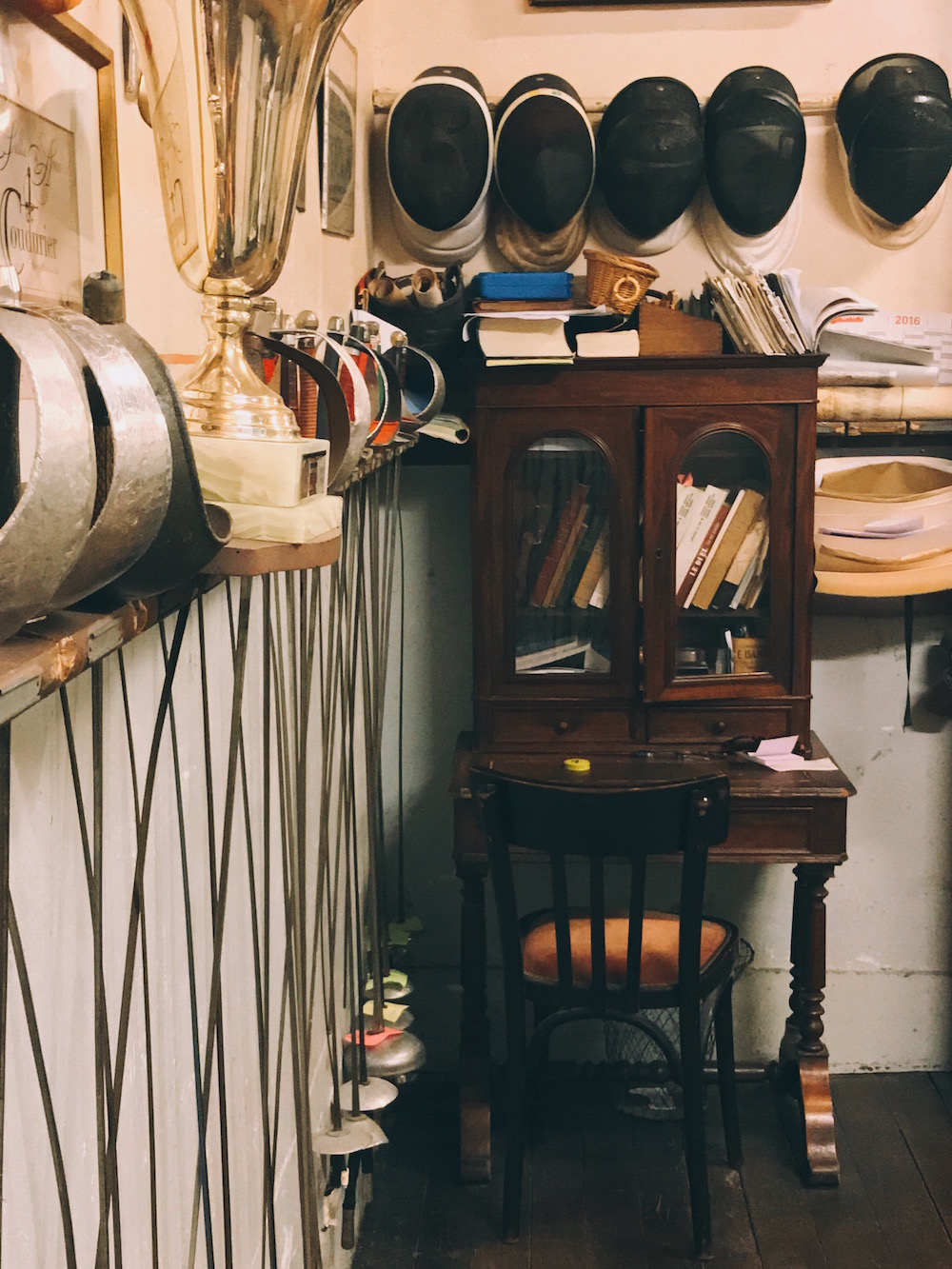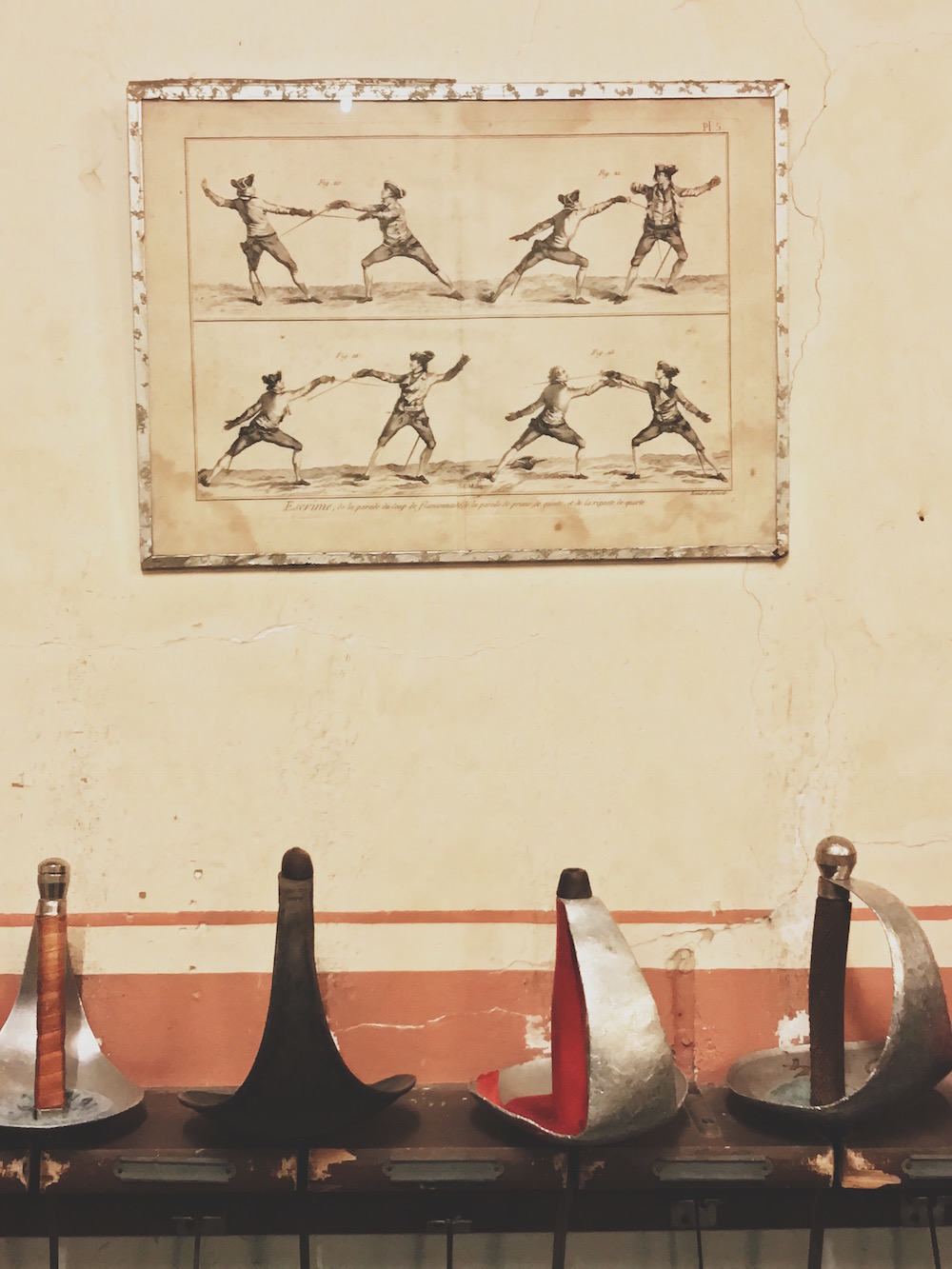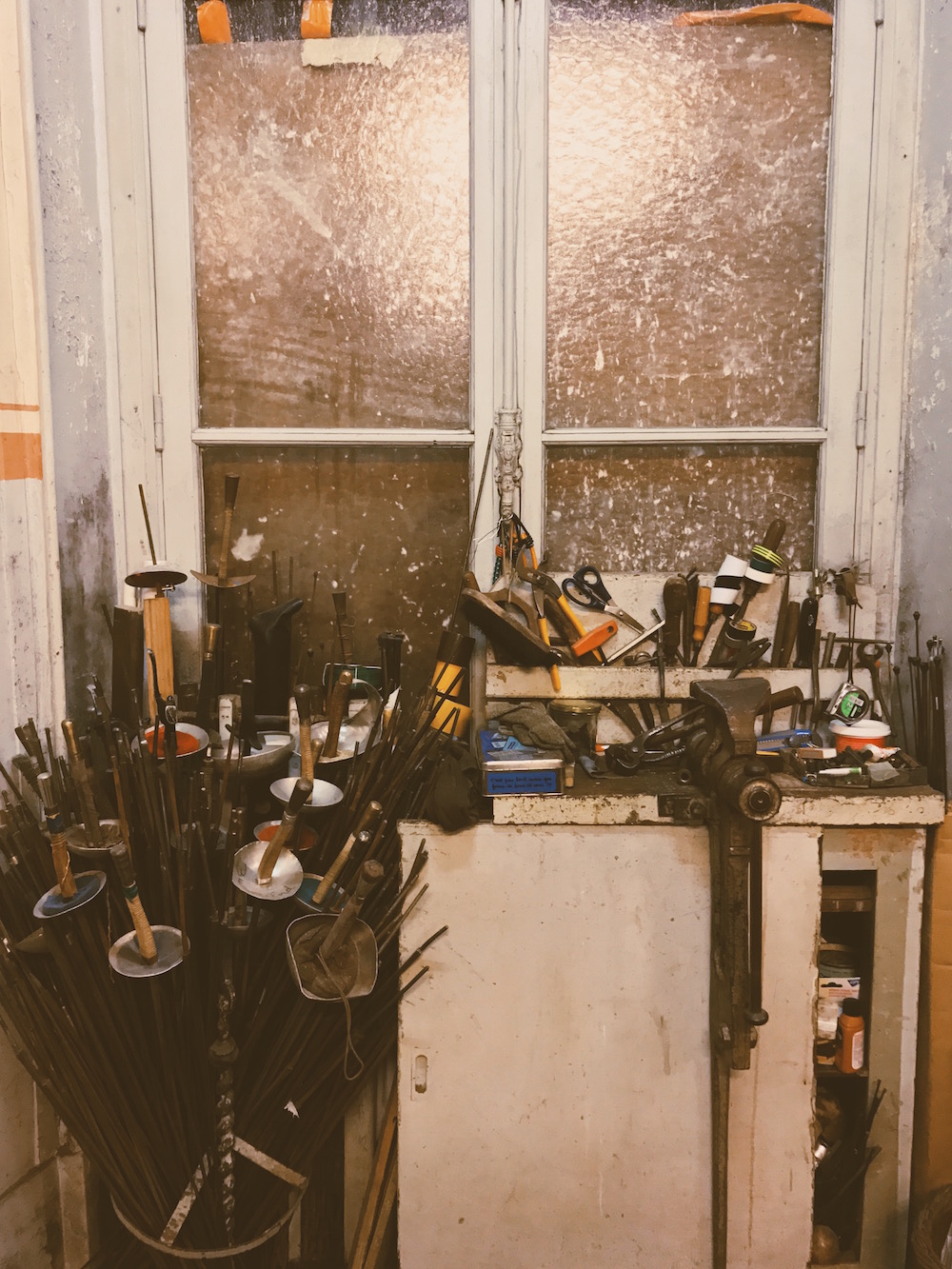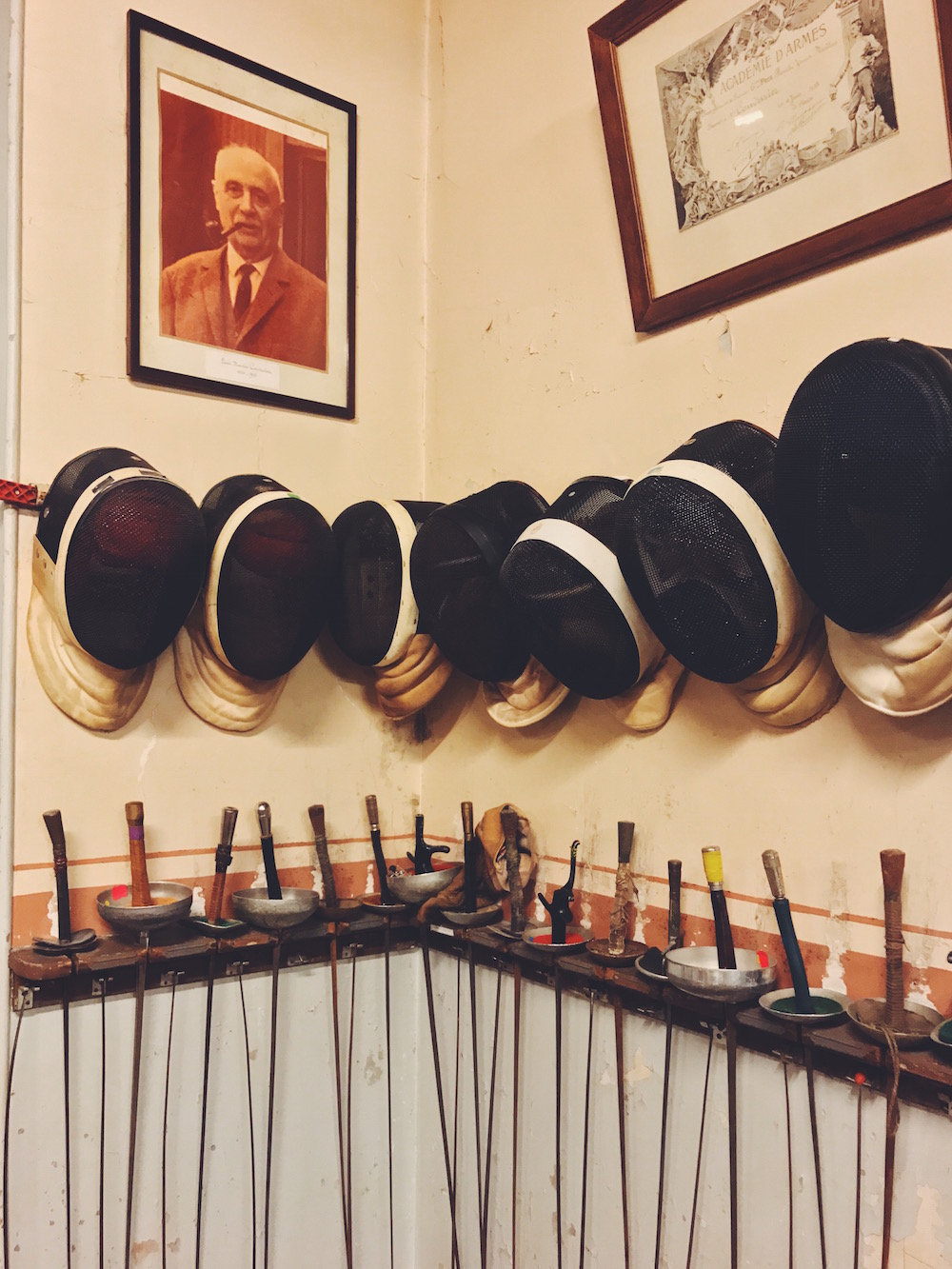 Newcomers can attend on any day for a trial class. A membership costs €690 or €57 euros a month, including two training sessions a week. Members can come dressed in normal sportswear and choose to invest in the traditional fencing dress if they wish over time. There is of course, only one small dressing room. Saunas and steam rooms aren't exactly part of the deal here.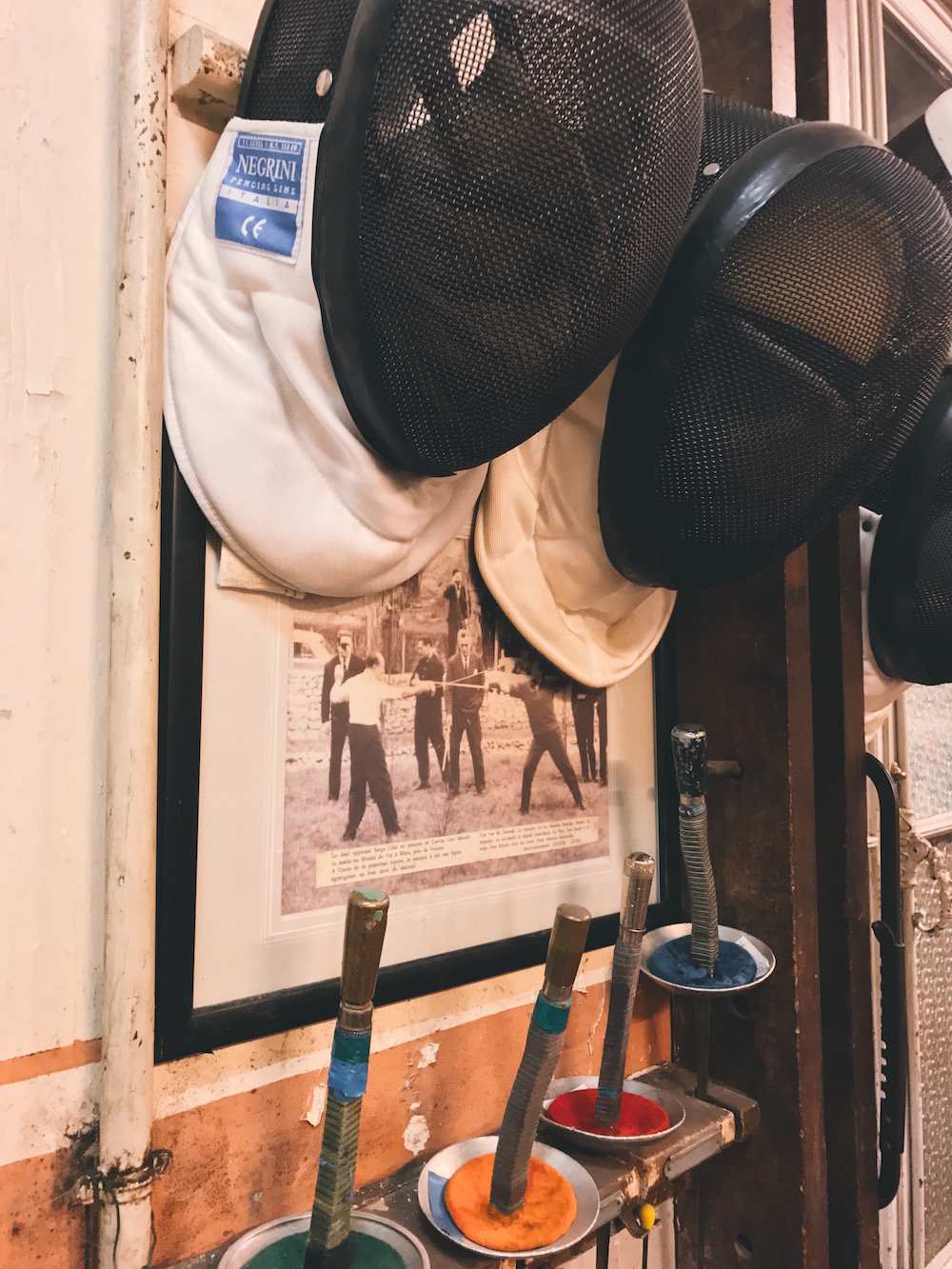 While the club is equipped for modern electric fencing, La Taule prefers to keep it old school and trust the duellists to announce it when they've been touched by the tip of their opponent's sword.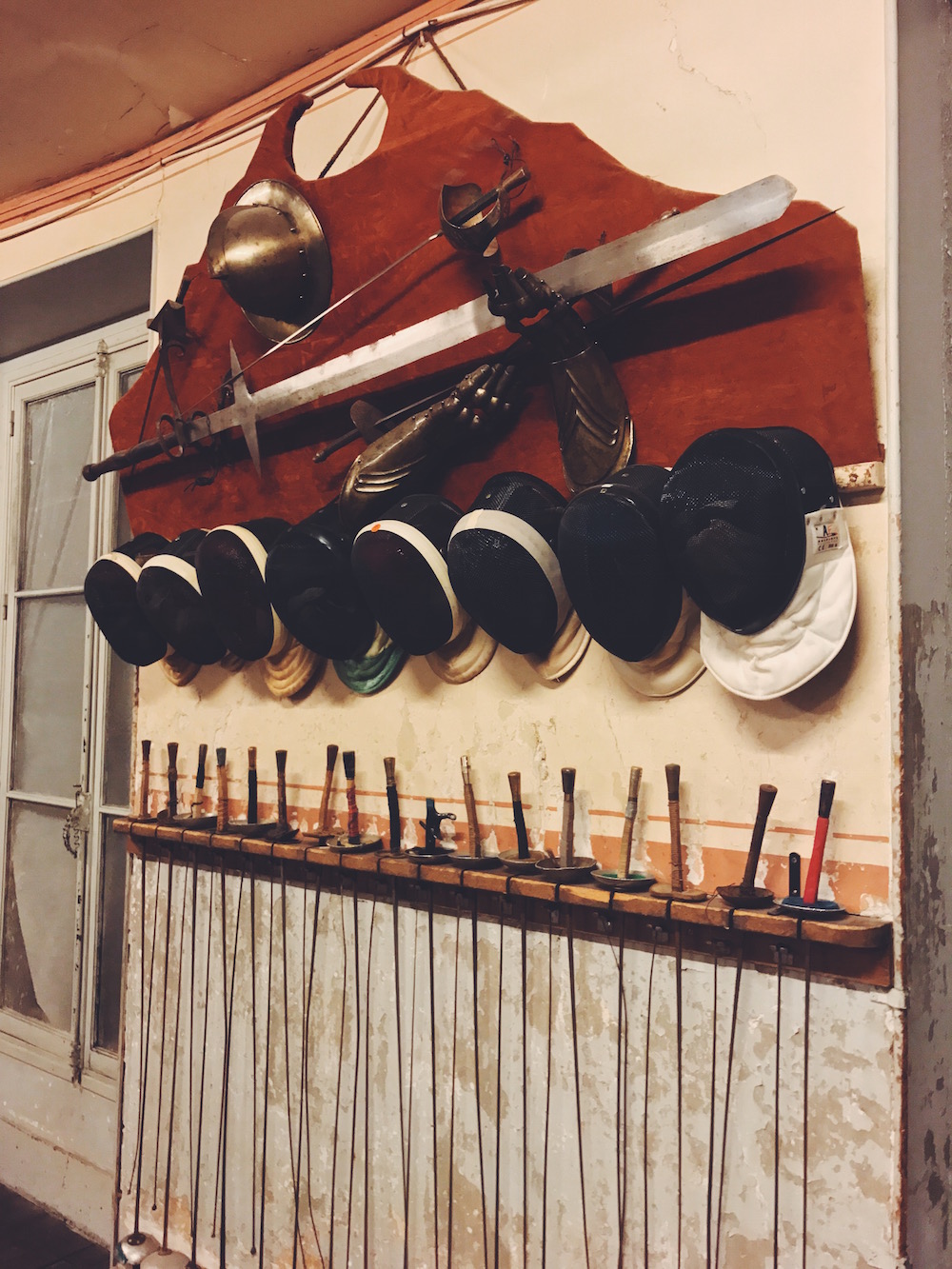 Jean Pierre tells me that a hundred years ago, fencing was as much an art as it was a sport. "And now…", he shrugs. He doesn't need to explain. I've watched fencing matches on the television before during the Olympics. It didn't really make me feel anything. But here, in this tiny hidden club in Paris, watching the master and his students surrounded by crumbling walls, antique scoreboards, trophies and old photos that testify to the history of French fencing– I feel like I've discovered a lost art and it's an experience I'll not likely forget soon.
For more information and Paris travel advice, become a MessyNessy Keyholder get access to our

 

Travel eBook library

 

and a direct line to our

 

Keyholder Travel Concierge

 

and plan your perfect trip. Need help planning a weekend in Paris? Need some restaurant recommendations for a remote village in the North Pole? We're here to help. 
Hungry for more Paris? The updated edition of Don't Be a Tourist in Paris is now available. Or become a MessyNessy Keyholder to gain access to our Travel eBook library and a direct line to our Keyholder Travel Concierge to plan your perfect trip. Need help planning a weekend in France? Need some restaurant recommendations for a remote village in the North Pole? We're here to help.