Girls would come from as far as Tokyo to audition for the chance to be a Weeki Wachee mermaid in the 1960s. They performed to sold-out crowds; half a million people a year came to watch their dazzling underwater shows, including the King himself, Elvis Presley. They took etiquette and ballet lessons and they were treated like royalty wherever they went in Florida. Impossibly glamorous, even when squeezed into a sequin fish tail or eating a banana underwater, for today's vintage muse, I'm turning our attention to the legendary mermaids of Weeki Wachee…
The underwater mermaid "stage" was (and still is) a natural ancient spring, discovered by the Seminole Indians who named it Weeki Wachee, meaning "little spring" or winding "river". A theatre was built into the limestone around the basin in 1947, submerged six feet below the water's surface. The spring itself however, is so deep that the bottom has never been found, and the surge of currents from the subterranean caverns are so strong they can easily knock a diver's mask off.
When a former U.S. Navy officer, Newton Perry scouted the off-grid location for a new business venture in 1946, he found the ancient spring in deplorable condition, being used as a local dump, filled with rusted refrigerators and abandoned cars. At the time, more alligators and black bears lived in the isolated area than humans and it seemed like an odd place to start a business.
Nevertheless, Perry cleaned up the spring and began experimenting with underwater breathing methods. He had trained SEALS to swim underwater in World War II and wanted to invent a method of breathing underwater from a free-flowing air hose supplying oxygen from an air compressor, rather than the big bulky tanks you strap to your back. Using air hoses to breathe at twenty feet underwater, humans could appear as if they were mermaids thriving underwater with no breathing apparatus.
While his ambitious submerged theatre was being built, a modest 18-seat mini arena where viewers could see right into the natural beauty of the ancient spring, Newton went on a hunt for the perfect girls to complete the scenery.
Perry was scouting for the pretty ones of course, but he also had to choose carefully. These girls were going to be performing up to eight times a day, swimming 16 to 20 feet below the surface where the current runs a strong. Imagine trying to perform synchronized ballet moves while working against a 5 mile/hour water current. These "mermaids" were in fact highly trained expert divers. Perry trained 35 mermaids to swim with 64-foot-long air hoses and smile at the same time. They learned how to eat and drink underwater, dive to dangerous depths, play football in the shallows or act out an entire mermaid princess story, all in front of an eager audience.
Some of them lived in the 'mermaid cottages' built behind attraction grounds and in the earliest days, when they heard a car coming down the U.S. 19 (then just a small two-lane road), the girls would run out to the roadside in their colourful one piece bathing suits and beckon drivers into the parking lot. Even today, it's said that the tiny town of Weeki Wachee has more mermaids than men.
By the late 1950s, Weeki Wachee had become one of America's most popular tourist stops and in 1959 it was purchased by the American Broadcasting Co. (ABC). A million dollar 400-seat theatre was embedded in the side of the spring and elaborate underwater renditions of children's classics such as Alice in Wonderland, The Wizard of Oz, Snow White and Peter Pan became part of the program.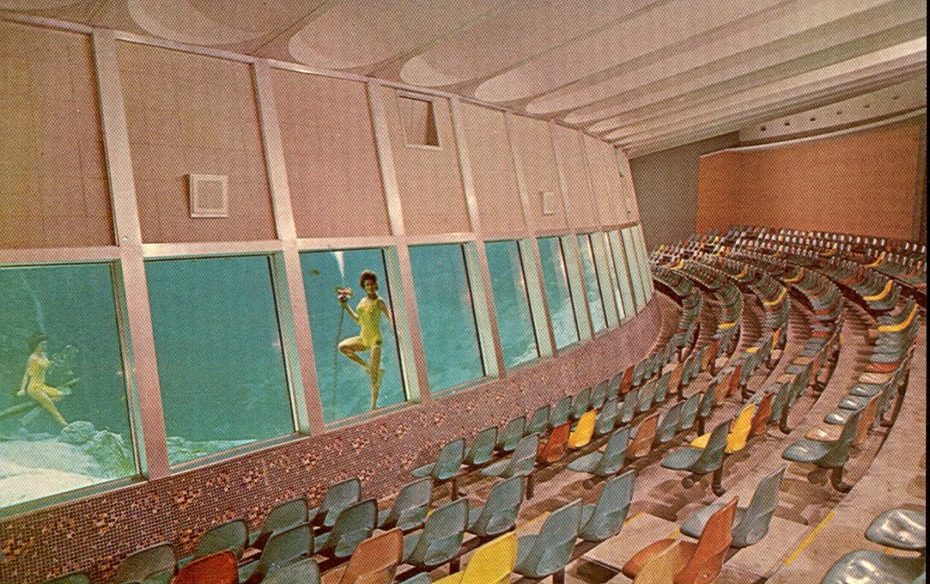 © Vintage Travel Postcards Blog
I highly recommend watching this fabulous short video of a daring mermaid performance circa 1961 which demonstrates just how difficult their job really was…
They might have traded in their conical bra one-pieces of the 1960s for latex and fluorescent bikinis these days, but the Weeki Wachi mermaids are still up to their impressive underwater tricks more nearly 75 years on, and it sure beats Sea World.