And here's another reason why I was born too late: I've only just discovered that there was once an awesome 150 meter-high revolving restaurant and cocktail bar at the top of London's iconic British Telecom Tower. It was the most famous places to dine in the swinging sixties when Billy Butlin (the famous entrepreneur behind Butlin's British holiday camps) transformed the tower's observation deck into a rotating restaurant with panoramic views and called it "Top of the Tower".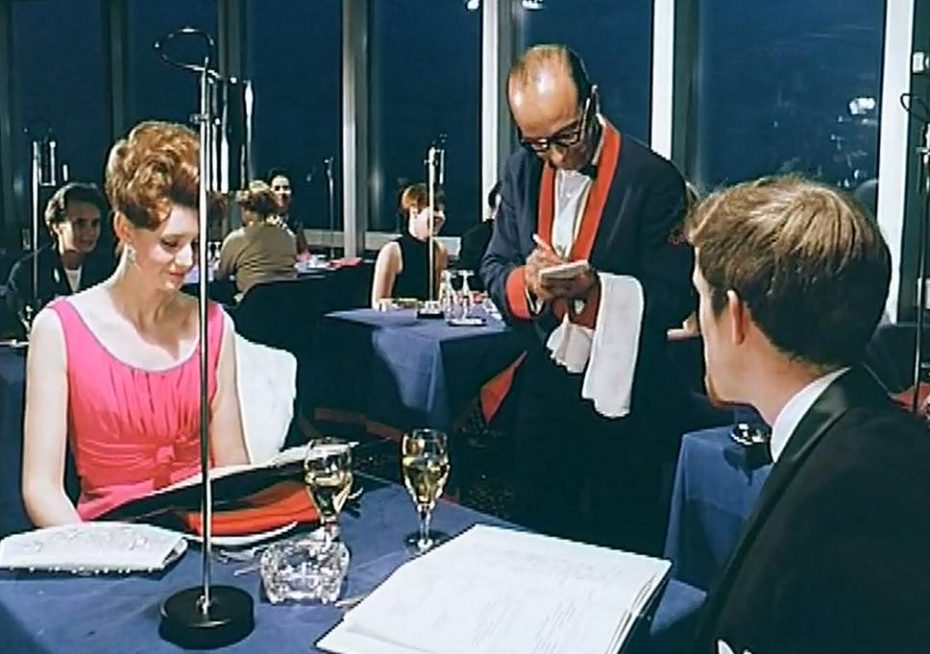 Guests ascended to their sky-high tables in what were then the fastest lifts in Europe and once seated, completed a full rotation of London's skyline every 22.5 minutes. The restaurant boasted that you could balance a penny on the floor as it made its three-times-an-hour revolution.
Take a whirlwind tour of the restaurant in this video dug up from the British Pathé Archives:
Before it was known as the BT Tower, the building was originally called "Post Office Tower" and its primary function was for relaying microwave communication signals around the country. At 191 metres or 627 feet, it was the tallest building in London when it was built in 1964.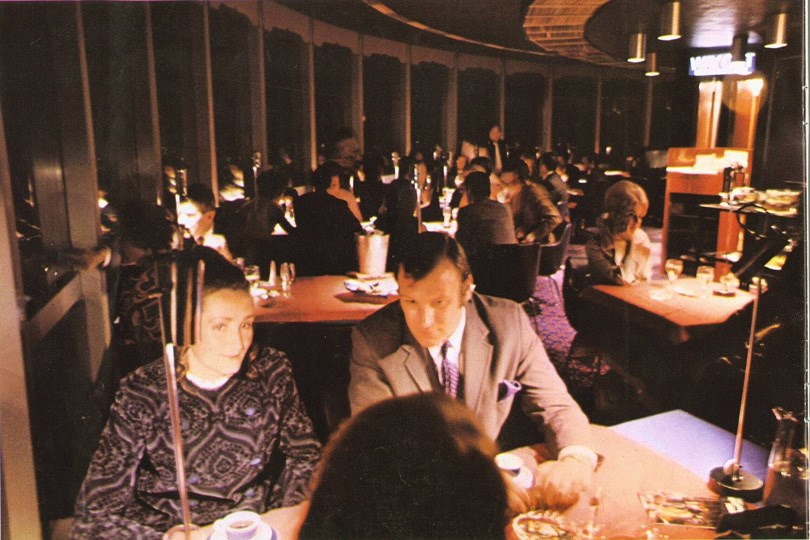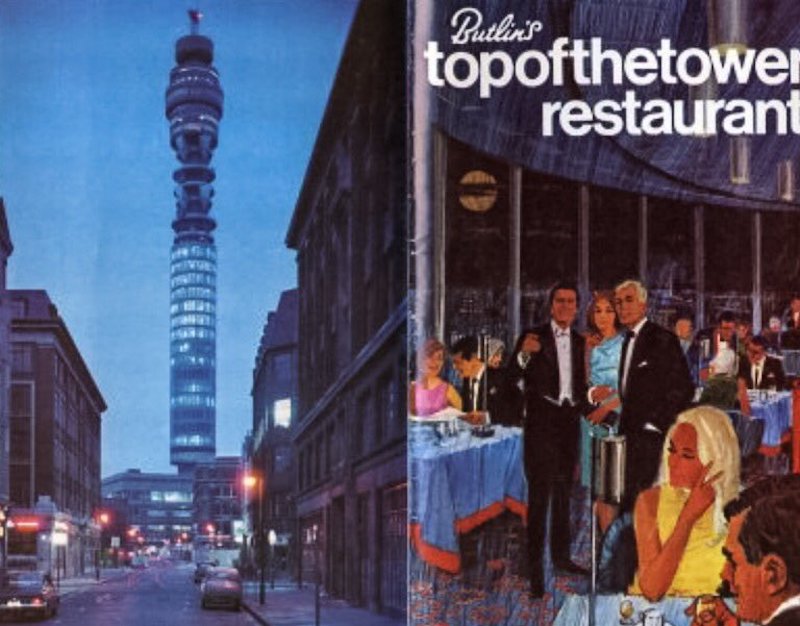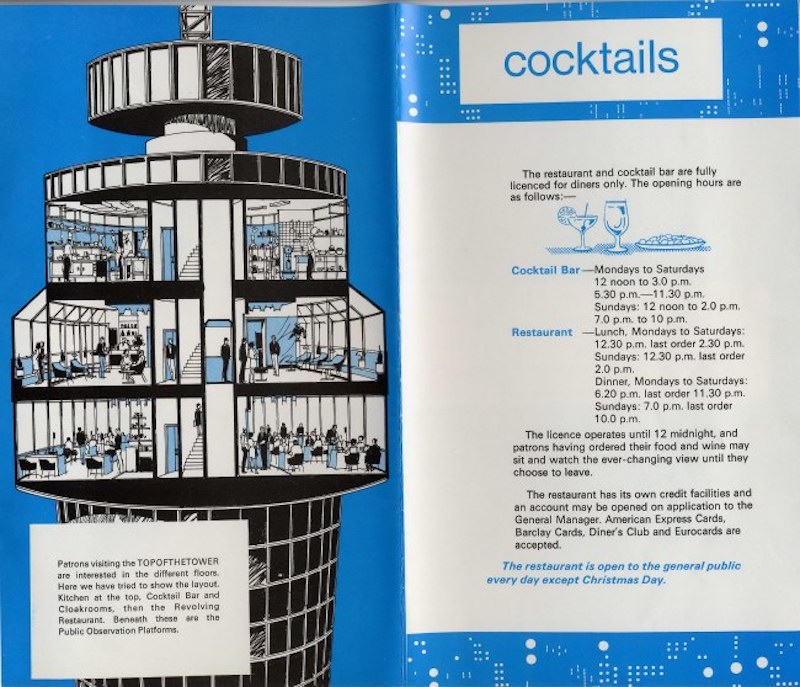 Ironically, the unmissable structure was designated an "official secret" upon its completion in 1964, protected by an official act that forbade it to appear on any map. Even taking photographs of it was technically illegal, which seems rather strange considering the restaurant opened it up to the public just a year later in 1965. Unbeknownst to dinner guests however, the tower's microwave aerials didn't just transmit TV and radio signals, but also military signals.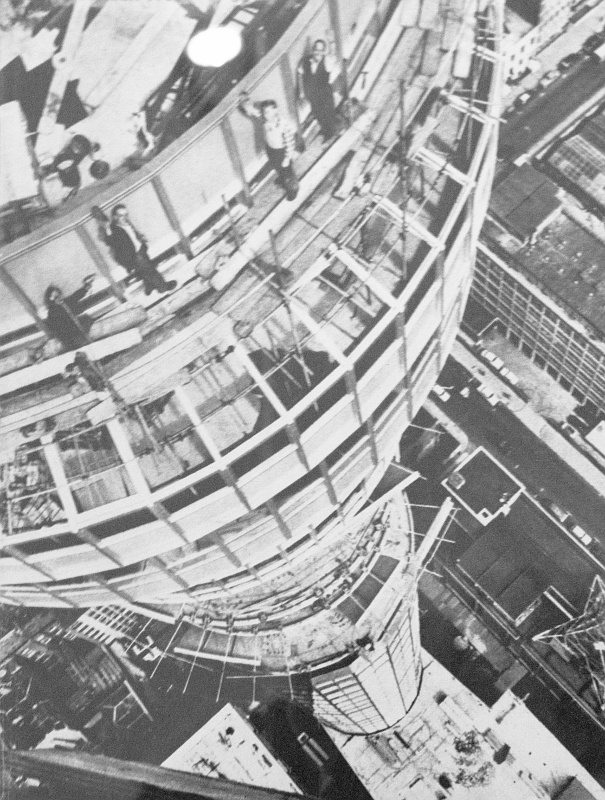 The building was in fact the subject regular bomb threats, roughly 100 scares within its first 5 years of opening, but in October 1971, the threat became a reality when an explosion tore through the restaurant at 4.30am on Halloween night. A threat had been phoned in earlier that morning, but routine checks found nothing. It's believe the device was planted in the gentleman's toilets by the IRA, but no one ever claimed responsibility for it and no one was ever caught.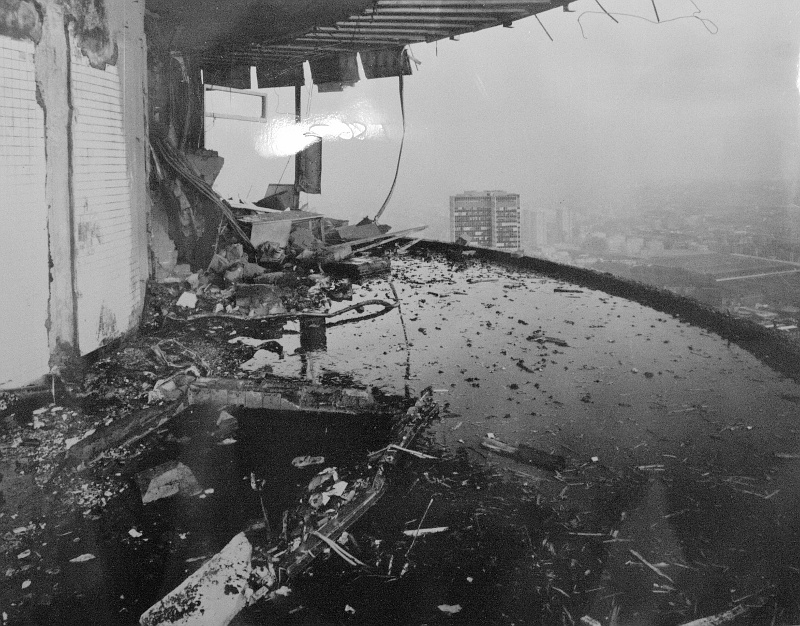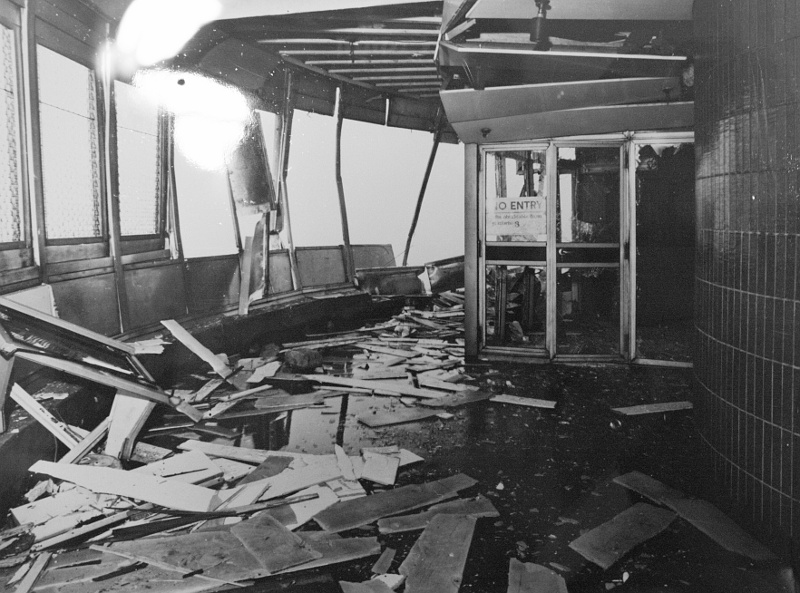 Repairs took two years before the restaurant could reopen, and amazingly, diner came back, at least until the lease expired in 1980 and closed to the public for good.
British Telecom still uses the space for around 600 events a year and on special occasions, such as the tower's 50th anniversary in 2015, the restaurant re-opened to the public for two weeks.
As for its top secret status– well the secret was outed in 1993 at parliament when an MP, Kate Hoey stood up and said:
Hon. Members have given examples of seemingly trivial information that remains officially secret. An example that has not been mentioned, but which is so trivial that it is worth mentioning, is the absence of the British Telecom tower from Ordnance Survey maps. I hope that I am covered by parliamentary privilege when I reveal that the British Telecom tower does exist and that its address is 60 Cleveland Street, London
And I'll leave you with the giant white "Kitten Kong" attacking the tower in a 1970s episode of the anarchic TV comedy The Goodies…