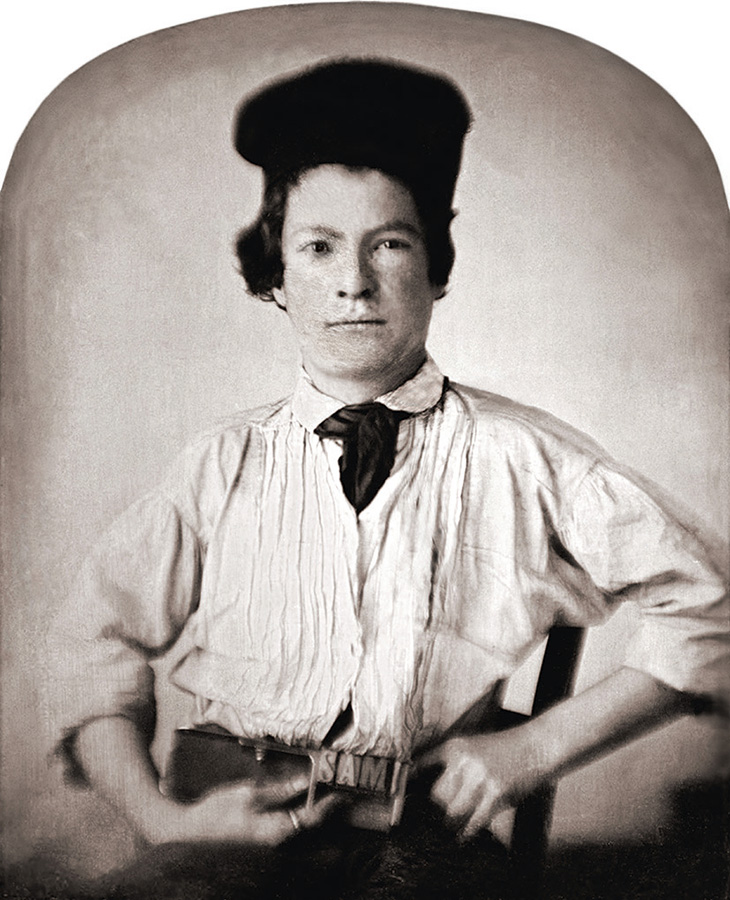 All of American Literature, declared Hemingway, owes its lifeblood to Mark Twain. The author's stories of life on the Mississippi river, as seen through the mischievous eyes of Huck Finn and Tom Sawyer, have become national treasures. And Twain himself was quite a character, but far from the quiet, cob-pipe smoking cliché you might think. From psychic tendencies to a mysterious society, we've narrowed down some of the most fascinating facts about the author…
1. Mark Twain Wasn't His Real Name…and the Story Behind It is Tragic.
Twain was born Samuel Langhorne Clemens, one of seven children and a Kentucky native with dreams of piloting a steamboat. "Sam" got his pilot's certificate (above), and helped his baby brother, Henry, come aboard the Pennsylvania riverboat as a mud clerk.
On the eve of their first voyage, young Twain dreamt of his brother's death. He claimed to have seen a metal casket containing Henry's body, which was surrounded with all white roses, and a single red bud placed upon his chest. Not long after, a horrific accident on the ship caused the death of Henry, whose funeral arrangements were identical to the dream. The words "Mark Twain" ("mark number two) symbolise the 12 foot depth of water that is necessary for a steamboat's safe departure, and the event marks one of the earliest instances of what Twain saw as a psychic gift.
2. Twain's Whimsical American Mansion
Being a writer doesn't always pay the bills, let alone the price of a whimsical mansion. Unless you're Mark Twain. The author's Hartford, Connecticut home is an eccentric, American Gothic masterpiece in the woods:
Twain lived there with his family from 1874 to 1891. He also wrote his most iconic novels there, including The Adventures of Huckleberry Finn, and The Adventures of Tom Sawyer. Today, you can actually visit the house. 
The "Twains" played a huge part in the house's design, and the finished product didn't disappoint. "To us," wrote Twain, "our house… had a heart, and a soul, and eyes to see us with…"
3.  Twain Was Born with Halley's Comet — and Died with It, Too.
"I came in with Halley's Comet in 1835. It is coming again next year, and I expect to go out with it. It will be the greatest disappointment of my life if I don't go out with Halley's Comet. The Almighty has said, no doubt: 'Now here are these two unaccountable freaks; they came in together, they must go out together." – said Mark Twain before his death. 
Twain was a rather esoteric fellow, and took great pride in being born when Halley's comet came around in 1835 — something it only does every 76 years. He died in 1909, when the comet was the brightest it has burnt to date.
4. He Liked to Play Dress-Up
Unsurprisingly, it seems like Twain was a pretty fun dad to his three daughters, Susy, Clara, and Jean. When they were young, he even kept a journal of their silly sayings called "A Record of Small Foolishnesses."  
5. He was BFF with Nikola Tesla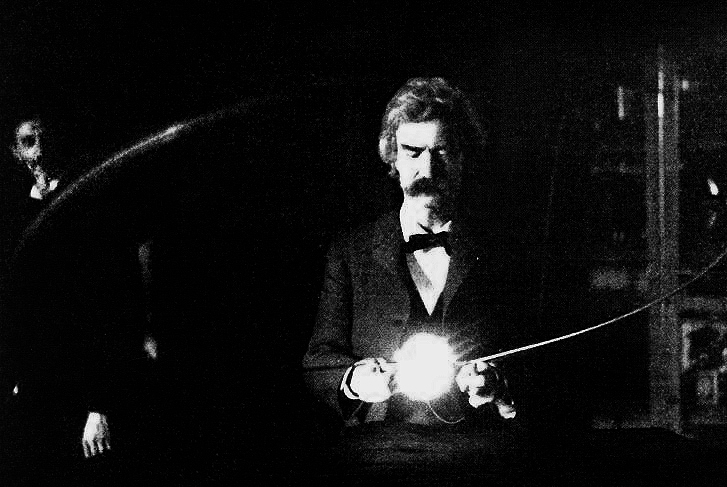 The author was fascinated with new technologies, and Nikola Tesla was already a fan of Twain's work by the time they crossed paths. Twain was especially intrigued by the concept of electricity, and often went to Tesla's laboratory to get in on his experiments. "The most famous account," reported an Irish Times journalist in 2016, was his "participation in an experiment is when he spent too long on an electromechanical oscillator (a vibrating plate) that Tesla thought might be medically therapeutic. The plate acted as a strong laxative and Clemens had to rush for the toilet."
6. The Haunting Love of Laura Wright
"I put my arm around her waist and drew her close to me, for I loved her…" wrote Twain about his first and most haunting love, Laura Wright. Their first meeting was nothing short of cinematic, with Twain catching a quick glimpse of an anonymous girl on a steamboat adjacent to his. "Floating upon my enchanted vision, came that slip of a girl…" he wrote. 
The two eventually found each other again, and kept up an intimate correspondence despite never marrying. In 1912, Twain published My Platonic Sweetheart, a semi-autobiographic "dream narrative" tracing the love story of characters named George and Alice. For the rest of his life, said Twain, Wright haunted his dreams and directed his writing.
Historian's are still trying to understand the nature of Twain's relationship with Wright, and many an eyebrow has been raised in light of their age difference; Twain was 22 upon meeting Wright, who was only 14 and asked her descendants to destroy her correspondence with Twain upon her death. Which brings us to our final mystery…
7. Twain's "Aquarium" Collection of Teenage Girls.
In 1905, a seventy-year-old Twain "began to collect a bevy of adolescent girls, whom he called his angelfish," reported Linda Simon in The Paris Review in 2017, "he defended his predilection by insisting that he longed for grandchildren. His own daughters were grown—his favourite, Susy, was dead by then—and he was lonely." By 1908, Twain, then living in Bermuda, had recruited 10 girls into what he called, "The Aquarium Club." Each member received an enamel pin, and gatherings usually occurred in the form of dinners at Twain's home. 
"Photographs of Twain and his angelfish,"  says Simon, "show them standing or sitting close to him, their bodies touching his, with his arms around their shoulders or waists. They might be his daughters; or they might be his lovers." It could be that he was just "the quintessential adolescent of the time," and like his own Huck Finn, "the boy who refused to grow up. "