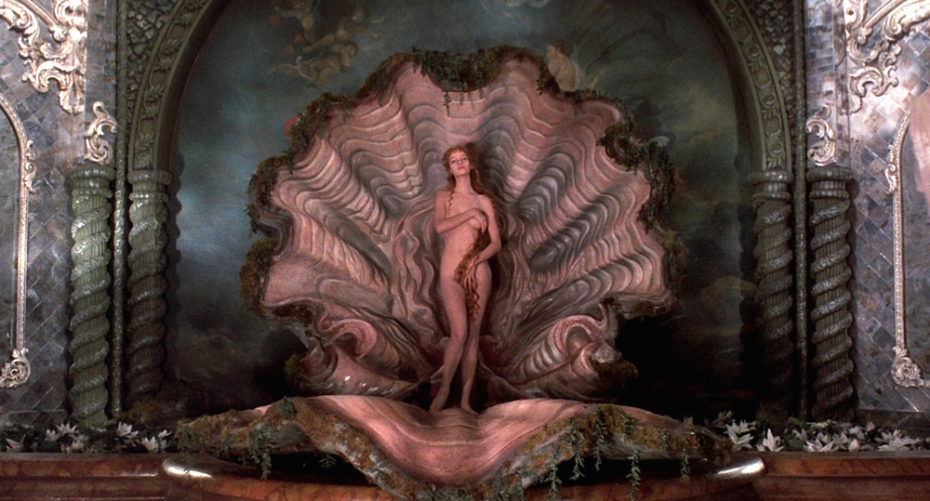 The candles begin to flicker in a damp, baroque room, as cherubs emerge from a flower filled pond, hoisting a clam shell up from its depths. When it finally unhinges, the human incarnation of love itself takes form: "The birth of Venus." It's an iconic scene, and one that's been told time and time again through music, poems, painting and film – but of course now, you can even find the Venus' face on souvenir magnets and oven-mitts across Italy. but Venus is no myth. The goddess' popularity throughout history is bound to the legacy of the real-life model who truly immortalised her into the 21st century: Simonetta Vespucci. Think of her as the Italian Renaissance's Marilyn Monroe. The muse of Sandro Botticelli's own Birth of Venus was an inspiration to countless artists, making cameos in countless other artworks you might not be aware of, setting the standard for Renaissance beauty. Ladies and gents, meet the original blonde bombshell…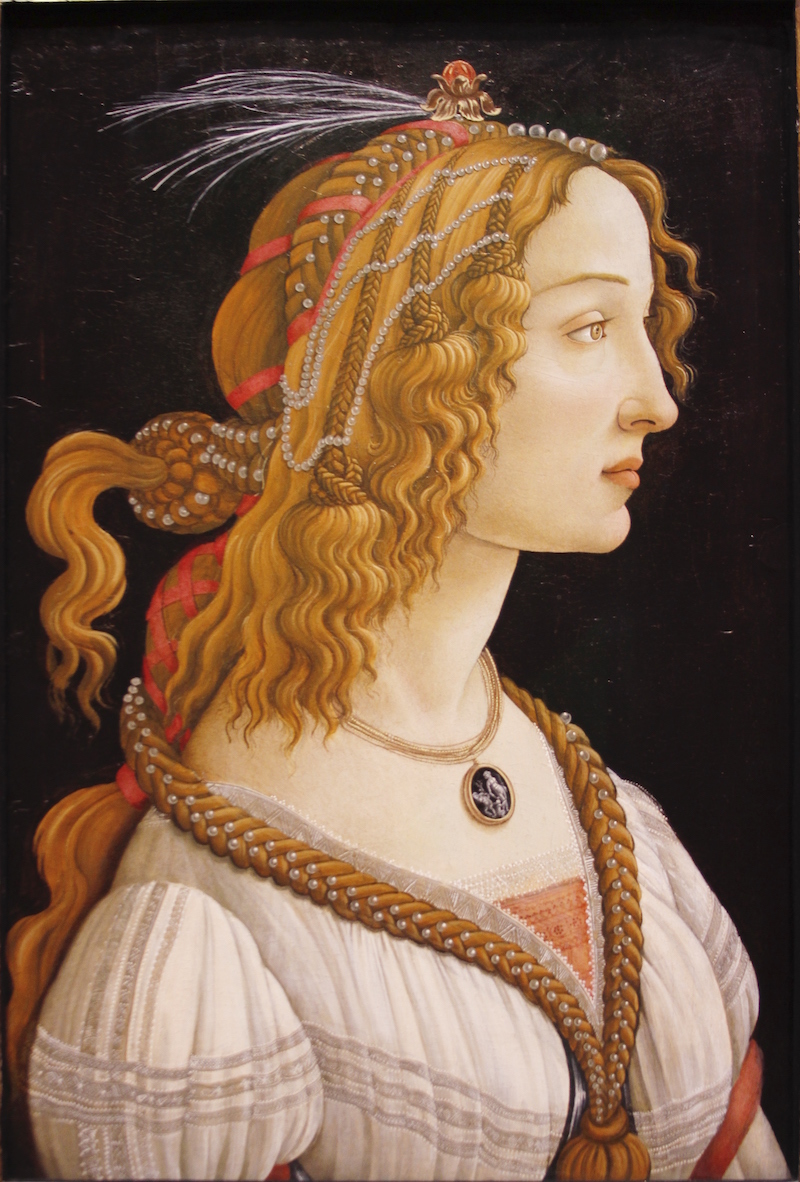 History has seen many great muses. But Simonetta reached some next-level celebrity in both life and death as a woman who didn't just look like the Venus, but totally embodied and, ultimately, transcended her. Even Simonetta's biography has become inseparable from the Venus' origin story: It begins on the rocky shores of Porto Venere (literally, "Venus Harbor"), where Simonetta was born in 1453 – a rather serendipitous fact, considering the Romans believed it was also where the Venus was born from the waves. Some historians say Simonetta might've come from the city proper of Genoa, but others stick to Porto Venere on the Ligurian Coast. Especially given the glowing declaration of a Florentine poet named Politian that there "in that stern Ligurian district up above the seacoast, where angry Neptune beats against the rocks…There, like Venus, [Simonetta] was born among the waves."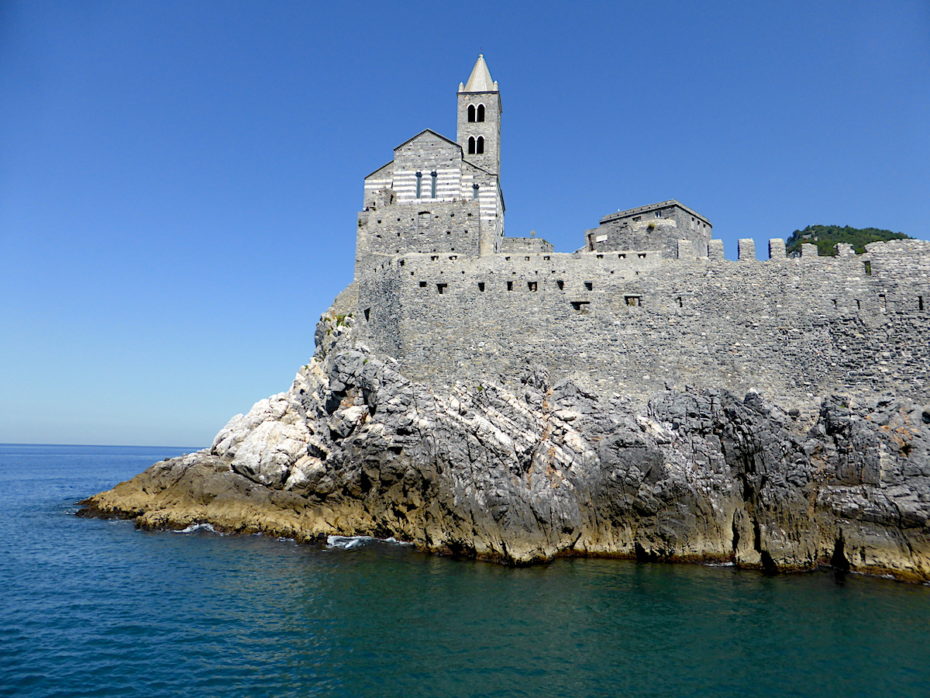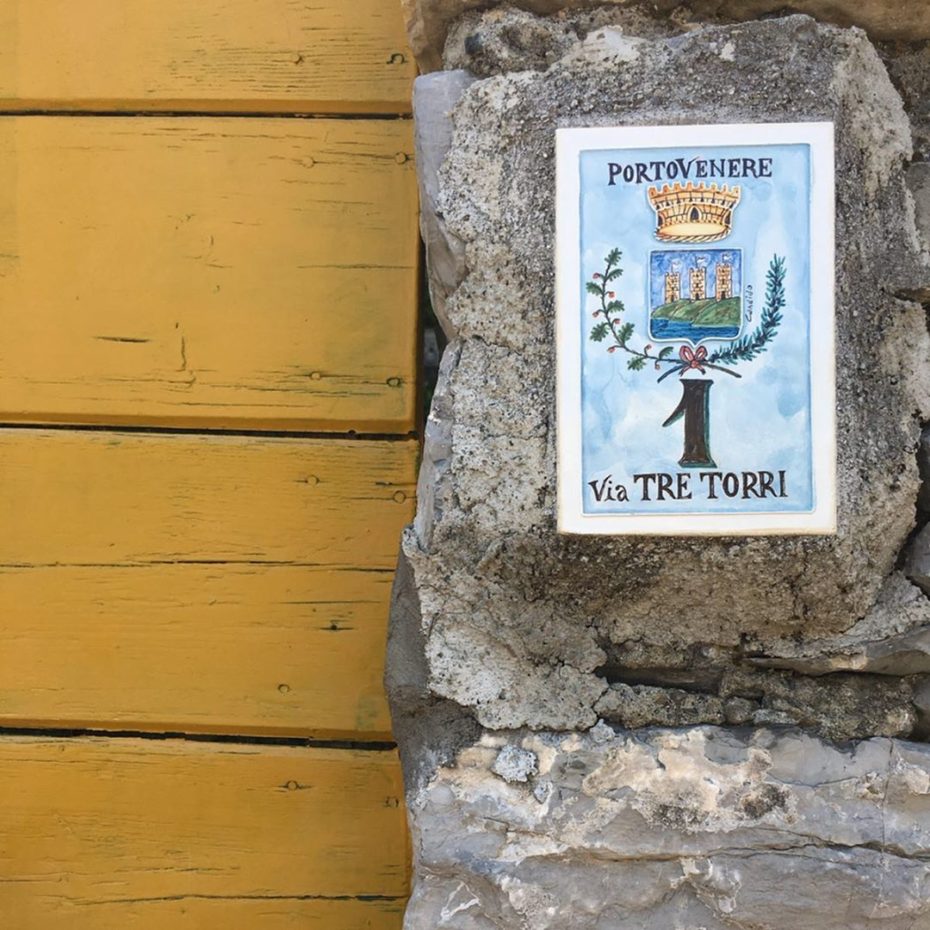 The deity's cliff-side temple is long gone, and since 1198 a gothic church has stood in its place. But these days, visitors can still come to its grounds and imagine what it must've been like to worship the goddess of love. There's just something inherently romantic about Porto Venere's sleepy shores. As the lesser known neighbour of Cinque Terre, one of Italy's most famous tourist destinations, Porto Venere is part of what's known as "The Gulf of Poets". Dante was a fan, and Mary Shelley took a brain break from Frankenstein to hang here with Lord Byron (whose favourite meditation spot is still mapped out for visitors). But we digress.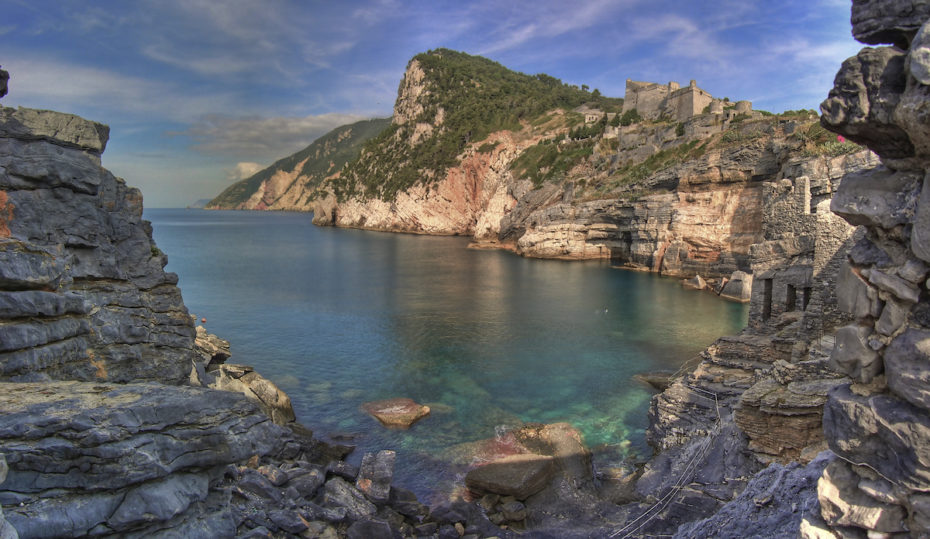 What we do know is that Simonetta came from noble Italian society, and that she fell for an equally aristocratic guy named Marco Vespucci. As in, a relation of the famous explorer Amerigo Vespucci, who lent his moniker to the naming of their freshly discovered continent, "America." Marco and Simonetta were married, moved to Florence, and soon the handsome couple became the talk of the town. Especially amongst the Medici Family, which was like the 15th century equivalent of the Rockefellers, Morgans, and Guggenheims rolled into one.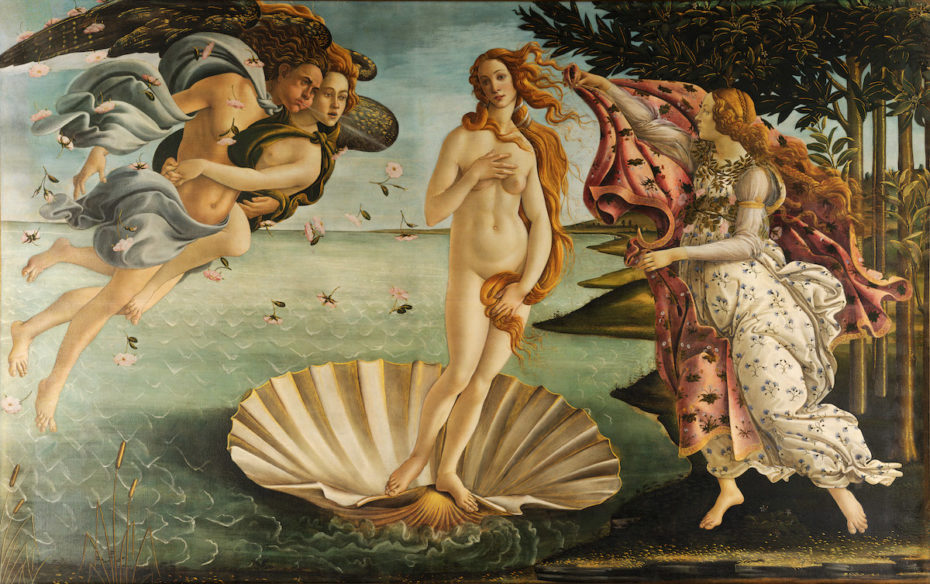 The two reigning Medici brothers, Lorezno and Giuliano, also had serious crushes on Simonetta, and their constant efforts to one-up each other in romantic gestures solidified her place as an "It-girl" of the Renaissance. One brother gave her the keys to the family's stunning Villa di Careggi for her wedding reception – the ultimate place to see and be seen (today, a UNESCO World Heritage Site open to the public, although currently closed for renovation), while the other created a pop-up jousting tournament in her honour, branding her face on the flag he carried into the arena with the words La Sans Pareille – the Unparalled One – written beneath it in French, the language of love.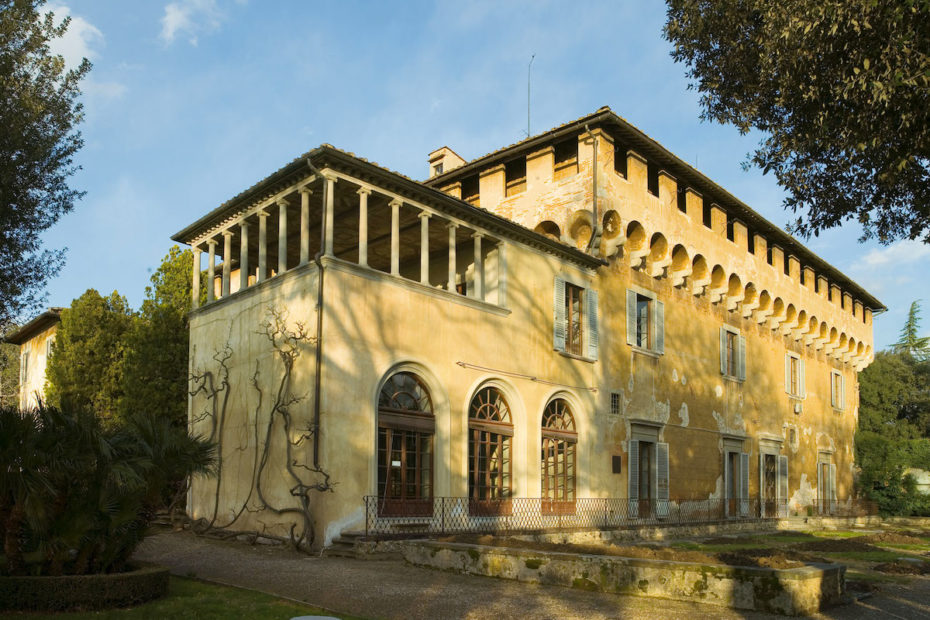 Just as today's influencers and it-girls get exclusive invitations, brand perks, and partnerships, so too did Simonetta, who had already begun sitting for various painters and gaining invites to the hottest soirées. With her golden, cascading curls and voluptuous figure, she began inspiring verses by poets and modelling for artists like Botticelli, and Piero di Cosimo (who painted her as Cleopatra), and every other artist who wanted to portray the ultimate ethereal beauty in their work. To this day, it's hard to know just how many paintings Simonetta sat for – especially where Botticelli is concerned.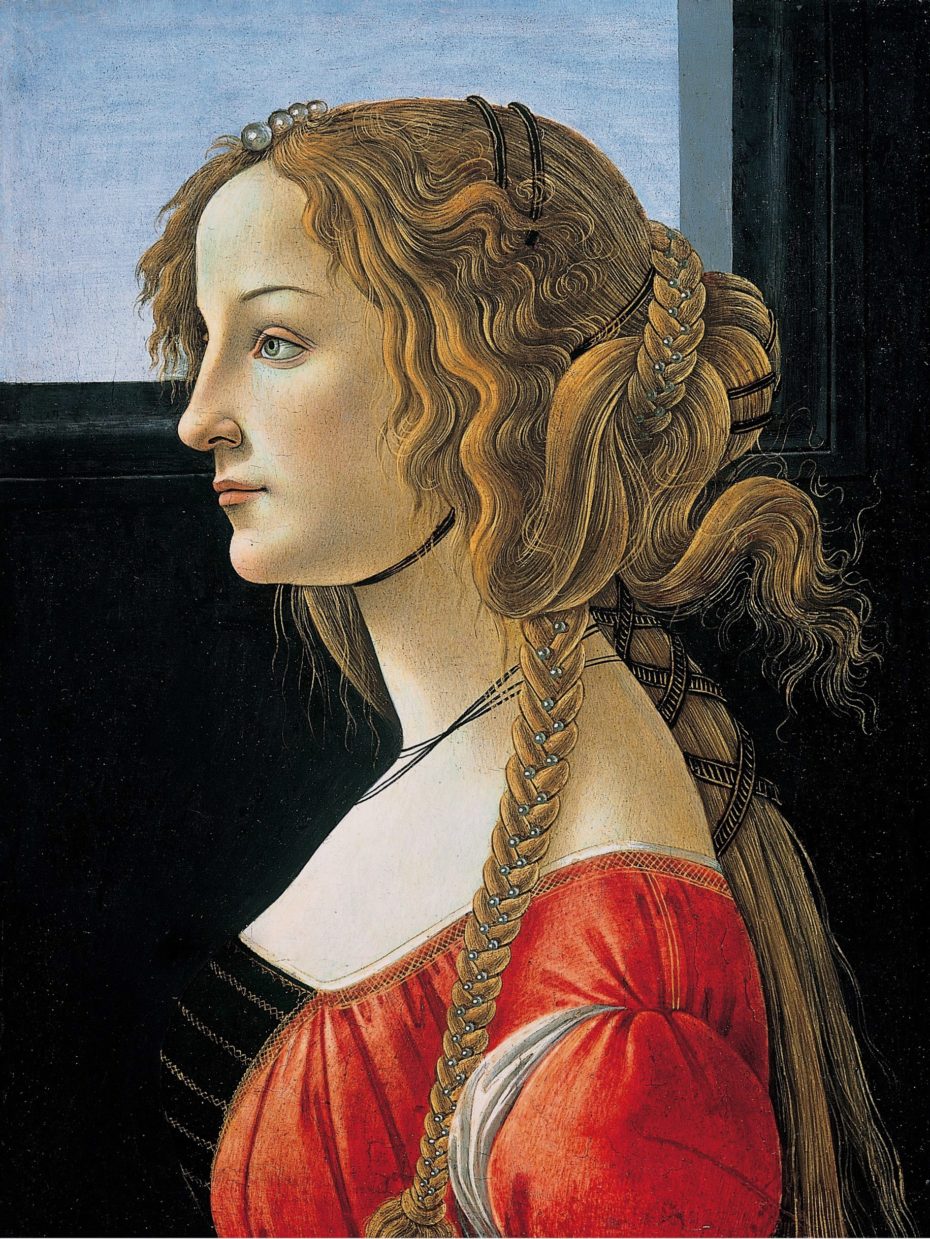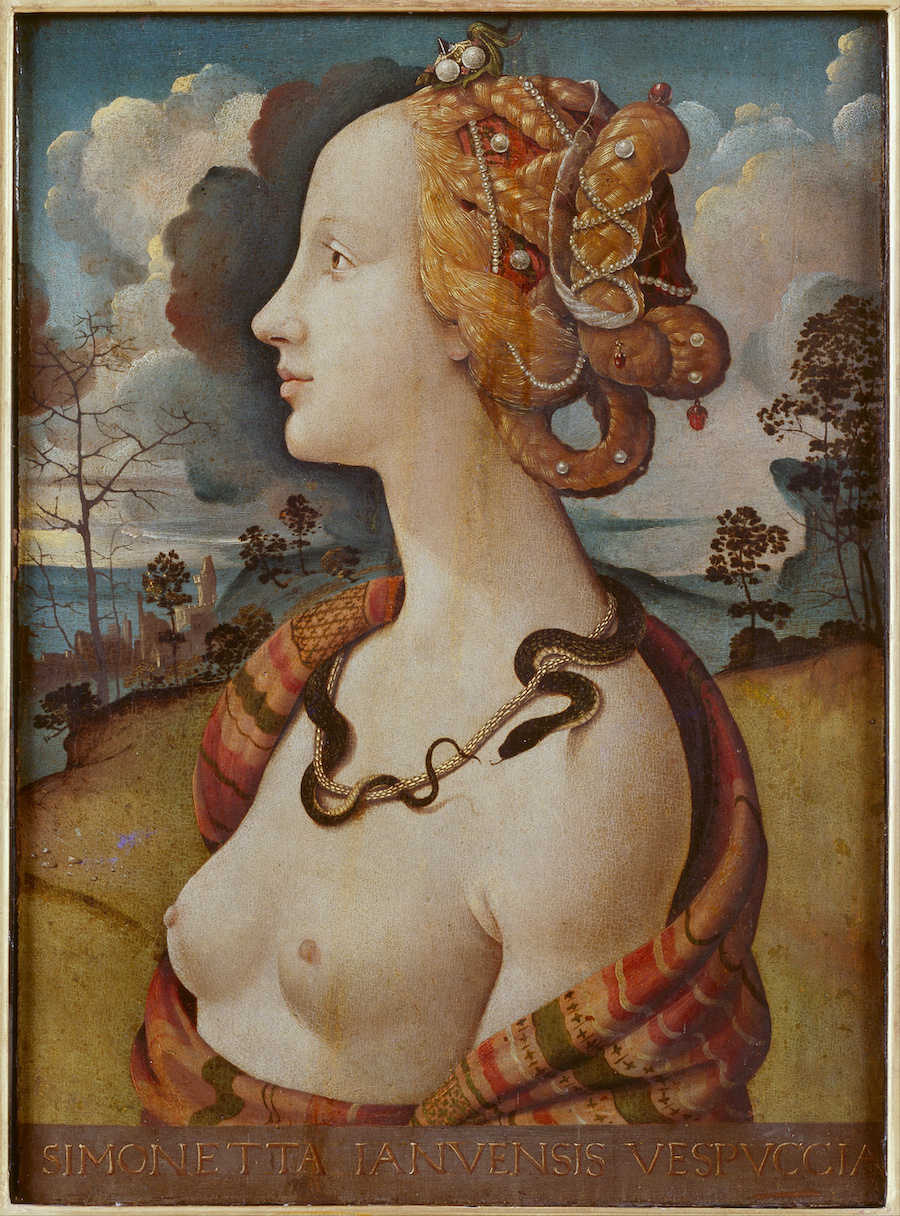 Consider Boticelli's enigmatic Primavera (below). The jury's still out on how many figures in the painting are Simonetta– there were the muses on the left, the goddesses on the right, and of course, the Venus front and slightly-off centre. The point is, they were all made in her image, and the work's obsessive attention to detail (ex. there are over 200 different, identifiable flowers) means this painting was a true labour of love.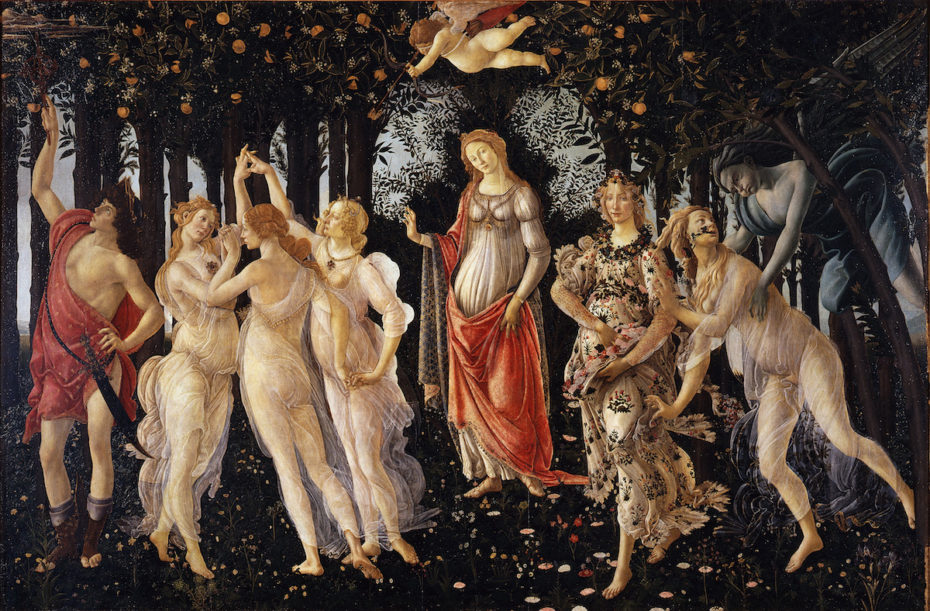 One must decode the secret symbols in the painting to get its meaning. For one, the scene looks like one of the Medici family's legendary parties, and as such, a reflection of Simonetta's place as the most popular gal in court. The god Mercury is also seen hanging out on the left hand side, eyeing oranges (the official Medici fruit).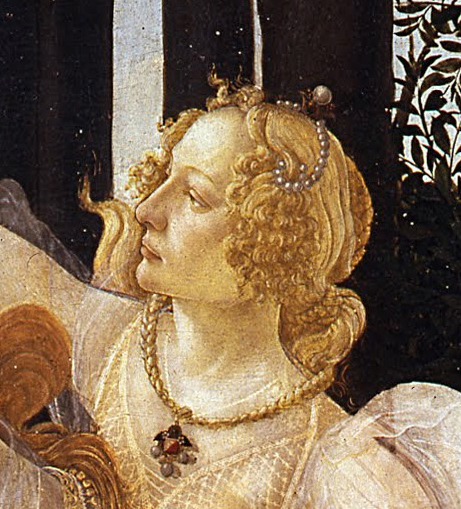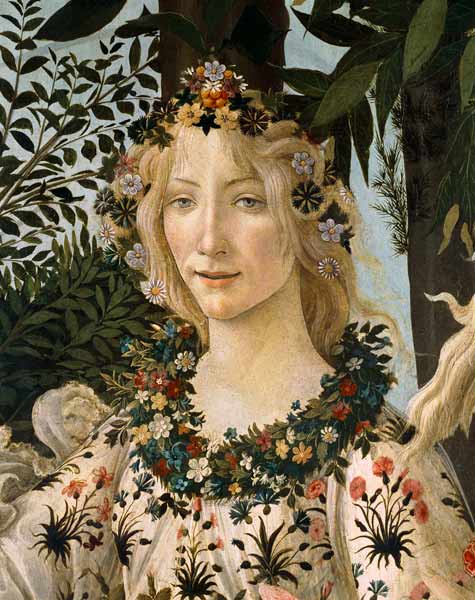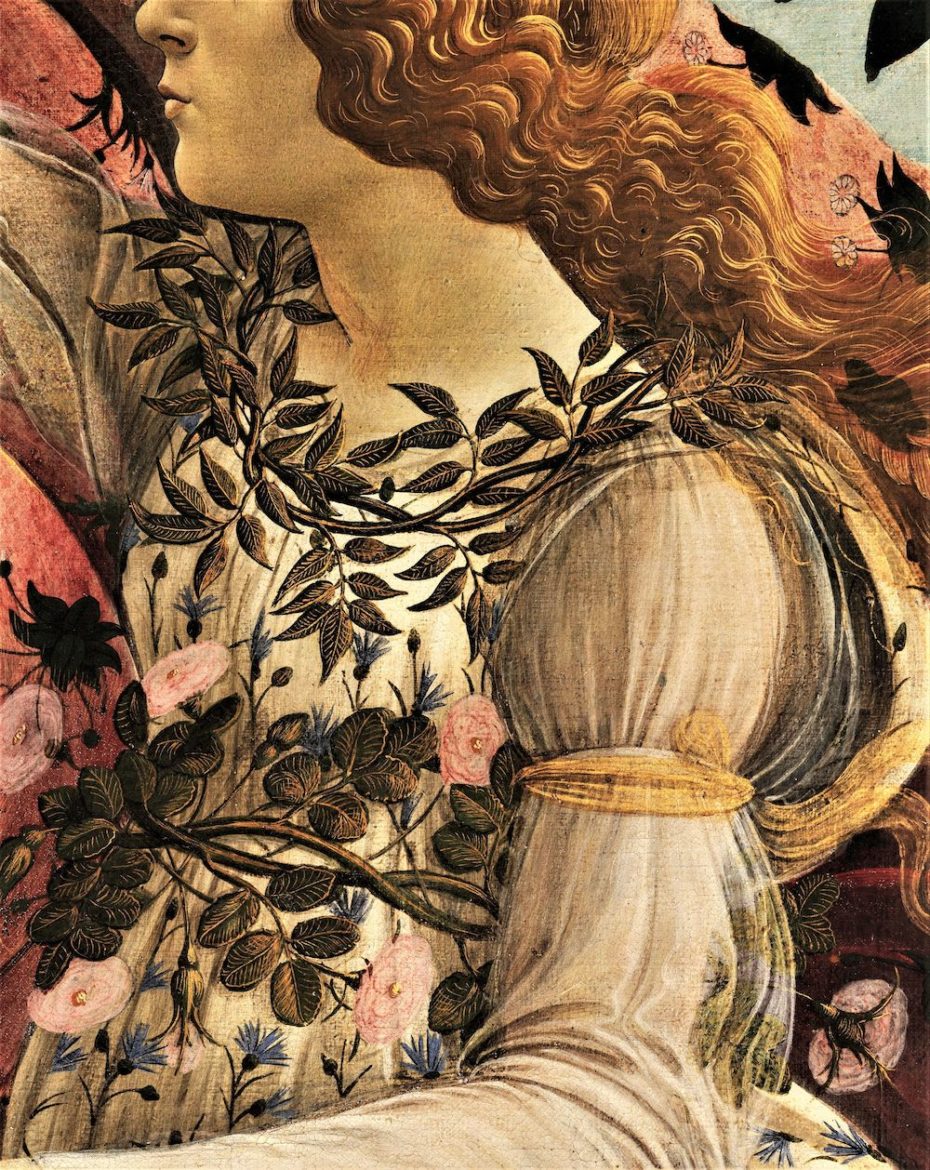 Primavera is certainly a testament to the youth and energy of spring. But it also shows how highly Botticelli's thought of Simonetta as not only his personal Venus, but the Virgin Mary too. A sharp eye will notice that there's a kind of vegetal halo around her figure: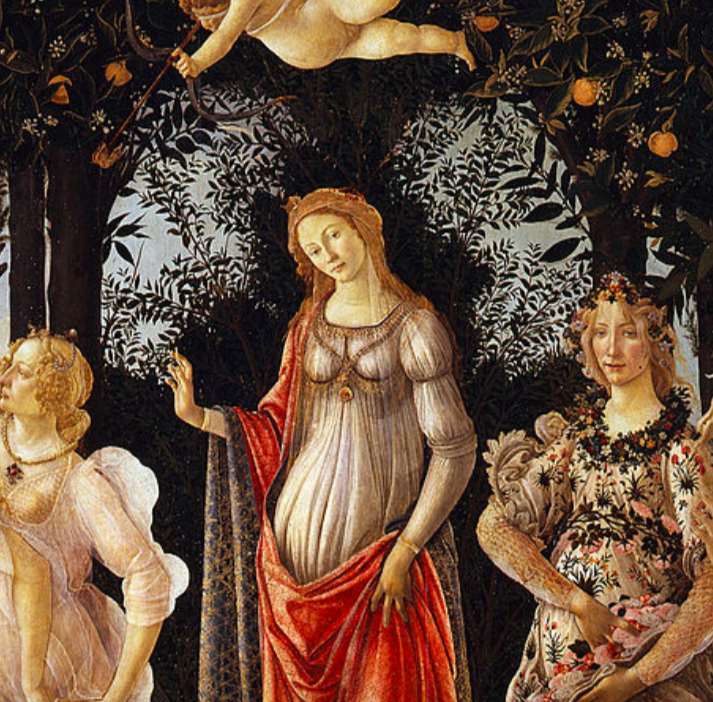 Then there was Boticelli's supremely naughty Birth of Venus. A very sensual work for its time, Birth would've been the kind of thing you give a man at his bachelor party, and was believed to have been commissioned by one of the Medici family members for his, eherm, private pleasure. The painting of Simonetta was also made posthumously, and took her reputation as a goddess to new heights. Today, it's one of the most recognizable images in the world, but back then, the controversial work was hidden from the pubic eye for over half a century.
There's no denying that Botticelli, like all of Florence, was worshipping at the temple of Simonetta. So all of Italy was heartbroken when she died at a just 22-years-old from tuberculosis. "[It] was thus all the more tragic," explain the authors of Art and Love in Renaissance Italy. Her death inspired even more paintings to be made in her honour, "commemorative odes from other members of the Medici circle." Botticelli, for one, never recovered. Upon his own death bed, he asked to be buried at the feet of his muse in the Church of Ognissanti in Florence. Luckily, our story is granted that much of a happily ever after.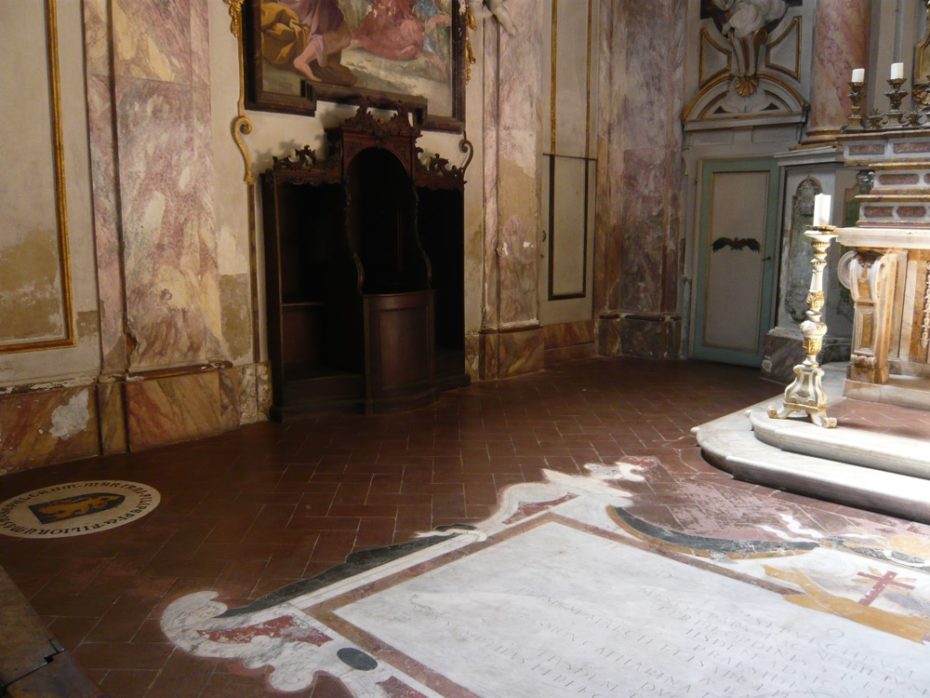 Want more Simonetta? Catch her in select episodes of the Netflix TV show, "Medici" (although you'll have to get past the anachronism of Dustin Hoffman's voice in 15the century Italy), and watch the entire scene of The Adventures of Baron Munchausen below: