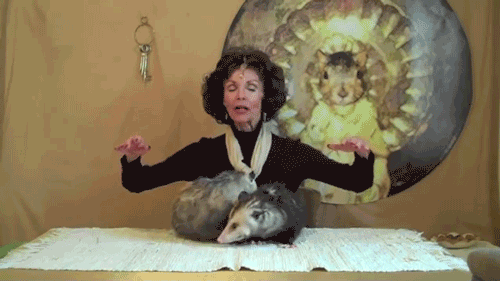 This picture may not need any explanation. It is arguably perfect as it is. But in these strange and uncertain times, I had an inkling that this might be exactly what we all need. So allow me to formally introduce you to Pearl de Wisdom, aka the Opossum lady. She has been making spiritual opossum videos on the internet for 10 years now and may just be the most fascinating person on Youtube.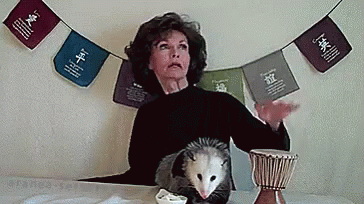 With her perfectly coiffed Jackie O hair, a screen presence to rival Bob Ross, and of course, her coterie of remarkably tolerant opossums (and squirrels too), Pearl de Wisdom, real name Georgette Spelvin, has the kind of high quality, stress-relieving content that the internet and Youtube was arguably invented for. And it is our belief that she has been sent here to save us all from an existential crisis…
Fitting somewhere in the realm of high performance art and pure comedic genius, we're wondering if David Lynch isn't actually behind the camera.
Perhaps you've already stumbled into this part of Youtube (also known as the twilight zone) before. It all began with Pearl's first and most viral video to date, "Proper Opossum massage" below…
The Southern California resident prefers to keep her private life mysterious, so there's little information about her off-camera persona. In her videos, Pearl says she identifies most with the character of Snow White, and says animals have always been her best friends. In most videos, she clarifies to her audience that "if you see an opossum or squirrel outside, leave it there, and if you see one that's injured or in danger, contact your nearest wildlife rescue."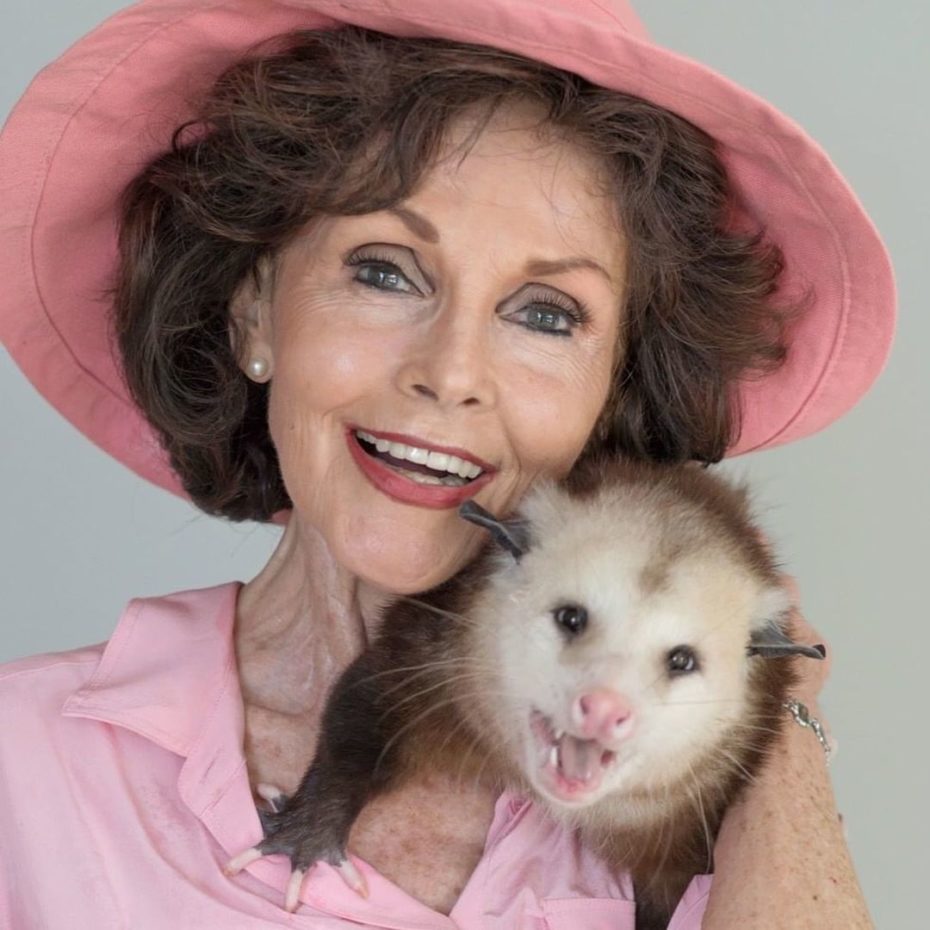 Teaching us all what retirement should look like, she's the glamorous mother-in-law we all wish we had. And has there ever been a better moment to lose yourself in Pearl's world?
Here's a selection of our favourites over the years….
Pearls O'Possum poetry corner:
Pearl on Halloween:
Peal on proper pandemic prep:
On the proper Opossum pedicure:
On aliens…
Georgette also maintains a website for her late squirrel, whose name was also Pearl and now offers psychic advice to members of the public from beyond the grave. "Pearl the squirrel channels herself through me," says Georgette, "She wants you to seek her advice and send her money". Ask Pearl absolute anything – about love, life and possoms too – she always responds….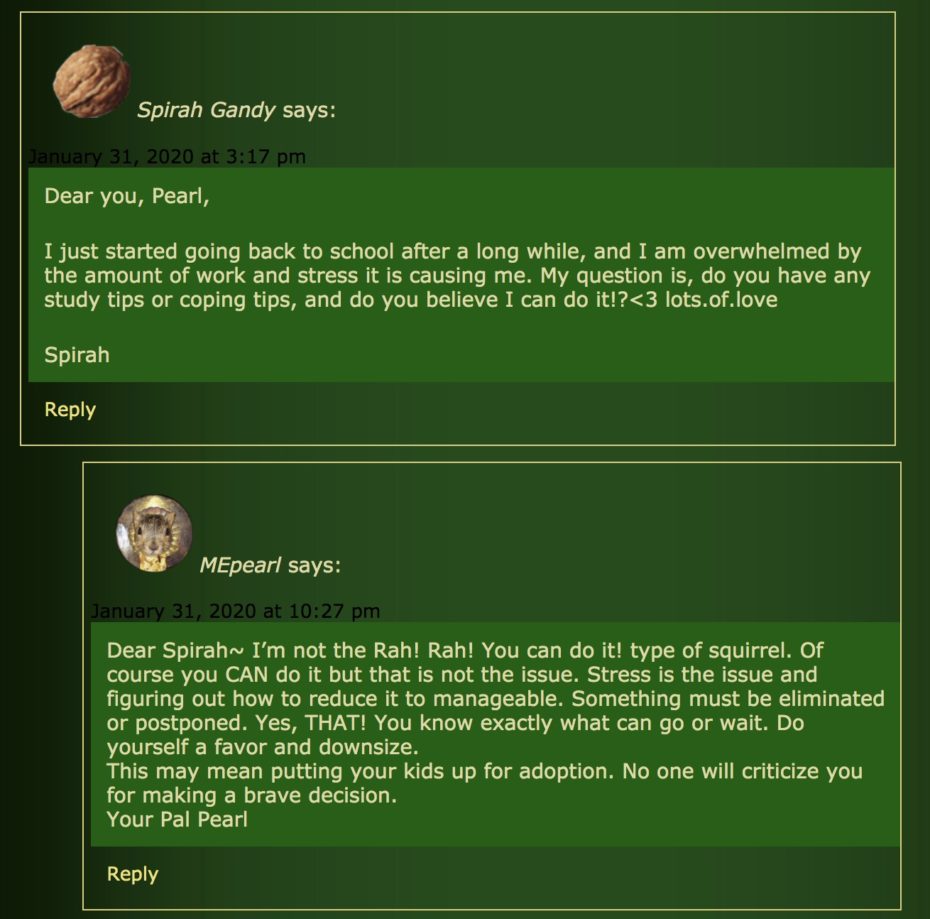 Master troll or the ultimate eccentric? What we do know for certain is that Pearl is clearly having the time of her life, and we're here for it.
We'll leave you with some of her bedtime stories …
Isn't the internet wonderful after all? But this is Pearl's world and we're just living in it. Find her online on her Youtube channel, the spiritual website and Instagram.
Update: Pearl wrote a book!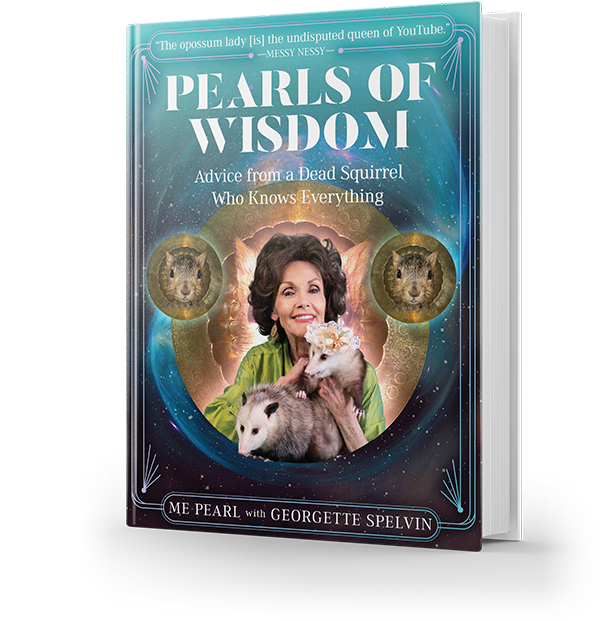 Georgette and MEPearl, the internet phenomena, are now forever immortalized in the tome of a book, Pearls of Wisdom: Advice from a Dead Squirrel Who Knows Everything. And just we're thrilled to be on the cover for the pull quote! As friends of the show, we've had a sneak peak inside and it's chock-full with sage advice and never-before-seen, behind-the-scene photos of Georgette. In the intro, Squirrel Pearl promises: "This is Truth as you've never known it. Nowhere else can you change so many planes and never go near an airport. Fasten your seat belts, friends: it's going to be a bumpy read." From Apollo Publishers, available 29 March, 2022. Available for pre-order now from Bookshop.