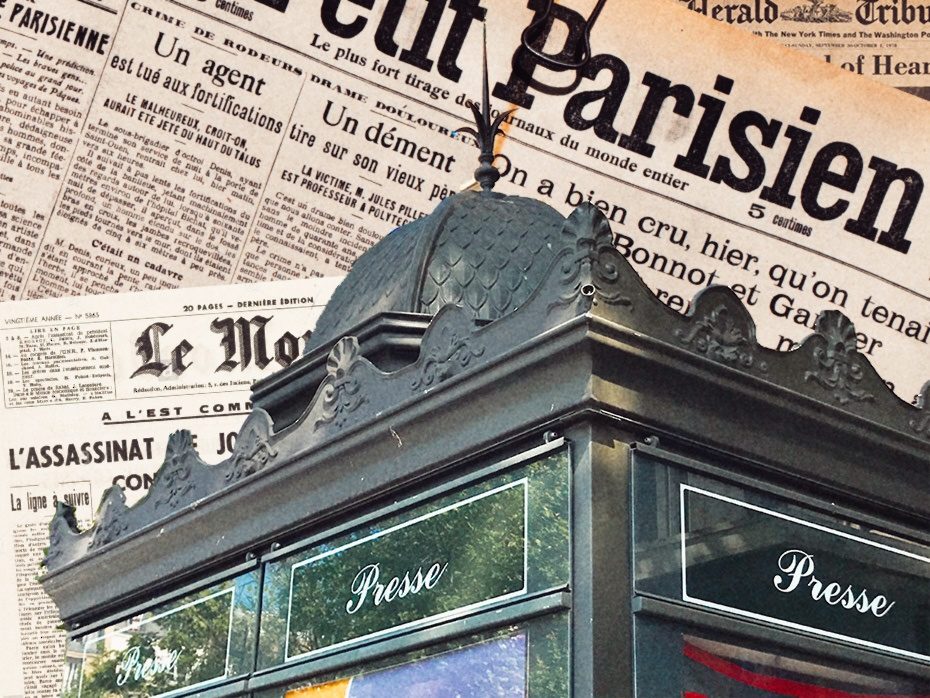 I woke up one morning in Paris, headed to the boulangerie, when I noticed a strange new structure had been installed on the sidewalk overnight. It took me a moment to figure out what it was. One of those self-cleaning public toilets? A construction crew's cabin for yet another roadwork about to begin? And then my stomach dropped. For a few feet from this hulking plastic edifice was my beloved local newspaper kiosk, an iconic emblem of Haussmannian Paris. No! They couldn't possibly …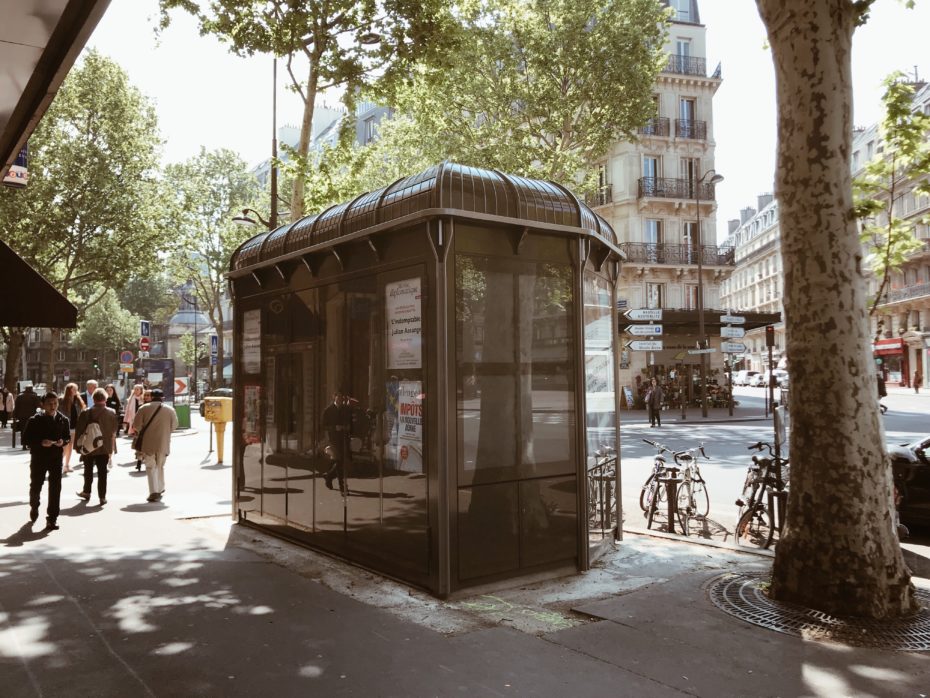 I dashed over to the kiosquier who was busy stacking piles of Le Point magazine with a cover photo of Notre Dame in flames. "Is it true? Are they replacing this with that?" I asked him with an air of desperation in my voice, pointing to the modern plastic box that stood in waiting. "Eh oui!" he replied with a weary smile that indicated I hadn't been the first distressed local to ask on that drizzly April morning.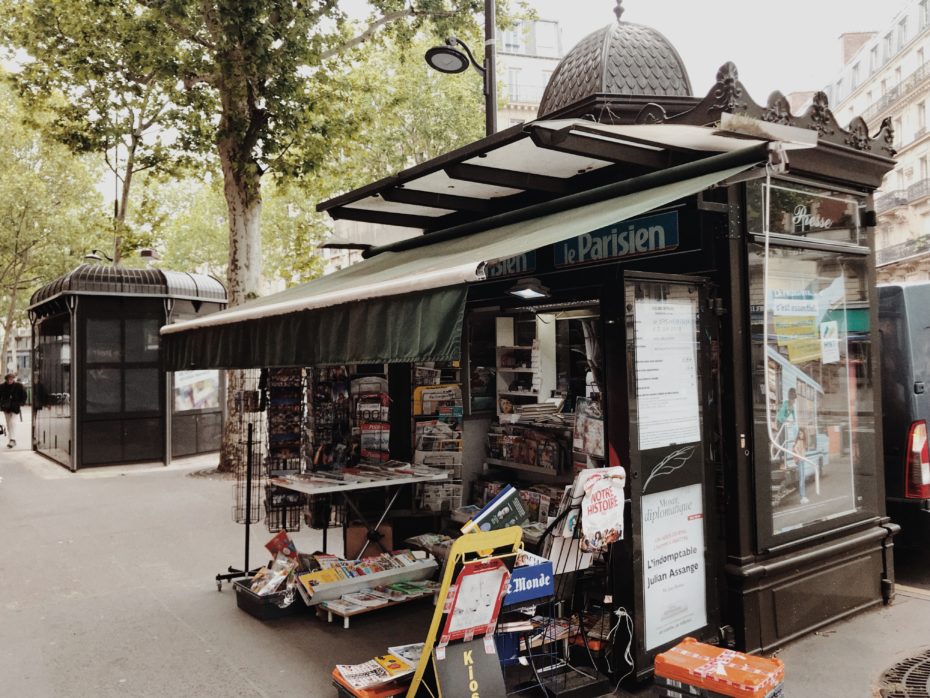 Why had their been no warning; no neighbourhood survey? It then occurred to me. I had been so naïve! In 2017, the city of Paris had announced that over the next two years, 360 new kiosks would be deployed in the capital. More kiosks? Great! I thought at the time; it meant good things for the future of print in an encroaching digital world. I never could have imagined it would mean ripping out the very historic kiosks that had come to symbolise Paris and its nostalgic charm, akin to London's iconic red telephone booth. And in that moment, I decided to make it my next mission to find out:
Where are these old kiosks are going?

What are they going to do with them?

And … can I buy one??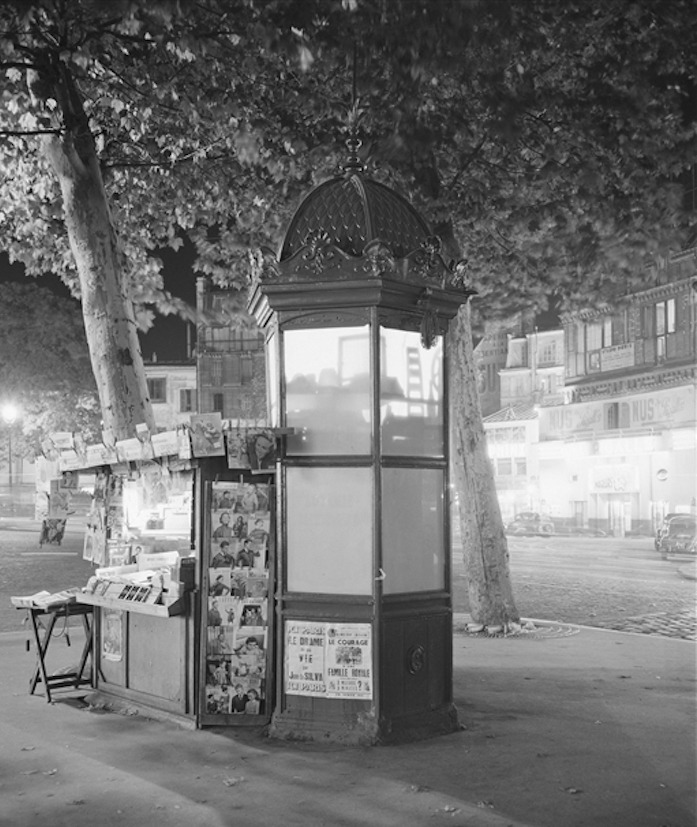 I decided to start with the sellers themselves. "Do you know what will happen to your kiosk?" I asked the occupant the 150 year-old Haussmannian fixture on Boulevard Saint Germain. "No idea about that", he shrugged; curiously indifferent to the fate of his workplace where he'd sold newspapers and magazines to Parisians for the last 20 years.
"You won't miss this old lady?" I pried.
"Put yourself in my place," he began, leaning over the counter of his compact cubicle in the nucleus of his kiosk. "These things aren't comfortable to work in. During the winter there's no heat. The winds come through here at 60km/per hour. In the summer it's too hot. When it rains, the newspapers get wet. And there's no space! Everyday, I have to unpack all my print from this tiny foldaway box and arrange it onto the sidewalk, and then pack it all up again at night. It's tiring. The new design is like a real shop. I'll have shelves to display everything properly and do better sales. I won't miss these old things at all!"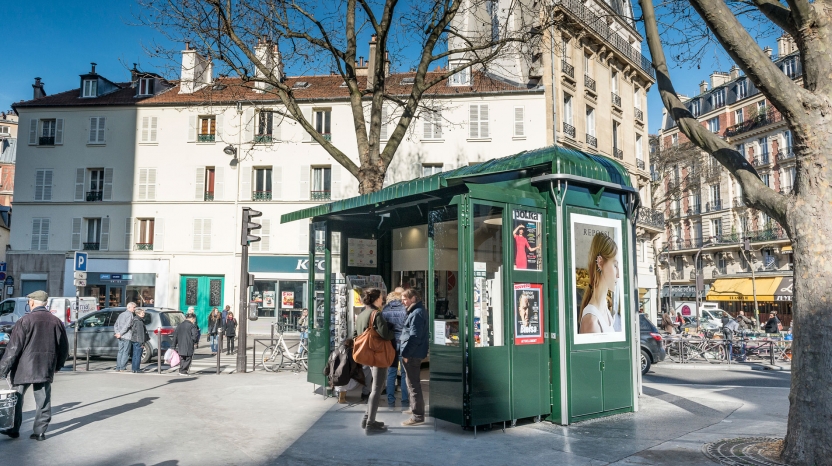 I found it hard to discount anything he'd told me. Why shouldn't the kiosquiers be entitled to better working conditions?
A local lady from the quartier came up behind me as I began snapping a few photos of the soon-to-be-gone kiosk. "Are you as horrified as I am?" she sighed. For a neighbourhood that sits along the Seine and recently watched centuries of history perish when its neighbouring cathedral caught fire on that fateful Monday night of April 15th, it feels like another brutal blow for the community. "They're going to scar the streets of Paris with those plastic monstrosities. It's scandalous! And of course, they didn't ask anyone's opinion."
By they, she meant City Hall and the current mayor of Paris, Anne Hidalgo. And she's wasn't wrong – they didn't ask anyone. The public was not consulted in the city's decision to rid the urban landscape of its historic news stands in favour of the "kiosks of tomorrow". Not even the kiosk vendors themselves, it would seem, were consulted on the decision…
"They never asked me anything," said a rather more disgruntled seller from her kiosk on Place Maubert, which as of May 1st, remained in place without a plastic replacement waiting in its shadow. "Who can say if the new design will be better? I don't know anything about it and I haven't been notified of anything yet, but this one suits me just fine."
The city-wide modernisation is expected to be completed by this summer (2019), with kiosks being replaced at a rate of 20 to 25 month.
It's easier to justify modernisation and the loss of history if it's done with good intentions. But was the mayor's office really concerned about keeping the kiosk vendors warm in winter?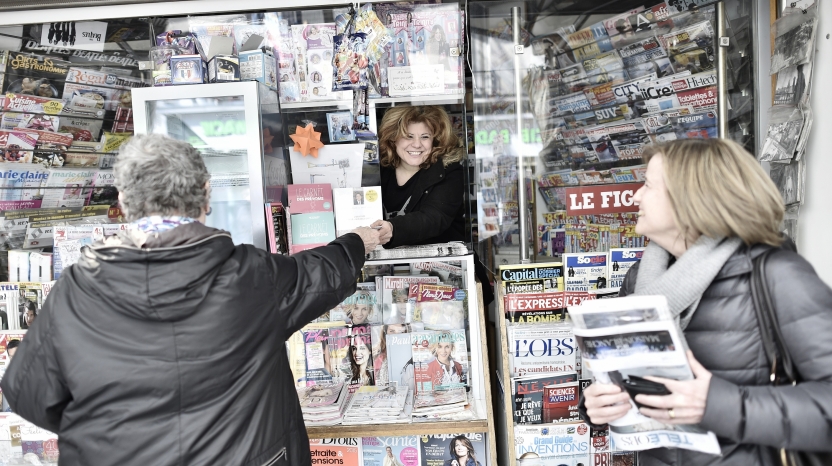 The contract for the modernisation of Paris' kiosks was given to Matail Crasset, a well-known designer and friend of Anne Hidalgo who was part of the mayor's political campaign as early as 2014. The kiosks themselves are owned by a private company called MediaKiosk, an affiliate of JCDecaux, the largest outdoor advertising corporation in the world. This multinational corporation makes its money in advertising. A bigger kiosk means bigger space for advertising. When the proposals were first put forward to the public in 2016, a citywide petition was launched, gaining over 60,000 signatures pleading for a less drastic replacement of Parisian history. But Hidalgo and JCDecaux didn't budge.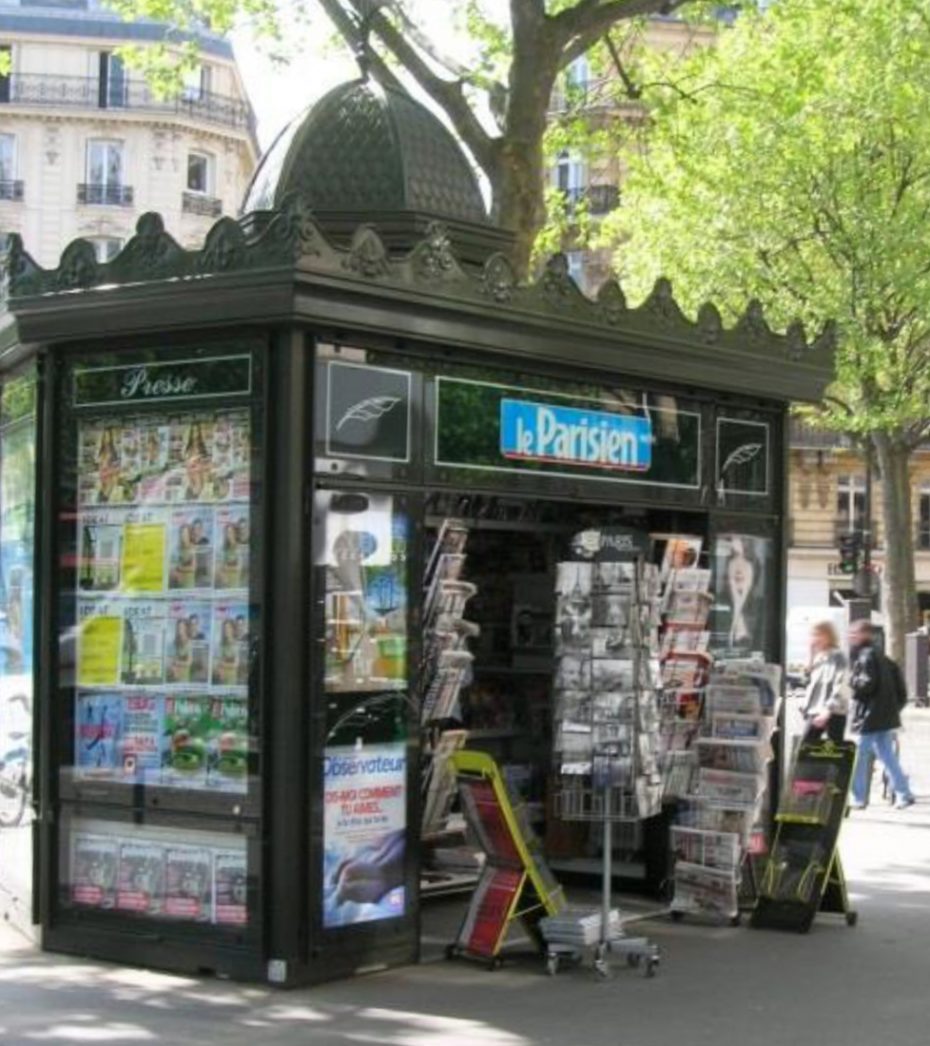 This time next week, I'll look out of the Messy Nessy Chic HQ window and the Haussmannian kiosk with its wrought-iron balustrades – also known as a "Morris Column", after the printer that had the concession to print the posters for them – an emblem of Paris, will be gone forever. I needed a silver lining. I needed answers. So I went to the heart of the operation; the company that owned Paris' kiosks and asked what fate awaited them. Here's what they told me.
Of the 360 kiosks being (or already) replaced, 49 Haussmannian kiosks will be conserved by the city of Paris for various uses, cultural or other. (They will not operate as functioning news stands, but they will remain situ).

The rest of the kiosks will, depending on their condition, be renovated and deployed to the suburbs and provinces outside Paris and the Ile de France department. Or they will be sent for recycling.
And what if one were to enquire about buying one of the old kiosks?
Here's the silver lining. You can indeed purchase an old kiosk if you so desire. I spoke with Edouard Rayer of Media Kiosk, who will be managing all requests for the sale of the historic news stands.
How does one go about buying them? Is there a warehouse somewhere you could see them? Can anyone buy a kiosk?
Potential buyers will be able to see what remaining stock of kiosks exists for sale at the the company's site in Gennevilliers, Edouard tells me. "Or you can also enquire about the sale of a kiosk in Paris that hasn't yet been removed." They will be sold as seen, ready for transport, which is entirely the responsibility of the buyer. "Once an owner, you have the freedom to do what you like with it – keep it in France or take it abroad"
The cost? Depending on the model, prices start from €10,000, not including transport and renovation costs if needed.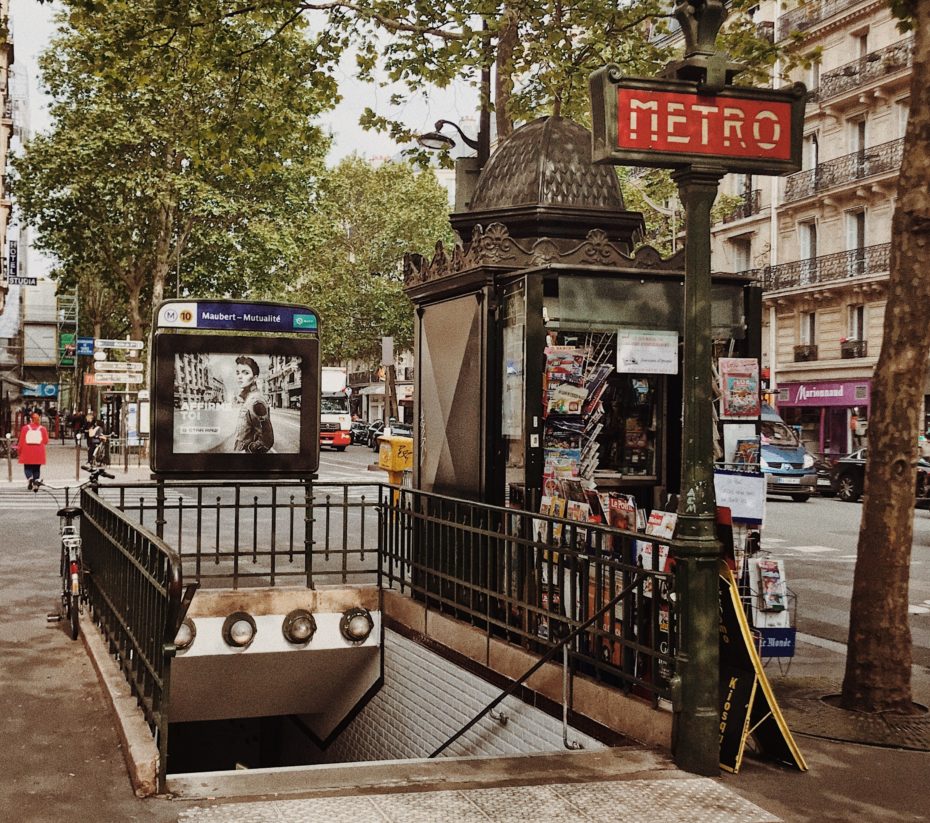 If you're still interested in potentially owning a piece of Parisian history and turning it into your garden gazebo/ writing hut à la Roald Dahl, MediaKiosk recommends sending enquiries directly to Edouard (edouard.rayer@mediakiosk.fr).
So here's hoping my local Haussmann kiosk that didn't make the lucky 49 cut, goes to a good home. In the meantime, the conversation about preservation feels more relevant than usual. The "what to do with Notre Dame" debate is a particularly spirited one in light of the French government's recent announcement for a contest to redesign the cathedral spire. Opinions seem to be split down the middle, even amongst a community of history lovers like this one. Over in New York, earlier this week, Grand Central Station lost its retro departure boards in favour of new digital ones.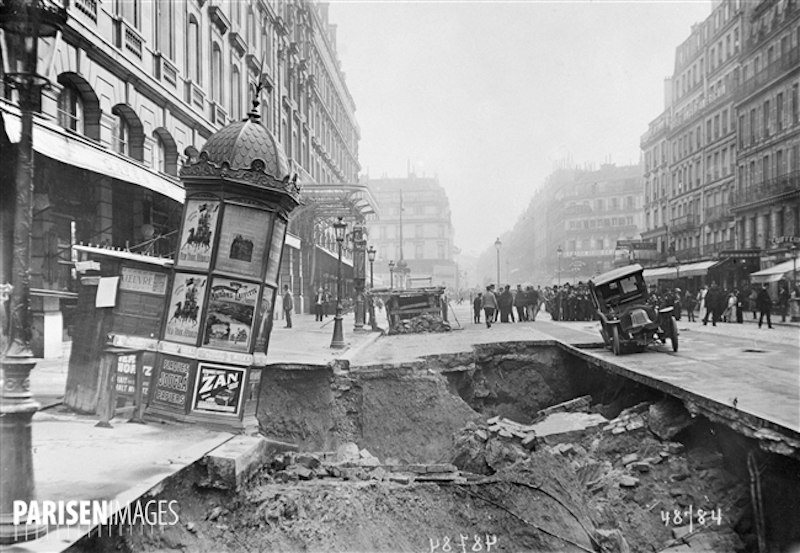 History is being lost all around us without our say. Things can literally disappear from our doorstep that we won't appreciate until they're gone. The replacement of Paris' iconic kiosks is a timely reminder to take a second look and pay more mind to our surroundings; to take a break from our phones and get curious, get involved and get inquisitive about the things we care about, before its too late.