Ever wonder where the non-human things go to die?
Wisconsin's Graveyard of Fun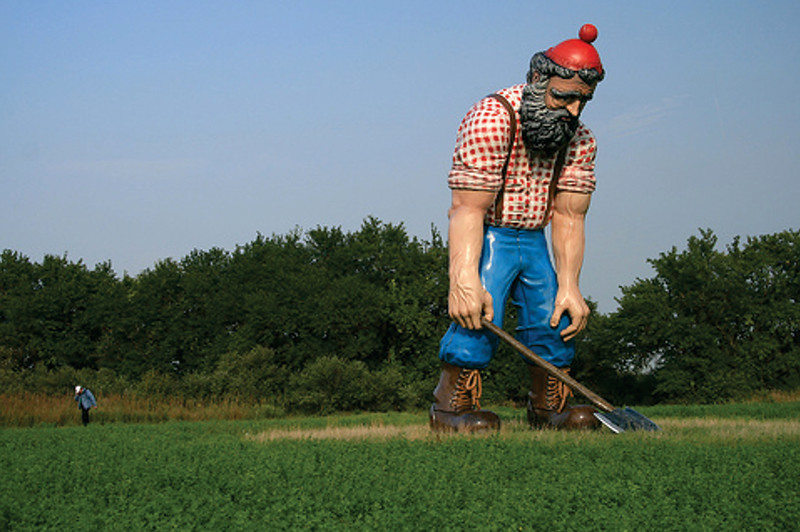 Welcome to the FAST Graveyard. Yes, you read that correctly, FAST as in Fiberglass Animal Shapes and Trademarks. FAST Fiberglass L.L.C. is located in Sparta, Wisconsin in the Upper Midwest and has been making fiberglass statues since "the late 1960s or early 1970s" according to their company website. No one seems to remember the exact date and even the year is unclear of when this company opened its doors for business which adds even more strangeness to this particular graveyard.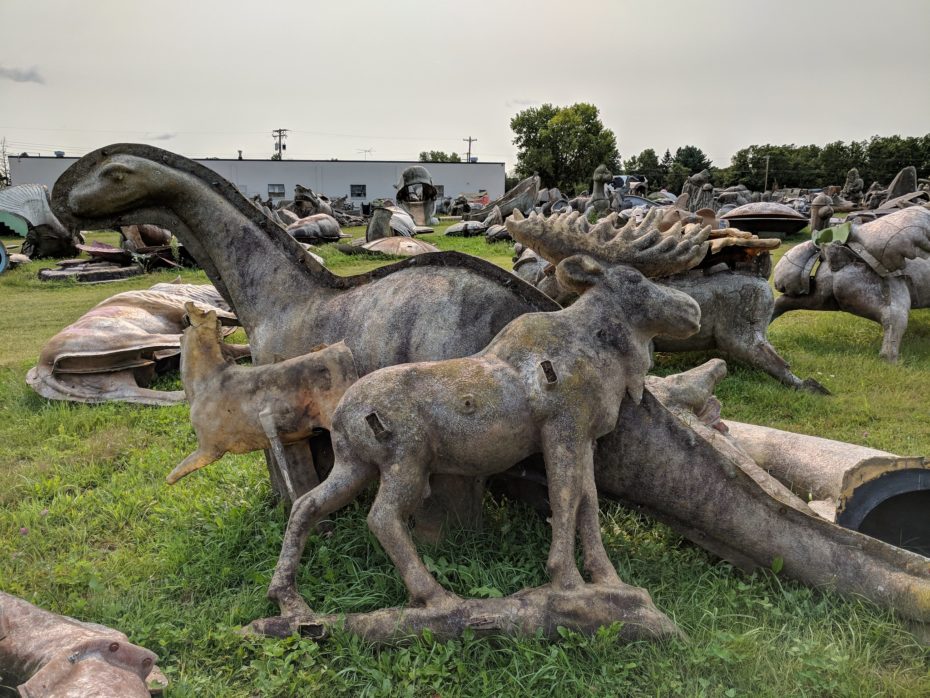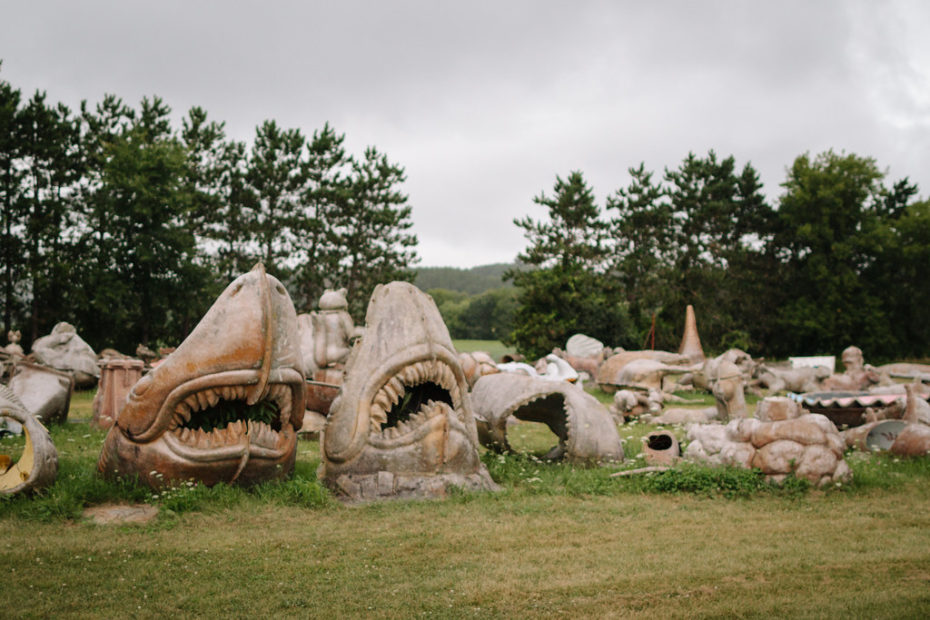 FAST Fiberglass makes "larger than life" statues, road side attractions, and themed water slides. Think of a brightly colored life size dinosaur you might have seen as you drive along the highway on a road trip. Well, that is the type of things this company makes but like next level. All of these cool and obscure objects need a mold. While the exact number remains unknown, over the years this company has accumulated a plethora of molds. Odds are if you're making one 2 meter (6 feet) high frog-shaped waterslide, you'll probably need it again for another water park or maybe a private residence. To avoid wasting the molds they keep them in a field in the back of their warehouse and by the looks of it, it would be fair to say they've kept every mold they have ever made! It has become a fiberglass-mold-field-of-wonder that has accidentally developed into a tourist destination.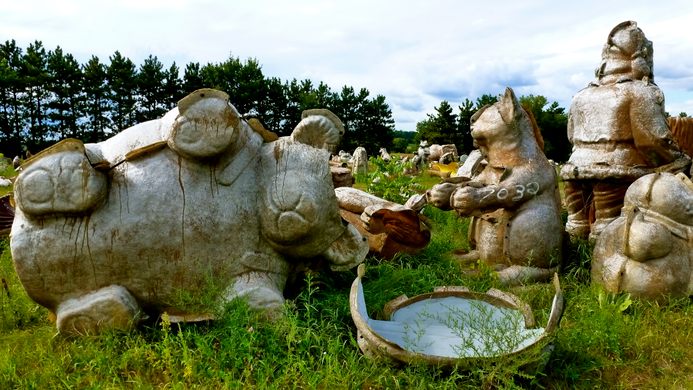 Surrounded by the trees of Wisconsin, these unpainted grayish molds are randomly scattered across vast amounts of grass. You will see things like an enormous mouse laying on his side with dirt smeared across his belly, shark heads with sharp teeth that look like they have blood stains on them (I'm hoping it's rust,) a horned angry devil's head, a happy fellow who happens to be hoisting a cheeseburger on a tray above his head standing next to a gallon of milk bigger than he is, life size elephants that seem to be eating the grass, and a cat with 7032 written in white on its arm (a tattoo? Maybe he's a tough guy) just to name a few.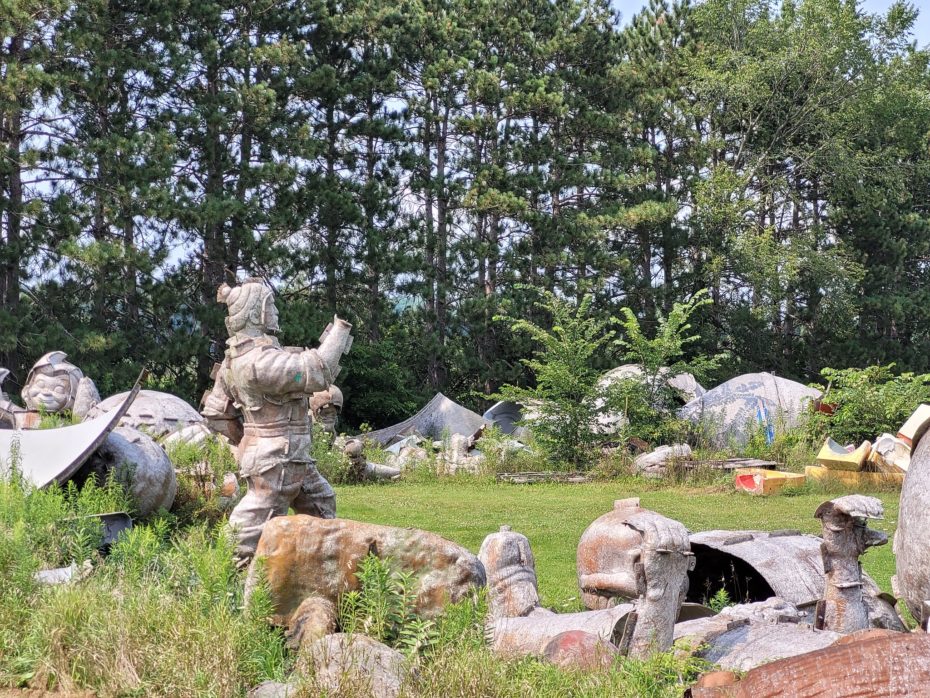 You can imagine these creatures coming alive at night like the toys in Toy Story. They gather round and chat about how hard it was to hold still all day and how happy they are that they can move around now and get their wiggles out. They share their curiosity and excitement about the new molds that will soon be joining them in the field. They jump at the sound of an owl hooting under the moonlight and then all crack up together once they realize what it was. They talk all night long until the sun begins to rise, and the first employee arrives in the parking lot. They slip quietly back into the grass and look forward to the next evening when they can come back out to play.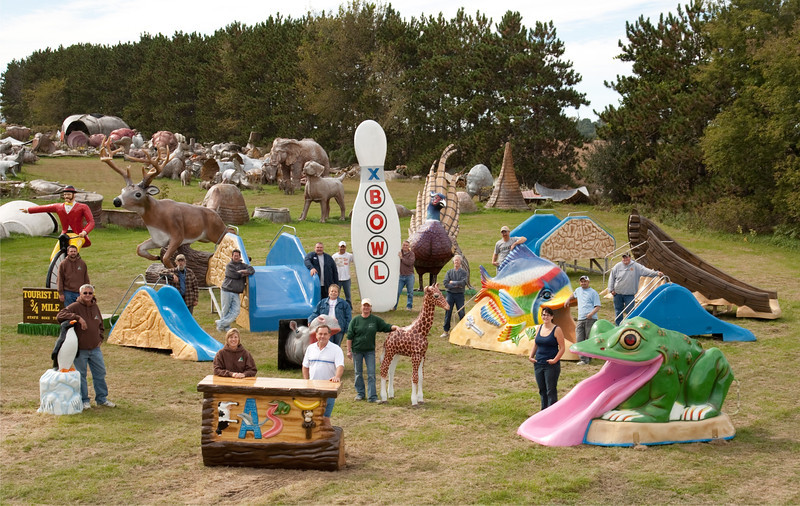 England's Red Telephone Cemetery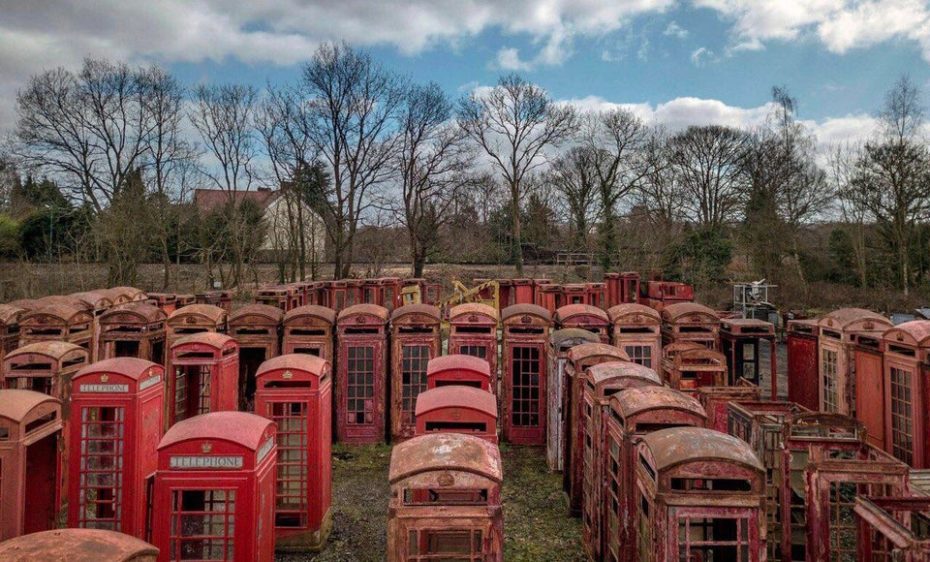 Less than 10,000 red telephone kiosks remain on Britain's streets today and only about 30,000 calls a day are now made from them. Many of them were sadly melted down in the 1970s and 80s, but in recent years, their iconic status and historic value has been finally been recognised. British Telecom allowed local councils, organisations and charities to rescue and repurpose disused phone boxes into something useful for the community under the adopt-a-kiosk scheme.
More than 5,000 have been adopted and converted into all kinds of novel uses, from miniature libraries, tiny art galleries and iPhone repair shops to takeaway cafes and even "the world's smallest nightclub". Enterprising traders can apply to rent a kiosk for their small business from the Red Kiosk Company at around £300 a month. Individual buyers have also been snapping them up from approved restorers like X2Connect and Unicorn Restorations. The telephone "cemetery" of rusting kiosks outside Tony Inglis' workshop is a curious site.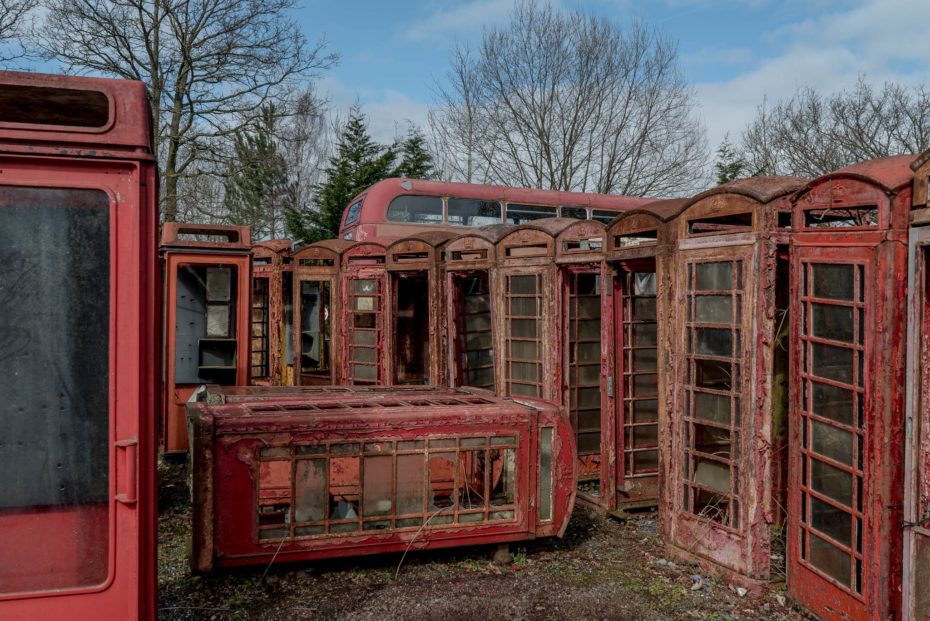 Clients hail as far as Australia, where they might end up as a garden folly. In Florida and Dubai, you can find them in shopping malls. A fully restored booth will set you back around £2,750 and on rare occasion you might find one in need of some TLC on eBay in the range of £2,000.
Portugal's Anchors in the Afterlife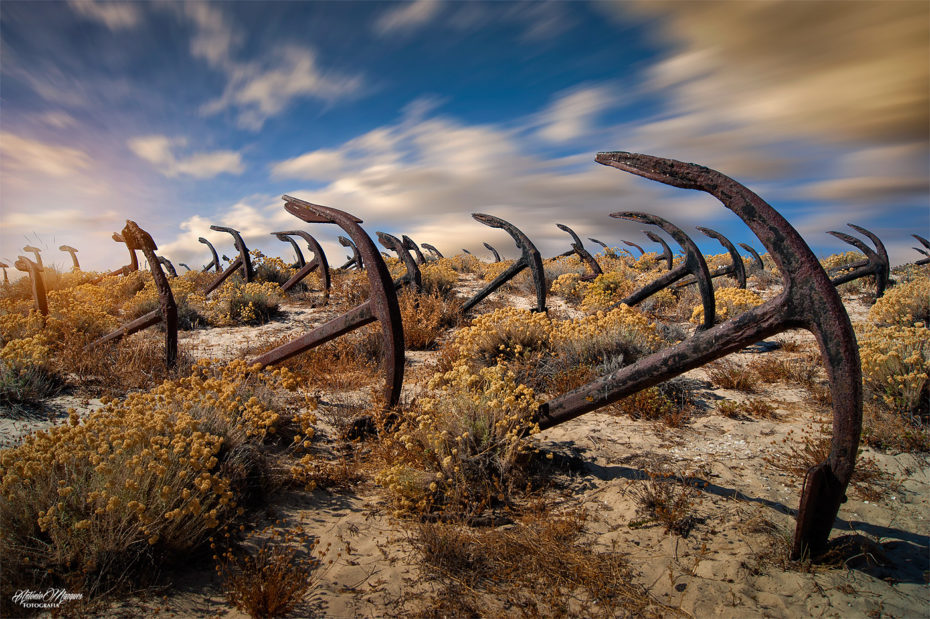 Our next graveyard is in Tavira, Portugal at Praia do Barril (Barril Beach) located on the Algarve Coast in Southern Portugal. From the mid 1840's to mid 1960's this was a bustling tuna fishing town and home to approximately eighty fisherman and their families during the season. Hundreds of anchors were used to hold down complex fishing net structures that had to withstand the viciousness of the Atlantic Ocean and the strength of the tuna they were meant to catch. Over time, the Bluefin Tuna took different migration paths and due to over fishing, the stocks declined and the industry could no longer sustain here.
Rusting anchors are the only thing remaining of this tuna fishing industry that has come to be known as "Anchor Graveyard." It is a mystery who first arranged these anchors but the locals began adding to the "collection" and now there are hundreds that stand like sentinels along the white sandy beach. It is a memory of the trade that once existed on this coast that will not be forgotten.
Today tourists have taken the place of the fisherman and can enjoy coffee, ice-cream, and food in the old homes the fisherman once lived in. Their homes have been turned into small shops and facilities for the tourists.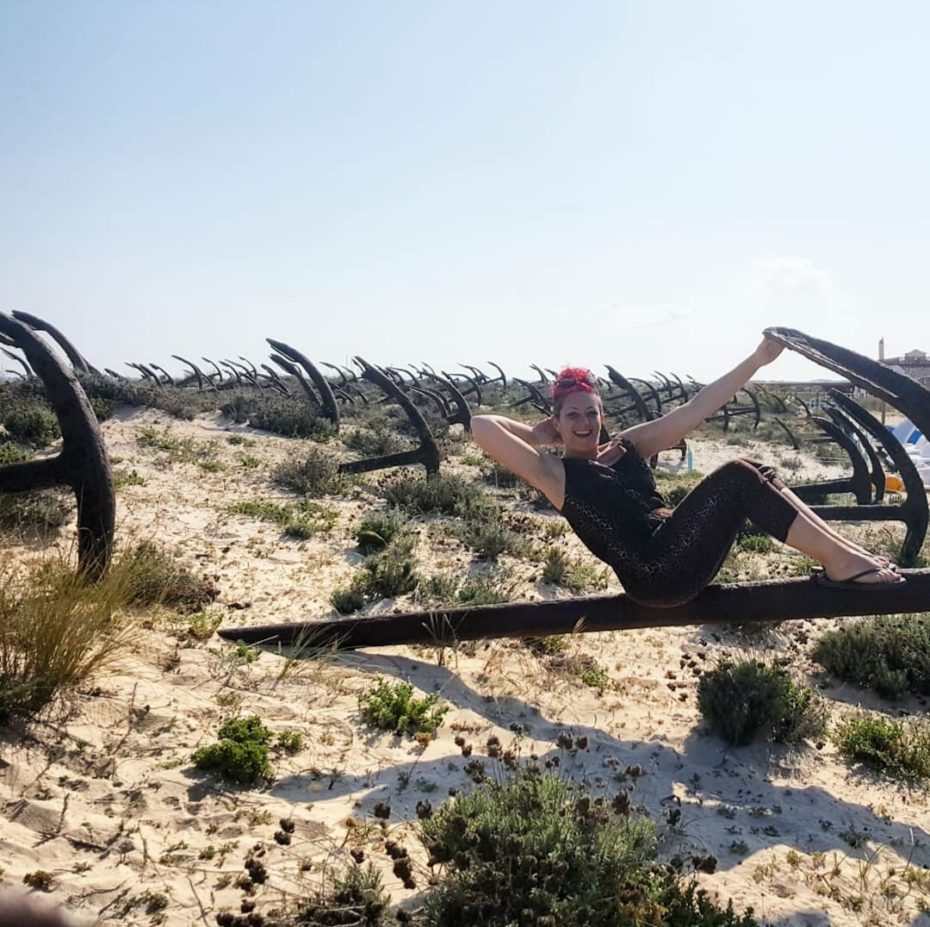 Getting to the beach requires some walking but access has been made easy to get to Anchor Graveyard via a pedestrian bridge on the island. You can enjoy a sun soaked stroll to get to the beach to view the anchors or if you don't feel like walking, there is a small train that takes you there as well passing right through the beauty of the Ria Formosa Nature Reserve. Once you have arrived, the anchors line both sides of the pathway as you walk toward the beach creating a nice "runway" to the turquoise sea water. There you can appreciate the grandeur of these anchors, ranging from approximately 1-2 meters (three to six feet) tall hoisting out of the sand in all of their rusted glory. They wear their rust as a badge of remembrance, of proof that they were contributors to society and without them an entire fishing industry could not have existed here.
The Rickshaw Resting Place, Bangladesh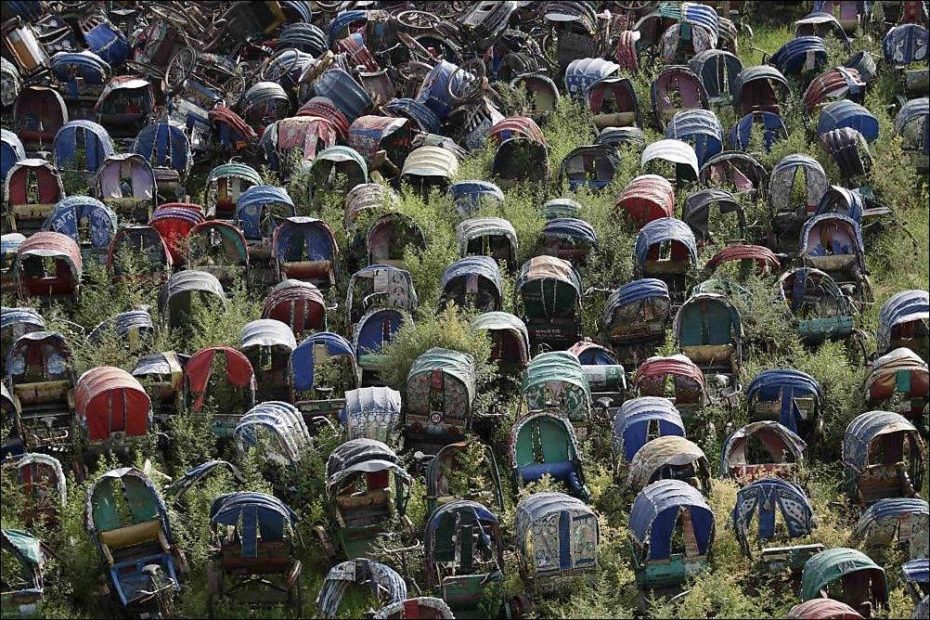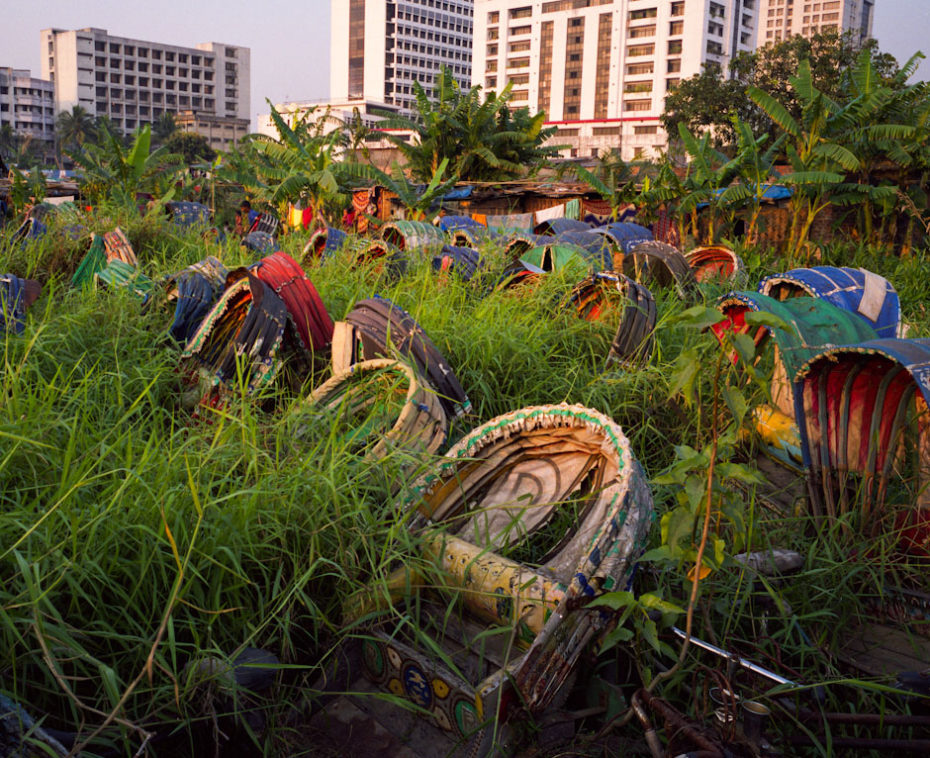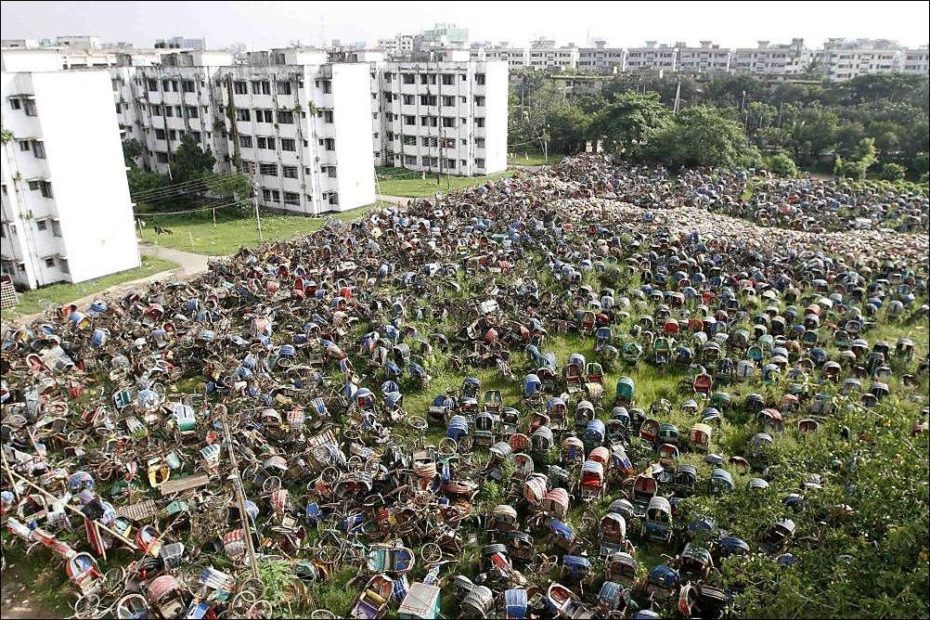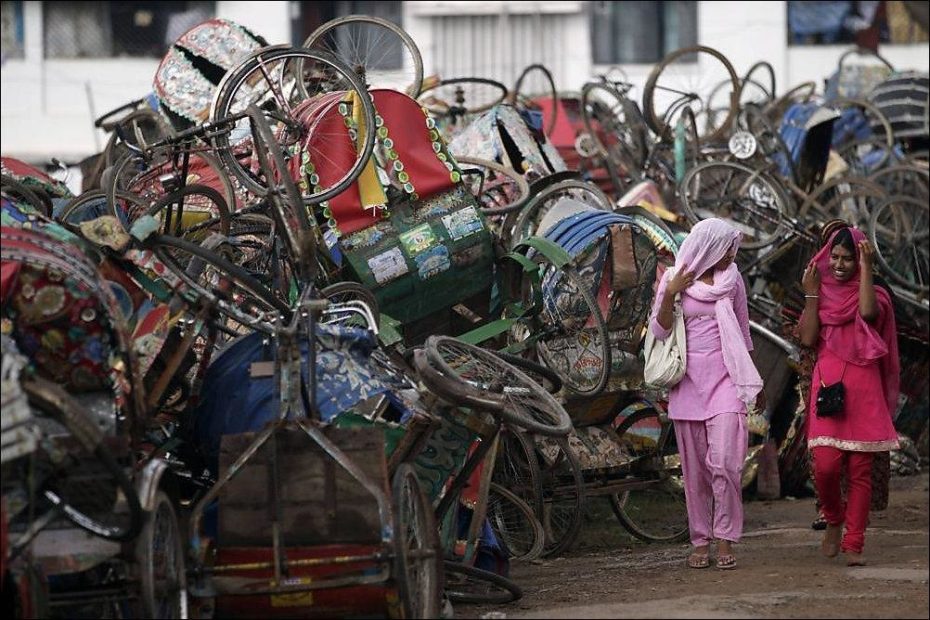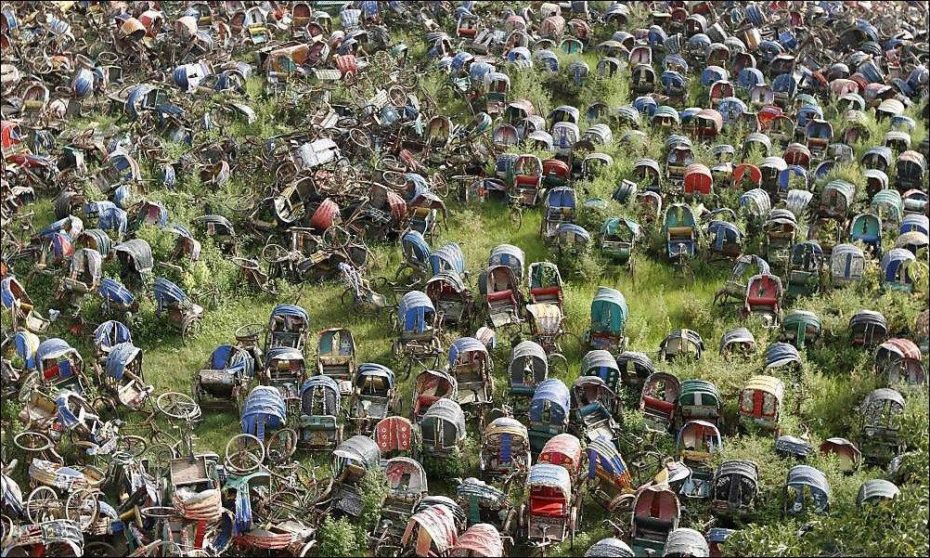 The traditional rickshaw is facing a growing challenge from battery-powered vehicles that can be easily charged electrically and don't require quite the same superhuman effort from the driver. In Dhaka, Bangladesh's largest city, there is an estimated 15,000 rickshaws in the Mirpur area, either deemed unsafe or unwanted. Nearly half of all crashes involve them and many roads in the capital have been declared off-limits to rickshaws.



Ben & Jerry's Graveyard of Discontinued Flavours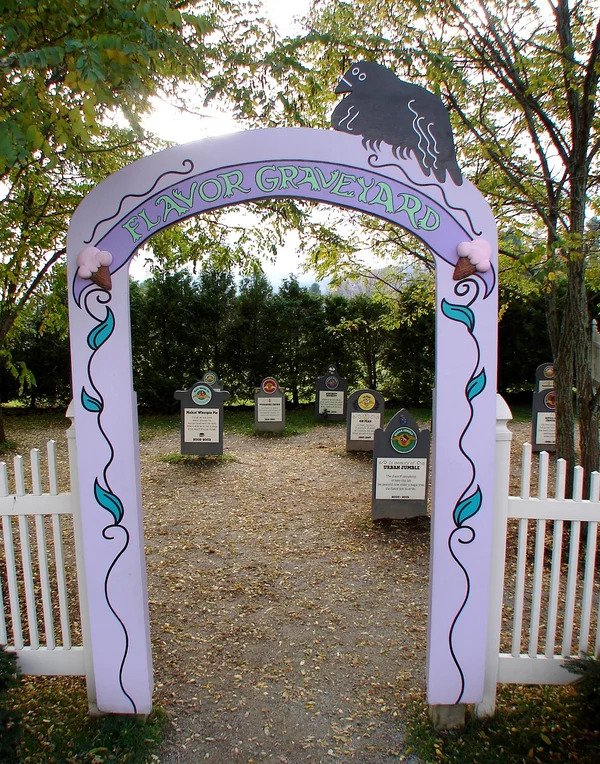 Surrounded by a white picket fence on a grassy knoll in Vermont, lie the headstones of especially beloved flavours or particularly despised flavours, some that were introduced as early as the late 1970s when the Ben & Jerry's ice cream company was founded, but sadly met their untimely fate.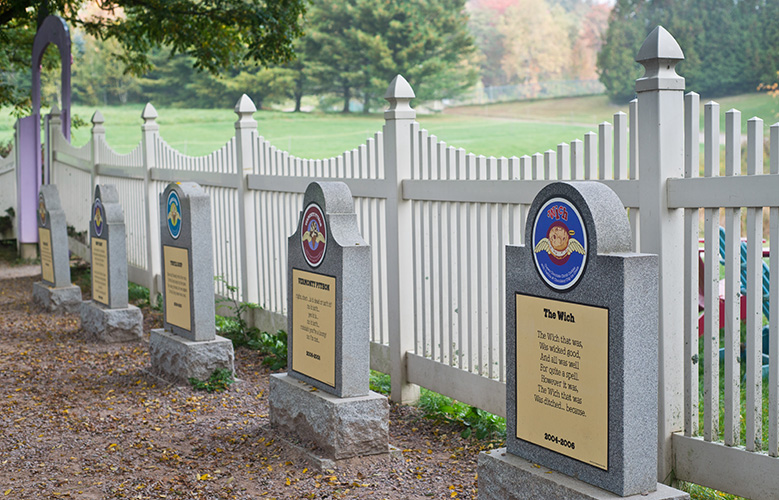 The folks at Ben & Jerry's are pretty good at word play and each flavour has its own poetic epitaph in the graveyard, or should we say, Flaveyard?! (See what just happened there!)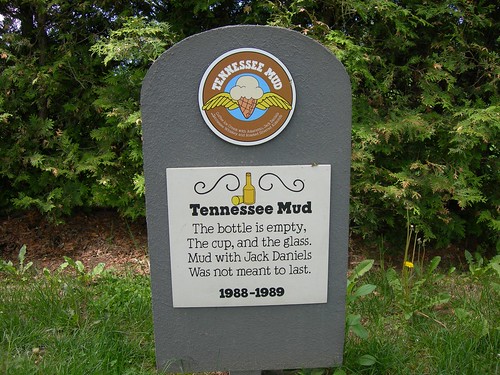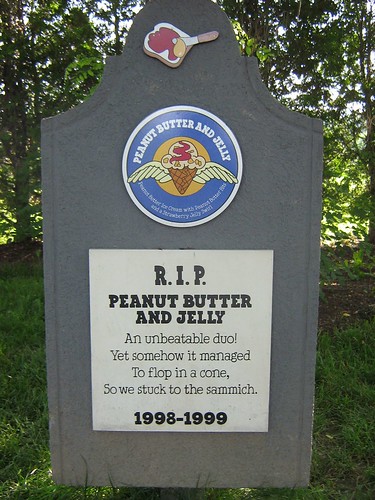 Ben & Jerry's has their own virtual version of the graveyard online here.
China's Bicycle Boneyards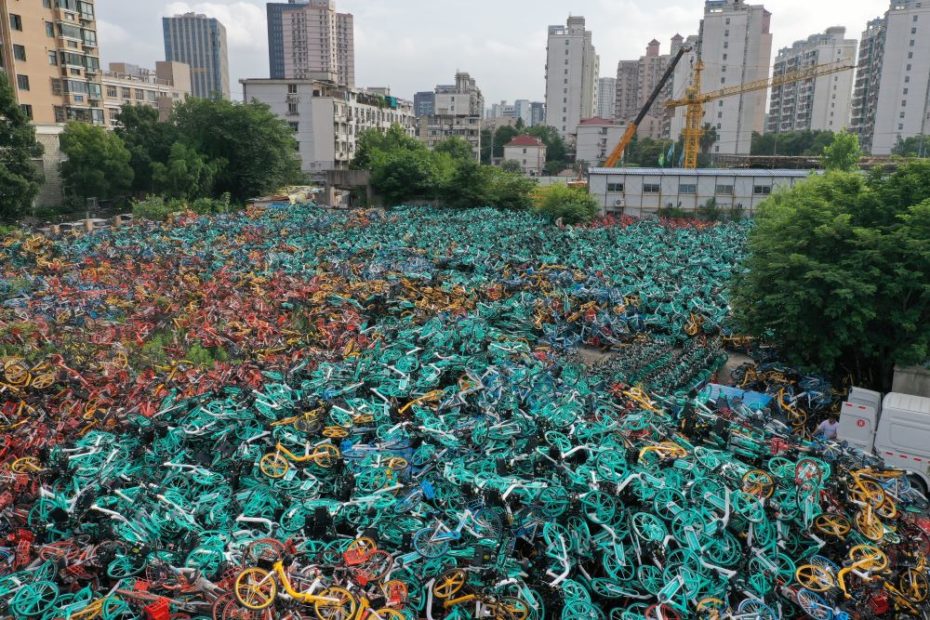 Most of us have seen and even used the bike sharing programs in our cities. You unlock a bike at the designated docking site with an app on your phone and ride to your new location and re-dock your bike when you're finished. However, startup companies quickly came up with the "dockless bike" sharing program meaning you didn't have to dock at a specific location. But did they just create a new problem?
The dockless bike craze grew rapidly, too rapidly. More and more bikes and newer startups were popping up everywhere and companies were competing like crazy for business. There were no regulations in place to control how many businesses could operate or how many bikes were being distributed. They began multiplying at such a high rate that they flooded the market. By early 2018, there were several million shared bicycles on the streets of China and the Chinese government had to put a halt on new bike production.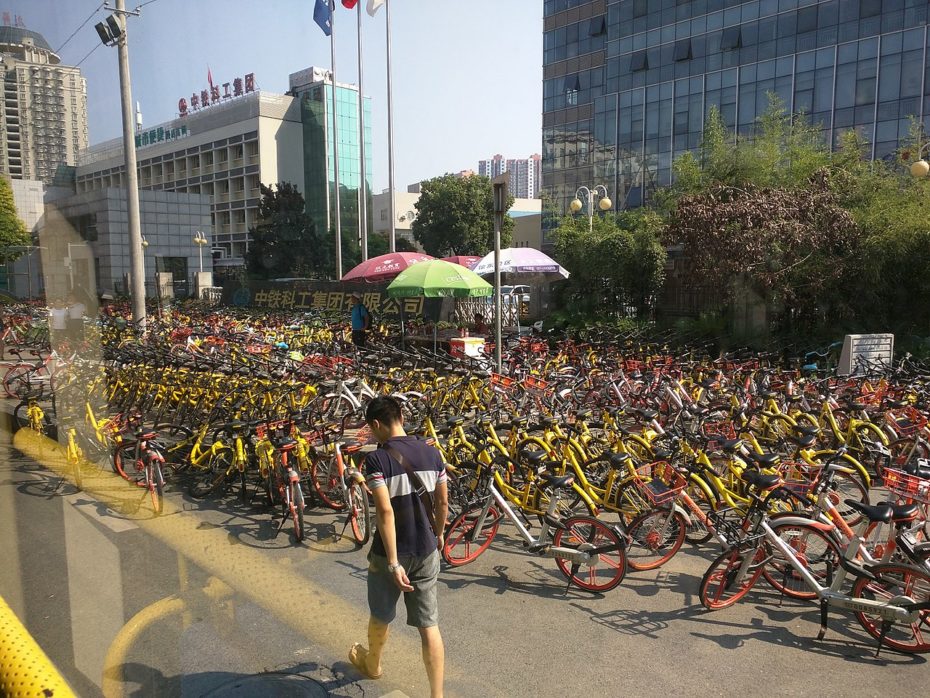 With millions of consumers and no docking stations, well you know what's coming; the bikes were being dumped randomly by users all over China causing a MAJOR problem. Bicycles began to literally pile up blocking walkways, streets, sidewalks, and even the bike lanes. Bikes were damaged, vandalized, and became unusable.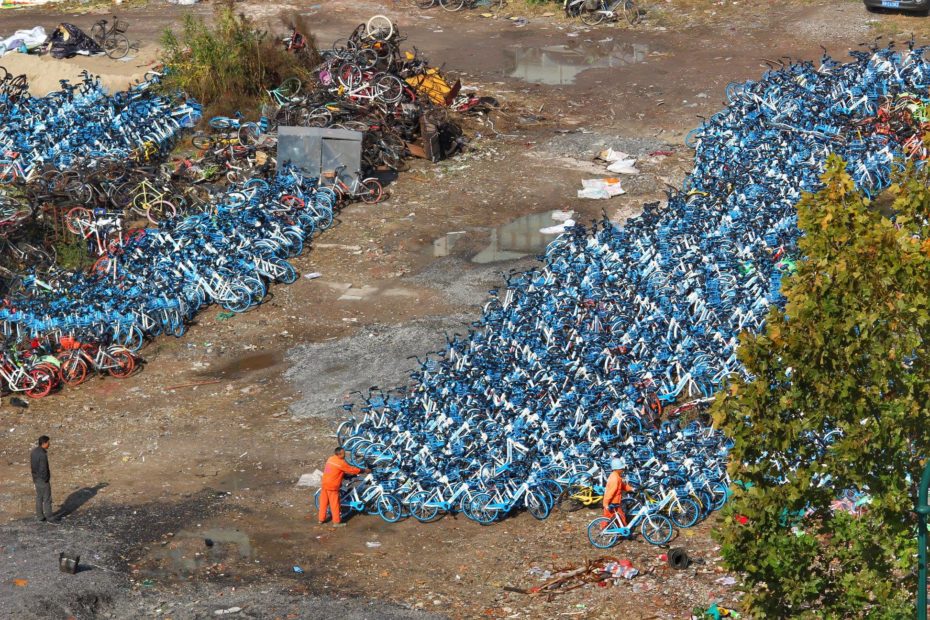 Many of these startup companies went bust and along with the fall of their business, their bicycles remained toppled over on the streets as well. Countless cities became overwhelmed and China had to get a handle on these mountains of rogue bikes. Cities all over committed to begin removing the bikes and promised to find places to store them. There are bicycle graveyards all throughout China where they have rounded up thousands upon thousands of abandoned and damaged bikes to get them off of the streets. There is a plan in place for all of the unused bikes to eventually be scrapped however, the cost is on the taxpayers' shoulders to bear; a hefty price to pay.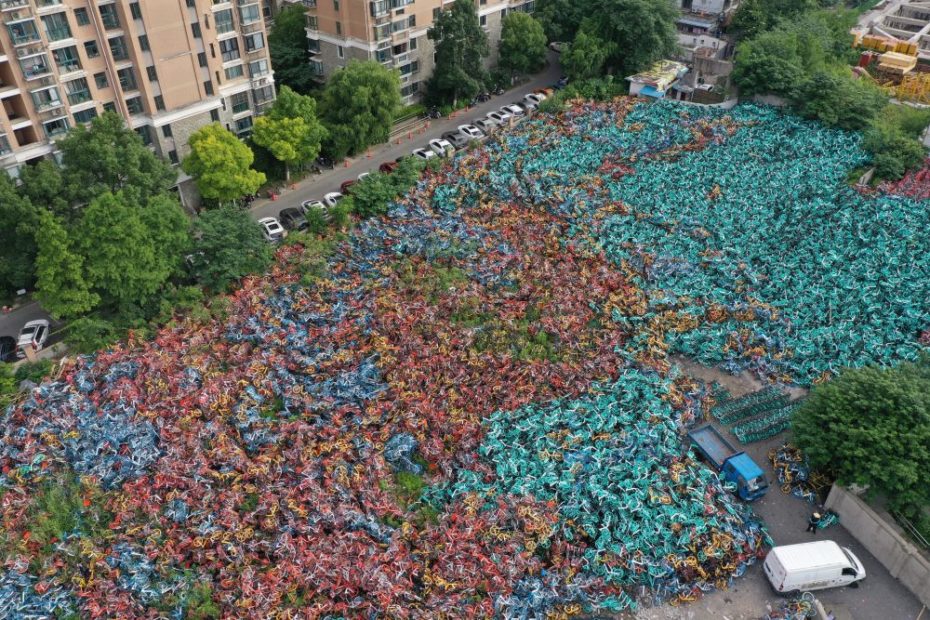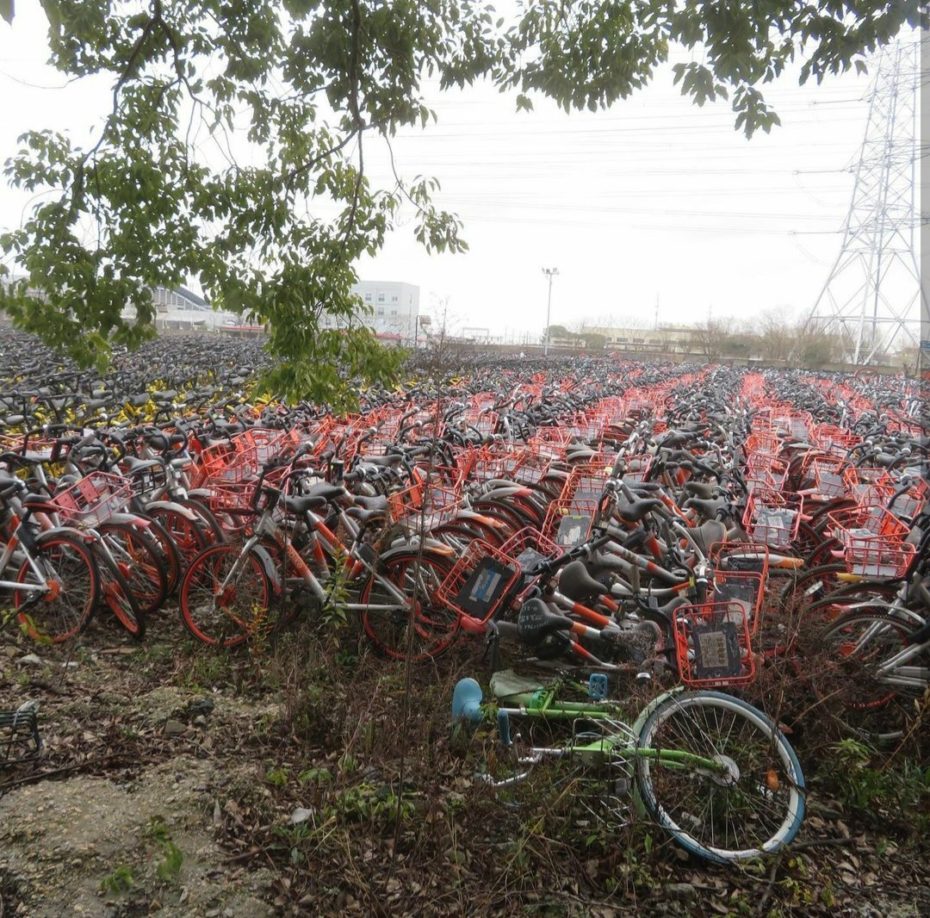 Where Airplanes go to Die
Before they are put to rest, airplanes undergo funeral-esque rituals known as 'pickling'. Their engines are removed, the windows covered and the fluids drained. But of course these giants are too big to bury. In the parched deserts, where a dry climate is an old machine's best ally, aircrafts young and old lie nose to tail, row after row like fallen soldiers in the secluded airplane boneyards of America. Planes can be preserved here for years. At the world's largest-known boneyard, 309th Aerospace Maintenance and Regeneration Group (AMARG) outside Tuscon, Arizona, you would be able to see "just about every kind of airplane that the military has flown since WWII," says John Weeks, an avid field researcher into aircraft boneyards.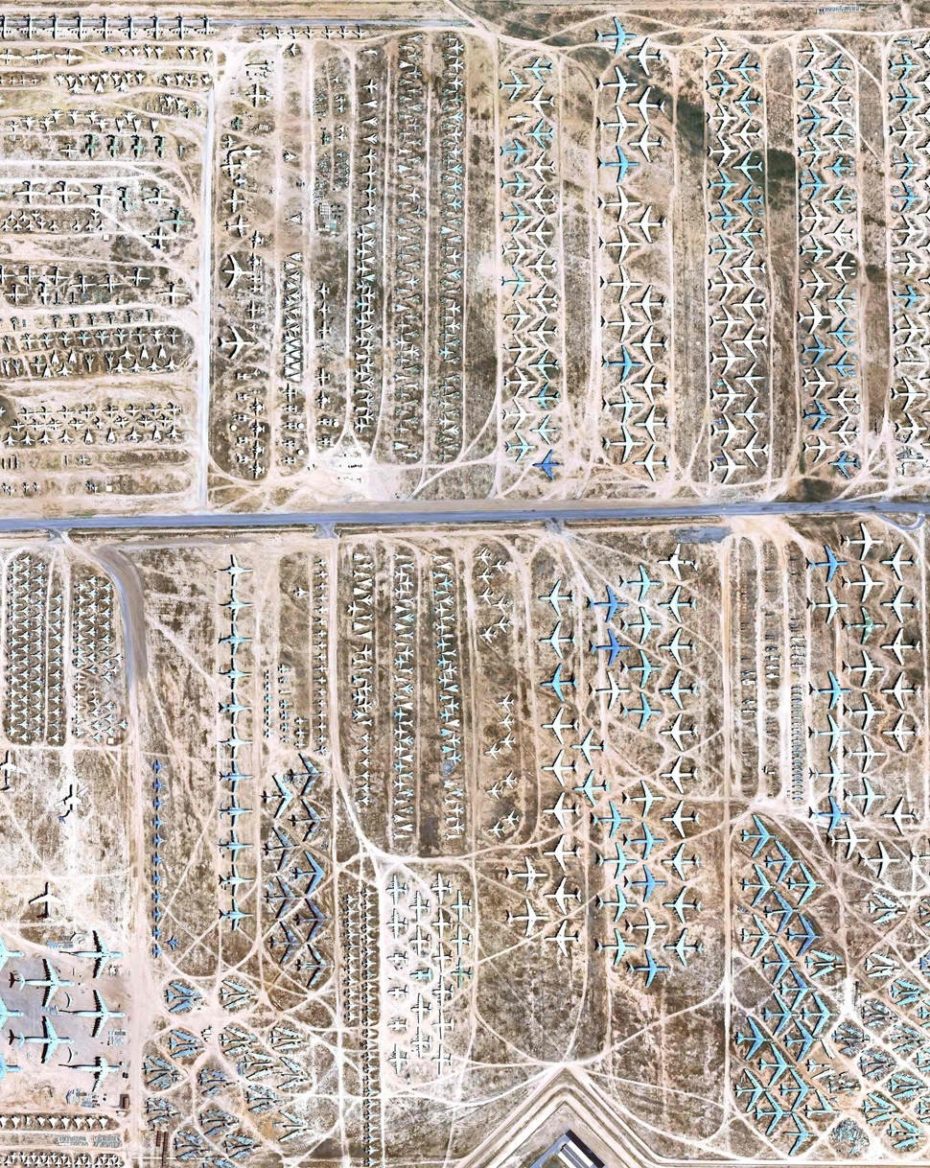 More than 5,000 hulking aircrafts, many that were nuclear capable, are resting on the hard desert ground at the military depot next to the Davis Monthan airforce base. Post 9/11, most of America's boneyards became fairly secretive restricted areas and close-up photography is rare, although satellite images like this high resolution one above from Google maps are certainly impressive.
It is however, possible to go on a chaperoned visit of the AMARC site. Pima Air & Space Museum operates weekly bus tours of the storage area, but you're not allowed to get off the bus. If you're lucky enough, you might get to witness something special on your tour.
It's estimated only 10-20% planes that end up in a boneyard will ever fly again. Some get lucky and are sold off to other international airlines (not a comforting thought). Most will be gutted or stripped for spare parts, chopped up into pieces by a huge guillotine or smelted down for metal scraps. And until then, they're just doing in a barren desert like this eerie FedEx 727 plane.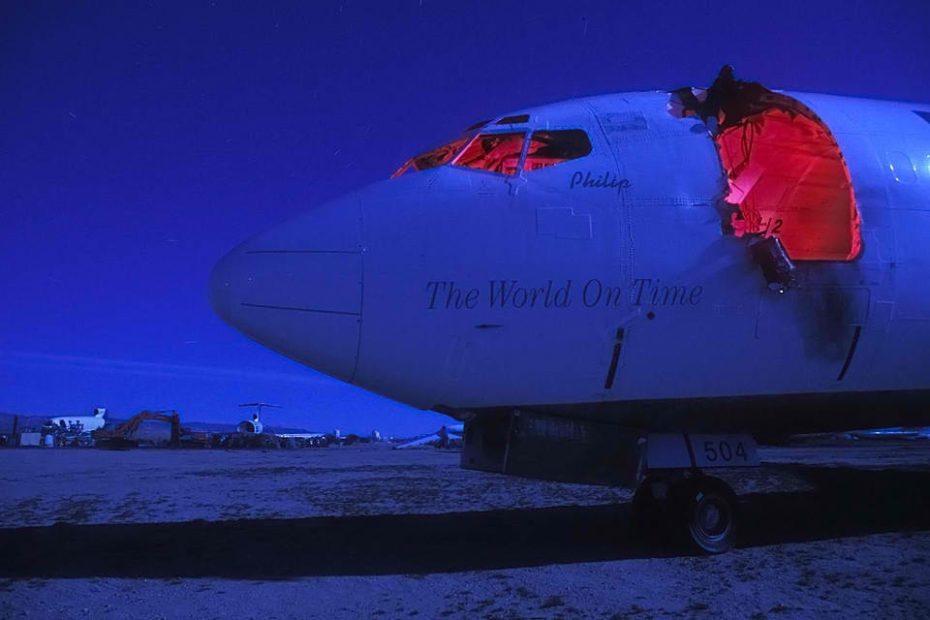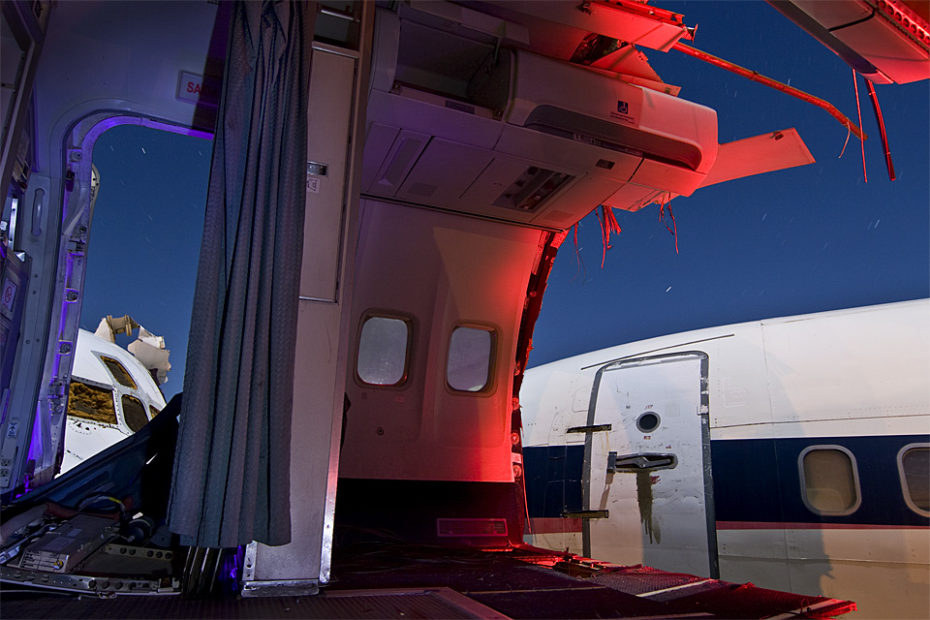 A little over century ago, they were just figments of an engineer's imagination. Just a few decades ago they would have been host to the high flying jet set of a futurist era. And now their twisted metal bodies lie in junk yards. You have to wonder, what will our garbage look like in the next century?
Second Hand Soviet Tanks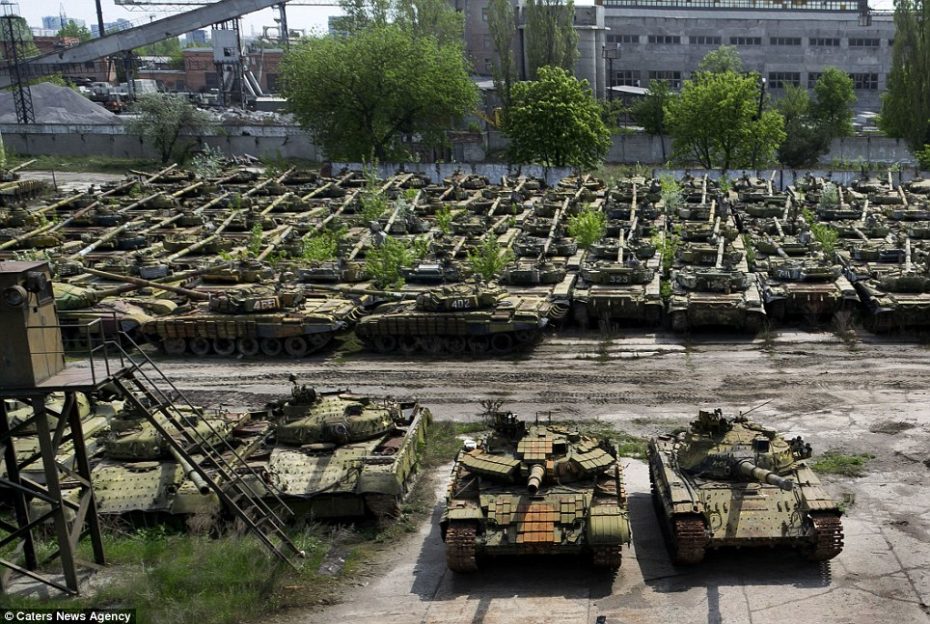 Ukraine has been able to field hundreds of new tanks to fight in the Russo-Ukrainian War by cannibalizing those sitting in graveyards since the Soviet era. Hundreds of rusting tanks lie abandoned in a depot in the Slobozhanshchyna region of eastern Ukraine – just 20 miles from the border with Russia.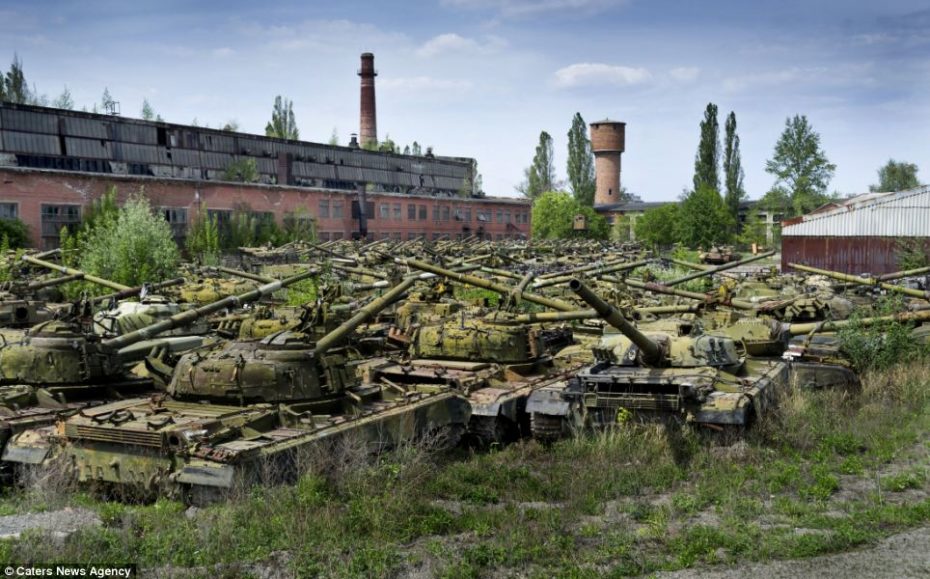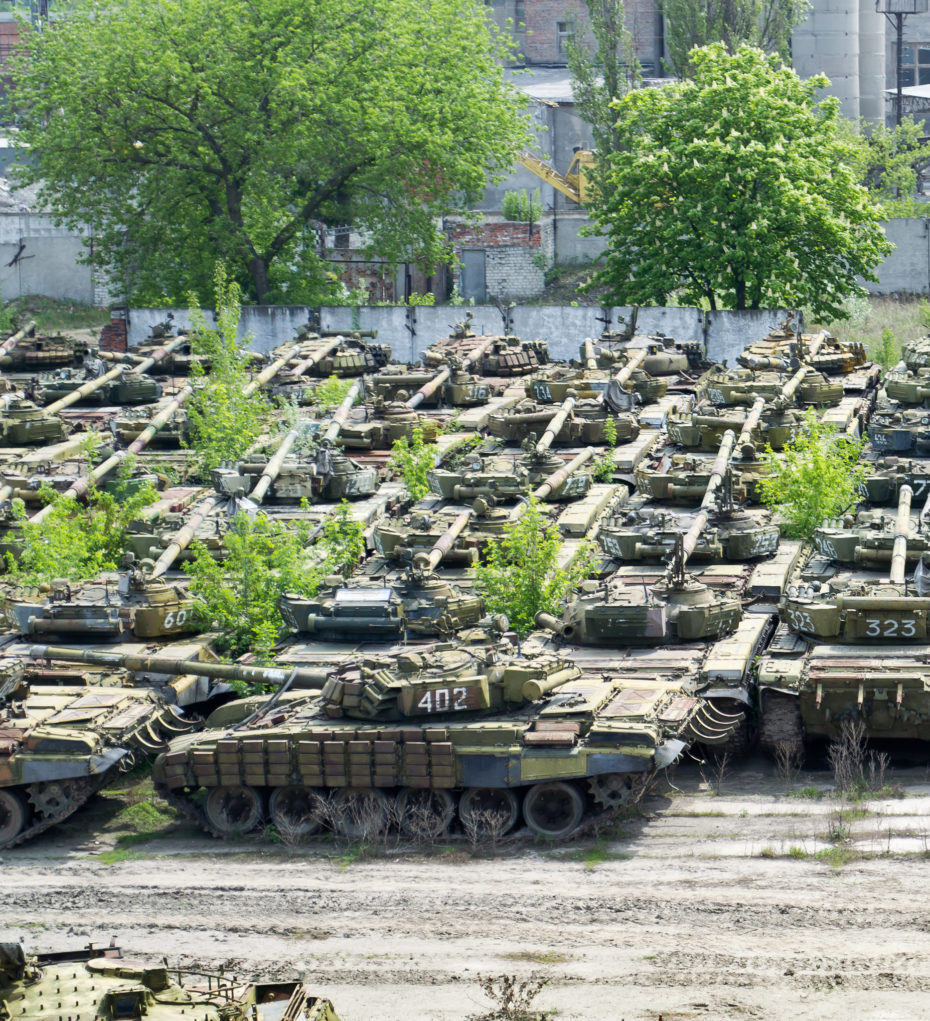 Virginia's Dumping Ground for 43 Presidents' Heads
Left over from the defunct 'Presidents Park' theme park. A man called Howard Hankins helped to construct the park, and when it went bankrupt, he moved all the statues to his farmland property, where they now stand in a field, slowly decaying. Each weighs over 20,000 pounds and stands over 20ft.
Fair warning for anyone wanting to go see them: Howard, the guy who owns the property these sit on is protective. Going to see them without permission is not recommended.
France's Graveyard of the Big Red Firetrucks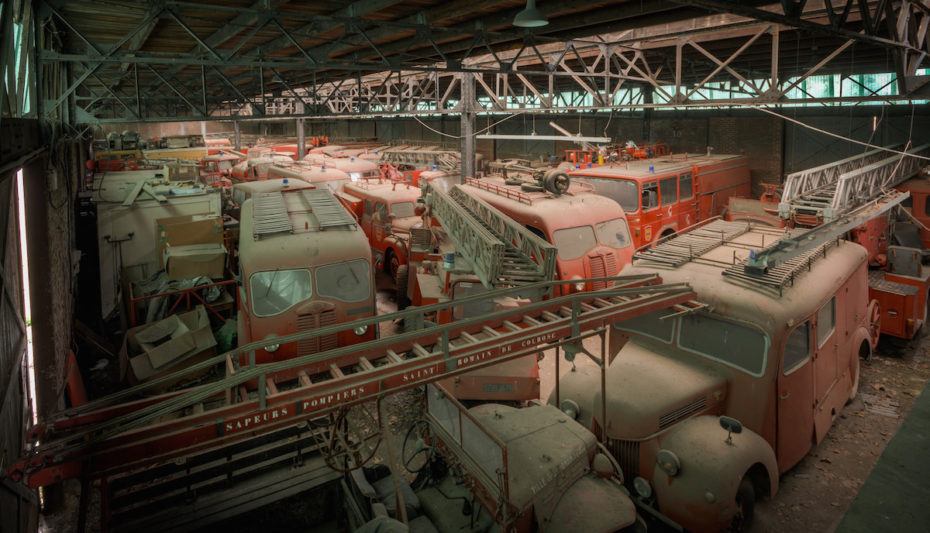 What little boy didn't dream of driving a big red firetruck? A little bit like uncovering the tomb of childhood dreams, not to be a downer or anything, this warehouse is located somewhere near Le Havre, an Aladdin's cave of rare automobiles. In the 1990s, the French fire departments raised funds in an effort to restore and preserve their retired old trucks to be sent off to museums but in the early 2000s, that initiative ran out of money and went bust. The trucks that weren't in good enough condition were sentences to the scrapyard rather than being sold to the public, and the rest were sent to storage sites like this in the event that maybe, on the off chance, one day a museum might come along and save them.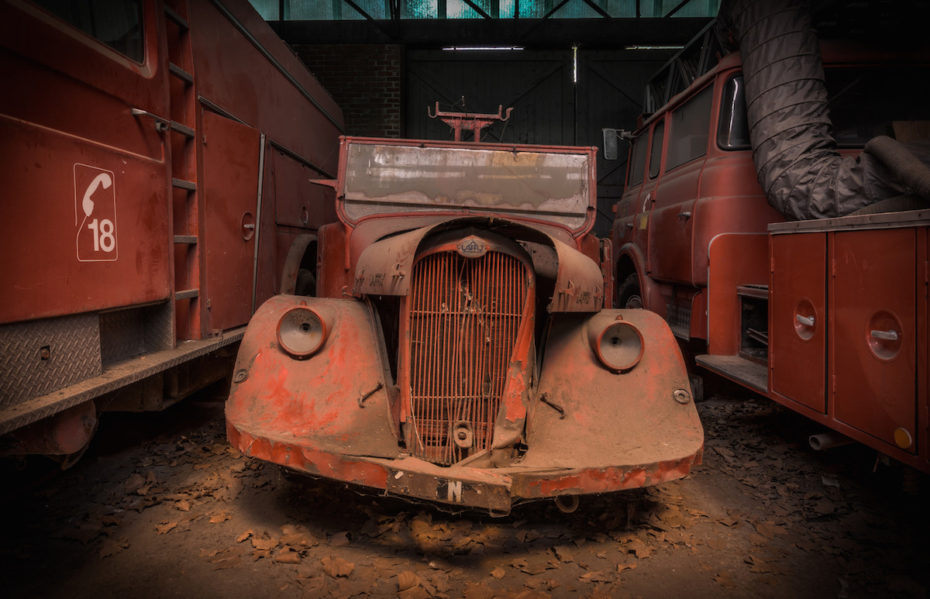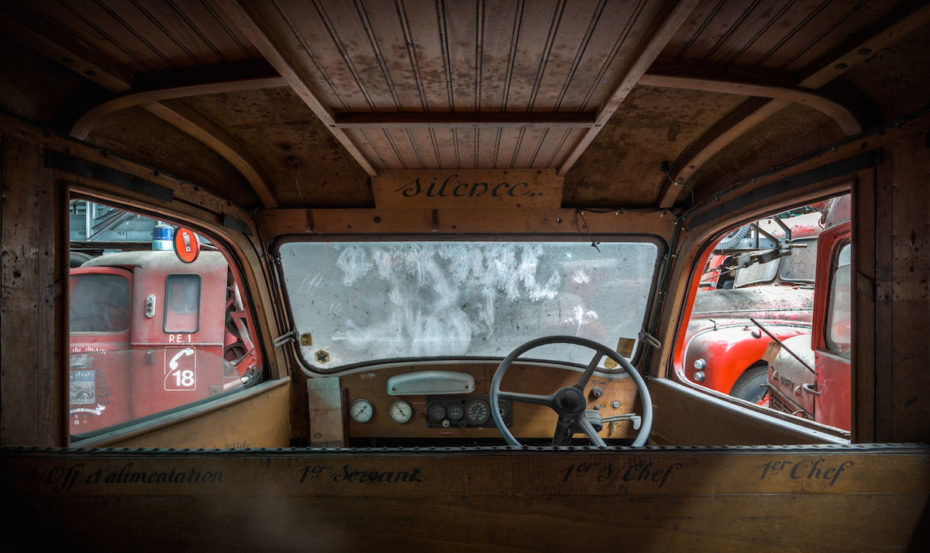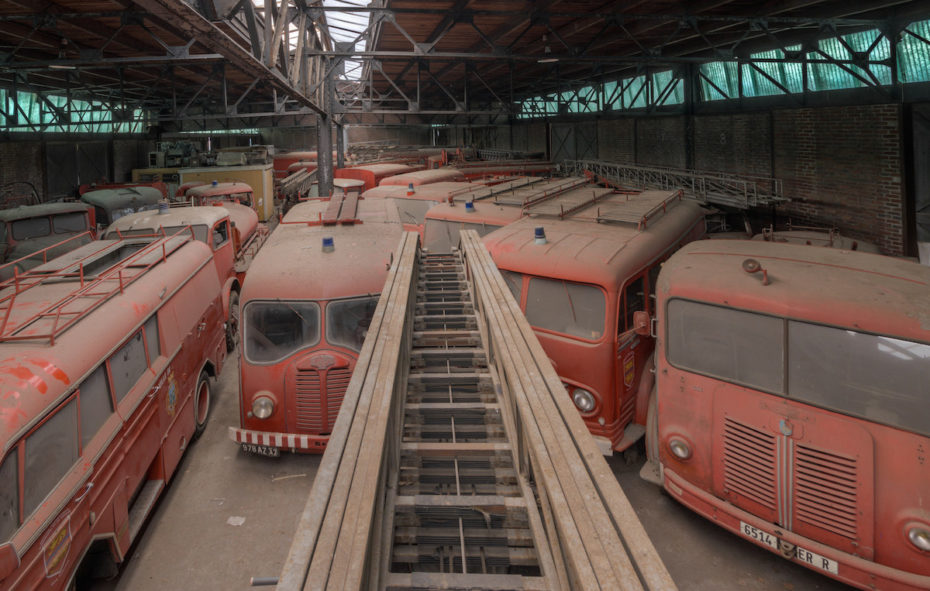 Discover more here.