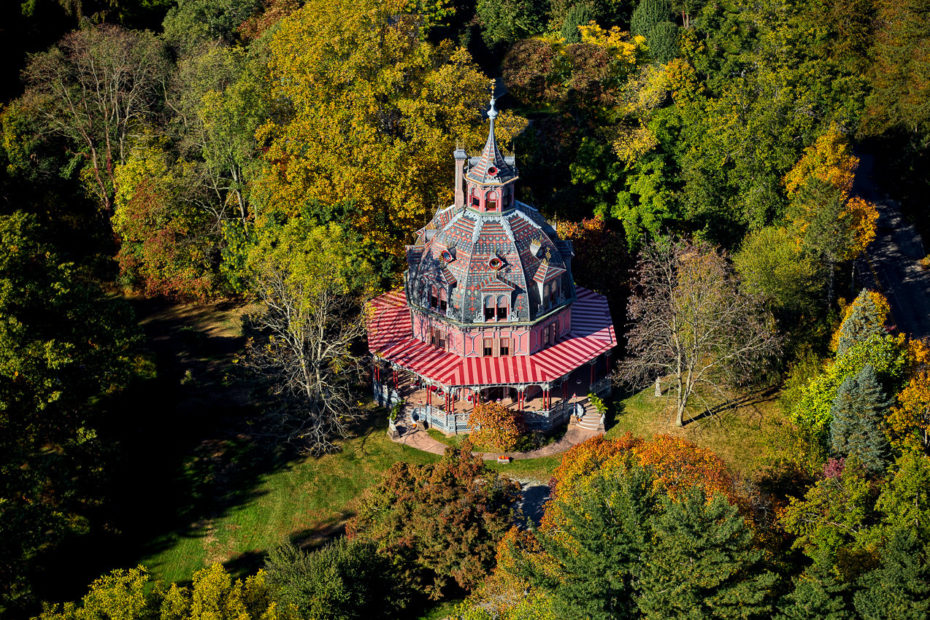 Explore America's small towns, and you might be lucky to stumble across a peculiarly shaped house that stands out from its surrounding neighbours by virtue of having eight facades. Back in the middle of the 19th century, there were once thousands of these 'octagonal' houses all over America when they were the height of fashion, but today only a handful remain. These unusual eight sided homes are the surviving relics of an 1850s architectural craze dreamt up by one man.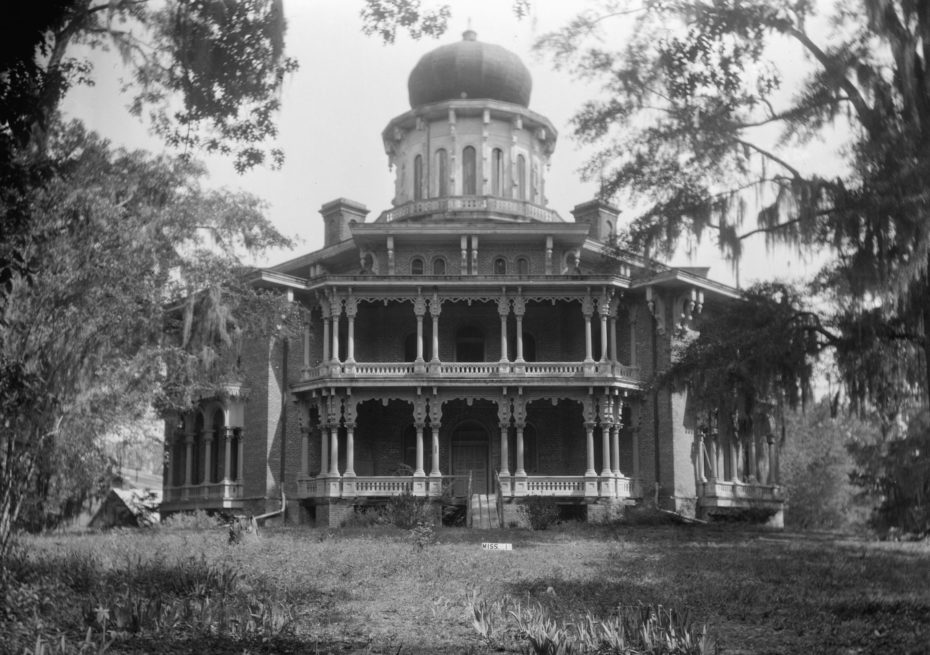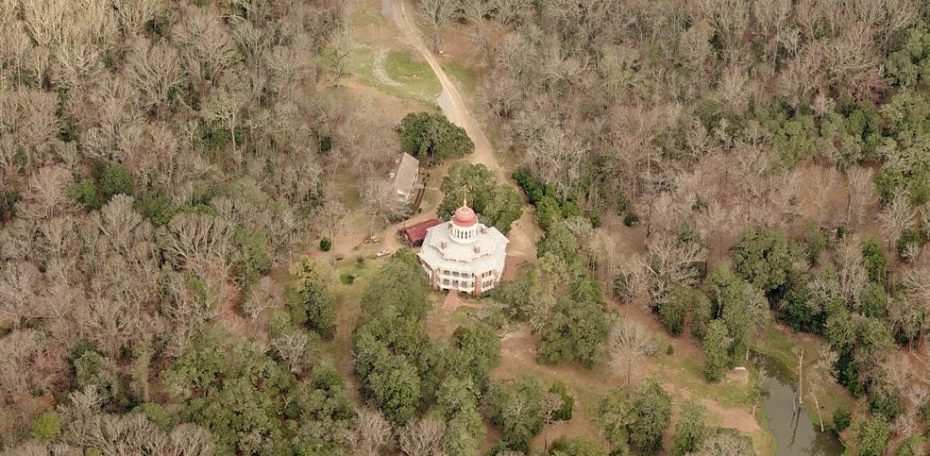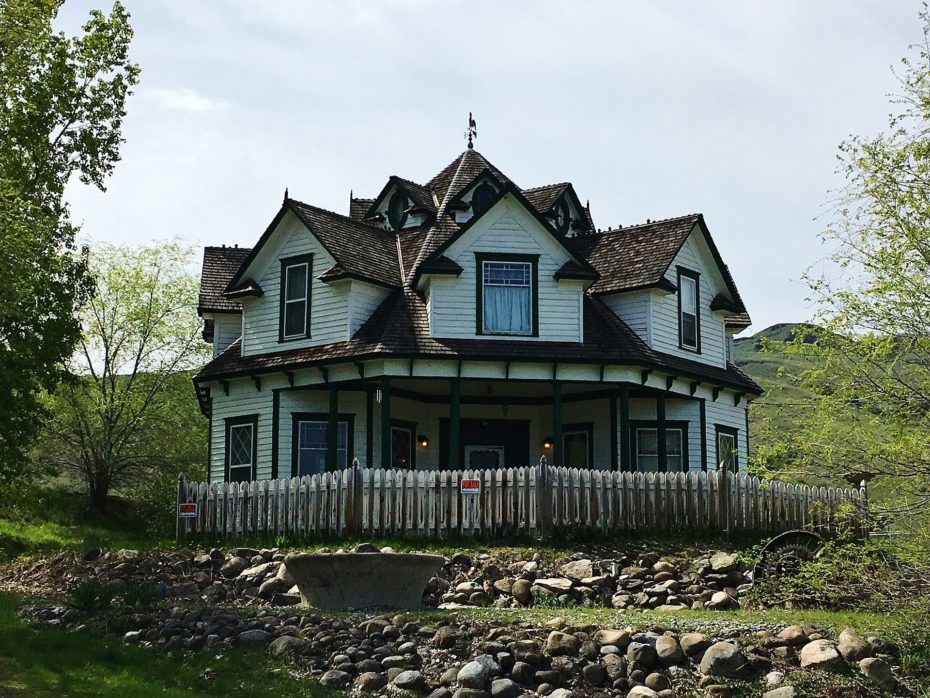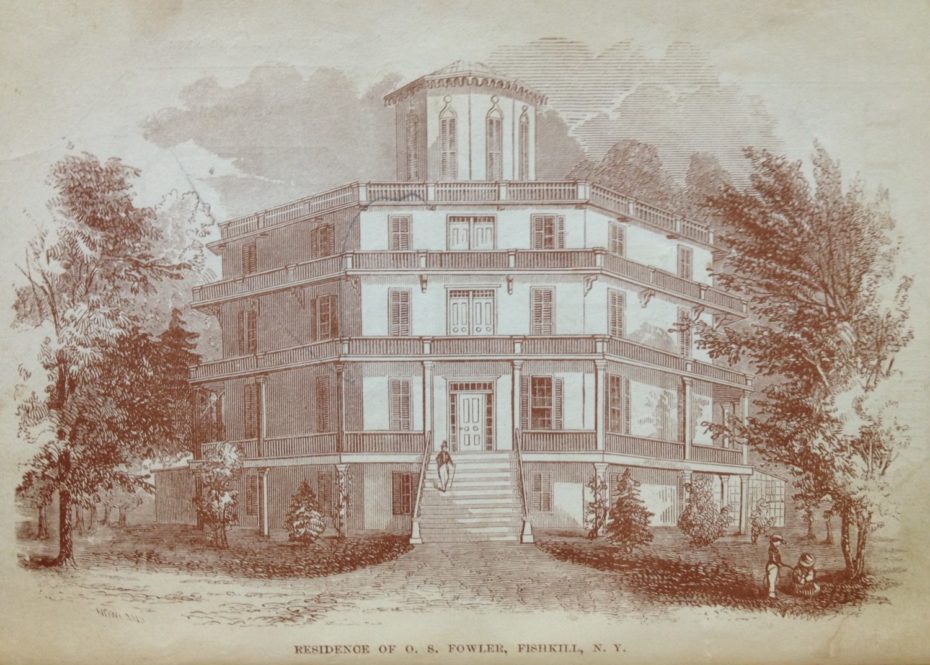 Orson Squire Fowler was an all round progressive Victorian gentleman embellished with a touch of eccentricity: he was the leading proponent in his day of phrenology – the pseudo science that believed the shape of one's head was an indication of character and mental abilities; he was the author of widely read sex and marriage guidance manuals, an advocate for child labour reform and the abolishing of tight corsets for women. When it came to building houses, Fowler firmly believed that eight sides was far superior to four. In his 1854 book, "A Home For All….the Octagon Mode of Building," Fowler explained how an octagon house offered twenty percent more floor space than a traditional square shaped building on the same plot of land. "Is the right angle the best angle?" Fowler asked rhetorically. "Fruits, eggs are made spherical in order to enclose the most material in the least compass."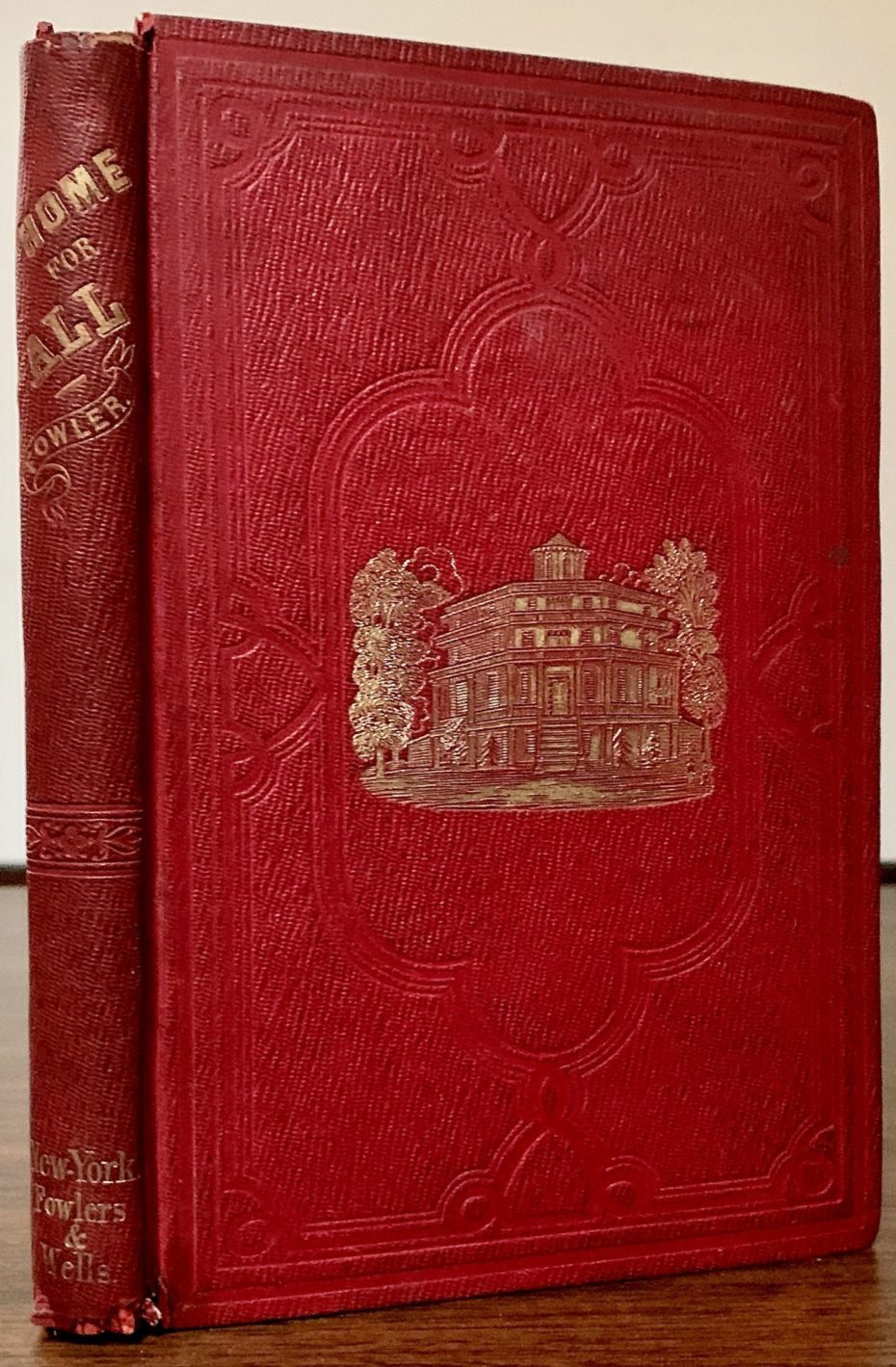 For Fowler, a spherical house was the ideal, but an octagon shaped house was the closest substitute. Eight sides meant more windows for natural light and ventilation. Hallways disappeared, with each room radiating from a central spiral staircase, that breathed fresh air throughout the home in summer, and heat in the winter, whilst creating a beautifully shaped interior. There is 'Greater capacity, beauty, compactness and utility in an Octagon House' promised Fowler, for whom "beauty and utility were inseparable".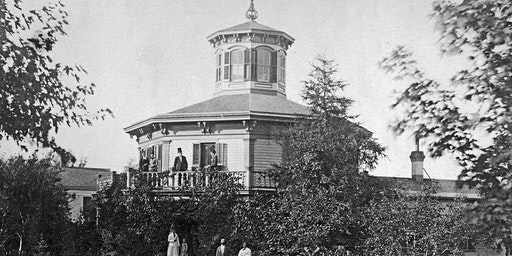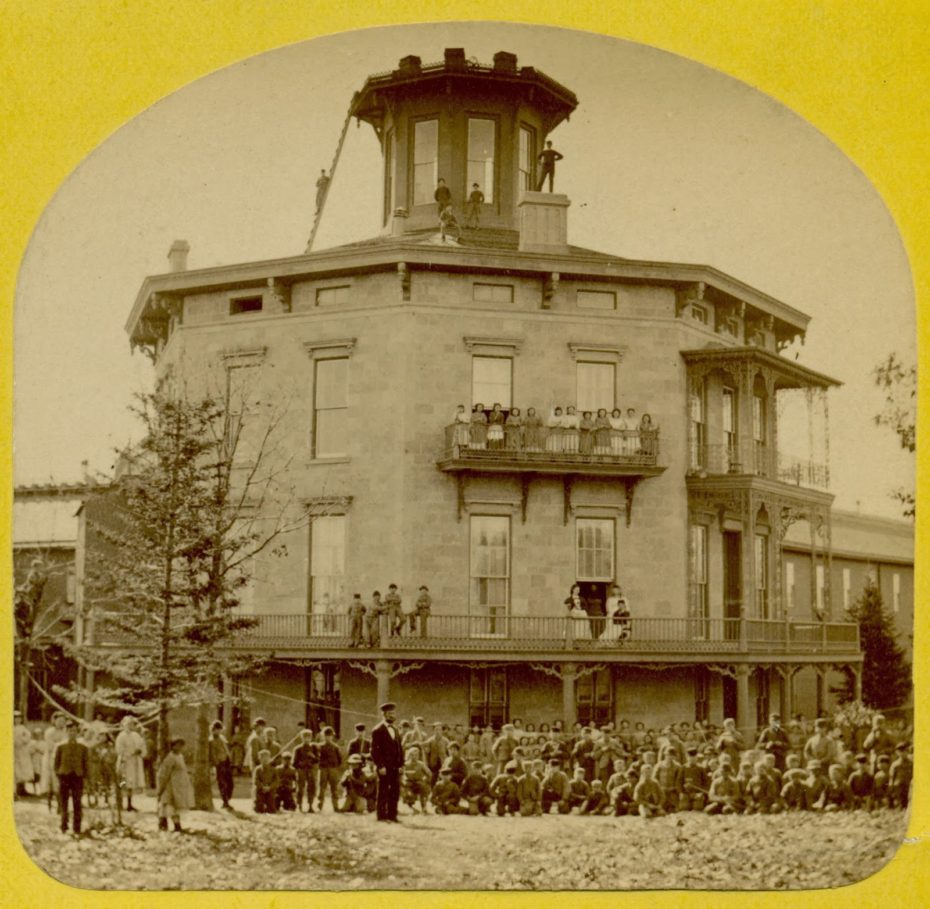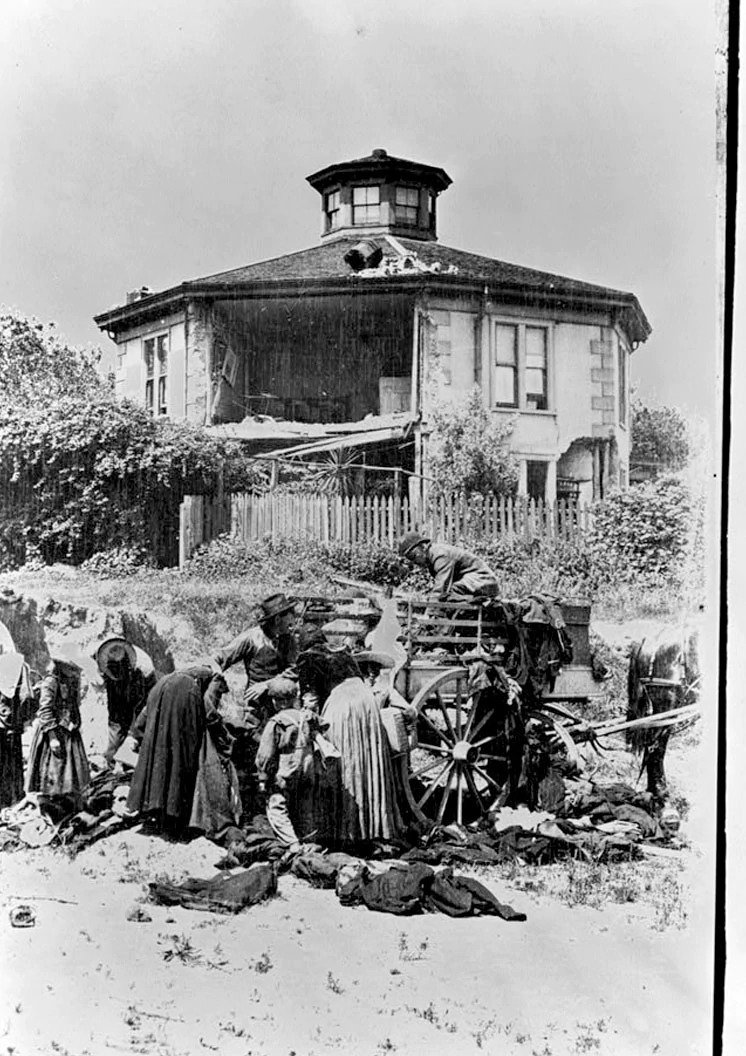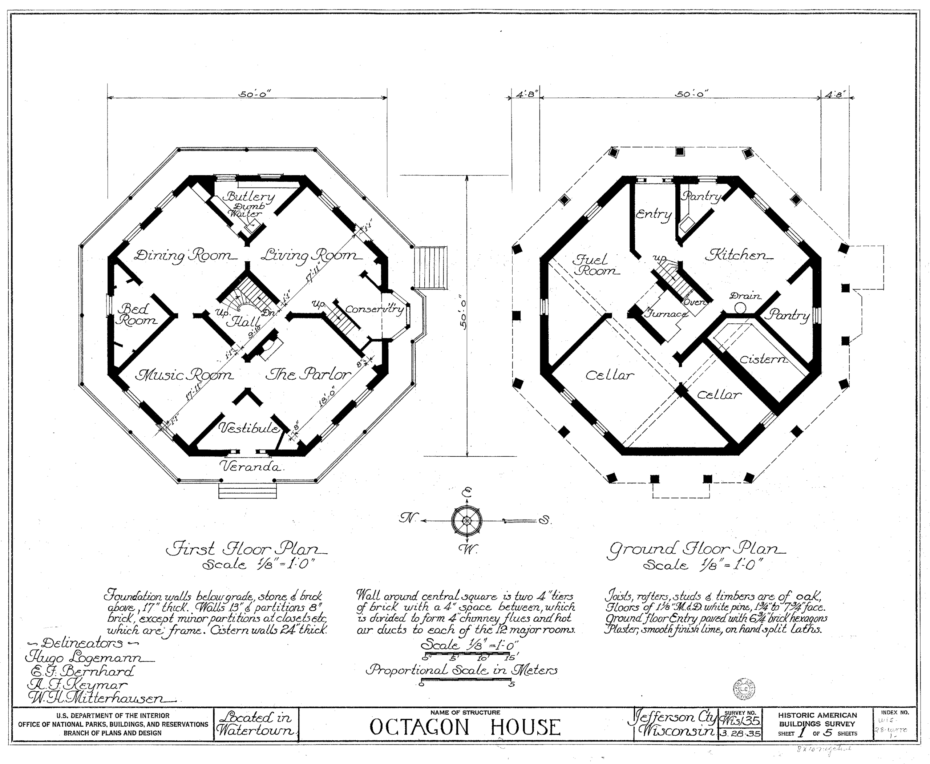 By the eve of the Civil War, the craze saw progressive Victorian home owners build Octagon Houses all over America. Some were modest family homes, just with eight sides instead of four; some were given dashing cupolas and eight sided wrap around verandahs. Fowler's own octagonal house was a grandiose, sixty room mansion on hilltop, that towered over his neighbours in Fishkill, NY, known locally as 'Fowler's Folly'. No doubt a phrenological study of Fowler's head would have shown a prominent bump over the right ear lobe, indicating high degree of constructiveness.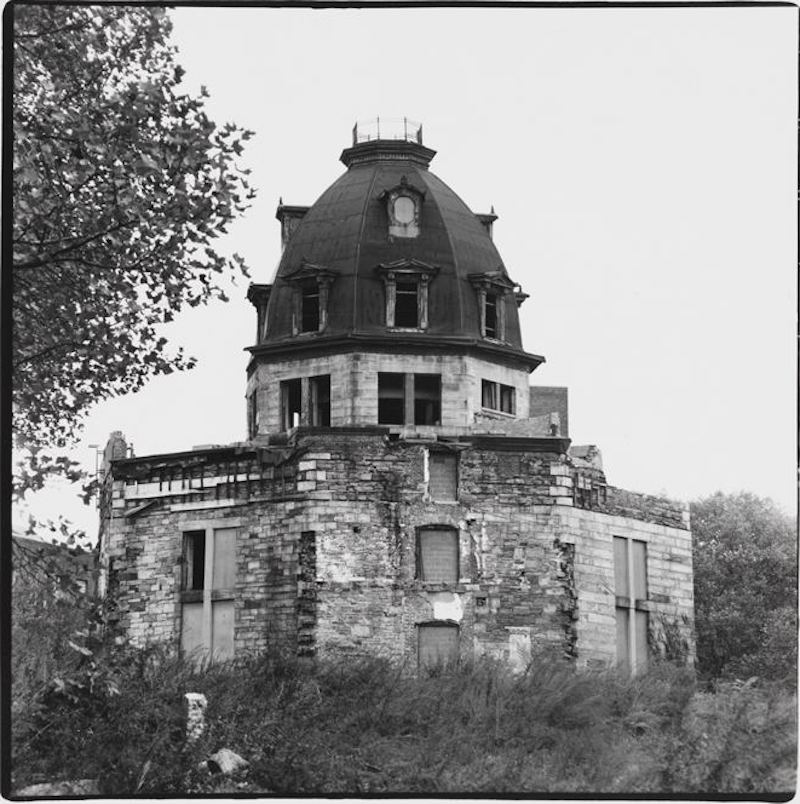 In 1856, the Vegetarian Kansas Emigration Company planned to build an entire utopian vegetarian community in Allen County, where everyone would live in an eight sided house. "Octagon City" was to be built on the bedrocks of vegetarianism, abolitionism and teetotalism and would feature an octagon shaped town square, from which eight roads would radiate, filled with octagon shapes homes and barns. Sadly, the octagonal utopia never saw the light of day.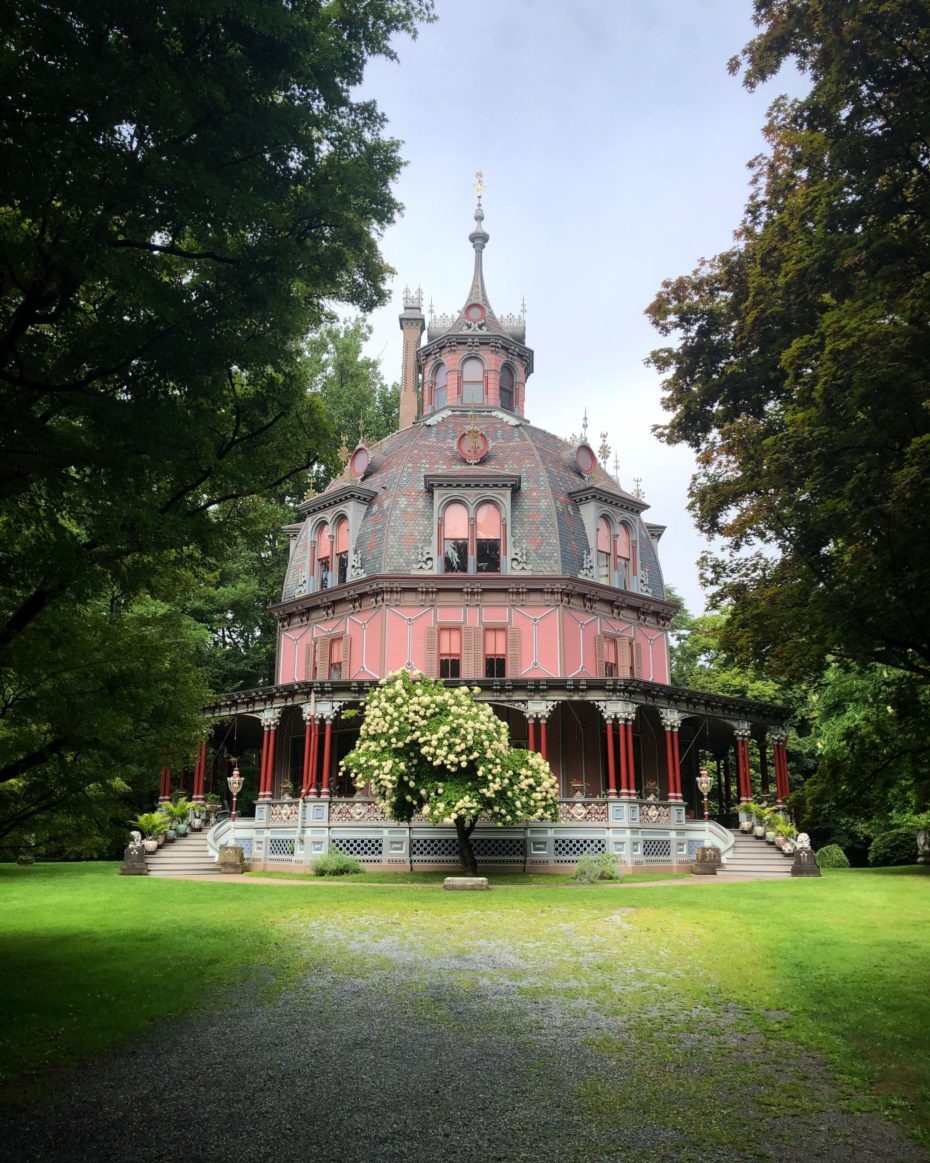 But perhaps the most beautiful octagon house of them all does still survive today. Located just outside of the village of Irvington, some twenty fives miles north of Manhattan, you will find the Armor-Stiner House, a visually arresting eight sided house, painted bright pink, and topped with an ornate dome. It looks a lot as if the House of Fabergé had designed an exquisite Christmas ornament the size of a house, had it beautifully decorated by 19th century America's finest craftsmen, and dropped it in a wooded clearing overlooking New York's Hudson River Valley.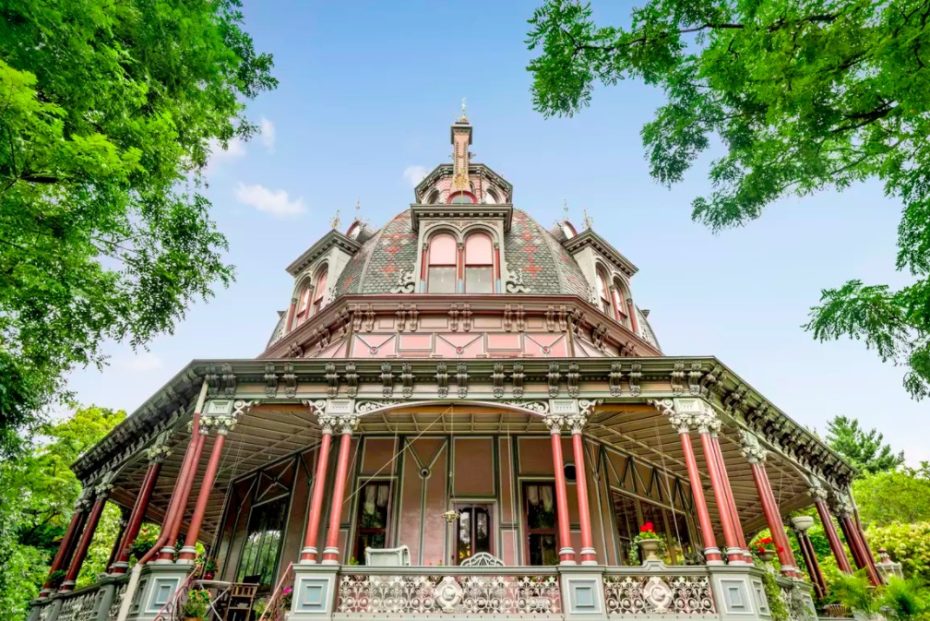 The Armor-Stiner house was built in 1859 at the height of Fowler's octagonal house mania. Back then it was just the Armor House, built by Manhattan financier Paul J. Armor. The house was originally a much more modest affair, with two stories and a rather plain cupola, on a hilltop bounded by the Hudson River on one side, and the Croton Aqueduct on the other. But it was in the 1870s, when the house was owned by tea importer Joseph Stiner, that the octagonal house became spectacular. Not much is known of Stiner, except that he ran a highly popular tea and coffee business in New York, operating over seventy establishments in the city.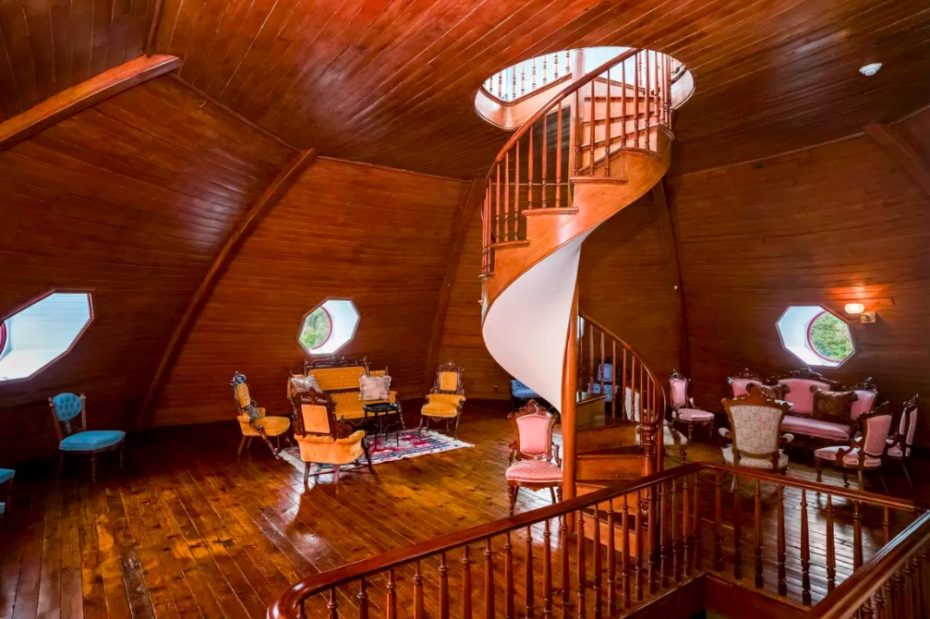 But he must have been a whimsical fellow judging by the exotic house he left behind. Stiner added an extraordinarily ornate two-story dome, housing an observatory and dance room. He painted the house in striking colours of bright pink, rose, blue and violet, added an eight sided verandah to wrap around the house that was decorated with wooden gingerbread carvings. A sweeping stair case was guarded by statues of lions on both sides, all enchantingly illuminated at night by gas lamps that overlooked a foxglove garden filled with Chinese cherry trees, magnolias and coffee trees brought up from Kentucky.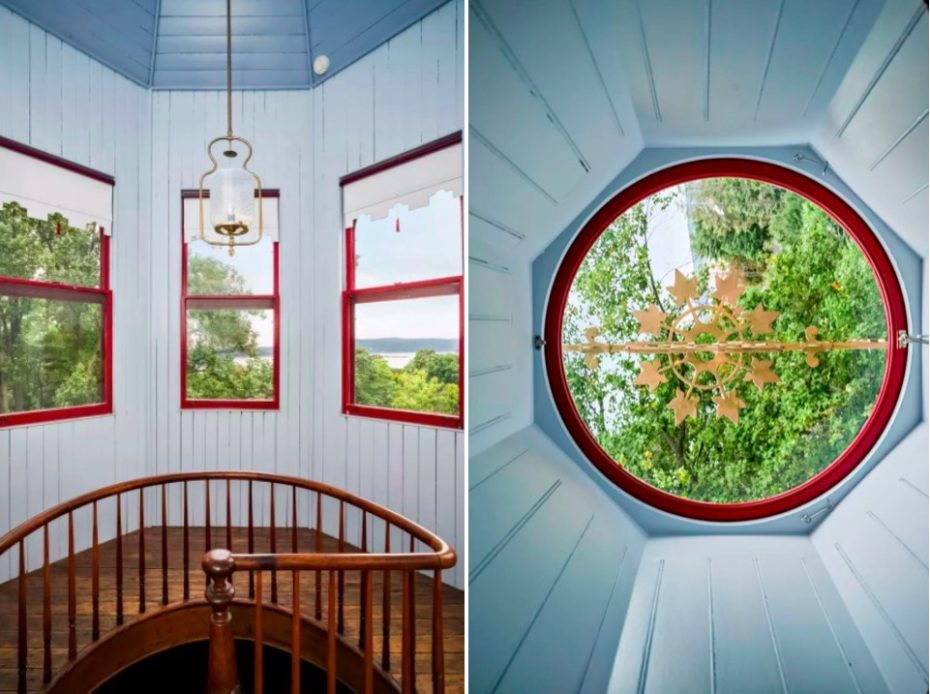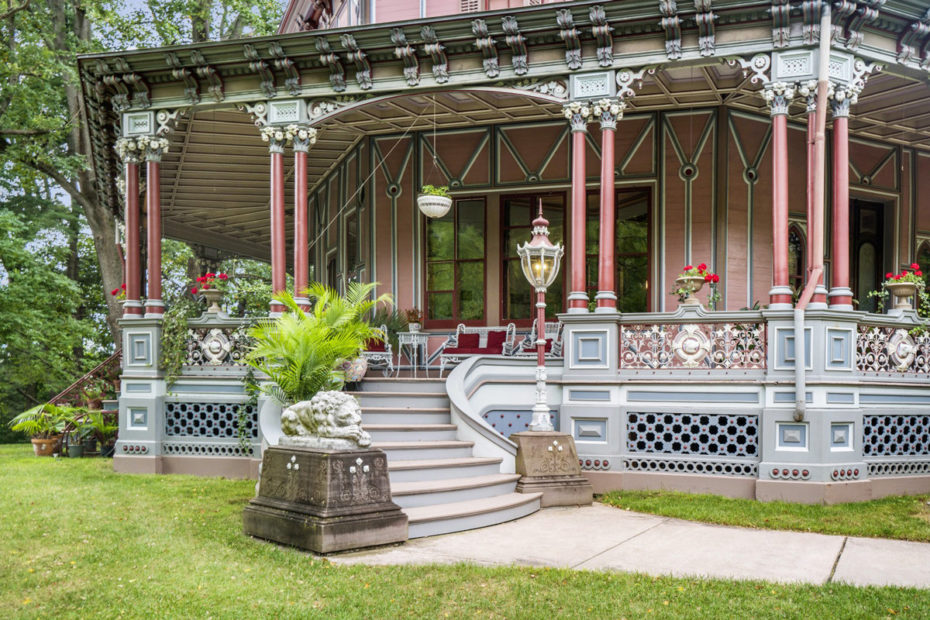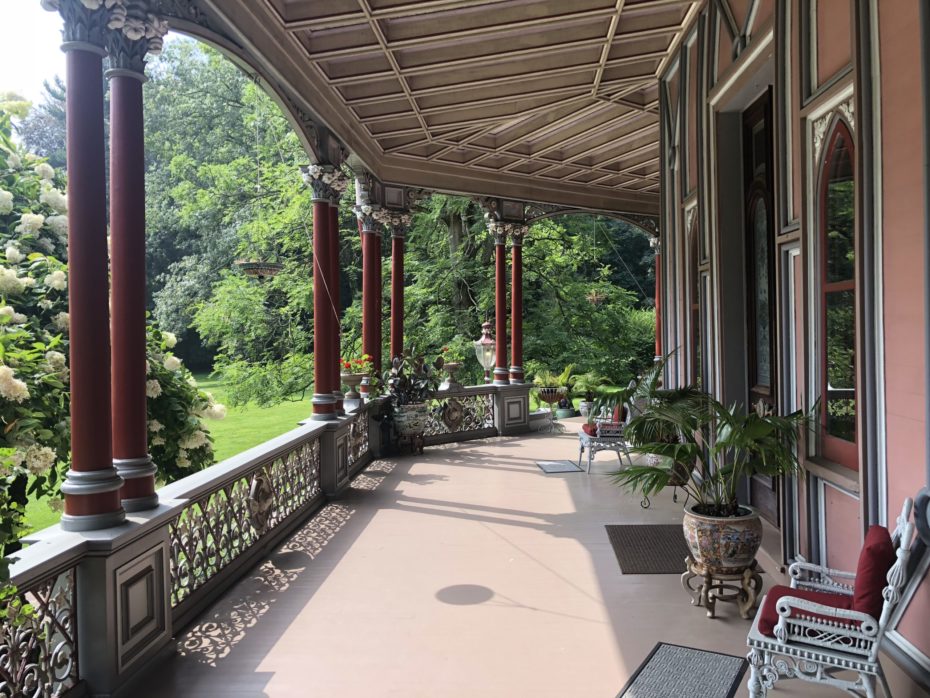 Such is the fairytale like appearance of one of the most visually captivating houses in America, one could spend hours just enjoying the outside. But step inside the main entrance hall and you'll discover a sumptuous home looking much as it did in 1872, filled with beautiful woodwork, etched glass bearing Joesph Stiner's initials, floral patterned wallpaper, period furniture all enjoying the unusual floorpan of Orson Squire Fowler's eight sided imagination.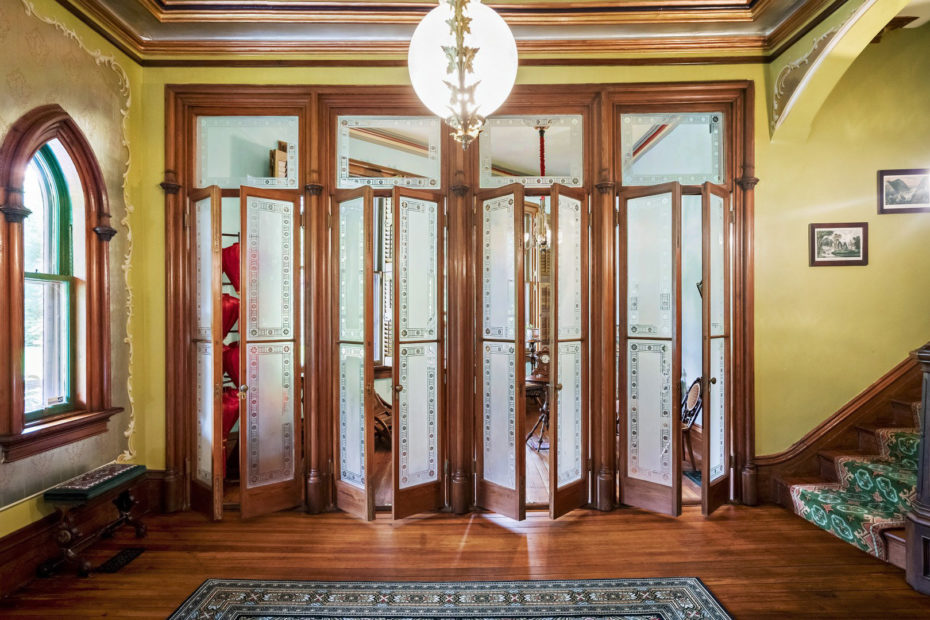 Doorknobs are decorated with Roman brass soldier heads, gas light fixtures with charioteers. Some of the walls feature silver leaf details, whilst one room has a stunning ceiling mural of clouds and a bright blue sky. Stiner would add a solarium, wine cellar, a curio room, and the most breathtaking of all a music room lavishly decorated in the Egyptian Revival style, filled with gold sphinxes, hieroglyphics, the only remaining residential example in America.
But whilst Joseph Stiner's whimsical home flourished, Fowler's Folly floundered. By the tail end of the 19th century, Phrenology had been debunked as a pseudo-science, and interest in the field waned, as did Orson Squire Fowler's finances. He rented out his elaborate octagonal house in Fishkill, only for it to fall into disrepair, sadly being dynamited out of existence in 1897, ten years after Fowler himself died in relative obscurity.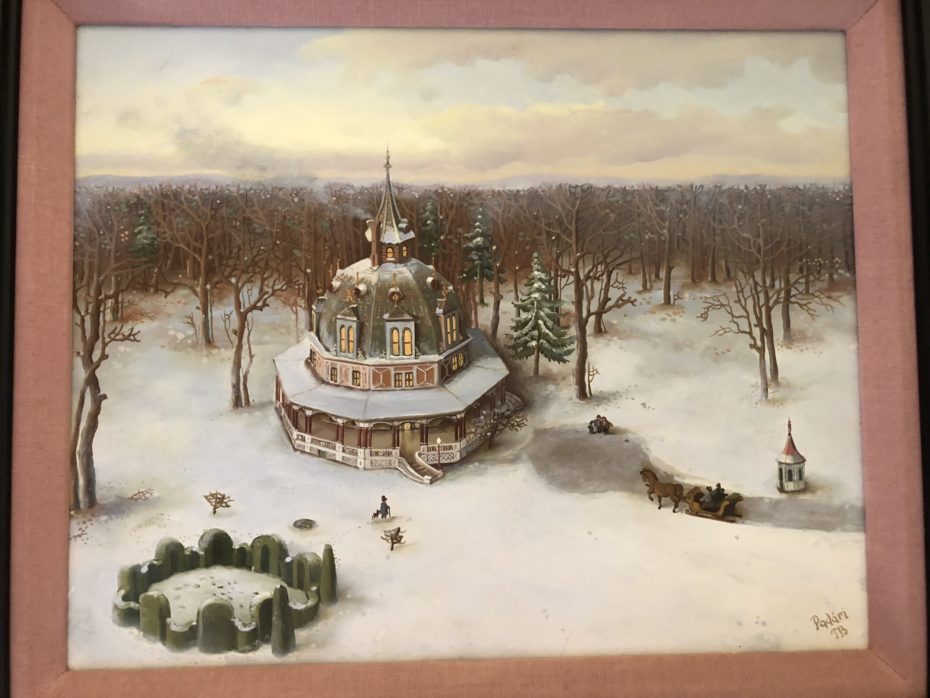 The Armor-Stiner house would pass through the hands of several owners during the 20th century, including a Finnish travel writer and explorer, Aleko E.E.Lilius, who spent time sailing with pirates in the South China Seas, and the author Carl Carmer, who wrote of the house, "High on the east bank of the Hudson River…stands a strange eight-sided house. We hear that Octagon House has a special feeling about it — a kind of aura from the past which bears with it a sense of happiness."
But the unusual house began to suffer from neglect as well, falling into near ruin by the 1970s. The distinctive pink exterior was painted a drab grey and white; shutters fell down onto the once finely manicured lawns; many of the elaborate details and decorations were torn down, lost or destroyed. One can get an idea of the state of the house by watching the 1981 Gothic horror film, the Nesting, which was filmed on location at the Armor-Stiner House. But the gravest threat to the house's survival was the imminent collapse of the vast dome: when it had been added in 1872, Stiner's builders had failed to install a tension ring to keep the eight sides bound together. A century later, the dome was in danger of collapsing, and plans were undertaken to tear down the entire house, replacing it with a real estate development called Octagon Place. The National Trust for Historic Preservation briefly stepped in to prevent the house from being lost forever, but it was only after the Armor-Stiner house was sold a year later to Joseph Pell Lombardi, that the house slowly began to be revived.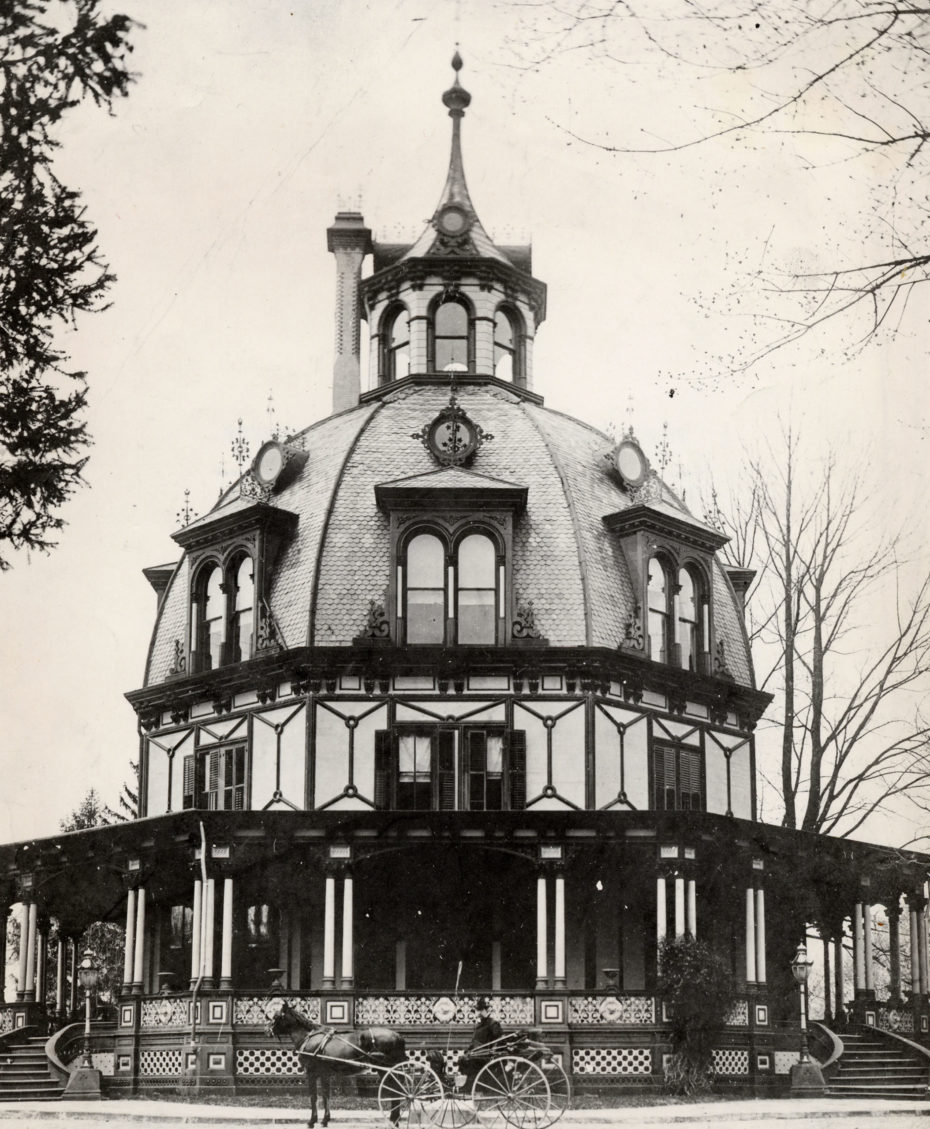 The Armor-Stiner House was fortunate that its new owner was one of America's foremost preservation architects, who specialised in conserving and bring back to life historical homes. Lombardi began a decades long labour of love to gradually restore the Octagon House to its former grandeur, piece by piece. He sought out every old photograph, accounts of past visits, forgotten articles, and interviewing former neighbours and descendants, to try and restore the house to how it looked a century ago.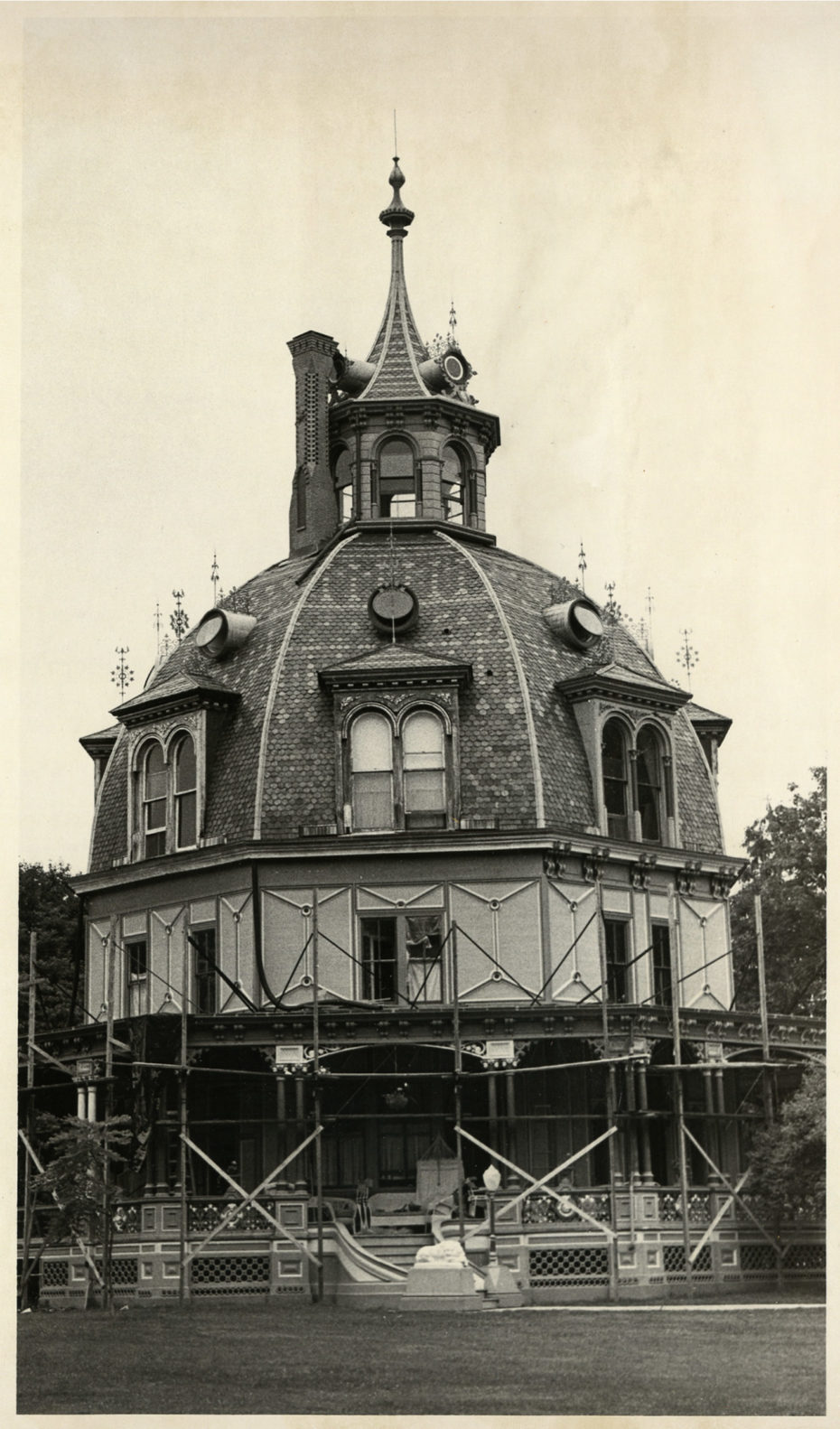 "My goal was not to remove all traces of age, but to hold together the fragile exotic beauty of this lyrical home," he explained. The dome was made structurally sound, the woodwork, stairs, gas lights and scrollwork were brought back to life with painstaking detail. Chemical paint analysis was used, taking small chips from the interior walls, to be examined, peeling back the history of the house layer by layer to discover the original wallpapers, colours and design.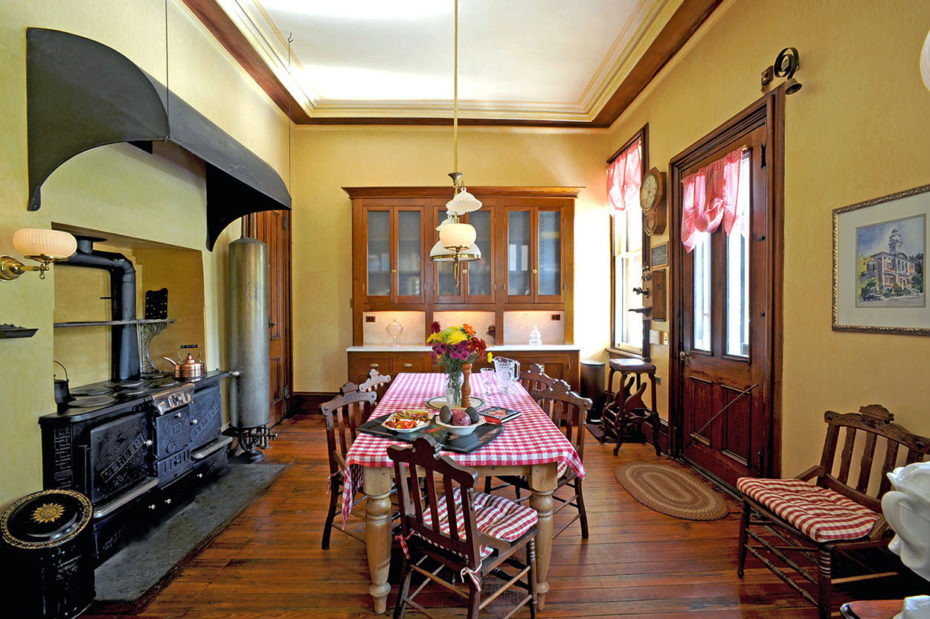 "We could determine the size and shape of the area rugs by the discolouration on the floor," explains Lombardi, "and we selected designs with octagonal motifs available in America in the 19th century, and have them woven in the colours of the room." Not for nothing did the New York Times report, "Like an architectural Sherlock Holmes, Mr. Lombardi patiently unravels houses' secrets, then fervently restores them."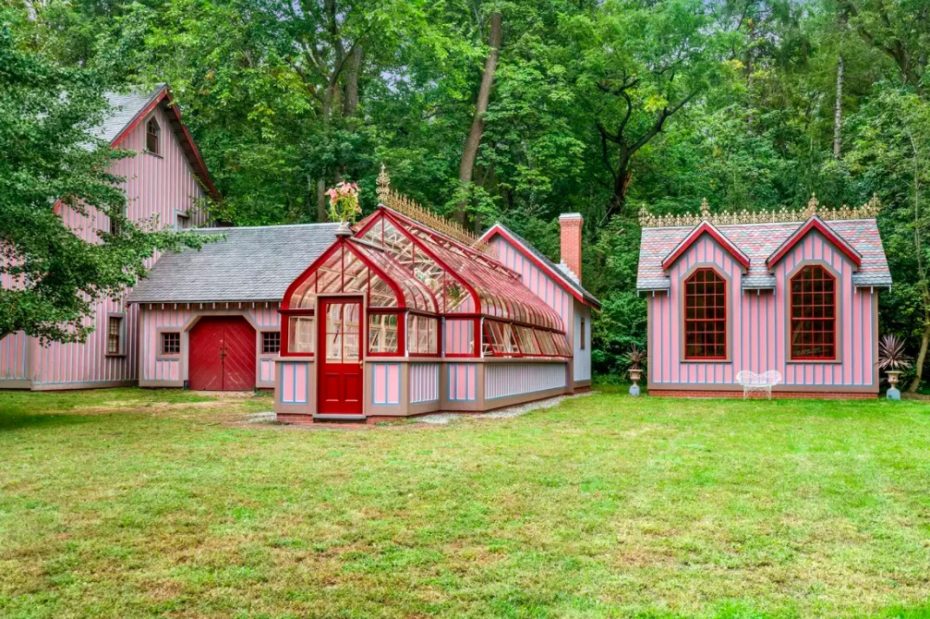 The meticulous work was carried on by his son, Michael Hall Lombardi, who had the unique experience of a childhood often spent in the unusual home. "I remember riding my bike around the eight sided verandah", he told us. In adult life he would expertly research and restore the kitchen, pantry, and immaculate grounds, which feature a stunning 19th century Lord & Burnham Greenhouse, and most dramatically of all, the only domestic Egyptian Revival room in private existence.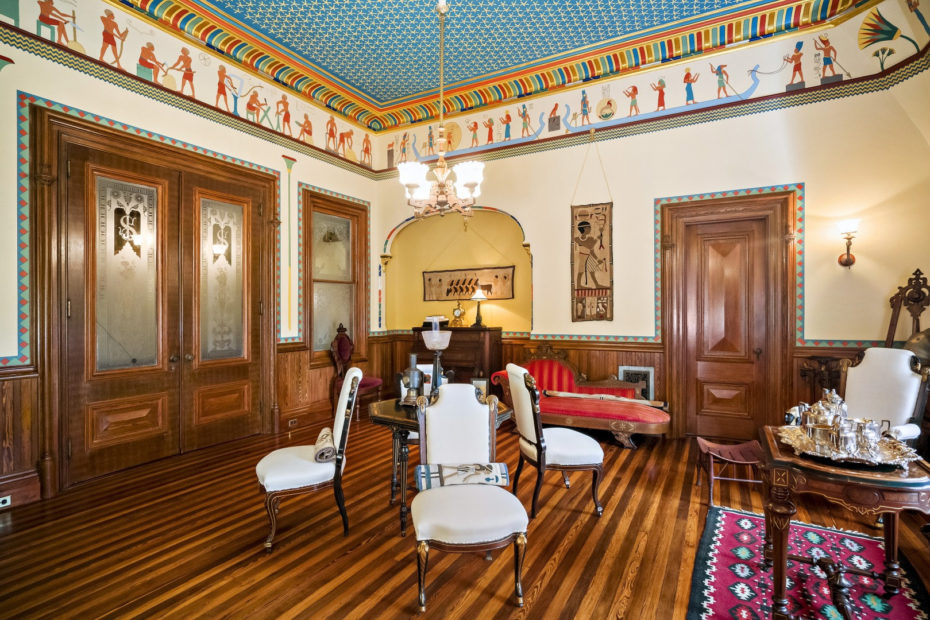 Explore the house today and a large part of the charm lies in the meticulous detail to its whimsical past: you'll find period Phrenology heads in the study; in the kitchen are rusted tins from the Jos. Stiner Company stamped "sole agents for the celebrated Elephant Java Coffee.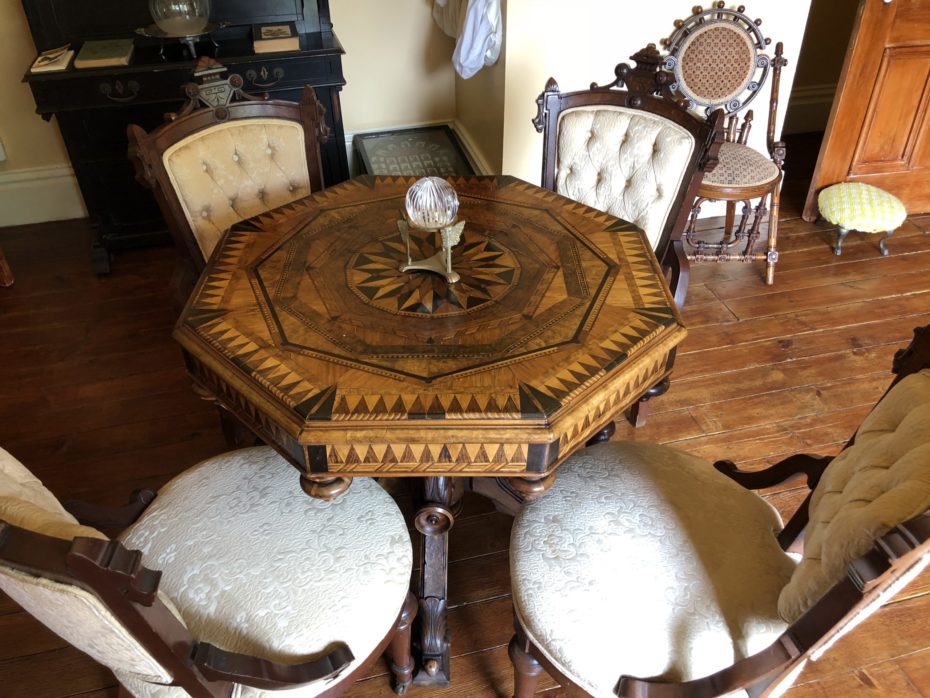 "Everywhere you look the octagonal motif can be found, from the unique eight sided cabinet of an Edison gramophone, to the bar of Colgate's "Octagon All-Purpose Soap" in the kitchen. Art work gives a nod to the area's most former most famous resident Washington Irving, with sculptures of Rip van Winkle, Ichabod Crane and Katrina Van Tassel, amidst paintings of the Old Dutch Church of Sleepy Hollow. "Triangular rooms are difficult to furnish," explains Michael Lombardi, "but we had the serendipity to discover the original suite of Egyptian Revival furniture which still had Joseph Stiner's name stencilled on it."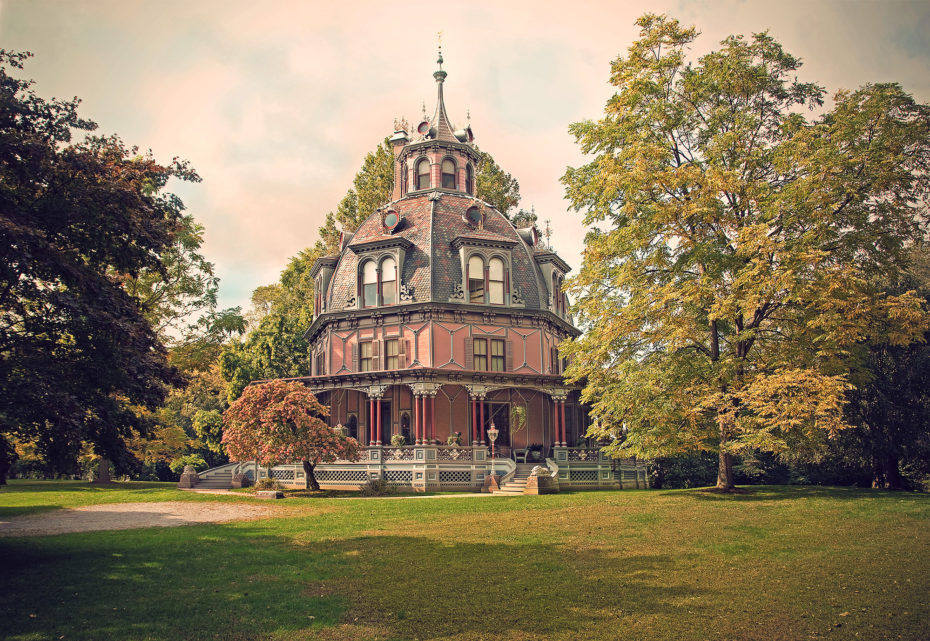 In the days before foreign travel and holidays were commonplace, it was common for well-to-do Victorians to spend their summers staying outside the city in friends' grand country homes, which were often built with exotic flourishes to amuse their visitors. In much the same tradition Joseph Lombardi, Michael & his wife Jessica have opened the Armor-Stiner House for visits, where from the moment you enter the shady tranquil gardens, you will cast your eyes on perhaps the most beautiful and unusual home found in America today. 
Also of interest: A complete list of octagon homes.