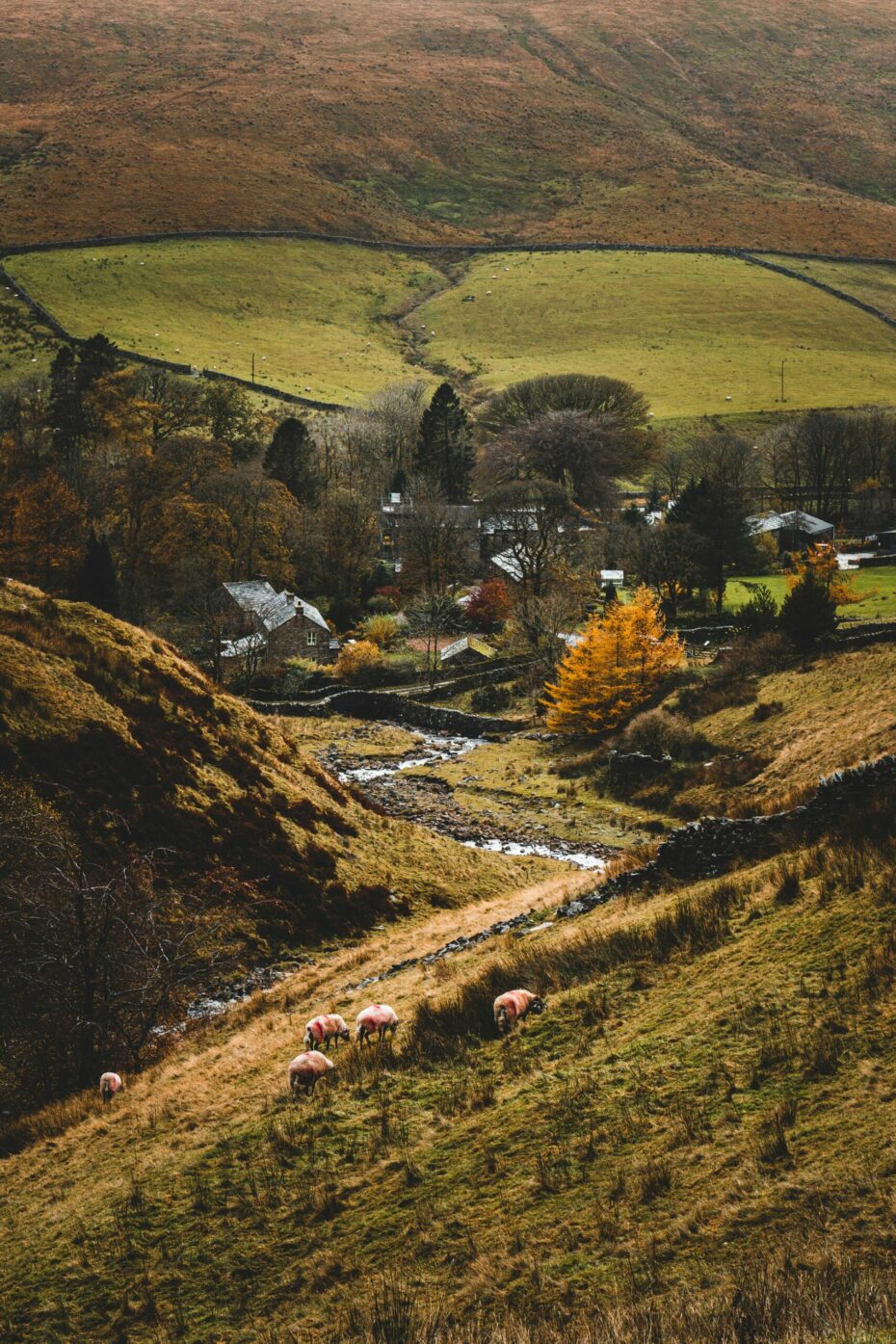 If you don't have a car, this site can be extremely helpful when on foot and Walkingcaveman.blogspot.co.uk also describes the eight segments of the Dales National Park, with OS maps of walking routes and what may be seen, from Roman forts to ancient chapels.
I would also recommend this book. 
Southern & Centre Dales
Linton is a good base with the quaint Fountaine Inn (fountaineinnatlinton.co.uk), which serves great bar meals and has cosy rooms. Go fell-walking in glorious Upper Swaledale for superb views down the dale. The Inn details a few good walks from their doorstep too. Just over an hour's walk, will get you to Michelin Starred restaurant, The Angel at Hetton (they also have rooms).
A twenty minute walk from Linton, explore its picture perfect cobbled neighbour, Grassington, the sleepy village where a hippie spirit still burns strong and where you'll also conveniently find the Yorkshire Dales National Park Visitor Centre. You could alternatively base yourself here, at the charming Ashfield House (although no restaurant) but there are plenty of pubs in the village like the Devonshire – (they also have some rooms and great suggested walks). Visit curiosity shops like Ashton House Crafts and wander through a cobblestone arched laneway strung with fairy lights to survey Courtyard Pottery and The Wishbone Gallery run by artists. The picturesque surrounding hills are perfect for walks.
A 35 minute bus ride North of Linton/ Grassington (from the National Park Visitor Centre) one of the most delightful walks in the Yorkshire Dales is a 4.5 mile hike (allow about two hours) which starts at Buckden in northern Wharfedale, taking in Hubberholme, Scar House Farm and Cray. It's a walk which is suitable for nearly everyone, but you will need stout shoes and the relevant OS map. There are two pubs on the way around, so you might not need to take a packed lunch, but bottled water should be in your backpacks. This route takes in many of the delights of the Yorkshire Dales – it takes you along the river, over farmland and along the limestone pavement. There is a lovely church in Hubberholme, where you can spot the little mouse trademark carved into the pews by the maker.
A 20 minute bus ride from Linton or Grassington along the southern edge of the Dales, you can walk through the famous Bolton Abbey Estate woods carpeted in bluebells and watch the drama of the River Wharfe as it is forced through a narrow point at The Strid. Have a picnic along the river in Burnsall or lunch at the Craven Arms, Appletreewick (craven-cruck barn.co.uk), admiring the restored Cruck Barn. You can also take a short bus from Bolton Abbey and walk up to Parcevall Hall (parcevall hallgardens.co.uk) to visit the peaceful gardens at the head of the valley with pools and cascades. You could also stay right near Bolton Abbey at Beamsley Hospital (30 minutes walk) a Landmark Trust 500-year-old stone circular almshouse with a tiny chapel at its core, perched on a hill above the famous Bolton Abbey in Wharfedale.
Also a 20 minute bus from Linton or Grassington is the market town of Skipton, also on the southern edge of the Dales. Find a quiet corner by the canal watching the boats, visit the castle and explore the area by riding the steam train at Embsay. Walk gingerly on the famous limestone pavement above impressive Malham Cove. For lunch go to Buffers at Storiths (01756 710253): great home-made cakes and train fans can admire the model railway layouts upstairs. A further 35 minutes by bus, the majestic village of Malham with its tarn and unusual limestone features also has two quite different but welcoming pub/hotels: The Buck Inn (buckinnmalham.com) and The Lister Arms (listerarms.co.uk); both have excellent food and beer.
Do a shopping morning in Harrogate and lunch at Bettys (bettys.co.uk), with a pleasant afternoon in the nearby RHS Gardens at Harlow Carr (rhs.org.uk).
Nidderdale, the forgotten dale has breathtaking scenery viewed either by foot on its many public footpaths or by car through its winding country lanes where you can often find great places to eat such as The Royal Oak Inn (the-royaloak-dacre.co.uk) at Dacre Banks near Summerbridge.
Eastern Dales
Without a car, Leyburn, on the eastern edge of the Dales, is perhaps also an ideal base, a great hub for local buses and the tourist information office has "Ticket to ride" walkers' booklets. Grove House is very comfortable. Leave town by bus to a nearby village then walk back along a scenic rural route. As well as being a delightfully understated market town with access to the whole Dales area, it puts you in striking distance of the quieter unspoilt area between the Dales and the North York Moors. Not far the countryside surrounding Masham (30 mins by bus) is like an old, well-loved treasure chest full of surprises. One of these is Hackfall Woods, which covers the natural gorge of the River Ure – feels a bit like walking into Narnia, as a hidden landscape opening before you. In the 18th century, it was owned by the Aislaby family, who created a woodland garden that invites you to explore its many paths. These lead through lush plantations past sparkling waterfalls, to vistas that show castles and follies in the distant landscape. Enchanting.

A very short drive south of Leyburn is The Forbidden Corner near Middleham (bus services run to Leyburn, roughly 5 miles from The Forbidden Corner – theforbiddencorner.co.uk) is a delightful mixture of beautifully crafted gardens and landscape mixed with follies, labyrinths, tunnels, chambers and full of surprises. No route map is provided, just a leaflet with clues to follow. Be prepared to get wet, lost, bemused, amused and even a little scared. Timed tickets need to be purchased in advance, but it is well worth the effort: the views over the Dales from the garden are worth the admission price alone.