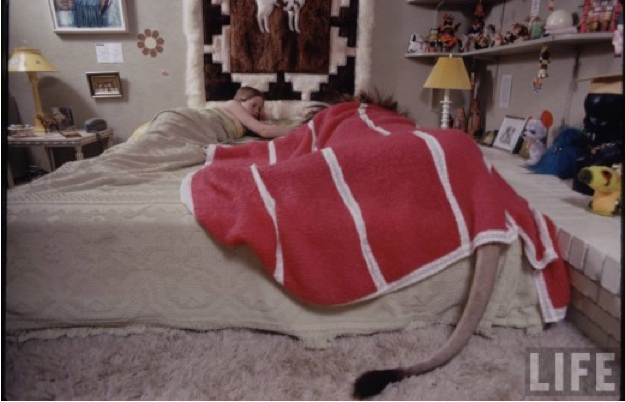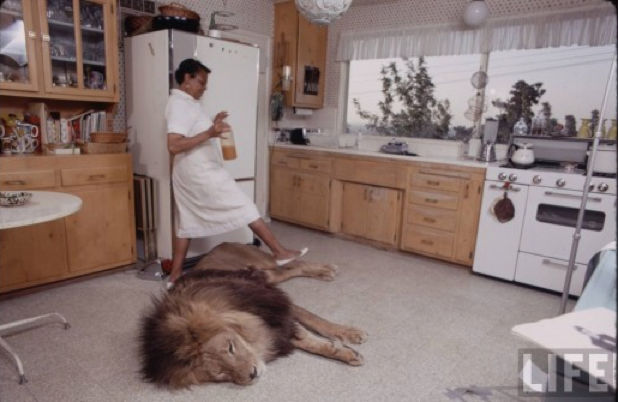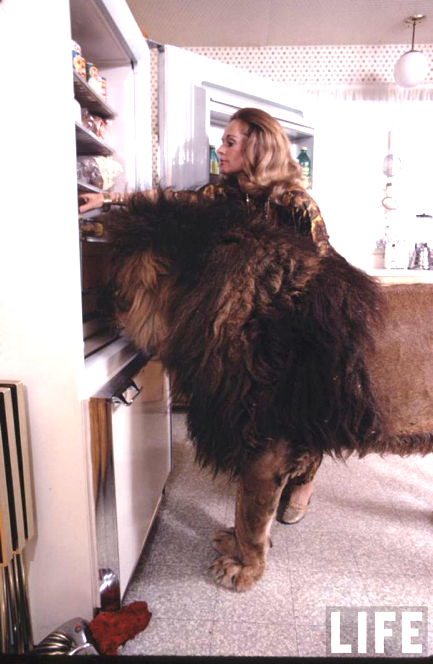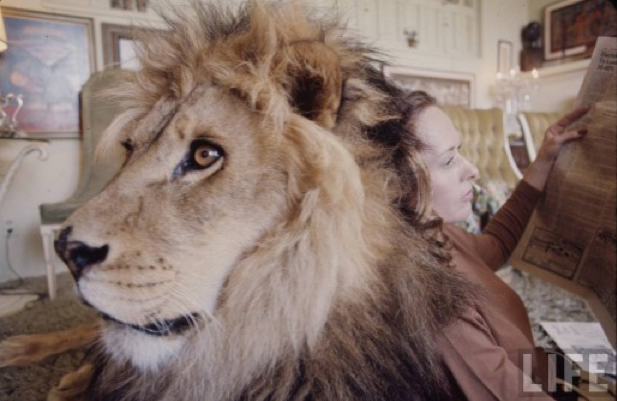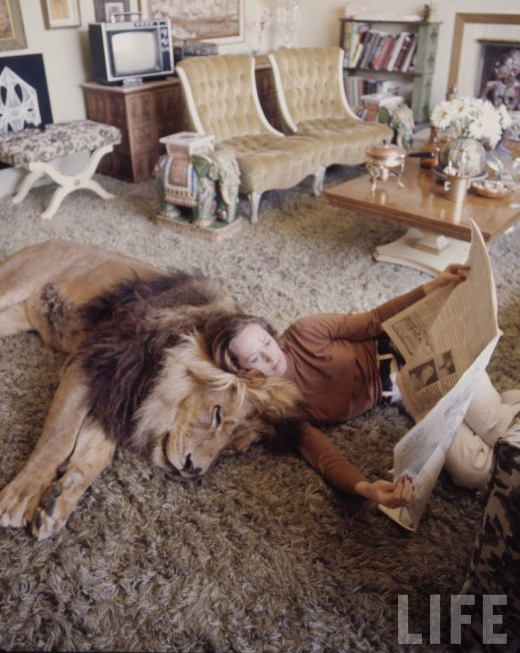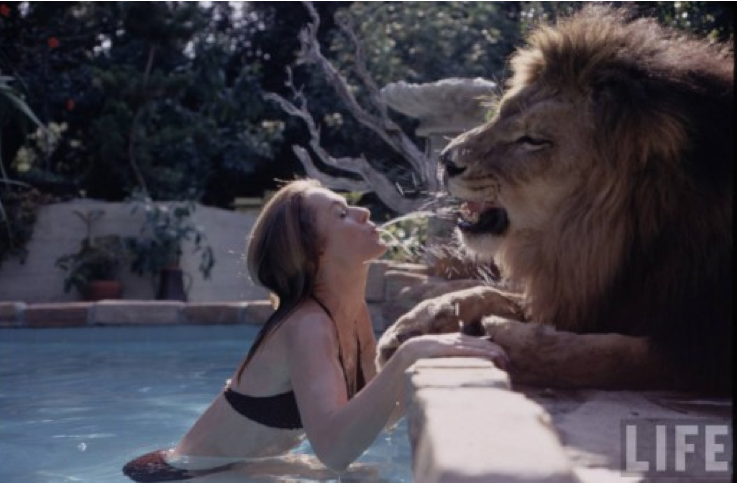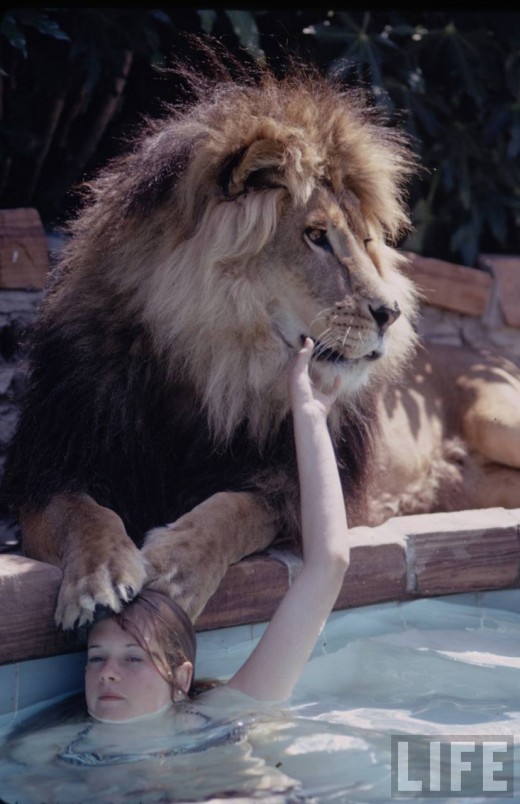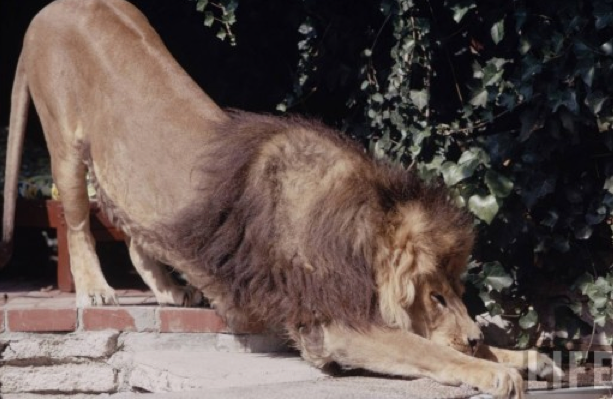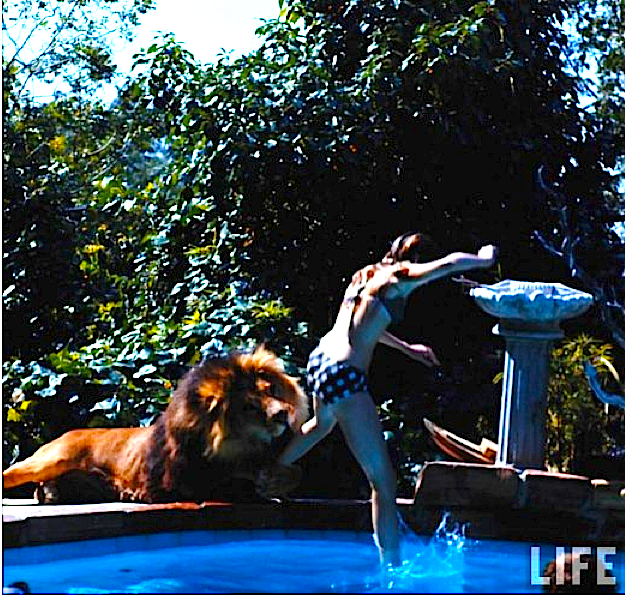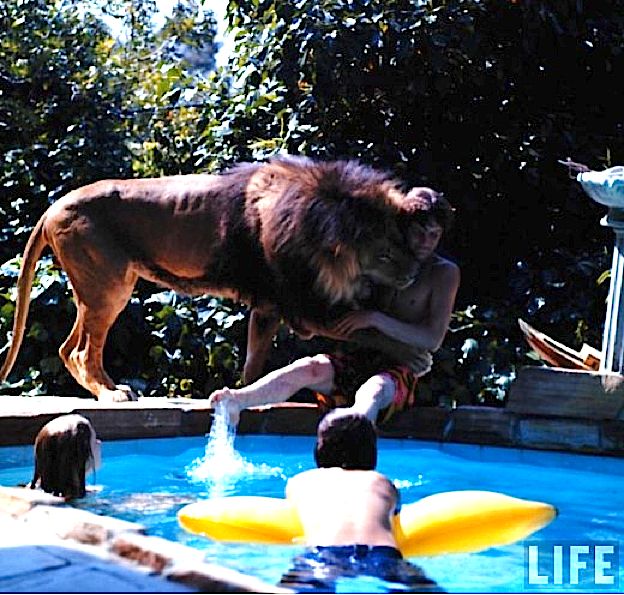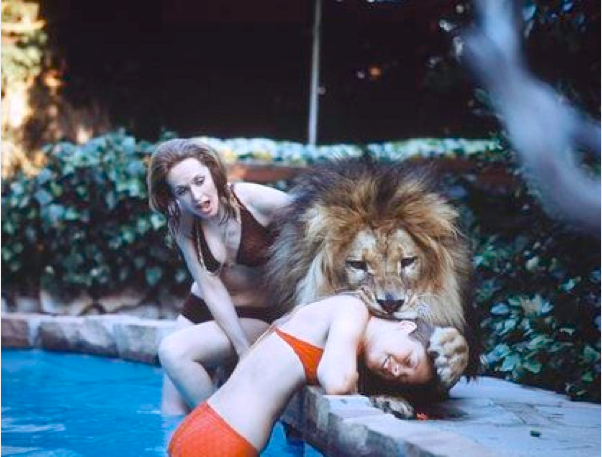 You've been looking at the home of actress Tippi Hedren in California, photographed by LIFE magazine during the early 1970s. Best-known for her role in Hitchcock's The Birds, Tippi is also the mother of actress Melanie Griffith (Working Girl), who is the little girl you just saw lying in bed with a lion, and also above with her head in its mouth.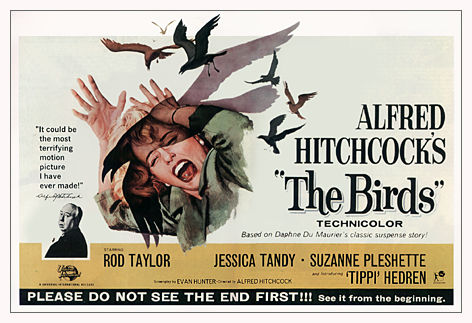 In 1969, Tippi was filming a movie in Africa and visited an abandoned house in Mozambique occupied by 30 lions and their cubs. The time she spent there with the lions changed Hedren's life forever and prompted her and her husband to make a movie about what they had seen.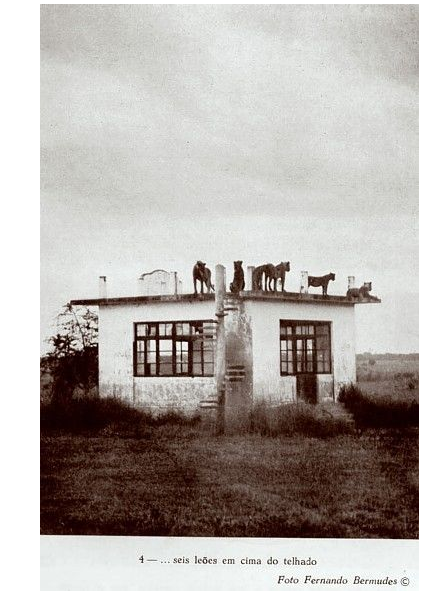 Little did the Tippi and her husband know that this film starring dozens of African lions would be an eleven year investment that would later cost them their marriage.
Production on Roar began with a dose of reality for the Hollywood couple. When they told a veteran animal trainer they needed 50 lions for their film, they were promptly informed that "you can't simply force a bunch of adult lions and strangers to live together. They're individuals that have to be introduced gradually or they may kill each other. Or you."
So what did they do? They decided to start their own pride of 50 homegrown lions, acquiring them one by one. Tippi met with Ron Oxley, a man with an animal-rental business in Soledad Canyon (an animal-rental business renting out lions= obviously completely normal in those days?!), who told them that "to get to know anything about lions, you've just got to live with them for a while."
And so she did.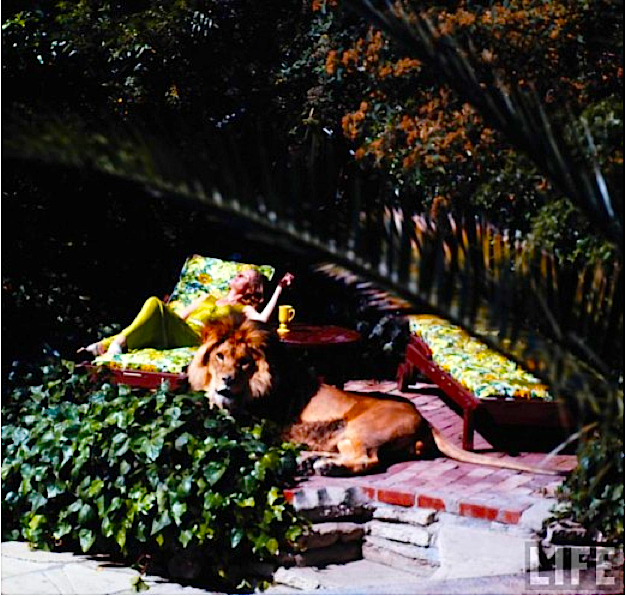 Tippi and her family were first introduced to Neil, a lion they could safely hug and get to know who became the first of their live-in lions, 4-5 days a week. Their Californian Sherman Oaks house soon became a half-way house for lion cubs who spent a period of time associating themselves with humans first (Hedren's family) and then would eventually return to the ranch in Soledad Canyon.
 "The time between 6 weeks and 6 months, when the lion is becoming quite large and strong, is a time of wonder," Tippie remembers.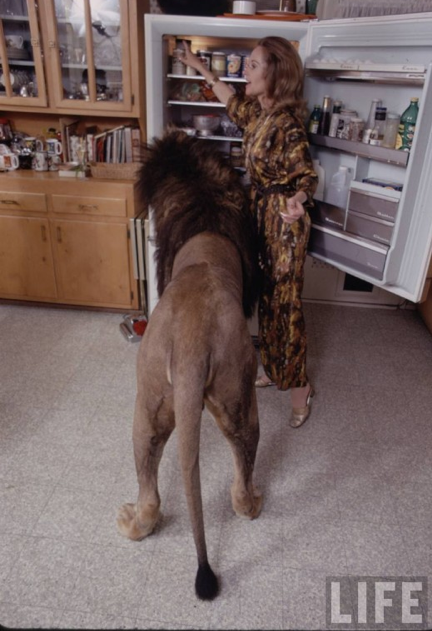 The whole family was involved in the feeding and care of lion cubs, who could be both loving and destructive at the same time. Tippi shocked a lot of people when she admitted that she absolutely made sure the cubs even slept with her or her children, believing that nothing was more important than day-and-night communication.
As preparations for the film progressed, neighbors began to complain about the family's 'pets' and authorities cracked down.
And so the family packed up their things (and their wild cats) and moved to the remote Soledad Canyon to live on the reserve with the lions, where they continued the on-and-off filming of Roar.
For a project that cost over $17.5 million, the film only grossed just over $2million in the end.
During production, Tippi's daughter Melanie, 19 years old at the time, was attacked by a lioness and needed 50 stitches to the face. The director of photography was scalped.
"They are dangerous. Everyone in my family has been hurt, so I'm aware of the dangers that exist with [all wild] animals, " said Tippi at the time, who also had her arm severely scratched by a leopard, and was was bitten on the chest by a mountain lion.
Although this did not deter Tippi from dedicating her life to the animals, she now takes a different view on the idea of wild animals in the home and believes they should not be kept as pets.
Soon after production of the film wrapped in 1983, she founded the Shambala Preserve, a fully functioning animal sanctuary to protect exotic animals who have suffered from gross mistreatment and neglect.
Huge numbers of dangerous animals are bred and sold in the United States for illegal purposes and Shambala has welcomed over 50 big cats, often dangerous; lions, tigers, cougars, black and spotted leopards, servals, bobcats, Asian leopard cats, and a jungle cat so they can regain their physical and mental health and live out their lives in dignity.
After the zoo at Michael Jackson's Neverland Ranch was shut down, his two tigers, Thriller and Sabu, were sent to live at Shambala. When Jackson passed away, Hedren said she had told the tigers that he died. "You don't know what mental telepathy exists from the human to the animal. But I hope they understood," Hedren told The Guardian.
Hedren still looks back with nostalgia however to the days when she had wild animals in her home:
"I miss nursing the cubs very much," she said. "I really treasure that experience. There's nothing sweeter than a little baby lion or tiger cub. They're magical."
To this day, Tippi still runs the Shambala Reserve, a non-profit organization in California.
Visit the site for more information here