By 'un café'. I obviously mean a mocha latte or a glass of rosé, along with a little tarte, maybe some madeleines and of course, plenty of undisturbed lounging time à la Parisien. (You won't actually find me talking much about coffee in this blog).


1. Un café with Fashion at Carmen Ragosta
Rue de la Grange aux Belles, Canal Saint Martin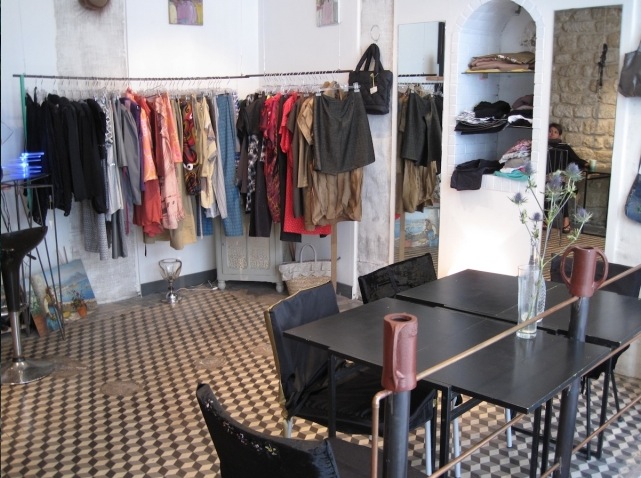 It's quite simple really, located just off the trendy and picturesque Canal Saint Martin, Carmen Ragosta is a little Parisian fashion boutique as well as a café/ restaurant. I really like the idea of being able to lounge with a coffee bottle of wine while eyeing up racks of beautiful clothes just feet away!


2. Un Cafe after the Museum at Les nuits des Thés
Rue de Beaune, near the Musée d'Orsay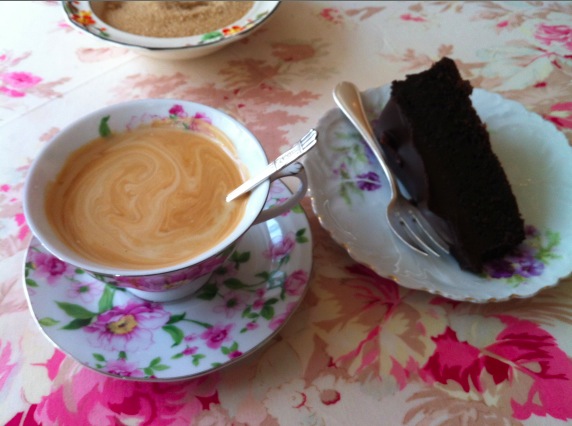 The Musée d'Orsay always seems to be a 'must-see' for every visitor in Paris. But once you've seen the pretty Monets and Manets, where to go? The grand museum is located right on the Seine in a bit of a no man's land– there are no shops around to be seen so visitors usually begin on a 15 minute trek up the Seine to reach the livelier area around the Notre Dame. Instead, why not try a two minute walk to one of the prettiest tea houses in Paris? Turn to the rear exit of the Orsay, away from the river and find this cosy tea room where the little house dog warmly greets you and even joins you at the table if invited! Pastels, lace, dainty tea cups, delicious cake treats await you after your museum tour in a lovely neighborhood of beautiful furniture shops and baby boutiques.


3. Un café between lovers at the Hôtel particulier de Montmartre
Avenue Junot, Montmartre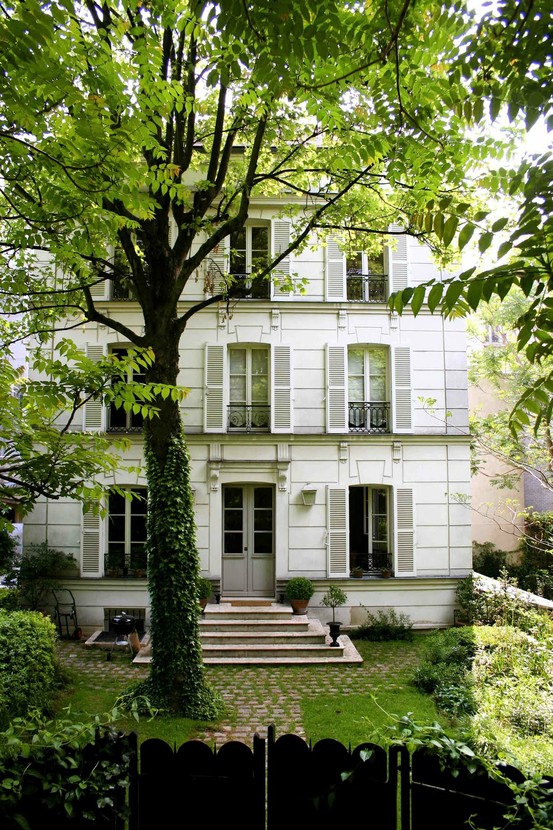 Location, location, location. Having a romantic coffee is all about choosing the right location and the gardens of the Hôtel particulier de Montmartre on a pretty day couldn't be a better choice.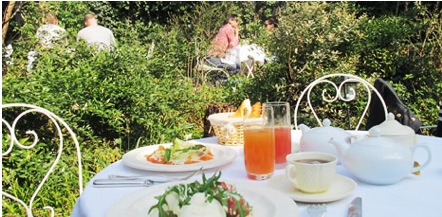 Order a flakey croissant and spend the afternoon cooing at each other with the birds. It's advised to book even for coffee here I suspect, as booking for brunch is absolutely obligatory.



4. Un Café with People Watching at Le Petit Fer a Cheval
Rue Vieille du Temple, in the Marais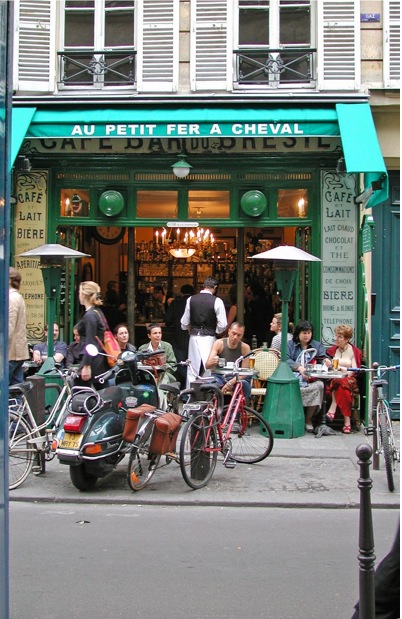 As you should know by now, the Marais area is as well-roundedly trendy as you're going to get in Paris. So where else better to people watch than on it's most buzzing street? Le Petit Fer a Cheval is a charming century-old Parisian brasserie with a unique horse shoe-shaped bar. It feels like nothing has changed in its decor since the 1920s and it's as cute as a button and about as small as a button too.



5. Un Café in peaceful Solitude at the Petit Palais
Avenue Winston Churchill, opposite Le Grand Palais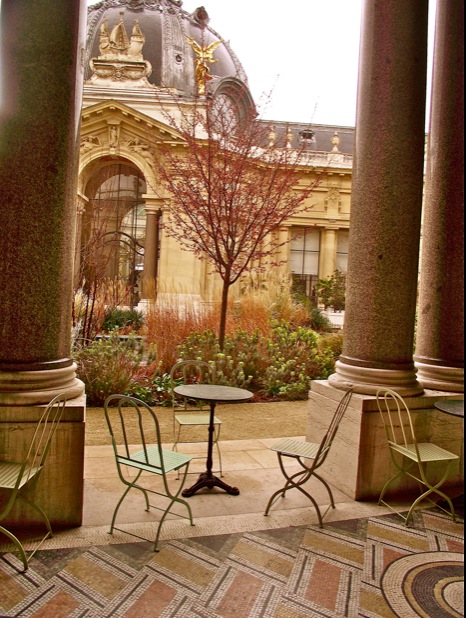 If you're a writer in or visiting Paris, hoping to find that inspiring spot to produce your best work yet– look no further than the Café of the Petit Palais. Both spectacular and serene at the same time, the outdoor marble terrace of the café looking onto the inner courtyards of the Petit Palais are nothing short of inspiring. And I took that photo on a rainy day mid-winter so imagine it in Spring. On a weekday morning you can spend hours here come rain or shine this place is magic.


6. Un Café with a Book Club at La Fourmi Ailée
Rue du Fouarre, a stone's throw from the Notre Dame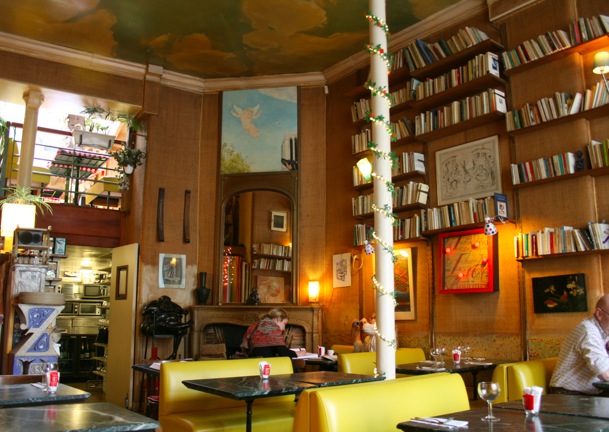 This little tea house doesn't actually have a book club but I can't figure out why. It would be the perfect setting for a weekly meet surrounded by a mini library of old books with pretty twinkle lights. Service here is a little slow but this is not the place to take a quick coffee. In fact La Fourmi has just about one of the longest tea menus in Paris. Take a book or take your own book club!


7. Un Café back in time at Priori des Thés
Galerie Vivienne, near the Louvre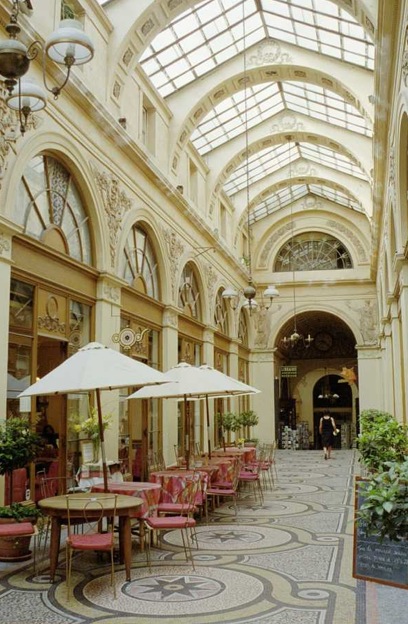 Having coffee in one of the beautiful Parisian arcades is a highly nostalgic experience. Take yourself back to the Belle Epoque at one of the most-loved and also one of the smallest tea houses in Paris. A little pricey but well worth the experience.


8. Un Café with the Cobblestones at le Pub Saint Germain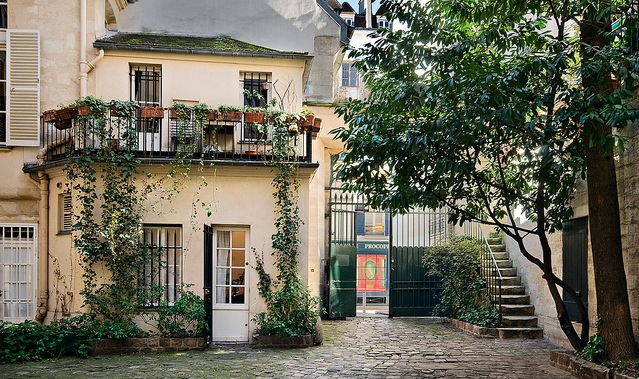 Cour du Commerce Saint André, in the heart of Saint Germain
One of my favorite things about Paris are it's cobblestone passages– for me this is what makes Paris most charming. At the back entrance of the Pub Saint Germain, this is my personal favorite spot to either bring a notebook and scribble away or have a glass of wine with a girlfriend late afternoon. Don't forget to explore the passage, there is a beautiful courtyard just perpendicular to the Cour du Commerce.
Sitting alongside the cobblestones of the pub's terrace, couples stroll pass quietly and you forget the St. Germain boulevard is just a few feet away. As evening falls, the passage is lit up by pretty lights– a perfect snapshot of Paris at night.


9. Un Café Americaine after shopping at Adele's Family
Rue d'Argout, near the trendy shopping district of Etienne Marcel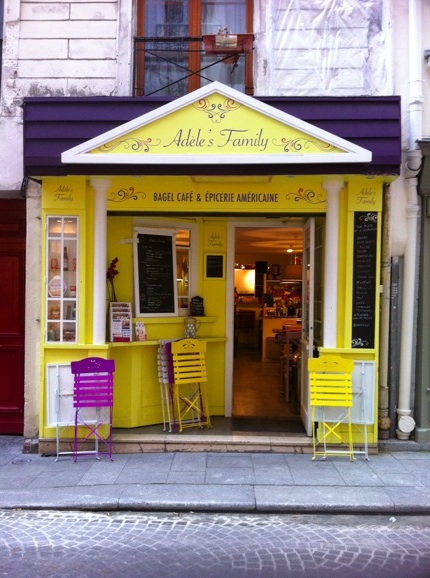 For the comforts of home, American ex-pats might appreciate this one. And aside for the French thinking American coffee tastes like 'sock juice', I think the Parisians find this little coffee shop pretty charming too. Cute and colorful, serving up bagels and other American treats, this little café is also situated in an ideal location for boutique shopping. Everywhere you turn there are wonderful vintage boutiques and shoe shops.


10. Un Café with Grandmammy's treats at Mamie Gateaux
Rue Cherche-Midi, near the Bon Marché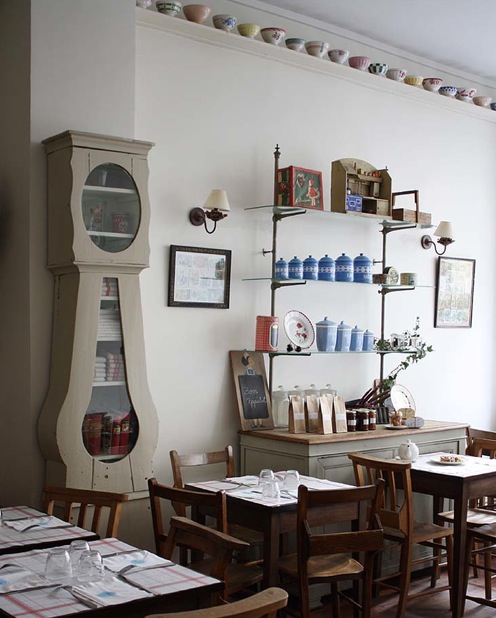 You've got to be a bit of a gourmande in Paris (my translation: enjoy life, enjoy food), so let Mamie (grandma) take care of you. Quaint, kitchy and country, the scones here are heavenly, crumbly, warm and buttery served with a dollop of jam. Tea time heaven.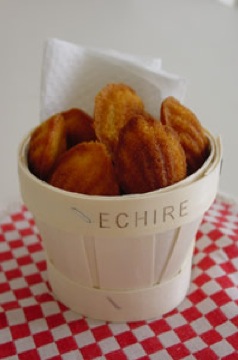 BONUS CAFE SPOT at La Maison Rose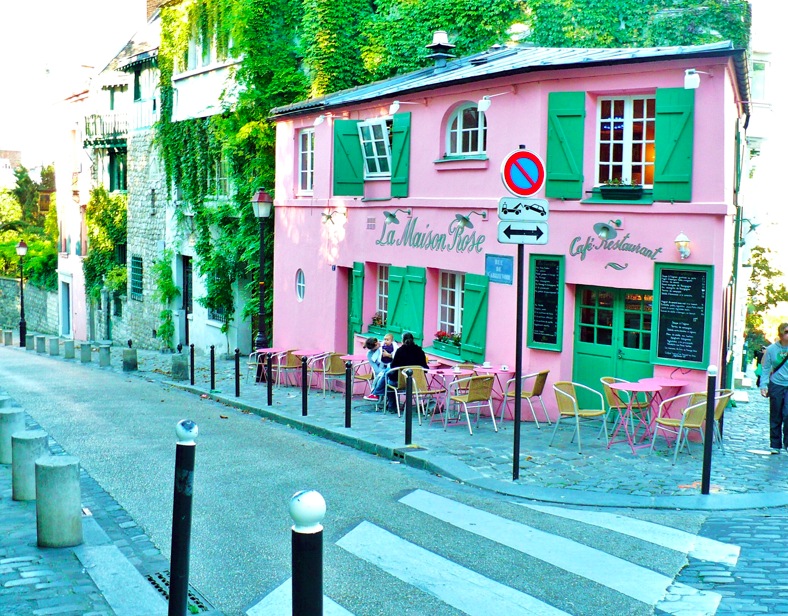 Rue Abreuvoir, away from the bustle of the Sacre Coeur
It's pink and it's on a quiet cobblestone street at the back of Montmartre. Need I say more?
Hungry for more Paris? The updated edition of Don't Be a Tourist in Paris is now available. Or become a MessyNessy Keyholder to gain access to our Travel eBook library and a direct line to our Keyholder Travel Concierge to plan your perfect trip. Need help planning a weekend in France? Need some restaurant recommendations for a remote village in the North Pole? We're here to help.