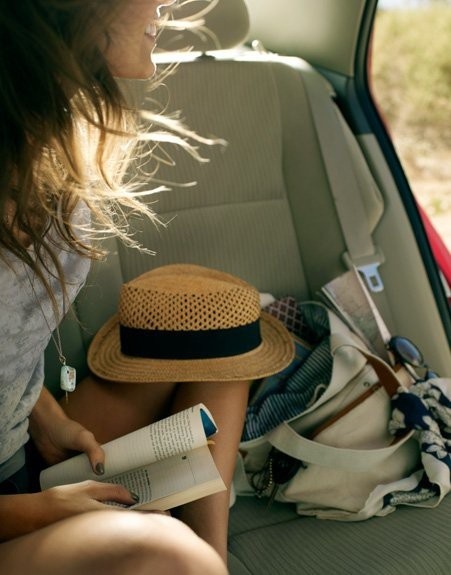 We left Paris without a plan. Daylight took us as far as Bourges, a medieval town several hours south of Paris where we stayed in a two-star chateau on the outskirts that hadn't saved any of its old interior charm and I believed couldn't technically call itself a chateau because it didn't have any towers. The room itself was four times larger than any of our friends' studio apartments in Paris and this was reason enough to happily part with our 82 euros and be on our way.
A few hours later we found ourselves walking around the unlocked and empty stone house of Alex's grandparents in the small town of Massiac, central France. He took me around the garden showing me where he used to crack open nuts on a moss-covered stone table and catch grasshoppers in a jar to receive 1 cent per grasshopper from the adults. I wished we had been childhood friends.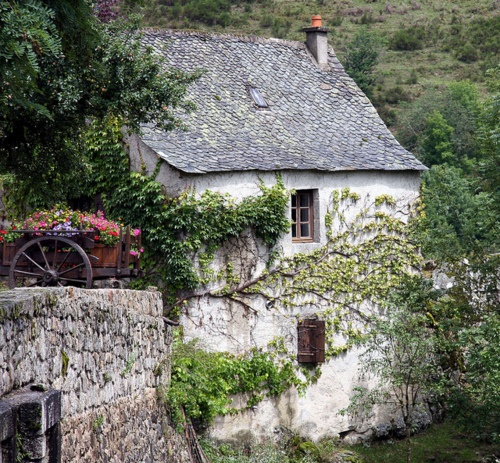 Just as I began to hear the story about a land dispute with the farmer next door, his grandparents arrived home from an afternoon of bridge-playing. They were smaller than I had imagined and very excited by the unexpected visit of their grandson, Alexandre.
"It means he loves me," his grandmother told me as she poured way too much grenadine into my glass. Trying not to wince from the overdose of syrup, I listened to them recount their summer of bridge-playing thus far and tell Alex the gossip about relatives he could barely remember or had never met. His grandfather gave us some breathless tips for our travels and 'Mami' gave me a tour of the ground floor, unaware that I'd already been taken around her bedroom upstairs. We couldn't leave without Mami emptying the contents of her pantry into a bag to take with us. We teased her overzealous food donation frenzy but the saucisson sec and Petit Ecolier biscuits would later turn out to serve us well.
We left the little stone house built by Alex's grandfather in the pouring rain. Mami insisted on giving us a broken umbrella and watched us sprint together to the car and yelled after us, "Allez, la vie est belle!" I was sure in that moment she was remembering being young and in love.
We met a violent hail storm a few miles up the highway and it seemed to follow us for about an hour. When it was over we slowly rolled through the aftermath in a traffic jam, smiling weakly at soaked motorcyclists who had stopped at the side of the road under bridges with facial expressions that read, I survived that.
By sunset we had reached the Cevennes mountains bathed in pinkish light and grinned massively at each other as our little Audi wound through the empty roads of the wild, untouched valleys.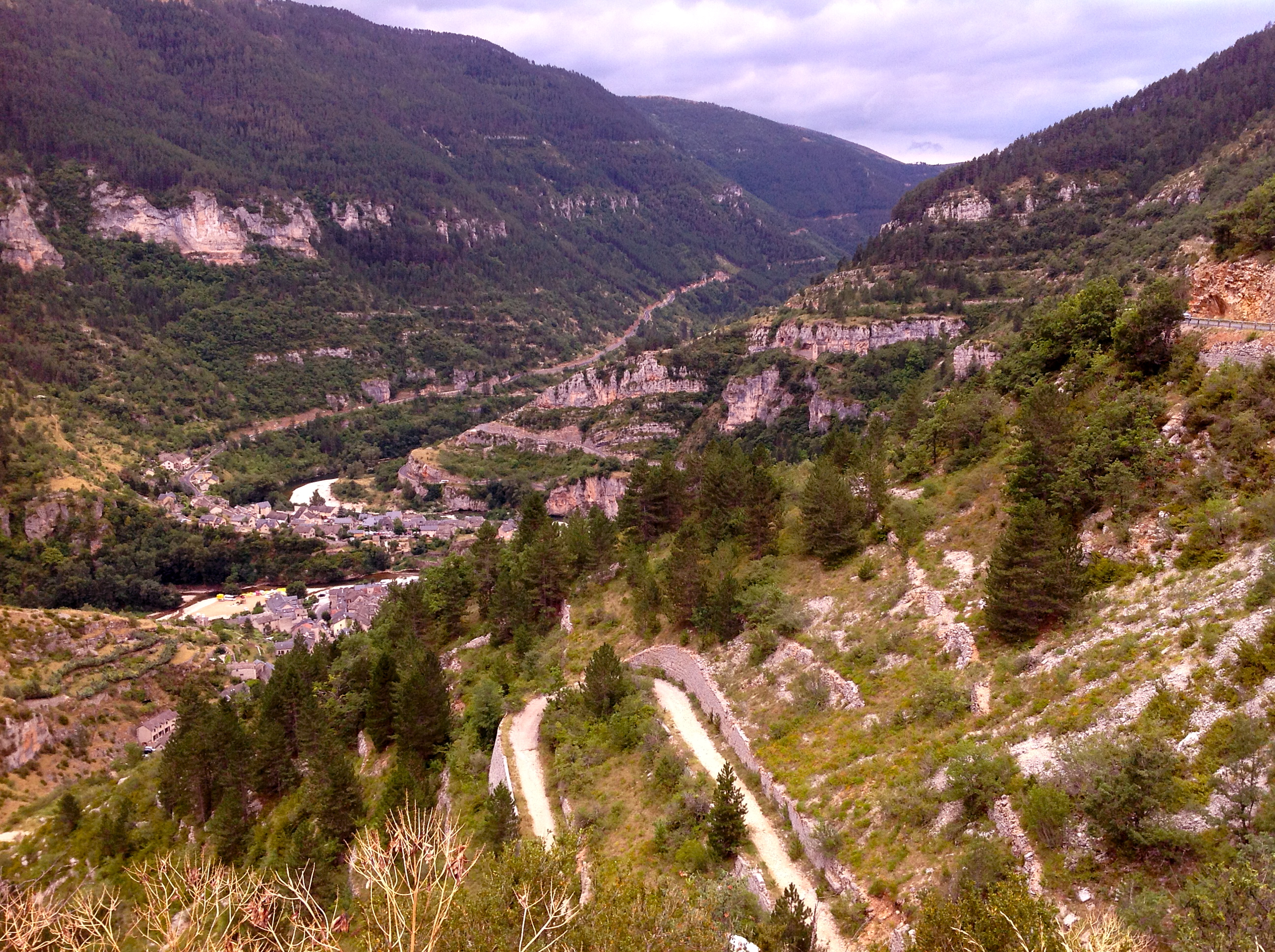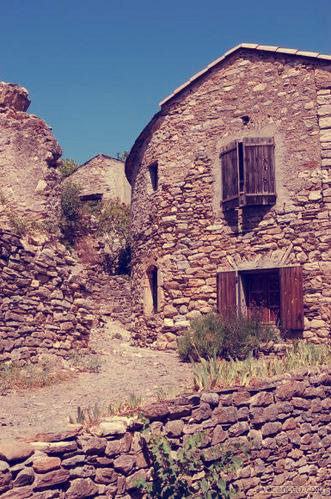 Large boulders leaned menacingly above our heads, abandoned farmhouses stood at every bend and across the valley Alex pointed to stone houses, perhaps old monastaries, carved out of the canyons. We spent a lot of time wondering how such things existed. As the mountains rotated around me, I toyed with the idea that if I was ever on the run from something, this would be the perfect place to hide.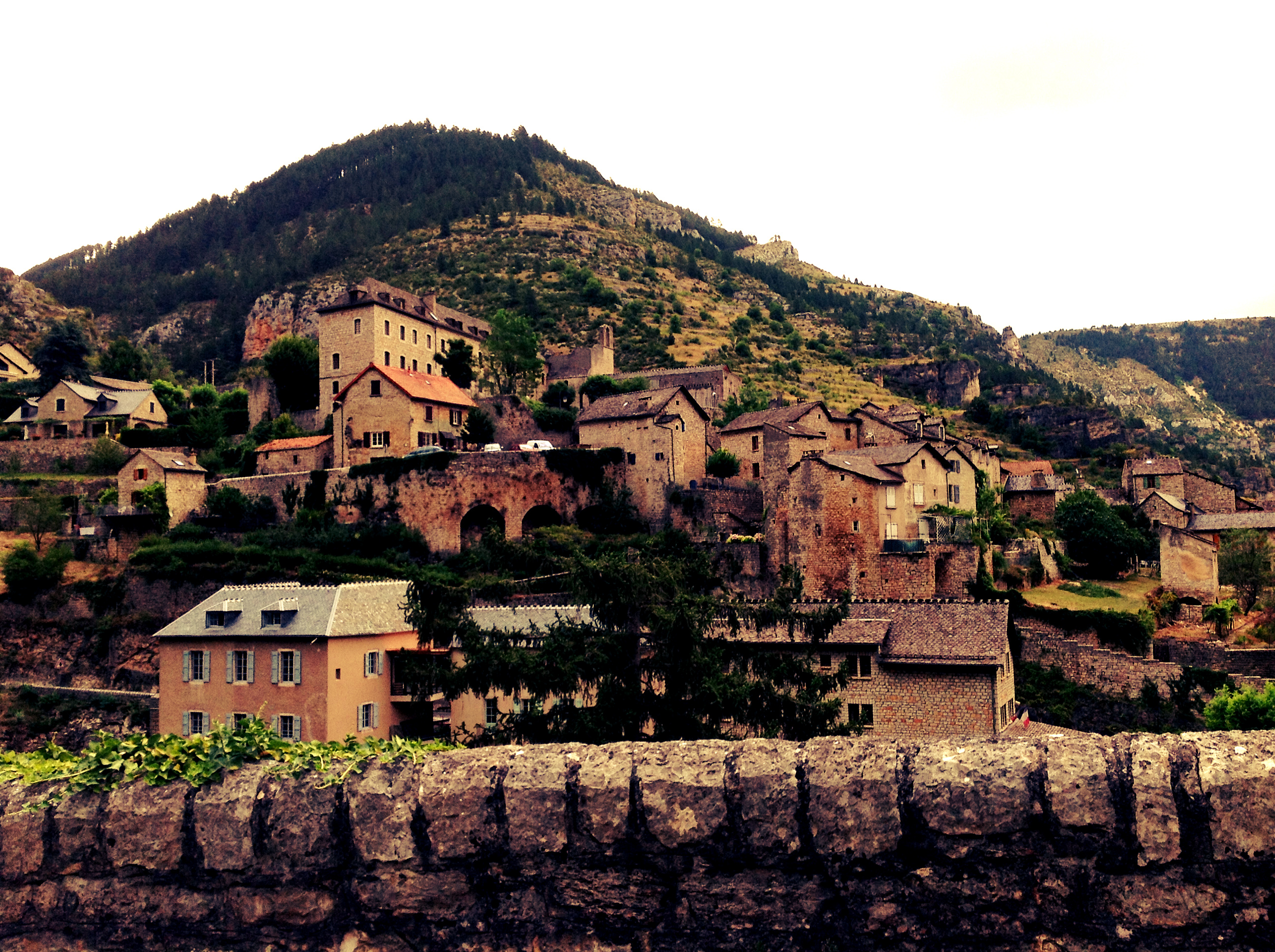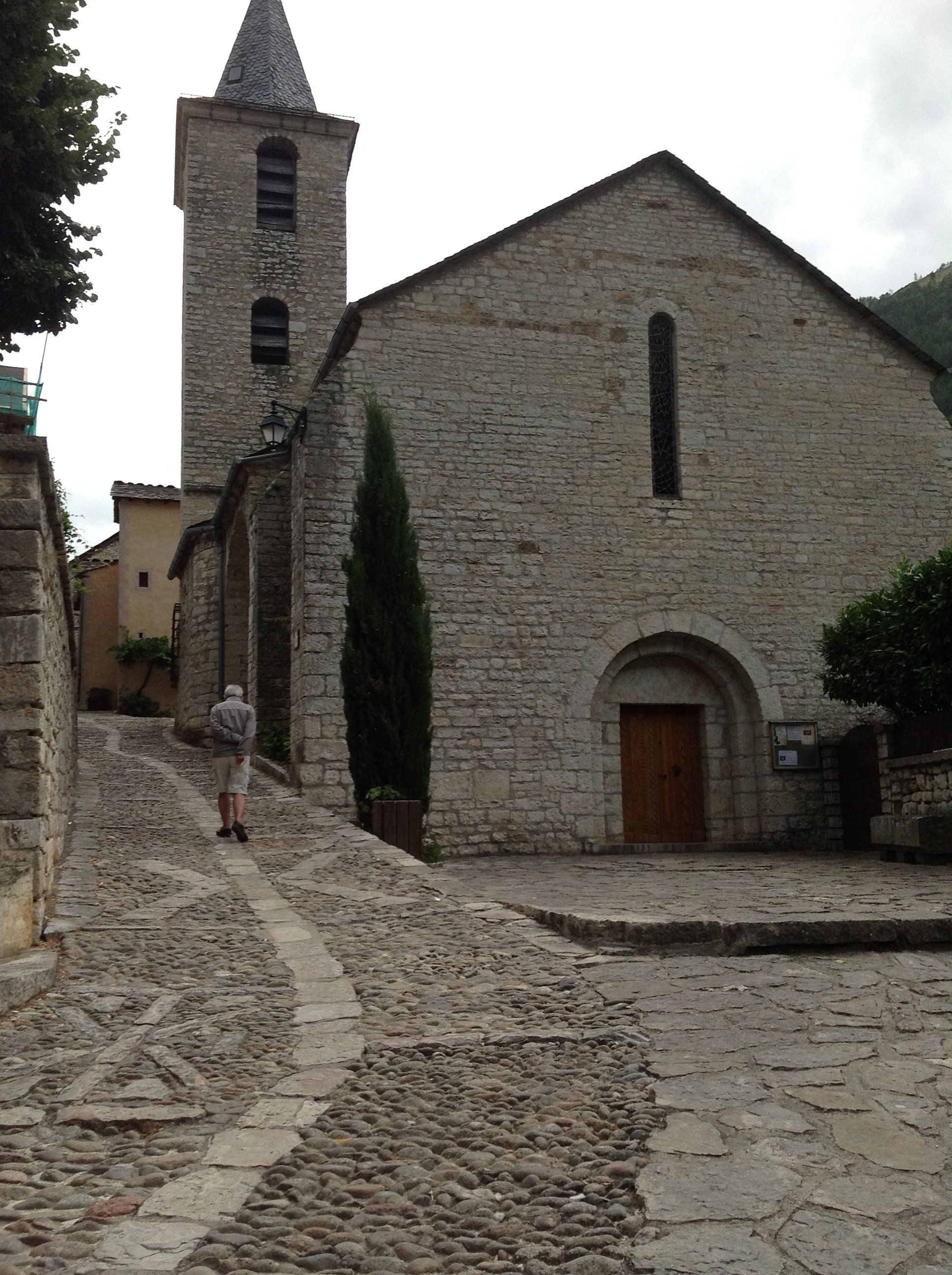 Just in time for two rumbling stomachs, we came upon the village of Saint Enimie. I squealed with delight when I saw the signpost at the borders officially awarding this 'un des plus beaux villages de France' and Alex was pleased with himself for unknowingly leading us there. Following behind an elderly local man taking an evening stroll with his hands clasped behind his back, we climbed the narrow cobbled streets of the sixth century village, some steps seemingly part of the gorge itself, hacked into the mountain. We settled down for dinner at a small family-run eaterie serving tartines and charcuterie platters on an outdoor wooden patio sheltered in vines and decorated with festive lights. The waitress was not fifteen years-old and beautiful and simple as she politely took our order and brought it back to her mother in the kitchen.
Before nightfall we were back on the road, headed to the recommended hotel we had found on an out-of-date website while using the wi-fi at the highway rest top earlier in the day. Having squeezed through the narrowest village roads of Meyrueis, not built for cars in the black of night, or ever, our Audi finally rolled through the gates onto the graveled grounds of our Chateau d'Ayres.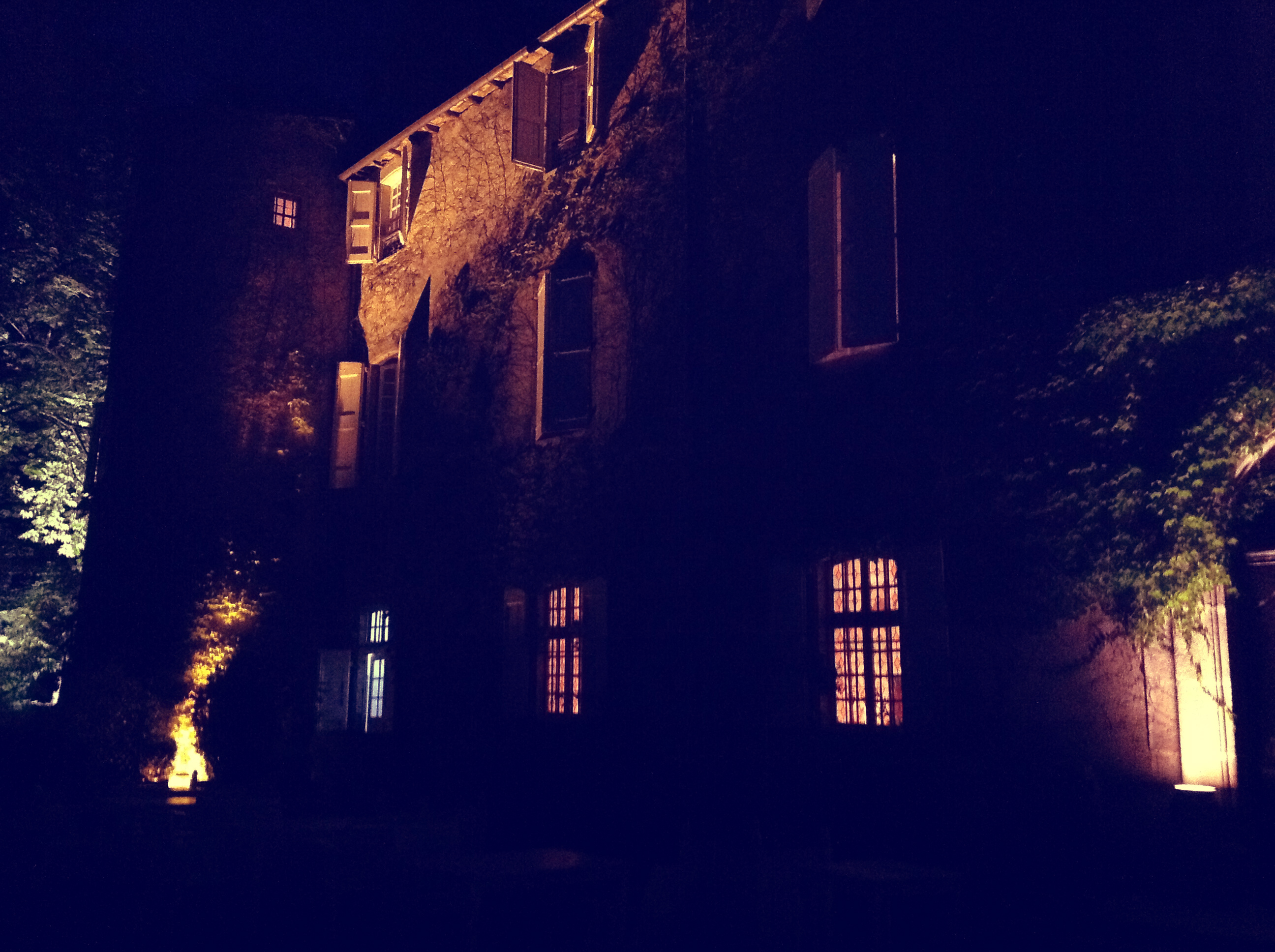 Even with only the light from the windows, you could tell it was beautiful and see it had towers, earning its chateau title. Cluttered inside with old relics and tapestries mixed with the charm of a 1940s traveler's club, as Alex checked us in, I darted excitedly around the neighboring rooms, scanning the lounge for where we might sit and have late night cocktails and plan our movements on the map for the next day. The shy bellboy showed us to our room which was named Theodora, perhaps after one of the former ladies of the house, and shut the door behind him. Alex and I then proceeded to jump around the room like two children who had run away from home and managed to con their way into a grand hotel, pretending to be adults. We liked the room.
Back downstairs to the lounge and we sat on two red art deco leather armchairs with a small wobbly old table in between. It had just enough space for a tiffany lamp and two gin & tonics.
By noon on the Monday (or was it?), Alex had stopped the car along the side of the snakey roads for a fifth time, telling me to wait while he disappeared over the edge, scouting and hoping for a less treacherous descent down to the river than the last stop. To his relief, this time he'd found it and we unloaded the car of our IKEA al fresco cushions plucked from his balcony in Paris and clutching our baguette, cheese and saucisson, began our descent to the river, edging sideways down a non-existent trail.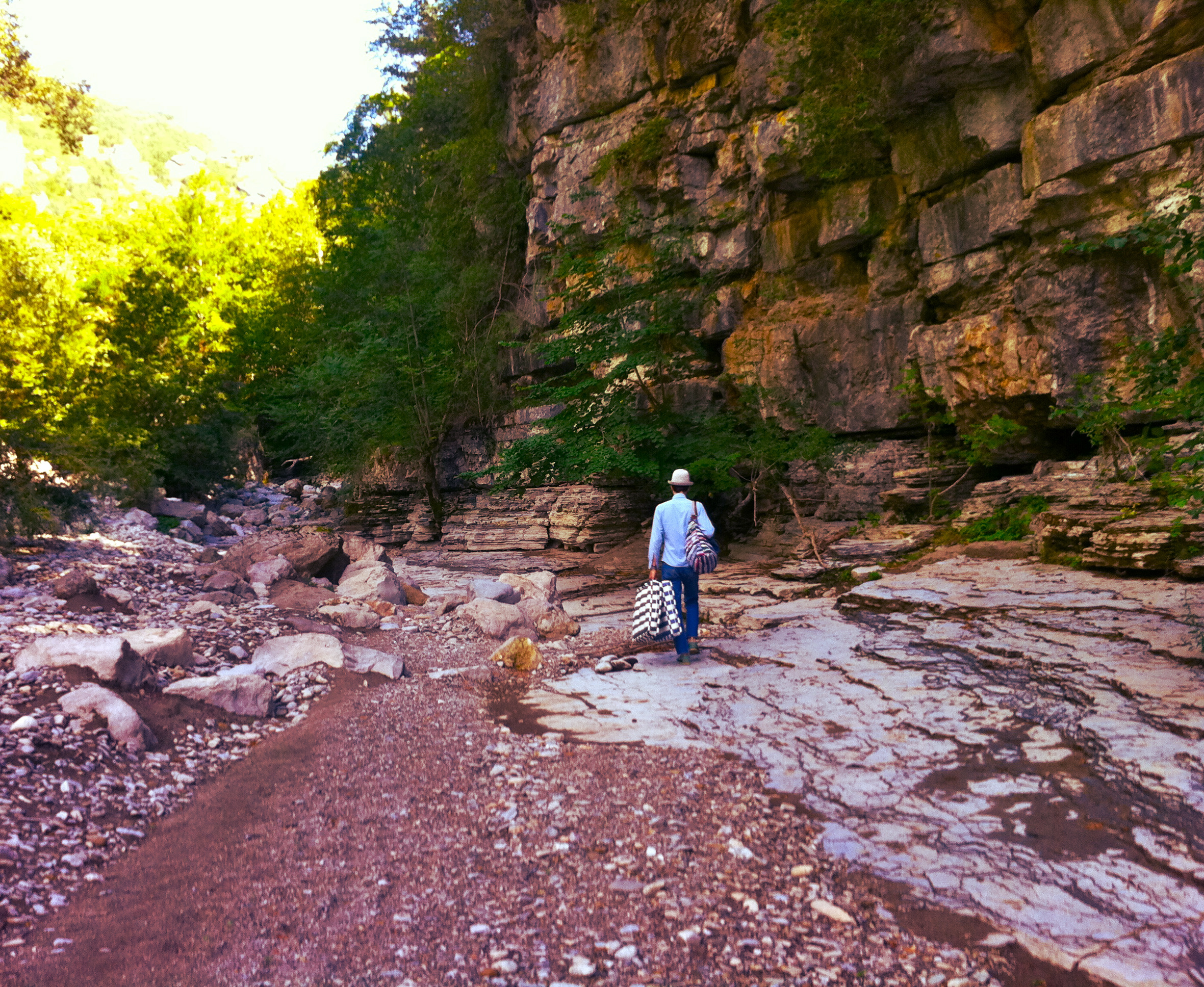 Where we reached the bottom of the valley, the water had retreated under the earth but we continued anyway along the vast rocky riverbed where fish would have been swimming earlier in the spring. The sound of flowing water trickled towards us and within seconds I was gasping in delight at the sight of what was to be our private paradise for as long as we wanted it.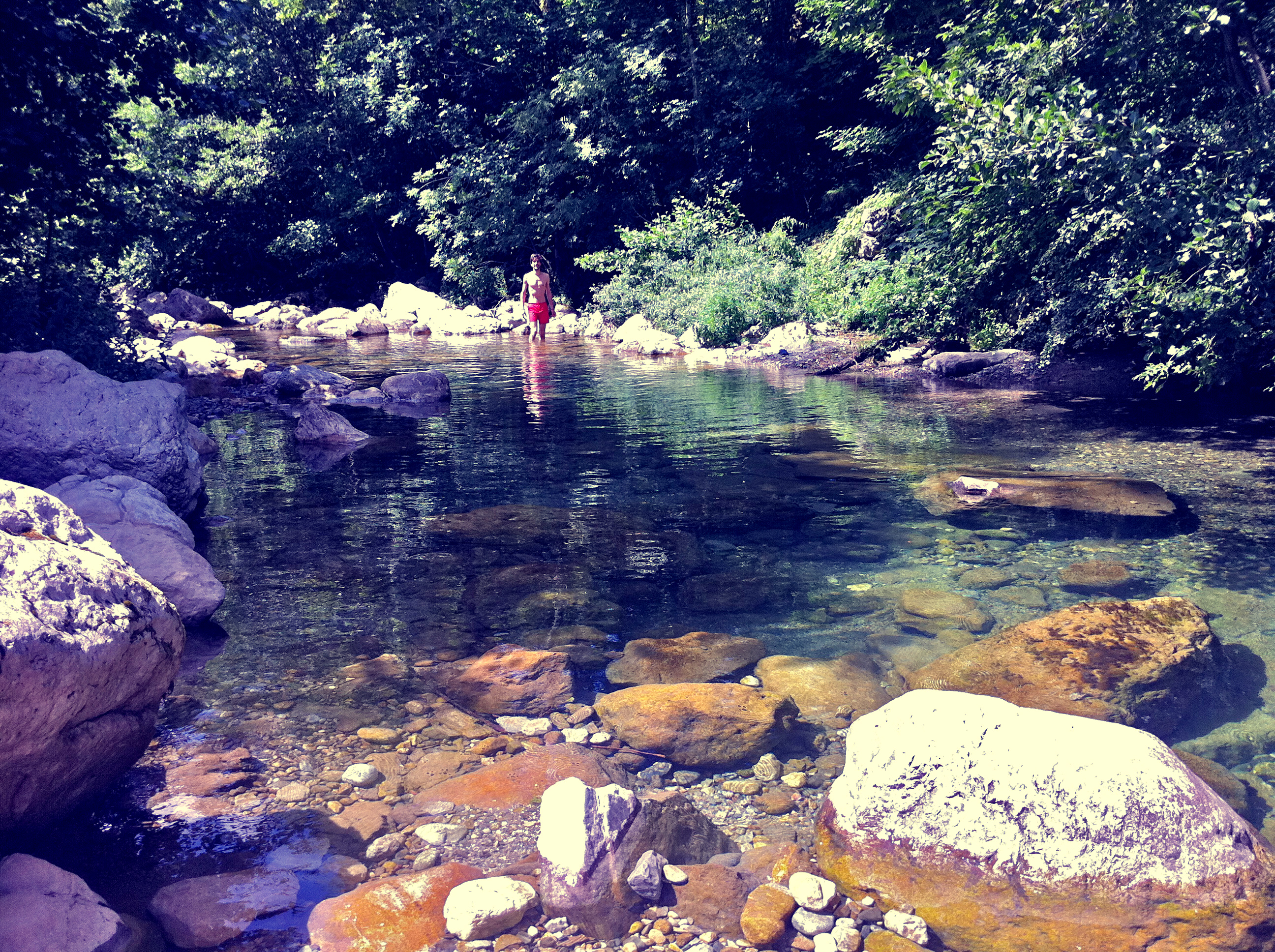 Settled on the little pebbled beach, we peeled off our outer layers, stopping at our bathing suits. As it became clear there was no one around for miles, we stripped down completely. Having left the pocket knife in the car, the two of us began tearing away at our food with our teeth and must have looked positively wild in that moment.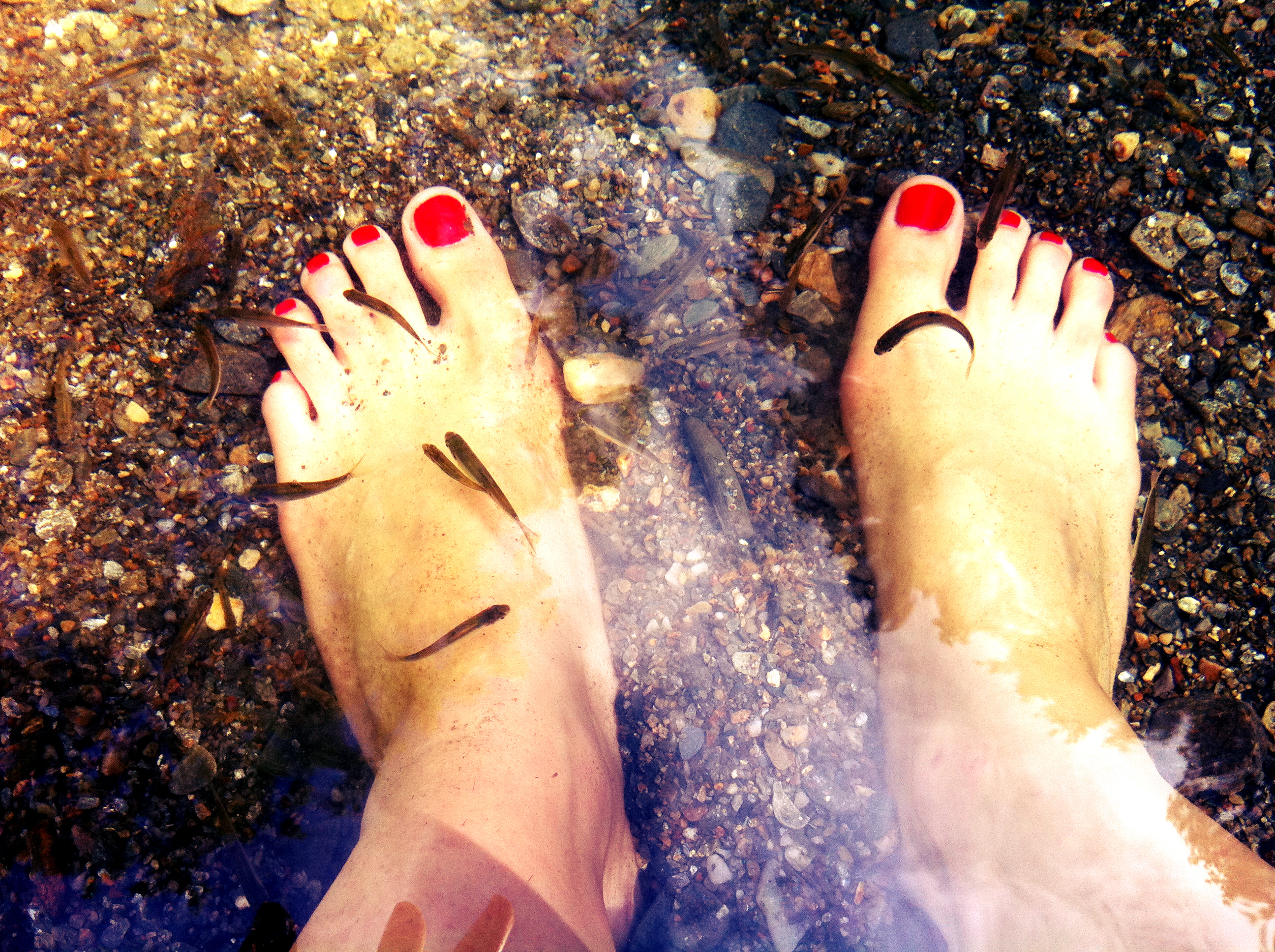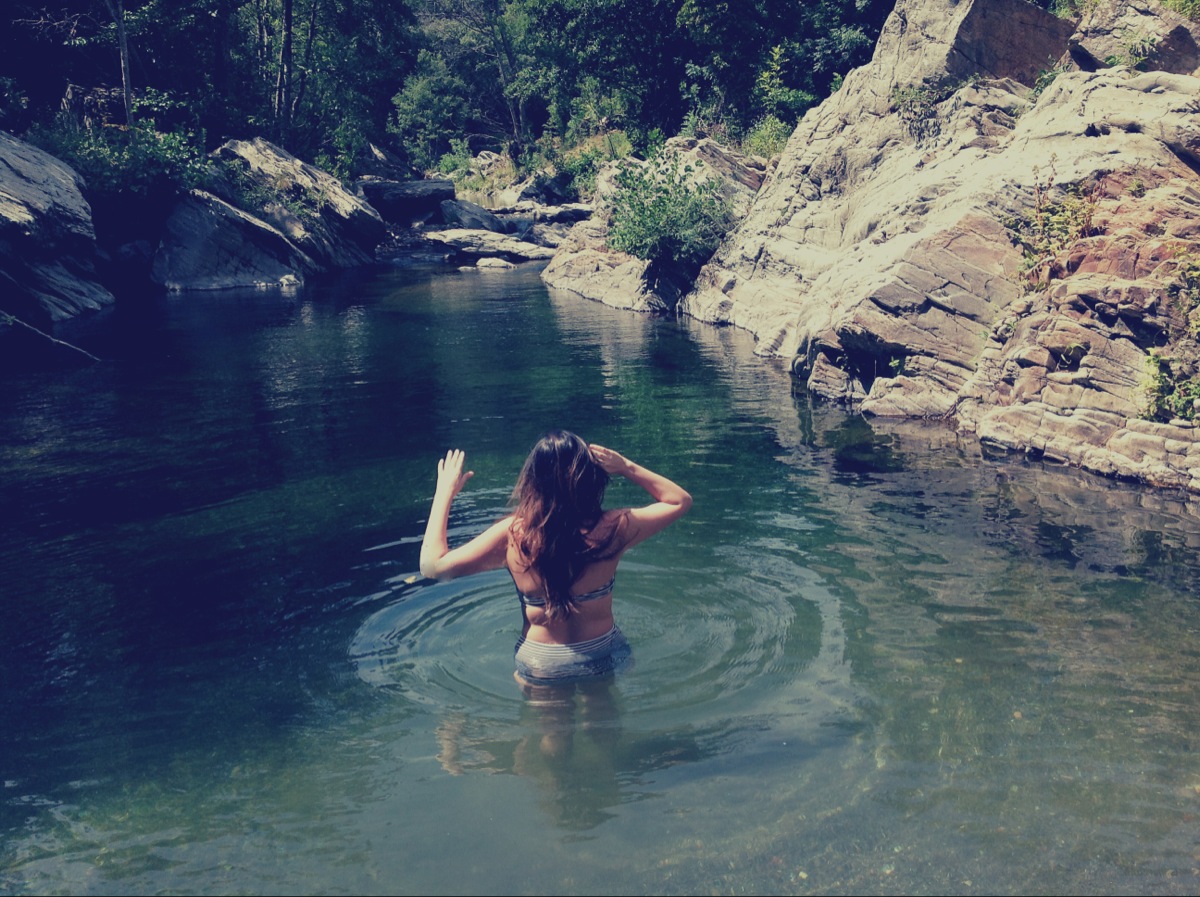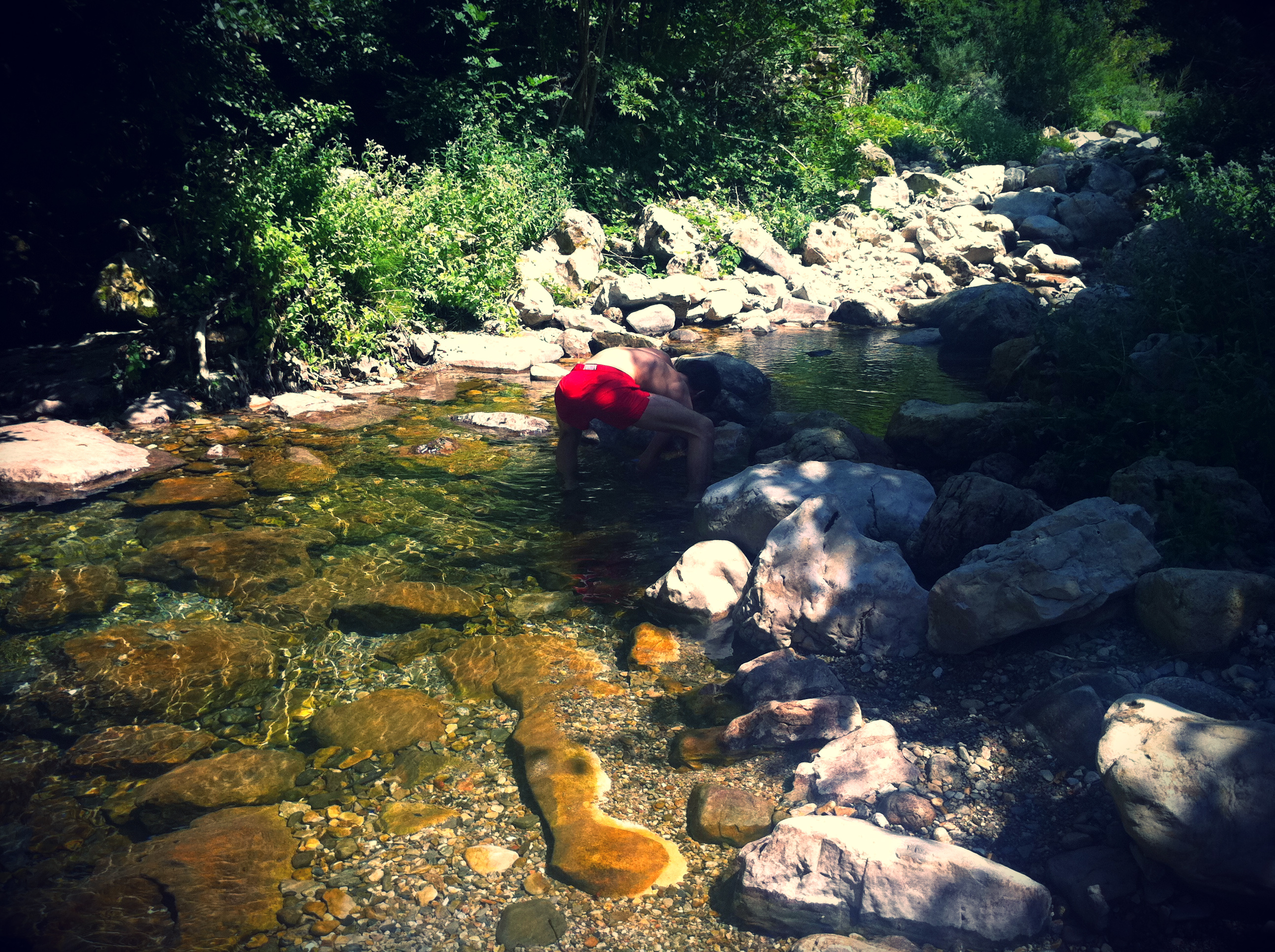 I spent much of the afternoon with my toes in the cool water, stalling and deliberating on whether or not to dive in, as is my way. Alex was obsessively tracking a water snake he had uncovered while looking for trout with his bare hands under rocks– a fishing method his father had taught him as a child. Watching him shoulder deep, ass facing the sun, feeling around for squirmy aquatic life, I decided his new nickname would be l'homme sauvage.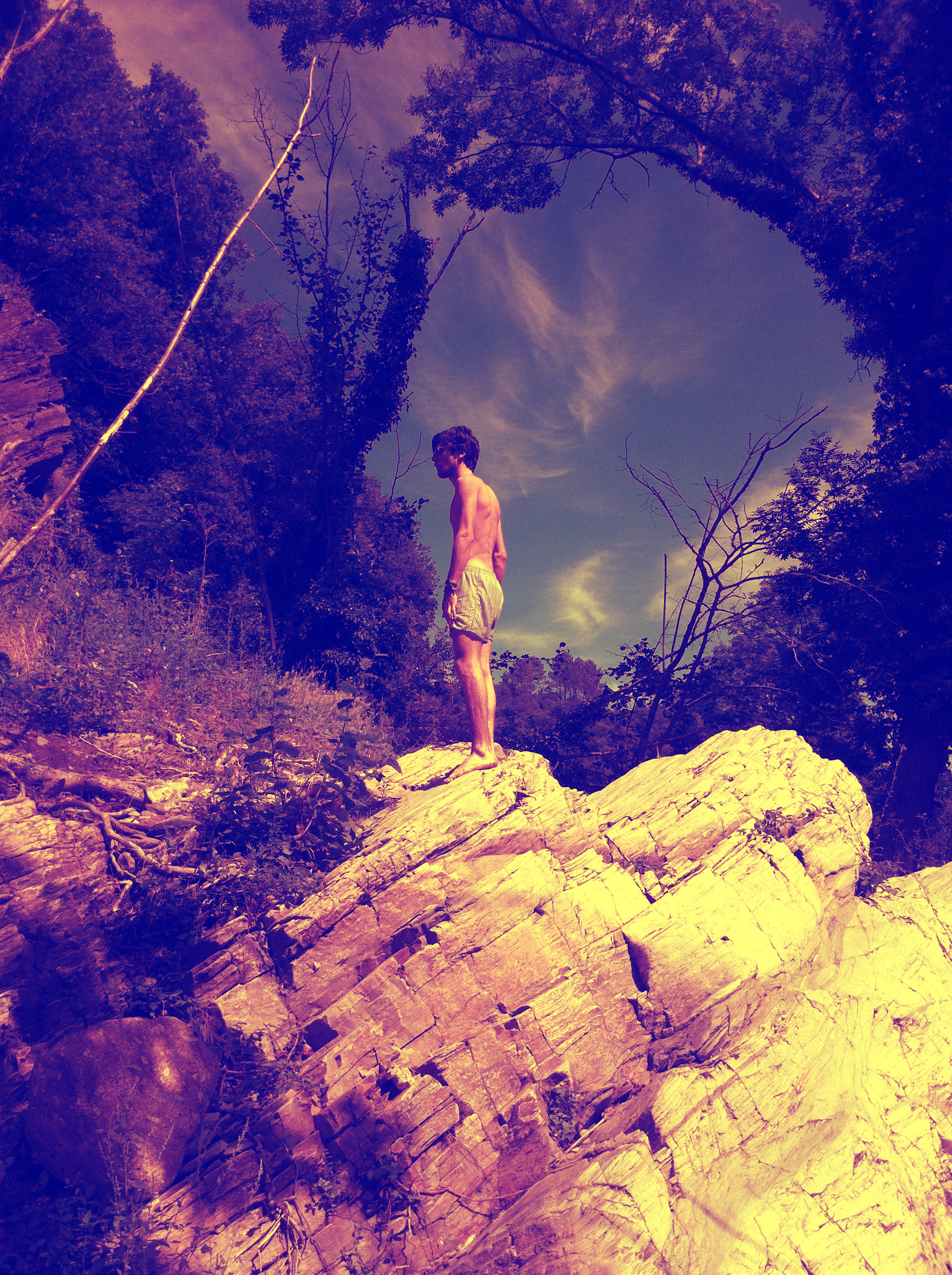 Agreeing to stay another night in the Chateau d'Ayres we liked so much, a room change was in order due to our last minute booking habits. We were moved up to the top floor, most likely the former servants quarters where the rooms were smaller. But we were happy there. It was rustic and more nostalgic. Our window was positioned directly over the corner of the old medieval courtyard where the hotel's resident boxer dogs resided. I tore off pieces from Mami's leftover saucisson and dropped them three stories down into the dog pen where they scooped up the treasure in a flash.
The next morning leaving the hotel, one of the dogs began playfully nipping at my legs as I walked to the car. The young female boxer became increasingly excited and she nipped at me more aggressively, each bite more painful than the previous pass. The hotel owner was mortified when he gained control of the dog but I assured him I was fine. As soon as we drove out of the gates I burst into tears, rather inexplicably. I wasn't sure whether I was crying because I was a dog lover and dog lovers aren't supposed to get bitten, or because I had given them all of the leftover saucisson the night prior, only to find this act of kindness had not solidified our friendship through till morning. Alex concluded it was a bit of both and we drove off back into the thick of the gorges, direction: Provence.