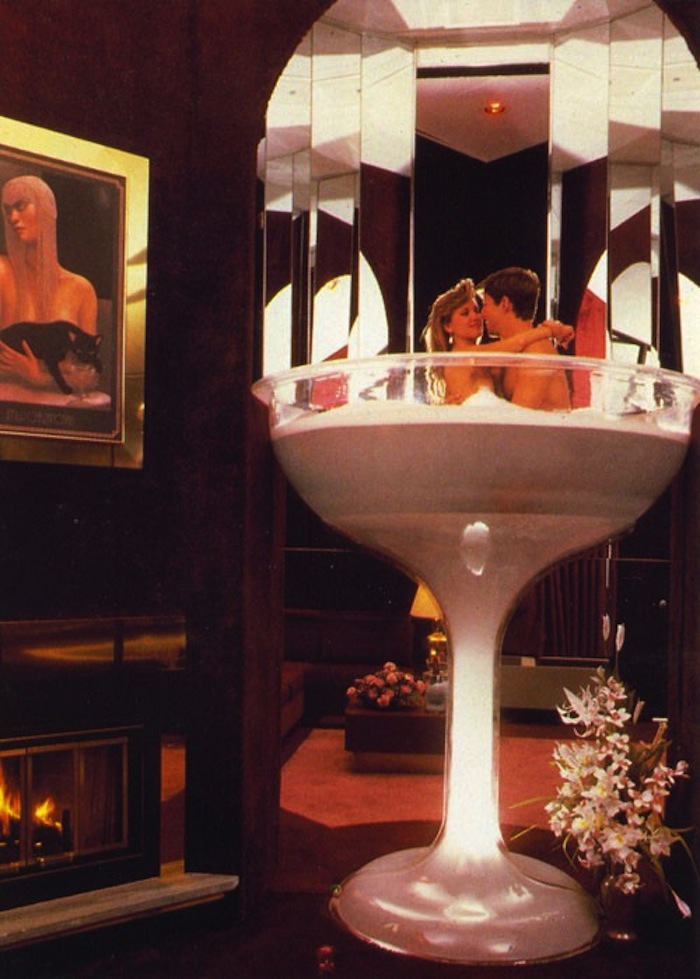 Oh I do love the internet! Today I'd like to welcome you to this neat-o couples resort that boasts honeymoon suites with 7-foot champagne glass whirlpool baths overlooking glass heart-shaped pools. That's right, you could spend that romantic vacation which usually only happens once in your whole entire life … here!
Now I'm not entirely sure whether I want to throw up in that pink champagne glass bath or have a grand ol' time in it but one thing is for sure– you don't see that everyday, at least not since the seventies.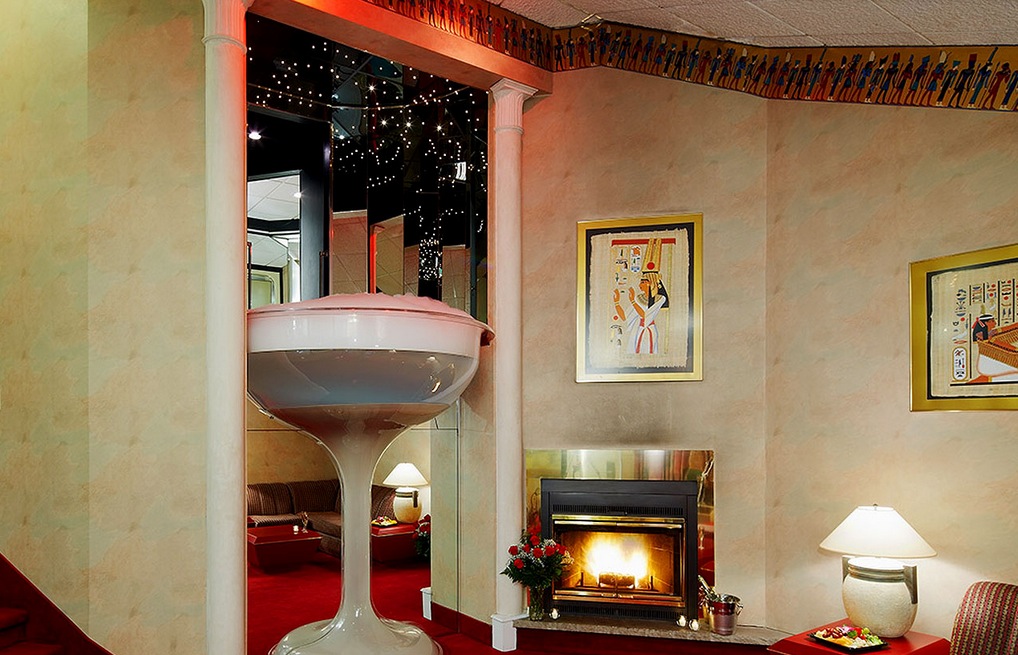 Mr. Morris Wilkins, a former electrician and submariner, who opened one of the first Poconos hotels, actually designed the champagne flute tub himself and was even granted a patent on it.
It was said that "Morris Wilkins has done more for romance than a box of chocolates."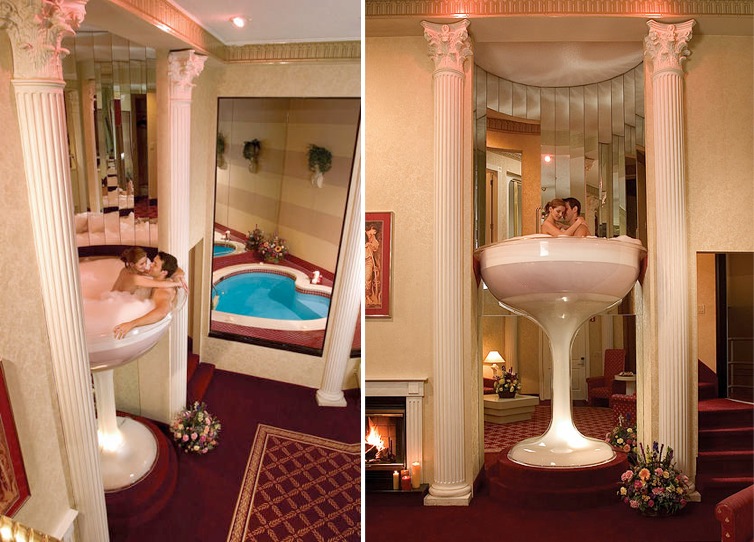 Pocono Palace (so kitsch), is located near Marshall Creek in Pennsylvannia and if I never had a reason to visit the area, I sure do now!
We're looking at the Roman Tower suite, "Cove Haven Entertainment Resorts' ultimate triumph and most luxurious accommodation … designed in a Grand Roman theme with floor to ceiling columns, stunning arches, vaulted ceilings… " bla bla bla.
If you think the Roman theme is a little passé for your taste however, you could opt for the way less tacky Egyptian-themed Cleopatra Champagne Tower suites, complete with "cozy log-burning fireplace".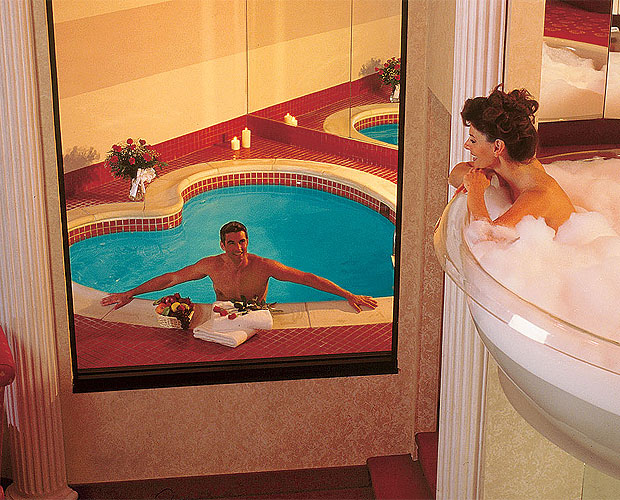 Or perhaps the Garden of Eden Apple suits is more to your taste, complete with heart-shaped whirlpool. (Mr. Morris Wilkins also designed the heart-shaped tub but failed to get a patent on it. It proceeded to become a fixture of hotel love nests everywhere).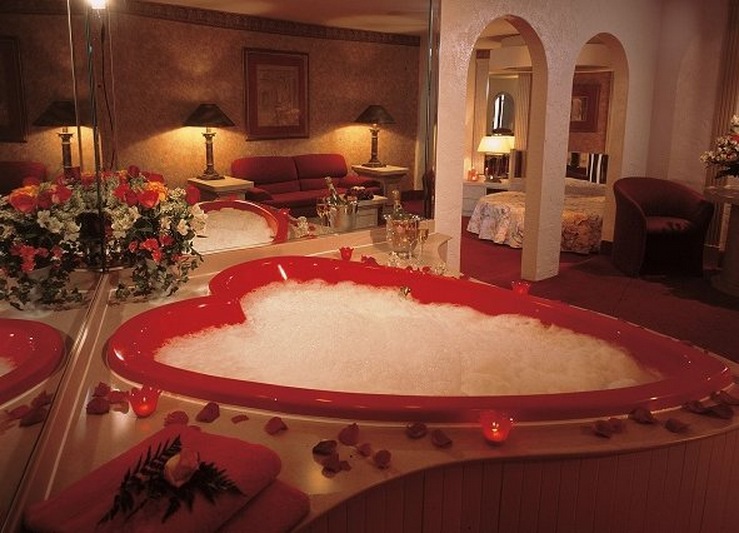 Cove Haven is actually one of the last remaining Poconos resorts. Many are now abandoned, leaving behind empty heart-shaped tubs that once lured honeymooners when kitschy and sexy went hand in hand.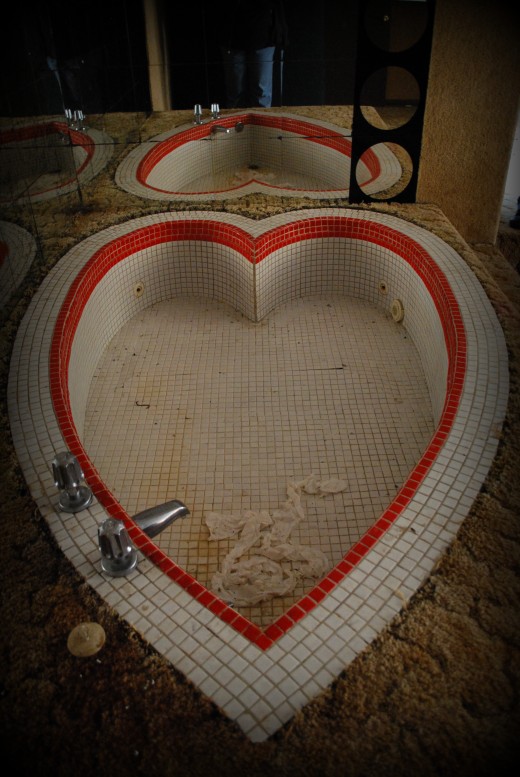 When I could finally tear myself away from the website's semi-erotic photo gallery, I also discovered that if you stay more than three times at the Pocono Palace or any of it's sister resorts, you can automatically become a member of the Forever Lovers Club– because 'great love deserves great rewards' (such as bath time in a 7-foot champagne glass).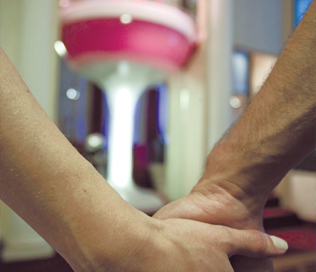 Seriously, I don't know if I'm making fun of this place or if I actually want to bathe in the hideous glow of that giant cocktail fountain thingy. [Shrug] Could be fun.