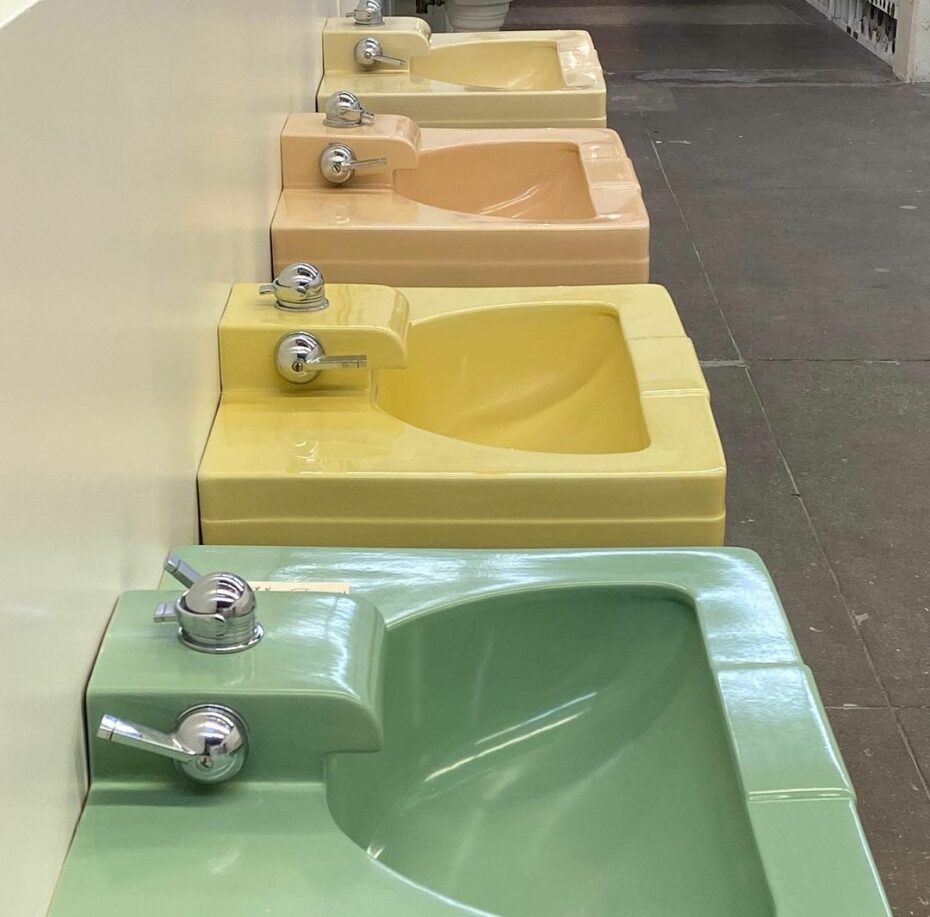 I came across some gorgeous vintage sinks on the gram and got to thinking about American bath ware. All too often overshadowed by Europe's long history of artisanal and design talent, we forget that American design is largely responsible for the transformation of the home bathroom. So grab a luffa, throw on some slippers and a fluffy robe and consider this our ode to the "golden age" of American bathroom design…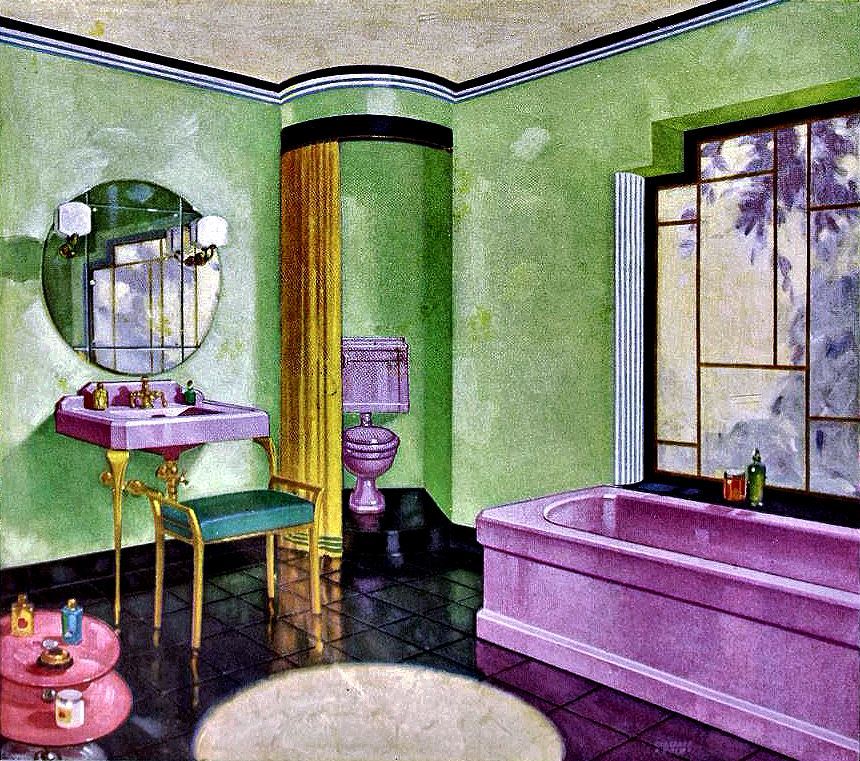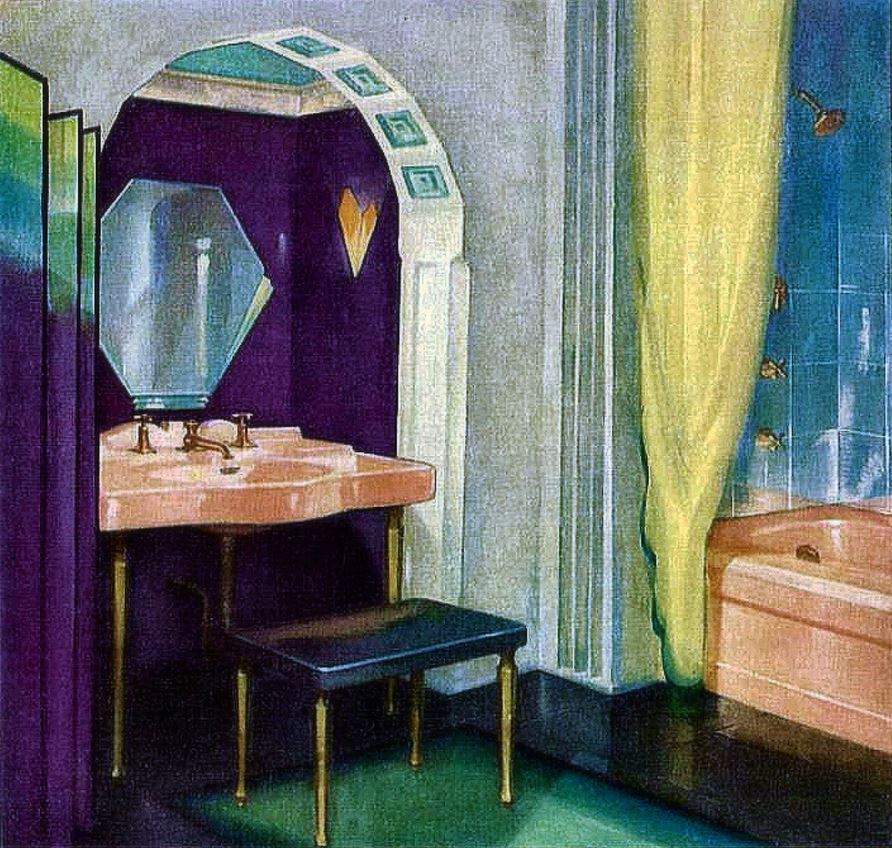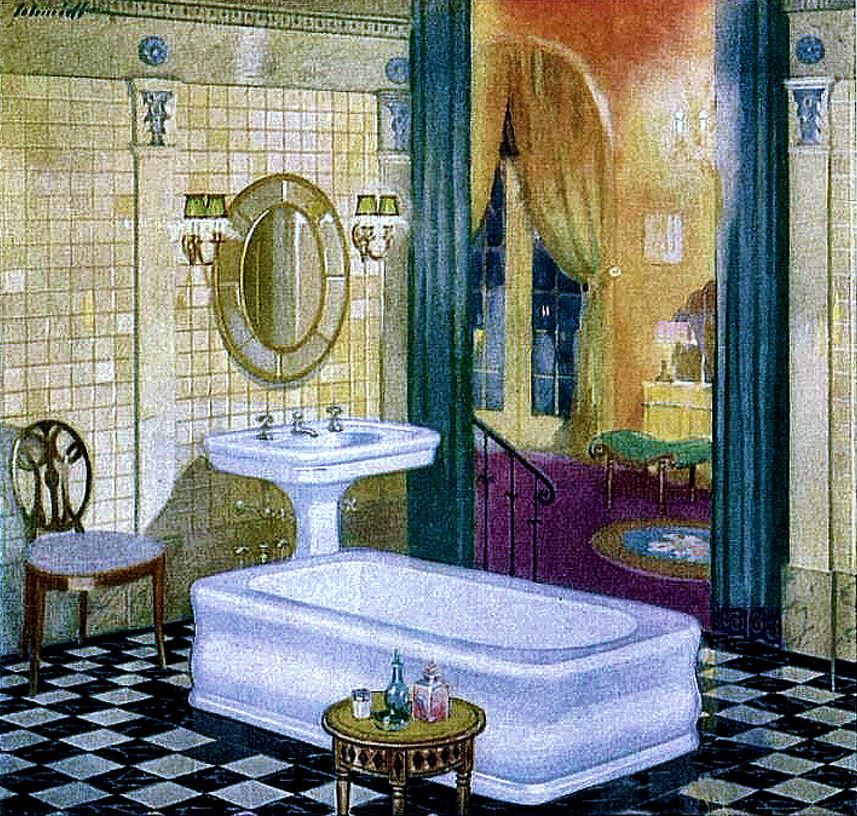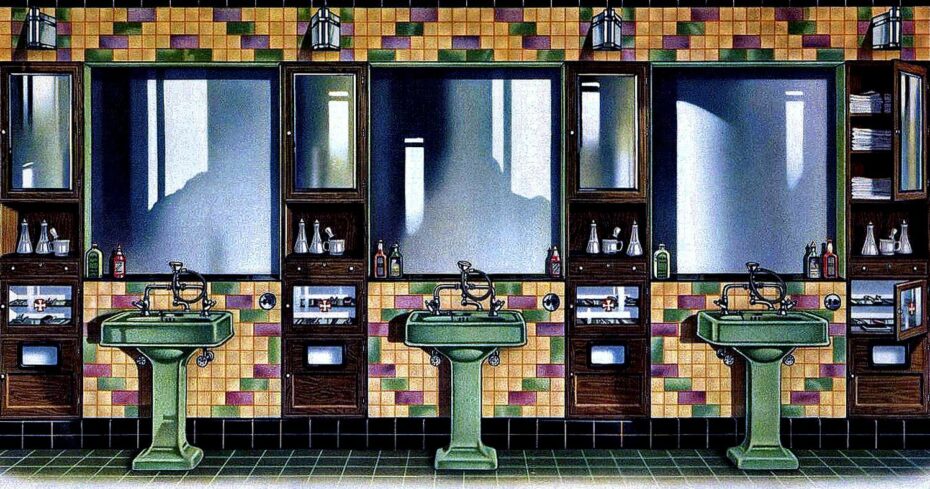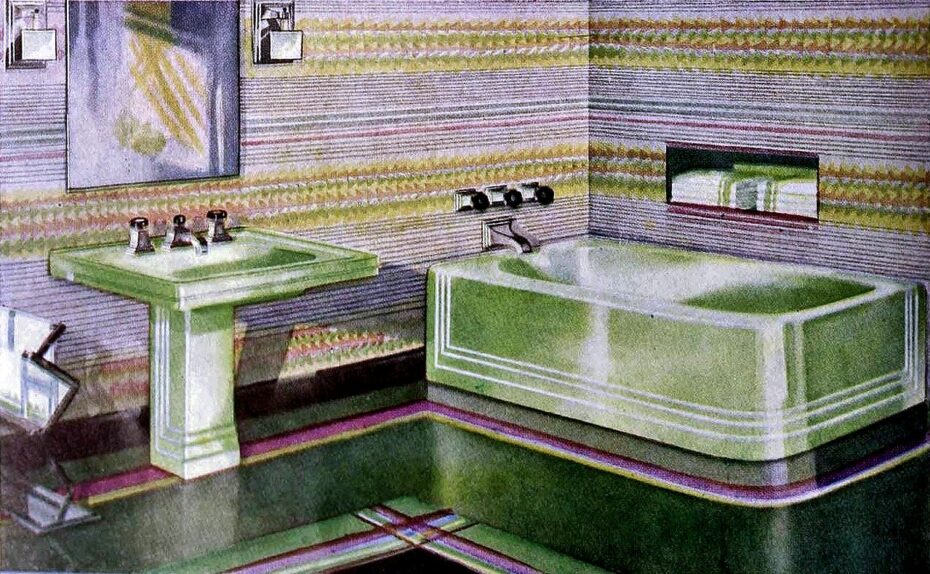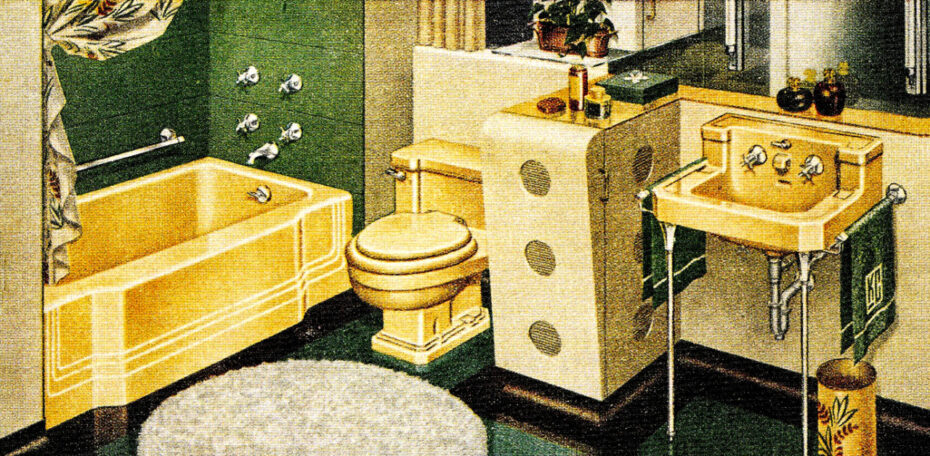 The world's first bathroom showroom was created in England in 1870 by Thomas Crapper (the fact that his name was "Crapper" is just an unfortunate coincidence), who helped perfect the modern toilet. Even though he didn't invent the toilet, he created a "try before you buy" concept for customers at a time when the average household didn't yet have private bathroom facilities, showing the public what it might be like to have a flushable toilet in one's home. Before that, merely talking about toilet facilities was a faux pas in polite society.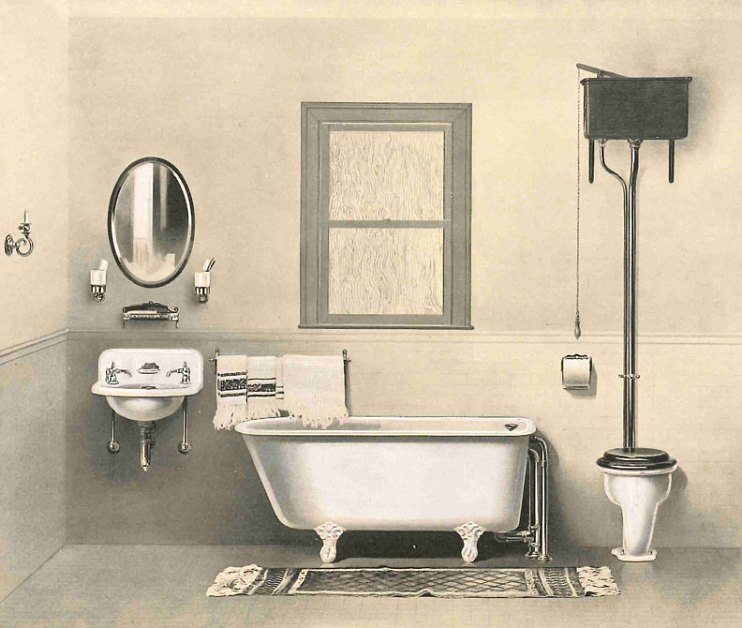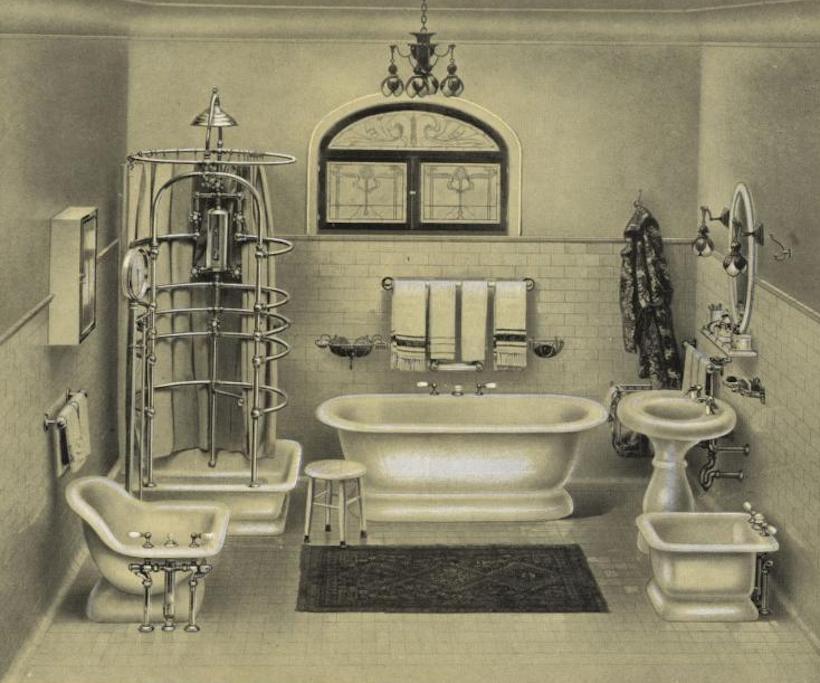 Even if bathrooms and toilets were becoming popular indoor luxuries, they weren't really a requirement for another several decades and when Crapper was bringing toilets into popularity, the concept of design for was decidedly … dull. It wasn't until the 1920s that American manufacturers started introducing the familiar modern comforts and decorative trimmings found in the bathrooms we know and use every day.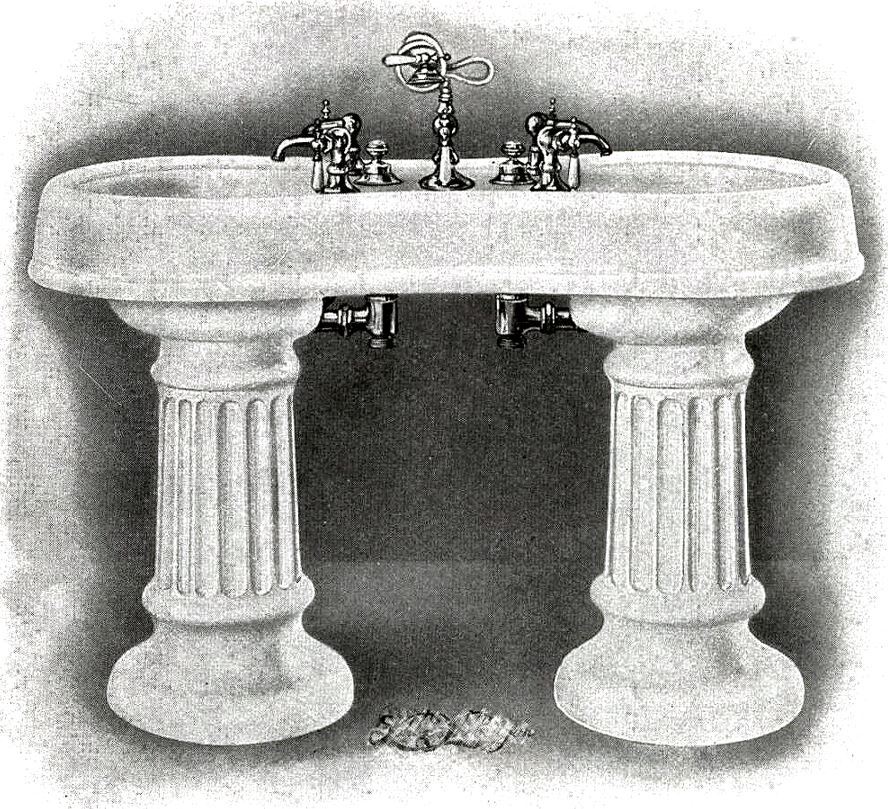 Many bathrooms of the early 20th century were a sober affair; white and built for utility, lacking frills. They often had a toilet, a standing tub, and a sink but they weren't colourful and decorative. The 1920's through the 1940's saw bold uses of colour with unique light fixtures and tiles, some of which were imported. In came unique uses of shapes and lines or decorations making for a rather decorated space in comparison to the bathrooms of the 1910's.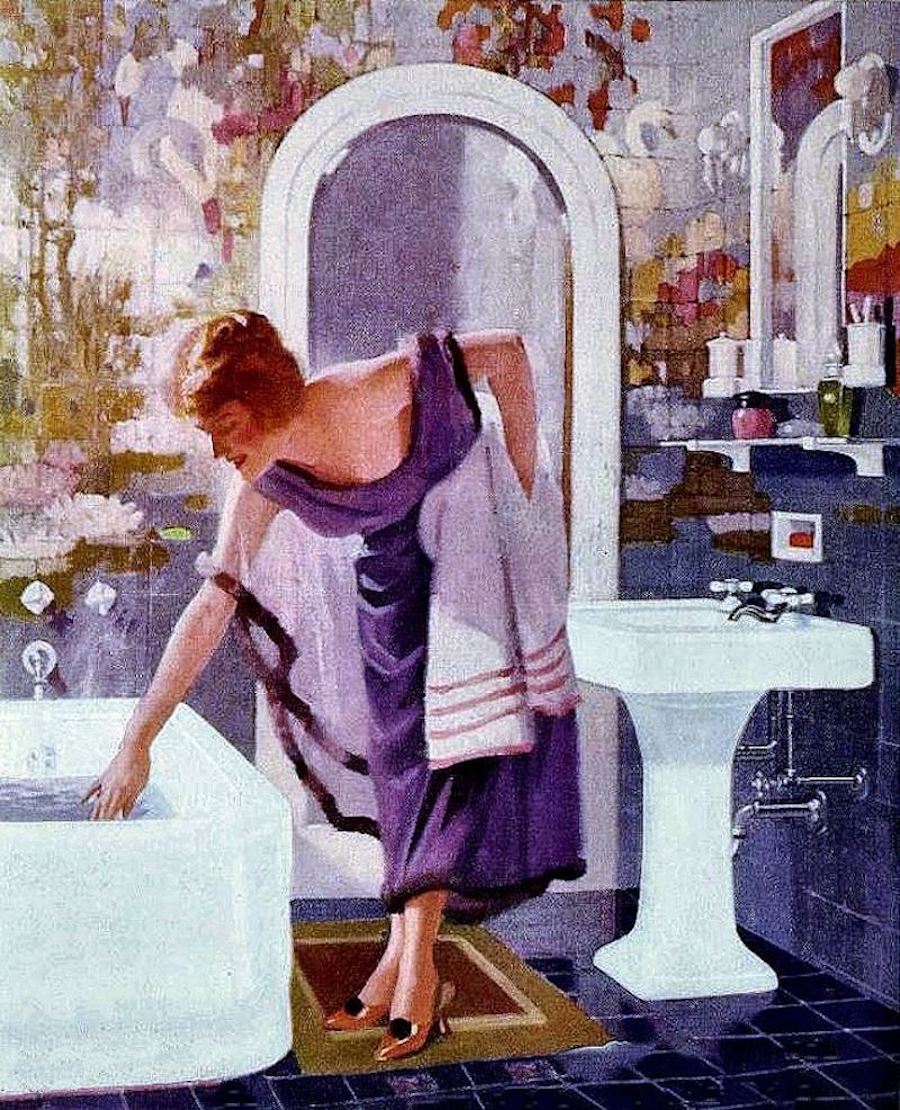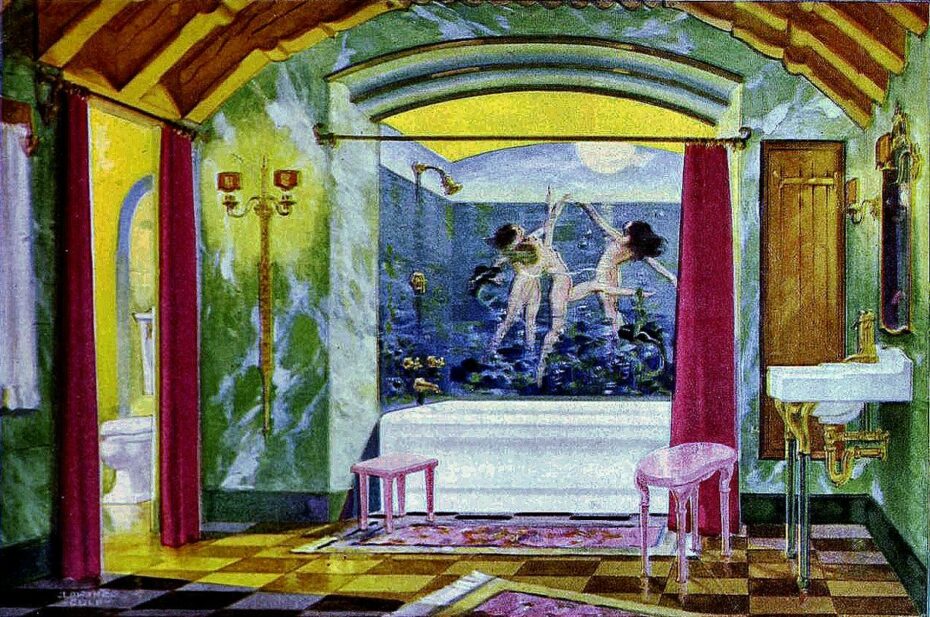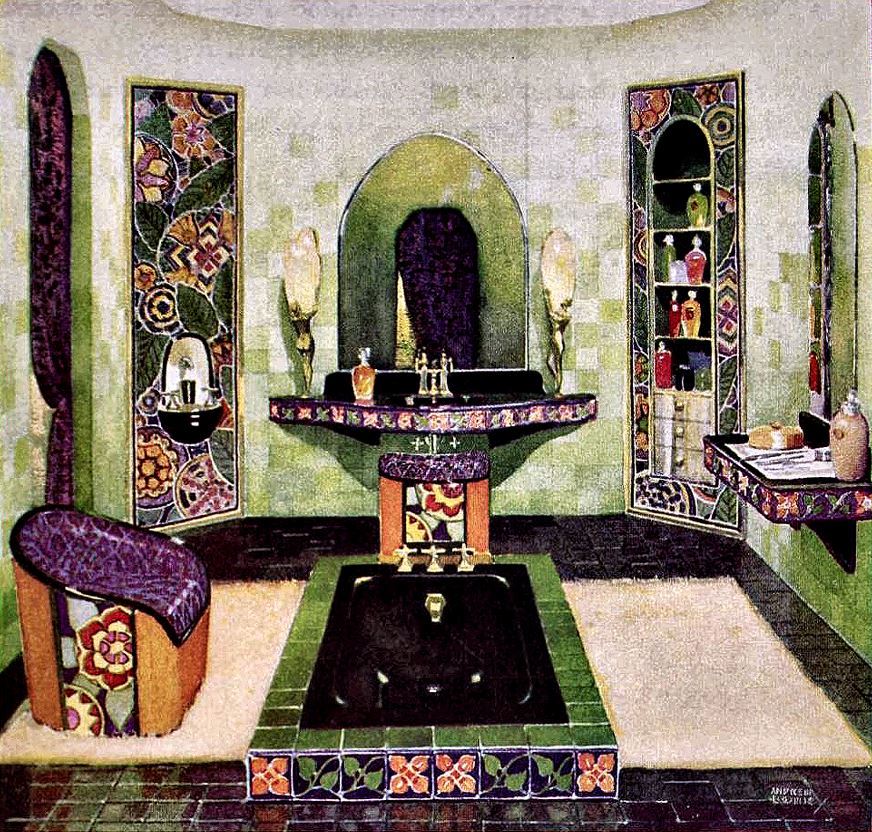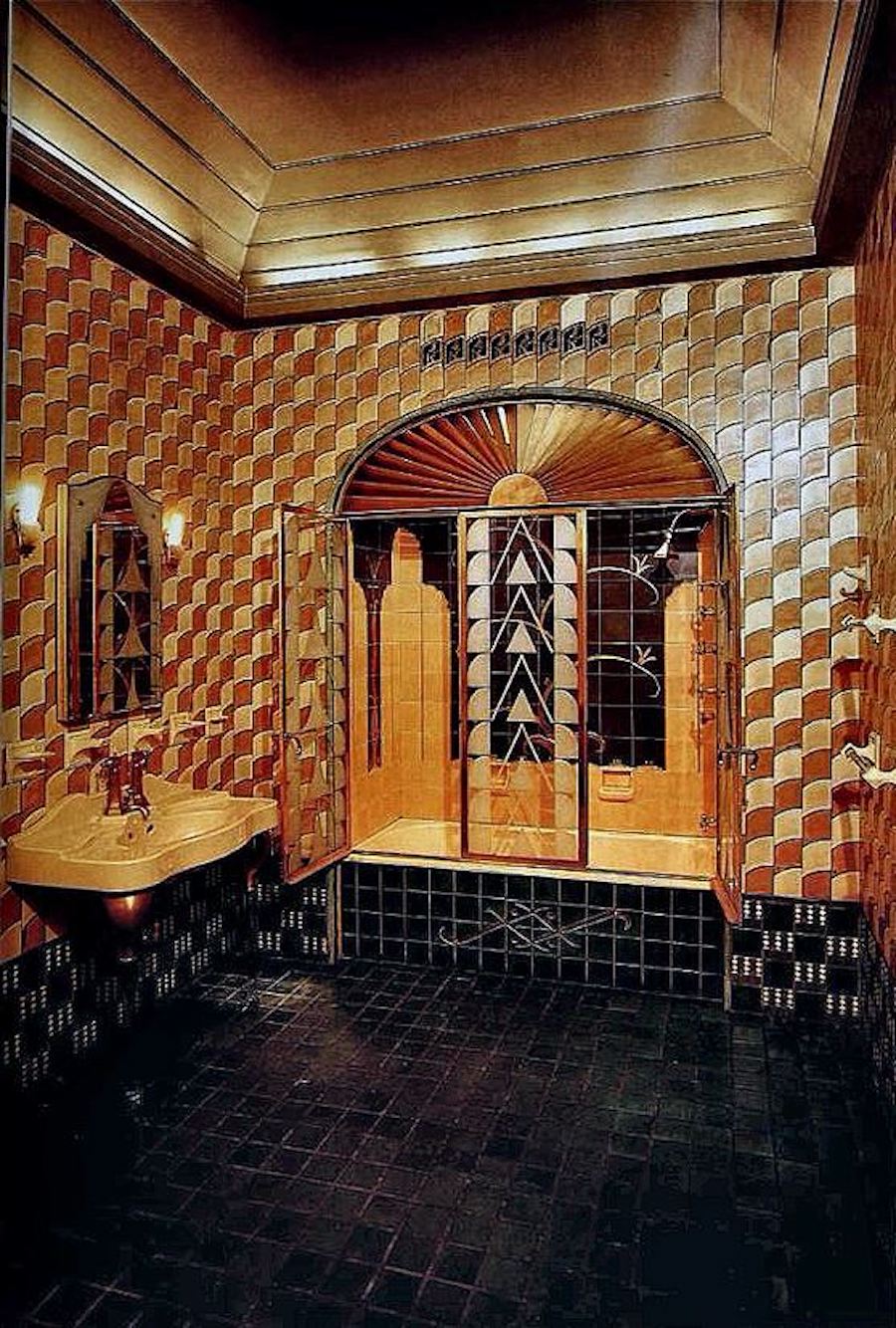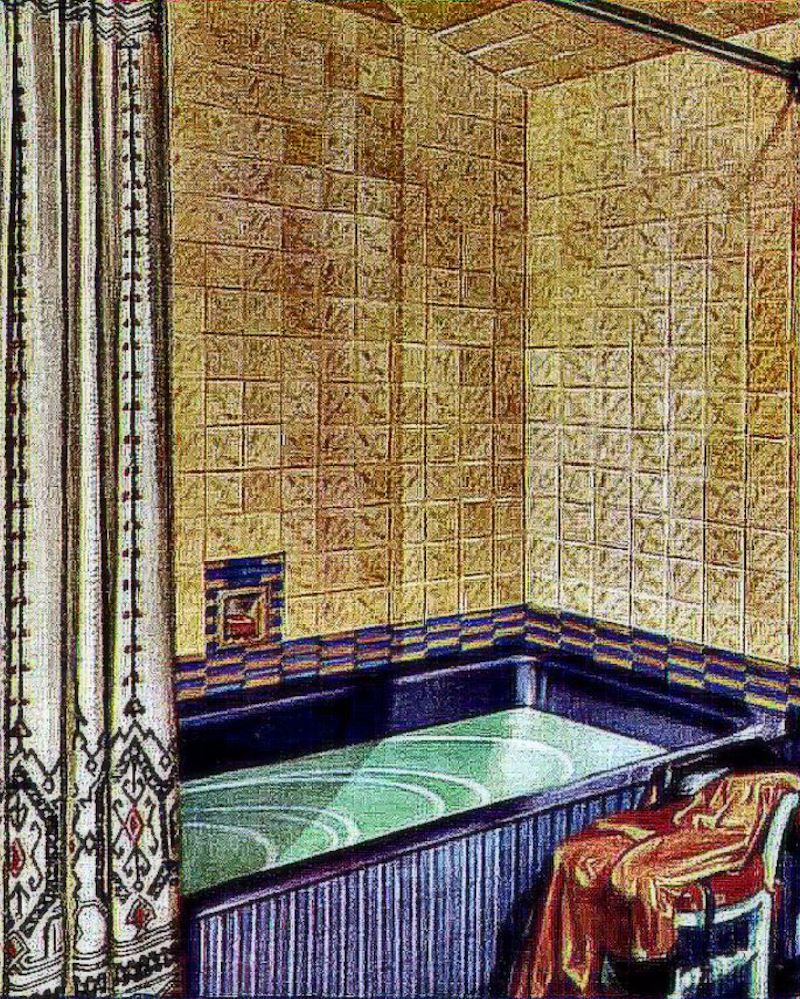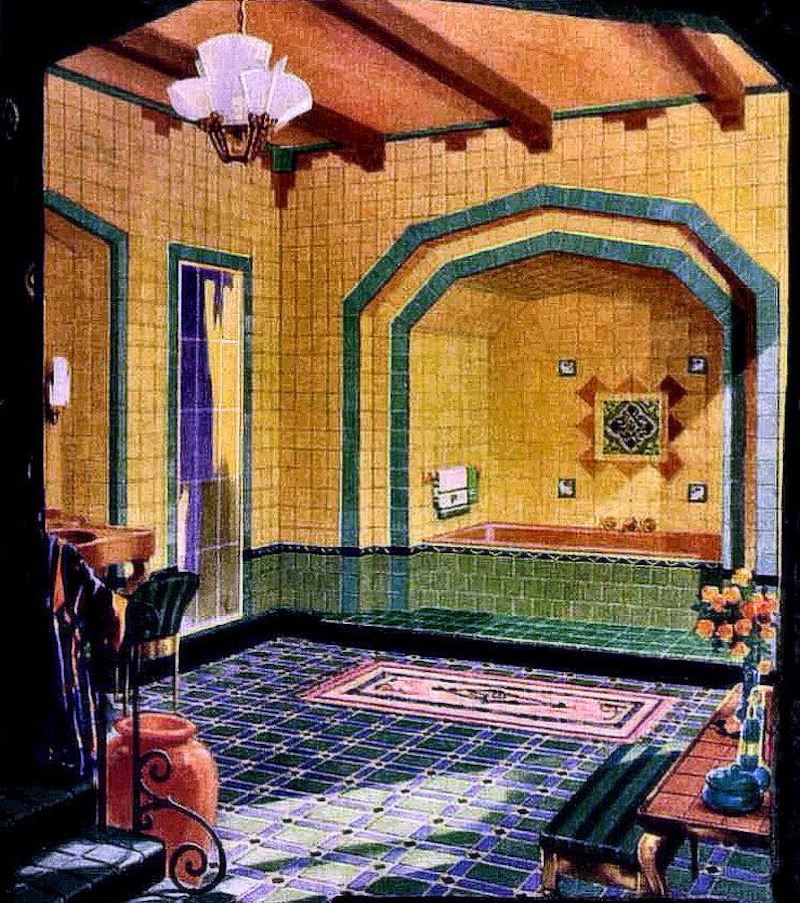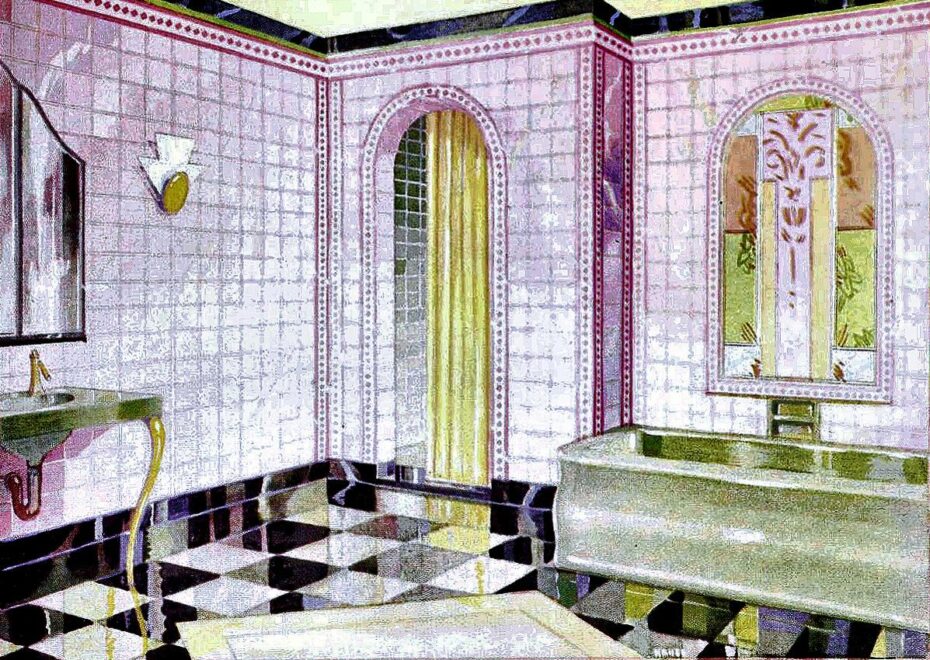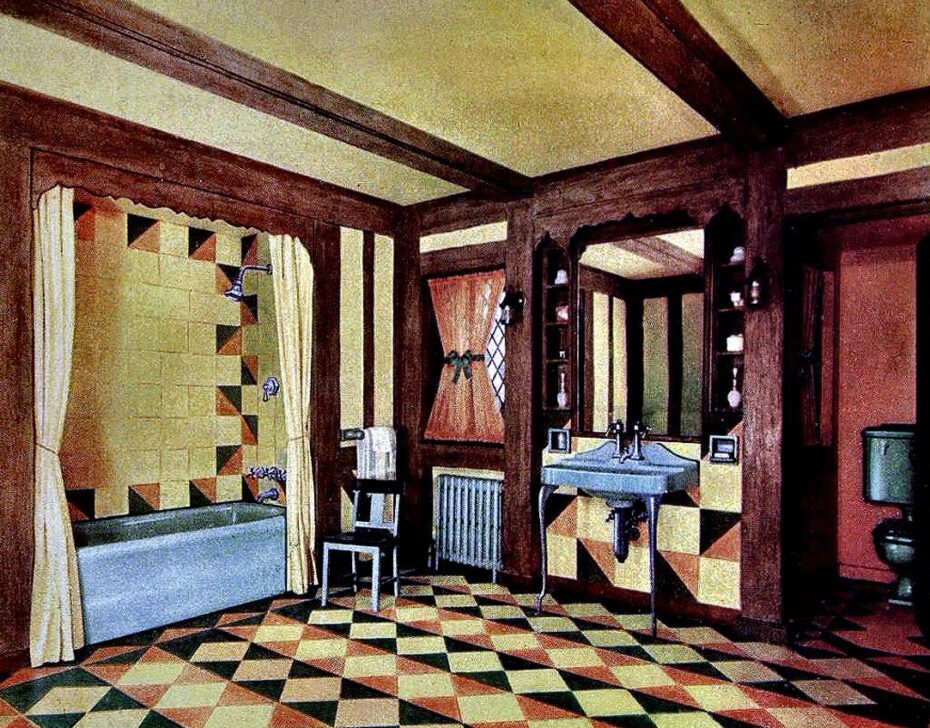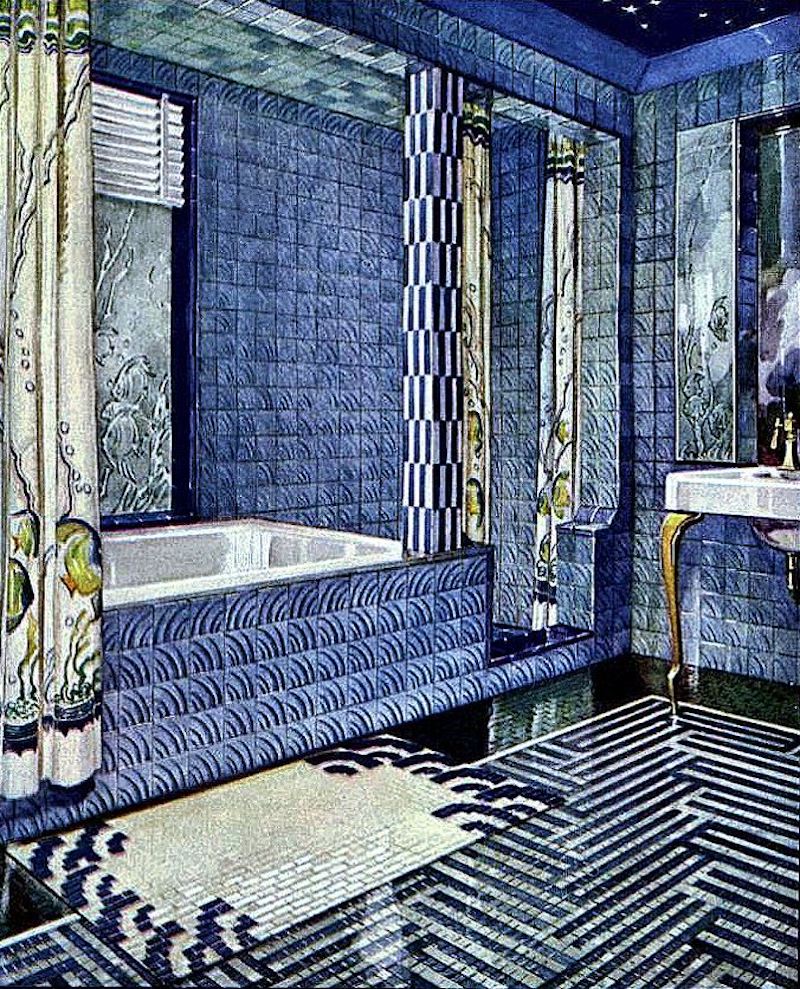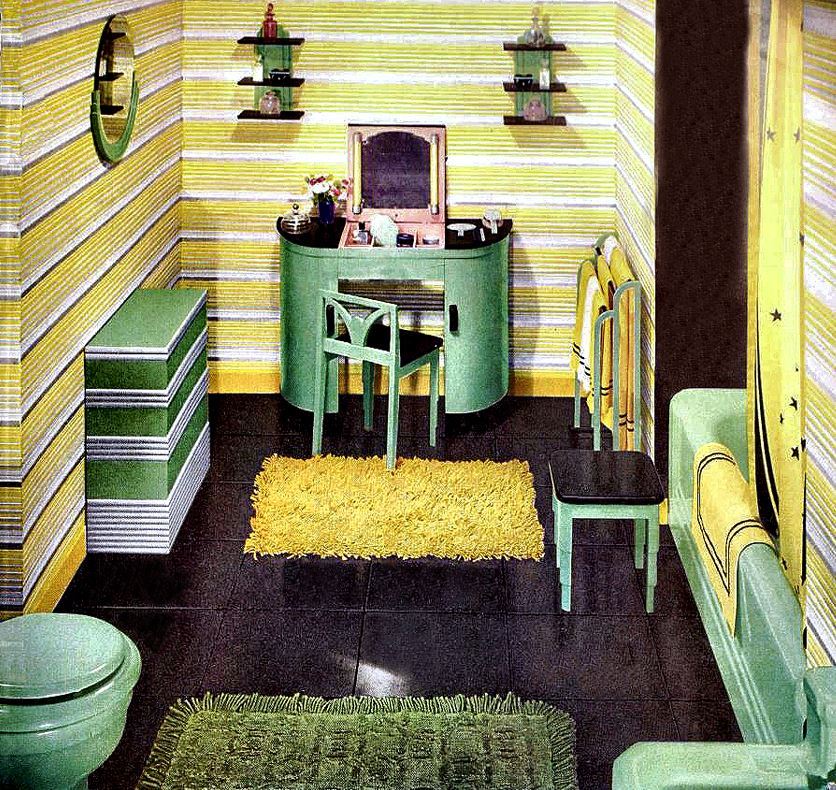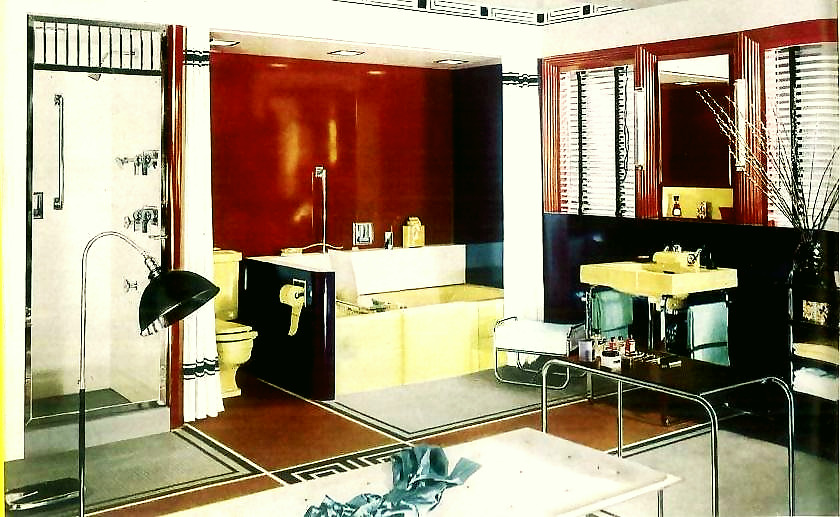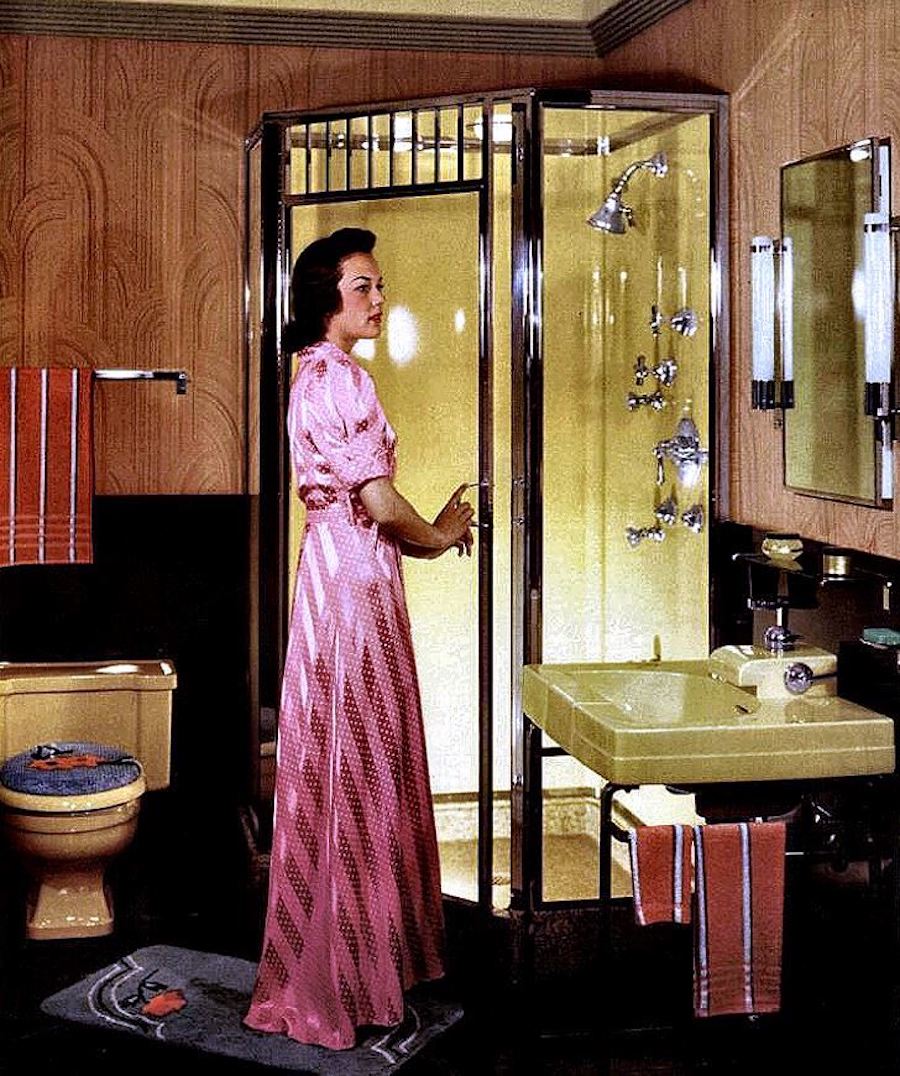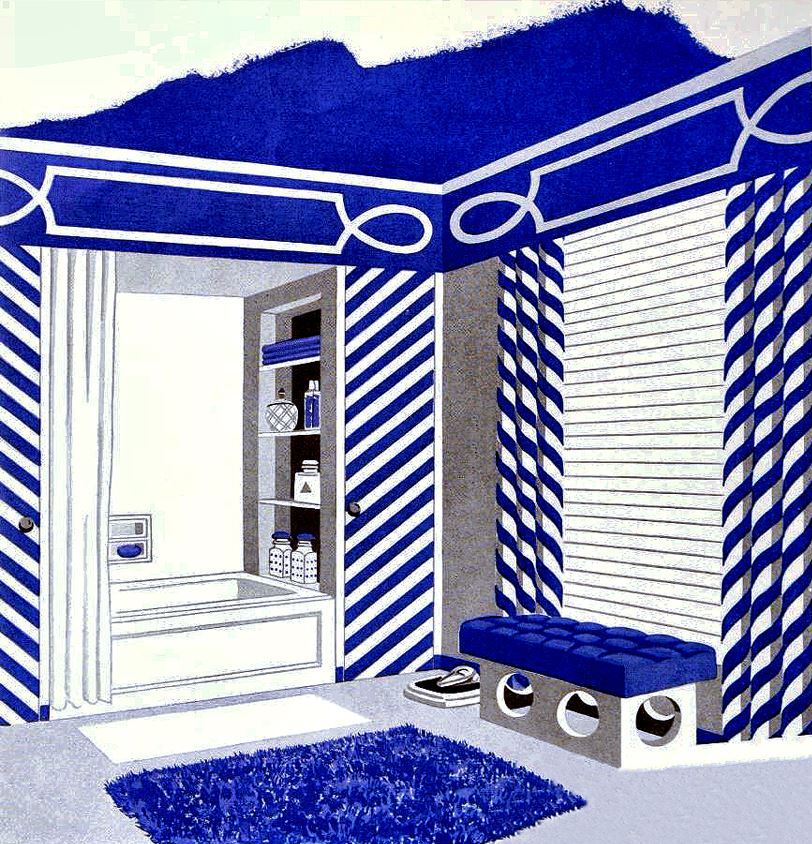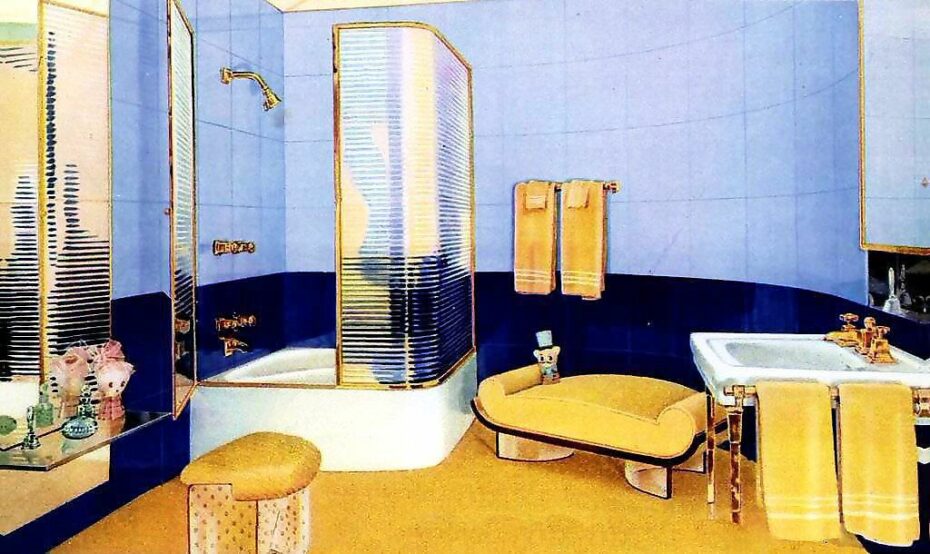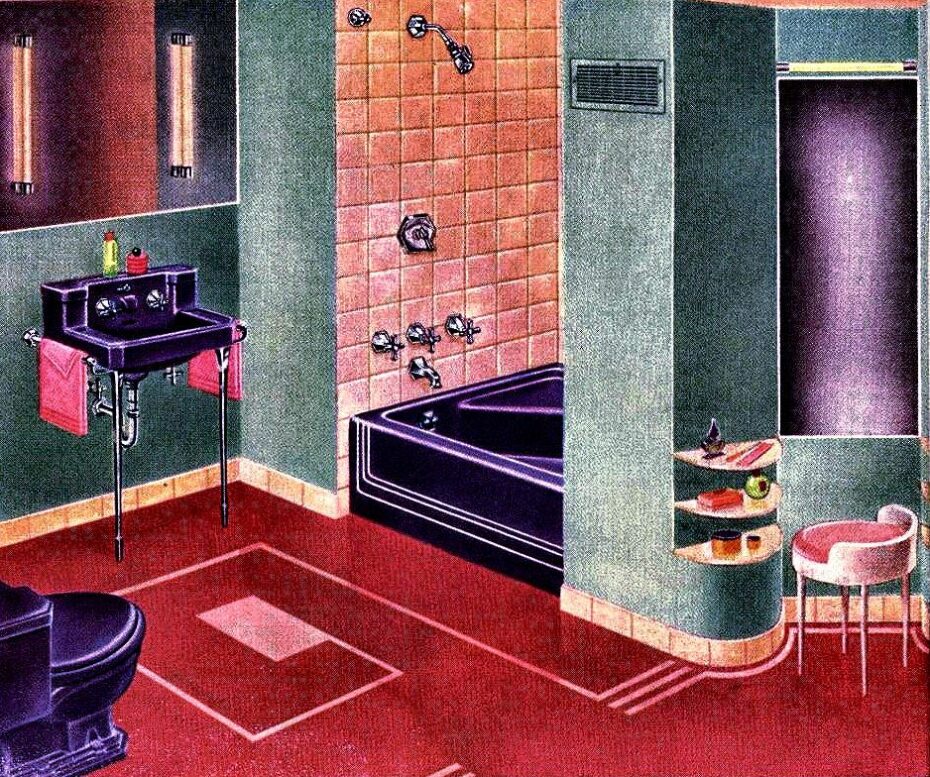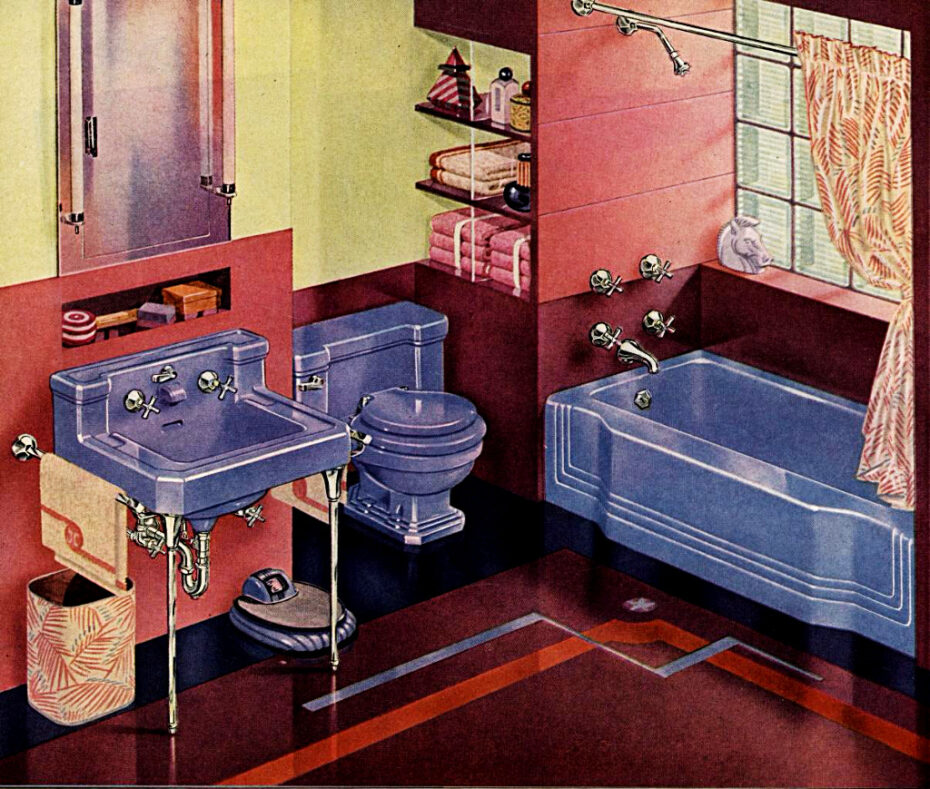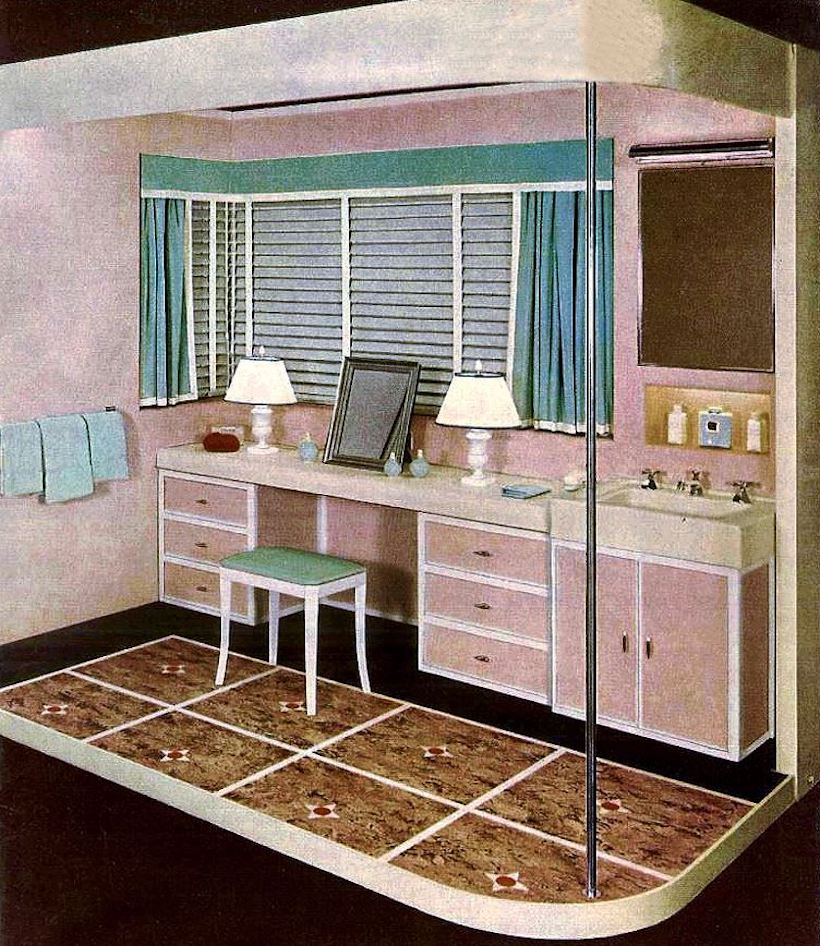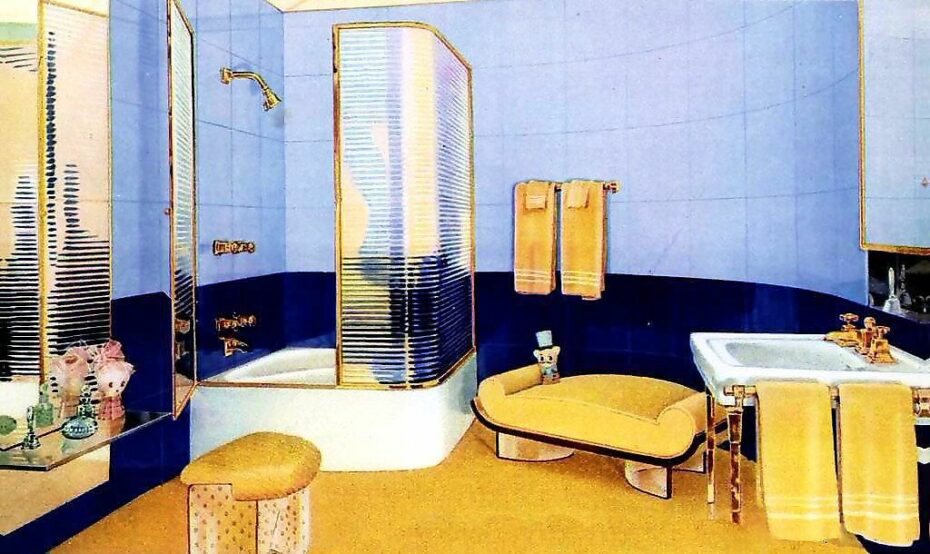 Post WWll, the United States experienced bouts of growth and prosperity, making it possible for American suburbia to build out of excess. This was a means of status. Guest bathrooms, kids bathrooms, a bathroom for one parent, and another for the other.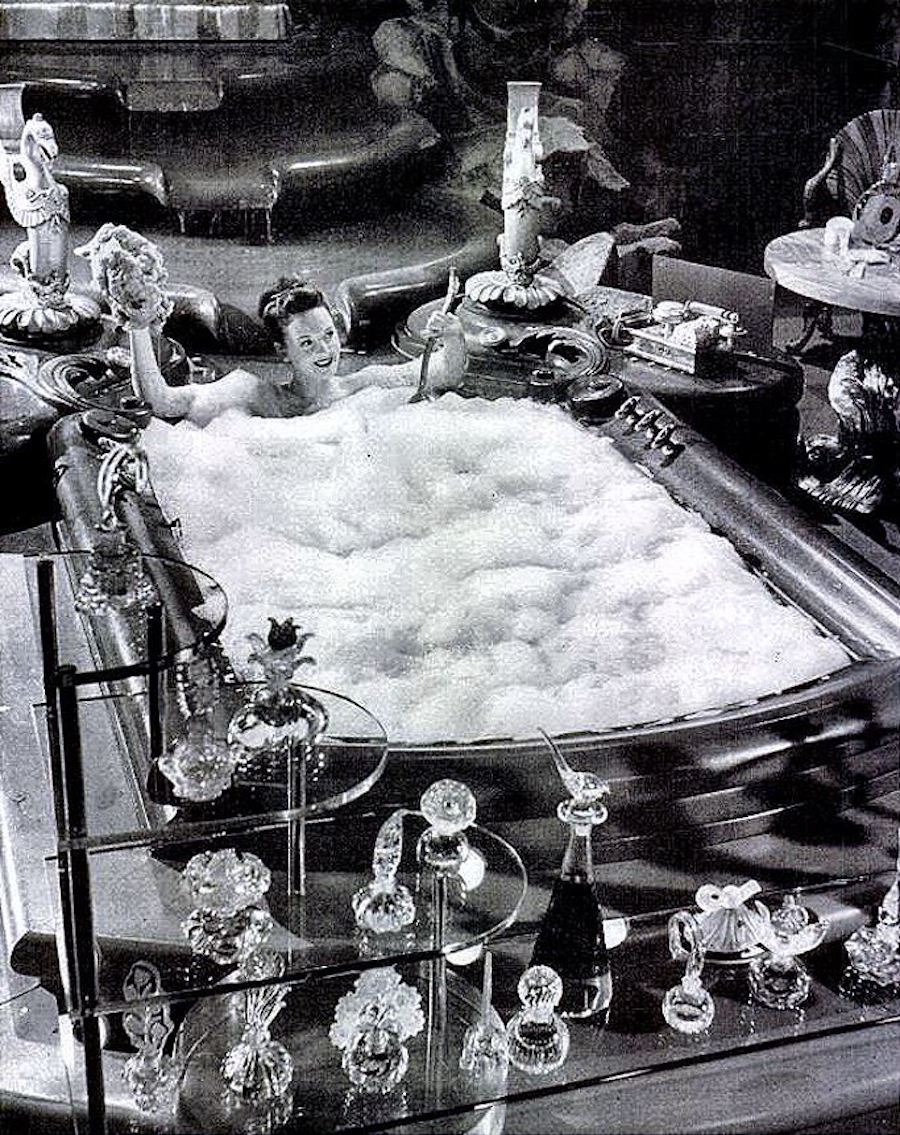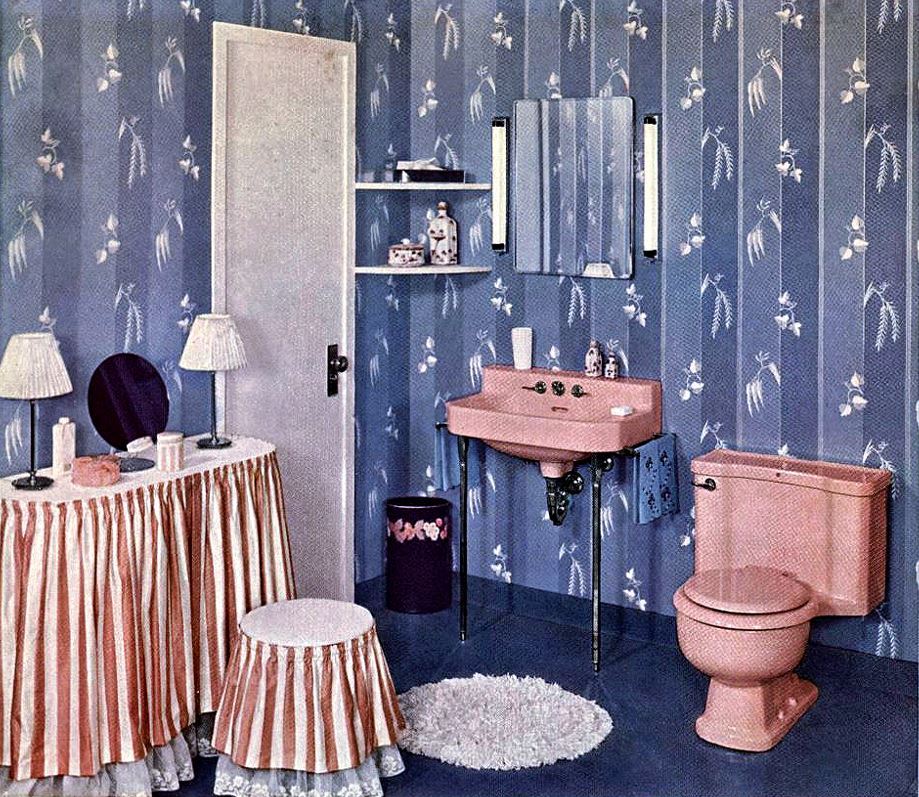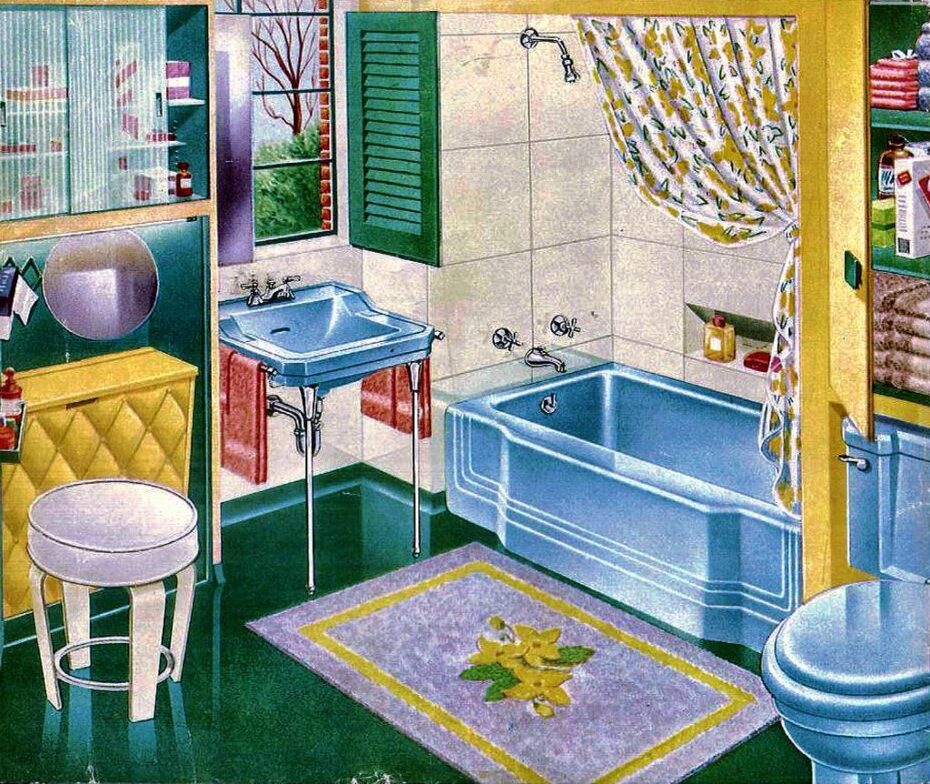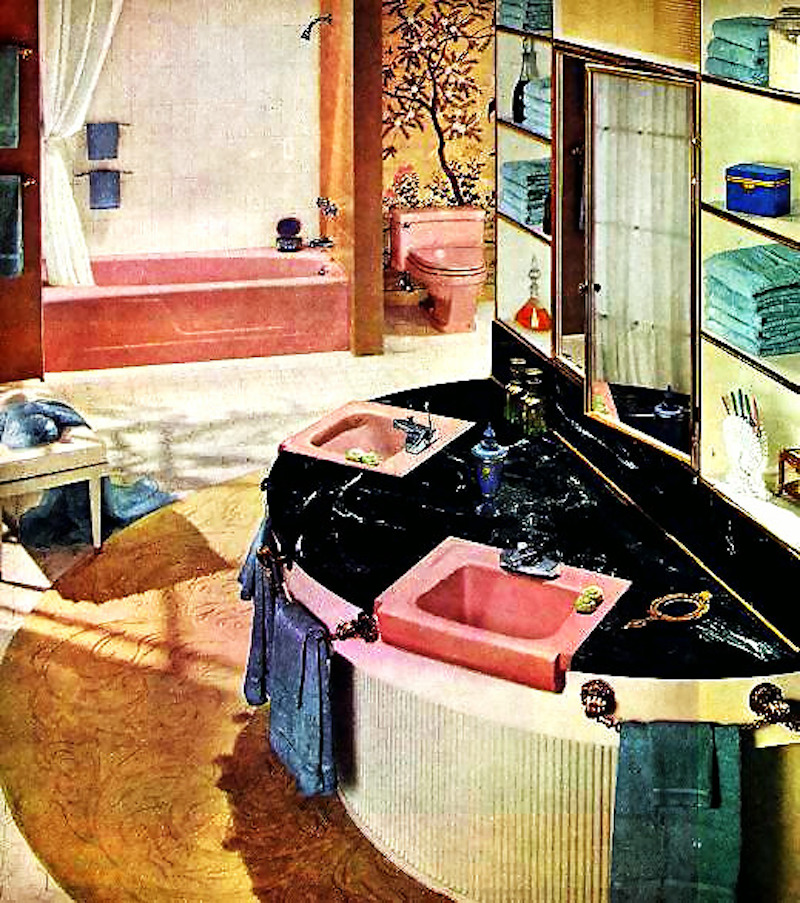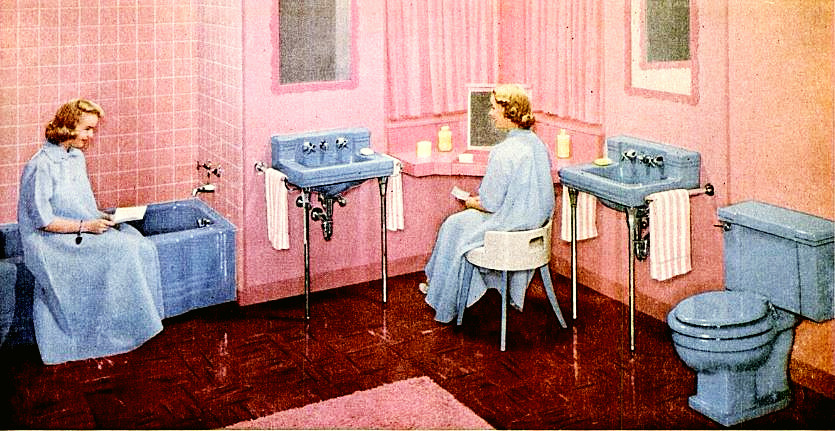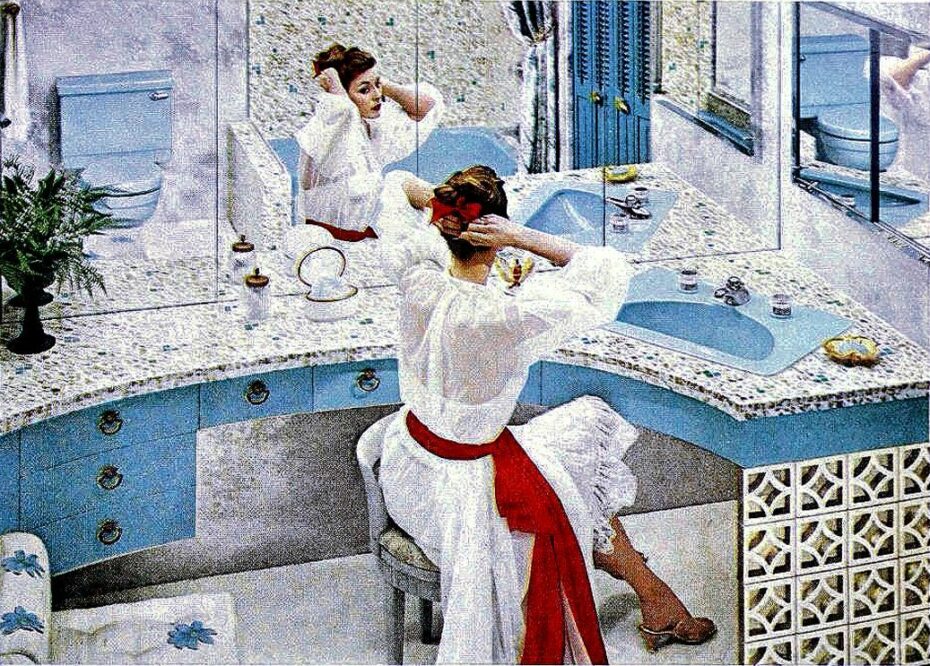 We largely have the Americans to thank for the beautiful bathroom in truth because American homes typically had more space. Derek Thompson for the Atlantic writes, "The typical new single-family house in the U.S. is twice the size of the average urban or suburban dwelling in the European Union — more than 2,000 square feet versus approximately 1,000 square feet. Compared with their overseas peers, Americans simply have more space to wash up."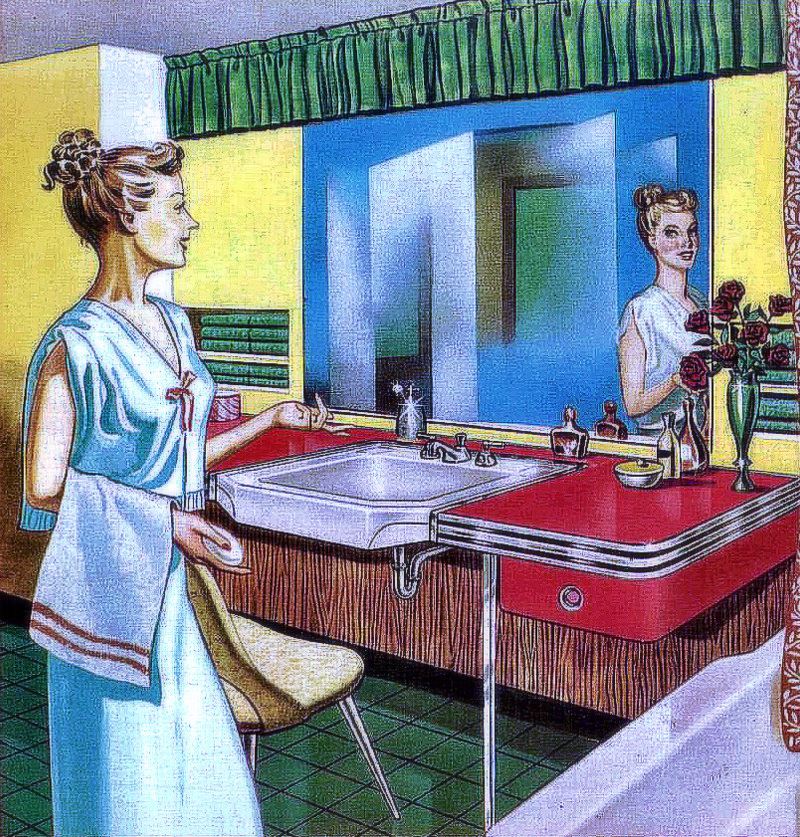 The 1960's-70's saw a 1920's like boom and a decorative 'sweet spot' once again – a celebration of over the top style and bold washes of colour. Use of tile, stone, and marble became in Vogue alongside an exuberant amount of mirrors on walls, sunken tubs, earth tones, and even shag carpeting.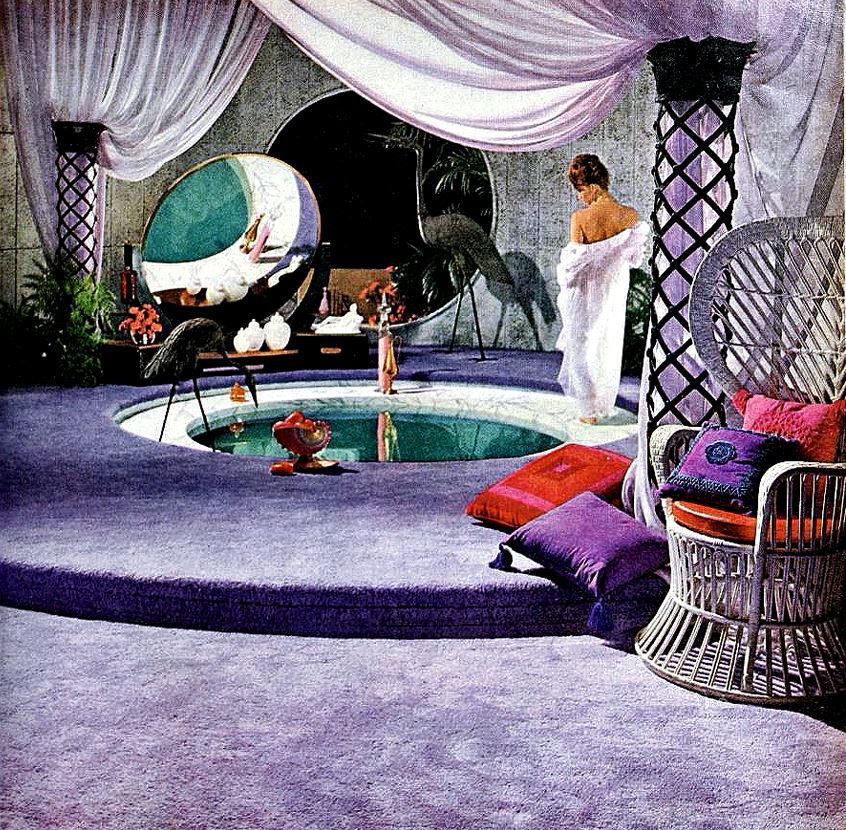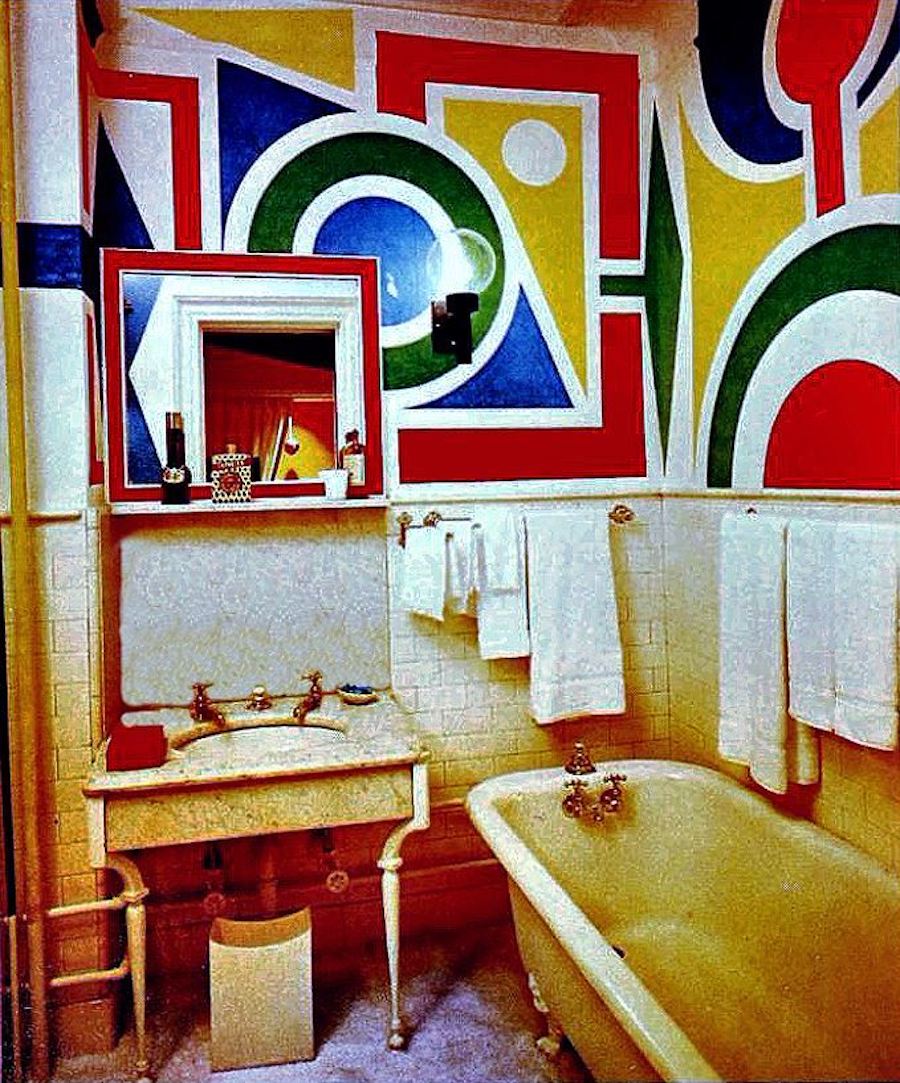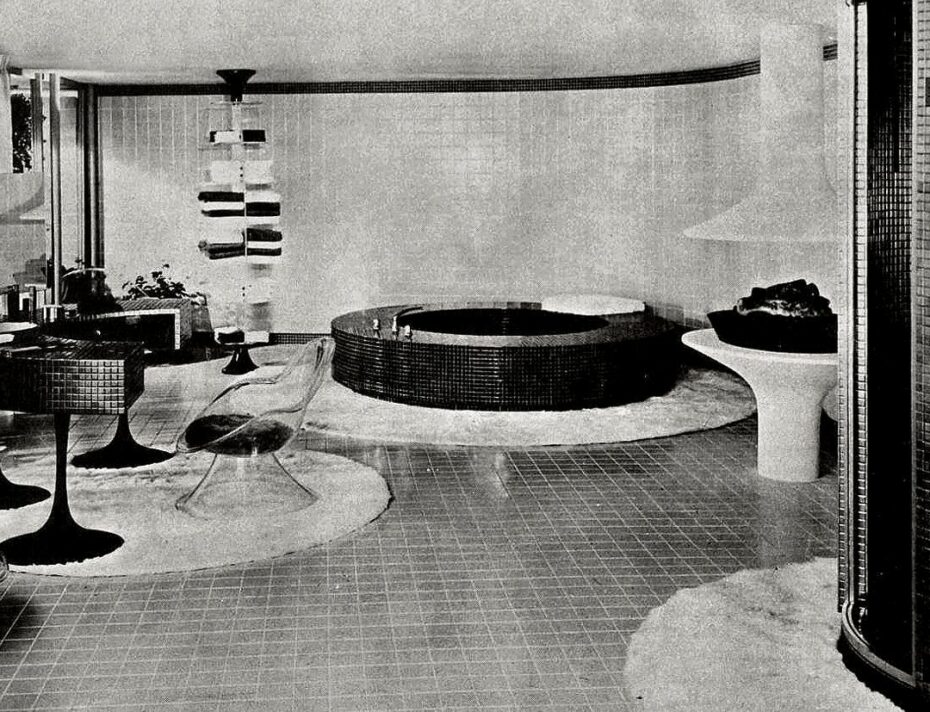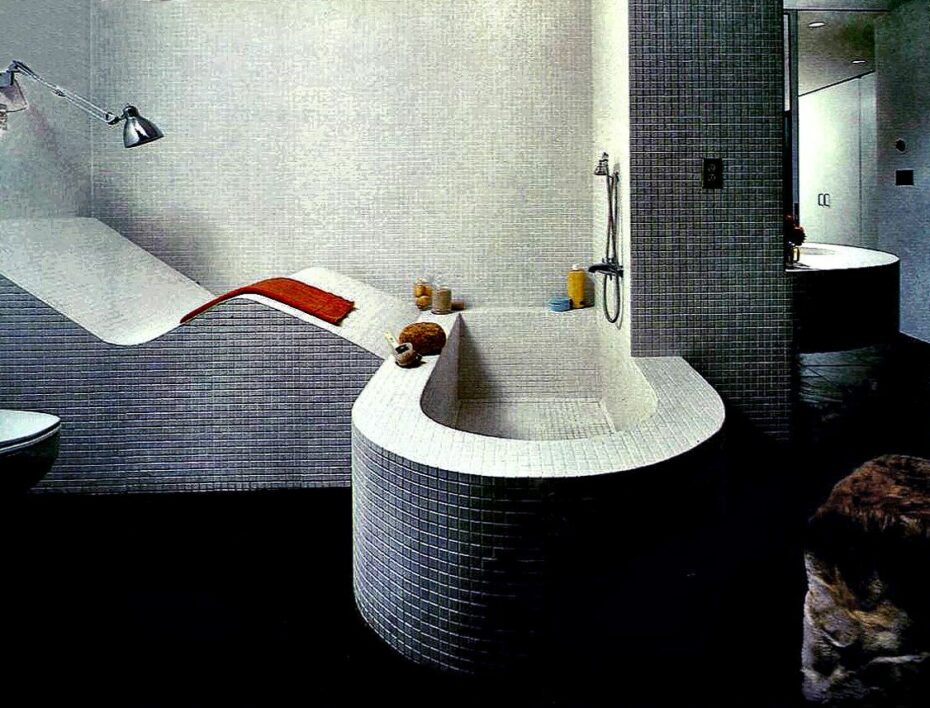 The 1980's-2000's was the time for a quieter sense of luxury. Bathrooms became bigger and spa-like, simple in decor but built for relaxing. Growing use of technology has been a cause for further marketing to the consumer about what they must have to feel comfortable and relaxed in the home.  This was the time of jacuzzi tubs, maybe a fireplace if the space permitted, and chic and higher quality lighting.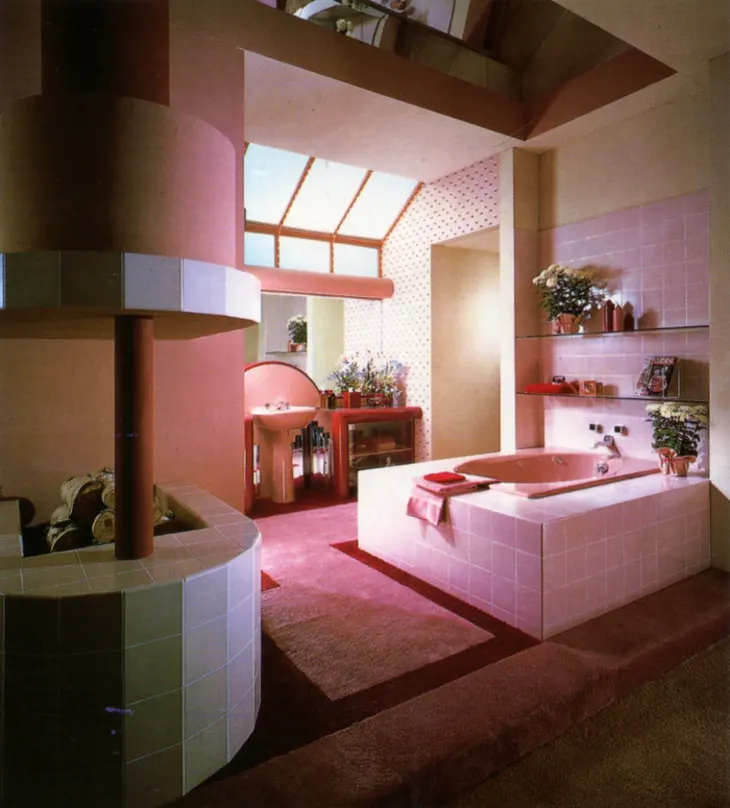 By the mid-1990s, bathrooms were very nearly universal, and long forgotten was the slow process by which the bathroom became an essential element of modern civilization," (American Heritage).
Today, in luxurious settings we might even find heated floors in our bathrooms, attachable bidets, or Japanese toilets complete with sound machines for ultimate privacy features. Waterfall shower heads, or beautiful standing tubs that cater to aesthetic and physical comfort may even be present.
You wouldn't think it, but bathroom design has been traditionally influenced by whatever we are experiencing in our culture at any given time. Like most things, the bathroom has transitioned stylistically due to wars, the economy, technological advances and the like, but something we might not always consider – something that is probably a little obvious, is the impact of disease.
In a post covid world, not only are we over-saturated with information telling us what we need to buy in order to be the happy, but we are also now concerned with germs and disease perhaps in a different way than we had been in the recent past. Who knows how this event in our lives may impact the design of the next modern bathroom?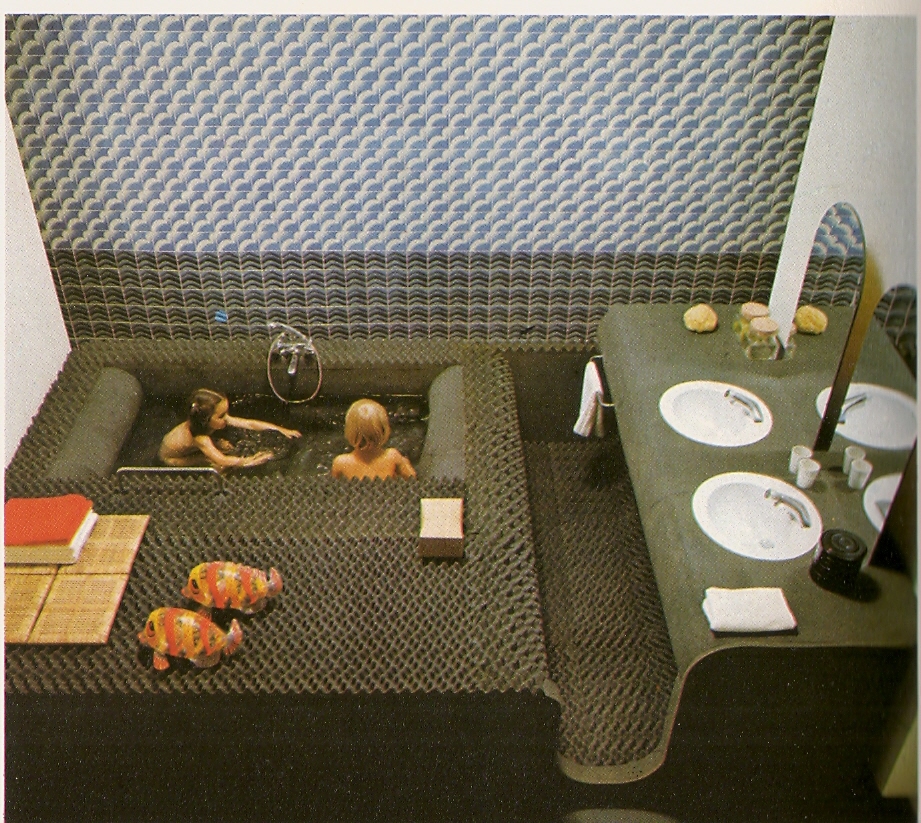 Loyd Alton, a former architect and design historian, who now teaches principles of design at the Ryerson School of Interior Design mentioned to Bloomberg journalist Elizabeth Yuko, that there may be a rise in vestibules in bathrooms (a space where you enter to take off dirty closes or wash hands which is separate from the other space, ie. the toilette).
In any case, maybe you don't think about toilettes and their origins too often. Maybe sanitation culture and necessity isn't something you thought about so directly before Covid. But there's something to be said about how culture and disaster can impact something as regular as the space we go to be alone a couple of times a day. Next time you go, notice the design and remember we are so lucky to have the newfound privilege of the indoor toilette – beautiful or otherwise.