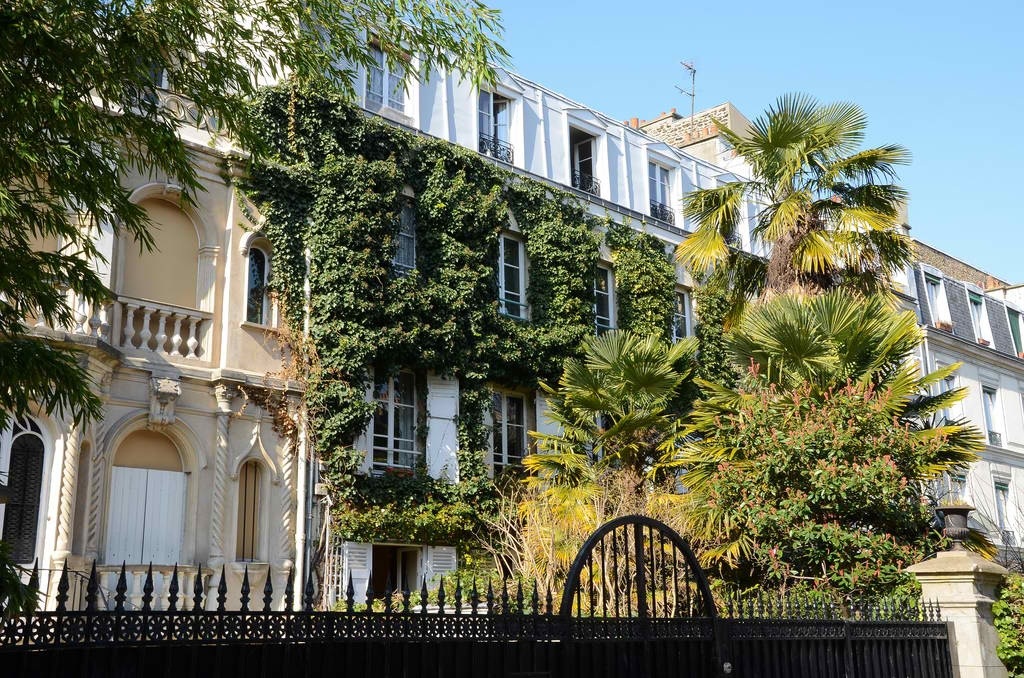 A few weeks ago, through my endless network of Paris links, I stumbled upon a heavenly website called "Et si on se promenait à Paris", translation: And what if we walked around Paris? Browsing through this captivating blog, it soon becomes very clear that the editor and photographer, Mademoiselle Audrey F, knows that there's taking a walk in Paris and then there's taking a walk in Paris. Have you ever wondered if the Paris you remember from childhood in Disney's Aristocats still exists? Et si on se promenait a Paris will take you to the most magical parts of this town that you would never imagine are sitting right in the middle of a capital city, waiting to be discovered. You just have to be good at snooping around!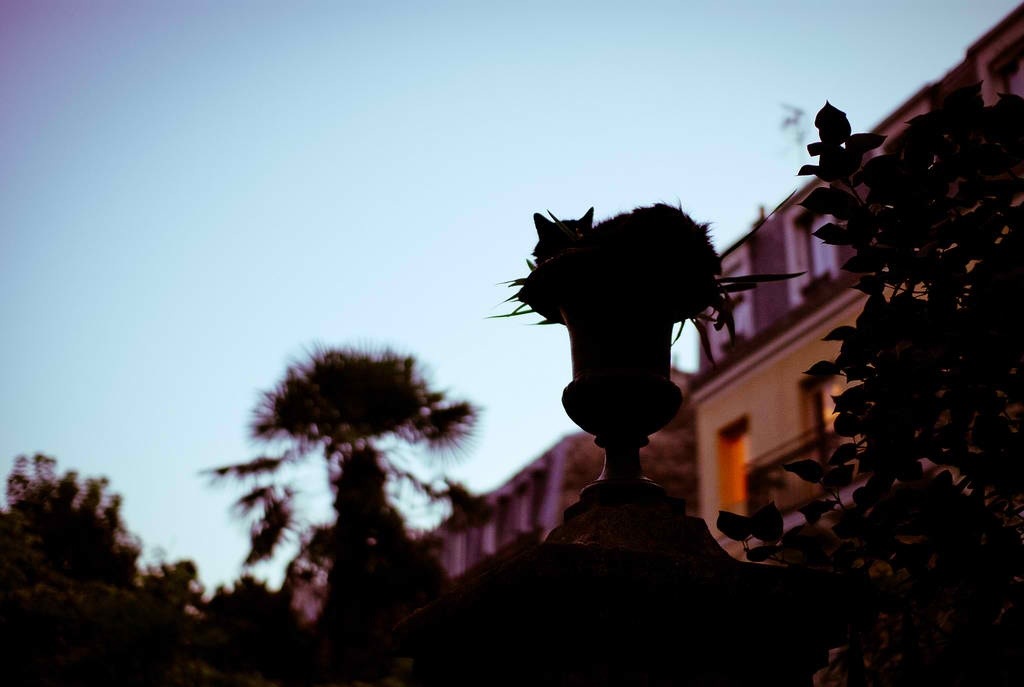 I decided we had to know everything about the lady behind the blog and contacted Audrey immediately with my nosy questions on her secrets of the city…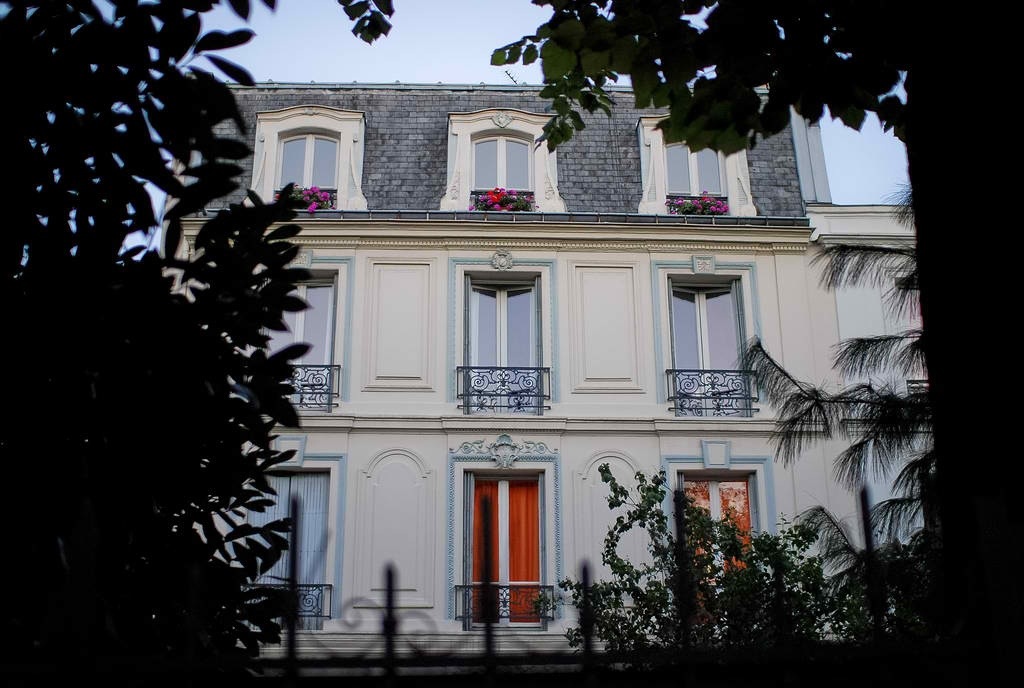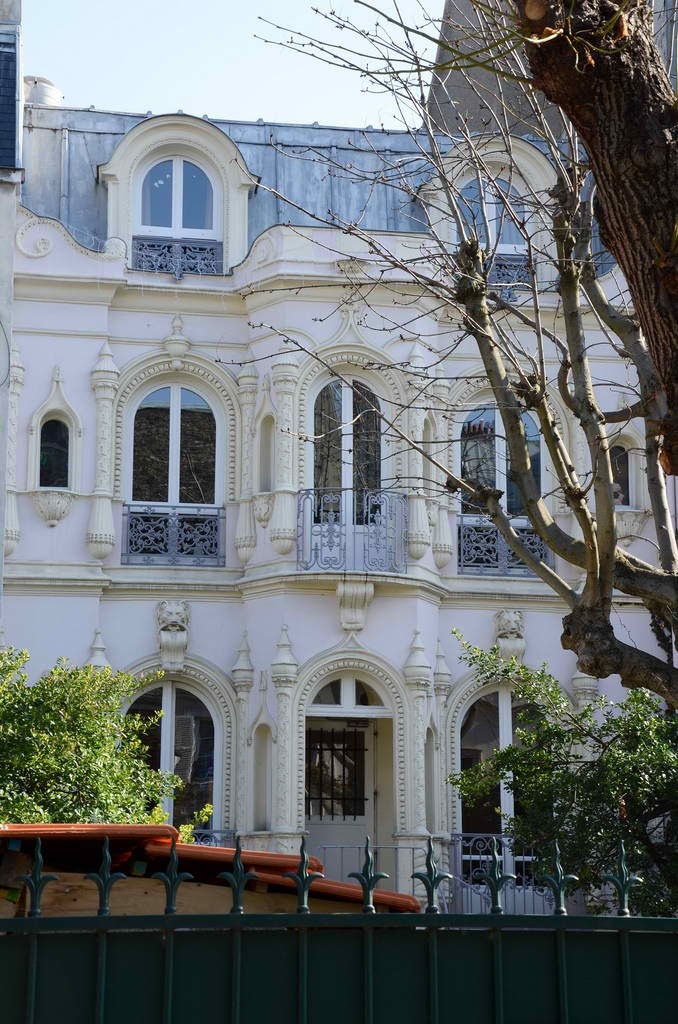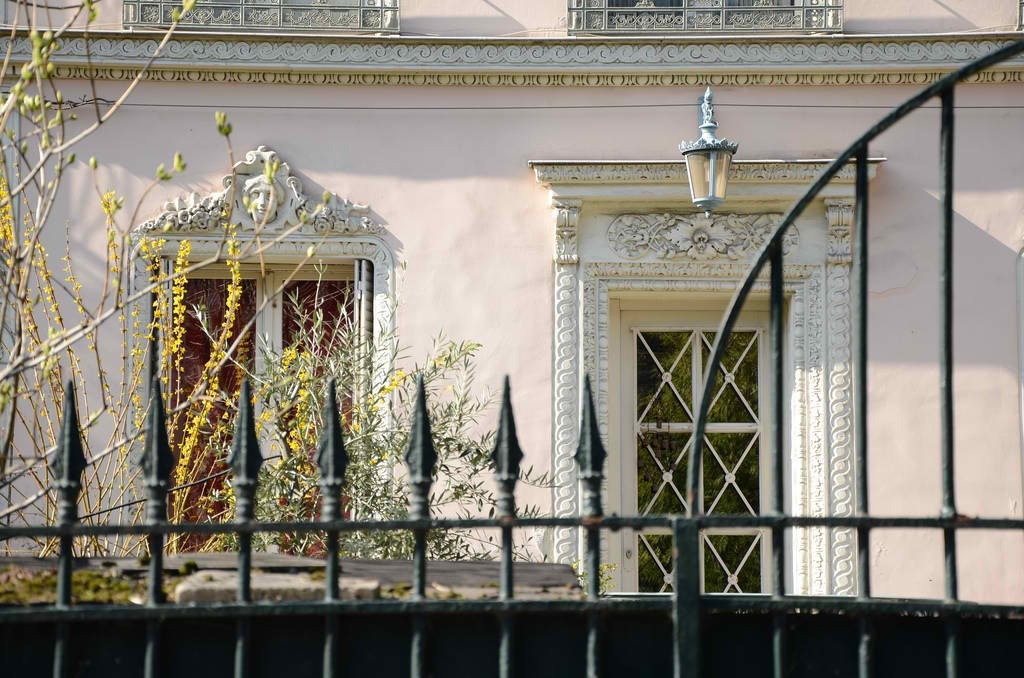 Images 1-6: La Cité des Fleurs, access from Avenue Clichy or rue de la Jonquière. Public pedestrian access from 7am-7pm on Mon-Sat and 7am to 1pm on Sundays/ public holidays.
Audrey, what do you do in life that you seem to be forever walking around Paris, discovering its secrets with your camera?
I've always enjoyed wandering the streets of Paris, but since I am also a property-hunting estate agent I have more freedom to do so.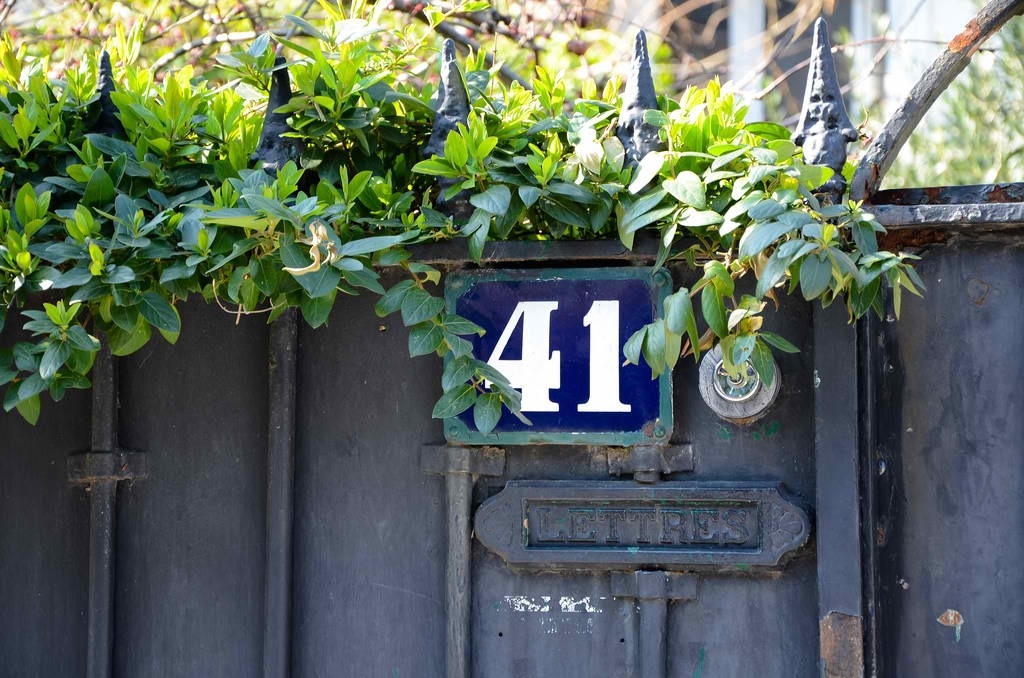 Tell us the start and end point of your favorite promenade in Paris?
I love getting lost in the streets of Paris, exiting the subway station, and walking across town. I can't choose a favorite course, but I would propose a stroll in the 14th arrondissement around the metro Pernety that will guarantee a change of scenery.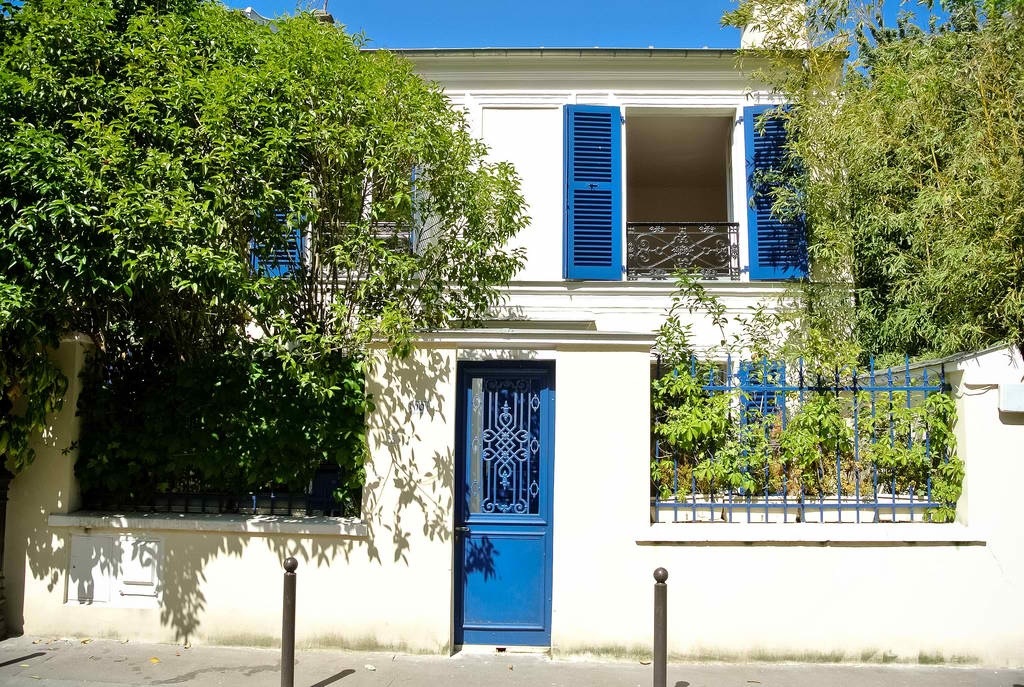 You'll start on the rue des Thermopyles, which is without doubt my favorite road in Paris. If you don't know it, don't hesitate to travel across the entire city just to see it.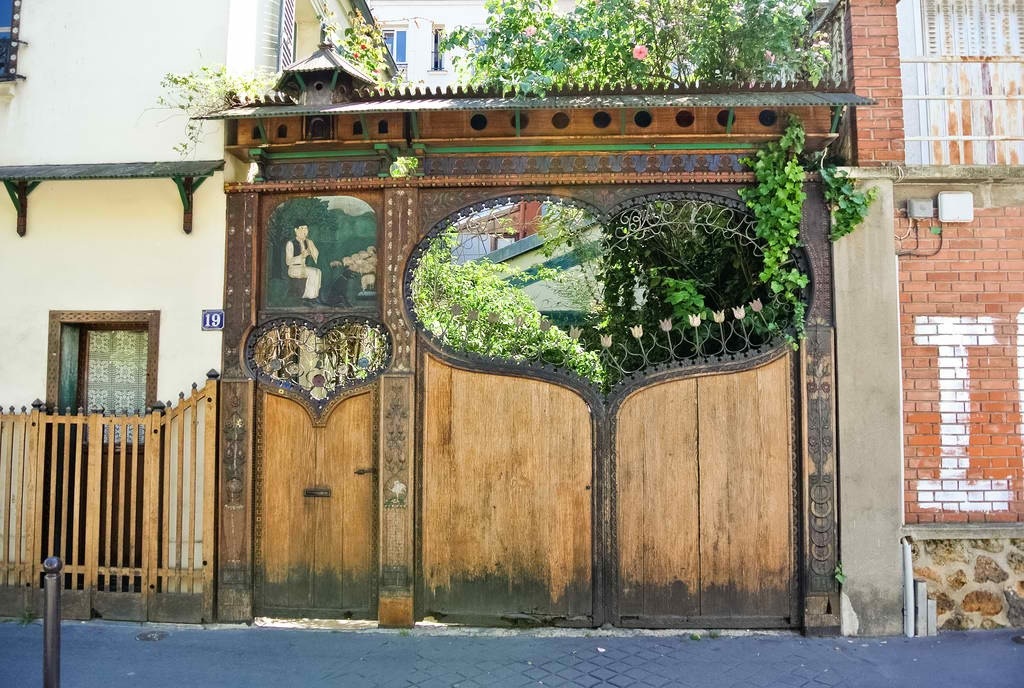 This place reminds me of my first year in Paris, I was fresh from my provincial town and I was living on the nearby rue Didot. I keep wonderful memories of this tiny quartier which had a very village-like feel where everybody knew everybody. I also remember we had a little 'fête des voisins' (neighborhood party); a very special evening.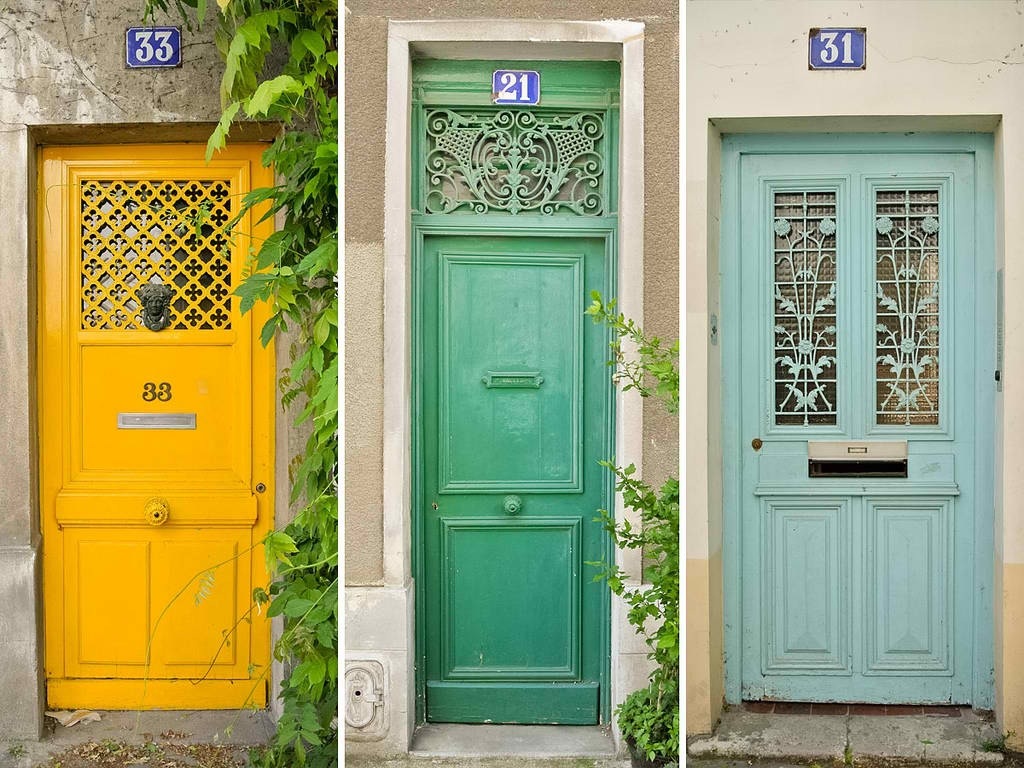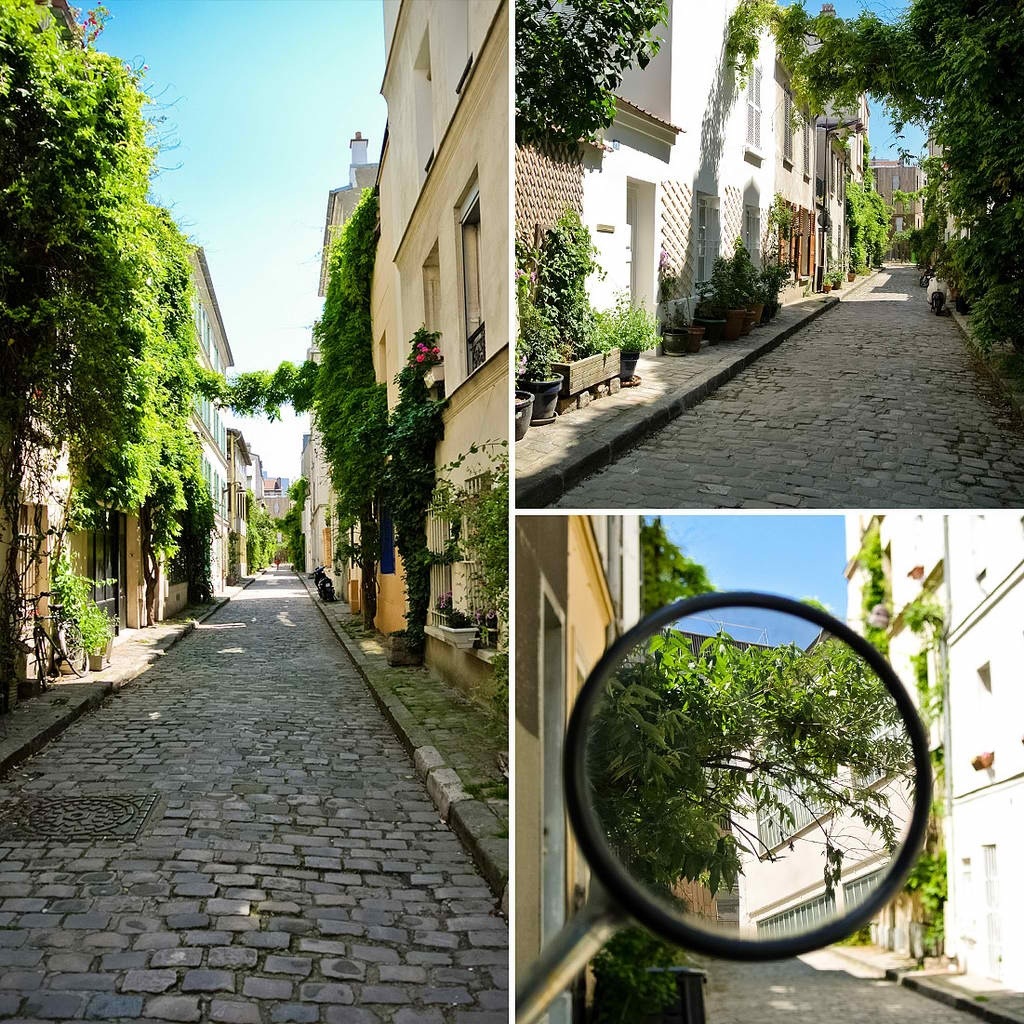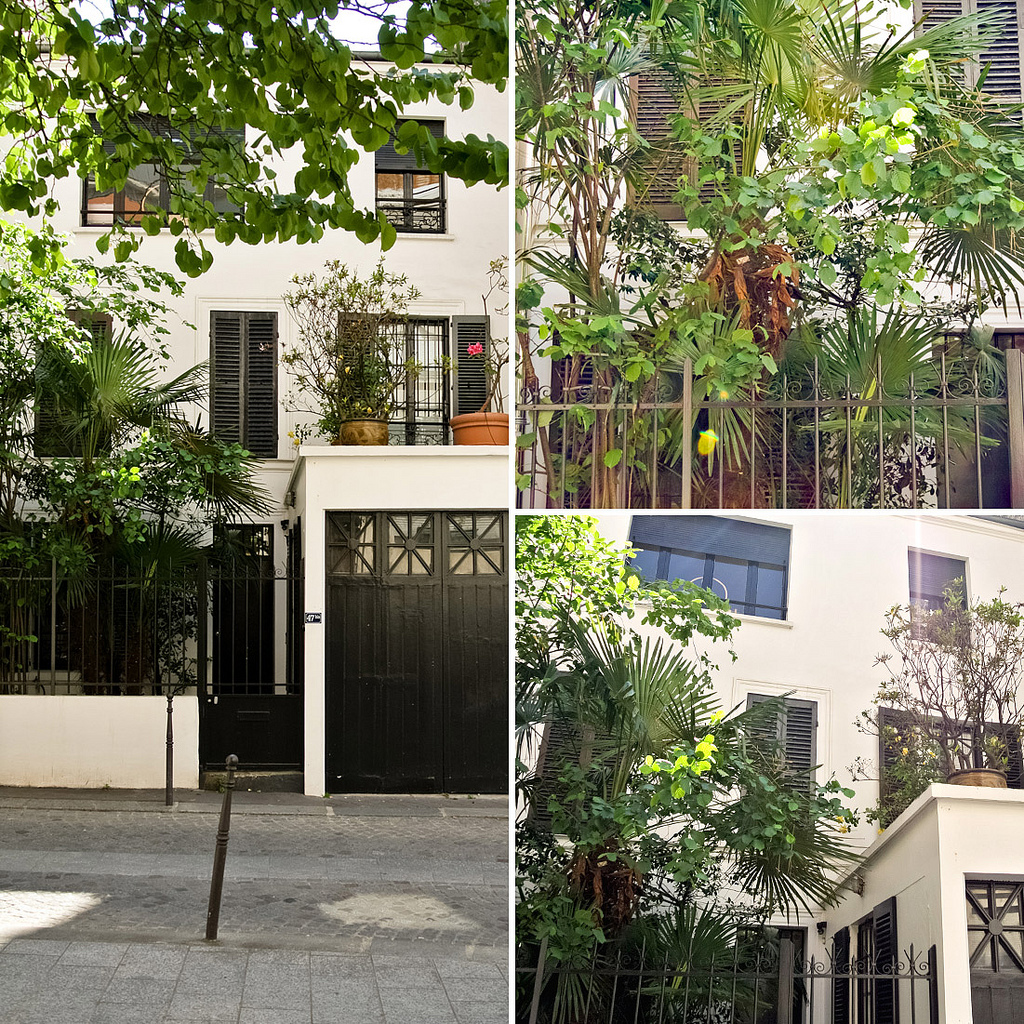 For Audrey's map of this beautiful walk click HERE and for more photographs of this walk, click here.
What always attracts your eye when walking around Paris?
I like to look upwards and find architectural details that we do not usually pay attention to, such as a pulley attached to the facade of an old building, a mosaic, vintage signs, statues…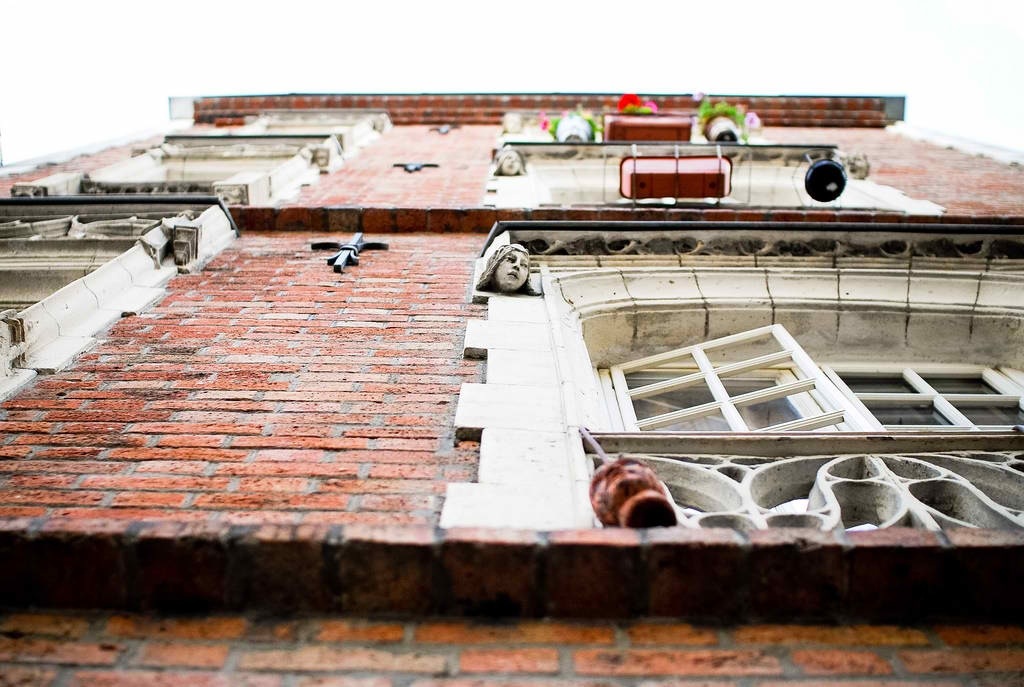 19 Rue L'Ermitage, 75020
Describe your dream apartment in Paris…
My dream is to have a high floor apartment with a large glass roof that is bathed in light. We mostly see apartments like those along the Seine. They have incredible views and it must be magic to live there!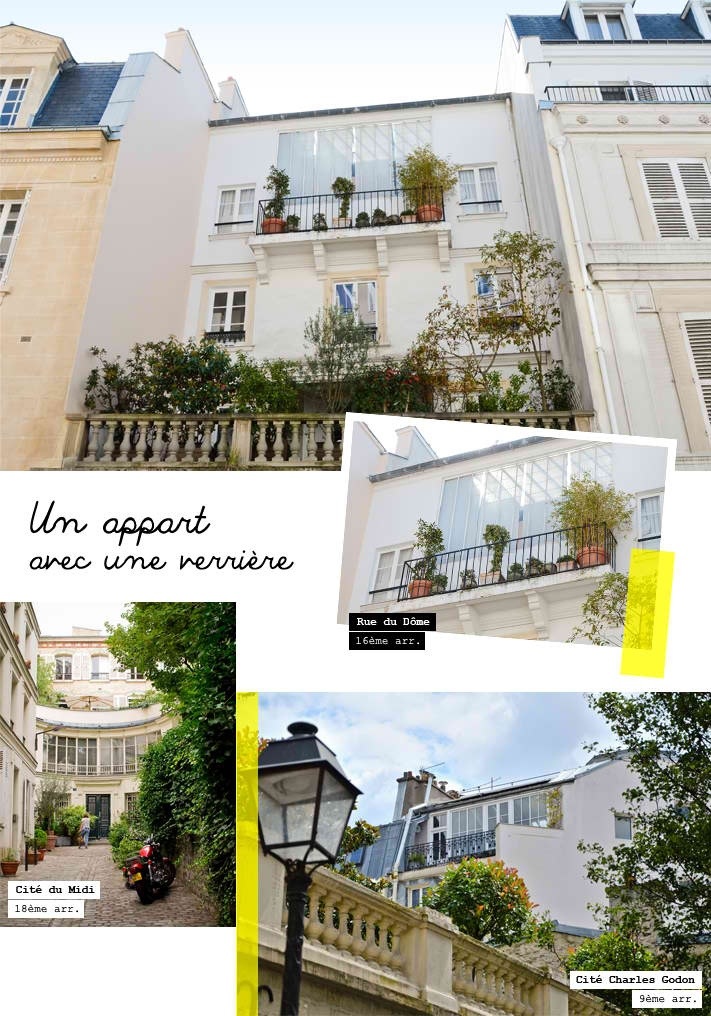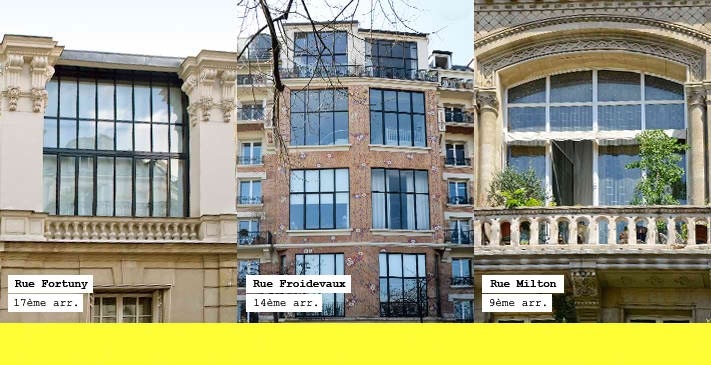 If you had a friend visiting you from abroad and you could only show them three places in Paris, which would they be?
First, I would take them to Montmartre. It's very "cliché" but it's so pretty! The cobbled streets, the Basilique of Sacré Coeur, a breathtaking panorama, the "clos Montmartre" (vineyards); it really is a beautiful area.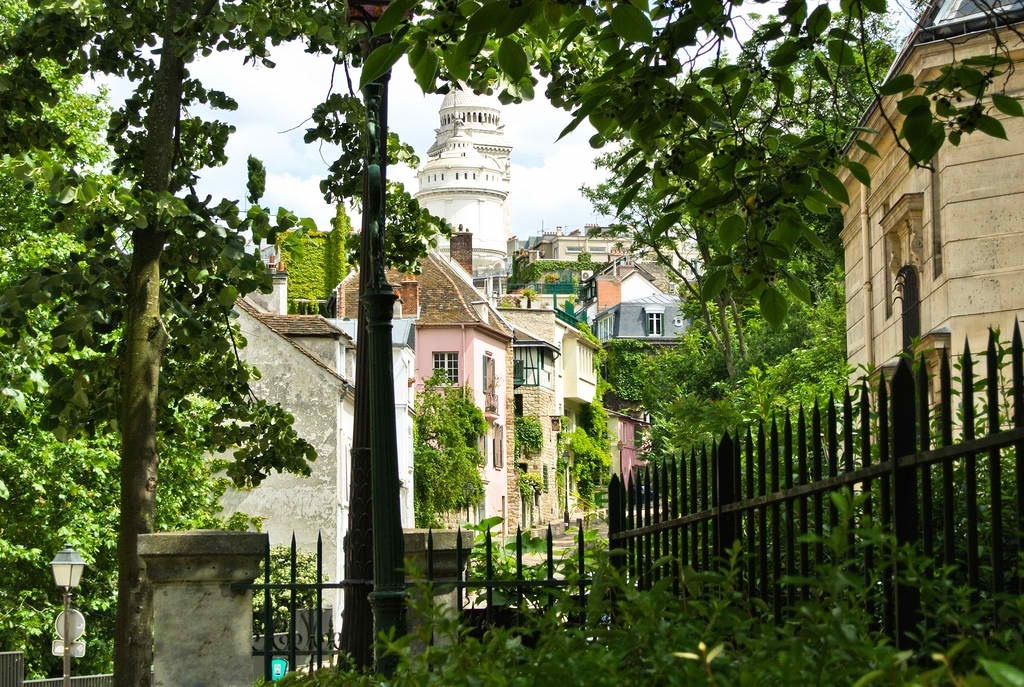 Allée des Brouillards
, 75018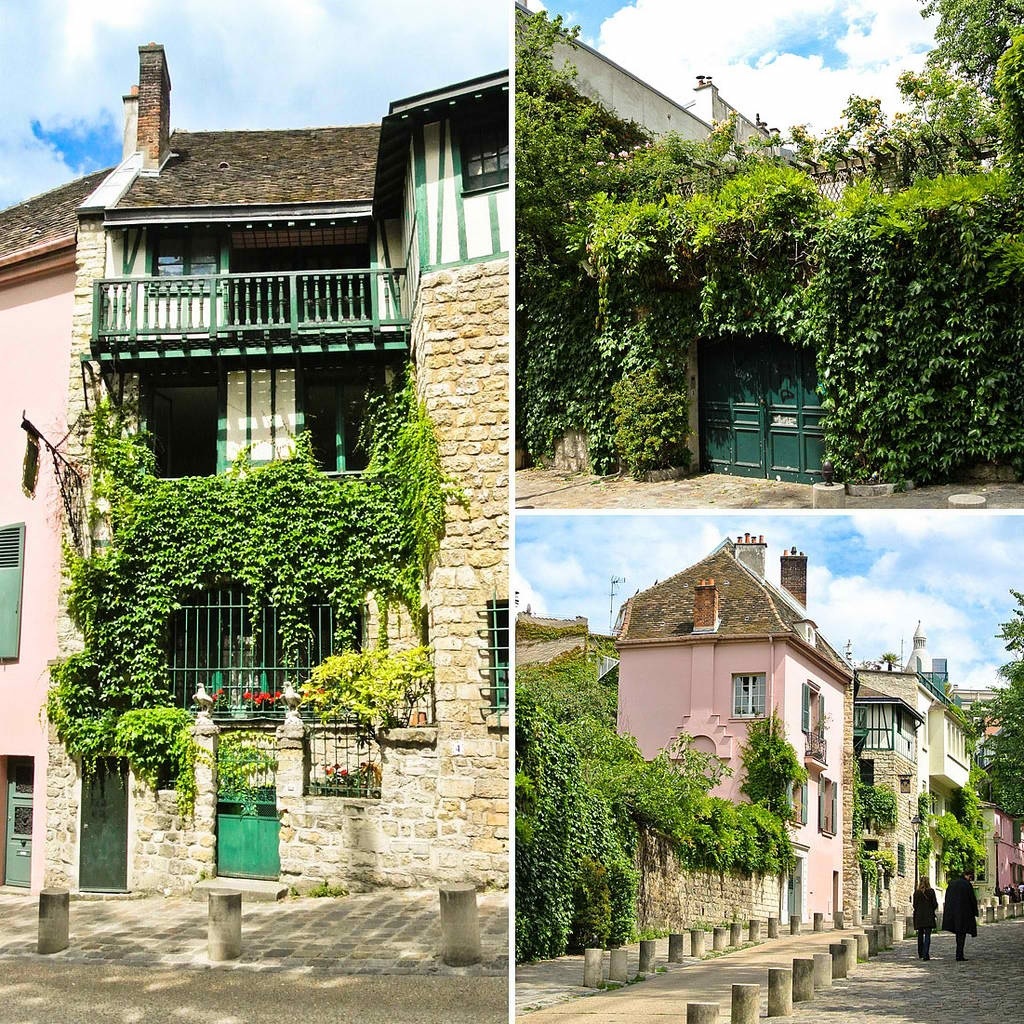 Rue Cortot
Then we'll take a cruise on the Seine, it is a good way to visit Paris and its monuments without getting tired !
And in the evening a quick little tour followed by a restaurant like Robert et Louise* in le Marais for example !
*(Robert et Louise: 64, rue Vieille du Temple 75003 Paris, 01 42 78 55 89).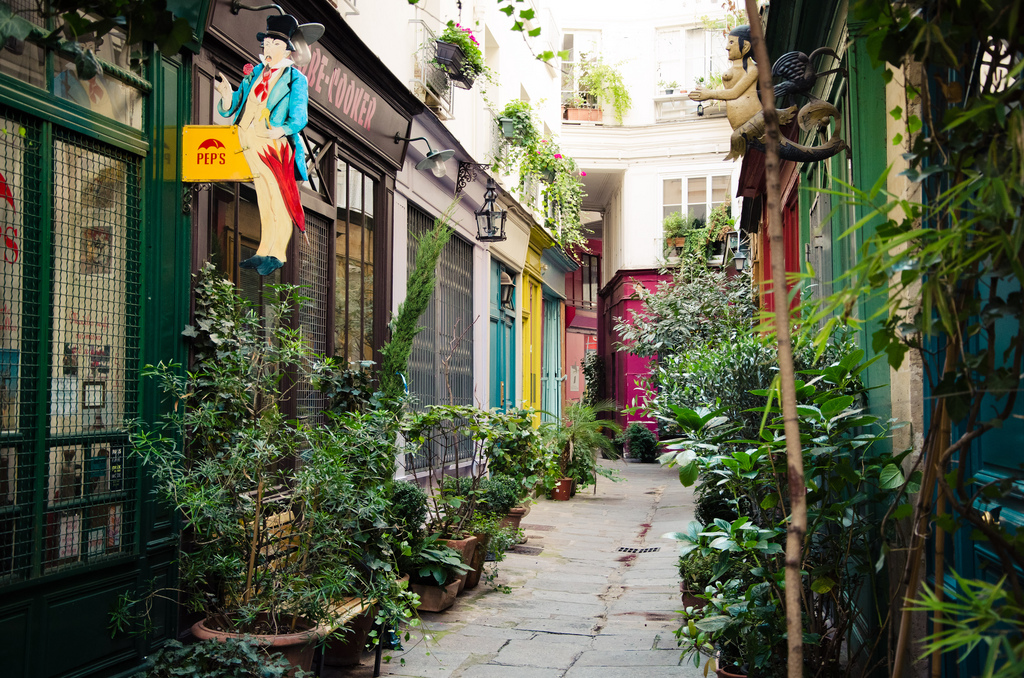 Passage de l'Ancre
in the heart of the Marais, between rue Saint-Martin et la rue de Turbigo, 75003 Paris.    
What is the most secret or difficult-to-enter place you have photographed in Paris?
I think it was during "les journées du Patrimoine" (yearly event when private buildings in Paris become open to the public) and I decided to visit a few mansions of the 17th century, located in the Marais and usually closed to the public, such as the Hotel de Beauvais, or Hotel Chalon-Luxembourg, and le Mont de Piété de Paris (Crédit Municipal de Paris).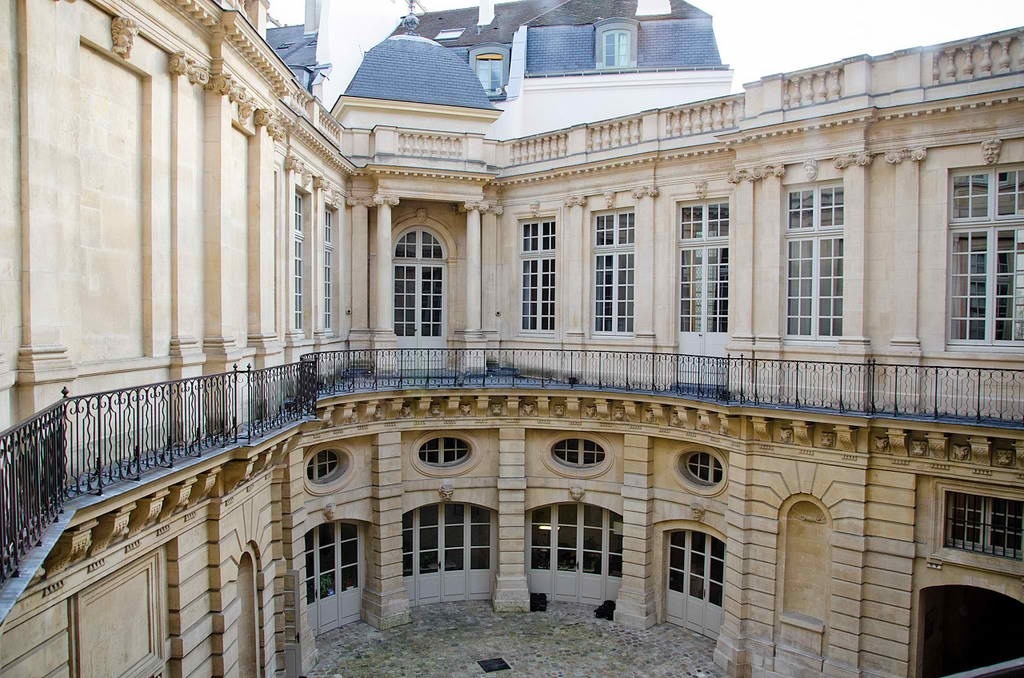 Hotel de Beauvais
You often photograph many of the residential courtyards and private passages in Paris. Are these kinds of properties very difficult to find on the market?
It is difficult to find this kind of property indeed, especially in the current climate where the real estate market in Paris seems to be a bit "stuck".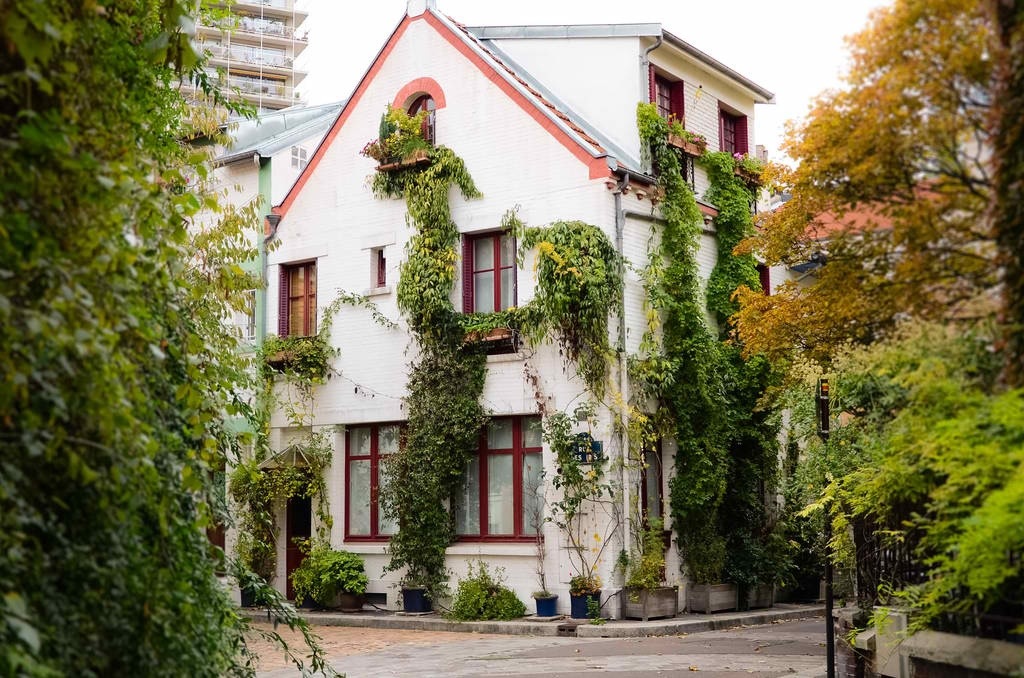 La Cité Florale, 75013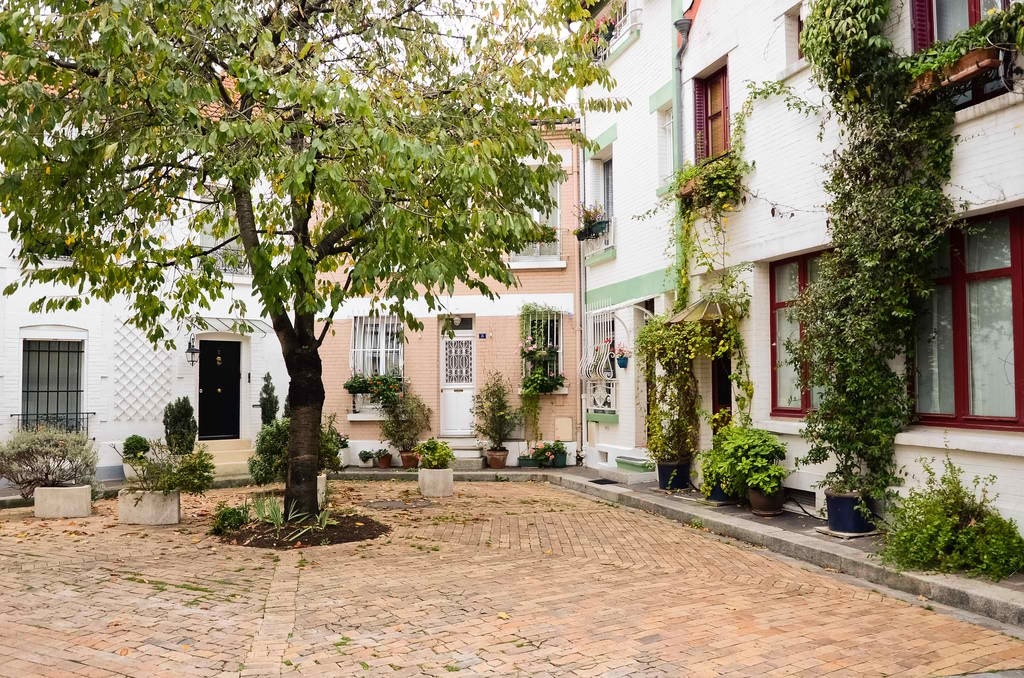 There's a lot of Parisian real estate that will rarely be seen on the public market. Historic ateliers, hotels particuliers, small Parisian 'villas' are mostly passed on through families or sold privately, and kept very hush-hush. But imagine having someone like Audrey on your team in searching for a dream pied-à-terre in Paris! If you're in the market for it, Audrey is a property hunter for Homelike Home, a Franco/ Anglo agency. Keep it in your bookmarks!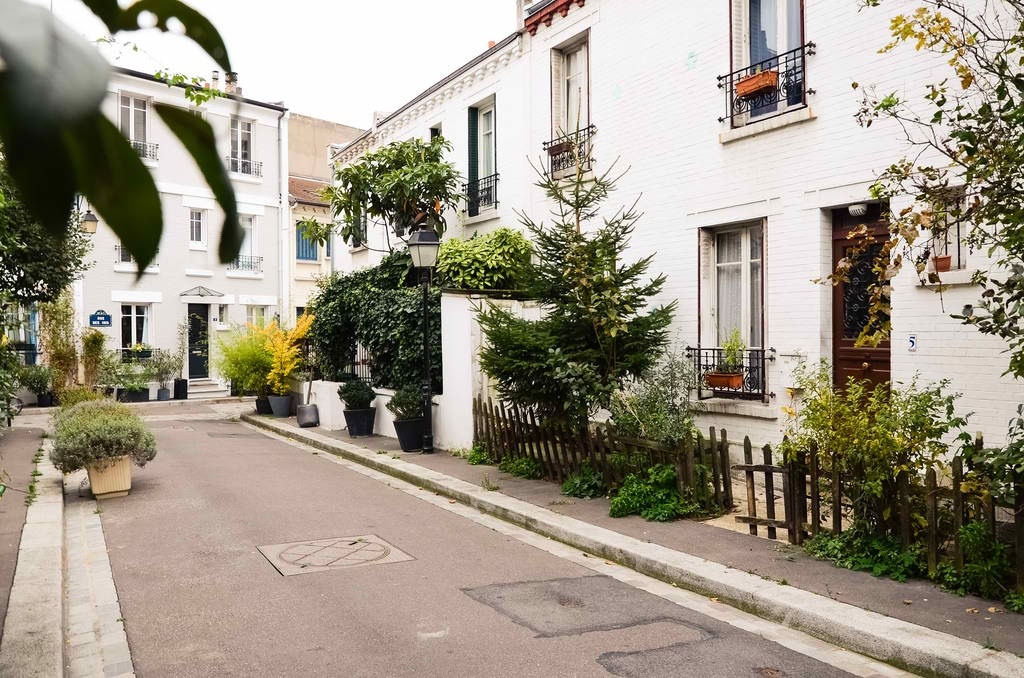 La Cité Florale in the 13th arrondissement looks a lot like a neighborhood straight out of Chelsea or Notting Hill for anyone that knows London well. It can be accessed from la rue Brillat-Savarin or from la rue Auguste Lançon.
Le Square des Peupliers, 75013, Metro Tolbiac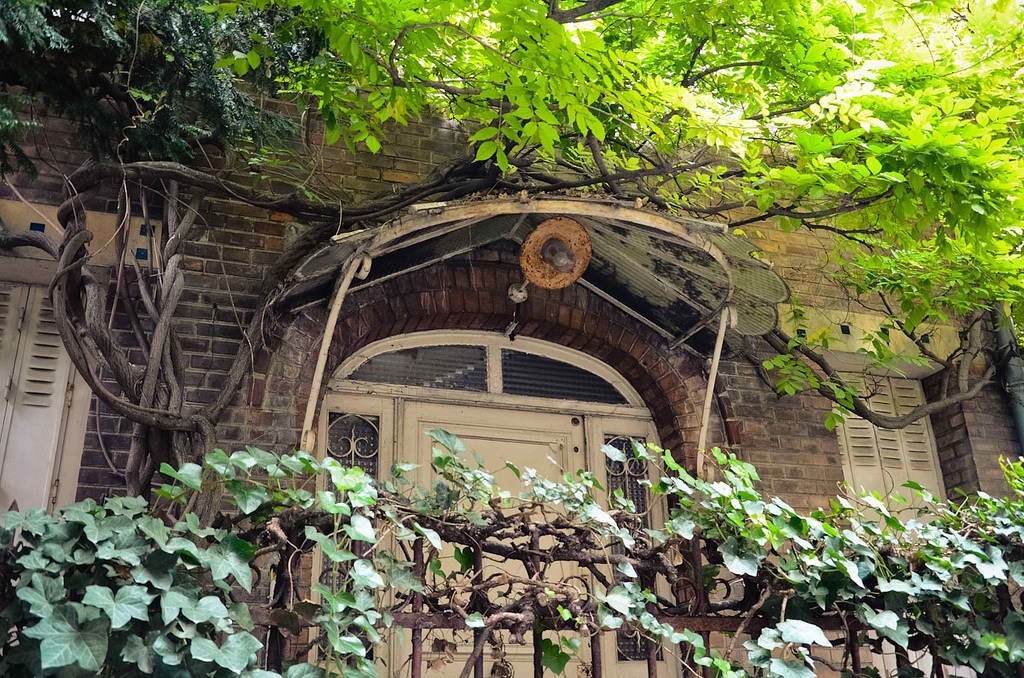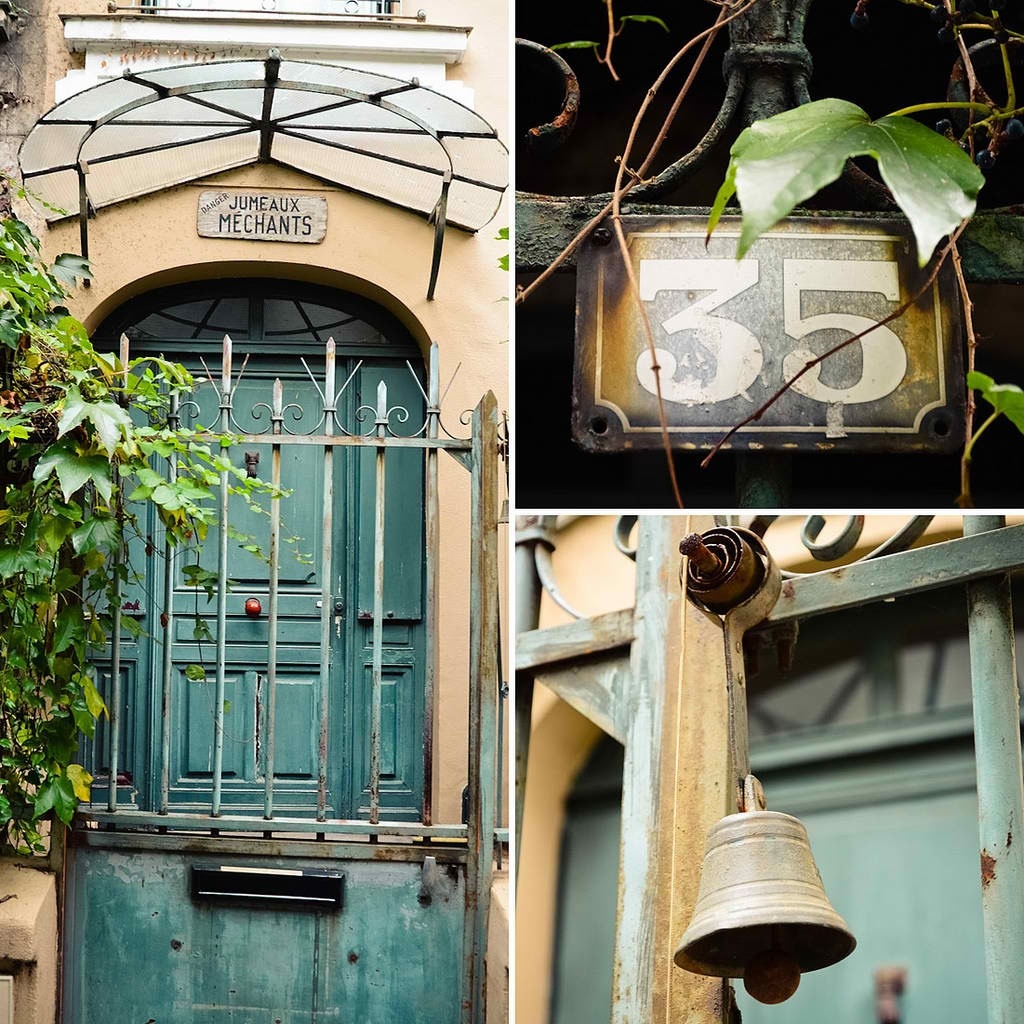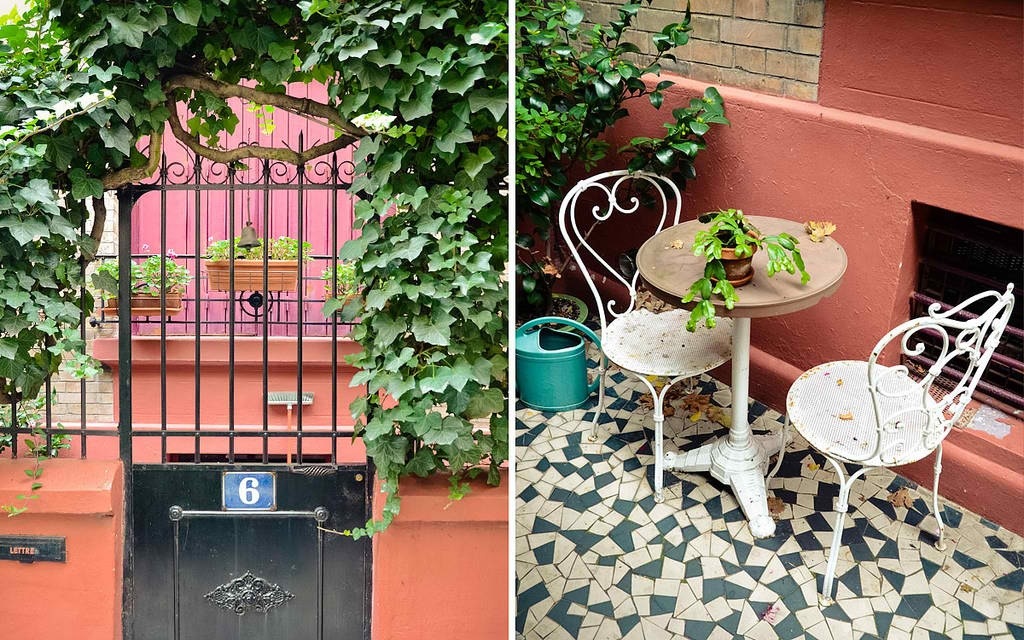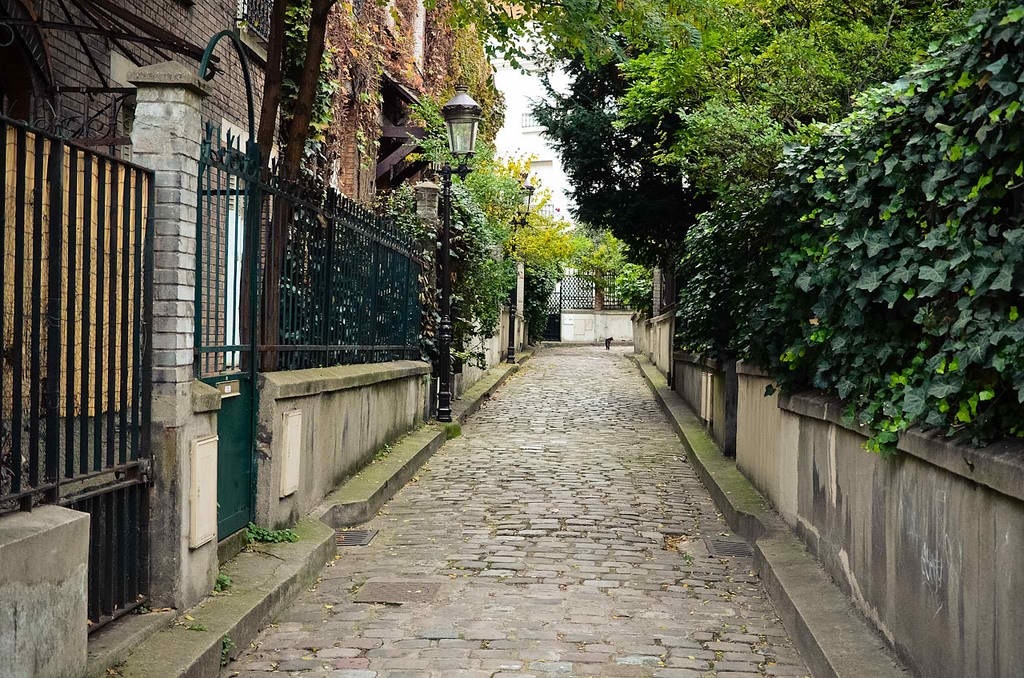 More details on Square des Peupliers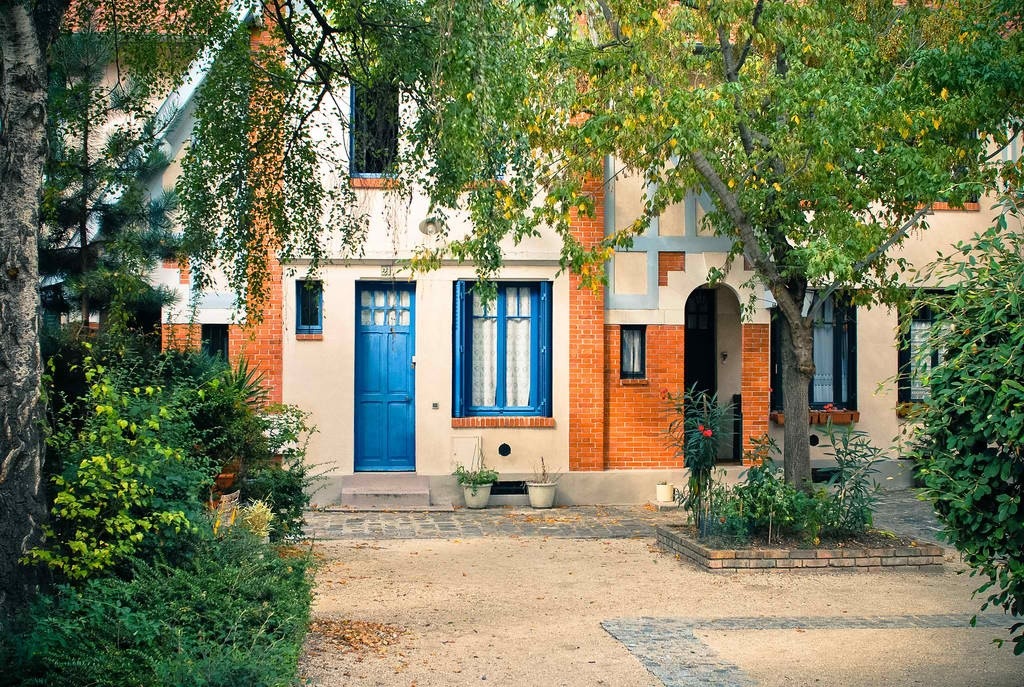 "La Petite Alsace"
: 7 & 10 Rue Daviel, 75013 Paris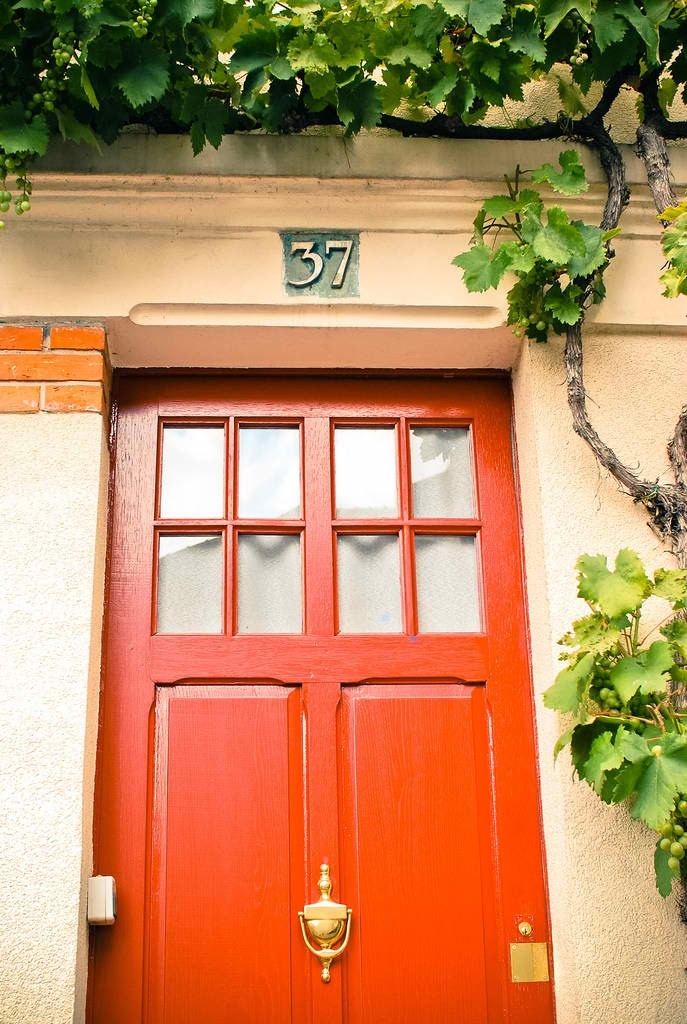 What do you recommend doing in Paris when it's raining and cold?
The best way to avoid the rain while strolling is to take refuge in the covered walkways in the city center of the capital. The majority of them are located on the right side of the Seine, I personally often burrow through those in the 9th next to my office. Passage des Panoramas, le Passage Verdeau, la Galerie Véro-Dodat and la Galerie Vivienne are my favorites.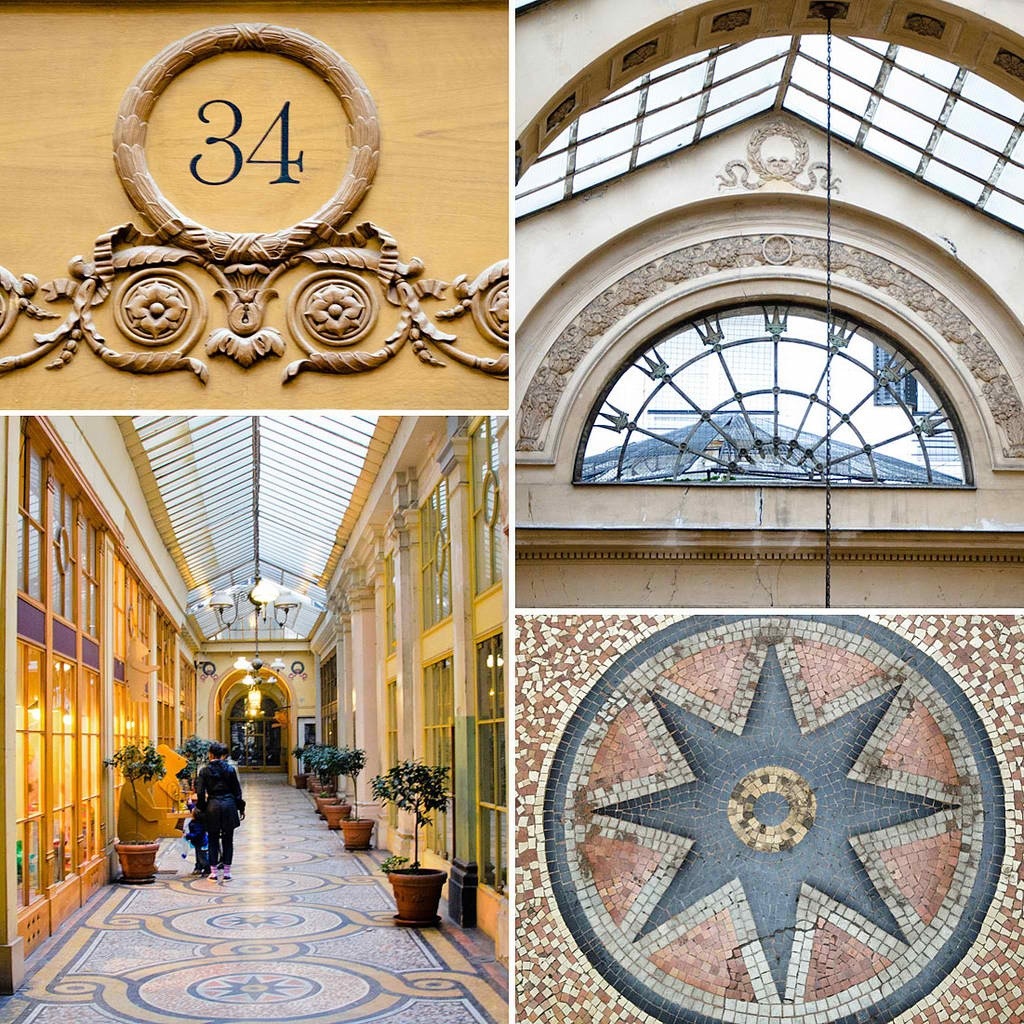 Above:
Galerie Vivienne
, below:
Passage des Panoramas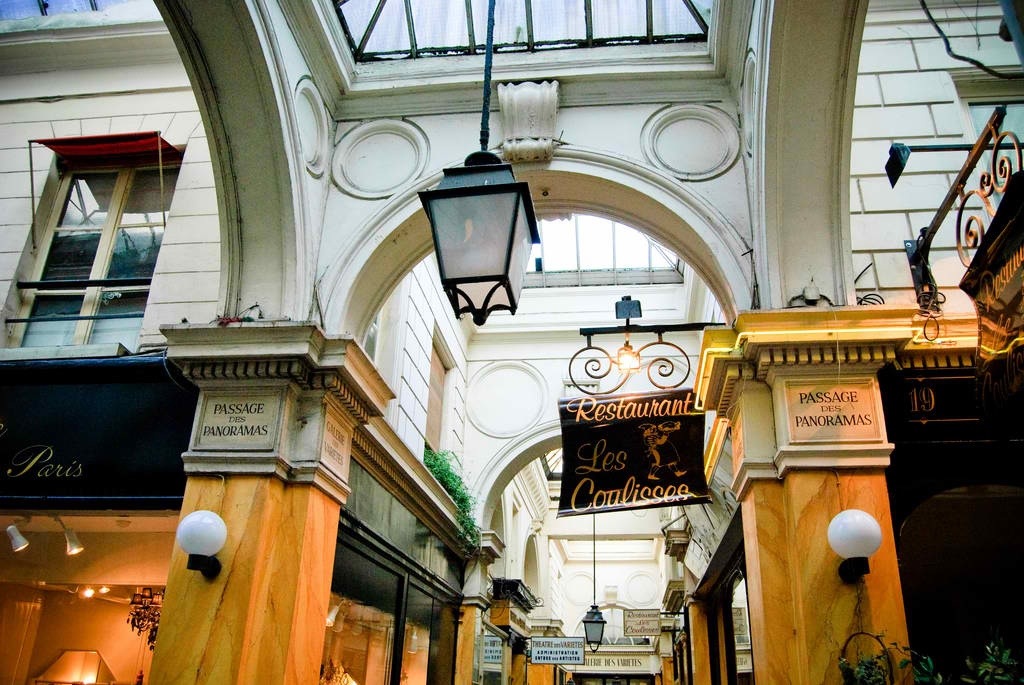 And finally, tell us a little bit about your neighborhood…
I moved to Paris 11 years ago for my studies, I've lived in several arrondissements and finally stopped in the 20th, Gambetta. I love the "village" spirit of my neighborhood, with small food merchants, far from the bustle of downtown. There are plenty of walks to do in the old villages of Charonne, Belleville and Ménilmontant.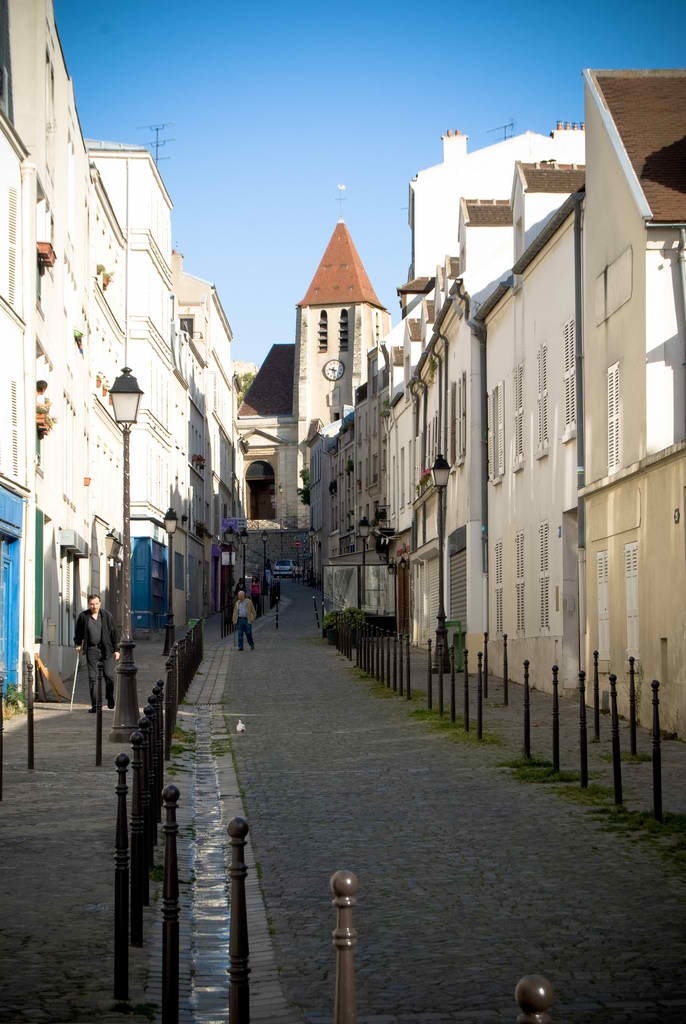 Village Charonne
, 20th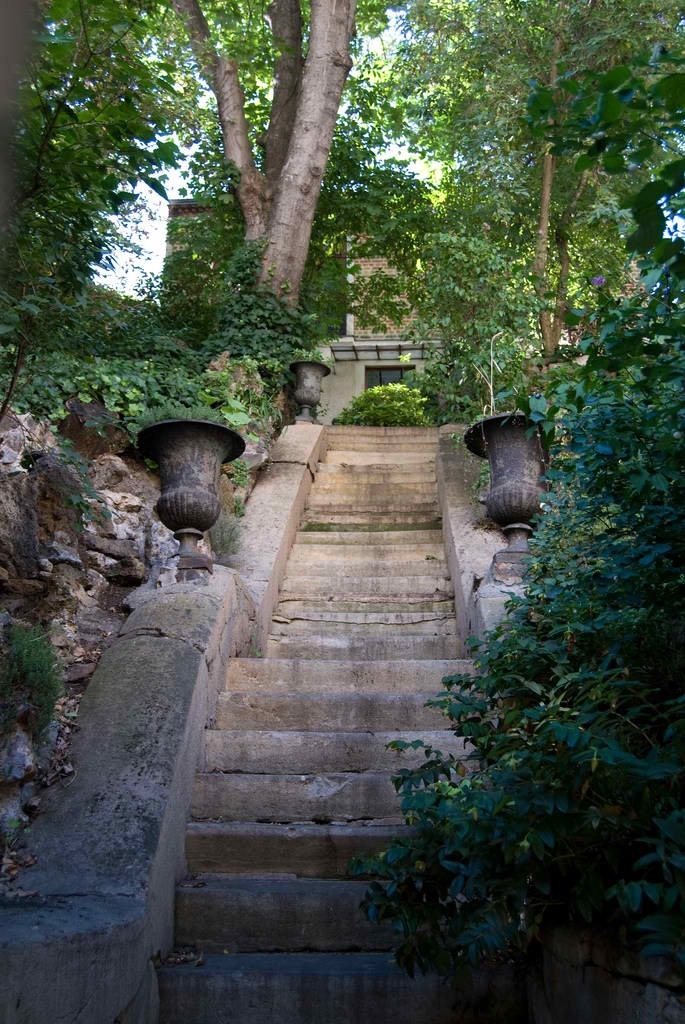 Passage Plantin
, 20th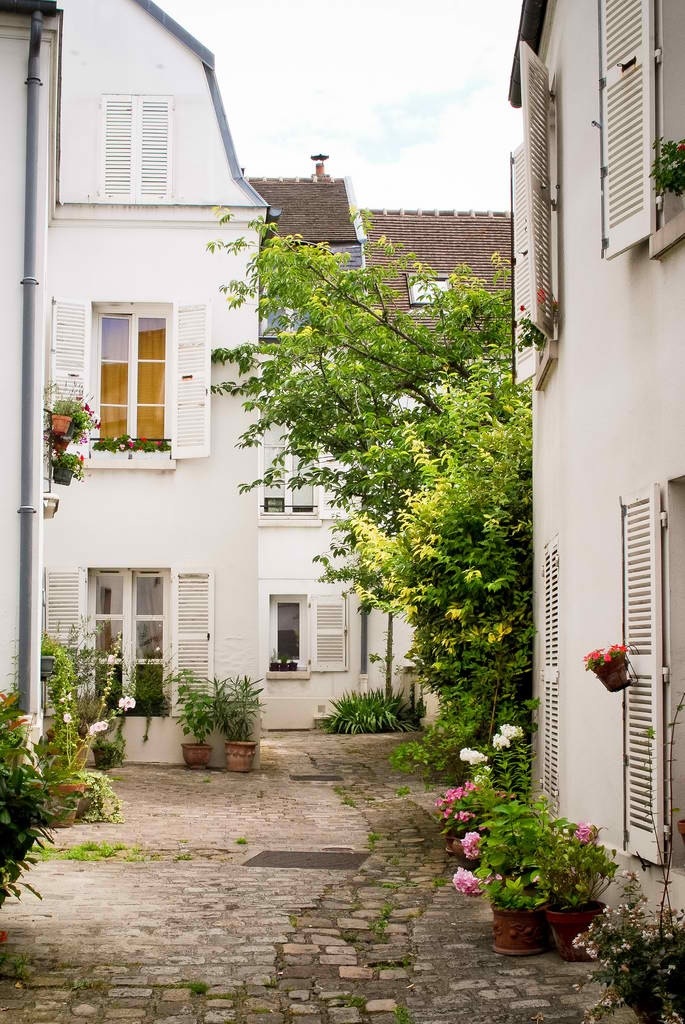 Cour interieure
du rue Saint-Blaise, 20th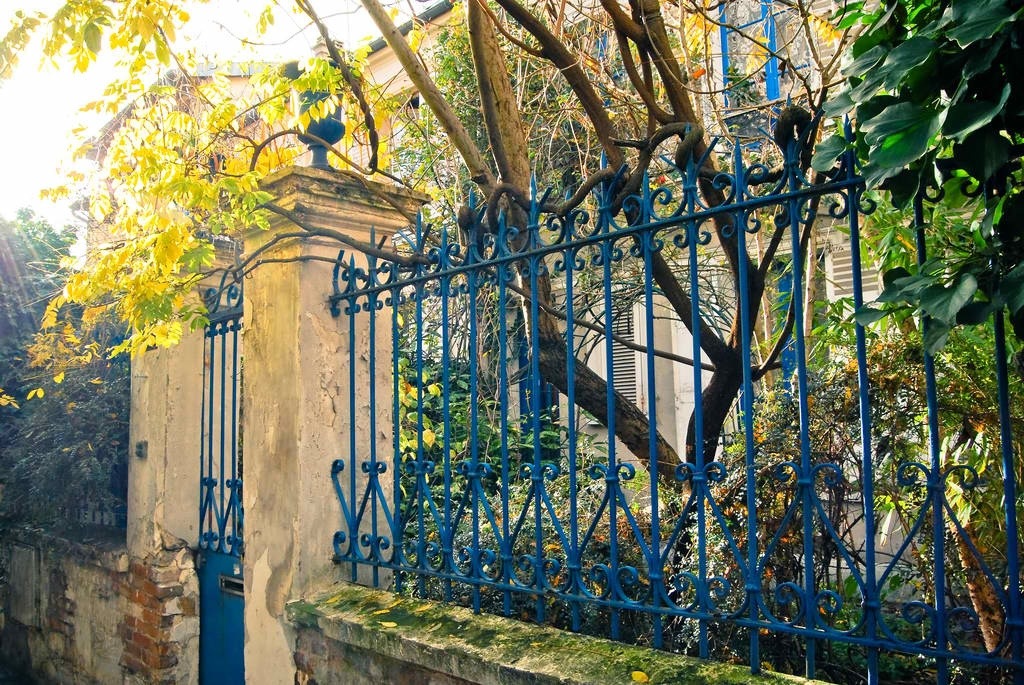 Cité de l'Ermitage
, 20th  
To discover Audrey's neighborhood, find a map for her proposed stroll HERE!

I'm probably correct in saying you could browse photos of Paris like this all day. I'll do you one better. How about a daily photo from Audrey on your Facebook newsfeed or Instagram feed? (to balance out all those annoying status updates and pictures of people's drunken nights out). Et si on se Promenait is a breathe of fresh air whenever I log into Facebook so I can't recommend it more highly that you make her Paris discoveries a part of your daily social network check-in.
Join the "Et si on se Promenait" Facebook page HERE for all her latest Instagram photos of, let's just admit it, the most beautiful city in the world!
All photography thanks to our snap-happy Audrey F.
:::
YOU MIGHT ALSO LIKE:
.