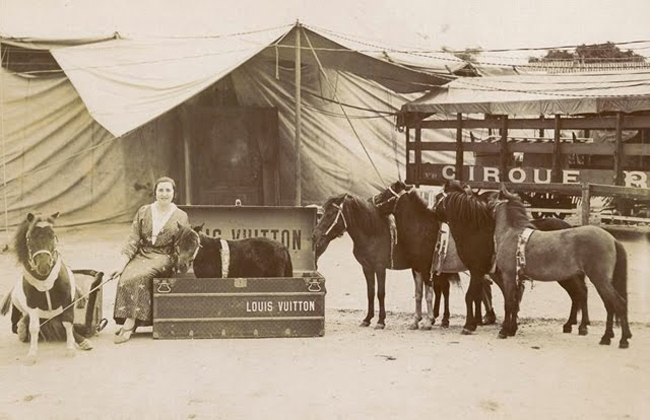 They say the name 'flea market' first originated from the legendary Paris antiques market of St. Ouen, when an unknown bargain hunter in the 1880s looked down from nearby fortifications, observed junk dealers selling their scrap and allegedly exclaimed, "My word, but it's a market of fleas!" In reality, it is anything but.
On my last visit to this 'market of fleas', after a morning of winding through the highest concentration of antique dealers and second-hand furniture dealers in the world, I came upon some treasure chests; Louis Vuitton treasure chests to be exact.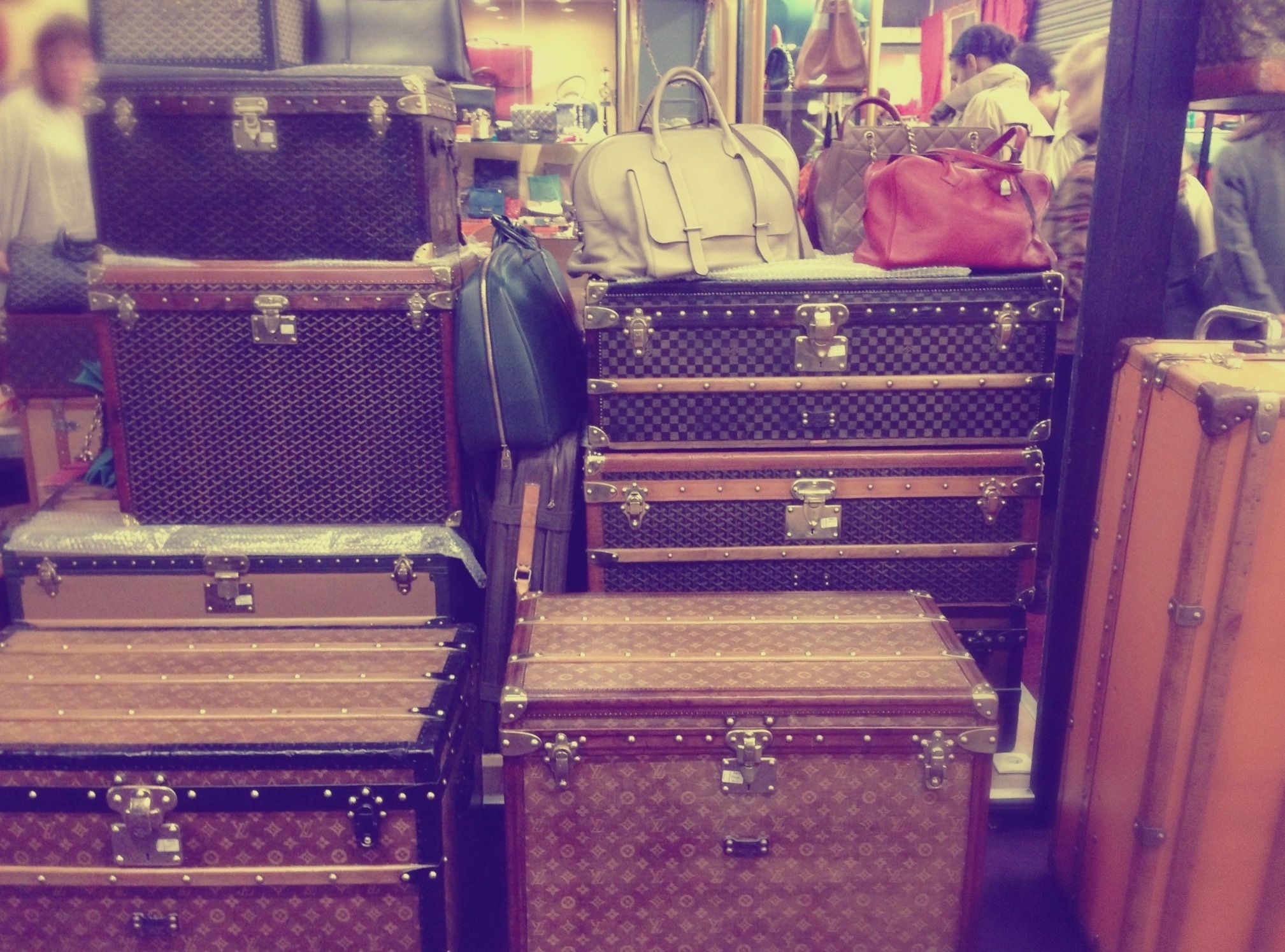 Seeing the stand of Le Monde du Voyage for the first time is a bit like seeing an impossible mirage. Is this real? you ask yourself. Louis Vuitton trunks from another time are piled up nearing the ceiling, oozing with untold stories and faraway travel tales. A closer look shows an art of craftsmanship that barely exists today; running your fingers over the engravings fills you up with a tingly nostalgia.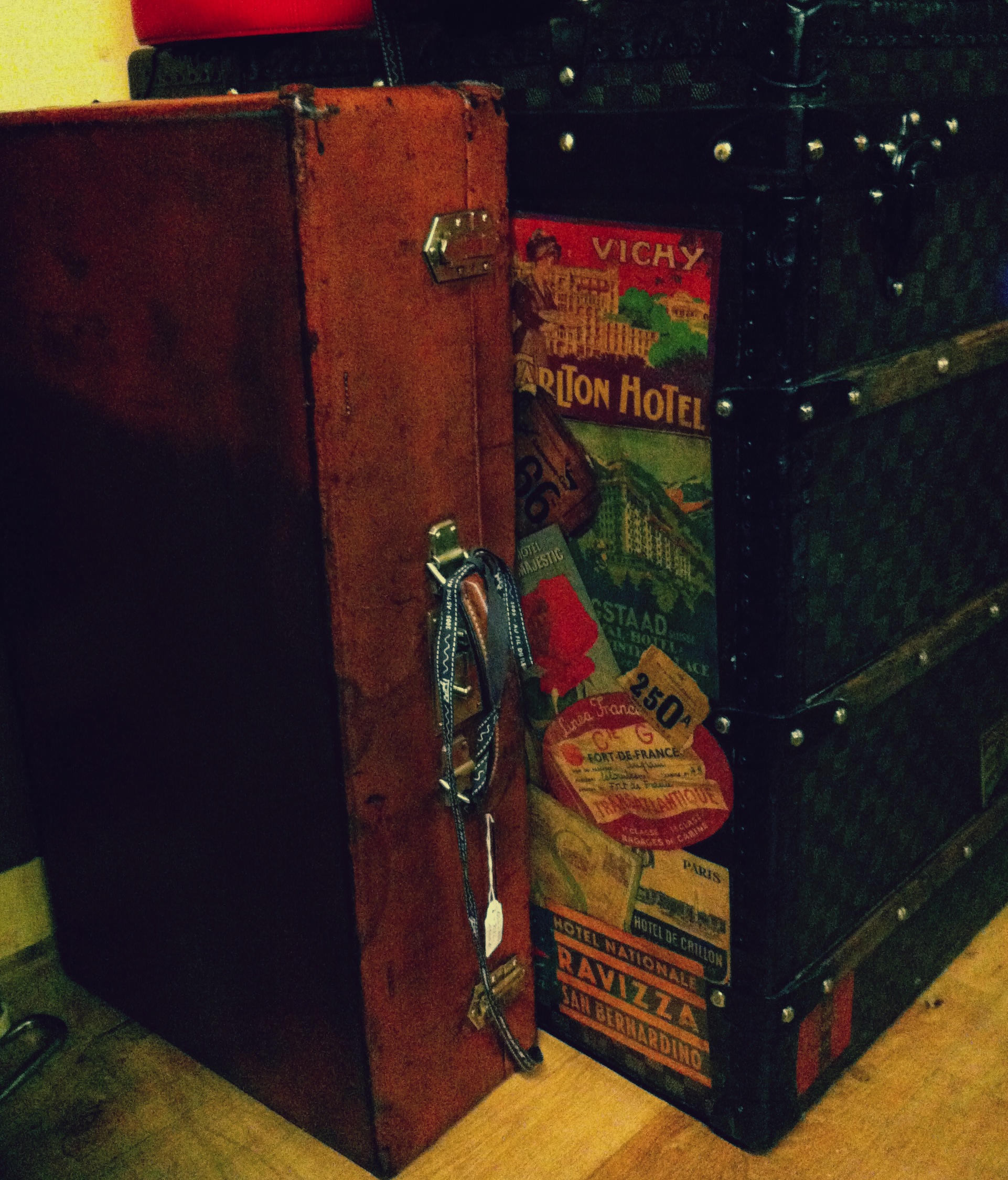 And there, in alley 3 of the covered marché Serpette, one of the many submarkets of Saint-Ouen, I met Helen.
For a good ten minutes I stood sheepishly a few feet away, eavesdropping on her conversation in English with a couple who seemed to be interested in a trunk. They asked her where the trunks came from but Helen was reluctant to give away her secrets. This was the moment that I knew I had to interview her.
Helen is friendly, familiar and British and one-half of Le Monde du Voyage, which she runs with her French husband Alain, who inherited the business from his parents. I wish I could climb into one of their trunks and follow them around, learn everything about their trade and treasure hunt with them. Helen was kind enough to do the next best thing and answer all my nosy questions.
Since taking over the family business, what is the rarest piece you've come across?
I remember a Louis Vuitton collection of six trunks including a very rare Lily Pons shoe trunk. Lily Pons was a famous opera singer and she had a shoe trunk designed for her by Vuitton. It had the number 123 written on the side. This means that they had at least 122 OTHER trunks which they used. The lady who sold us the trunks said that her mother-in-law would take the Normandie or the Queen Mary across the Atlantic to New York and would take 30 trunks with her. She would then stay at the Waldorf Astoria where she would already have 30 other trunks of clothes and accessories waiting for her. You must remember that this was in the days when ladies still changed their clothes several times a day so for a long stay abroad you needed to take a lot of luggage!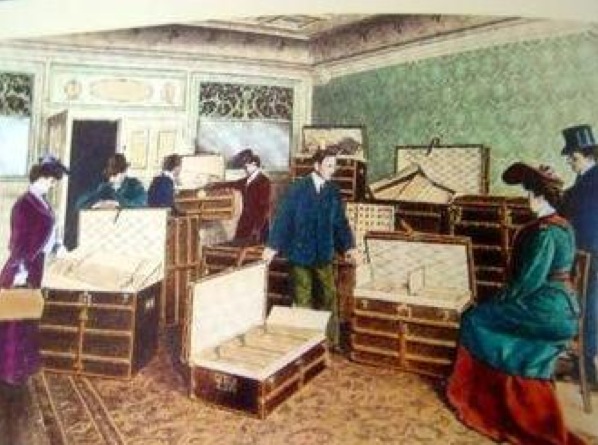 What is the most exotic destination Le Monde du Voyage has ever found a trunk from?
Generally we do not find trunks in exotic places but very mundane ones. One trunk which springs to mind is a Vuitton 'courrier' trunk dating from 1896-1904 which was covered in white paint and had been in a barn for several decades. It was used by the chickens to lay their eggs in!
What are the differences between the quality and craftsmanship of one of
your Louis Vuitton vintage pieces and the goods that are produced and sold
in their shops today?
The main difference is the canvas used. Today it is sort of plastic with a fabric backing. In the past it was an old-fashioned waxed canvas which was screenprinted. Earlier models, pre-1904 or so, were a cotton like a damask with the LV monogramme woven into the fabric.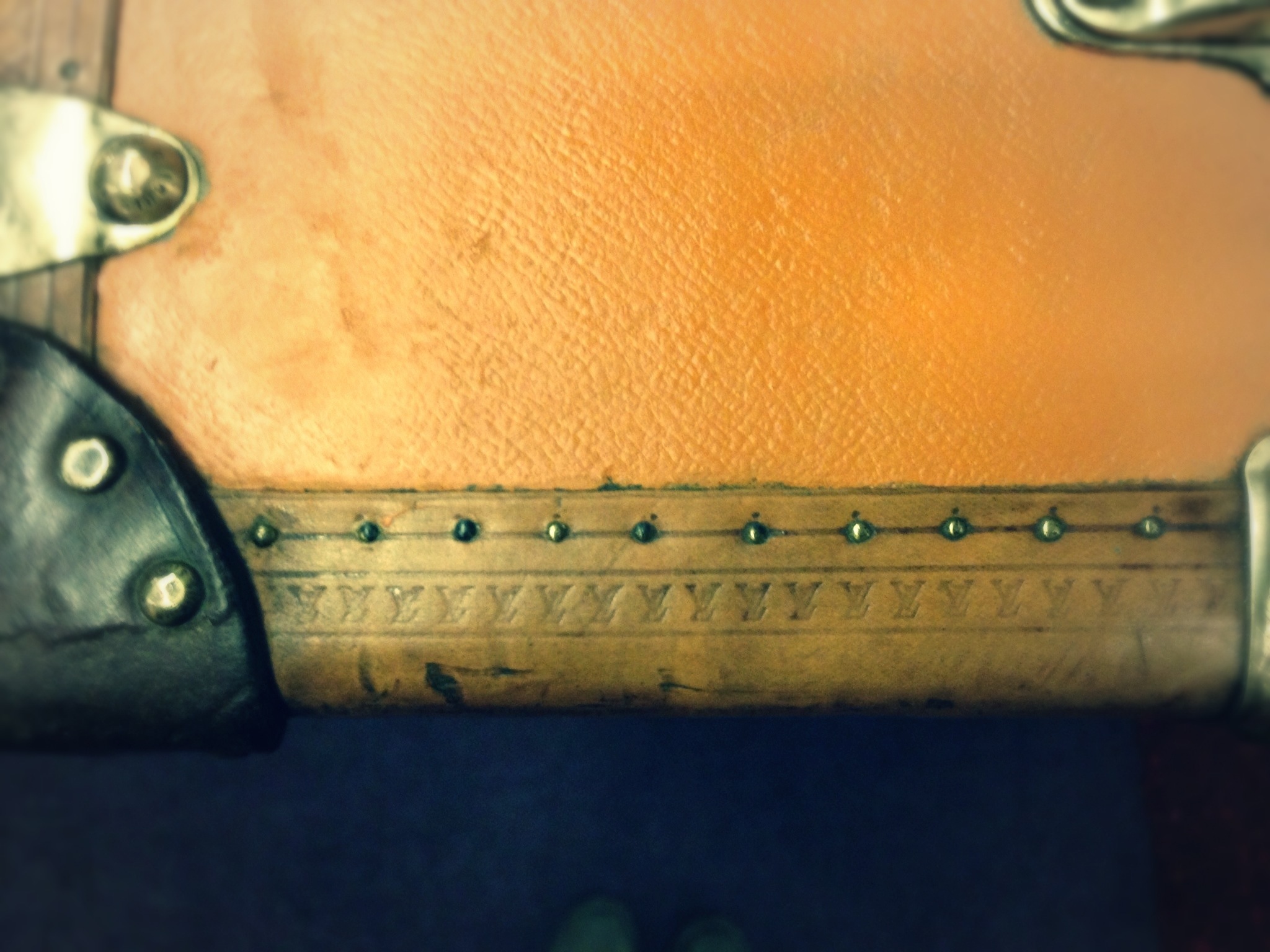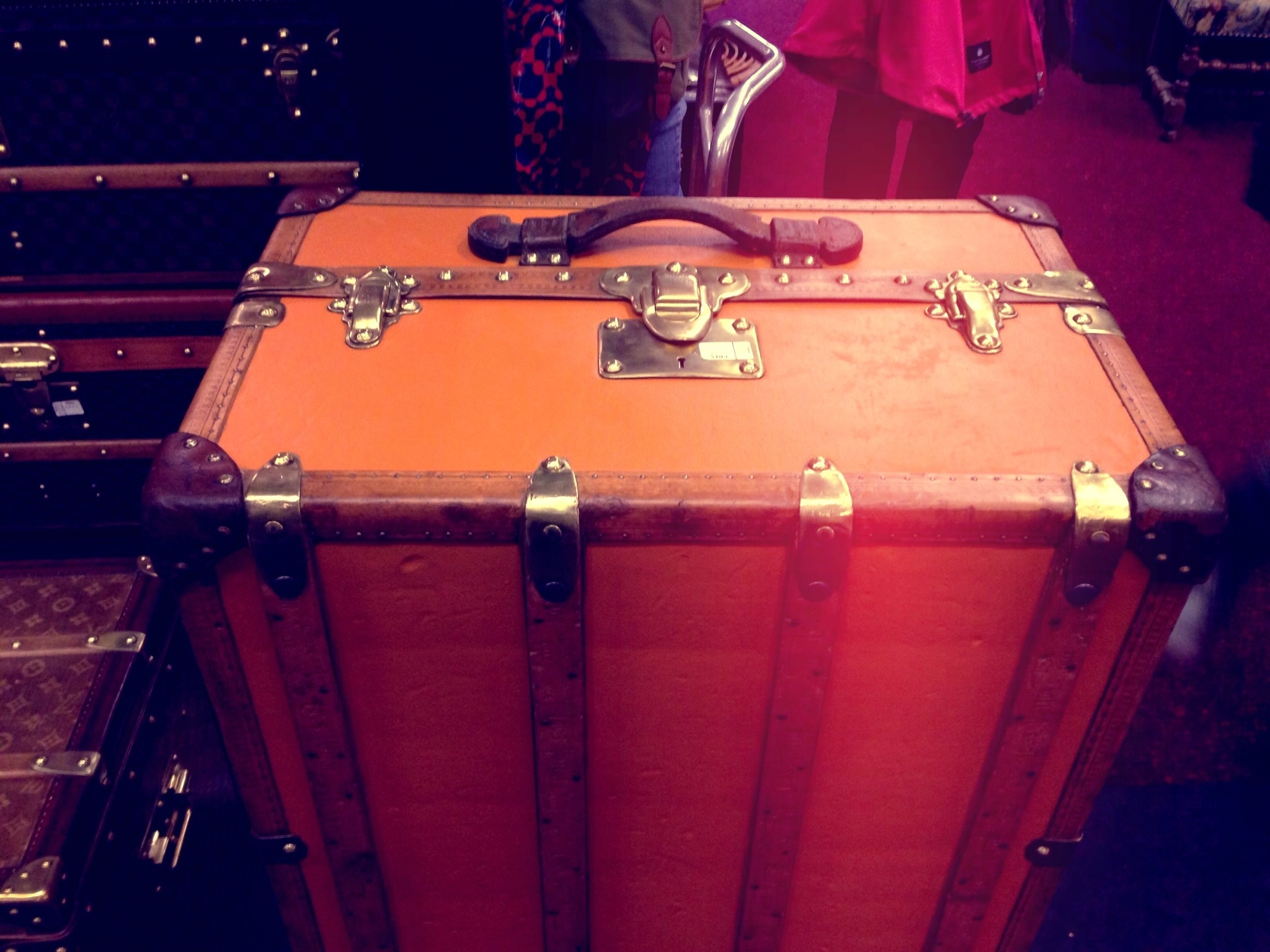 What condition do you find the majority of your pieces in?
Nowadays it is difficult to find trunks in a good condition. Generally they need a certain amount of restoration or cleaning. In our workshop two people work fulltime making sure the trunks we put in our booth at St. Ouen are in excellent condition. We're lucky that we have very skilled people who work for us and for specialised tasks such as replacing leather handles on a trunk we have an expert leather craftsman who we call upon.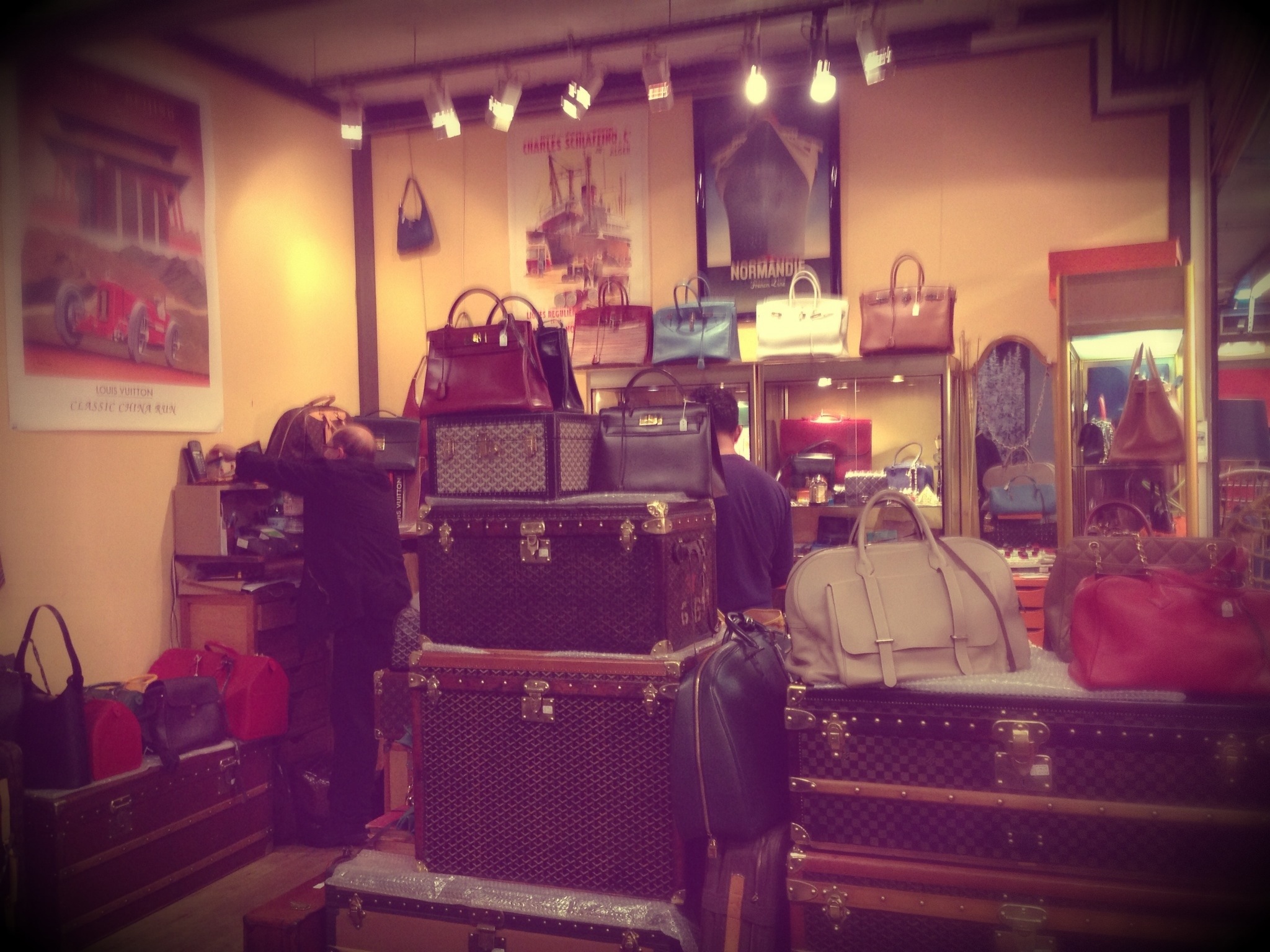 You also sell vintage Goyard trunks and have a rather large selection of Hermès goods. How well do you find Hermès has maintained their quality of craftsmanship over the years?
Hermès still uses master craftsmen and most of the stitching is still by hand. The quality of the leather is excellent. In my mind they make the best handbags in the world.
What type of client is currently your biggest customer?
We have more and more people from China, Hong Kong and Asia generally. We have always had a strong American client base and regularly sell to Brits, Germans, Italians and of course the French. We do have collectors who are looking for top-of-the-range items but most of our trunks go to one-off buyers. They want to put a trunk at the foot of their bed or use one as a sidetable.
How often do you have on-the-spot big buyers who were just taking a stroll through les Puces and discovered Le Monde du Voyage?
Just last week-end we had a lady from Toronto who fell in love with a trunk, we emailed her husband photos of it and she bought it there and then. Tourists always want to take home a souvenir of their holiday.
And a vintage Louis Vuitton trunk is probably the ultimate French souvenir…
Yes, when they come to us they may buy a trunk but we also have things like vintage scarves which are much easier to fit in the suitcase!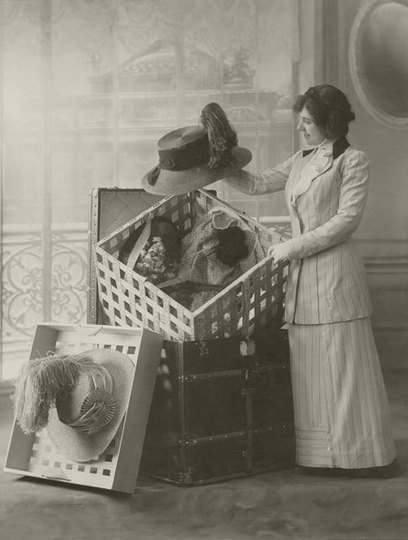 Last month we had a family from Taipei who bought the two most exceptional items on our stand. It was an impulse buy.
The opposite of an impulse buy would be the couple who saw a very nice Goyard wardrobe trunk at our stand [Goyard is the oldest Parisian trunk maker still in business and long-time rival of Louis Vuitton]. They were getting married 4 or 5 months later and asked us if we could keep it for them. Instead of writing a wedding list they told their friends and family they would like a contribution towards the price of the trunk. I took some photos of the Goyard so everyone would know what the money was being spent on. They were delighted with the communal gift.
Obviously you'd like to keep your sources a secret, but is there anything you can tell us anything about how these time capsules come on the market?
Very often trunks have been left in the cellar or the attic of the family home and it is only when the younger generation clear the house for sale that these items come to light. Other times we will buy back trunks we sold 10 or 20 yrs before, perhaps the family are moving or changing of style.
At the moment the market for luggage is very bouyant. We find it easier to sell trunks than to buy them!
How long have you been selling at les Puces in Paris?
Alain's parents, Roger and Janette, started selling trunks here 30 years ago in partnership with an English lady. They worked together for 10 yrs before she moved away. In 1997 Alain's parents were going to retire but before they could, Roger suffered a heart attack. We found ourselves helping out at weekends and enjoyed it so much we decided to take over. In the last 15 years things have changed quite a bit. With the growth of the internet, I sometimes sell trunks to collectors simply by a photo from our website and they don't even have to come to see us. The clientele is very international and speaking English is essential.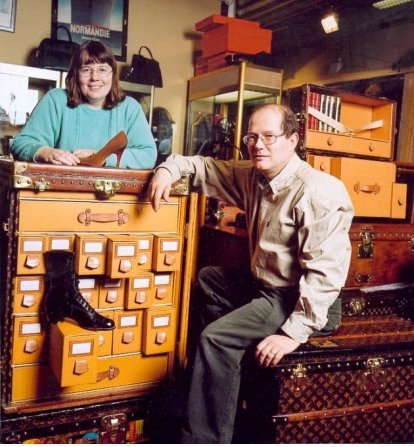 Does the spirit of les Puces go hand in hand with your business?
Our trunks are generally between 80 and 130 yrs old so the Puces is the natural home for them. The market is a magical place where you can see amazing things. We think our trunks have a certain magic about them too– you would like them to be able to talk and to tell you all the wonderful destinations they have visited!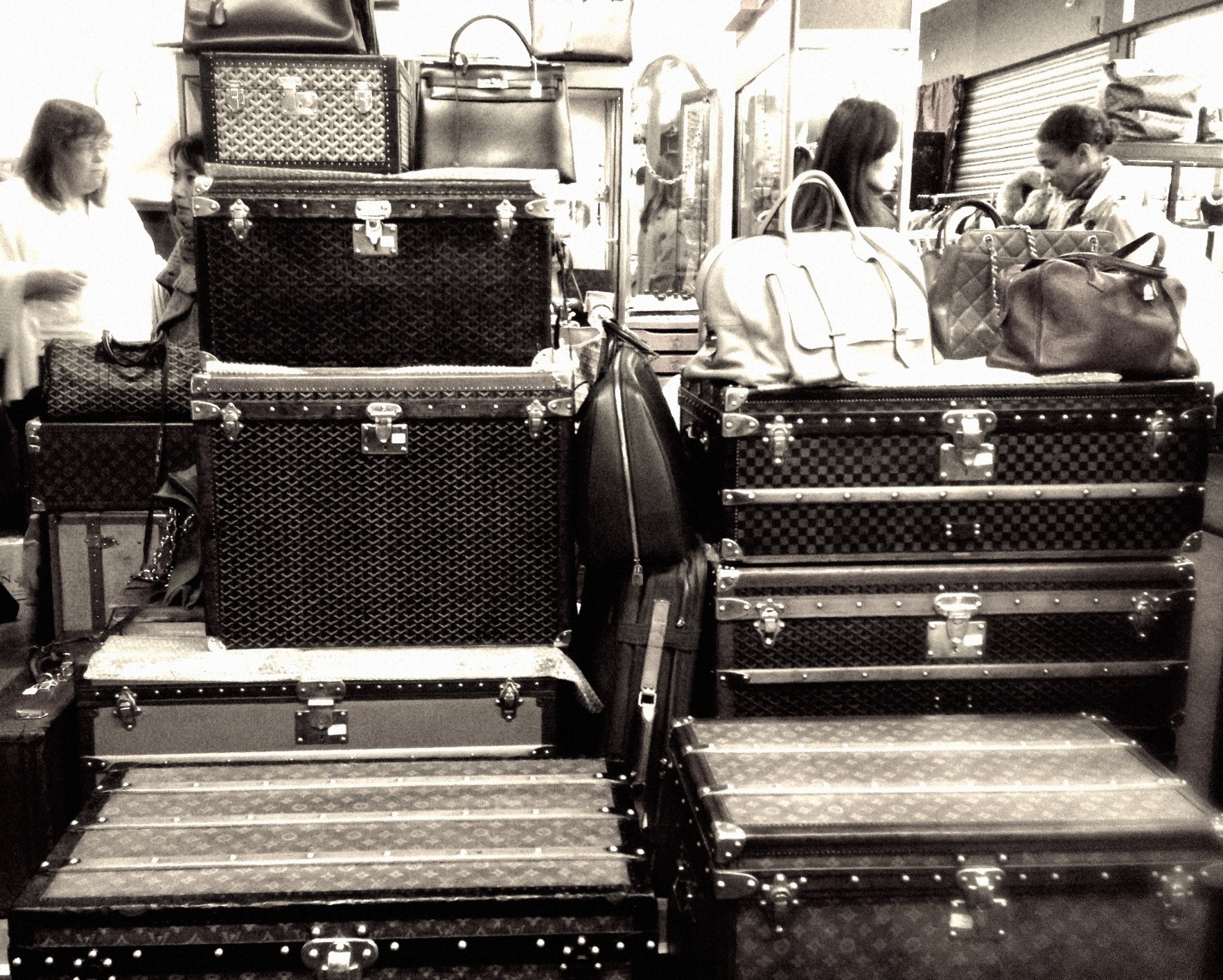 How exactly did Alain's parents get into the business of selling these amazing pieces?
Alain's grandmother and great uncle both had stands at the market. Alain's father Roger
spent most of his youth here with his mother so somehow or other it was inevitable that he would end up with his own business at the Puces. He met Annette here, an Englishwoman based in Paris, who had just started selling luggage but she needed help with restoration. They set up together and the rest is history!
Surely Louis Vuitton must have their own museum-worthy collection stashed
somewhere, have you ever got a glimpse of it?
Have I seen it? We sold a lot of them to the Vuitton museum! Although it is no longer possible for members of the public to visit the museum except if you are specially invited, Vuitton regularly stages special exhibitions, the most recent one closed last month in Paris. You will generally find one or two antique or vintage trunks in every Vuitton store.
Have you ever been approached for your pieces to be used in a film?
Yes, but we are always a little reticent. We will sell a trunk for a film and promise to buy it back if the condition is the same. On a film set props are continually being moved around so there is an inevitable amount of wear and tear.
How well do the trunks keep their value?
You should never buy an antique purely for investment purposes. There are fashions in the antiques market and sometimes a particular style may go out of fashion. You should buy something because it gives you pleasure. Having said that, prices for Vuitton trunks have doubled in 10 years. A courrier trunk (say 44″ long by 22″ by 22″) would have cost 4 or 5,000 euros in 2002, now our best price is in the 8,500 to 10,500 euro range depending on the condition and rarity.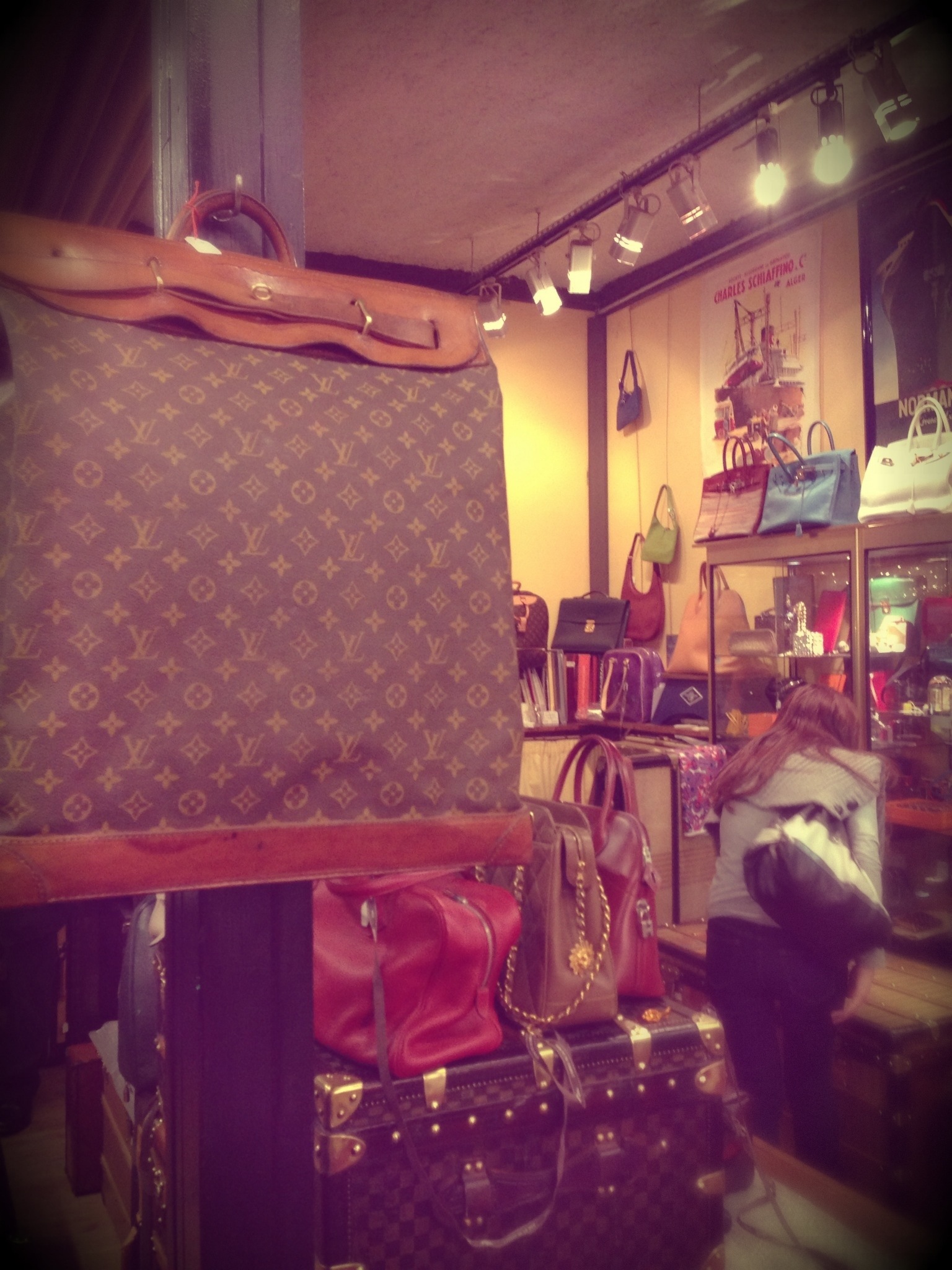 And the smaller handbags?
We are specialised in handbags made by Hermès, Chanel and Vuitton and generally these smaller bags are more recent, only a few years old, but lightly used. Many are sold at 50 to 70 percent of the original price but others can be more expensive. These are the models like the Hermès Birkin which is very difficult to get your hands on in store, especially if its a particular colour or leather you want. I know one woman who ordered a crocodile Birkin in midnight blue and she finally received it 5 years later. I would not say that the bags are an investment but for many ladies, an Hermès bag is as desirable as an expensive sports car might be for her husband (and a fraction of the price)!
The Louis Vuitton trunks you have were originally intended for long sea voyages, designed to compartmentalise bespoke wardrobes. Would you recommend traveling with one of these today? Could you even get one on a commercial airplane?
Most people use them as decoration in their homes; as a coffee table or next to a bed. We do occasionally have people who buy trunks to travel with but they tend to be for use in a car. I did once have a lady who bought a set of luggage all in crocodile which she was going to use but she had her own private jet!
Thanks to Helen and Alain of Le Monde du Voyage for this interview.

To see what they have in stock, visit their website HERE.
You can find them at Stand 15, Allée 3, Marché Serpette in the Paris puces aux Saint-Ouen. Metros: Porte de Clignancourt/ Porte de Saint Ouen / Garibaldi.
Thanks to images provided by Le Monde du Voyage and vintage ads via The Empress of Dress
Hungry for more Paris? 
The updated edition of Don't Be a Tourist in Paris
 is now available.
Or become a MessyNessy Keyholder to gain access to our 
Travel eBook library
 and a direct line to our 
Keyholder Travel Concierge
 to plan your perfect trip. Need help planning a weekend in France? Need some restaurant recommendations for a remote village in the North Pole? We're here to help.