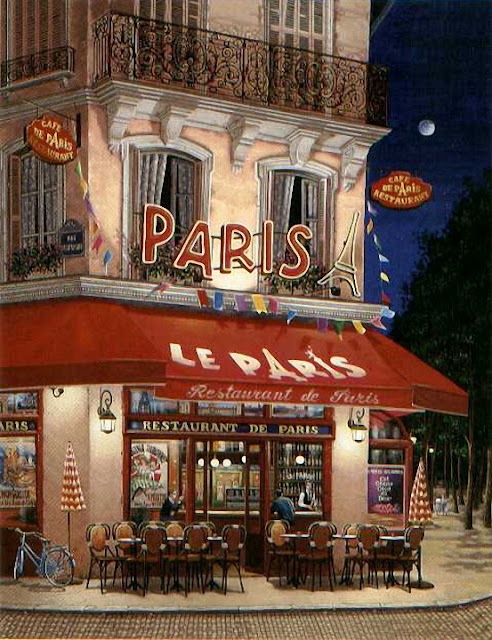 Illustration by
Liudmila Kondakova
"L'Apèro": probably one of the first words you learn socially in Paris. It is the staple of French night life, the icebreaker for the evening. But these days, I don't feel like we do it justice. Most Parisians grab any bottle of cheap wine from the supermarket, and bring it to their host who's serving a plate of even cheaper saucisson and some leftover cheese. And this just won't do for MessyNessy…
1. Inaro – L'Apèro done right.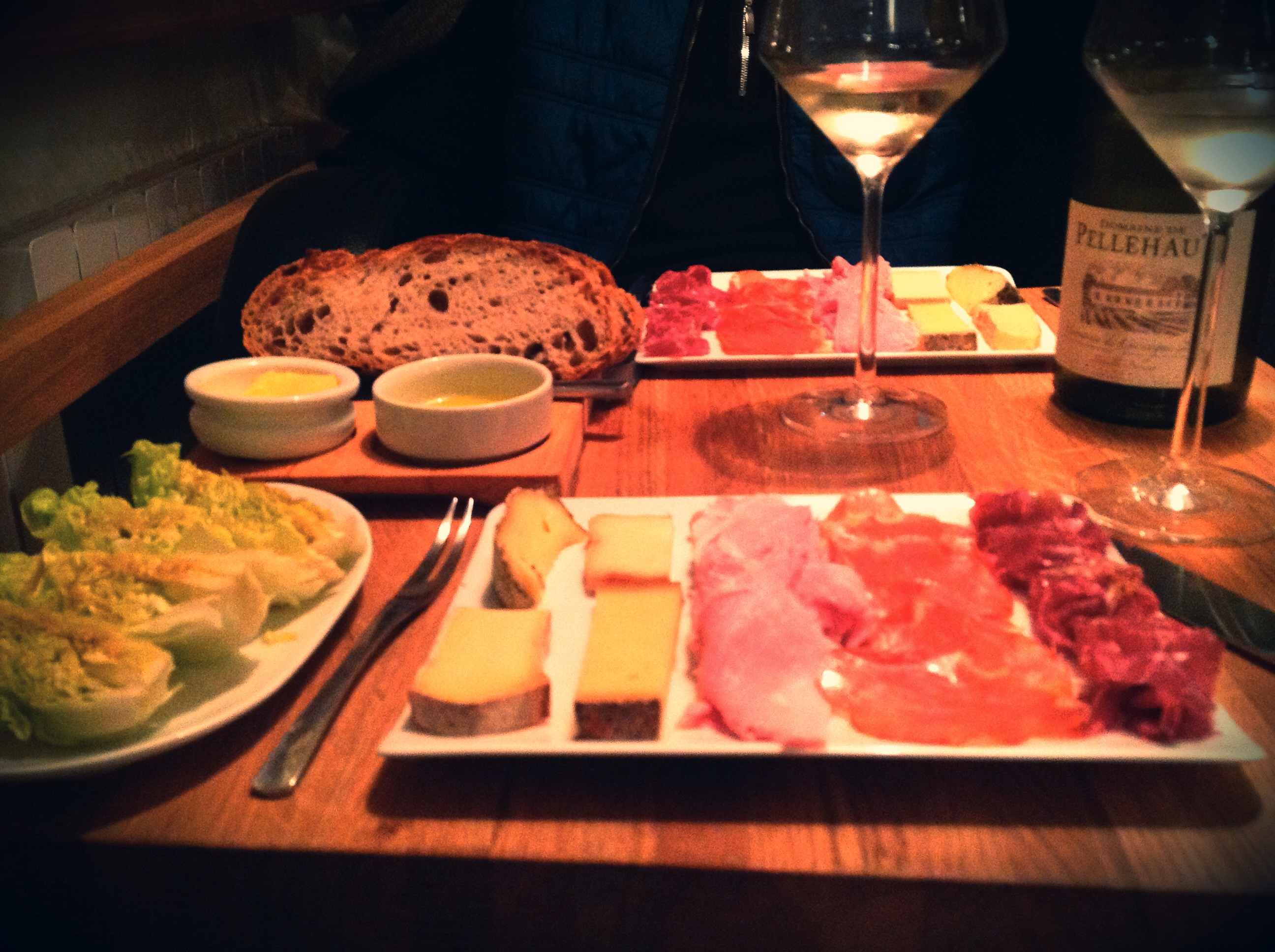 These guys are sheer professionals when it comes to hosting l'apèro with cheeses that make you go "ooooh", wines that actually make you talk about wine, and ham that you definitely, definitely do not find in a supermarket. The perfect rendez-vous for a group of friends amidst a stylish modern décor, Inaro brings the quality of the apéro back in a big way. What's even more striking is how little they're charging…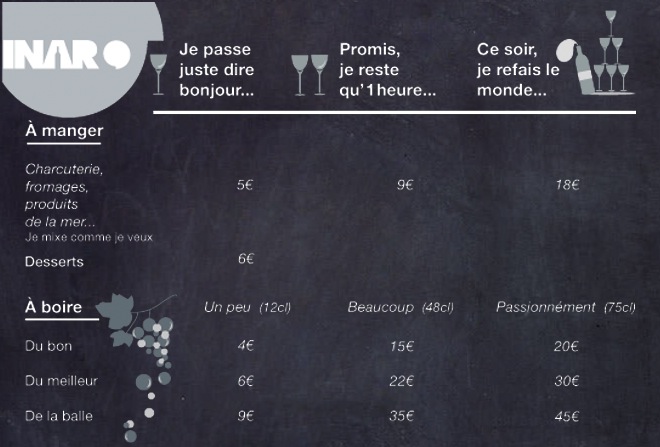 The menu is based very simply on the social traditions of the apèro. If you're just "passing by to say hello", you can snack on a selection of gorgeous charcuterie for 5 euros or get comfortable and feast on the largest platter for just 18 euros. Wine is in order of the good, the better and the best. You can drink "passionately" a bottle of the "good wine" for 20 euros (and trust me, it is good) or if you're just popping in for one drink, a glass of the best for 9 euros.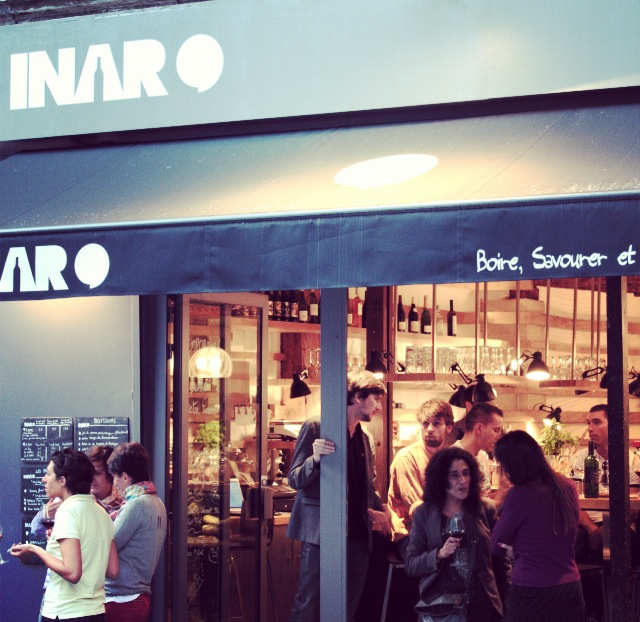 Image via
here
After a soirée at Inaro, hopefully your friends will be inspired to make a little more effort for their next apéro in the New Year.
38 rue René Boulanger 75010 Paris
09 83 07 92 52
www.facebook.com/Inarosarl
2. Eva Pritsky – Toasting in twinkle-light nostalgia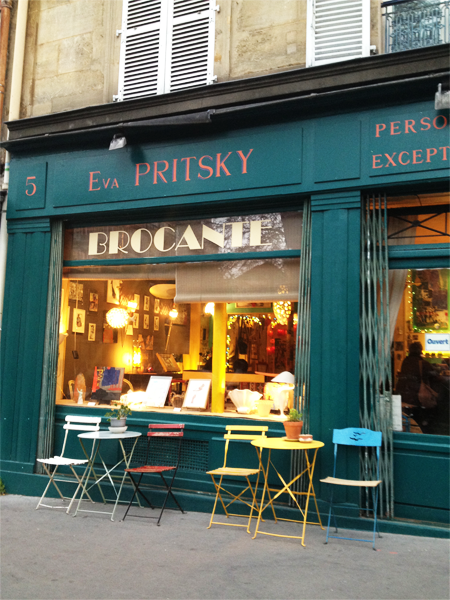 Image via
here
Inaro is a hard act to follow when it comes to delights of the mouth, so let's focus on atmosphere– which Eva Pritsky is bursting with. A flea market/brocante by day and bistrot/bar by night, this is where the Paris we love still exists. In a cachée part of Ménilmontant that resembles a little French village, you can imagine Sartre and his buddies chatting away in a corner of this fairy-lit hodgepodge of psychedelic chic.
You'll sit and drink and be merry on the eclectic treasures of the brocante, maybe even make an offer on that kitschy 1950s love seat your friends have been making out all evening on. Mix with the locals and regulars, artists and antique dealers who have been discussing how 'life is beautiful' over bottles of wine here for as long as anyone can remember.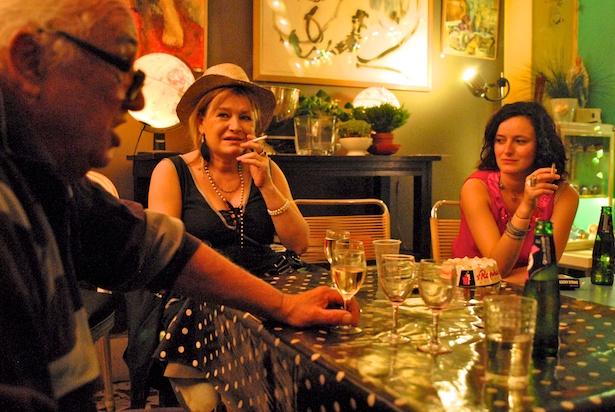 Image via
here
Warm and nostalgic, this underground café is a wonderful place to invite your friends and toast to the holidays, and of course, to another year in Paris.
5 Rue d'Eupatoria  75020 Paris (00 33 1 44 62 20 69)
3. Les Montagnards – Fête de la fondue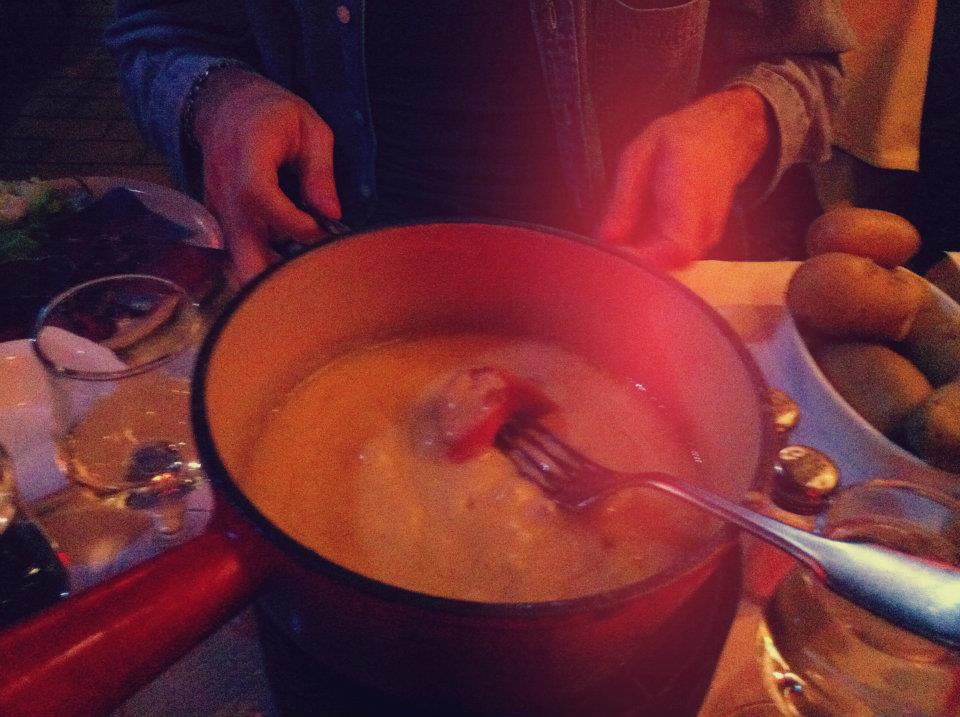 There's nothing like a winter gathering without a bit of fondue. It's a little heavier than l'apèro but sharing a big pot of melting cheese with friends is about as festive as it gets. So where is the best fondue in Paris? Luckily you're in the good hands of a fondue fanatic, who come winter time, goes searching the streets of Paris for the best of the best (something like that). Les Montagnards is warm, authentic, just as a fondue bar should be, and it has the best quality oozy cheese you can find in the city.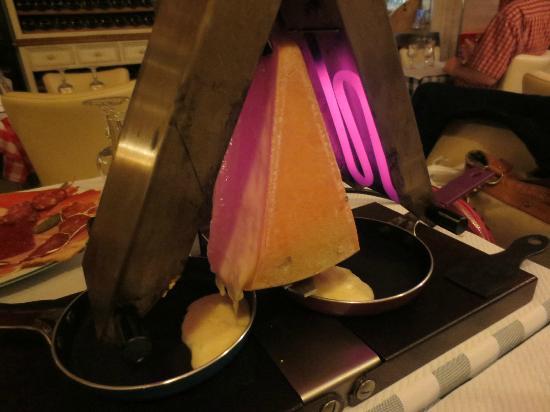 Serving raclette (a huge wedge of cheese placed upside down against hot plates that melts into a plate for you, served with potatoes, meat and bread), fondue, tartiflette and beautiful boards of delicatessen straight from the haute savoie, look no further than Les Montagnards for your next fondue party.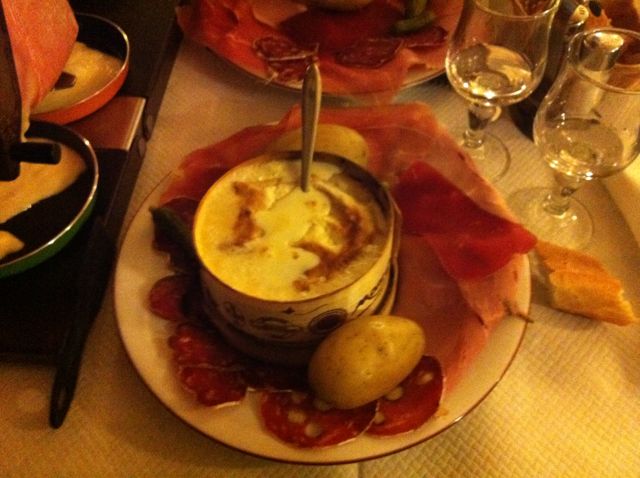 P.S If you can't get a reservation at les Montagnards (Christmas season is tough) but can't get the idea of a fondue party out of your head, The Chalet Savoyarde comes in at a close second place for the best fondue spot in Paris.
58 Rue Jean-Jacques Rousseau  75001 Paris (01 40 26 68 75)
4. Chez Rabah – How to take over an entire bar in Paris with your friends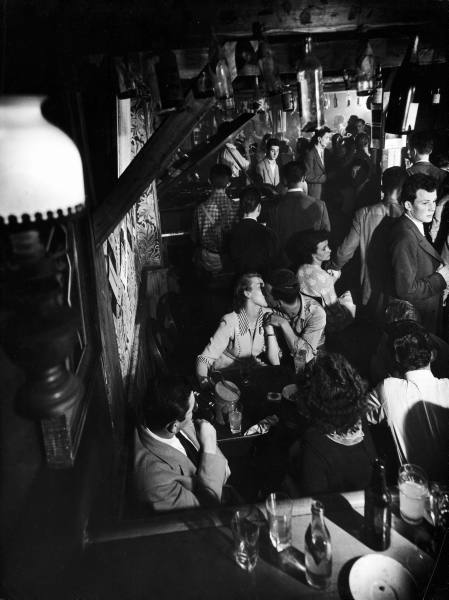 Image by Gjon Mili via LIFE
Organizing your own Christmas party or any party in Paris can get expensive and if you want to invite all of your friends, there are very few places that will be able to accommodate you without too much stress and planning. However if you're looking for something a little more exotic but to feel no less at home, head over to the little-known Chez Rabah. In the heart of the Charonne neighborhood in the 20th, you'll be warmly welcomed into the time capsule bistrot/bar of Rabah Ifersen, a barman with eyes that tell a great story. There's more space than you would think at his little neighborhood staple, especially since the small regular clientele just prefer to congregate around Rabah at the bar to exchange the day's gossip. That leaves the rest of this eclectic treasure with its pool table, piano, spanish guitars hanging from the ceiling and poetry-covered walls, all for you and your friends to take over and "faire la fête".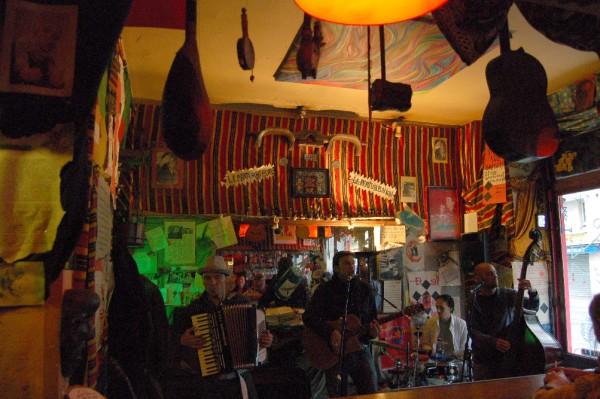 Food is served all day and Rabah's wine, beer and calvados are very reasonably priced. There's a poetry evening every Wednesday, and regular live music plays on curious Eastern instruments. Nearby after-party spots include the trendy cocktail spot at the hotel Mama Shelter and the cult dive bar le Piston Pélican with live music.
52 rue de Bagnolet (0033 1 43 73 43 79)
5. Au Rendez-vous des Amis – Petit plaisir de Noel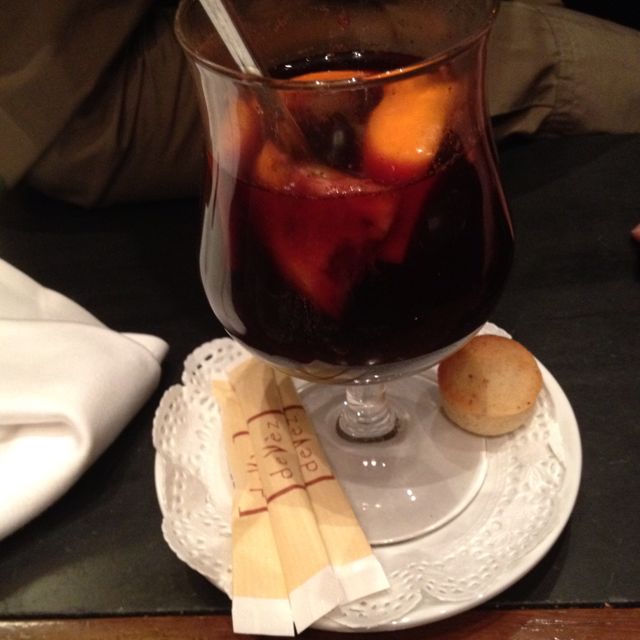 It's occurred to me that we've nearly gotten through an entire article about being Christmas-y and festive with friends in France without talking about Vin Chaud!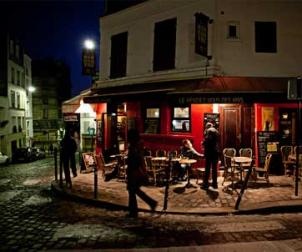 One of the last few authentic bars in magical Montmartre is Au Rendez-vous des Amis– sounds like the perfect place to meet your friends for a vin chaud right?! At night, the tourists leave the rural-esque village and you can huddle with your friends on the terrasse or inside on wrought-iron mosaic tables while sipping on the house specialty, spicy mulled wine. Canapés, cheese and charcuterie boards are also on offer to compliment your festive "Vin chaud" themed evening.
23 Rue Gabrielle  75018 Paris
01 46 06 01 60